Big 12 spring meetings notebook
May, 29, 2014
5/29/14
9:20
AM ET
IRVING, Texas -- Despite the dissolution of the BCS, the Big 12 leadership decided during the first day of spring meetings Wednesday that it would keep the same formula for breaking three- and four-way ties.
[+] Enlarge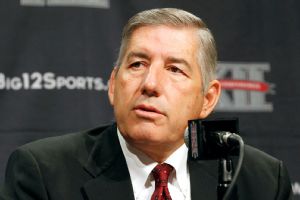 AP Photo/Tim SharpBig 12 commissioner Bob Bowlsby addressed several topics during the first day of spring meetings, including a tiebreaker tweak and unlimited meals for student-athletes.
With one slight tweak.
The BCS standings previously determined the third step of the tiebreaker. Beginning this season, it will be the College Football Playoff committee
that will do the tie breaking
.
"The biggest change we made was we struck the places where it said BCS and inserted CFB poll," Big 12 commissioner Bob Bowlsby said. "So there really wasn't much of a change to it."
Going forward, in the event of a three- or four-way tie, the highest-ranked team in the College Football Playoff poll (that does not advance to the playoffs) will be the Big 12 representative in the Champions Bowl (
aka, the Sugar Bowl
) against the SEC.
Everything else in the three-way tiebreaker will remain the same, including the head-to-head clause that was added following the 2008 season.
That year, Oklahoma emerged out of a Big 12 South Division three-way tie with Texas Tech and Texas despite losing to the Longhorns earlier that season. The Sooners were ranked one spot ahead of Texas in the BCS standing and thus advanced to the Big 12 title game.
Spearheaded by former Texas athletic director DeLoss Dodds, the Big 12 amended the three-way tiebreaker to allow head-to-head to come back into play should the top two teams be ranked within one spot of one another. Had the clause been in effect in 2008, Texas would have played for the Big 12 title instead of the Sooners.
"DeLoss' lasting legacy," Kansas State athletic director John Currie joked of the amendment.
Currie added that the three-way tiebreaker would be on the agenda during the athletic directors' meeting in August in case "something developed" within the College Football Playoff ranking system.
No momentum for early signing period
Two weeks ago, the
ACC concluded
it would recommend an
early signing period in college football
to the College Commissioners Association.
The Big 12, conversely, was far from reaching a consensus on the issue on Wednesday.
"I don't perceive any extreme momentum for that," Currie said of the Big 12 opinion. "For every argument for that, there's a big stack of arguments against it. Whether or not the intended result of an early signing period would reduce chaos on the back end, does that really offset? Is an early signing period going to drive more early recruiting and more early decisions? I personally believe those decisions are being made far too early in many cases."
An
early signing period
is on the agenda for the College Commissioners Association's June meeting. The ACC wants the early signing period to begin Aug. 1.
"The biggest challenge we have is a lot of people are in support of it, but there are a multitude of different options out there," Baylor athletic director Ian McCaw said. "The football recruiting subcommittee is going to gather feedback from high school coaches, student-athletes, coaches and try to make a determination on a date that makes sense. It's something that will be looked at extensively."
Texas Tech athletic director Kirby Hocutt is actually chair of the NCAA football recruiting subcommittee.
Feeding the monster
Last month, the NCAA's legislative council approved a proposal to allow Division I schools to
provide unlimited meals and snacks to all athletes
, including walk-ons.
A chunk of Wednesday's meeting in Irving was spent discussing how the Big 12 would implement the new legislation, which takes effect Aug. 1.
"I was really surprised during the meetings at how much variance there was among schools," Bowlsby said. "And yet there was a fairly high comfort level that although there were uniqueness, that institutions could deal with them in their own way without others thinking, 'Oh gosh, they're going to get an advantage on us.'
"It was an interesting discussion that we maybe we can move into an era where all of us don't have to do exactly the same things."
One possible area of variance? How much each institution might spend on the unlimited meal plan.
Currie said he expects Kansas State to spend somewhere between $700,000 and $1 million a year. Texas athletic director Steve Patterson, meanwhile, estimated Texas' cost could soar "north of $2 million."
While the details are still being worked out across the board, Currie said Kansas State would add a morning snack to its student-athlete training table, as well as "fueling stations" in different facilities for before and after practices. Currie also said inside Kansas State's new $65 million Vanier Football Complex will be a "significant nutrition area" that will give Kansas State's student-athletes access to items like banana smoothies into the night.
"This is going to be very positive," Currie said. "One of the best things we've done."
Freshman Quarterbacks A Growing Trend?
BIG 12 SCOREBOARD
Thursday, 9/3
Friday, 9/4
Saturday, 9/5