Video: Bob Stoops talks Sooners' class
February, 6, 2013
Feb 6
2:42
PM ET
By
RecruitingNation
| ESPN.com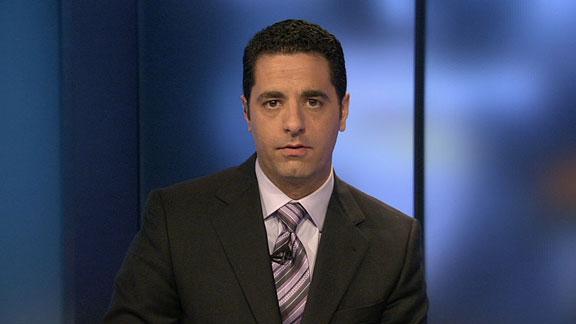 Dari Nowkhah talks with Oklahoma coach Bob Stoops about the Sooners' recruiting class, most notably the big gets on the defensive front. Stoops says, despite the stress, he looks forward to National Signing Day.
Oklahoma vs Oklahoma State Highlight
Clint Chelf sacked by Charles Tapper for a loss of 7 yards to the OKSt 30.
Oklahoma vs Oklahoma State Highlight
VIDEO PLAYLIST
OKLAHOMA FB RECRUITING SCORECARD
OU_Athletics

Oklahoma Sooners


3 p.m. "@OU_WBBall: The LNC is a sea of crimson today. Arrive early and claim your shirt, cheer loud and #BeatDuke! http://t.co/14ptc9vigy"
19 minutes ago

BChatmon

Brandon Chatmon


ICYMI: It was an improbable 10-win season for the #sooners: http://t.co/KtAqiPp6zi
30 minutes ago

BChatmon

Brandon Chatmon


ISU DB Deon Broomfield also invited to join George, Pachall RT @iBroomy: Just got invited to the Medal of Honor bowl in Charleston, SC!
33 minutes ago

OU_Football

Oklahoma Football


The #Sooners rise to No. 10 in the Coaches Poll and No. 11 in the @AP_Top25!!
34 minutes ago

oklahomabuzztap

Oklahoma Sooners


News On 6 - KOTV >> Bohl says it's time for someone else to coach NDSU http://t.co/JRLvx54Uhv
36 minutes ago

oklahomabuzztap

Oklahoma Sooners


News On 6 - KOTV >> Bjorn rallies with 2 eagles for 65, wins Sun City http://t.co/IV537q7aZk
36 minutes ago

oklahomabuzztap

Oklahoma Sooners


OU Insider >> Sooner bowl outlook: Dec. 8 http://t.co/wAqkWvIjrk
37 minutes ago

OU_Football

Oklahoma Football


#Bedlam "@CollegeGameDay: What was the best game of Championship Saturday? #Bedlam#SECChampionship #BigTenChampionship"
46 minutes ago

ctaylorou

Charlie Taylor


RT @CollegeGameDay: Not every day a holder and kicker will make the #SCtop10, but this is #Bedlam: http://t.co/FW9Y6QYPtk
54 minutes ago

ESPNOklahoma

ESPN Oklahoma


Big 12 bowl projections: Week 15 http://t.co/wWsTBsHaET
about an hour ago

oklahomabuzztap

Oklahoma Sooners


Sooners Illustrated (Scout) >> Bedlam film review: Second half http://t.co/pimAUQutWW
about an hour ago

oklahomabuzztap

Oklahoma Sooners


Sooners Illustrated (Scout) >> Bedlam film review: First half http://t.co/V6Fy4kdGpz
about an hour ago

BChatmon

Brandon Chatmon


#big12's top tackler will join Pachall MT @JGeorge52: Excited to announce I've accepted an invitation to the @MOHbowl!
about an hour ago

oklahomabuzztap

Oklahoma Sooners


Sooner Scoop (Rivals) >> HOOPS: OU takes on George Mason http://t.co/y9qDGDozqq
about an hour ago

BChatmon

Brandon Chatmon


TCU quarterback Casey Pachall will play in the Medal of Honor Bowl on Jan. 11. The MOH Bowl is an new all-star game in Charleston, S.C.
about an hour ago

ESPNOklahoma

ESPN Oklahoma


RT @schadjoe: Would you rather watch Alabama-Oklahoma or Alabama-Oregon at the Sugar Bowl?
about an hour ago

SoonerScoop

SoonerScoop.com


HOOPS: #Sooners get set to take on George Mason at noon. Check in with the latest on OU hoops with @RJ_Young http://t.co/dqxmuJS3Hs
about an hour ago

soonerad

Joe Castiglione


RT @OU_WBBall: The LNC is a sea of crimson today. Arrive early and claim your shirt, cheer loud and #BeatDuke! http://t.co/4djAoZJrf9
about an hour ago

soonerad

Joe Castiglione


RT @OU_WBBall: It's game day! No. 17 #Sooners vs. No. 2 Duke today at 3 p.m. at the Lloyd Noble Center: http://t.co/W38IoMO4S3
about an hour ago

oklahomabuzztap

Oklahoma Sooners


News On 6 - KOTV >> Heather Richardson of US wins speedskating WCup http://t.co/cs0F1jbXxA
about an hour ago

oklahomabuzztap

Oklahoma Sooners


News On 6 - KOTV >> Jimenez wins 4th Hong Kong title in playoff http://t.co/hNipWSA5ip
about an hour ago

oklahomabuzztap

Oklahoma Sooners


News On 6 - KOTV >> France's Fourcade, Norway's Solemdal win biathlon http://t.co/adcZXLEDwG
about an hour ago

Jake_Trotter

Jake Trotter


Week 15 Big 12 QBRs: Bell 96.3, Petty 74.8, Chelf 65.7, Knight 24.0, McCoy 14.0, K. Thompson 9.3 and Grant Bothun... 99.9
about 2 hours ago

oklahomabuzztap

Oklahoma Sooners


News On 6 - KOTV >> India sports change to avoid Olympic expulsion http://t.co/I93dBX58AI
about 2 hours ago

oklahomabuzztap

Oklahoma Sooners


News On 6 - KOTV >> India sports change to avoid Olympic expulsion http://t.co/GEv62z4qIx
about 2 hours ago

ESPNOklahoma

ESPN Oklahoma


What we learned: Week 15 http://t.co/huevIbhp3C
about 2 hours ago

ESPNOklahoma

ESPN Oklahoma


What we learned in the Big 12: Week 15 http://t.co/YRgh6fNkJS
about 2 hours ago

ctaylorou

Charlie Taylor


"@OU_WBBall: It's game day! No. 17 #Sooners vs. No. 2 Duke today at 3 p.m. at the Lloyd Noble Center: http://t.co/YUwyYIjzBZ" fill the LNC!
about 3 hours ago

soonerad

Joe Castiglione


RT @OU_MBBall: GAME DAY! #Sooners vs. George Mason in @BBTClassic in Wash., D.C. Game at noon CT on MASN and many FSN reg'l networks, incl.…
about 3 hours ago

roywilliams31

roy williams


Good morning sis. "@itsgabrielleu: Good morning good people!"
about 3 hours ago

ESPNOklahoma

ESPN Oklahoma


3-point stance: Don't underestimate OU http://t.co/ee6680jyQv
about 3 hours ago

soonerad

Joe Castiglione


"@OU_Athletics: TODAY: @OU_WBBall hosts No. 2 Duke at 3 p.m.! FREE shirts for all fans! http://t.co/jZT5KVSjeK | http://t.co/bmeCGdLoDP"
about 3 hours ago

ctaylorou

Charlie Taylor


RT @OU_Athletics: TODAY: @OU_WBBall hosts No. 2 Duke at 3 p.m.! FREE shirts for all fans! http://t.co/60xX0312ys | http://t.co/QR1AIs6LpG
about 3 hours ago

OU_Athletics

Oklahoma Sooners


TODAY: @OU_WBBall hosts No. 2 Duke at 3 p.m.! FREE shirts for all fans! http://t.co/60xX0312ys | http://t.co/QR1AIs6LpG
about 3 hours ago

ctaylorou

Charlie Taylor


Big day today for @OU_WBBall as we Crimson Out #2 Duke! See you at the LNC. Click Here: http://t.co/Dl36U0ADX8 http://t.co/945t3QFXpR
about 3 hours ago

ESPNOklahoma

ESPN Oklahoma


Big 12 helmet stickers: Week 15 http://t.co/Jv0F6Us5ew
about 3 hours ago

ESPNOklahoma

ESPN Oklahoma


Week 15 helmet stickers http://t.co/SJqXbP9jbv
about 3 hours ago

OU_Football

Oklahoma Football


ICYMI - There was a pretty exciting game in Stillwater yesterday. Here is the front of The Oklahoman sports. http://t.co/HIY5hd8Mtr
about 3 hours ago

SoonerFootball

Sooner Football


Scout agrees: Sooners vs. Tide in the Sugar Bowl http://t.co/S7VulxkuV1
about 5 hours ago

SoonerFootball

Sooner Football


SportsIllustrated predicting #Sooners to face Alabama in the Sugar Bowl http://t.co/WMx7BugzG0
about 5 hours ago

SoonerFootball

Sooner Football


Bedlam bowl predictions: OU to BCS Sugar Bowl, OSU to Cotton Bowl? | NewsOK #Sooners http://t.co/Af4FaIWQO2
about 5 hours ago

oklahomabuzztap

Oklahoma Sooners


News On 6 - KOTV >> Norway wins women's WCup relay http://t.co/4C6hOSdFcf
about 6 hours ago

oklahomabuzztap

Oklahoma Sooners


OU Insider >> Sunday Sooner Headlines [12.08.13] http://t.co/ruUWCHubmH
about 6 hours ago

oklahomabuzztap

Oklahoma Sooners


OU Insider >> OU-Oklahoma State: Report card http://t.co/mUFNDsWdxc
about 6 hours ago

oklahomabuzztap

Oklahoma Sooners


The Norman Transcript >> Sooners still have chance for BCS bid http://t.co/0W5OKGDceE
about 9 hours ago

oklahomabuzztap

Oklahoma Sooners


The Norman Transcript >> Nothing manages to rattle Sooners in wild upset over No. 6 Cowboys http://t.co/s5zdsR4IUu
about 9 hours ago

oklahomabuzztap

Oklahoma Sooners


The Norman Transcript >> Don't bother trying to figure out Bedlam http://t.co/qdpLCKmvQN
about 9 hours ago

oklahomabuzztap

Oklahoma Sooners


The Norman Transcript >> Sooners deal with multiple injuries http://t.co/3EFjMeoeUv
about 9 hours ago

oklahomabuzztap

Oklahoma Sooners


The Norman Transcript >> Stoops' risk is rewarded with huge swing http://t.co/LC38599tD5
about 9 hours ago

oklahomabuzztap

Oklahoma Sooners


The Norman Transcript >> Bennett adds another dimension for Sooners http://t.co/atDhqLkIei
about 9 hours ago

oklahomabuzztap

Oklahoma Sooners


The Norman Transcript >> Blue Devils bring opportunity http://t.co/Cyma1VqsnF
about 9 hours ago

oklahomabuzztap

Oklahoma Sooners


News On 6 - KOTV >> Bareback rider Peebles wins again at NFR http://t.co/MYYOFb0XOs
about 11 hours ago

oklahomabuzztap

Oklahoma Sooners


News On 6 - KOTV >> No. 24 Fresno St beats Utah St 24-17 for MW title http://t.co/Wm3j577cGg
about 11 hours ago

Big12Conference

Big 12 Conference


#Big12Insider Wendell Barnhouse reports on Baylor's first Big 12 title and the ensuing celebration. http://t.co/wKhZ9sXDam
about 11 hours ago

Big12Conference

Big 12 Conference


#Big12Insider Wendell Barnhouse writes that time wasn't on Oklahoma State's side at the end of Bedlam. http://t.co/BejaQ8qMv9
about 12 hours ago

BChatmon

Brandon Chatmon


Awesome day of football. Baylor wins the Big 12 and has a blast doing it, OU wins Bedlam in the final seconds, Ohio st falls, auburn soars
about 12 hours ago

oklahomabuzztap

Oklahoma Sooners


News On 6 - KOTV >> No. 10 Michigan St. shocks No. 2 Ohio St. 34-24 http://t.co/kHPksDlAPH
about 12 hours ago

oklahomabuzztap

Oklahoma Sooners


News On 6 - KOTV >> FSU rolls, OSU upset , Auburn heads to title game http://t.co/ypGikoBcwc
about 12 hours ago

Jake_Trotter

Jake Trotter


Would be the largest of the Stoops era, by a lot RT @Kevin_M_Osborn: @Jake_Trotter OU vs Bama, any predictions on a spread??
about 12 hours ago

oklahomabuzztap

Oklahoma Sooners


Crimson and Cream Machine >> Bedlam Football Highlights | Relive The Magic http://t.co/A0UZmDEu3i
about 12 hours ago

BChatmon

Brandon Chatmon


RT @NicoleAuerbach: Best part of postgame? One FSU player saying he's excited to play an SEC team for title bc he never has in his career. …
about 12 hours ago

Jake_Trotter

Jake Trotter


Fiesta vs. UCF, obviously RT @anthonycrice: @Jake_Trotter what about Baylor?
about 12 hours ago

Jake_Trotter

Jake Trotter


Yes it would be RT @4WallerOU: @Jake_Trotter K-State-Nebraska is juicy
about 12 hours ago

Jake_Trotter

Jake Trotter


Right now, looking like OU-Bama (Sugar), OSU-Mizzou (Cotton), Texas-Oregon (Alamo), K-State-Nebraska (BWW), Tech-Arizona St (Holiday)
about 12 hours ago

oklahomabuzztap

Oklahoma Sooners


The Oklahoman >> Bedlam bowl predictions: OU to BCS Sugar Bowl, OSU to Cotton Bowl? http://t.co/0mrDyDesfQ
about 12 hours ago

ESPNOklahoma

ESPN Oklahoma


RT @Jake_Trotter: ESPN BCS guru @JBradEdwards is predicting an Alabama-Oklahoma Sugar Bowl.
about 12 hours ago

BChatmon

Brandon Chatmon


but Oregon still in the mix with the #sooners RT @Jake_Trotter: ESPN BCS guru @JBradEdwards is predicting an Alabama-Oklahoma Sugar Bowl.
about 12 hours ago

Jake_Trotter

Jake Trotter


ESPN BCS guru @JBradEdwards is predicting an Alabama-Oklahoma Sugar Bowl.
about 12 hours ago

BChatmon

Brandon Chatmon


O_O RT @skhanjr: Ouch. "@AschoffESPN: #Gators WR RT @quintondunbar1: Lol lets see if Urban Meyer play sick again #UnLoyal"
about 12 hours ago

OU_Athletics

Oklahoma Sooners


RT @OU_Football: Another great Saturday of college football can only be finished in one way: BOOOOOMERRRRR!!!!!!!!!!!
about 12 hours ago

OU_Football

Oklahoma Football


Another great Saturday of college football can only be finished in one way: BOOOOOMERRRRR!!!!!!!!!!!
about 12 hours ago

Big12Conference

Big 12 Conference


#Big12VB: @KUVolleyball will face third-seeded Washington in the #NCAAVB regional semifinal on Friday in Los Angeles. Time TBD.
about 12 hours ago

BChatmon

Brandon Chatmon


RT @McMurphyESPN: Likely BCS. Title: FSU-Auburn; Rose: MSU-Stan; Orange: Clem-Ohio St; Sugar: Bama-OU or Oregon; Fiesta: Baylor-UCF
about 13 hours ago

Jake_Trotter

Jake Trotter


Ohio State had 24 straight wins and no hardware to show for it
about 13 hours ago

BChatmon

Brandon Chatmon


Somebody go find Charles Barkley. I just want to hear what he has to say… Or just make sure he's ok, to be honest
about 13 hours ago

Jake_Trotter

Jake Trotter


"@MikeSherman: #OKState cheerleader tries to trip #Sooners Erik Striker after final play of Bedlam http://t.co/6PluepjmgS"
about 13 hours ago

oklahomabuzztap

Oklahoma Sooners


Oklahoma Sooners (Official Site) >> OU Takes Cliff Keen Invitational Title http://t.co/1f3UQjWs3T
about 13 hours ago

oklahomabuzztap

Oklahoma Sooners


News On 6 - KOTV >> Early, Lufile lead No. 11 Wichita St. past ORU http://t.co/TI4oLOAPDD
about 13 hours ago

oklahomabuzztap

Oklahoma Sooners


News On 6 - KOTV >> Cardinal beat ASU 38-14 in Pac-12 title game http://t.co/tzJeFtWv2t
about 13 hours ago

BChatmon

Brandon Chatmon


I've gotten too used to watching Baylor and the rest of the Big 12. It's so weird to watch Michigan State huddle, it's throwin me off...
about 13 hours ago

oklahomabuzztap

Oklahoma Sooners


Crimson and Cream Machine >> MBB Heads To Nation's Capitol | Opponent Preview: George Mason http://t.co/mLyPMUGghR
about 13 hours ago

soonerad

Joe Castiglione


RT @OU_Wrestling: The #Sooners are the 2013 Cliff Keen Las Vegas Collegiate Invitational champs! Read the recap here: http://t.co/tODgzkgEBk
about 13 hours ago

OU_Football

Oklahoma Football


RT @OU_CoachNorvell: 33-24 this one is very sweet. Love our boys mental toughness!Boomer! http://t.co/2a2zlXFCfO
about 13 hours ago

OU_Football

Oklahoma Football


RT @OU_CoachB: Proud to be a part of this great state and university. Congrats to our players! There's only one! http://t.co/Rp1jyQQ39c
about 13 hours ago

OU_Football

Oklahoma Football


RT @OU_CoachJay: So blessed! #Bedlam
about 13 hours ago

oklahomabuzztap

Oklahoma Sooners


Crimson and Cream Machine >> Some How, Some Way, OU Offense Manages To Do Just Enough To Win Bedlam http://t.co/ezczeBiqhT
about 14 hours ago

ESPNOklahoma

ESPN Oklahoma


RT @BChatmon: Great stat from @ESPNStatsInfo: Clint Chelf entered the game leading the Big 12 with a 91.8 3rd-down Total QBR. vs OU? 9.3 To…
about 14 hours ago

ESPNOklahoma

ESPN Oklahoma


RT @BrennanClay24: Ok soooo the Orange in Miami? Or Sugar in NOLA? I just pray the BCS doesn't do us like they did last year ..
about 14 hours ago

BChatmon

Brandon Chatmon


Meanwhile #Baylor finished the regular season averaging 53.3 points per game and 624.5 yards per game. -> http://t.co/rHFxLDm4l3
about 14 hours ago

oklahomabuzztap

Oklahoma Sooners


News On 6 - KOTV >> Chara scores winner as Bruins beat Pens 3-2 http://t.co/JTvZ58zmbf
about 14 hours ago

BChatmon

Brandon Chatmon


Great stat from @ESPNStatsInfo: Clint Chelf entered the game leading the Big 12 with a 91.8 3rd-down Total QBR. vs OU? 9.3 Total QBR on 3rd
about 14 hours ago

SoonerFootball

Sooner Football


Blake Bell says he was "licking his chops" before game-winning pass | DallasMorningNews #Sooners http://t.co/stO4G6K3uq
about 14 hours ago

SoonerFootball

Sooner Football


'End of the world' loss extends OSU's struggles vs. OU | NewsOK #Sooners http://t.co/Zc0GMqZzDv
about 14 hours ago

SoonerFootball

Sooner Football


#Sooners' last-minute rally casts Oklahoma defense in better light | NewsOK http://t.co/BLB0xbJkv3
about 14 hours ago

SoonerFootball

Sooner Football


Mr. Bedlam (Blake Bell) strikes again | NewsOK #Sooners http://t.co/k0X3tqFLO9
about 14 hours ago

BChatmon

Brandon Chatmon


Considering where that defense started, inexperience, injuries, etc… pretty impressive from Mike Stoops and the #sooners defensive staff.
about 14 hours ago

BChatmon

Brandon Chatmon


That said, Mike Stoops has been overlooked this season. 1 certain thing each week was #sooners defense would play well enough to win
about 14 hours ago

BChatmon

Brandon Chatmon


Amazing job by Bob Stoops if this #sooners squad does indeed make a BCS bowl. OU is lucky to have that man running things
about 14 hours ago

soonerad

Joe Castiglione


RT @OU_Football: Today's win clinched our 35th all-time 10-win season - the most of any program in the country.BOOMER!!!!!!!
about 14 hours ago

ESPNOklahoma

ESPN Oklahoma


RT @BChatmon: Current BCS bowl projections from ESPN's Brad Edwards. Two BCS teams out of the #big12 http://t.co/rw2AjWLMAI
about 14 hours ago
BLOG ARCHIVE:
CATEGORIES: