Sooner Snapshot: QB Cody Thomas
January, 31, 2013
1/31/13
2:15
PM ET
Leading up to signing day, SoonerNation will take a closer look at the Class of 2013 prospects currently committed to Oklahoma. The in-depth analysis pieces will take a look at the ranking, estimated year of impact and potential role of each future Sooner.
Vitals:
Quarterback
Cody Thomas
(Colleyville, Texas/Heritage) | 6-foot-5, 220 pounds
[+] Enlarge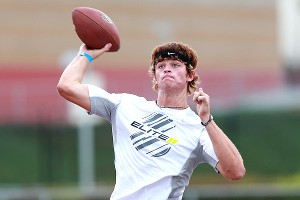 Tom Hauck/ESPN.comOklahoma QB commit Cody Thomas, the No. 178 prospect in the ESPN 300, has at least a year to pick up the Sooners offense.
Committed:
May 17, 2012
To continue reading this article you must be an Insider
Insider
Playoff Top Four: Week 6
Heather Dinich and Ivan Maisel look at who belongs in the playoffs after five weeks of the season.
Playoff Top Four: Week 6
VIDEO PLAYLIST
SOONERNATION RECRUITING NEWS
OKLAHOMA FB RECRUITING SCORECARD
Big12Conference

Big 12 Conference


ICYMI - #Big12 Commissioner Bowlsby shares the latest developments on the new NCAA governance structure & autonomy - https://t.co/Pswndt4Ji5
5 minutes ago

OU_Football

Oklahoma Football


Looking at a tough road ahead, the #Sooners are preparing for TCU. http://t.co/KnrMjntzcP http://t.co/W6r3jqjf3u
20 minutes ago

Big12Conference

Big 12 Conference


ICYMI - @WVUSports' Oliver Luck discusses his role on the @CFBPlayoff Selection Committee - http://t.co/u9hQQ2BesN via @CampusInsiders
35 minutes ago

OU_Football

Oklahoma Football


Had a great time. I'll kick it with y'all later. I'm signing off. #Boomer
about an hour ago

OU_Football

Oklahoma Football


.@Willie_Dutch I don't want to fight any Eric Strikers.
about an hour ago

OU_Football

Oklahoma Football


.@TWATLS I've seen it on YouTube. Pretty impressive.
about an hour ago

OU_Football

Oklahoma Football


.@Dylan_Hartsook @wesleyhorky @jedbarnett44 That would only happen if it was a bad snap.
about an hour ago

OU_Football

Oklahoma Football


.@bj_flatley Versace Tan.
about an hour ago

OU_Football

Oklahoma Football


.@Tuppers_ I have been. Best trip of my life.
about an hour ago

OU_Football

Oklahoma Football


.@LogieJohnson Won't happen.
about an hour ago

OU_Football

Oklahoma Football


.@Joe_Peregrin Probably a one-time thing.
about an hour ago

OU_Football

Oklahoma Football


.@erickstorey62 Your questions are awesome.
about an hour ago

OU_Football

Oklahoma Football


.@imindenialler Golf and FIFA.
about an hour ago

OU_Football

Oklahoma Football


.@tdunning Eric Striker and @gsooner45 can both kick pretty long field goals.
about an hour ago

OU_Football

Oklahoma Football


.@katykinng I personally enjoy listening to The Eagles more.
about an hour ago

OU_Football

Oklahoma Football


.@JeebsAlexander Their pretzels and roasted corn.
about an hour ago

OU_Football

Oklahoma Football


.@imindenialler @TWay36 was a big role model to me.
about an hour ago

OU_Football

Oklahoma Football


.@salmanH96 Colorado.
about an hour ago

OU_Football

Oklahoma Football


.@da_trufOU I gorilla slam @TheALexRoss all of the time.
about an hour ago

OU_Football

Oklahoma Football


.@RobertWesleyOU Yes, it's my biggest mistake today.
about an hour ago

OU_Football

Oklahoma Football


.@erickstorey62 How did you know?
about an hour ago

OU_Football

Oklahoma Football


.@BBrohannon Oklahoma girls. @CalleyScott
about an hour ago

OU_Football

Oklahoma Football


.@Soonerguys I try to sleep.
about an hour ago

OU_Football

Oklahoma Football


.@RealNTurner Peanut butter and honey.
about an hour ago

OU_Football

Oklahoma Football


.@da_trufOU Not really. I'm not 6'7".
about an hour ago

OU_Football

Oklahoma Football


.@salmanH96 Inside Man or The Departed.
about an hour ago

OU_Football

Oklahoma Football


.@RuizMaria15 A childhood dream coming true.
about an hour ago

OU_Football

Oklahoma Football


.@K_Watson36 I sit there sometimes.
about an hour ago

OU_Football

Oklahoma Football


.@nolanmyers99 Smart Start.
about an hour ago

OU_Football

Oklahoma Football


.@nurse423 West Virginia or K-State.
about an hour ago

OU_Football

Oklahoma Football


.@kendraloveswho I eat Chipotle on Thursdays.
about an hour ago

OU_Football

Oklahoma Football


.@JordanNassir Jason White.
about an hour ago

OU_Football

Oklahoma Football


.@da_trufOU Team Chicken Express, but I like Canes sauce.
about an hour ago

OU_Football

Oklahoma Football


.@JacobPowell12 Don't get to play much anymore, but I was an 8.
about an hour ago

OU_Football

Oklahoma Football


.@matt_hombre Just happy we got the win.
about an hour ago

OU_Football

Oklahoma Football


.@OsamahTahir 100 duck sized horses.
about an hour ago

OU_Football

Oklahoma Football


.@da_trufOU I've always wanted to do a drop kick.
about an hour ago

OU_Football

Oklahoma Football


.@Josh_HeupelDerp I really like them both, but Taco Bueno's party burritos take the cake.
about an hour ago

OU_Football

Oklahoma Football


.@AndrwMagnus I would hope the offensive line, but I'd be on Stoops' side.
about an hour ago

OU_Football

Oklahoma Football


.@Cameron1058 No, I never had an arm like him.
about an hour ago

OU_Football

Oklahoma Football


.@EpitomeofSooner My 2nd FG at Owen Field. Hit the upright and went in.
about an hour ago

OU_Football

Oklahoma Football


.@ChaseMcDonald3 Vinatieri because of his clutchness.
about an hour ago

OU_Football

Oklahoma Football


.@da_trufOU I'd like to see it experimented with a little bit more.
about an hour ago

OU_Football

Oklahoma Football


.@danieldelagarz No, they call me Michael.
about an hour ago

OU_Football

Oklahoma Football


.@TRP6604 Grew up going to games here.
about an hour ago

OU_Football

Oklahoma Football


.@_williamclark_ I love old Joe Washington highlights.
about an hour ago

OU_Football

Oklahoma Football


.@da_trufOU They loved it.
about an hour ago

OU_Athletics

Oklahoma Sooners


Can't make it out to the @OU_Volleyball game tonight at 7p.m.? Be sure to watch them on @FSSouthwest! http://t.co/WatWqxnFcc
about an hour ago

OU_Football

Oklahoma Football


.@SoonerManAaron Played receiver in high school.
about an hour ago

OU_Football

Oklahoma Football


.@aj_irby Treat them both the same.
about an hour ago

OU_Football

Oklahoma Football


.@RossonSeth @joshimbriani Too many to name for strong. But Daniel Brooks or Jordan Thomas for fastest.
about an hour ago

OU_Football

Oklahoma Football


.@marcwryals Every day. Norvell is gettin me right.
about an hour ago

OU_Football

Oklahoma Football


.@Kenziee_mc I've had a lot of good ones. I really enjoyed Negotiation with Buckley.
about an hour ago

OU_Football

Oklahoma Football


.@marcwryals Yeah, I wear a different cleat on my kicking foot than my plant foot.
about an hour ago

OU_Football

Oklahoma Football


.@RobbieHarbin I got excited. I thought @tmcnamara88 was going to get his first touchdown.
about an hour ago

OU_Football

Oklahoma Football


.@CP_145 I listen to Aer.
about an hour ago

OU_Football

Oklahoma Football


.@DJGarrettEbs I would sure hope so.
about an hour ago

OU_Football

Oklahoma Football


.@bmrsnrcf8 Both are good teams. More experience this year.
about an hour ago

OU_Football

Oklahoma Football


.@michaeldewell 52 against Kansas State.
about an hour ago

OU_Football

Oklahoma Football


.@C_Wayne25 Whataburger. Not even close. HBCB.
about an hour ago

OU_Football

Oklahoma Football


.@MorganDallas4 My first name is Stephen.
about an hour ago

OU_Football

Oklahoma Football


.@dundizzle14 We've messaged back and forth a little bit.
about an hour ago

OU_Football

Oklahoma Football


.@Soonermike I've done it once.
about an hour ago

OU_Football

Oklahoma Football


.@CF7_Era Hopefully we won't need it.
about an hour ago

OU_Football

Oklahoma Football


.@LilJoeBANGBANG It's @DerrickDoubleU.
about an hour ago

OU_Football

Oklahoma Football


.@soonerclone No longer exist.
about an hour ago

OU_Football

Oklahoma Football


.@Jonmorris5507 I guess we'll see.
about an hour ago

OU_Football

Oklahoma Football


.@RealMcCoyTalk I was Riff Raff last year, but we'll be on the road this year.
about an hour ago

OU_Football

Oklahoma Football


.@soonerclone Adam Vinatieri.
about an hour ago

OU_Football

Oklahoma Football


.@Maxisaballa Both were really special.
about an hour ago

OU_Football

Oklahoma Football


.@AlgerRyan I grew up an OU fan, so it's a huge honor.
about an hour ago

OU_Football

Oklahoma Football


.@DrMattParker No, it's not a factor.
about an hour ago

OU_Football

Oklahoma Football


.@CStruiksma Whoever is on the schedule that week.
about an hour ago

Big12Conference

Big 12 Conference


#Big12VB: Watch @kstatesports take on @KUVolleyball in Lawrence on @ESPN3 / WatchESPN at 6:30 p.m. CT - http://t.co/FMwSL8EaOB
about an hour ago

OU_Football

Oklahoma Football


.@EpitomeofSooner "Hope I can make this extra point."
about an hour ago

OU_Football

Oklahoma Football


.@joshimbriani 4 FGs against Iowa State on a windy day.
about an hour ago

OU_Football

Oklahoma Football


.@_LucasMartin__ 6th grade.
about an hour ago

OU_Football

Oklahoma Football


.@jamesfraschilla Bunyan.
about an hour ago

OU_Football

Oklahoma Football


.@Onikuno Just treat every kick the same.
about an hour ago

OU_Football

Oklahoma Football


.@JdVrat10 Would have been punny.
about an hour ago

OU_Football

Oklahoma Football


.@mrko_84 Pirates because they haven't made the playoffs in a while.
about an hour ago

OU_Football

Oklahoma Football


.@JimmyJamesCoxx Really excited. Should be a great atmosphere.
about an hour ago

OU_Football

Oklahoma Football


.@mikedimitry Texas since I grew up in Dallas. But, I love both games.
about an hour ago

OU_Football

Oklahoma Football


.@JimQuillen I enjoy it if the fans enjoy it.
about an hour ago

OU_Football

Oklahoma Football


.@SocialnnSports I'm playing in my home city.
about an hour ago

OU_Football

Oklahoma Football


.@AntBigG79 I try and treat every game with the same focus.
about an hour ago

OU_Football

Oklahoma Football


.@Maxisaballa Yeah, I played mostly midfield.
about an hour ago

OU_Football

Oklahoma Football


.@_AaronMoore_ Scoring the touchdown.
about an hour ago

OU_Football

Oklahoma Football


.@timmyd_lightful Senior year of high school when I played receiver.
about an hour ago

OU_Football

Oklahoma Football


.@_LucasMartin__ Any of the 32.
about 2 hours ago

OU_Football

Oklahoma Football


.@sambohd29 Game - 53. Practice - 63.
about 2 hours ago

OU_Football

Oklahoma Football


.@maxsonsmith A huge honor.
about 2 hours ago

OU_Football

Oklahoma Football


Hey it's Michael Hunnicutt here. Taking over the @OU_Football twitter for the next hour. Throw some questions this way.
about 2 hours ago

OU_Track

Sooner T&F & XC


.@TiffanyAByrd -- way to go for getting the juice bar up & running! Thanks to Spike Club for your continued support! http://t.co/YVDkoO3sRx
about 2 hours ago

OU_Football

Oklahoma Football


Join us tonight at 6 p.m. as @Hunnicutt08 takes over this Twitter account! http://t.co/zPJ8i0k7BX
about 3 hours ago

Jake_Trotter

Jake Trotter


Wait, what??!? RT @USFCollin: According to USF's @MJFarrell, Red Panda has retired.
about 3 hours ago

Geraldini93

Gerald McCoy


Outback Citrus Park tonight at 6 p.m. Going live in 20 mins. See you there!! Great food, autographs and pics. Come out and have a good time!
about 3 hours ago

Big12Conference

Big 12 Conference


#Big12VB: Here's a look at tonight's #Big12 matches on tap. http://t.co/9corQyI1IU
about 3 hours ago

Big12Conference

Big 12 Conference


#Big12VB: Interview with @OU_Volleyball's Kierra Holst, the #Big12 Offensive Player of the Week - https://t.co/gTq9fnM7JO
about 3 hours ago

OU_Football

Oklahoma Football


The #Sooners have won 50 straight games when scoring 40+ points.
about 4 hours ago
BLOG ARCHIVE:
CATEGORIES: