Staff picks: Oklahoma vs. Texas Tech
October, 5, 2012
10/05/12
8:00
AM ET
By
SoonerNation staff
| ESPN Insider
OU 26, Texas Tech 23
The Sooners have never lost back-to-back games in the Bob Stoops era, and I don't think it happens here, partly because I can't envision what Norman would be like next week should OU lose this game. The Sooners should come out with some urgency for that very reason. I think that will be enough to secure a must-win for the sanity of this program and its fan base.
[+] Enlarge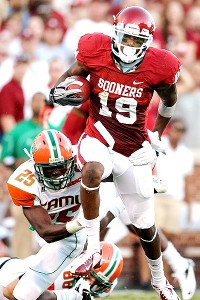 William Purnell/Icon SMICoud Justin Brown have a breakout game for the Sooners vs. Texas Tech?
- Jake Trotter
OU 35, Texas Tech 28
To continue reading this article you must be an Insider
Insider
Kansas Capitalizes On Oklahoma Fumble
Kansas' Cassius Sendish recovers an Oklahoma fumble and returns it for a third-quarter touchdown.
Kansas Capitalizes On Oklahoma Fumble
VIDEO PLAYLIST
OKLAHOMA FB RECRUITING SCORECARD
SoonerScoop

SoonerScoop.com


To reset. Perine: 378 yards on 32 carries. 5 TDs.
about a minute ago

Jake_Trotter

Jake Trotter


Wake Forest 6, Virginia Tech 3. Final. Double overtime.
2 minutes ago

SoonerFootball

Sooner Football


Perine has 378. The NCAA record is 408. There's 12:59 in the game. Let's do this #Sooners.
2 minutes ago

OU_Football

Oklahoma Football


Looks like a few people are paying attention to @samajp32 today. http://t.co/voHJL3tce6
2 minutes ago

SoonerFootball

Sooner Football


KU 4th & 6 from the 16: pass incomplete.
4 minutes ago

SoonerFootball

Sooner Football


KU from the OU 20 | 1st: pass incomplete | 2nd: ground gets nothing | 3rd & 10: pass gets 5
5 minutes ago

BChatmon

Brandon Chatmon


Pretty nice turnout in Ames BTW RT @ESPN_Big12: Nice throw from Sam Richardson to EJ Bibbs for an ISU TDTexas Tech 14, Iowa St. 7
5 minutes ago

OU_Football

Oklahoma Football


http://t.co/Yh2YSfCPa4
6 minutes ago

SoonerFootball

Sooner Football


KU from thei OU 38 | 3rd & 8: pass gains 18
6 minutes ago

StorminInNorman

Stormin\' in Norman


Samaje Perine record watch: Big 12 record is 378. √NCAA freshman record is 386.NCAA single gm record is 408.Perine has 378. 3rd qtr.
7 minutes ago

Big12Conference

Big 12 Conference


#Big12Insider Headed to 4th Q in Norman, OU's Samaje Perine needs 31 yards to break NCAA single-game rushing record (408) ... set last week.
8 minutes ago

OU_Football

Oklahoma Football


http://t.co/O3cuPsYo5l
9 minutes ago

OU_Football

Oklahoma Football


http://t.co/O3cuPsYo5l
9 minutes ago

SoonerFootball

Sooner Football


KU from the OU 40 | 1st: deep incomplete | 2nd: Rush for 2 | 3rd qtr closes. #Sooners leading 41-7
9 minutes ago

OU_Football

Oklahoma Football


#Sooners rushing differential now up to +421 yards. #WOW End of 3rd. OU up 41-7.
10 minutes ago

SoonerFootball

Sooner Football


KU from their 46 | 1st: pass for 9 | 2nd: off-sides OU, gives first down
11 minutes ago

SoonerFootball

Sooner Football


KU from their 31 | 1st: gain 2 | 2nd: pass for 12
13 minutes ago

OU_Football

Oklahoma Football


. @samajp32 is also tied for the fifth-best single game mark in FBS annals w 378 rushiing yds.
13 minutes ago

OU_Football

Oklahoma Football


. @samajp32 is tied for the BEST single-game rushing performance in @Big12Conference history with 378 yardshttp://t.co/5x7OCES0X4
14 minutes ago

SoonerFootball

Sooner Football


OU punts away: fair caught at the 31
14 minutes ago

Big12Conference

Big 12 Conference


#Big12Insider Texas Tech's DeAndre Washington says "watch this, Samaje" and goes for 72 yd TD run to give TTU a 14-0 lead at Iowa State.
14 minutes ago

SoonerFootball

Sooner Football


3rd & 9: Thomas deep, incomplete
14 minutes ago

OU_Football

Oklahoma Football


Because he should be a household name, you should know how to pronounce it. sa-MA-jay P-rine
15 minutes ago

SoonerFootball

Sooner Football


OU from their 30 | 1st: Thomas keeps it, gets to the KU 35; flag for holding pulls back | 1st & 12: Perine no gain | 2nd: Perine for 3
15 minutes ago

Big12Conference

Big 12 Conference


#Big12Insider OU's Samaje Perine needs four yards to break Iowa State's Troy Davis' Big 12 single game record of 378 yards.
16 minutes ago

BChatmon

Brandon Chatmon


DeAndre Washington is trying to have a big game of his own in Ames. 72-yard TD run for Tech. 2 TDs already
16 minutes ago

espn

ESPN


Is Melvin Gordon's week-old record in jeopardy already? Oklahoma's Samaje Perine has 375 rush yds (and 5 TD!) in the 3rd quarter.
17 minutes ago

SoonerScoop

SoonerScoop.com


Pretty sneaky Cody Thomas.
17 minutes ago

OU_Athletics

Oklahoma Sooners


The crowd is chanting "PERINE" (and for good reason)!
18 minutes ago

SoonerFootball

Sooner Football


KU punts away: Ball dead at the 30
18 minutes ago

SoonerFootball

Sooner Football


KU from their 25 | 1st: QB throws away | 2nd: Rush gains 1 | 3rd & 9: pass gains 7
19 minutes ago

OU_Football

Oklahoma Football


The 375 rushing yards by @samajp32 are the 9th-best single-game total in FBS history. #BOOMER
19 minutes ago

OU_Football

Oklahoma Football


http://t.co/WwqN7z4lHS
20 minutes ago

SoonerScoop

SoonerScoop.com


How did TCU almost lose to this Kansas team? They are the worst offensive team I've seen all year.
20 minutes ago

OU_Football

Oklahoma Football


. @samajp32 three yards shy of @Big12Conference single-game rushing record of 378 set by ISU's Troy Davis vs. Mizzou (9/28/96).
20 minutes ago

Big12Conference

Big 12 Conference


#Big12Insider OU's Samaje Perine has 375 rushing yards with 6:04 left in third quarter. Single-game record set last week is 408 yards.
20 minutes ago

OU_Football

Oklahoma Football


http://t.co/WwqN7z4lHS
20 minutes ago

SoonerFootball

Sooner Football


OU kicks off to KU: touchback
21 minutes ago

Big12Conference

Big 12 Conference


ICYMI - The #Big12 will host six NCAA basketball postseason events from 2016-18. http://t.co/SGeZ6jetXD
21 minutes ago

SoonerFootball

Sooner Football


PAT makes it 41-7 with 6:04 in the 3rd. Perine on the chase for 409. Under 40 yards to go.
22 minutes ago

SoonerScoop

SoonerScoop.com


Samaje Perine TD run of 27 yards gives him 375 yards on 30 carries and 5 TDs.
22 minutes ago

Big12Conference

Big 12 Conference


#Big12Insider Perine 27yd house call on 4th and 2. He gained all 35 yards on TD drive.
22 minutes ago

OU_Football

Oklahoma Football


. @samajp32 @samajp32 @samajp3230 carries, 375 yards, 5 TDs
22 minutes ago

Jake_Trotter

Jake Trotter


Perine up to 375 yards and five TDs.
23 minutes ago

SoonerFootball

Sooner Football


OU from the KU 35 | 1st: Perine for 2 | 2nd: Perine for 3 | 3rd & 5: Perine for 3 | 4th & 2: PERINE TOUCHDOWN
23 minutes ago

OU_Football

Oklahoma Football


TOUCHDOWN, PERINE!!!
23 minutes ago

OU_Football

Oklahoma Football


. @samajp32 currently owns the 4th-best single-game rushing performance in @Big12Conference history. http://t.co/5x7OCES0X4
25 minutes ago

SoonerFootball

Sooner Football


KU punts away on 4th & 14: Sanchez fields near midfield, brings to the 37
28 minutes ago

OU_Football

Oklahoma Football


In non-Perine news, OU defense has limited KU to 1-11 on 3rd down.
28 minutes ago

SoonerFootball

Sooner Football


KU from their 25 | 1st: QB dumps it | 2nd: Phillips drops for a loss | 3rd & 15: QB slides for 2
29 minutes ago

Jake_Trotter

Jake Trotter


FYI, Big 12 record for rushing yards: Iowa State's Troy Davis with 378 vs. Mizzou in 1996.
30 minutes ago

SoonerFootball

Sooner Football


OU kicks off to KU: out of the end zone
31 minutes ago

OU_Football

Oklahoma Football


.@samajp32 and counting. #Sooners http://t.co/izfaSK06eR
31 minutes ago

OU_Football

Oklahoma Football


. @Hunnicutt08 now has 441 career points to rank 6th in FBS history.
32 minutes ago

OU_Football

Oklahoma Football


http://t.co/VU4azGPXnx
32 minutes ago

OU_Football

Oklahoma Football


http://t.co/VU4azGPXnx
32 minutes ago

SoonerFootball

Sooner Football


... And he's within 75 yards of the NCAA record of 408
33 minutes ago

SoonerFootball

Sooner Football


Hunnicutt field goal is goal. #Sooners up 34-7 over Jayhawks in the third qtr. Perine first Sooner rusher with over 300+ yards in a game.
33 minutes ago

OU_Football

Oklahoma Football


.@samajp32 and counting. #Sooners http://t.co/izfaSK06eR
33 minutes ago

SoonerScoop

SoonerScoop.com


Hunnicutt field goal is good. Oklahoma 34 Kansas 7
34 minutes ago

OU_Football

Oklahoma Football


38-yard FG ups #Sooners lead to 34-7. 9:30 left in 3rd.
34 minutes ago

jasonkersey

Jason Kersey


Samaje Perine is only 73 yards from breaking Melvin Gordon's 1-week-old NCAA single-game rushing record. #Sooners
34 minutes ago

SoonerFootball

Sooner Football


OU from the KU 25 | 1st: Perine for 4 | 2nd: Perine for 1 | 3rd & 5: Thomas overthrows young
34 minutes ago

Big12Conference

Big 12 Conference


#Big12Insider Last week Wisconsin's Melvin Gordon set FBS single-game record with 408 yards. OU's Perine in full chase mode, within 80 yds
35 minutes ago

SoonerFootball

Sooner Football


OU from the KU 39 | 1st: Perine for 3 | 2nd: Perine for 3 | 3rd & 4: Perine for 8
36 minutes ago

SoonerScoop

SoonerScoop.com


23 carries for 327 yards for Samaje Perine. First back in OU history to rush for 300+ yards.
37 minutes ago

Jake_Trotter

Jake Trotter


Samaje Perine within 327 rushing yards in the third quarter… Melvin Gordon's FBS rushing record is 408.
37 minutes ago

OU_Football

Oklahoma Football


OU SINGLE-GAME RUSHING REC.324 S. Perine vs. KU TODAY294 Greg Pruitt at KSU 10/23/71291 D. Parker vs. UT 10/11/97
37 minutes ago

Big12Conference

Big 12 Conference


#Big12Insider Samaje Perine with a powerful run for 8 yards, then follows with a 25yd gain & that's the OU single-game rushing record: 321.
37 minutes ago

OU_Football

Oklahoma Football


OU SINGLE-GAME RUSHING REC.324 S. Perine vs. KU TODAY294 Greg Pruitt at KSU 10/23/71291 D. Parker vs. UT 10/11/97
37 minutes ago

OU_Football

Oklahoma Football


There's the record for @samajp32 . He's the only player in OU history to have a 300-yard rushing game. He's got 321!
38 minutes ago

SoonerFootball

Sooner Football


OU from their 28 | 1st: Perine for 8 | 2nd: Perine out to the KU 38
38 minutes ago

SoonerScoop

SoonerScoop.com


Perine is now over 300 yards rushing on the day.
38 minutes ago

Jake_Trotter

Jake Trotter


Samaje Perine breaks Greg Pruitt's OU game rushing record with 296 rushing yards.
39 minutes ago

Big12Conference

Big 12 Conference


#Big12XC Three #Big12 teams finished in the top 10 at #NCAAXC14, while 6 student-athletes earned All-America honors: http://t.co/kCtuILY4Do
39 minutes ago

SoonerScoop

SoonerScoop.com


Perine in the game. 7 yards to history.
39 minutes ago

BChatmon

Brandon Chatmon


Not going to retweet it but awesome, @gophersports, awesome
40 minutes ago

SoonerFootball

Sooner Football


KU kicks off: stopped at the 28
40 minutes ago

Jake_Trotter

Jake Trotter


Virginia Tech 0, Wake Forest 0… and they're in overtime.
40 minutes ago

Big12Conference

Big 12 Conference


#Big12Insider Freshman Patrick Mahomes getting the start at QB for Texas Tech at Iowa State.
40 minutes ago

SoonerFootball

Sooner Football


Fumble call stands. PAT makes the score 31-7. 13:34 in the third qtr.
41 minutes ago

Big12Conference

Big 12 Conference


#Big12Insider OU's Keith Ford fumbles for second time, KU's Sendish recovers and returns for TD. OU 31, KU 7 with 13:34 left in 3rd Q.
41 minutes ago

OU_Football

Oklahoma Football


#Sooners up 31-7 after the PAT by Jayhawks.
41 minutes ago

OU_Football

Oklahoma Football


63-yard fumble return TD by Jayhawks if play stands.
43 minutes ago

SoonerFootball

Sooner Football


Timeout OU
44 minutes ago

SoonerScoop

SoonerScoop.com


Replay looks like a clear fumble by Ford.
44 minutes ago

BChatmon

Brandon Chatmon


double lol RT @Jake_Trotter: OU subs out Perine, and Keith Ford fumbles away for the second time. KU picks it up. TD Jayhawks.
44 minutes ago

OU_Football

Oklahoma Football


Gotta think this will get reviewed.
45 minutes ago

SoonerFootball

Sooner Football


OU from midfield | 1st: Ford gets 11, fumbles, KU picks it up and returns for a TD.
45 minutes ago

Jake_Trotter

Jake Trotter


OU subs out Perine, and Keith Ford fumbles away for the second time. KU picks it up. TD Jayhawks.
45 minutes ago

BChatmon

Brandon Chatmon


lol RT @jasonkersey: Keith Ford is in the game. Really.
45 minutes ago

SoonerFootball

Sooner Football


Amhad Thomas on the interception
45 minutes ago

SoonerFootball

Sooner Football


KU from their 25 | 1st: INTERCEPTED at midfield
46 minutes ago

OU_Football

Oklahoma Football


Amhad Thomas with his first career INT.
46 minutes ago

OU_Football

Oklahoma Football


INTERCEPTION, SOONERS!!
46 minutes ago

Big12Conference

Big 12 Conference


#Big12Insider Samaje Perine's career-best 66 yd TD run gives him OU freshman single-game record 288 yards.
46 minutes ago

SoonerScoop

SoonerScoop.com


There are no bodies strewn all over the field like the WVU and Texas Tech games. He's just faster than everyone today.
46 minutes ago

BChatmon

Brandon Chatmon


#straightfactshomie RT @ESPN_Big12: Oklahoma RB Samaje Perine has 19 carries, 288 yards, 4 TDs with 13:56 left in the third quarter.
46 minutes ago

SoonerFootball

Sooner Football


OU kicks of KU : touchback
46 minutes ago

SoonerScoop

SoonerScoop.com


This really isn't anything like Perine's other big rushing performances this yea either. He's just running through wide open holes.
47 minutes ago
BIG 12 SCOREBOARD
Saturday, 11/22
Thursday, 11/20
BLOG ARCHIVE:
CATEGORIES: