Sooner Intel: Recruiting news and notes
July, 19, 2012
7/19/12
10:00
AM ET
Every Thursday, SoonerNation releases the Sooner Intel, a sneak peek inside Oklahoma Sooners football recruiting with news and notes on the latest happenings around the program. Talk about it on our forum. A few things discussed in this week's update:
• OU's quarterback commit is recruiting other top prospects.
• The Sooners' top defensive target likely won't take another visit to OU.
• Torii Hunter Jr. says it's important that he plays two sports in college
• Distance will be a factor for a 2014 in-state defensive end.
• Two in-state linebackers to watch as the Sooners' options dwindle.
Read the Sooner Intel after the jump.
Thomas busy but not overwhelmed
Cody Thomas
knew it. Josh Heupel knew it. Every other college football program that coveted Thomas knew it, too. If you wanted to get Thomas, you had to be willing to accept that the Colleyville (Texas) Heritage quarterback was going to spend the bulk of his summer playing baseball.
Thomas wasn't backing down from his demand. Heupel and the Sooners understood and found their quarterback in May. And now they're learning exactly what that means as Thomas has been hitting the road all summer for baseball tournaments.
Despite that, Thomas actually said he is in better football condition now than he has ever been during the summer.
Bob Przybylo/ESPN.com
Quarterback Cody Thomas is competing this week in the Elite 11 finals.
"I'm way sharper than what I've been in the past," Thomas said. "I would throw the football before in the summer but not as religiously as I am this summer."
What that has meant to Thomas is he has had a whopping three days off this summer where he wasn't concentrated on either sport. Thomas is
participating in the Elite 11 quarterback finals
this week in Redondo Beach, Calif.
Before he fully concentrates on his senior season, he still has the Area Code Baseball Games in the first week of August. Thomas, an outfield prospect, will represent the Texas Rangers regional team in Long Beach, Calif.
Thomas said he has been happy with his preparation this summer.
"I think my ball is coming out good right now. It's not normally as good at this point in previous summers," Thomas said. "I throw my baseball a lot like I throw a football so it's not a big transition for me."
Thomas said he has not met any of the OU commits, but he has been keeping in touch with them on Facebook and Twitter. And he is doing his best to get another top prospect to Norman.
"I tried real hard with
Sebastian LaRue
. He ended up going to USC, but I've been talking and messaging some with
Laquon Treadwell
," Thomas said. "I'm doing what I can. He has been the main one right now."
He has also been in constant contact with Heupel and said the contact is going to increase even more. Thomas said the two have been talking about once a week, but it will probably increase to talking every 3-4 days, which Thomas said he is excited about.
No visit necessary for Manning
Is there a more polarizing 2013 recruit for OU fans than Dallas Kimball defensive tackle
Justin Manning
? I believe it's safe to say there isn't. And as Manning continues to make the rounds, Sooners fans begin to wonder even more where exactly does OU stand with Manning?
"Everything is still good between me and OU," Manning said. "Tell you the truth I haven't really thought about it all that much here recently. My top eight is still my top eight."
Manning said at the beginning of the summer if he went to any camps, it would be to visit coaches and not to actually participate in anything. He has been a man of his word on that one. He was at TCU last weekend and is scheduled to be at Texas A&M this weekend for a linemen camp.
There is no doubt the Horned Frogs have made a solid impression on Manning.
"The coaching staff is so laid back, and it's so easy to communicate with them," Manning said. "With A&M, it's a little different. I feel that way with some coaches but not with all of them."
Manning said he needed to get another look at TCU and A&M because he needs to make sure it's the right fit. But it's possible he won't visit Norman again. Not because of any hurt feelings but because he simply doesn't need to.
"It doesn't really matter if I don't see the campus again," Manning said. "I know everything there is to know about OU. I know all the coaches.
"It has been disappointing that every time they've had a camp or something like that, I haven't been able to make it for one reason or another. But it's not that big of a deal."
Manning, the younger brother of former OU defensive tackle DeMarcus Granger, said he doesn't talk to his brother that much about recruiting. If he needs advice, he'll ask Granger. But for the most part, Manning is doing this on his own.
He said he would still like to make all five official visits. At this time, however, Manning has not thought about where those five will be.
"I don't know yet. I want to enjoy my summer, and I have. I also don't take any of this for granted. I'm taking it seriously," he said.
Baseball a priority for Hunter, too
Is it possible that OU's baseball team could consist of an outfield with Cody Thomas and
Torii Hunter Jr.
? It better be more than possible if the Sooners have any realistic shot at the Proper, Texas, two-sport star.
Hunter has exploded this summer with his recruitment. It started back in March after an impressive Nike SPARQ rating, and it hasn't slowed down. Hunter has gone from not being in the ESPN 150 in April to No. 137 in June to No. 51 last week. How did the wide receiver make this leap?
"It's confidence. I really do think the only biggest change with me is my confidence," Hunter said. "I want to be that guy. I want to be the leader."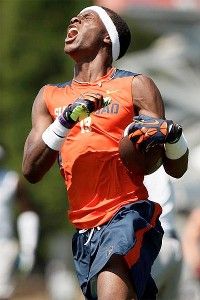 Tom Hauck for ESPN.com
Torii Hunter Jr. was the star of The Opening's 7-on-7 tournament.
Hunter showed out two weeks ago at The Opening, earning 7-on-7 MVP honors. He said the recruiting interest hasn't picked up much since the event, but it has definitely given him a lot more exposure.
"More reporters. More people like you," Hunter said, laughing. "It's fine. I was under the radar for a while, and I saw The Opening as a chance to get some more exposure."
Hunter was offered by the Sooners in March, and OU receivers coach Jay Norvell made a strong impression on the four-star prospect. But Hunter admits he hasn't talked with Norvell in a while. He also said he hasn't talked to many coaches in a while so it's not like he is shunning Norvell.
Like Thomas, Hunter has been busy with baseball and football. That's not surprising since he is the son of the four-time MLB all-star of the same name. And like his father, Hunter would like to pursue a career in baseball. Well, at least at the college level.
"That is definitely something that is very important to me, very important," Hunter said. "Academics come first, but being able to play football and baseball is right up there."
Hunter is right back on the diamond, saying he has a baseball tournament this weekend. When he gets a day off in baseball, he is making sure he is there for his football teammates.
"I won't miss any workouts. That's not what leaders do. I am there. I will always be there," he said.
Hunter said he likes that OU is so close to home, but he hasn't put much thought at all into his five official visits or a list of favorites at this point.
Race for Clark heats up
A lot of talk has centered around the 2013 class of prospects. But if there is one 2014 recruit where it feels like his recruitment is already a priority, it is with defensive end
Deondre Clark
(Oklahoma City/Douglass).
It seems several college programs are realizing what a special talent Clark is, and the earlier coaching staffs try to reach him, the better off they'll be.
Whereas his older brother, ESPN 100 shooting guard
Stevie Clark
, travels the country on a yearly basis, Deondre normally stays close to home. So the fact Deondre and his mother made the trip to LSU for the Tigers camp shows you how serious he is about the program.
And it's safe to say Baton Rouge, La., made a quality impression on Clark.
"I don't know if I can tell you a favorite thing. It was everything. I loved it there," Clark said. "The competition was incredible at the camp. I know I have to keep working hard if I'm going to make it at a place like LSU."
The consensus has been that Deondre will stay closer to home and that where Stevie attends college actually isn't going to play too big of a role.
"You have to know your sons and know what is best for them," Dorshell Clark said. "I know Stephen is going to be fine no matter what. With Deondre, it's a little different. There will be some other factors that come into play."
One of those is obviously distance, which will help OU's cause. Getting in as early as OU defensive ends coach Bobby Jack Wright did is also a huge help. Dorshell has stressed the relationship with the coaches as one of the biggest priorities for her sons so the Sooners have started off on the right foot with Deondre.
Now that Deondre is back in town, there is one thing he wants to do.
"I want to meet
D.J. Ward
," Clark said. "I'm so excited about the chance to learn from him. This year is going to be so much fun."
The state's No. 1 prospect, D.J. Ward, said last week he is transferring from Lawton, Okla., to Oklahoma City Douglass. Ward committed to OU in April and is No. 90 in the ESPN 150.
Trojans running out of options
Has one school ever dictated so much about what is happening at other schools than what USC is doing with OU for this class? Of the 16 commits for the Trojans, 14 of them also have offers from the Sooners. And so far, OU has not won a single head-to-head battle between the two schools.
Erik McKinney/WeAreSC.com
Defensive back L.J. Moore has Sooners interest.
That has to change, though, you might think because USC only has two more scholarships to play around with after fellow OU offer safety
Max Redfield
(Mission Viejo, Calif./Mission Viejo) committed to USC on Wednesday. And in talking with WeAreSC's Blair Angulo, it looks like USC has its sights set on the defensive side of the ball.
In his opinion, the top five targets for USC are all on defense: cornerback
Vernon Hargreaves III
(Tampa, Fla./Wharton), safeties
Priest Willis
(Tempe, Ariz./Marcos De Niza),
Tahaan Goodman
(Rancho Cucamonga, Calif./Rancho Cucamonga) and
Leon McQuay III
(Seffner, Fla./Armwood) and defensive lineman
Joe Mathis
(Upland, Calif./Upland).
Next on his list is
Laquon Treadwell
. And with the torn ACL of USC commit
Eldridge Massington
(Mesquite, Texas/West Mesquite), another receiver might be in the cards although Massington is optimistic he will be back better than ever.
What's the common theme there with all the targets? Again, all of them have OU offers. However, what big names are missing from the board? The Fresno (Calif.) Central East trio.
Defensive backs
Johnny Johnson
Jr.,
L.J. Moore
and
Hatari Byrd
look like they will all find a home other than USC. Byrd released a top five Tuesday night of OU, Washington, California, UCLA and Arizona State.
Johnson said earlier this summer that he feels the biggest rivalry in college football is OU-Texas so the Sooners are in a good spot with the trio. All three are still expected to make official visits to OU for the Notre Dame game (Oct. 26 weekend).
And even if Byrd commits to another school before the visit, expect OU to stay in the hunt until at least after that visit to OU.
Christensen a load at fullback
Some have asked me why OU isn't too concerned at fullback, especially when a three-star was right in OU's backyard with Tulsa (Okla.) Union's
Chris Hall
.
But in looking at
OU's updated roster
, there was a name that stood out to me in freshman Alex Christensen, who was listed as a fullback. He was a two-sport star at Edmond (Okla.) Deer Creek in both football and wrestling. He was easily one of the biggest high school quarterbacks I've ever seen.
A move to fullback was only natural. Christensen carried 220 pounds with no problem as a quarterback so it's tough for me to see him having difficulty with 243 pounds. Christensen had Division I offers in wrestling but has always loved football more.
Aaron Ripkowski came out of nowhere to contribute last season, and I could see that same type of vibe coming from Christensen although it is obviously much too early to tell.
If the name Christensen doesn't mean much to you, the last name of his stepmother will ring familiar to Oklahoma residents. Christensen's stepmother is Oklahoma governor Mary Fallin.
Ponds still hoping for a look
OU is fresh out of offered targets at linebacker. It wasn't like Tim Kish was stingy with the offers, either. But with more than 20 offered, it's time to head back to the drawing board.
Will Eagles' Gamble On Bradford Pay Off?
BIG 12 SCOREBOARD
Thursday, 9/3
Friday, 9/4
Saturday, 9/5