November, 23, 2014
Nov 23
8:00
AM ET
Head-coaching changes are on the way, certainly at Florida and likely at Michigan, but do not overlook key coordinator moves potentially on the horizon.
Which programs should make a hire, and which are the likeliest to do so?
Virginia Tech fits both. Those close to the program were unsure last month about offensive coordinator Scot Loeffler's future, but failure to score in four quarters Saturday against Wake Forest is a death knell.
The Hokies lost 6-3 in double overtime to the Deacons, an inexcusable and improbable loss that drops them to 5-6. With only Virginia remaining, the rivalry game will determine whether the program's streak of 21 consecutive bowl games will extend another year.
You'd think Loeffler would get a pass for the offense's issues, given the magnitude of injuries and youth Virginia Tech has dealt with this fall. I'm told, however, that head coach Frank Beamer has concerns about the inconsistency of the play-calling and flow. Beamer has become more vocal in recent weeks and implored Loeffler to call more run plays and make the offense more digestible for all the young, inexperienced players forced into action.
In 24 games (13-11 record), Loeffler's offense has averaged 4.94 yards per play. That's 109th in the FBS. Last in that span? Wake Forest.
Beamer, embattled at this point, has to make a move for one final run at the ACC.
With a number of returning offensive players, including several returns from injuries, there are reasons for hope in 2015. Texas Tech transfer
Michael Brewer
was serviceable before his injury. With a new offensive plan and consistency, the Hokies could give Beamer that rebound run.
Where would I start? Well, Kurt Roper is on the market, and Florida's demise had very little to do with him. He might be more spread-oriented than recent machinations, but perhaps that divergent philosophy is what the Hokies need.
Knowing the division from his Duke days, he'd be an asset. Having spent some time around him, I think he'd be a snug cultural fit.
Here are a few other coordinator spots to monitor
November, 23, 2014
Nov 23
12:10
AM ET
Here's what we learned Saturday in Week 13 of the Big 12:
[+] Enlarge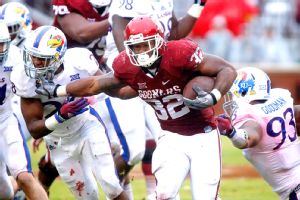 Brett Deering/Getty ImagesOklahoma running back Samaje Perine proved too physical for Kansas' defense on Saturday.
1. Perine is a star already:
Melvin Gordon
's FBS single-game rushing record lasted all of seven days. One week after the Wisconsin Heisman hopeful rushed for 408 yards, Oklahoma's
Samaje Perine
eclipsed that mark with 427 yards on 34 carries in a
44-7
win over Kansas. Perine didn't even start the game, and he only got one carry (he took it 49 yards for a touchdown) through Oklahoma's first three possessions. But he took over the game after that and ran for five touchdowns before capping his amazing afternoon with a 43-yard dash that broke Gordon's record early in the fourth quarter. The scariest part? Perine is a true freshman. Although Gordon will likely be taking his talents to the NFL after this season, Perine will be terrorizing Big 12 defenses for years to come as one of the fastest rising stars in college football.
2. The Cowboys appear to have their QB of the future:
Oklahoma State pulled the redshirt off true freshman quarterback
Mason Rudolph
with only two games left, after
Daxx Garman
was ruled out with a concussion. In his much anticipated collegiate debut, "The Reindeer" electrified a previously dormant Cowboys offense, and Oklahoma State hung tough with the seventh-ranked Bears before they pulled away
49-28
. Rudolph wasn't perfect; he did throw a couple freshman interceptions. But he gave the Cowboys the jolt they've desperately been craving, offensively, since
J.W. Walsh
was injured in Week 2. Displaying veteran poise and an accurate arm, Rudolph threw for 281 yards and a pair of touchdowns. Dating back to halftime Oct. 11 against Kansas, Oklahoma State had scored just three offensive touchdowns coming into the weekend. On Saturday, with Rudolph at quarterback, the Cowboys scored four TDs on the road against the Big 12's best statistical defense. Overall, this has been a disappointing season for the Cowboys. But with Rudolph behind center, they have plenty to be excited about for the future.
3. Baylor misses a prime chance for style points:
Earlier in the day, No. 6 Ohio State struggled at home against Indiana, which opened the door for Baylor to jump the Buckeyes in the playoff rankings with an impressive performance. The Bears appeared to be on their way to doing just that, after they bounded to a 14-0 lead over the Cowboys in the game's first three minutes. But the rest of the way, Baylor sputtered offensively and had problems stopping Rudolph. This might come off like nitpicking. After all, Baylor did win the game by three touchdowns. But with "game control" being utilized by the playoff committee as a subjective component, Baylor missed out on an opportunity to deliver a statement on the same weekend Ohio State struggled and TCU was off.
4. Mahomes is making a move on the Tech QB job:
Coming into the season, the Red Raiders had high hopes for sophomore quarterback
Davis Webb
. But Webb's struggles with turnovers, followed by an ankle injury, have given true freshman
Pat Mahomes
the opportunity to show what he can do with the job. After he threw four touchdowns last week against Oklahoma, Mahomes was terrific again in a
34-31
win at Iowa State. He threw for 328 yards and four touchdowns and led the Red Raiders on a 75-yard, game-winning drive, which he capped with a 44-yard touchdown pass to
Kenny Williams
late in the fourth quarter. Perhaps most impressively, Mahomes has thrown only one interception the past two weeks. Tech coach Kilff Kingsbury said earlier in the week that the quarterback that doesn't turn the ball over would have the best chance to be the program's long-term starter. Right now, that appears to be Mahomes.
5. Iowa State is now on the cusp of a winless Big 12 season:
Texas Tech was Iowa State's best chance to get a Big 12 win to give the program at least a dash of momentum going into 2015. The Cyclones needed one last stop and then one last scoring drive. Instead, they failed to get either, and Tech rallied to take the lead, then held Iowa State on a final fourth-down attempt. The Cyclones entered this season hoping to regain bowl eligibility after going 3-9 last year. But if they don't knock off West Virginia at home next weekend or somehow pull the upset of the year Dec. 6 at No. 5 TCU, they will finish winless in the conference for the first time since Paul Rhoads took over as coach in 2009.
November, 22, 2014
Nov 22
10:49
PM ET
On what was largely a ho-hum Saturday, many of the country's top teams didn't dominate their games against what were supposed to be overmatched opponents.
No. 1 Alabama led FCS opponent Western Carolina 17-14 early in the second quarter of a 48-14 victory.
No. 3 Florida State needed a field goal with three seconds left to beat Boston College 20-17 in the rain at home.
No. 6 Ohio State trailed Indiana deep into the third quarter of a 42-27 win.
And No. 8 Ole Miss was blown out by Arkansas in an ugly 30-0 loss.
At this point, with only two weeks left in the regular season, does it really matter how good a team looks while winning? Isn't it all about just winning?
Defending national champion Florida State has made its living by winning ugly this season. The Seminoles' victory over Boston College was their sixth this season in which they trailed or were tied in the second half. According to ESPN Stats & Information, only Northern Illinois in 2013 won more such games (seven) among the 30 FBS teams that started 11-0 in the past 10 seasons.
So will FSU's latest closer-than-expected victory bolster its playoff résumé?
"Why wouldn't it?" FSU coach Jimbo Fisher said. "We're undefeated. We're undefeated. We finish every game. Everybody else in the country has not finished at least one game. We've finished every one of them. Isn't that the object?"
It used to be. But now the object seems to be more about how you look in winning. The Seminoles dropped from No. 2 to No. 3 in the rankings over the past couple of weeks, and they haven't even been ranked No. 1 by the selection committee, despite being the only remaining unbeaten team from a Power 5 conference and having won a school-record 27 consecutive games.
"Well, you know, we were downgraded every time we blew someone out last year, so think of the irony of that," FSU quarterback Jameis Winston
November, 22, 2014
Nov 22
5:33
PM ET
By
ESPN.com staff
| ESPN.com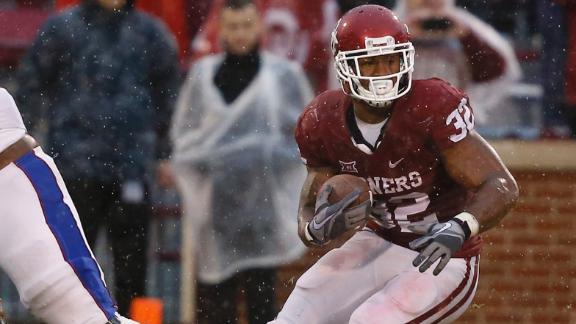 Running back
Samaje Perine
eclipsed
Melvin Gordon
's single-game rushing record with 427 yards on 34 carries in Oklahoma's
44-7 win
against Kansas.
November, 22, 2014
Nov 22
5:14
PM ET
Associated Press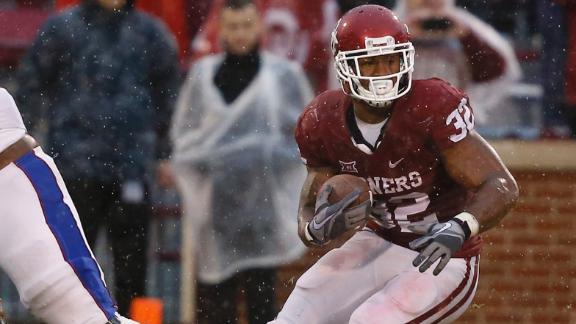 NORMAN, Okla. -- Oklahoma freshman Samaje Perine set a major college record by running for 427 yards in a driving rainstorm, scoring five touchdowns and leading the No. 21 Sooners over Kansas 44-7 Saturday.
A week after Wisconsin's Melvin Gordon set the mark by rushing for 408 yards against Nebraska, Perine broke it.
Perine set the record on his 34th and final carry, a 42-yard run with 12:16 left in the fourth quarter.
Perine got off a fast start, running for a 49-yard TD on his first carry. He added TD runs of 33 and 34 yards in the second quarter and scored on runs of 66 and 27 yards in the third.
In a game that started 90 minutes late because of lightning, Perine shattered the school rushing record of 294 yards set by Greg Pruitt in 1971.
The Sooners (8-3, 5-3 Big 12, No. 21 CFP, No. 23 AP) led the Jayhawks (3-8, 1-7) by 41-7 after three quarters.
November, 22, 2014
Nov 22
4:29
PM ET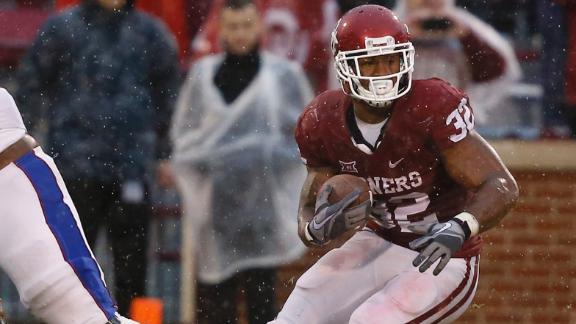 NORMAN, Okla. -- When he learned he was close to breaking Melvin Gordon's week-old FBS single-game rushing record of 408 yards, Samaje Perine approached Oklahoma running backs coach Cale Gundy on the sideline.
"You can put one of the other guys in," the true freshman said to his position coach. "The record is not important."
The Oklahoma offensive line overheard the conversation. And wanting the record more than the eventual record-breaker, it overruled him. Perine re-entered the backfield, and on the Sooners' second play of the fourth quarter Saturday against Kansas, he reeled off a 42-yard run to break the record with 427 rushing yards. He then was subbed out to chants of "Pee-rhine, Pee-rhine" from a rain-soaked Owen Field crowd.
"It really can't -- it's still surreal," Perine said when asked afterward how he felt. "I'm not really feeling special in any type of way. I was just looking to do what I had to do to help this team win."
Perine did just that in Oklahoma's 44-7 stomping of the Jayhawks. And then some.
Just last week against Nebraska, Gordon broke the FBS single-game mark previously held since 1999 by TCU's LaDainian Tomlinson, who with 406 yards against UTEP had been the only FBS back ever to run for 400-plus yards in a game.
November, 22, 2014
Nov 22
10:16
AM ET
Oklahoma's kickoff with Kansas has been delayed until at least 1:30 p.m. ET due to lightning in the area, the school announced Saturday morning.
The No. 21 Sooners and the Jayhawks were originally scheduled to kick off at 12 p.m. ET.
Oklahoma officials have been consulting with National Weather Service meteorologists, who are at the stadium.
November, 21, 2014
Nov 21
4:00
PM ET
In today's Twitter mailbag, we examine TCU and Baylor's playoff possibilities, the future of Texas and the chances of Bob Stoops and Mike Gundy going to Florida.
Max will be in Waco this weekend covering Oklahoma State-Baylor. I will be in Norman to see if Kansas can give another ranked team a scare.
Now, on to the 'bag:
@Jake_Trotter if the top 8 win on Saturday, is there any movement in the standings?

— Mike G (@mikefrogit) November 21, 2014
Trotter
: I don't think so. Nobody in the top eight plays a noteworthy opponent.
@Jake_Trotter the Big10 got beat up in non-con play this year, but still in a better position to make the playoff. What can the Big12 do?

— Nathan Quinn (@NateQuinn11) November 21, 2014
Trotter
: The one thing to keep in mind is the playoff committee has said that it's viewing teams individually and not through the prism of what conference they play in. In other words, the committee is examining Ohio State when it does these rankings. Not the Big Ten. So in the eyes of the committee this is about TCU and Baylor vs. Ohio State. Not the Big 12 vs. the Big Ten. What can TCU and Baylor do? Annihilate their upcoming opponents and hope for the best.
@Jake_Trotter Bowl projection and possible opponent for OU?

— Casey (@CaptainRiceCake) November 21, 2014
Trotter: Russell Athletic Bowl against Notre Dame?
@Jake_Trotter what are the chances Stoops moves on after this season. Florida? Michigan? NFL? Rumors have been around awhile now.

— Nick Heimann (@nick_heimann) November 21, 2014
Trotter: I put it at less than 10 percent. But the only place Stoops would ever leave for would be Florida. And if he was ever going to do it, it would be now. He loves the weather there, he always talks fondly of his time as a defensive coordinator at Florida and he has a great relationship with Florida AD Jeremy Foley. That said, my money is on him staying at Oklahoma. He has the full support of the president and athletic director. He has 100 percent job security. He has his brother Mike coaching with him. He just built a multimillion dollar home. His kids are coming up on high school age. And I'm not sure he wants to coach all that much longer. Going to Florida would prolong that. I'm not sure that's something he wants at this point.
@Jake_Trotter @ESPN_Big12 do you think Texas can upset TCU? #biggame #upset #HookEm

— Mario Morales Jr (@mariomoralesjr) November 21, 2014
Trotter: Without a doubt. Texas has played excellent football the last three weeks. The defense has been dominant. The offensive line continues to get better. This will be a very tough test for TCU, whether the playoff selection committee realizes it or not.
@Jake_Trotter what year will Texas be the big 12 favorite in the preseason?

— Bears and Brews (@BaylorObserver) November 21, 2014
Trotter: This is an interesting thought. It won't be next year. TCU, with QB Trevone Boykin back, will probably be next year's preseason favorite. But by 2016? Yeah, Texas would have a chance to be the preseason favorite, if it continues on the current trajectory we've seen from Charlie Strong's bunch this season.
@Jake_Trotter will the conference look at adding more teams? Will the big 12 still be a conference 5 years from now?

— Chris Cruz (@realchriscruz17) November 21, 2014
Trotter: I've been told that the only way the league would look at expansion is if it got left out of the playoff year after year. That could happen this year. If it happened a couple more times, the league would be forced to rethink its current format.
@Jake_Trotter say Gundy does leave, can't you see some Bad-A like Derek Dooley coming in and taking OSU to the top?

— Travis Guidry (@TGuidry25) November 21, 2014
Trotter: I sense you're being sarcastic. But if Mike Gundy did bolt after this season, Oklahoma State would be in a position to court several viable candidates. Clemson offensive coordinator Chad Morris would make a bunch of sense. Memphis coach Justin Fuente is an up-and-comer with ties to the state. Gundy's coaching tree includes Southern Miss head coach Todd Monken (who is very popular in Stillwater), North Carolina head coach Larry Fedora and TCU offensive coordinator Doug Meacham. The Cowboys would also have an in-house candidate in Glenn Spencer, who has flourished as Oklahoma State's defensive coordinator. The Cowboys would have intriguing options.
November, 21, 2014
Nov 21
8:00
AM ET
Florida is officially open. Is Bob Stoops legitimately listening?
[+] Enlarge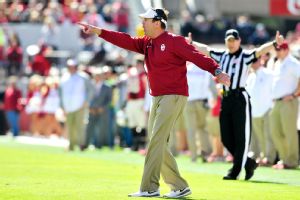 AP Photo/The Norman Transcript, Kyle PhillipsRelationships with the administration at OU could be the only thing keeping Bob Stoops from moving to Florida.
Even though I wrote last month that there are definitive reasons why the time is right for
Stoops to leave Oklahoma
, I still doubt that he does. He's as doggedly stubborn as any coach in America. He'll want to see the Sooners back to prominence in the league and nationally.
But …
The alternative that makes the most sense for him, Florida, is officially open.
To continue reading this article you must be an Insider
College Football Minute
BIG 12 SCOREBOARD
Thursday, 11/20
Saturday, 11/22