September, 16, 2014
Sep 16
10:00
AM ET
September, 16, 2014
Sep 16
8:00
AM ET
Happy Tuesday to all you NFL fantasy owners of Big 12 legend
Darren Sproles
.
September, 15, 2014
Sep 15
5:00
PM ET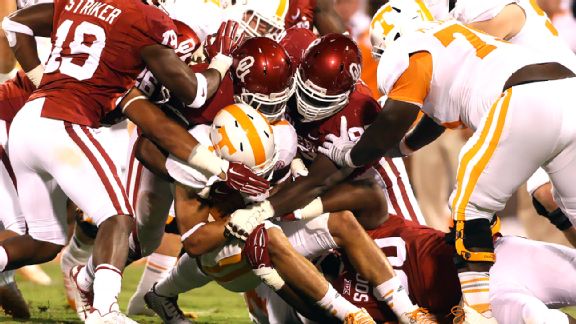 J.P. Wilson/Icon SportswireThe Oklahoma Sooners return to Morgantown with an improved defense.
NORMAN, Okla. -- The Sooners' maiden trip to Morgantown two years ago resulted in the lowest point in the history of the Oklahoma defense.
The Sooners somehow prevailed in a 50-49 shootout. But West Virginia running back Tavon Austin turned the defensive culture that Jerry Tubbs and Lee Roy Selmon and Brian Bosworth built over six decades into a punch line.
The Sooners looked slow chasing around Austin, who set a Big 12 record with 572 all-purpose yards, including 344 rushing.
The Sooners looked discombobulated, with each defensive bust leading to another play bigger than the one before it.
And, perhaps most troubling at the time, Oklahoma looked as if it had no defensive identity, an unforgivable transgression for a program with so much tradition on defense. Defensive coordinator Mike Stoops was so disgusted despite the win that he declined to glance at the box score sheet after it was handed to him during a postgame interview.
But as they prepare for a return to Morgantown this week, the Sooners are none of the things they were two years ago.
They are fast. They are focused. In Stoops' new 3-4 scheme -- whose impetus traces back to the West Virginia debacle -- Oklahoma has fashioned a new identity centered on its ability to harass opposing quarterbacks with defenders from many angles.
"Both Bob and Mike Stoops have done a great job revamping [the defense]," West Virginia coach Dana Holgorsen said Monday. "They're everywhere right now."
Just ask Tennessee quarterback
Justin Worley
, who was sacked five times Saturday while facing the most recent Oklahoma onslaught.
"We're totally different, in every aspect," said a succinct Bob Stoops, when asked Monday for the contrast between this defense and the 2012 one. "Simplest way I can put it."
This West Virginia offense, however, isn't all that different from the one that torched the Sooners for 778 total yards -- the most an Oklahoma defense had ever surrendered since the school began recording statistics.
The Mountaineers no longer possess a versatile talent like Austin, who probably still haunts Mike Stoops' nightmares. But West Virginia quarterback
Clint Trickett
is second in the nation in passing QBR and trails only Ole Miss'
Bo Wallace
by a tenth of a point for the nation's top completion percentage. Trickett also has two of the most lethal wideouts in the Big 12 at his disposal in
Mario Alford
and
Kevin White
, who is second in the country with 460 receiving yards.
"We're going to have to play a lot better than the last time we went there," Mike Stoops said. "That was a bad night for all of us. Bad game plan, bad execution, bad everything."
Plenty of good, however, came out of so much bad for the Sooners.
The defensive collapse in Morgantown spearheaded the biggest coaching shakeup of the Stoops era, which included the aggressive pursuit and hire of Michigan defensive line coach Jerry Montgomery. Since, Montgomery has whipped Oklahoma's front into one of the most disruptive and deepest in the country. Under Montgomery, end
Charles Tapper
and tackle
Jordan Phillips
have developed into All-Big 12-caliber performers. And outside linebacker
Eric Striker
has emerged into arguably the most ferocious pass-rusher at his position in the country -- even drawing comparisons in "destructiveness" from Bob Stoops on Monday to former Oklahoma 2001 All-American Roy Williams.
But the front isn't where the reconstruction effort stopped.
The Sooners have also assembled a sure-tackling, ball-hawking defensive backfield, which has matched the swagger of the Oklahoma defensive line. Saturday in the first quarter,
Quentin Hayes
blindsided Worley off a safety blitz to force and recover a fumble. Cornerbacks
Zack Sanchez
, who how has an interception in five of his last six games, and
Julian Wilson
both picked off Worley in the end zone. Wilson returned his interception 100 yards for an exclamation point touchdown.
"The secondary is playing great right now," said Wilson, who had to play middle linebacker at the West Virginia game two seasons ago because they had no better option. "But we still have room to improve."
That's a scary thought. Since last bowl season the Sooners have now produced the third-most sacks and third-most interceptions in college football. And that combination of an overwhelming front and an opportunistic secondary has given this Oklahoma defense the potential to become one of the school's all-time.
"They've got their guys, defensively, playing as good as they have," Holgorsen said, "since I've watched tape on them going back to the 2000 season."
Holgorsen has his guys playing well, too. And a game that appeared to be a cakewalk for the Sooners in the preseason now looks to be one of the toughest games on their schedule.
Just like its last visit to Morgantown, the Oklahoma defense will be severely tested. But this time -- thanks to the foundation forged out of that West Virginia trip two years ago -- the Sooners will be equipped for it.
September, 15, 2014
Sep 15
4:00
PM ET
Quarterback
Trevor Knight
has command of the offense like never before, Oklahoma's defense could be even better than expected and the Sooners have a terrific trio of running backs.
Nonconference play is over and we've learned a lot about the Sooners, good and bad. Here are three positives and three negatives for the Sooners as OU turns to Big 12 play against West Virginia with its visit to Morgantown, West Virginia, on Saturday.
Positives
Trevor Knight has continued to improve:
Through three games, Knight has already surpassed his 2013 passing yardage total. The sophomore's 860 yards has surpassed his 819 passing yards in eight games a year ago. His 286.7 passing yards per game average is a clear sign of his improvement during his second season in crimson and cream. More importantly, his pass yardage total has increased every week during the 2014 season and he's been much more consistent after an up-and-down debut season.
The Sooners' defensive changes have made the unit even better:
Linebacker
Eric Striker
spent the spring working at nickelback, defensive end
Geneo Grissom
moved to linebacker and
Julian Wilson
moved from nickelback to cornerback. All three moves have paid off for OU's defense and helped the Sooners get their best 11 defenders on the field more often. Striker can make plays all over the field yet remains a nightmare for opposing quarterbacks and offensive tackles. Grissom looks comfortable in coverage yet still rushes like a defensive end and Wilson brings terrific size to the perimeter while solidifying the void created by the departure of All-Big 12 cornerback Aaron Colvin.
The running game will be able to carry the load again:
Even with the progress of Knight, OU's offense remains built upon its offensive line and running backs. The Sooners' offensive front has consistently won in the trenches while OU is able to deploy fresh legs at defenses, with
Keith Ford
,
Alex Ross
and
Samaje Perine
each averaging at least 5.5 yards per carry. Much like a year ago, the Sooners may not end up with a 1,000-yard rusher but could easily average 200 rushing yards per game in 2014.
Negatives
Third-down offense:
If OU expects to win a national championship, its third-down offense must get better. The Sooners have converted 38.5 percent on their third-down conversion attempts, sixth in the Big 12 and tied for 83rd among FBS teams. It's a clear sign Knight still has room to grow as the sophomore is 13-of-26 on third down. As OU enters Big 12 play, there will be times when a critical third-down conversion is needed so this is high on the priority list.
Another big-play receiver:
Sterling Shepard
has been everything expected as OU's No. 1 receiver. The junior is averaging 5.7 receptions for 111.7 yards per game as the main man in OU's passing game. But a consistent No. 2 target has yet to emerge.
Durron Neal
has been solid with 15 receptions for 183 yards and could end up being a terrific complement to Shepard. And converted quarterback
Blake Bell
should become a bigger part of the offense as the season progresses. Yet what will the Sooners do, and who will Knight turn to, when defenses take Shepard away during Big 12 play?
Punt returns:
The Sooners rank dead last in punt returns at 4.1 yards per return. After seeing Justin Brown and Jalen Saunders change games with their punt return skills during the past two seasons, OU is counting on Shepard to impact games on punt returns. He has five returns for 35 yards (7 yards per return) through three games. Shepard was a stellar punt returner in high school and has proven his big-play ability with his run-after-catch skills on offense, so it could simply be a matter of time before he makes an bigger impact on punt returns.
September, 15, 2014
Sep 15
4:00
PM ET
Oklahoma will make its first Big 12 road trip of the season without leading rusher
Keith Ford
.
Ford will miss the Sooners game against West Virginia and
could be out for two-to-three weeks
with an ankle injury, coach Bob Stoops announced on Monday. Stoops said sophomore
Alex Ross
to likely start against the Mountaineers.
"You need a bunch of running backs when you go through a long year," Stoops said.
Ford, a sophomore, is the Sooners' most complete running back. Ford has 34 carries for 194 yards (5.7 yards per carry) and five touchdowns this season. He's also proven to be a valuable asset in the passing game with six receptions for 100 yards and one touchdown along with his solid pass blocking skills.
"Keith has great hands and is really explosive out there in space," Stoops said. "He has played really well."
Yet losing Ford is not a crippling loss for the Sooners' offense, which has featured the trio of Ford, Ross and true freshman running back
Samaje Perine
during the first three games. Ford is averaging 11.3 carries and 64.7 yards per game. Perine is averaging 10.7 carries for 59 yards per game (5.5 yards per carry). Ross is averaging seven carries for 44 yards per game (6.3 yards per carry).
Despite Ford's injury, the Sooners' running back-by-committee approach remains intact and OU will continue to build its offensive success around the running game with Ross and Perine as a main contributors.
Ross has already shown his big-play ability with a 82-yard touchdown gallop against Tulsa and a 80-yard kick return against Louisiana Tech. Sliding him into the starting lineup won't limit anything the Sooners try to do against WVU.
"Alex is a big, strong, powerful, fast guy," Stoops said last week. "So hopefully he'll just continue to play the way he has."
Perine should be able to continue his trend of entering games midway through the first or second half and punishing defenses with his physical running style while helping the Sooners put the game away. Perine's team-high 108 rushing yards after contact reinforce OU's plan to wear down defenses with the 5-foot-11, 243-pound big back.
"He's a really bright young guy that is playing really well and he knows what he's doing," Stoops said of Perine. "We love him. He's an excellent runner. Even when there isn't much there he finds a way to make something happen with his power."
The loss of Ford gives Ross and Perine the chance to prove they can handle an even bigger role in OU's offense as much as anything else. The duo has each shown the ability to be impact running backs but Ford's injury means even more carries to show they could handle the burden of being the No. 1 guy if that opportunity arises in the future.
September, 15, 2014
Sep 15
1:00
PM ET
Not many new commitments to break down this time around in our weekly check-in on Big 12 recruiting, but that doesn't mean these coaching staffs haven't been busy. Here's the latest on who's taking visits and who's impressing so far in their senior seasons:
BAYLOR
Total commits:
12
ESPN 300 commits:
3
The latest:
Blake Lynch
is making the Bears look awfully smart for accepting his early commitment in 2013. The Gilmer, Texas, four-star athlete wowed this weekend against Tatum with 93 rushing yards, 115 receiving yards and three touchdowns, including the game-winning score. He played quarterback as a junior but has transitioned into a true offensive weapon since transferring to Gilmer.
IOWA STATE
Total commits:
10
ESPN 300 commits:
0
The latest:
No commitments came in this weekend, but it'll be interesting to see how Iowa State's last-second win over Iowa impacts their in-state recruiting battles going forward. For example, could that win and some positive momentum help ISU's chances with 2016 linemen
John Raridon
and Jake Heinrich? No doubt Paul Rhoads and his coaches will be talking about that game for the next year while recruiting.
KANSAS
Total commits:
13
ESPN 300 commits:
0
The latest:
KU has not landed a new commitment in almost a month and a half, and a blowout loss to Duke isn't going to help its efforts on the trail much either. One commit whose season is off to a nice start: three-star RB Taylor Martin has racked up 323 rushing yards and seven TDs this year at Fort Worth (Texas) Dunbar.
KANSAS STATE
Total commits:
10
ESPN 300 commits:
0
The latest:
A Thursday night game, no matter how gigantic the opponent, isn't necessarily ideal for bringing in a bunch of official visitors. K-State is reportedly expecting to have three-star RB Alex Barnes and junior college DT Deonte Reynolds in the house when Auburn comes to the The Little Apple. Both are taking midweek official visits, and they're critical targets for the Wildcats on what should be a pressure-packed week.
OKLAHOMA
Total commits:
13
ESPN 300 commits:
6
The latest:
The Sooners hosted their biggest official visit weekend of the season and secured two pledges Saturday, from ESPN 300 safety
Will Sunderland Jr
. and junior college lineman Jamal Danley. The long-awaited pregame commitment from Sunderland was huge, but so was getting ESPN 300 studs Keisean Lucier-South,
Kendall Sheffield
,
Ricky DeBerry
and
Neville Gallimore
and four-stars
Kahlil Haughton
and
Anthony McKee
on campus.
OKLAHOMA STATE
Total commits:
12
ESPN 300 commits:
3
The latest:
The Pokes added to a promising offensive line class last week with 6-foot-7 offensive tackle
Deya Mhiesen
, a junior college lineman who can enroll in January. Mhiesen took an official visit to Baylor's season opener, then attended OSU's 40-23 win over Missouri State and decided to pull the trigger. He'll have three years of eligibility at OSU.
TCU
Total commits:
16
ESPN 300 commits:
0
The latest:
The Horned Frogs had several commits in the stands Saturday for their 30-7 beatdown of Minnesota, including WR Jarrison Stewart and DT Joseph Broadnax, along with Baylor commit CB Ke'Shawn Somerville, DE Andrew Fitzgerald and several more intriguing recruits in the 2016 class.
TEXAS
Total commits: 15
ESPN 300 commits:
7
The latest:
Texas hosted some big-time recruits at AT&T Stadium for its 20-17 loss to UCLA, including top ESPN 300 targets
Malik Jefferson
and
Ryan Newsome
, ESPN Junior 300 WR
Reggie Hemphill
and commits
DeShon Elliott
,
Charles Omenihu
and Connor Williams. Two attendees who could end up in this class: three-star center
Tyler Moore
and Purdue three-star cornerback commit Isaac Warren.
TEXAS TECH
Total commits:
9
ESPN 300 commits:
3
The latest:
The Red Raiders were not able to get
Tyron Johnson
, the nation's No. 2 receiver prospect, in town this weekend for his official visit due to a scheduling conflict, but he's expected to make it out to Lubbock on Oct. 11 when Tech hosts West Virginia. Tech did have ESPN 300 QB signee
Jarrett Stidham
, four-star commit OG
Conner Dyer
and three-star DE Jalen Bates in attendance.
WEST VIRGINIA
Total commits:
17
ESPN 300 commits:
2
The latest:
With Oklahoma coming to town this weekend, expect a lot of talent on the West Virginia sideline before Saturday's big game. Among those reportedly expected to attend on official visits are ESPN 300 CB
Jordan Whitehead
and four-star ATH
Tim Irvin
.
September, 15, 2014
Sep 15
12:00
PM ET
ESPN's Football Power Index (FPI) is a measure of team strength that is meant to be the best predictor of a team's performance going forward for the rest of the season. Every week, ESPN will be updating its
FPI
to compile a ranking based on 10,000 simulations of the rest of the season using FPI, results to date and the remaining schedule.
Here's what changed after Week 3: Oklahoma State and Iowa State both moved up nine spots after solid wins, while Oklahoma and Baylor maintained their top-10 status. The Sooners beat a Tennessee team that had been ranked 34th in FPI, but went from No. 5 to No. 6 when Alabama jumped up from sixth to No. 3.
Kansas State is still back at No. 40 but has a big opportunity to change that Thursday when it hosts Auburn. The Tigers hold onto the No. 1 spot in FPI for the second week in a row.
According to FPI data, Oklahoma is now seen as having an 18 percent chance of going undefeated, while Baylor's odds of winning out are currently 10 percent. Here's how they and the rest of their Big 12 competition stack up entering Week 4:
September, 15, 2014
Sep 15
11:52
AM ET
ESPN.com news services
NORMAN, Okla. -- Fourth-ranked Oklahoma will be without leading rusher Keith Ford for this weekend's game at West Virginia -- and possibly beyond.
Ford, a sophomore, has a slight fracture in a non-weight-bearing bone in his right leg, according to coach Bob Stoops. The injury came late in Oklahoma's 34-10 win over Tennessee on Saturday. ESPN.com initially reported Ford would be out two to three weeks, but Stoops left room for an earlier return by Ford.
"That'll be a week-to-week," Stoops said Monday. "That could be two weeks, three weeks, it's always a little bit hard to tell, depending on how it heals, so we'll just have to wait and see how that goes. For sure, he won't be able to play this week."
Ford led the Sooners with 194 yards rushing through three games and was one of the team's top receivers with 100 yards on six catches. Against Tennessee, he ran for 56 yards and a touchdown and caught a 23-yard touchdown pass. He leads the Big 12 in scoring with 36 points, and in touchdowns, with six.
Oklahoma entered the season down a running back. The Sooners suspended highly touted incoming freshman Joe Mixon for the season after he was charged with misdemeanor assault. Stoops said adjustments come with the territory.
"It happens that way," he said. "I remember back in '99, Quentin Griffin, we had to pull out of a redshirt in the fifth or sixth game to play. Definitely, you need a bunch of running backs when you go through a long year."
September, 15, 2014
Sep 15
11:00
AM ET
The majority of the Big 12 enters a bye week with conference play right around the corner.
We're only three weeks into the season but plenty of things have changed. Preseason expectations are out the window and some dreams of breakout seasons have been shattered while other preconceived notions have been re-affirmed.
Here's a review of nonconference play in the Big 12:
[+] Enlarge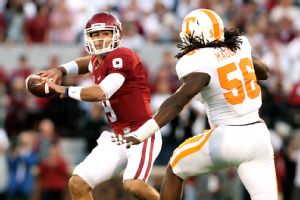 J.P. Wilson/Icon SportswireQuarterback Trevor Knight and a stubborn defense have teamed to make Oklahoma the Big 12's best.
Best team:
Oklahoma. The Sooners have done nothing to lose their status as the Big 12 preseason favorite. Bob Stoops' squad has been dominant while reeling off three wins over Louisiana Tech (2-1), Tulsa (1-2) and Tennessee (2-1). Quarterback
Trevor Knight
has taken a clear step forward from his freshman production and the defense could end up among the best of the Stoops era. Baylor has been just as impressive but against lesser competition with its three opponents holding one FBS win (1-5) combined this season.
Biggest disappointment:
Texas Tech. Wait, where are the Longhorns? Did you really expect more from Texas? More players have been kicked off the team (eight) than offensive touchdowns scored by Charlie Strong's team (seven). The Red Raiders are another story, however. Tech has never really looked outstanding at any point this season as penalties, turnovers and defensive struggles turning the Red Raiders' Big 12 title dreams into an early nightmare. Saturday's loss to Arkansas -- which included 438 rushing yards by the Razorbacks -- has Kliff Kingsbury looking for answers. Before the season Tech looked like a team that could catapult itself into the top 3 in the Big 12. Now it looks like a squad facing a fight to go bowling.
Big (offensive) man on campus:
West Virginia quarterback
Clint Trickett
. Raise your hand if you had Trickett as the first Big 12 quarterback to eclipse 1,000 yards in 2014. He's been outstanding for the Mountaineers while leading the Big 12 in passing yards (1,224) and completion percentage (75.4). He's in the top 3 among FBS quarterbacks in both categories. He's the main reason WVU is emerging as the Big 12's surprise team after three games.
[+] Enlarge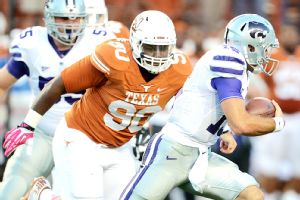 John Albright/Icon SMIYou can't pin Texas' struggles on defensive tackle Malcom Brown, the Big 12's co-leader in sacks.
Big (defensive) man on campus:
Texas defensive tackle
Malcom Brown
. The junior defensive tackle is one of the few blameless Longhorns on the roster. He's been dominant as the Big 12's leader in sacks (3.5, tied with Iowa State's
Cory Morrissey
) and tackles for loss (seven). He has added 16 tackles and has forced a fumble for Strong's defense. In a league overflowing with defensive talent -- like OU's
Eric Striker
and Baylor's
Shawn Oakman
-- Brown is second to none.
Fab freshman:
Baylor receiver
KD Cannon
. The ESPN 300 receiver has no idea what it feels like to go into the halftime locker room without a touchdown catch. Cannon has made an amazing impact with an FBS-high 471 receiving yards in his first three games as a college receiver. The true freshman has 14 receptions, an average of 33.6 yards per catch, and five touchdowns. All-Big 12 receiver
Antwan Goodley
's biggest competition for the conference's most explosive receiver could be sitting alongside him in the receivers' room.
Newcomer to know:
Oklahoma State athlete
Tyreek Hill
. The junior college transfer burst upon the scene with 278 all-purpose yards against Florida State as he buzzed around the turf in Arlington, Texas, while giving Seminoles defenders fits throughout the loss. His production has dropped significantly in OSU's last two games (24 touches for 154 yards) but it's clear the Cowboys are trying to save their top playmaker for their toughest games.
Best performance:
It was the only Big 12 Conference game in the first three weeks but Kansas State doesn't escape Iowa State's upset bid without quarterback
Jake Waters
. Trailing 28-26 with 3:01 left, the senior led the Wildcats on a seven-play, 80-yard march to win the game. Waters accounted for 74 of KSU's 80 yards on the drive including an 8-yard touchdown run. KSU won 32-28.
Worst performance:
Kansas laid an egg in its 41-3 loss to Duke last weekend. The Jayhawks opened the season with plenty of hope for a new and improved offense but, after gaining 457 yards in their season opener, KU took a clear step backward with 297 yards including 97 through the air against Duke. To make matters worse, the Jayhawks allowed Blue Devil freshman running back
Shaun Wilson
to rush for 245 yards and three touchdowns on 12 carries. Back to the drawing board.
Dream dashed:
It was disappointing to see Iowa State receiver
Quenton Bundrage
lost for the season with an ACL injury just minutes into the Cyclones' first game. The junior spent the offseason working on becoming more consistent and had the talent to be one of the Big 12's top receivers in 2014. Now he has to wait until next season with an eye on becoming the Big 12 comeback player of the year when he returns to the field in 2015.
Best stat:
TCU has held opponents without a first down or touchdown on 60 percent of its drives. In two games, the Horned Frogs have defended 30 total drives and 18 of those drives have ended without a first down including seven of Minnesota's 15 drives last weekend. Gary Patterson's defense is one reason the Horned Frogs cannot be overlooked when Big 12 play reaches high gear next month.
Best quote:
"I haven't talked to [kicker]
Josh Lambert
since he got on campus, and we are going to keep it that way. I know his name and who he is but other than that I'm doing the hands-off approach." -- West Virginia coach Dana Holgorsen after Lambert's game-winning kick to beat Maryland 40-37 last weekend.
September, 15, 2014
Sep 15
9:30
AM ET
Taking stock of Week 3 in the Big 12:
Team of the week:
West Virginia. The Mountaineers paid regional rival Maryland back for last year's 37-0 beating with a dramatic
40-37 victory
on a game-winning field goal as time expired. Truthfully, the Terrapins were fortunate just to be in the game. West Virginia jumped to a 28-6 lead and could have routed the Terrapins had it not self-destructed several times on Maryland's side of the field. Still, the Mountaineers once again moved the ball at will.
Clint Trickett
was dishing out dimes.
Mario Alford
and
Kevin White
were producing plays. And a certain field-goal kicker, who I'll get to later, came through in the clutch.
Disappointment of the week:
Texas Tech. Something I was thinking about over the weekend: Had it not been for the sparkling win over Arizona State in the National University Holiday Bowl, what would the perception of the Red Raiders be right now? Outside that Arizona State win, Tech hasn't played a clean game since losing 38-30 at Oklahoma on Oct. 26 of last year. Meanwhile,
Arkansas ran right at the Tech defense
Saturday, and there was nothing the Red Raiders could do. The offense behind
Davis Webb
hasn't been crisp enough to overcome all the deficiencies defensively. Given how difficult the back end of the schedule is again, the concern level in Lubbock should be high.
Big (offensive) men on campus:
Trickett and White. If the season ended today, the three All-Big 12 receivers would be
K.D. Cannon
,
Sterling Shepard
and White, who is now second in the country (behind Cannon) in receiving. And if the season ended today, the Big 12 Offensive Player of the Year would be Trickett, who threw for 511 yards and four touchdowns in the win over Maryland. The Trickett-to-White pass-catching combo has been nothing short of awesome so far this season.
Big (defensive) man on campus:
Paul Dawson
. TCU's senior linebacker led the purple crushing of the Minnesota offense in a
30-7 win over the Gophers
. Dawson finished with 15 tackles, including four for loss, a forced fumble, a fumble recovery and a pass breakup. Overall, the Horned Frogs forced five turnovers and limited Minnesota to just 268 yards of offense.
[+] Enlarge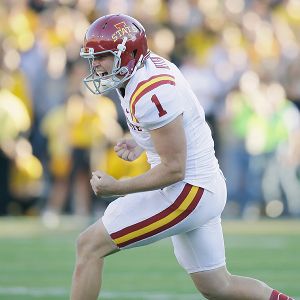 Charlie Neibergall/Associated PressCole Netten connected on a last-second field goal to give Iowa State a big win over in-state rival Iowa.
Special-teams players of the week:
Josh Lambert
(West Virginia) and
Cole Netten
(Iowa State). Field-goal kicking seems to have become a lost art in college football. But Lambert and Netten turned back the clock with their heroics in delivering game-winning field goals that beat Maryland and Iowa, respectively. Netten's was a 42-yarder, while Lambert connected from 47 yards out. Both kicks resulted in massive wins for their teams.
Play of the week (other than the Lambert and Netten field goals):
Late in the second quarter with the game knotted at 3-3, Texas elected to go for it facing fourth-and-8 at the UCLA 38-yard line. And in the biggest play of his young career, quarterback
Tyrone Swoopes
rolled out and delivered a 33-yard strike to
John Harris
. Three plays later, Swoopes hit
M.J. McFarland
for a touchdown to give Texas a 10-3 lead and all the momentum heading into halftime.
Stat of the week:
Oklahoma QB
Trevor Knight
has two 300-yard passing games in his career, and both have come against SEC opponents. Knight threw for 348 yards in last season's Sugar Bowl win over Alabama, and he passed for 308 yards in Oklahoma's
34-10 win Saturday over Tennessee
.
Quote of the week:
"I haven't talked to Josh Lambert since he got on campus, and we are going to keep it that way. I know his name and who he is, but other than that, I'm taking the hands-off approach." -- West Virginia coach Dana Holgorsen, when asked what he said to Lambert before the game-winning kick. Holgorsen added he likes only special-teams coach Joe DeForest talking to his kicker.
September, 14, 2014
Sep 14
10:15
PM ET
Oklahoma
landed two high-profile recruits this weekend, but scoring a pledge from ESPN 300 safety
Will Sunderland Jr
. is about as big as it gets. Plus,
Boston College
will be able to use its victory over then top-10
USC
as a big selling point on the recruiting trail.
To continue reading this article you must be an Insider
September, 14, 2014
Sep 14
8:00
PM ET
Overall, it was a good weekend for the Big 12.
Texas showed some fight, Oklahoma and Baylor cruised, and West Virginia continued to impress. Thursday night's matchup with Auburn looms large for Kansas State while a bye week comes at the perfect time for Texas Tech.
Allstate Sugar Bowl:
Oklahoma
Cotton Bowl:
Baylor
Valero Alamo Bowl:
Kansas State
Russell Athletic Bowl:
West Virginia
AdvoCare V100 Texas Bowl:
Oklahoma State
AutoZone Liberty Bowl:
TCU
Cactus Bowl:
Texas
September, 14, 2014
Sep 14
2:05
PM ET
Last week was an atrocious week, results wise, for the Big Ten, and college football fans were wondering if the Big 12 would be next in line to suffer a similar week from top to bottom. Turned out, the week wasn't as bad as some anticipated.
Seven of the 10 conference teams played against Power 5 opponents, and Oklahoma, TCU, West Virginia and Iowa State all walked away as winners. Additionally, Oklahoma State beat a UTSA team that is earning its stripes with each week.
Oklahoma's game against Tennessee may have been the most anticipated throughout the conference. The Sooners hosted a large group of recruits and ultimately landed two big-time commits in ESPN 300 DB
Will Sunderland Jr
. and highly touted junior college OT Jamal Danley.
Just now committed to the university of Oklahoma ! ???? #BoomerSooner #boomer pic.twitter.com/1nWHWcUOeA

— Will Sunderland (@kp_projectt) September 13, 2014
While the Sooners added to their 2015 class, their performance against Tennessee also aided in garnering added interest from the 2016 class. ESPN Junior 300 QB
Shane Buechele
was in Norman and took to Twitter to show his love for the environment.
The game was sick last night! Great atmosphere and they got the W!?? #BoomerSooner

— Shane Buechele (@BGShaneBuechele) September 14, 2014
TCU scored a win against Minnesota, and three-star DT Joseph Broadnax was one of the athletes in attendance. Broadnax also is being courted by Baylor, North Texas and several other schools, but he's been a solid Horned Frogs commit since February.
Bryan Adams Boys Today At the TCU Game #FunkyTown15 ?????? pic.twitter.com/xCXtlOR5AG

— Joe 5?5? (@Joe_2015) September 14, 2014
AT&T Stadium was the host of a competitive affair between Texas and UCLA. The event featured several visitors. One of the most popular was ESPN 300 LB
Malik Jefferson
, who not only took time to take pictures with multiple fans ...
Just met @Official_MalikJ ...! @patelparit @gujuak @Akassh25 @SunnyB0ii pic.twitter.com/SyNvz2LkrG

— Sunny Patel (@sunnyp25) September 13, 2014
... but also had one of the best seats in the house.
Front row no nosebleeds ???? ???? pic.twitter.com/Q5ltN6WrMZ

— Malik Jefferson 4?6? (@Official_MalikJ) September 14, 2014
Texas didn't get the win, but it still has the support of two important commits on the defensive side in ESPN 300 DB
DeShon Elliott
and three-star DE
Charles Omenihu
both were in attendance letting fans know their commitments are strong.
Texas commits @charless_94, @DeShonElliott_4 with front-row seats at the 50. Can't beat that. pic.twitter.com/orBNU0oAi5

— Max Olson (@max_olson) September 13, 2014
September, 14, 2014
Sep 14
2:00
PM ET
Getting It Done: Samaje Perine
BIG 12 SCOREBOARD
Thursday, 9/18
Saturday, 9/20