September, 22, 2014
Sep 22
10:00
AM ET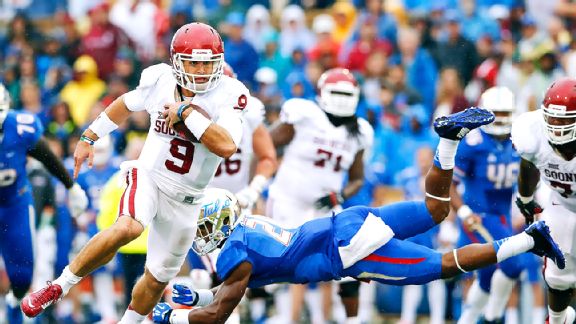 Kevin Jairaj/USA TODAY SportsTrevor Knight and the Sooners have been the class of the Big 12 in the first month of the season.
Coming into the season, people in and out of the footprint wondered if the Big 12 would be able to land a spot in the inaugural College Football Playoff.
But after the nonconference season, Baylor and Oklahoma have emerged as bona fide playoff contenders – thanks to how they've performed.
But also, how their conference foes have performed, as well.
Sure, the Big 12 didn't deliver a signature nonconference victory. Oklahoma State failed to topple Florida State. West Virginia couldn't upset Alabama. And Kansas State squandered too many opportunities to knock off Auburn.
But in all three spotlight games, the Big 12 acquitted itself well, setting up Oklahoma or Baylor – or whoever wins the conference – as a strong playoff contender when the committee sits down to select its four teams in December. More importantly, in an era when there are five major conferences and only four playoff spots, the Big 12 positioned itself ahead of the Big Ten and the ACC heading into league play.
The Big Ten endured a disastrous start to the playoff era, with the Big 12 contributing to the debacle. West Virginia edged out Maryland. TCU hammered Minnesota. Iowa State handed Iowa its only loss so far. With Ohio State also falling at home to Virginia Tech and Michigan getting wiped out by Utah and Notre Dame, league wins in the Big Ten won't look nearly as impressive as they will in the Big 12.
The effects of that have already begun to come to fruition.
Oklahoma received eight more first-place votes in the coaches' poll and two more in the AP poll over the weekend after winning at West Virginia, even though the three teams ranked ahead of the Sooners – Florida State, Alabama and Oregon – all won Saturday, too.
The reason?
The Sooners' victory in Morgantown was viewed nationally as a quality win, because of how tough West Virginia played Alabama and how it played in the road win over Maryland.
Should the Bears prevail in Ames this weekend, the win would be viewed in a more favorable light because the Cyclones bounced back at Iowa City.
Such a domino effect will roll through the entire Big 12 schedule. If Baylor and Oklahoma escape Kansas State, the playoff committee will be compelled to think back to how the Wildcats outplayed Auburn for much of the game in their narrow loss. If the Bears and Sooners defeat Oklahoma State, the committee will have the Cowboys' performance against defending national champion Florida State in the back of their minds.
It wasn't the perfect nonconference showing for the Big 12. Besides West Virginia, Oklahoma State and Kansas State coming up in short in marquee matchups they could have very easily won, Texas has let the league down again, dropping two nonconference games for the second consecutive year. Iowa State's opening loss to North Dakota State didn't help. And Texas Tech getting steamrolled on its home field by Arkansas only enhanced the reputation of the SEC West Division at the expense of the Big 12.
But when compared to the Big Ten or even the ACC outside Florida State, the Big 12's nonconference performance overall was a success. The ACC delivered some stunning wins, notably Boston College's victory over then-No. 9-ranked USC and Virginia Tech's win over then-fourth-ranked Ohio State. But as everyone heads into conference play, the No. 1 Seminoles are the only ACC team currently ranked in the AP Top 25. The Big 12 has four ranked teams in the AP poll, with TCU and West Virginia sitting right on the fringe, as well.
Meanwhile, as other top teams around the country have endured shaky moments, Oklahoma and Baylor have been dominant. The Sooners, who have been as impressive as any team in the country through the first month of the season, are 4-0 with an average margin of victory of four touchdowns. The Bears – albeit to much lesser competition – have an average winning margin of more than 50 points.
Their showdown on Nov. 8 in Norman will give either the opportunity to make a huge statement to the playoff committee.
But there will be other opportunities to impress along the way, as well. Thanks to the rest of the Big 12, which as a league exits the nonconference looking even stronger than when the season began.
September, 22, 2014
Sep 22
8:00
AM ET
September, 21, 2014
Sep 21
8:00
PM ET
With six Big 12 teams on bye this weekend, there was no need to shake up our weekly conference bowl projection.
Kansas State and West Virginia were impressive enough, despite losing, to hold on to their bowl spots from last week. Oklahoma continues to look like a strong contender for the College Football Playoff. Oklahoma State could move up in the Big 12 bowl hierarchy Thursday with a win over Texas Tech.
Allstate Sugar Bowl:
Oklahoma
Cotton Bowl:
Baylor
Valero Alamo Bowl:
Kansas State
Russell Athletic Bowl:
West Virginia
AdvoCare V100 Texas Bowl:
Oklahoma State
AutoZone Liberty Bowl:
TCU
Cactus Bowl:
Texas
September, 21, 2014
Sep 21
3:01
PM ET
Each week throughout the season, the Playoff Forecast will use ESPN's Football Power Index and human logic (i.e., the eye test) to determine which teams are best positioned in the chase for the inaugural College Football Playoff. These rankings take into account perceived team strength (including injuries) and remaining schedule difficulty (including prospective conference championship games).
The Playoff Forecast is not intended to be a prediction of the selection committee's weekly Top 25, which will be released every Tuesday starting Oct. 28. It is a projection of which teams have the best chance to be in the top four come December.
---
FPI's chance of winning out: 22.1 percent
FPI's chance of winning the conference: 58.5 percent
After clearing one of their most difficult road hurdles with an impressive second-half performance at West Virginia, the Sooners seem as good a bet to go undefeated as any team in a Power 5 conference. Their most highly regarded remaining opponents, Baylor and Oklahoma State, must both visit Norman, and the toughest test away from home seems to be at TCU, which comes on Oct. 4 after OU has a bye week to prepare. Also, the fact that the Big 12 has no conference championship game is another factor that enhances Oklahoma's chances of finishing the regular season unblemished.
September, 21, 2014
Sep 21
2:00
PM ET
September, 21, 2014
Sep 21
9:00
AM ET
A true freshman made his case to become a household name, a pair of Jayhawks changed the game, another target emerged in Manhattan, Kansas, and the Big 12's most consistent receiving threat did it again. Here's a look at the best performances in the Big 12 this week:

RB Samaje Perine, Oklahoma:
Even if you didn't watch the game you probably already know how dominant the Sooners true freshman running back was in OU's
45-33 win
over West Virginia. He finished with 34 carries for 242 yards and four touchdowns. And he got better as the game went on.
Keith Ford
better hurry back.
Oklahoma's offensive line:
While Perine basks in all the headlines, the Sooners offensive line was the foundation of OU's ground-and-pound victory in Morgantown, West Virginia. Perine and
Alex Ross
(eight rushes for 56 yards) each averaged at least 7 yards per carry. Tackles
Daryl Williams
and
Tyrus Thompson
, guards
Nila Kasitati
,
Adam Shead
and
Dionte Savage
along with center
Ty Darlington
deserve a ton of credit.
WR Justin McCay, Kansas:
His numbers aren't staggering. His impact was. The Jayhawks receiver changed the game with his 60-yard catch and run for a touchdown early in the fourth quarter. McCay finished with two receptions for 66 yards and the score but KU might not have defeated Central Michigan,
24-10
, without McCay's big play.
LB Jake Love, Kansas:
Fellow linebacker
Ben Heeney
was outstanding, as usual, but Love was very productive in his own right. He finished with five tackles including four tackles for loss and one sack. His back-to-back tackles for loss in the middle of the fourth quarter helped set up
Corey Avery
's touchdown on the Jayhawks next possession, which essentially sealed the win.
WR Curry Sexton, Kansas State:
The Wildcats got the usual big plays from
Tyler Lockett
but Sexton provided a quality second option for K-State's offense. He had a career-high 11 receptions for 121 yards in the Wildcats'
20-14 loss
to Auburn. Six of Sexton's 11 receptions came on third down and seven of his catches resulted in a first down. His previous career high was six receptions and 112 against West Virginia in 2013.
WR Kevin White, West Virginia:
The Mountaineers' senior continues to prove Lockett and Baylor's
Antwan Goodley
have competition for the honor of Big 12's best receiver. White had 10 receptions for 173 yards and one touchdown. It was his fourth straight 100-yard game to start the season and third game with at least 140 receiving yards.
September, 21, 2014
Sep 21
1:30
AM ET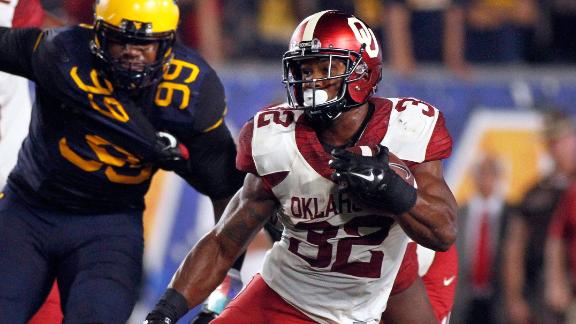 MORGANTOWN, W. Va. -- The Oklahoma backfield is a full house, and Bob Stoops hardly seems concerned about putting his talented tailbacks in any order on a depth chart.
But if the Sooners don't want to get too hung up on designating a pecking order, particularly when the nominal starter is hurt, that's fine. No matter who takes the first carries for Oklahoma's brutally efficient rushing attack, it's pretty clear by now it knows who will handle the last few.
[+] Enlarge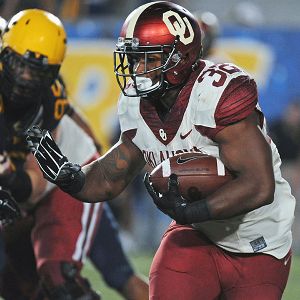 Tyler Evert/Associated PressSamaje Perine was a battering ram that West Virginia couldn't handle Saturday, especially in the fourth quarter.
In case there was any doubt,
Samaje Perine
bulldozed it out of existence on Saturday night at Milan Puskar Stadium, battering his way through the West Virginia defense until it couldn't take any more and establishing himself as the ideal closer as the No. 4 Sooners rode him hard down the stretch in a 45-33 win.
"I wouldn't say it's best to be the closer," Perine said. "But it sure is a good thing for a coach to have confidence in you like that at the end of the game."
The Sooners had plenty of faith in the true freshman well before the end of the game, riding Perine almost from start to finish in a coming-out party that at least made it worth discussing whether
Keith Ford
had been unseated while sitting out with an ankle injury.
Perine rushed 34 times for 242 punishing yards, each one taking a toll on every Mountaineer who tried to bring him down. By the time he finished off his fourth touchdown run of the game, West Virginia seemed almost completely unwilling to take him on, and the Sooners definitely took notice as defenders continually lowered their sights on him after getting trucked repeatedly by the 243-pounder.
Regardless of whether or not the Sooners call on him that early or often again this season as they rely on the ground game to compensate for some inconsistency through the air, Perine clearly has carved out a role for himself. And if the Sooners can keep him fresh with a lighter load alongside Ford and
Alex Ross
, that might make him even more dangerous to tired defenders as they make a push for the College Football Playoff.
"Samaje was just outstanding," Stoops said. "You know about how powerful and strong he is, but he also has great vision, great ability to cut and he just had a sensational night.
"You know what, these guys are all going to play. And we're going to keep them fresh. But like tonight, you know, somebody gets hot -- he gets more. It's really pretty simple."
There was no need to complicate matters against the Mountaineers, though they made the Sooners' road conference win a challenge.
They capitalized on a few misfires from Oklahoma quarterback
Trevor Knight
to get defensive stops, continued to cause some problems offensively with their explosive passing attack and had the score tied heading into halftime. But that was when Perine took over, toting the ball 20 times after intermission -- and grinding the game away with seven consecutive carries on the final scoring drive, which ended with a 19-yard trip to the end zone and a warm embrace from Stoops as he trotted back to the sideline.
"I didn't know [his game] was that big until I looked down at the stat sheet," offensive coordinator Josh Heupel said. "He's a great player, mature player -- he's a load, you know what I mean?
"But before it's all said and done, before this season is over, we're going to need everybody who was in that locker room tonight on our side of the ball. Tonight was Samaje's night. Hopefully he has more nights like that, but the rest of those guys have to be ready, too."
Stoops has already proven he can find a way to use them all, and a huge outing by Perine isn't going to change either his plans or interest in providing a clear-cut depth chart.
But even if Perine's workload lightens up in the coming weeks, it's a safe bet now that he'll be on the field when it's time for the Sooners to close the deal.
September, 21, 2014
Sep 21
12:46
AM ET
Here's what we learned about the Big 12 in Week 4:
[+] Enlarge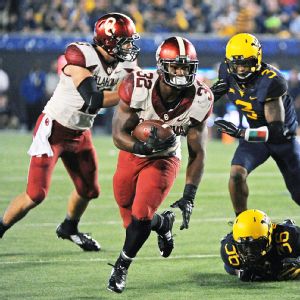 AP Photo/Tyler EvertThere was no stopping Samaje Perine on Saturday, as the Sooners freshman ran for 242 yards and four touchdowns against West Virginia.
1. Samaje Perine is a man-child:
Oklahoma true freshman running back Samaje Perine just turned 19 years old this week. But he was a grown man among boys Saturday, as he bowled over West Virginia in Oklahoma's
45-33
win in Morgantown. Perine rushed for 242 yards and four touchdowns while averaging 7.1 yards per carry. It was the 13
th
best rushing total in Sooners history, which is saying something at a school that has produced Greg Pruitt, Steve Owens and Billy Sims, among countless other standout rushers. It was also the second best rushing output ever in a game by a true freshman at Oklahoma, trailing only
Adrian Peterson
's 249-yard performance against Oklahoma State in 2004. After the opener, Perine naively declared this could be the best running back group ever to pass through Oklahoma. That's way too bold, but Perine and sophomores
Keith Ford
and
Alex Ross
-- who returned a critical kick for a touchdown at the end of the first half to give the Sooners momentum for good -- figure to give Oklahoma one of the nation's most formidable one-two-three punches at running back for the foreseeable future. Perine, a tank of a rusher, is heading that charge.
2. Dana Holgorsen has West Virginia heading in the right direction:
This was a disappointing loss for coach Dana Holgorsen and the Mountaineers, who moved the ball at will on Oklahoma in the first half. But after Ross' 100-yard kickoff return at the end of the first half, West Virginia could never regain momentum nor get its offense back on track. Still, despite being 2-2, the Mountaineers have proven they have a quality squad, after hanging tough with two teams that might well end up in the inaugural College Football Playoff.
Clint Trickett
is the most improved quarterback in the Big 12, if not the country, and receivers
Kevin White
and
Mario Alford
are devastating weapons downfield. If the Mountaineers play the rest of the year the way they have this first month of the season, they will win a bunch of games. Meanwhile, Holgorsen, whose job status once seemed to be in jeopardy, should be firmly entrenched as the head coach of the future in Morgantown.
3. Kansas' defense ought to keep it in games:
At the beginning and the end of their
24-10
victory over Central Michigan, the Jayhawks produced some big plays offensively. But the defense was the reason Kansas ultimately prevailed, as its offense endured some shaky stretches over the second and third quarters. Led by linebackers
Ben Heeney
and
Jake Love
, the Kansas defense forced three turnovers, sacked Central Michigan QB
Cooper Rush
three times and limited the Chippewas to just 279 yards of offense. Wins haven't been easy to come by at Kansas, but the defense should give the Jayhawks a chance to win again this season while the offense attempts to harness semblances of consistency.
4. Kansas State figures to be a load in the Big 12:
Even in a
20-14
loss to Auburn, the Wildcats showed Thursday night that they will be a tough out for anyone they face the rest of the season. The K-State run defense was phenomenal and snapped Auburn's 13-game streak of at least 200 yards rushing. Wideout
Tyler Lockett
, whom Auburn coach Gus Malzahn called "electric," is a game-changer on offense and special teams, never mind the crucial dropped touchdown pass that turned into an interception. Bill Snyder has to figure out what to do going forward at placekicker, but the Wildcats were good enough to beat the fifth-ranked team in the country. And they're good enough to be a force in the Big 12 the rest of the way.
5. Oklahoma and Baylor remain the co-favorites:
Coming into the season, the Sooners and Bears appeared to be the clear frontrunners to win the league title. Through four weeks of the season, nothing has changed. Oklahoma has been incredibly impressive with its physical offensive line, powerful rushing attack and swarming defense. The Bears have wiped out lesser competition, though they've done it while missing many of their key players due to injuries. Kansas State, West Virginia, Oklahoma State and TCU have impressed, but there's been nothing so far that suggests the Nov. 8 showdown between Oklahoma and Baylor in Norman won't decide the Big 12 championship.
September, 20, 2014
Sep 20
11:52
PM ET
By
ESPN.com staff
| ESPN.com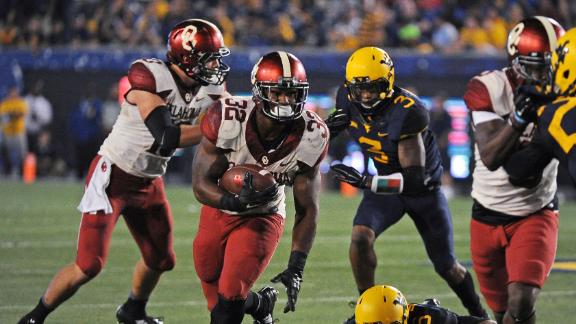 Samaje Perine
rushed for three of his four touchdowns in the second half as Oklahoma powered past West Virginia 45-33.
September, 20, 2014
Sep 20
11:32
PM ET
Associated Press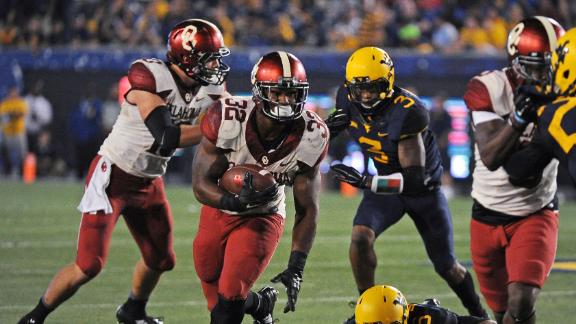 MORGANTOWN, W.Va. -- Bruising freshman Samaje Perine rushed for 242 yards and four touchdowns to lead No. 4 Oklahoma to a 45-33 win over West Virginia in their Big 12 opener Saturday night.
Alex Ross scored on a 100-yard kickoff return and quarterback Trevor Knight caught a 4-yard scoring pass on a trick play for the Sooners (4-0, 1-0).
Oklahoma won its eighth straight game dating to last season and its 11th road game in 12 tries.
Perine had second-half scoring runs of 9, 5 and 19 yards as the Sooners pulled away after the game was tied 24-24 at halftime.
Clint Trickett threw for 376 yards and two touchdowns for West Virginia, (2-2, 0-1). But he was intercepted twice and lost a fumble.
Playoff Top Four: Week 6