August, 25, 2014
Aug 25
5:25
PM ET
NORMAN, Okla. -- Blake Bell, Oklahoma's former starting quarterback, is now its starting tight end.
The depth chart, which was released Monday, revealed the 6-foot-6, 260-pound Bell beat out Taylor McNamara at tight end. Bell, who started eight games under center last season, switched positions before the spring with the emergence of Trevor Knight.
"Blake, he's been really solid," Sooners coach Bob Stoops said Monday. "He loves doing it. He's really a big a target, a comfortable target for Trevor or any quarterback when in the middle of the field. He's got great hands.
"The different lifting and training from a quarterback to a tight end has helped him get stronger and bigger, so the blocking has been solid, and I think that's something that as we go through the year that will improve the more he's on the field and the more opportunities he gets."
Though he's been primarily working at tight end in practice, Bell has gotten a few opportunities at quarterback. Cody Thomas is listed as the second-team quarterback, but Stoops said "it never hurts to have an emergency plan."
"Once you know the entire offense, you know it," Stoops said. "He's handled it quite well."
Stoops also said the Sooners would keep "Belldozer" in the offensive playbook. Bell scored 25 touchdowns his freshman and sophomore seasons while operating the short-yardage package from behind center.
August, 25, 2014
Aug 25
4:00
PM ET
Oklahoma knows a lot more about its Class of 2014 recruiting class than it did a month ago.
Several true freshmen could make an impact for the Sooners this fall after impressing during their first month on the practice fields in Norman, Oklahoma. Here's a look at five impact true freshmen that could make noise during their first season in crimson and cream:
[+] Enlarge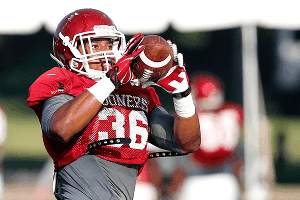 AP Photo/Sue OgrockiDimitri Flowers has impressed coach Bob Stoops with his versatility and smarts.
Fullback Dimitri Flowers:
Flowers' potential impact has been clear since he stepped on the field as an early enrollee last spring. OU's coaching staff has raved about his maturity, versatility and upside since he arrived in January. Flowers has the ability to slot in at various different spots in the offense from fullback to H-back to tight end. It would be a surprise if he isn't a consistent contributor in 2014.
"He has a natural feel for the game and is a very bright young man, picking up on schemes and everything," coach Bob Stoops said. "As you can see, a player very similar to Trey [Millard] in how versatile he is."
Safety Steven Parker:
Parker has arrived on campus as one of the most "college ready" freshmen in recent memory. Currently listed as a second-team safety on the depth chart, Parker could be too versatile to keep on the sideline. He has the coverage skills of a cornerback and range of a safety. OU has a pair of quality sophomore safeties in
Ahmad Thomas
and
Hatari Byrd
along with senior
Quentin Hayes
ahead of Parker but he is still likely to force himself on to the field at some point this season.
Cornerback Jordan Thomas:
Arguably the most surprising name on this list, Thomas also could end up being the best. He didn't step on campus with as much fanfare as some of the other names on the list this summer but he has immediately impressed. He's secured a spot as
Julian Wilson
's backup at cornerback and should be a contributor in the secondary.
"He and Steven Parker are as good of players at corner and safety as we have ever recruited," Stoops said. "It is obvious though this number of practices how strong they are and how they are physically in a position to play and to handle it. They are intelligent and it is natural for them. You usually don't get that all in one."
Running back Samaje Perine:
Sophomores
Alex Ross
and
Keith Ford
set atop the running back depth chart but the Sooners have been impressed with the upside of Perine during his first month on the field. He provides another physical running option for OU.
"He's one of the freshmen that has an opportunity to contribute," co-offensive coordinator Jay Norvell said. "He's a big, physical kid, he's taking care of the football, we're gaining more confidence in him every day. He runs with his pads really well and he's learned quickly. Kids that play as freshmen carry themselves with maturity and he's done that."
Receiver Michiah Quick:
The California native has been the best true freshman receiver on the roster. It wouldn't be a surprise to see him force his way into the lineup at slot receiver or punt returner this fall. His surname (Quick) is the perfect description the asset that could help him earn a role in OU's offense.
"[He's] explosive when he has the ball," offensive coordinator Josh Heupel said. "He's made some freshman mistakes at times because the game is faster, the plays are more competitive; he is learning to play in that atmosphere."
August, 25, 2014
Aug 25
8:00
AM ET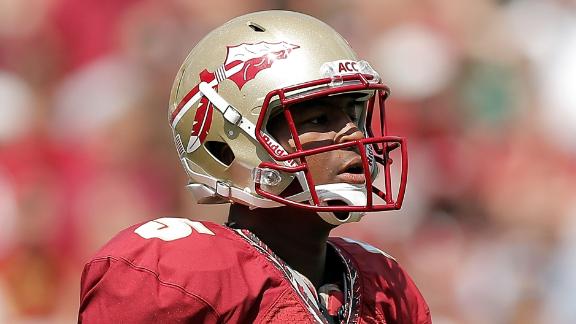 August, 22, 2014
Aug 22
10:35
PM ET
Trevor Knight
's job just got harder.
Oklahoma announced Missouri transfer
Dorial Green-Beckham
will not be eligible to play for the Sooners in 2014 after his waiver request to make the receiver immediately eligible
was denied by the NCAA on Friday
.
Now Knight, the Sooners starting quarterback, is left with junior
Sterling Shepard
as his lone proven receiver to target heading into this season. Shepard had 51 receptions for 603 yards and seven touchdowns a year ago. The rest of the receivers on the Sooners' roster combined for 17 receptions for 228 yards in 2013.
The Sooners were hoping Green-Beckham would become eligible to provide a proven playmaker on the outside after the 6-foot-6, 225 pound receiver had 59 receptions for 883 yards and 12 touchdowns for Missouri in 2013 before his dismissal last spring.
[+] Enlarge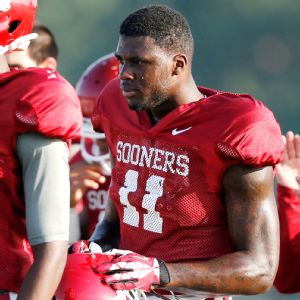 AP Photo/Sue OgrockiThe Sooners will have to be without receiver Dorial Green-Beckham for the season.
Instead, Shepard will enter the season as Knight's No. 1 target and the clear focus of opposing secondaries. It's an unproven but talented group of receivers that will have to step up if the Sooners hope to earn a spot in the College Football Playoff this fall.
Much of the burden is likely to fall upon
Durron Neal
, the second-leading returning receiver on the roster. Neal was an Army All-American when he arrived on campus but has yet to fulfill those high expectations with 18 career receptions for 251 yards in his first two seasons.
"I think we have some real stability with Shepard and Neal on the perimeter," receivers coach Jay Norvell said earlier this week. "Then we've got some young guys,
K.J. Young
and
Michiah Quick
, that are kind of coming on in the slot."
Sophomore
Derrick Woods
is another receiver the Sooners are counting on to become an impact player on offense for the first time in his career after a redshirt freshman season that featured just two receptions for 29 yards including a clutch third-down reception in the Allstate Sugar Bowl.
"We could play with Derrick Woods as a starter," Norvell said. "There's no question and feel confident doing that. He's been in the fire. He made a huge play in the Sugar Bowl and the one thing about that kid, you get him in a competitive situation, he really responds."
A portion of the onus could also fall upon covered tight end
Blake Bell
, who made the switch from quarterback in January with an eye on becoming an big target for Knight.
Keep an eye on a pair of redshirt freshmen who will get more opportunities with Green-Beckham out of the equation.
Jordan Smallwood
, who has impressed since he arrived on campus in the summer of 2013 but was forced into a redshirt season by a broken foot in the preseason a year ago, and K.J. Young, who has emerged as an potential impact player in the slot for the Sooners, have both used a redshirt year in 2013 to put themselves in position to make an impact this fall.
"K.J.'s just playing a lot faster," Norvell said. "He really has an understanding of what we want him to do inside. He's playing really fast, roaring off the football. That's a big thing here at Oklahoma. We really stress coming off the ball and playing with speed, and when you watch guys like
Kenny Stills
and
Jalen Saunders
, when those guys played, they roared off the football, and K.J.'s starting to get that."
Incoming freshman Michiah Quick is another player who could see his role expand with Shepard's ability to play in the slot or on the outside allowing the Sooners to move Shepard around with a goal of getting their top three or four receivers on the field.
It's clear the Sooners like their talent at receiver but it is largely unproven. OU's season opener against Louisiana Tech on Aug. 30 and second-non conference game against Tulsa on Sept. 6 will be critical for the Sooners offense to figure out which receivers can be counted on heading into their home matchup with Tennessee on Sept. 13.
August, 22, 2014
Aug 22
8:33
PM ET
Associated Press
[+] Enlarge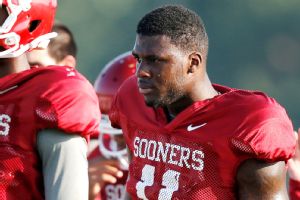 AP Photo/Sue OgrockiDorial Green-Beckham's waiver request to play immediately for Oklahoma this season was denied by the NCAA.
NORMAN, Okla. -- Dorial Green-Beckham will not be allowed to play for Oklahoma this season after the NCAA denied the school's request for a waiver that would have made the talented receiver eligible to play immediately.
"The University of Oklahoma has learned that the waiver request it entered on behalf of Dorial Green-Beckham has been denied by the NCAA," the university said in a statement released Friday night. "The University accepts that decision and will continue to provide the appropriate assistance to Dorial, just as it does with other students in helping him grow personally from the many opportunities available to him at OU."
Green-Beckham transferred to Oklahoma after being dismissed by Missouri in April following several run-ins with the law during his two years at the school.
NCAA rules require players to sit out a season when they transfer from one Football Bowl Subdivision school to another, but Oklahoma requested a waiver to allow Green-Beckham to play this season on the grounds he was "run off" the team at Missouri.
August, 22, 2014
Aug 22
4:00
PM ET
In today's mailbag, we discuss what team should be on upset alert Week 1,
Baylor's
front seven,
Oklahoma's
linebackers,
Kansas
' running backs and "College GameDay" possibilities this year for the Big 12.
As an aside, the season starts next week, which means we'll be looking to select our first guest picker of 2014. Click
here
and sell us on why you should be the Week 1 guest picker. And, as always, creativity counts.
Now, to the 'Bag:
@Jake_Trotter @ESPN_Big12 Which B12 team is on Upset Alert Week 1?

— Ryan Hurd (@Hurdo5) August 21, 2014
Trotter:
Iowa State. The Cyclones face the three-time defending FCS champs in North Dakota State, which toppled Kansas State in Manhattan last year. The Bison lost their coach, Craig Bohl, to Wyoming. Several key starters from last year are gone, too. But North Dakota State opened No. 2 in the FCS polls for a reason. Don't forget, Iowa State lost to Northern Iowa last season, as well. This is not a game the Cyclones can afford to play poorly in.
@Jake_Trotter do you think UT/A&M will ever schedule a permanent OOC game between them? College football would be a better place for it...

— Kevin Collins (@kevinkwc) August 21, 2014
Trotter:
Eventually, yes. When, who knows? But it will happen.
@Jake_Trotter @ESPN_Big12 can KU overcome losing bourbon and cox?

— Rock Chalk Blog (@RockChalkBlog) August 21, 2014
Trotter:
Yes.
Brandon Bourbon
and
Taylor Cox
reportedly performed well this preseason, but so have
De'Andre Mann
and
Corey Avery
. I think the Jayhawks will be fine at running back -- provided nobody else there gets injured.
@Jake_Trotter What can we make of the teas leaves that point to Boykin starting at TCU? How bad must of the OCs been last year!

— Geoffrey Mitchell (@geoffmitchell) August 21, 2014
Trotter:
This has more to do with
Trevone Boykin
-- and the work he's put in this offseason -- than it does anyone else. Obviously Boykin has responded well to having Sonny Cumbie as his position coach. But Boykin has gotten into phenomenal shape and really focused on becoming a better quarterback. As result, it appears that he has.
@Jake_Trotter @ESPN_Big12 Will Jordan Evans plug the hole effectively for Shannon if he's absent?

— Ryan Chapman (@ryan_chapman08) August 21, 2014
Trotter:
Oklahoma is going to be fine at linebacker. Obviously the depth took a hit. But
Jordan Evans
showed as a true freshman last year that he can play at a high level. The Sooners would be better with Shannon on the field. But they're not going to be that much worse off without him, either.
@Jake_Trotter Will Baylors defensive front seven really be that good?

— Spencer Smith (@smith1_spncr) August 21, 2014
Trotter:
I'm not sure Baylor is going to have the best front in the country, as Art Briles suggested in the spring. But it has a chance to be one of the three-best in the Big 12.
Andrew Billings
is one of the best young tackles in the league.
Shawn Oakman
has the ability to become a star. And
Bryce Hager
is one of the most proven linebackers in the conference. This has the potential to be a special group.
@Jake_Trotter I believe the hype this year about OU. But if 1 loss to lets say Baylor could we still get into playoff?

— Rocket Raccoon!!! (@Samy_III) August 21, 2014
Trotter:
That would be tough. The Baylor loss would happen late in the season. It would rob Oklahoma of its best chance for landing a marquee win. And Baylor, by defeating the Sooners, would theoretically surge ahead in the Big 12 playoff pecking order. So I don't see Oklahoma making the playoff without a win over the Bears.
@Jake_Trotter Do you foresee a way in which two Big 12 teams could make the playoffs, possibly facing off against each other?

— Nick Lawton (@NickLawtonKTVE) August 21, 2014
Trotter:
I can't see it, not this year at least. This isn't the Big 12 of 2008. Let's assume that the playoff would at the least include Florida State and the SEC champ. The Big 12 then getting two teams in would entail the playoff committee leaving out the champs from the Pac-12 and Big Ten, plus a potential second team from the SEC. There are a couple scenarios, however, where it might be feasible. Say Kansas State beats Auburn, loses at Oklahoma, but beats Baylor in the season finale. An 11-1 K-State would be an attractive second Big 12 playoff possibility (along with, say, an undefeated Oklahoma) because of the marquee non-conference victory over Auburn and the marquee win at the end of the season in Waco. So it's not impossible. Then again, it's probably more likely that the Big 12 gets left out completely than it gets two teams in.
@Jake_Trotter Besides Tyler Lockett, who do you see emerging as another playmaker in Wildcats' offense?

— Laura Forster (@LauraBForster) August 21, 2014
Trotter:
Deante Burton
is the player to watch. He had a big spring, and has the size and strength to go up and get the ball downfield. With every defense focused on containing Lockett, Burton should get plenty of one-to-one opportunities.
@Jake_Trotter What Big12 games do you think could possibly be GameDay?

— Garrett Purcell (@GarrettPurcell2) August 21, 2014
Trotter:
Some possibilities include: Baylor-Oklahoma on Nov. 8; the Red River Showdown on Oct. 11; Kansas State-Oklahoma on Oct. 18; Baylor-Texas on Oct. 4; and Oklahoma-Texas Tech on Nov. 15.
@Jake_Trotter Will Dalvin Warmack earn the starting RB spot this season for the Wildcats? #KStateFB #Big12Mailbag

— Pete Nicklin (@PeterNicklin) August 21, 2014
Trotter:
The fact that neither
DeMarcus Robinson
nor
Charles Jones
nor
Jarvis Leverett
seized the job in the spring gives
Dalvin Warmack
the chance. It's been radio silence in Manhattan the last week or so. But if Bill Snyder (who likes redshirting his freshmen) announces before the opener he's not going to redshirt Warmack, that will be the sign that Warmack is going to play a lot.
@Jake_Trotter what would be a successful season for WVU?

— Sam Fisher (@sfisher46) August 21, 2014
Trotter:
If West Virginia gets back to a bowl game facing such a difficult schedule, I would consider it to be a successful season. Especially with what the Mountaineers would have coming back for 2015.
@Jake_Trotter Keeping on the alternative uniform track: Why doesn't Texas have alternative uniforms? What will it take to change this?

— Mike Elias (@MikeEliasC) August 21, 2014
Trotter:
Texas has one of the most iconic looks in all of college football. Many schools need alternate uniforms to grab the attention of recruits and generate energy in their programs. Texas is not one of them.
August, 22, 2014
Aug 22
2:30
PM ET
This week we've highlighted the
key position battles for every program
in the Big 12. We conclude the series with Oklahoma's safety battle.
Here's where the battle stands:
Contenders:
sophomore
Ahmad Thomas
, sophomore
Hatari Byrd
, freshman
Steven Parker
.
What happened last season:
Returning starter
Quentin Hayes
and departed starter
Gabe Lynn
were a solid safety duo for the Sooners in 2013. They combined for 133 tackles and six interceptions. Hayes' versatility was an asset during his first season as a starter, and Lynn provided a veteran presence during his first and only season at safety.
Byrd saw limited duty as a true freshman but was solid in his lone extended action against Tulsa after an injury forced Lynn out of that early-season contest.
Thomas got better and better as the season went along. He was a core member of OU's special teams and worked himself into the defensive rotation late in the season.
Parker arrived on campus this summer as the No. 139 player in the ESPN 300 for the Class of 2014.
Replacing Lynn has been a focus for the Sooners this offseason. Lynn and cornerback
Aaron Colvin
are the lone starters OU's defense must replace heading into this season.
What they offer:
It's quite possible the Sooners' safeties will be even better this fall, as all three contenders for playing time at the position appear to be securing themselves roles in the defense.
Thomas and Byrd have been so good that Hayes has migrated into the nickelback slot vacated by
Julian Wilson
, who has moved to cornerback to replace Colvin. It wouldn't be a surprise to see Thomas and Byrd alongside each other at safety this season, with Parker battling to earn time with the first team while providing a quality backup option.
Byrd is a fierce hitter with leadership traits that should allow him to develop into an important voice in the secondary. He's made a clear jump from his freshman to sophomore season.
Thomas appears to be on the road to stardom. He can do it all in the secondary with good range, instincts and playmaking ability from his safety spot.
OU coaches have praised Parker as one of the most prepared freshmen they've seen, and he could force his way onto the field with his versatility and coverage skills.
Prediction:
The Sooners will not only replace Lynn, they will use three safeties on the field at the same time quite a bit this fall. The emergence of the young safeties have made it easier to replace Colvin with Wilson's move from nickelback to cornerback and Hayes' move from safety to nickelback. It's all been done with an effort to get the Sooners' best 11 players on the field. OU's safeties could be both younger and better in 2014 than they were in 2013.
August, 22, 2014
Aug 22
10:00
AM ET
Currently, 119 athletes in the 2015 class have announced their verbal commitments to play college football in the Big 12. Of those players, 23 are ESPN 300 athletes -- and there's still plenty of time for the conference to land more of the nation's best.
Look for an uptick in conference recruiting as the fall approaches, but here's an analysis on how Big 12 teams are looking as of now for the Class of 2015.
August, 22, 2014
Aug 22
9:00
AM ET
By
ESPN.com staff
| ESPN.com
Four-star linebacker
Joshua McMillon
, ranked No. 163 in the ESPN 300, is set to make his college decision. The 6-foot-3, 249-pound linebacker has big names Alabama, Oklahoma, Ole Miss and Vanderbilt in the mix. Tune in at 11 a.m. ET for the announcement.
August, 22, 2014
Aug 22
9:00
AM ET
He has to deal with them every Saturday, so TCU safety
Sam Carter
would know better than most.
"The Big 12 is a quarterback league," the Horned Frogs senior said. "When the game is on the line, the ball will be in the air."
Yet the Big 12 seemed to lose its way a year ago.
Outside of the exploits of Baylor's
Bryce Petty
or Texas Tech's true freshman duo of
Davis Webb
and Baker Mayfield, quarterbacking in the conference took a clear step backward.
The Bears and Red Raiders were the only Big 12 teams that finished in the top 25 in the FBS in passing yards or averaged more than 300 passing yards per game. Two seasons ago, in 2012, Oklahoma, Oklahoma State and West Virginia joined Baylor and Tech in the top 10 in that category and averaged at least 330 passing yards per contest.
[+] Enlarge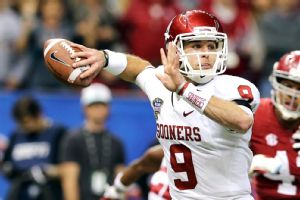 Chuck Cook/USA TODAY SportsTrevor Knight is one of several unproven Big 12 quarterbacks who have flashed plenty of potential.
But conference coaches don't expect the downward trend to continue indefinitely.
"I think time will take care of that," West Virginia coach Dana Holgorsen said. "There were so many years with top-notch guys that got drafted. It's the same schools, recruiting the same kids, being coached by the same guys and playing the same type of ball in the Big 12 for the last decade and a half. Time will tell."
Petty is the unquestioned face of Big 12 quarterbacks heading into 2014, the guy every team in the conference would love to call its own. He's an ultraproductive, experienced leader who still has room to grow as a senior. Alongside Petty, the league features young talents led by Tech's Webb and OU's
Trevor Knight
. Kansas State's
Jake Waters
, Kansas'
Montell Cozart
and West Virginia's
Clint Trickett
are other Big 12 quarterbacks who entered preseason camp as clear starters at their respective schools and still have room to grow as quarterbacks.
"I just think they have to get older," Tech coach Kliff Kingsbury said of the Big 12's return to prominence at quarterback. "I don't think it's anything other than that. You have some stars that are younger guys getting broken in in this league. They're a year older, year wiser. You had such a good run of three or four years, now it's these guys' chance."
That run is well-documented. No league supplied the NFL with more first- or second-round picks in the past five NFL drafts then the Big 12. Six quarterbacks who played in the conference have been drafted in the first two rounds since 2010, including a No. 1 overall pick in Oklahoma's
Sam Bradford
. The SEC and Pac-12 are tied for second with three apiece during that span.
The trend slowed a bit in recent years, as former West Virginia quarterback
Geno Smith
is the lone quarterback who played in the Big 12 to be drafted in the first two rounds in the past two drafts. But Petty, who enters the season as Mel Kiper's top-ranked senior quarterback, could hear his name called in Round 1 or 2 of the 2015 NFL draft, while Knight or Webb could find themselves in a similar position if their development continues during the rest of their careers.
Petty's proactive nature has helped cement his reputation as the Big 12's top quarterback, as he has refused to be satisfied with the accolades he earned a year ago. The Midlothian, Texas, native spent some of his offseason with quarterback guru George Whitfield, who has played a key role in Petty's development. Petty says he would recommend time with Whitfield to any young quarterback looking to excel in the Big 12.
"When we have breaks, I want to work," Petty said. "A lot of times, because of NCAA regulations, I can't do that with my coach [at Baylor], so Coach Whitfield is kind of my outlet to keep working."
It's an approach Kansas coach Charlie Weis understands. The veteran coach believes the quarterback position has been in need of better coaching, be it individual quarterbacks coaches or more detailed coaching at their school, for years.
"I think the quarterback position used to be the most undercoached position, of all positions, even though it's the most important," Weis said. "Usually it's because the title of quarterbacks coach almost always went to the offensive coordinator who has to worry about every single position. I think having a quarterbacks coach helps every offensive coordinator invaluably. It's easily the most important position on your team."
Improved coaching is just one aspect. Simple game experience is another. The value of playing games in the conference is just as invaluable. At this time a year ago, none of Big 12's top quarterbacks in 2013 were proven commodities.
"Each and every year, there have been guys emerge that were 'no name' guys because of youth or inexperience. Or they just hadn't matured or developed yet," Holgorsen said. "We have some young guys that will make a name for themselves, probably starting this year."
Petty went from unproven to Heisman Trophy candidate and Big 12 Offensive Player of the Year. Webb was a true freshman fighting for a job, and Knight was about to be named OU's starting signal-caller. Twelve months later, that trio represents the Big 12's biggest hope for a return to the forefront of the elite quarterback landscape in college football.
"I think our league has a reputation and commitment to throw the football," OU co-offensive coordinator Jay Norvell said. "And because of that, we develop quarterbacks in our league, and I think we'll see a strong group this year."
August, 21, 2014
Aug 21
3:00
PM ET
Pick a word, any word.
That's what I asked the 65 coaches from the Power Five conferences and Notre Dame to do. Describe their team in one word.
Some coaches were one-word wonders, but a few insisted they needed two words. That's fine because the descriptions shed some insight into how coaches view their team and/or what they want the public perception of their team to be.
[+] Enlarge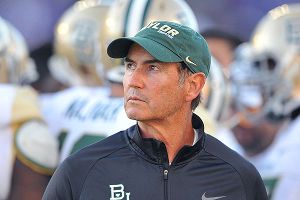 Peter G. Aiken/Getty ImagesBaylor coach Art Briles describes his team as 'mad.'
Of the 65 coaches, "hungry" was the most common description. Nine coaches went with it, making a "hungry" team the modern-day equivalent of the "taking it one game at a time" cliché. Four coaches used "unproven," another four "experienced" and three said "young." Two coaches each used "redemption," "committed," "improved" or "youthful."
In all, the 65 coaches used 44 different descriptions.
Well, here's to taking it one "word" at a time. My word: Enjoy.
Big 12
Baylor's Art Briles: Mad
Iowa State's Paul Rhoads: Hungry
Kansas' Charlie Weis: Quiet confidence
Kansas State's Bill Snyder: Valued
Oklahoma's Bob Stoops: Hard working
Oklahoma State's Mike Gundy: Youthful
TCU's Gary Patterson: Unknown
Texas' Charlie Strong: Hard work
Texas Tech's Kliff Kingsbury: Improved
West Virginia's Dana Holgorsen: Experienced
Drive Through: Projecting the Playoff Field