September, 23, 2014
Sep 23
11:00
AM ET
In our weekly Big 12 roundtable, we examine what should be a fascinating race for Big 12 offensive freshman of the year, the Sooners' remaining schedule and which third team could emerge as a threat to Oklahoma and Baylor for the Big 12 championship:
[+] Enlarge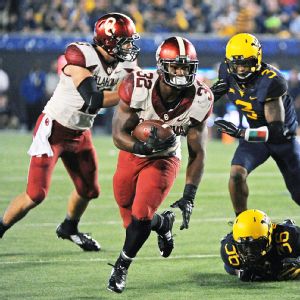 AP Photo/Tyler EvertFreshman Samaje Perine has faced some tough competition in racking up his early-season numbers.
Who has been the more impressive true freshman, Baylor wide receiver KD Cannon or Oklahoma running back Samaje Perine?
Brandon Chatmon:
Even with Perine's explosion against West Virginia over the weekend,
KD Cannon
remains the Big 12's most impressive freshman. The Baylor receiver is a playmaker who makes the game look easy with his smooth strides and silky hands. Both players will be a handful for Big 12 defenses, but I have a feeling Cannon is the man to be for Big 12 freshman-of-the-year honors.
Jake Trotter:
Cannon has been unbelievable while ranking third nationally with 157 receiving yards per game. But Cannon has piled up those numbers against two of the worst FBS teams in the country in SMU and Buffalo and an FCS opponent in Northwestern State. Meanwhile, in 34 carries before a hostile crowd in Morgantown, Perine rushed for 242 yards and four touchdowns against a quality opponent in West Virginia. Cannon will have his chance to impress against tough competition. But Perine has already done it.
Max Olson:
I do agree that Cannon is the Big 12's best freshman so far, but I'm a little more impressed by Perine because he's faced a much better level of competition. True, he's got it fairly easy behind that mauling OU O-line, but Perine is blasting Tennessee and West Virginia for 7.2 yards per carry makes his future look pretty scary. His 242 rushing yards vs. WVU is fifth-best in FBS this year and perhaps just the beginning.
With West Virginia out of the way, what is Oklahoma's toughest remaining game, other than the Nov. 8 clash with Baylor?
Chatmon:
The Sooners trip to TCU still looms large to me. The Horned Frogs can play defense and will have confidence on the offensive side of the ball heading into the matchup between the two teams on Oct. 4. TCU will put OU quarterback
Trevor Knight
in uncomfortable situations and could have the defensive line depth to handle OU's physical running game. Add better ball protection from the offense and OU's road trip to Fort Worth, Texas could be the toughest remaining test outside of Baylor.
Trotter:
We witnessed last week how brilliant a game plan Kansas State coach Bill Snyder can design with an extra week to prepare. With the week off leading into the Oklahoma game Oct. 18, Snyder will have an extra week to prepare for the Sooners, too. Only this time, Oklahoma won't have the extra week, as well. Instead, the Sooners will be coming off the emotional Red River showdown with Texas. This is a potentially dangerous game for Oklahoma. K-State won in Norman its last trip there. And with another brilliant Snyder game plan, the Wildcats are good enough to win there again.
Olson:
The TCU game is a classic trap, but I don't think the Sooners should overlook their home meeting against Kansas State on Oct. 18. That game falls one week after the Red River showdown, a high-emotion, highly physical game, and I think we're going to figure out quickly K-State is not a team to be trifled with. A lot can change between now and then, but I'd be surprised if that isn't a four-quarter brawl that should really test OU's resolve.
Based on what you've seen, who is the biggest threat to Baylor and Oklahoma for the Big 12 crown?
Chatmon:
K-State immediately came to mind, but the Wildcats face the Sooners, Bears, West Virginia and TCU all on the road. TCU is another team that could be considered, but Gary Patterson's squad is looking at a three-game stretch that features OU, BU and Oklahoma State after SMU on Saturday. So I'm going to step out on the limb and say West Virginia, despite already having a conference loss to OU, is the biggest threat. If WVU knocks off Baylor and BU beats OU, WVU is right back in the mix. And with
Clint Trickett
and
Kevin White
playing like All-Big 12 performers, every game is winnable for Dana Holgorsen's squad.
Trotter:
This is a great question, with four possible answers. West Virginia has looked really sharp so far, but the Mountaineers already have a conference loss. Oklahoma State's schedule is brutal, with road trips to Fort Worth, Manhattan, Waco and Norman. And I want to see more from this TCU offense before I elevate it into contender status. That leaves Kansas State, which has a veteran team and a Hall of Fame coach. The Wildcats have already proven that they can play with the nation's best. I don't know if K-State has the firepower to win the league. But I do know that with Snyder at the helm, they'll be a tough out for everyone, including Oklahoma and Baylor.
Olson:
The gap between No. 2 and No. 3 in this league remains significant, but I'm buying stock in Kansas State after that Auburn game. I have a ton of respect for that
Nick Marshall
-led attack, and the Tigers would probably put up 35-plus on most Big 12 contenders. We'd be talking about KSU very differently today had they not made a few fatal mistakes. Plus, I generally have more faith in
Jake Waters
than in most of the other conference quarterbacks (excluding Petty and Knight) at this point.
College Football Minute