November, 20, 2011
11/20/11
5:00
PM CT
Bob Stoops
made two aggressive decisions in the final minute of the fourth quarter. The first never got off the ground. The second backfired.
After OU's touchdown make it 38-37, Stoops ordered
Blake Bell
and the Belldozer formation to stay on the field for the 2-point try. To that point, the Belldozer had been unstoppable accounting for five touchdowns and a fourth-down conversion on six attempts.
"I just had so much confidence in how we were running the plays with Blake Bell in there that we would get it," Stoops said. "There was no hesitation. I was set to go."
But after a Baylor timeout, guard Adam Shead was whistled for a false start, pushing the ball back to the eight-yard line and forcing the Sooners to settle for a tie.
Jerome Miron/US Presswire
The Sooners gave up 616 total yards of offense to
Robert Griffin III
and Baylor.
Would a successful two-point conversion have changed the emotion of the game heading into Baylor's final possession?
"Oh, you'd hope it does, but who knows," Stoops said. "Whether we had the two points or not, who's to say that would have changed anything? I don't know."
Stoops' other gutsy call, however, did change the game. After OU tied the game, Baylor appeared content to run out the final 51 seconds and try for overtime. But after the Bears ran the ball up the middle Stoops called timeout.
"Well, you've got the wind. We had stopped them and we had stopped them. I think we were 3-of-13 in stopping them on third downs and I really thought, in the end, he would run it one more time and make us burn another timeout and then we had an opportunity on third down," Stoops said after the game, explaining the decision. "They were still backed up, punting into the wind and we had an opportunity to get a return and have one time out and maybe have a chance for a field goal."
Instead, Griffin scrambled for 22 and eight yards, getting out of bounds on both. One play later, he found
Terrance Williams
with eight seconds left for the game-winning touchdown pass.
Baylor coach
Art Briles
said Stoops' timeout changed his mind to go for the win in regulation:
"Well we had a tie ball game, we had an overtime game. We felt like we could get into it. The problem was we had 51 seconds and no timeouts, they had three timeouts. We knew we had to go 80 yards because they were kicking with the wind, we knew we'd start at the 20. We knew if we ran the ball then they'd call timeout, run the ball again, timeout, run the ball again, timeout. If you're not making a first down then you're punting with 42 seconds left and there's a chance they're going to get the ball down there on the 40 yard line, make two plays, kick the field goal and then you're in trouble. We felt like we'd run the ball and see what their plan was, how they were going to play it. Were they going to try to win it in regulation? Were they going to let us go? So we ran it, they called a timeout, there's 46 seconds left and were second-and-6. And so then we say, `ok, we better make some first downs and get this thing out of here, if we can.' Now if you don't, you throw an incomplete pass and you're safe on the timeout, but at least you're attempting to get the ball down the field and work it. So our position was we were going to try to work our way down the field, see where we could get. Fortunately, Robert scrambled, got to midfield, got out of bounds, then the whole things flips. Then the ball's in our court and he was able to make an outstanding play right there at the end."
IN THE WEEK LEADING
up to the loss against Texas Tech, Stoops admitted that his team was not as focused as it should have been.
Stoops was adamant that wasn't the case in this loss.
"There's none of that we weren't ready for this game," Stoops said. That is not the case. We were very much. We worked hard, we prepared and we just didn't play well enough to give ourselves a chance to win."
THE SOONERS LOST ANOTHER
key player in defensive end
Ronnell Lewis
, who suffered a grade 2 MCL knee sprain.
The injury occurred during the second quarter when Lewis chased Baylor's
Kendall Wright
from behind on a 55-yard pass play. Before the play was over, Lewis went down and immediately clutched his knee. Lewis was fitted with a brace and watched the second half in street clothes.
Stoops indicated after the game that Lewis would likely miss the rest of the regular season.
"I would think that's probably two or three weeks and I'm just guessing at that," Stoops said. "It will heal on its own but it will take a while."
After Lewis left, the Sooners seem to struggle getting pressure on Griffin, who was under duress and took some serious shots in the first quarter. Did Lewis' absence significantly hamper the pass rush?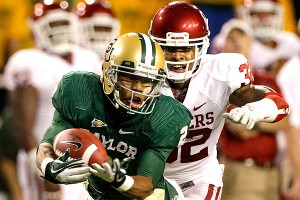 Jerome Miron/US Presswire
Jamell Fleming and the Oklahoma secondary struggled all night against Baylor.
"If I say that then that's an excuse," Stoops said. "But it doesn't help you when those guys are out. You're not as complete and as strong as you've been. But we've still got to be able to make plays."
SPEAKING OF INJURIES
, wide receiver
Jaz Reynolds
was wearing a sling on his left arm as he walked to the bus after Saturday's game. Reynolds injured the shoulder after making a catch then getting popped in the fourth quarter. He returned to the game.
Reynolds was scheduled to get the shoulder examined Sunday.
"Hurting a lil but I won't find out long term damage til late," he tweeted around noon Sunday.
Reynolds led the Sooners with seven catches for 114 yards.
THE BELLDOZER HAS BEEN
a revelation for the offense the last month of the season. A month ago, OU ranked No. 83 nationally in converting red zone opportunities into touchdowns. Today, because of the Belldozer, the Sooners rank No. 41. Also, despite playing in only four games this season, Bell is now ranks No. 12 in the conference with seven rushing touchdowns.
"The guys have been doing a good job executing those plays," Stoops said.
Bell, who rushed for four touchdowns against Baylor, became just the second OU quarterback to run for four scores in game. The other was J.C. Watts, who rushed for four touchdowns in 1980 against Oklahoma State.