November, 30, 2011
11/30/11
2:35
PM CT
Frank Alexander has been named the sole Big 12 finalist for the Hendricks Award, given annually to college football's top defensive end.

Alexander is my frontrunner for the Big 12 Defensive Player of the Year, and leads the league with 18 tackles for loss and 8.5 sacks. He's also made 51 tackles and broken up six passes.

He's been the biggest disruptive force in the Big 12 this year, and now, he'll have a chance to be named the nation's top defensive end.
November, 30, 2011
11/30/11
2:08
PM CT
Oklahoma will see a different
Justin Blackmon
on Saturday.
The Oklahoma State receiver was slowed by a ankle injury during last year's meeting but still finished the game with eight catches for 105 yards and a touchdown. This season, the Cowboys wideout is healthy heading into the Bedlam matchup.
"I'm excited," Blackmon said. "You don't want to go into any game hurt. I'm healed up, ready to go."
A healthy Blackmon should be the biggest test for the Sooners secondary. Fortunately for OU, they have two of the Big 12's best cornerbacks in Demontre Hurst and Jamell Fleming.
"It's going to be a challenge for myself and Jamell," Hurst said. "He competes in everything he does."
Blackmon brings terrific size (6-foot-1, 215 pounds) and athleticism to the table. He is in line to win the Biletnikoff Award for the second time as the nation's most outstanding receiver.
"He's very physical," Hurst said. "The main thing for me and our defense is to match what he does. We just have to match his physicalness."
And Consider Oklahoma defensive coordinator Brent Venables thrilled that Saturday will be the final time he'll have to deal with Justin Blackmon.
"He's got great strength and he's a great competitor, too," Venables said. "He likes when the game is on the line and wants to be the guy.
"Whether you double team him, triple him, single him, it doesn't matter. It's usually the same results. He's a fabulous player."
Blackmon, a redshirt junior, will be honored during senior day activities Saturday.
November, 30, 2011
11/30/11
12:20
PM CT
In nine victories, Oklahoma has forced 24 turnovers. In two losses, the Sooners have forced zero turnovers.
Heading into Saturday's showdown for the Big 12 championship against Oklahoma State, if the Sooners force mistakes, will they win?
"Coach tells us that the team that wins the turnover battle has the best chance to win the game," senior safety
Sam Proctor
said. "Ultimately, turnovers do help decide the outcome of the game."
For as great and consistent as OSU quarterback
Brandon Weeden
has been, he has shown the tendency to turn the ball over. Weeden has thrown 12 interceptions this season and threw three picks in OU's 47-41 victory last season.
It didn't surprise OU defensive coordinator Brent Venables when he heard the turnover stats, but he said the flow of the game helps dictate the turnover battle.
"If you're playing well and making it difficult, they're going to expose themselves [to mistakes]," Venables said. "But when they're playing well, they don't have to expose themselves."
November, 30, 2011
11/30/11
9:38
AM CT
One awkward landing and a torqued knee assured that
Landry Jones
' world would be very different from that play on.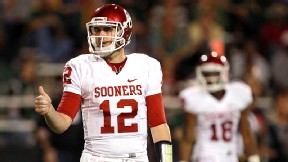 Ronald Martinez/Getty Images"It's just a little different feel out there, not having him there," Oklahoma quarterback Landry Jones says of injured receiver Ryan Broyles.
It wasn't one of his own knees, but the Sooners quarterback lost the receiver who had caught about a third of Jones' career completions.
Oklahoma ran more than 100 plays against Oklahoma State last season. The Sooners might do it again this year.
Ryan Broyles
, the FBS career leader in receptions, won't be on the field for any of them. Neither will the Sooners' leading rusher,
Dominique Whaley
.
That leaves Jones. If Oklahoma's going to pull the upset of the BCS-bound, in-state-rival Cowboys, Jones must be at his best.
"It's just a little different feel out there, not having him there," Jones said. "I don't know if I have to make any adjustment. It's just hard to replace a guy like Ryan who's been just a great player. I don't really have to make adjustments because I'm just kind of going through my reads and trying to throw it to the open guy."
Not much "changes" for Jones, per se, but his margin of error certainly does. His new top receivers,
Kenny Stills
and
Jaz Reynolds
, won't be quite as open. Broyles exceeded either's ability to turn 10-yard catches into 25- and 40-yard catches.
There's an inherent dropoff. It's up to Jones to make sure it's a small one. He's gone without touchdown passes the past two weeks, but topped 400 yards in a last-second loss to Baylor on Nov. 19, and last week against Iowa State threw for 256 of the most impressive yards you'll ever see.
"There's 50-, 60-miles-per-hour winds consistently through the day. We were throwing the ball in warmups, a pat-and-go drill where we're just loosening the quarterbacks' arms up and normally you complete 100 percent of them," coach Bob Stoops said. "I bet we completed 10 percent of them. That's how bad the wind was."
Stills and Reynolds have undeniable talent. Neither has the level of undeniable chemistry Broyles and Jones developed over the past three seasons, when Broyles caught 303 passes before his injury, most from Jones.
"The one thing we miss: Ryan was really good with the ball in his hands, making people miss," Jones said. "He had a good feel for the middle of the field."
Broyles doesn't have the physical measurables of some of college football's more athletically gifted receivers, but his impeccable feel for space and precise route-running resulted in him getting more open more often than maybe any receiver in college football.
Adjusting to differences between Broyles and his replacements is still a growing process for Jones.
"We notice a time or two he's on his second or third read over the middle and normally Ryan's in that spot. He settles down. They were so on the same page, where the other day, the receiver keeps drifting and Landry throws it in back of him," Stoops said. "Those are the little subtle things that we see that maybe the person watching it that isn't as familiar doesn't see, how familiar he was with Ryan on where he would settle down. They were so on the same page."
Jones can't afford those kind of mistakes -- can you call them mistakes? -- against an offense like Oklahoma State's, which ranks first in the Big 12 at 49.8 points a game; Oklahoma is third at 43 a game.
Broyles won't be there. There's no guarantee the running game will be, either. Jones will be.
He'll have to be great.
November, 30, 2011
11/30/11
7:30
AM CT
It didn't take long for Oklahoma to find its running back for the class of 2012. The Sooners looked in their backyard and found
Alex Ross
(Jenks, Okla./Jenks). Ross was the first offer at the position and made it a quick search as he was the second verbal commit of the class.
For the 2013 class, it doesn't appear it's going to be that easy. Part of that is OU's fault as the Sooners have already offered several top backs in the class.
One of them,
Keith Ford
(Cypress, Texas/Ranch), made his second trip to campus last weekend on an unofficial visit and watched OU's 26-6 victory against Iowa State.
To continue reading this article you must be an Insider
November, 29, 2011
11/29/11
9:39
PM CT
Bob Stoops expects both defensive end
Frank Alexander
and wide receiver
Jaz Reynolds
to start in Bedlam.
Alexander suffered a pinched nerve in the final moments of Oklahoma's 26-6 win over Iowa State. He is tied for the Big 12 lead with 8.5 sacks, and is the sole leader with 18 tackles for loss.
"I'm fine," Alexander said after the game. "I'll just have to take it slow through the week. I can't be putting too much pressure on it. They said they'll watch it closely. I'll come in every day for treatment."
Reynolds was back at practice Monday after being suspended for the Iowa State game, his third suspension in two seasons. Stoops said Saturday that Reynolds would play in Bedlam, "provided that things are right this week."
How has Reynolds behaved?
"It's only Monday," Stoops quipped.
November, 29, 2011
11/29/11
7:15
PM CT
With a name like
Aaron Ripkowski
, fullback is a natural position. The freshman from Dayton, Texas, has been ripping through opponents since the Sooners started using the "Belldozer" formation.
When backup quarterback
Blake Bell
has entered the game, the 6-foot-2, 255-pound Ripkowski is right there by his side. Bell's patience in running behind Ripkowski and fullback
Trey Millard
has helped Bell find success.
"He's physical and has played smart," offensive coordinator Josh Heupel said. "We knew with his strength and explosiveness that he brought some tools to the table. We just didn't know how long it would take him to perform at a real good level."
As the Belldozer package continues to evolve, expect Ripkowski's role on the offense to increase, too.
November, 29, 2011
11/29/11
4:01
PM CT
Ryan Broyles
isn't worried about his NFL draft stock. All he cares about is getting a shot.
"My dream has always been to play in the NFL," Oklahoma's record-breaking receiver said Tuesday. "Not be a first-round draft pick. Just to be a pick."
[+] Enlarge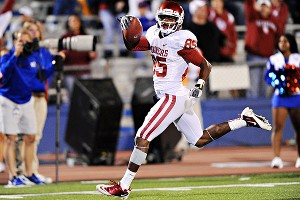 Peter G. Aiken/US PresswireRyan Broyles won't be able to work out for scouts before April's NFL draft.
Broyles spoke with reporters for the first time since suffering a season-ending torn ACL on Nov. 5 against Texas A&M. Broyles had surgery performed on the knee the following week by Dr. James Andrews in Pensacola, Fla.
Broyles said after the injury, he got an email from
New England Patriots
receiver
Wes Welker
, a fellow Oklahoma City area native. Welker tore his ACL two years ago. Now, he leads the NFL in receiving.
"That definitely gave me reassurance," Broyles said. "Other guys have been in the same situation."
Broyles got off crutches this week, but still has weeks to go before he can start running again. He said won't be able to work out for NFL scouts before the draft, which could hurt his status.
"If a team gives me a shot, I'm going to give it all I have," Broyles said. "I had doubters coming out of high school, I'm sure I'll have doubters coming out of college. I'm just going to go in there and compete."
Broyles had a chance to leave early for the NFL last year, but chose to come back for his senior season. Despite getting hurt, he ended his OU career as the FBS record holder with 349 career receptions. He also ranks second all-time with 4,586 receiving yards.
November, 29, 2011
11/29/11
3:19
PM CT
If Oklahoma takes Bedlam and captures an eighth Big 12 title, would coach Bob Stoops consider it a successful season, even though the Sooners opened preseason No. 1 and the favorite to win the national championship?
"How could it not be?" Stoops said to the question Tuesday during his weekly news conference. "Is it the ultimate? No, and that's understandable. But it's still a great year when you're a champion. In my mind, anytime you win a championship, it's a great season."
[+] Enlarge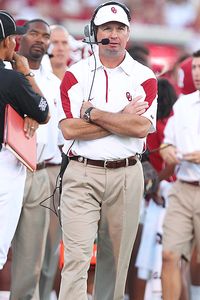 Matthew Emmons/US PresswireBob Stoops and the Sooners opened the season ranked No. 1.
The Sooners entered 2011 with the highest of expectations with 27 players returning with starting experience. Stunning losses to Texas Tech and Baylor, however, knocked OU out of the national title race.
Before the season, Stoops told a group of fans that it was "about time" OU won another national title, adding even more fuel to those expectations. Does he have any regrets now about saying that?
"What did you think, our people didn't think it wasn't about time we got another one?" Stoops said. "I know how they are. I know where I'm at."
Stoops said he doesn't mind the expectations, though reminded those that want to criticize about where OU was before he arrived.
"I love where I'm at. I'm smart enough to say that," he said. "It just is the way what it is. I'm also very aware, 10 years prior to us when we were here, there weren't any [conference championships]. I think we were in 3 bowl games in 10 years prior. I think we've done a fair amount to bring a decent reputation to Oklahoma and what we're doing."
Stoops said adding another Big 12 title would add to that reputation.
"To play in eight Big 12 championships and win seven of them is pretty darn special," Stoops said. "And let's face it, to be in four national championships, anyone can say what they want, they don't just pick your name out of a hat for those. They're not easy to get in. We've won one. Been to eight BCS bowls in last 11 years. Say what you want, they don't put in you in those bowls because you got lucky."
November, 29, 2011
11/29/11
12:00
PM CT
The "Sharks," the self-given nickname of Oklahoma's secondary, have been under siege the second half of the season. In losses to Texas Tech and Baylor, the Sooners gave up 452 and 485 yards passing.
But the "Sharks" see Bedlam as a chance for some redemption, going up against the top passing offense in the Big 12.
"Oh most definitely," said safety
Aaron Colvin
. "Playing an offense like this, this caliber with these athletes and what they've done to everybody else, you want to show everybody you can play with somebody like this, especially with what's happened in our past games.
"We're looking at it with a chip on our shoulder."
November, 29, 2011
11/29/11
10:00
AM CT
After Monday's practice, Bob Stoops confirmed that senior offensive tackle
Jarvis Jones
is being held out because of "compliance issues," which SoonerNation reported Sunday.
"Yeah, he's had some compliance issues that they are straightening out," Stoops said. "It doesn't appear to be anything very serious. But until that's resolved, we can't play him."
This has been a disastrous season for Jones, who was once the projecting starter at right tackle. He suffered a knee injury in the spring that sidelined him for several games. By the time he returned, Lane Johnson had nailed down the starting spot at right tackle.
Jones was not with the team on Saturday, when Oklahoma honored its seniors.
November, 29, 2011
11/29/11
7:45
AM CT
It might not turn out to be Ice Bowl II. But there's a decent chance it could be snowing and freezing in Stillwater by the time Bedlam kicks off on Saturday night.
"Around here that could change, but I'll be darned if (the forecasters) weren't right last week," Bob Stoops said after Monday's practice. "I didn't think they were going to be on Friday."
Facing light rains and wind gusts that reached 40 miles per hour, the
Sooners defeated Iowa State
, 26-6.
If wintry conditions slam Boone Pickens Stadium, which team would benefit?
"I would think we would, that's what I would say," Stoops said. "You'd think in those conditions the running game becomes a little more important and stopping the run, those kinds of things -- what I felt we did well last weekend that made a big difference in the game."
The Sooners only scored two touchdowns, but excluding a bad snap, rushed for 288 yards, while limiting Iowa State to 120 yards on the ground.
"We left some points on the board, but we did two things," Stoops said. "And in those kind of conditions, those two things matter, running the ball and stopping the run."
The last time OU and OSU played in the snow was 1985. Deemed the "Ice Bowl," the Sooners prevailed 13-0 in Stillwater.
November, 28, 2011
11/28/11
3:00
PM CT
One day can change the future for a recruit. For senior defensive end
Michael Onuoha
(Edmond, Okla./Santa Fe), that day was in the summer at an Oklahoma camp.
Onuoha, 6-foot-6 and 230 pounds, wasn't on any schools' radar entering the camp. He left the camp knowing Oklahoma tight ends coach Bruce Kittle would be getting in touch with him. Onuoha was one of the surprises of the event as offensive linemen had trouble dealing with his speed and quickness.
When the 2011 season started, Onuoha still wasn't receiving much attention apart from Missouri. But he never got worried. He knew it would be an uphill battle because there wasn't a lot of film on him.
To continue reading this article you must be an Insider
November, 28, 2011
11/28/11
11:49
AM CT
One of the first things many of the visitors who came in for Oklahoma's 26-6 victory against Iowa State last weekend talked about was the weather.
For recruits used to the cold and windy conditions, they felt right at home. For others, it was definitely a different experience.
Put junior college tight end
Blake Jackson
(Scottsdale, Ariz./Scottsdale CC) in the latter. On his first trip to the state of Oklahoma, he was not prepared and actually had to borrow someone else's jacket.
To continue reading this article you must be an Insider
November, 28, 2011
11/28/11
10:14
AM CT
Record:
10-1 (7-1 Big 12)
Sept. 3: Louisiana-Lafayette (W)
Sept. 8: Arizona, 37-14 (W)
Sept. 17: at Tulsa, 59-33 (W)
Sept. 24: at Texas A&M, 30-29 (W)
To continue reading this article you must be an Insider