December, 1, 2011
12/01/11
7:45
PM CT
The
loss of
Calvin Newell Jr.
is an unexpected blow to the Sooners. The sophomore guard was emerging as one of the better players on the squad as OU's second-leading scorer at 13 points per game. While Newell did not start a game this season, he provided a great scoring spark off the bench through the first five games.
Expect Newell's decision to transfer to open up additional playing time for
Carl Blair
and
Tyler Neal
.
Blair, a senior point guard, could see more time in the backcourt alongside point guard
Sam Grooms
. A lineup featuring Grooms and Blair would allow OU to continue to put defensive pressure on opposing teams in the backcourt. It would also allow Grooms to share the ball handling duties
To continue reading this article you must be an Insider
December, 1, 2011
12/01/11
7:25
PM CT
Sophomore linebacker
Corey Nelson
has shown unusual versatility during his first two years of his career at Oklahoma.
The Dallas native has lined up at defensive end and several linebacker spots for the Sooners. He's shown the ability to rush the passer on one play and cover a running back out of the backfield on the next.
He could be a game-changer against Oklahoma State this weekend thanks to his versatility.
"I feel very confident, very comfortable to play in this game against this offense," said Nelson, who has often lined up at defensive end for the Sooners in passing situations.
It has been his ability to consistently rush the passer at 6-foot-1, 219 pounds which has surprised people, even himself.
"It took a while," Nelson said. "It took a little game experience, some scrimmage experience to get comfortable. That mindset happened against Florida State. That's when I knew, 'Hey I can do this.'"
Nelson has 5.5 sacks, which ties him with
Ronnell Lewis
for second on the squad, along with eight tackles for loss and three quarterback hurries.
December, 1, 2011
12/01/11
5:00
PM CT
By
SoonerNation Staff
| ESPN.com
Jake Trotter joins
Landry Locker of ESPN Dallas to discuss Oklahoma's win over Iowa State, Landry Jones' performance, Bob Stoops' uncanny damage-control ability and the Bedlam showdown against OSU.
December, 1, 2011
12/01/11
4:07
PM CT


Colleague Mark Schlabach pegs his Upset of the Week every week, and
this week, Oklahoma's in his crosshairs
.
Both teams have prolific offenses and porous pass defenses. The Pokes haven't played since a 37-31 loss in double overtime at Iowa State on Nov. 18, which put a serious dent in their BCS title hopes. OU is coming off a 26-6 victory over the Cyclones last week.

Even without injured tailback Dominique Whaley and star receiver Ryan Broyles, the Sooners will outscore the Pokes in a wild shootout. Quarterback Landry Jones will out-play OSU quarterback Brandon Weeden, leading the Sooners to their ninth consecutive victory over OSU.
Oklahoma getting the upset wouldn't be a huge shocker. The Sooners are three-point road underdogs in the most lopsided in-state rivalry in college football.
I
picked Oklahoma State to get the 37-31 win
, but what are the odds we see an upset on Saturday?
December, 1, 2011
12/01/11
2:30
PM CT
SoonerNation has released the
latest edition of the Sooner Intel
, a sneak peek inside Oklahoma Sooners football recruiting for SoonerNation subscribers only.
As with any good piece of intelligence, everything that is reported in Sooner Intel stays on the There's Only One forum. Sometimes some of the information is so sensitive and for Sooner fans' eyes only, that it simply doesn't need to be passed on beyond this thread.
Some things discussed:
- Oklahoma's newest commit,
Chaz Nelson
, talks about his whirlwind recruitment
- Who's on top for
Derrick Woods
?
- Will the Sooners sign an offensive tackle for the class of 2012?
- The latest on juco defensive backs
Gerald Bowman
and
Kass Everett
- What's going on with tight end recruiting and
Laith Harlow
talks about his injury
- One OU offer hasn't heard from the Sooners' coaches in two months
- Bob Przybylo gives his predictions on the rest of the Sooners' class of 2012.
Check out the Sooner Intel here.
December, 1, 2011
12/01/11
10:15
AM CT
It's easy to see Saturday's Bedlam as 60 minutes that could have meant so, so much more.
For Oklahoma State,
60 minutes in Ames, Iowa
, all but assured it wouldn't. LSU and Georgia will play an essentially meaningless SEC title game Saturday night. Win or lose, the currently undefeated Tigers will almost certainly play a one-loss team for the national championship.
Perhaps it will be Oklahoma State. It's much more likely to be Alabama, which is idle this weekend.
For the Oklahoma State-inclined, it's easy to look at Saturday's game against Oklahoma and see what it isn't. The dream of a national semifinal in which the Cowboys' BCS title opportunity comes explicitly at the cost of the Sooners is likely gone. Neither team will likely meet LSU to play for all the crawdads down on the bayou.
[+] Enlarge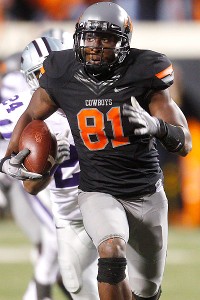 AP Photo/Sue OgrockiIt may not lead to the BCS title game, but Justin Blackmon and Oklahoma State can reach unprecedented ground with a win over Oklahoma.
Oklahoma State should see Saturday's game for what it is: a chance to make some very meaningful history.
Six teams have won a Big 12 title. Oklahoma State can win its first Saturday, denying the Sooners a share in the process.
Doing so would mean beating rival Oklahoma for the first time since 2002. So, maybe coach Mike Gundy refuses to politick for his team this week, but that only means he grasps what this week means, rather than what it doesn't.
"We're in a situation that we have a chance to win a football game and win a conference championship for the first time in the history of the school," Gundy said, "and I just feel like that's more important than politicking for a spot in second place or wherever it would be in the BCS."
A win also would give Oklahoma State its 11th of the season with a chance for a school-record 12th in a BCS bowl, one more place Oklahoma State has never been.
For all of Oklahoma State's recent success, this season is an example of how things work in college football. Only one team has ever won the national title without first playing in a BCS game. Never mind that Oklahoma is the only team to do it.
What hurt OSU fans most about the gut-punch at Iowa State? This felt like "The Year" for every Pistol Pete disciple.
Brandon Weeden
and
Justin Blackmon
will be cashing NFL checks this time next year, an event sure enough that Blackmon, a junior, will take part in senior day festivities Saturday.
And maybe it is The Year. But there's plenty of reason to believe it's "A Year That Didn't Quite Work Out." Oklahoma has had plenty of those.
Weeden was a walk-on who spent a handful of years playing baseball. Blackmon was a three-star recruit. Both are special. But Oklahoma State is recruiting better than ever.
"We've got a lot of great guys in this program that are really young. We haven't ever had kids like this around here," Gundy told me after a dramatic win over Kansas State this year. "I see a lot of things changing. It's just different than it ever has been."
Why couldn't Oklahoma State recruit another Weeden and Blackmon? Oklahoma does it every season. Lose Sam Bradford? Enter
Landry Jones
.
Ryan Broyles
shatters records.
Kenny Stills
breaks Broyles' freshman records.
Oklahoma State lost a first-round pick at receiver and a record-breaking receiver after the nine-win 2009 season, along with four offensive linemen. Nobody gave the Cowboys a chance. They won 11 games. Gundy credits his culture within the program. Underclassmen know what's expected of them when it's their time.
The Cowboys are closer to Oklahoma than ever before. This season and the last, the Cowboys have been the better team entering the game, although Oklahoma knocked off the Cowboys to win the Big 12 South last season.
Oklahoma State might not hang with Oklahoma's near-perennial top-10 classes, but the Cowboys have consistently reeled in top-25 classes in recent years.
A win Saturday would continue a streak that only the coaching elite can claim: Oklahoma State will have won as many or more games as the previous season during all seven of Gundy's seasons.
In 2010, the big step was winning a share of the Big 12 South. This year, it could be winning the Big 12.
So maybe this isn't the year Oklahoma State wins the national title.
But it might be the next step.
December, 1, 2011
12/01/11
10:00
AM CT
For the second straight season, Oklahoma has to travel into enemy territory and secure a victory with their conference title hopes on the line. Last season, Oklahoma State and OU met for the Big 12 South title, this season the two teams will meet for the Big 12 Championship and a BCS berth.
As the Cowboys' program has risen to a higher level on the college football landscape, Boone Pickens Stadium has become an increasingly difficult place to play.
OU running back
Roy Finch
didn't fully understand the passion of the Bedlam rivalry until his first Bedlam game in Stillwater last year.
"The fans hate us up there," Finch said. "Their fans were saying some of the most disguisting things you can say to a player. The energy is going to be very high, we just have to feed off the negative energy they give us."
Told his freshman teammate
Brandon Williams
considered it just another game, Finch's response was quick and honest.
"That's a young freshman comment," he said laughing. "He's going to learn in this game."
December, 1, 2011
12/01/11
7:30
AM CT
OU's secondary has had more than a week to try to put the Baylor performance behind it. A solid performance against Iowa State has helped the group's confidence, but once again, the secondary will be under fire from a high-powered offense.
The mode of attack will be different, though, from what the Sooners saw from Baylor quarterback
Robert Griffin III
.
Griffin threw for 479 yards and four touchdowns but also rushed for 72 yards. That's not likely to be the case with Oklahoma State signal-caller
Brandon Weeden
.
"He's very accurate with good ball placement," senior safety Sam Proctor said. "This offense, it's timing for these guys, precision passing.
"He puts in on shoulders, back shoulders. You have to play the guy until the end. You have to stay on your man and not so much the quarterback."
Griffin was able to make plays out of the pocket with his movement, which is not Weeden's specialty. Proctor said Weeden's experience will be a concern because Weeden is able to look off his first read and find other receivers. But Proctor doesn't anticipate Weeden trying to make plays with his legs.
November, 30, 2011
11/30/11
6:30
PM CT
True freshman running back
Brandon Williams
could be an X-factor for the Sooners this weekend, similar to the way
Roy Finch
was in Bedlam last season.
Williams apparently was limping to the locker room after practice, though Bob Stoops downplayed any potential injury.
"I never saw him limping," Stoops said. "He was running out there today like crazy. He looked good."
Stoops said Williams, who rushed for 80 yards on 11 carries against the Cyclones in the finest game of his career so far, could see his workload expand even more as the No. 2 running back behind Finch.
"He looked really good," Stoops said. "He's done a good job assignment-wise. We plan on planning on playing him, for sure, a good bit."
For more on Williams and other injured Sooners,
read our forum.
November, 30, 2011
11/30/11
2:35
PM CT
Frank Alexander has been named the sole Big 12 finalist for the Hendricks Award, given annually to college football's top defensive end.

Alexander is my frontrunner for the Big 12 Defensive Player of the Year, and leads the league with 18 tackles for loss and 8.5 sacks. He's also made 51 tackles and broken up six passes.

He's been the biggest disruptive force in the Big 12 this year, and now, he'll have a chance to be named the nation's top defensive end.
November, 30, 2011
11/30/11
2:08
PM CT
Oklahoma will see a different
Justin Blackmon
on Saturday.
The Oklahoma State receiver was slowed by a ankle injury during last year's meeting but still finished the game with eight catches for 105 yards and a touchdown. This season, the Cowboys wideout is healthy heading into the Bedlam matchup.
"I'm excited," Blackmon said. "You don't want to go into any game hurt. I'm healed up, ready to go."
A healthy Blackmon should be the biggest test for the Sooners secondary. Fortunately for OU, they have two of the Big 12's best cornerbacks in Demontre Hurst and Jamell Fleming.
"It's going to be a challenge for myself and Jamell," Hurst said. "He competes in everything he does."
Blackmon brings terrific size (6-foot-1, 215 pounds) and athleticism to the table. He is in line to win the Biletnikoff Award for the second time as the nation's most outstanding receiver.
"He's very physical," Hurst said. "The main thing for me and our defense is to match what he does. We just have to match his physicalness."
And Consider Oklahoma defensive coordinator Brent Venables thrilled that Saturday will be the final time he'll have to deal with Justin Blackmon.
"He's got great strength and he's a great competitor, too," Venables said. "He likes when the game is on the line and wants to be the guy.
"Whether you double team him, triple him, single him, it doesn't matter. It's usually the same results. He's a fabulous player."
Blackmon, a redshirt junior, will be honored during senior day activities Saturday.
November, 30, 2011
11/30/11
12:20
PM CT
In nine victories, Oklahoma has forced 24 turnovers. In two losses, the Sooners have forced zero turnovers.
Heading into Saturday's showdown for the Big 12 championship against Oklahoma State, if the Sooners force mistakes, will they win?
"Coach tells us that the team that wins the turnover battle has the best chance to win the game," senior safety
Sam Proctor
said. "Ultimately, turnovers do help decide the outcome of the game."
For as great and consistent as OSU quarterback
Brandon Weeden
has been, he has shown the tendency to turn the ball over. Weeden has thrown 12 interceptions this season and threw three picks in OU's 47-41 victory last season.
It didn't surprise OU defensive coordinator Brent Venables when he heard the turnover stats, but he said the flow of the game helps dictate the turnover battle.
"If you're playing well and making it difficult, they're going to expose themselves [to mistakes]," Venables said. "But when they're playing well, they don't have to expose themselves."
November, 30, 2011
11/30/11
9:38
AM CT
One awkward landing and a torqued knee assured that
Landry Jones
' world would be very different from that play on.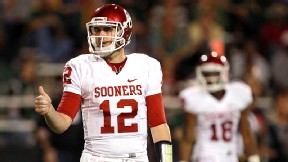 Ronald Martinez/Getty Images"It's just a little different feel out there, not having him there," Oklahoma quarterback Landry Jones says of injured receiver Ryan Broyles.
It wasn't one of his own knees, but the Sooners quarterback lost the receiver who had caught about a third of Jones' career completions.
Oklahoma ran more than 100 plays against Oklahoma State last season. The Sooners might do it again this year.
Ryan Broyles
, the FBS career leader in receptions, won't be on the field for any of them. Neither will the Sooners' leading rusher,
Dominique Whaley
.
That leaves Jones. If Oklahoma's going to pull the upset of the BCS-bound, in-state-rival Cowboys, Jones must be at his best.
"It's just a little different feel out there, not having him there," Jones said. "I don't know if I have to make any adjustment. It's just hard to replace a guy like Ryan who's been just a great player. I don't really have to make adjustments because I'm just kind of going through my reads and trying to throw it to the open guy."
Not much "changes" for Jones, per se, but his margin of error certainly does. His new top receivers,
Kenny Stills
and
Jaz Reynolds
, won't be quite as open. Broyles exceeded either's ability to turn 10-yard catches into 25- and 40-yard catches.
There's an inherent dropoff. It's up to Jones to make sure it's a small one. He's gone without touchdown passes the past two weeks, but topped 400 yards in a last-second loss to Baylor on Nov. 19, and last week against Iowa State threw for 256 of the most impressive yards you'll ever see.
"There's 50-, 60-miles-per-hour winds consistently through the day. We were throwing the ball in warmups, a pat-and-go drill where we're just loosening the quarterbacks' arms up and normally you complete 100 percent of them," coach Bob Stoops said. "I bet we completed 10 percent of them. That's how bad the wind was."
Stills and Reynolds have undeniable talent. Neither has the level of undeniable chemistry Broyles and Jones developed over the past three seasons, when Broyles caught 303 passes before his injury, most from Jones.
"The one thing we miss: Ryan was really good with the ball in his hands, making people miss," Jones said. "He had a good feel for the middle of the field."
Broyles doesn't have the physical measurables of some of college football's more athletically gifted receivers, but his impeccable feel for space and precise route-running resulted in him getting more open more often than maybe any receiver in college football.
Adjusting to differences between Broyles and his replacements is still a growing process for Jones.
"We notice a time or two he's on his second or third read over the middle and normally Ryan's in that spot. He settles down. They were so on the same page, where the other day, the receiver keeps drifting and Landry throws it in back of him," Stoops said. "Those are the little subtle things that we see that maybe the person watching it that isn't as familiar doesn't see, how familiar he was with Ryan on where he would settle down. They were so on the same page."
Jones can't afford those kind of mistakes -- can you call them mistakes? -- against an offense like Oklahoma State's, which ranks first in the Big 12 at 49.8 points a game; Oklahoma is third at 43 a game.
Broyles won't be there. There's no guarantee the running game will be, either. Jones will be.
He'll have to be great.
November, 30, 2011
11/30/11
7:30
AM CT
It didn't take long for Oklahoma to find its running back for the class of 2012. The Sooners looked in their backyard and found
Alex Ross
(Jenks, Okla./Jenks). Ross was the first offer at the position and made it a quick search as he was the second verbal commit of the class.
For the 2013 class, it doesn't appear it's going to be that easy. Part of that is OU's fault as the Sooners have already offered several top backs in the class.
One of them,
Keith Ford
(Cypress, Texas/Ranch), made his second trip to campus last weekend on an unofficial visit and watched OU's 26-6 victory against Iowa State.
To continue reading this article you must be an Insider
November, 29, 2011
11/29/11
9:39
PM CT
Bob Stoops expects both defensive end
Frank Alexander
and wide receiver
Jaz Reynolds
to start in Bedlam.
Alexander suffered a pinched nerve in the final moments of Oklahoma's 26-6 win over Iowa State. He is tied for the Big 12 lead with 8.5 sacks, and is the sole leader with 18 tackles for loss.
"I'm fine," Alexander said after the game. "I'll just have to take it slow through the week. I can't be putting too much pressure on it. They said they'll watch it closely. I'll come in every day for treatment."
Reynolds was back at practice Monday after being suspended for the Iowa State game, his third suspension in two seasons. Stoops said Saturday that Reynolds would play in Bedlam, "provided that things are right this week."
How has Reynolds behaved?
"It's only Monday," Stoops quipped.