December, 28, 2011
12/28/11
11:45
AM CT
Oklahoma junior cornerback Demontre Hurst was asked to grade the defensive backs this season.
"Average. Right at a 'C,'" Hurst said. "Overall, the first half of the season, we played very good. But in the second half, against profound offenses that like to throw the ball, we didn't step up to the challenge.
[+] Enlarge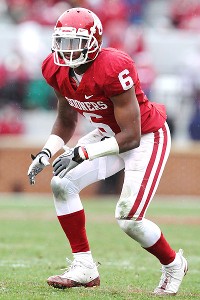 Matthew Emmons/US PresswireCornerback Demontre Hurst said the Sooners defense gave up too many big plays in 2011.
"We weren't as good as we thought we were. But not as bad as everyone is saying."
The secondary gave up more than 400 yards passing and four passing touchdowns in losses to Texas Tech and Baylor. The "Sharks" played better against Oklahoma State, though didn't force any big plays, either.
"Coach (Willie) Martinez has told us we dominate 85 percent of the game, 68 plays out of 75," Hurst said. "But we give up big plays and yards in those eight-nine plays, and it destroys the defense, the whole momentum of the secondary. We played 85 percent of the game good. But not the other 15 percent."
When the Cowboys went up 44-3 in the third quarter, a couple of OSU linemen put shark fins to their foreheads, mocking the OU secondary. Later, the Boone Pickens P.A. played the theme to "Jaws."
Hurst both saw the former and heard the latter.
"Yeah, I seen all that. They kinda got out on us on that one," Hurst said. "When you put yourself out there, you really have to back yourself up. We didn't live up to high expectations."
But despite the disappointing season, Hurst said the secondary will be keeping the "Sharks" moniker in 2012.
"We started with it, so we gonna finish with it," he said. "We always going to be sharks, gonna scream sharks 'til we outta here. We're gonna ride with it and prove that we really are sharks."