December, 30, 2011
12/30/11
10:30
AM CT
By
SoonerNation Staff
| ESPN.com
Oklahoma 28, Iowa 24
Iowa gives OU everything it wants, but the Sooners and
Landry Jones
make enough plays offensively in the fourth quarter to hold on, giving Bob Stoops another 10-win season.
Pick to click:
Playing back safety, Tony Jefferson forces a couple of turnovers and makes a couple of big hits, setting up what could be an All-American season in 2012.
- Jake Trotter
[+] Enlarge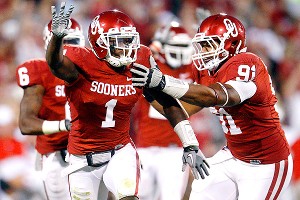 AP Photo/Sue OgrockiTony Jefferson could play deep safety against Iowa in the Insight Bowl.
Oklahoma 35, Iowa 17
Roy Finch
brings needed balance to the Sooner offense with a 100-yard rushing game. The sophomore has two big runs to help open up passing lanes for Jones who finishes with a 300-yard game and two touchdown passes. OU's speed on defense is overwhelming for the Hawkeyes who get one of their touchdowns after a Sooners turnover but struggle to consistently move the football.
Pick to click:
Roy Finch shows why he needs to be a core member of the Sooners offense for the remainder of his career with 121 rushing yards, 54 receiving yards and one touchdown in the win.
- Brandon Chatmon
Oklahoma 27, Iowa 16
It might take a while for the offense to gel, but quarterback Jones will be determined to make sure his Bedlam performance is a distant memory. The Hawkeyes don't have the offensive firepower to get in a shootout, and though not the goal at the start of this season, OU does notch another 10-win campaign to its ledger.
Pick to click:
It's going to be a wide receiver, so I'm going with
Kenny Stills
. The last month had to have done wonders for Stills,
Kameel Jackson
and
Trey Franks
in building chemistry with Jones. Stills shows what the future can bring with a touchdown and a 125-yard receiving game.
- Bob Przybylo
December, 30, 2011
12/30/11
9:44
AM CT
Oklahoma and Iowa will go head-to-head Friday night in the Insight Bowl at 10 p.m. ET on ESPN. Here are three things Oklahoma has to do to avoid a Hawkeye upset.


1. Help Landry Jones out.
His receivers -- sans
Ryan Broyles
-- have suddenly come down with a case of the dropsies late in the season. Jones will be throwing to lots of new faces without Broyles and
Jaz Reynolds
, and
Kenny Stills
hasn't looked like a No. 1 receiver in the Big 12 this year. Guys like
Kameel Jackson
,
Trey Franks
and
James Winchester
will get reps at receiver. The Sooners can't afford drops in what looks like it'll be a low-scoring game.
2. Don't get fancy in the red zone.
Oklahoma tried this against Iowa State, and
Blake Bell
threw an interception. The Sooners have had a ton of success with the Belldozer -- a Tim Tebow-like formation that allows the 6-foot-6, 245-pounder to burrow through the offensive line -- in the red zone, scoring 10 touchdowns in the past five weeks. Baylor couldn't stop it. Iowa may not be able to, either. But the Sooners have looked shaky in the gadget plays out of this formation. Just let Bell do what he does and make the defense stop it.
3. Win the turnover battle.
It sounds simple and obvious, perhaps, but it needs to be said. Oklahoma's offense isn't as explosive as it was when the season began, and if you're a heavily favored team, this is the best way to lose these types of games. It lost the turnover battle in spectacular fashion to Oklahoma State, 5-1. The result? The Sooners lost that game by 34 points. Oklahoma lost the battle 3-0 to Baylor and lost to the Bears for the first time in school history. Oklahoma has to take care of the ball.
December, 30, 2011
12/30/11
7:30
AM CT
OU cornerback Jamell Fleming against Iowa receiver Marvin McNutt
This battle between two all-conference performers should be fun to watch.
The 6-foot-4, 215-pound McNutt brings an excellent size/speed ratio that will test Fleming's ability to handle bigger receivers. The senior had 78 receptions for 1,269 yards and 12 touchdowns this season. McNutt had at least 100 receiving yards in eight of the Hawkeyes' 12 games.
To continue reading this article you must be an Insider
December, 29, 2011
12/29/11
11:18
PM CT
Oklahoma has come a long way during its first season under Lon Kruger.
And the Sooners still have a ways to go.
OU squandered a double-digit lead in the final eight minutes,
losing to Cincinnati, 56-56,
at US Bank Arena in Cincinnati, Ohio, on Thursday night. OU led 47-35 before being outscored 21-8 in the final 7:50 of regulation.


After dominating the beginning of the second half, Oklahoma struggled on offense and defense down the stretch, turning the ball over and allowing defensive breakdowns that resulted in two layups by Bearcat guard
Cashmere Wright
in the final minute, including the game-winning basket.
Player of the Game:
Andrew Fitzgerald
. The junior forward led OU with 18 points and nine rebounds. He was 7 of 13 shooting from the field and had five offensive rebounds. Fitz provided the presence and inside scoring that the Sooners will need if they hope to succeed in Big 12 play.
Unsung Hero:
Romero Osby
. He finished with 12 points and 12 rebounds including a clutch jumper and a layup in the final minute. Osby was clutch and did everything he could to help the Sooners escape with a W.
Key Stat:
11. The Sooners lost this game because of turnovers and
Sam Grooms
and
Steven Pledger
combined for 11 of OU's 17 turnovers. Grooms, OU's starting point guard, looked uncharacteristically unsure with the ball and Pledger never got comfortable handling the ball against Cincinnati's pressure.
Key Stat, Part II:
9. Grooms will likely lament his five turnovers but the junior did finish with nine assists including a terrific drive and dish to give OU a one-point lead with 20 seconds left.
Up Next:
The Sooners will host Northwestern State at 2 p.m. on Saturday.
December, 29, 2011
12/29/11
7:30
PM CT
Last week, a couple of the OU players singled out linebacker Franklin Shannon, safety Quentin Hayes and wide receiver
Kameel Jackson
as players who impressed in the bowl practices.
Tuesday, coach Bob Stoops brought up all three when asked if anyone had caught his eye the last couple of weeks.
"I think Franklin Shannon, a young linebacker we have been really impressed with," Stoops answered. "Quentin Hayes in the secondary has really, I thought, shown a lot in the last several days -- or last few weeks. Kameel Jackson I think continues to really show, and hopefully he is going to play more, can really do some things in this game. Those are just a few that just pop out."
Jackson is expected to start the Insight Bowl. Hayes will have a chance to play a significant role, too, as the Sooners attempt to reconfigure a secondary that was suspect at times this season.
December, 29, 2011
12/29/11
5:31
PM CT
Once again, Bob Stoops was asked Thursday if he had any insight about where his brother, Mike, might land.

"No. I think he has opportunities," Bob Stoops said. "Both (as a head coach or a defensive coordinator). I think there is a legitimate chance for each of those."

For weeks, Mike Stoops has been rumored as a possibility to join his brother's staff at OU. The Sooners, however, don't have a vacancy at the moment.

Mike Stoops was fired as head coach at Arizona midway through this past season.
December, 29, 2011
12/29/11
3:17
PM CT
SCOTTSDALE, Ariz. -- Travis Lewis said Wednesday that Bob Stoops "put his foot down" with several players after the 44-10 loss to Oklahoma State.
Thursday, the Oklahoma coach explained why.
"Some of them have been told they need to transfer because I'm not renewing their scholarship," Stoops said a day before his team takes on Iowa in the Insight Bowl. "And for a variety of reasons, whether it be continual and habitual skipping class, not being eligible to play or suspended from practice for these kind of academic reasons or for drug testing reasons or for walking out or skipping out on a weight workout, you are here to go to school and to be a heck of a football player, or at least try to be.
"We've had more players academically suspended or missing practice than I've had at any time here."
Stoops has declined to confirm which players have been asked to transfer. But wide receivers
Justin McCay
and
Sheldon McClain
, defensive tackles Torrea Peterson, Josh Aladenoye and Eric Humphrey and safety James Haynes did not make the trip with the team to Arizona. Stoops also disclosed recently that tight end
Austin Haywood
would not be allowed to rejoin the team after quitting midseason.
"If you are not doing -- living up to those obligations, you are not earning your way, and you are bringing the team down," Stoops said. "You need to find a place to go because ... you haven't played, you don't go to class, you skip workouts -- what are you here for?
"Every year at this time of year players understand, 'Hey, have I been doing what's necessary to be here or not, and if I'm not, maybe I need to go somewhere where the demands aren't so much. I can skip class. I don't have to go to workouts. I can walk into class 30 minutes late. I can skip a practice once in a while.' If you go to some of these smaller east handkerchief U's. Maybe you can do that. But not here."
Stoops agreed that the attitude of the team already has improved since the departures.
"Yeah, you know why? Because that 2 percent of my team isn't eating up 90 percent of my time," Stoops said. "And it sends a message to other players. They get it, usually. We'll see. We'll see where it goes from here."
December, 29, 2011
12/29/11
3:00
PM CT
By
SoonerNation Staff
| ESPN.com
SoonerNation has released the
latest edition of the Sooner Intel
, a sneak peek inside Oklahoma Sooners football recruiting for SoonerNation subscribers only.
As with any good piece of intelligence, everything that is reported in Sooner Intel stays on the There's Only One forum. Sometimes some of the information is so sensitive and for Sooner fans' eyes only, that it simply doesn't need to be passed on beyond this thread.
Some things discussed:
More on Taylor McNamara's commitment to Oklahoma and how he became a Sooner.
OU commits are put on their recruits hats at the high school all-star games.
Could the Sooners be interested in a fourth tight end for 2012?
Are the Sooners still after defensive tackle Javonte Magee?
A 2013 QB target talks about his options.
Check out the Sooner Intel here.
December, 29, 2011
12/29/11
11:45
AM CT
The early success of the Oklahoma men's basketball team has been a testament to the attitude of first-year coach Lon Kruger.
And the good news could keep coming as the Sooners might get another key contributor to their lineup as the conference season is about to begin.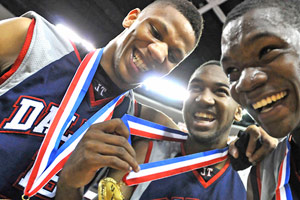 AP Photo/Michael ThomasForward Jarion Henry (left) originally signed with New Mexico in 2011. He hopes to enroll at Oklahoma in January.
Small forward
Jarion Henry
(Dallas/La Jolla Prep) signed with OU in November and hoped to be able to join the team and play in January.
That hope still remains.
"We don't have a ruling from the NCAA yet," said Skeeter Henry, Jarion's father. "We should know here in the coming days. Eventually he's going to be at Oklahoma, one way or another."
Skeeter Henry is a Sooners legend and said he is excited about his son getting a chance to play at his alma mater. For that reason, the Henry family has stayed pretty calm about the process because they know Jarion will get to play for the Sooners. They just don't know if it will be in January or in the 2012-13 season.
"He's going to be at OU, and we're so happy about that," Skeeter Henry said. "It's getting closer and closer to happening so this hasn't been real stressful to us."
Skeeter Henry said he hopes the decision will come in the upcoming days but said he is not exactly sure when everything will be decided. Jarion Henry is home in Dallas for the holidays after spending the semester at La Jolla Prep in California. Classes for the spring semester at Oklahoma start on Jan. 17.
Skeeter Henry said the family is ready to accept whatever decision is made and is ready for the next step.
Jarion Henry, 6-foot-8 and 200 pounds, graduated from Dallas Kimball and originally signed with New Mexico but didn't qualify academically. Jarion said he would never make that mistake again when he signed with the Sooners in November.
December, 29, 2011
12/29/11
9:36
AM CT
The biggest thing in Oklahoma's favor was its winning tradition when it came to tight end
Taylor McNamara
(San Diego/Westview). The biggest thing in Colorado's favor was the chance to be a huge part of the offense.
Tradition won the battle and the war as McNamara became the Sooners' third tight end for the 2012 class, verbally committing to OU on Wednesday night.
But as confident as McNamara is, he believes once he gets to Norman, Okla., the coaches will have no choice but to make him a big part of the offense.
To continue reading this article you must be an Insider
December, 29, 2011
12/29/11
9:34
AM CT
Oklahoma further addressed a need with a commitment from four-star tight end
Taylor McNamara
(San Diego, Calif./Westview). The former Arizona verbal is a big pick-up not only because he is a good tight end prospect, but also because the Sooners need to address that position as both James Hanna and James Ratterree are seniors and Austin Haywood has decided to transfer.
Oklahoma has commitments from two other tight ends in their 2012 class, but McNamara brings not only another body to the mix, but promising ability at the position. He has the tools to be a good well-rounded college tight end. He possesses good size for the position with a frame that could likely support more good bulk. He can help move the chains as a pass catcher as he offers a big target and good hands that can quickly extend and snatch the ball. He has experience as an in-line blocker and can be productive, but there is room for improvement in this phase.
To continue reading this article you must be an Insider
December, 29, 2011
12/29/11
8:00
AM CT
It has been pretty common for Oklahoma quarterback
Blake Bell
to host an offensive lineman on an official visit. The goal, of course, is for the quarterback and lineman to start building that important relationship before they're even on the field together.
Offensive tackle
Zach Banner
(Lakewood, Wash./Lakes) said his September visit to OU was so enjoyable in part because of Bell.
Two weeks ago, the Sooners weren't trying to plan it that way, but it sort of developed between center
Ty Darlington
(Apopka, Fla./Apopka) and quarterback
Trevor Knight
(San Antonio/Reagan), two OU verbal commits on their official visits.
To continue reading this article you must be an Insider
December, 28, 2011
12/28/11
11:11
PM CT
By
Greg Biggins
| ESPN.com
After going back and forth between his final two schools,
Taylor McNamara
(San Diego, Calif./Westview) committed to Oklahoma over Colorado Wednesday night.
McNamara said he
nearly committed to the Sooners
last Friday but after talking with Buff coach Jon Embree, he decided to hold on making his decision.
"Everyone around me was pushing me to Colorado," McNamara said. "What it came down to for me was I really wanted to go to Oklahoma. I thought about it hard and realized that the only reason I was really considering Colorado as hard as I was is because of all the people around me. I realized when I get to college, it's all on me, none of my friends or family are going to be there, so I needed to do what was best for me.
To continue reading this article you must be an Insider