April, 12, 2014
Apr 12
6:18
PM ET
Saturday, Iowa State, Kansas, Oklahoma, Texas Tech and West Virginia all held their spring games. Below is a sample of the sights from each stadium:
IOWA STATE
I know where you live Rhoads...have a nice prom. pic.twitter.com/NZDRnRtMaG

— Fred Hoiberg (@ISUMayor32) April 12, 2014
50 yard line suite at the Spring ISU football game #beerme #freefood #suitelife @ripvdub pic.twitter.com/XPcQQu6Tu5

— Jess (@ISUJessica) April 12, 2014
Having fun at the ISU spring game! #Cyclones @mooch1024 @Mev59 pic.twitter.com/rdOemN67VK

— David Hardy (@DHardy814) April 12, 2014
KANSAS
It's all for the Jayhawks. #oneteam #kufball pic.twitter.com/IlTUWK9KH1

— Kansas Football (@KU_Football) April 12, 2014
Had a great time cheering the spring game - can't wait for the first @KU_Football game! pic.twitter.com/E8dfNqPcli

— Kansas Cheerleading (@KUcheer) April 12, 2014
My hero saving us a spot at #KUSpringGame. 79 years old today. #kufootball #rcjh #bestdad pic.twitter.com/MijK0ioUXL

— Jake Jacobson (@TheJakeJacobson) April 12, 2014
OKLAHOMA
Record crowd of over 43K to watch the @OU_Football Spring Game. #Boomer pic.twitter.com/sgPEE3yU55

— HeadingtonFIR (@HeadingtonFIR) April 12, 2014
Cuteness crew at the @OU_Football spring game today pic.twitter.com/1BGI679mRx

— Tay [ (@taymorris) April 12, 2014
Turnt with Spiderman at the spring game. @OU_Football pic.twitter.com/Uv2hiCz3Le

— Tucker Hein (@thein14) April 12, 2014
TEXAS TECH
Back at it in Lubbock TX with @TTU_WreckEm @TTU_EQUIPMENT And the @TechAthletics faithful for the spring game pic.twitter.com/fVNsmobg6n

— Pat Flynn (@PFlynnUA) April 12, 2014
Amazing fan base! GREAT Spring Game! #19500 #gunsup #thankyou pic.twitter.com/r7MYiukJQV

— Texas Tech Football (@TTU_WreckEm) April 12, 2014
Thank you @_DaDreamIsHere for making my kiddo's day! pic.twitter.com/ZgQKGteDIW

— Tracey Edwards (@traceye0430) April 12, 2014
WEST VIRGINIA
Milan Puskar Stadium a little foggy this am but great day ahead for Blue Gold Game #wvufootball pic.twitter.com/JJhcnqkrfZ

— Tom Bradley (@TomScrapBradley) April 12, 2014
Live at the Spring Game #WVU pic.twitter.com/KDSqypLgnT

— STEDMAN BAILEY SR (@iamSB3) April 12, 2014
Spring Game #WVU #letsgomountaineers @JCampbellCFLaw pic.twitter.com/SpnNqracYe

— Andy Richardson (@ANR57) April 12, 2014
April, 11, 2014
Apr 11
12:00
PM ET
Happy Friday, everybody. Here are the links...
April, 11, 2014
Apr 11
10:30
AM ET
We've been doing something different with Friday's Big 12 mailbag. From now on, we'll be including Twitter questions with the regular mailbag submissions. To submit a mailbag entry via Twitter, simply include the hashtag #big12mailbag. You also still can send in questions the traditional way
here
, too.
To the 'bag...
@Jake_Trotter best newcomers this spring?

— Eric Bowman (@E_ROCK12) April 10, 2014
Trotter:
So far, Oklahoma State running back/receiver
Tyreek Hill
, TCU safety
Kenny Iloka
and Kansas receiver
Nick Harwell
. With his speed, Hill could lead the league in all-purpose yards. Iloka is going to be a key piece in the best secondary in the Big 12. And Harwell should finally give the Jayhawks that go-to receiver they haven't had since Dezmon Briscoe.
---
@Jake_Trotter this far out if you had to pick this year's Paul Rhoads upset special who would it be

— Ted Flint (@TedFlintKansas) April 10, 2014
Trotter:
The Cyclones get K-State in Ames the second week of the season, which could be a dangerous game for the Wildcats, who might get caught looking ahead to that Thursday night clash with Auburn. Another team that must pay heed is Oklahoma. The Sooners go to Iowa State the week before hosting Baylor in a game that could determine the Big 12 crown. OU can't afford to be looking ahead, either.
---
@Jake_Trotter What's your over/under on Kansas conference wins this coming season? #big12mailbag

— Michael Nichols (@mdn_13) April 10, 2014
Trotter:
I'm going to set it at 1 1/2, and I think I would actually bet the over. The Jayhawks are going to be better this season, and quite possibly good enough to steal two conference wins.
---
@Jake_Trotter @ESPN_Big12 what is TTU going to do with all these young QBs? Webb, Mahomes, Stidham #big12mailbag

— Matt McNicoll (@Matt_McNicoll) April 10, 2014
Trotter:
Right now, the Red Raiders have one on campus, and that's well below the national average. I don't see an issue. The way
Davis Webb
has improved in the last five months, he's going to be the guy the next three seasons barring something unforeseen. That would still give
Jarrett Stidham
three seasons of eligibility to be the starter, if he redshirted next year.
Patrick Mahomes
will get this chances, too. Seems like what TTU is going to do is be really good at quarterback the next six years.
---
@Jake_Trotter you think OU/TX will have a 2:30 kickoff? It's hard for us college students to make the noon kickoffs, heck hard for anybody — Konnor Lohman (@konnorlohman) April 10, 2014
Trotter:
I have no inside info here, but if the game is at 11 a.m. again, hit me up in the fall and I'll share with you my shortcut to the Texas State Fair.
---
@Jake_Trotter how do you see the Daniel Sams move to WR working out for #KState? — Corbin McGuire (@CorbinMcGuire1) April 10, 2014
Trotter:
It was a move that had to be made. Sams is too talented to be standing on the sidelines. He's not going to instantly become an All-Big 12 receiver. But if they can devise ways to get Sams the ball in space, the move could work out well. I see Sams getting a lot of his touches through flares, screens, reverses and maybe a handoff or Wildcat formation here or there. If they can get Sams the ball 10 times a game, that will only help the K-State offense. Think
Trevone Boykin
in TCU's offense late last year. That's how I see Sams best fitting in.
---
@Jake_Trotter Do you see Kenny Williams starting on both sides of the ball next year?

— Michael Bates (@BatesTheDoulos) April 10, 2014
Trotter:
Playing? Yes. Starting? No. I think Williams ultimately favors one side of the ball. The most likely scenario is he still keeps a major role at running back, then gives coordinator Matt Wallerstedt 15-20 plays at outside linebacker, which is more than I would have predicted at the beginning of the spring. Williams can really help the defense, but not at the expense of playing 130 snaps.
---
@Jake_Trotter which big 12 coach's job is the most secure and who has to win right now?

— David Leake (@DavidLeake) April 10, 2014
Trotter:
Bob Stoops, Art Briles, Mike Gundy, Bill Snyder and Gary Patterson have ironclad job security. Paul Rhoads and Kliff Kingsbury have nothing to worry about, either, and Charlie Strong is too new to have to worry (though in Austin, that could change fast). That leaves Charlie Weis and Dana Holgorsen, whose seats are warmest among Big 12 coaches. I think Weis just has to show improvement this season. He can't go 0-12. Holgorsen is the most interesting to watch. Considering the brutal schedule, it's very possible West Virginia is better than last year and still goes 5-7, which might not be enough for Holgorsen to keep his job. But if the Mountaineers go, say, 7-5 against that slate, then I would think Holgorsen would be deserving of another year. West Virginia has been recruiting at an impressive clip, and the schedule will line up more favorably in 2015.
---
jrodxc07 in Dallas writes:
Jake, love the blog, nice work sir. I think you could make a case for incoming Baylor receiver
K.D. Cannon
as Offensive Newcomer of the Year. Can you explain why you left him off your list?
Trotter:
Appreciate it, sir. Cannon was actually on the poll for Offensive Freshman of the Year two weeks ago. The newcomer poll was for transfers, which is why you didn't see him there.
---
I only care about the Big 12 writes:
Please go ahead and give us your way-too early power rankings? That is, if you haven't already...
Trotter:
I actually released a power poll in January that went this way: OU, Baylor, K-State, Texas, Oklahoma State, Tech, TCU, Iowa State, West Virginia, Kansas. I'll be updating it, though, after spring ball concludes.
April, 11, 2014
Apr 11
9:00
AM ET
NORMAN, Okla. --
Oklahoma
is dreaming of a national title run that would make its Allstate Sugar Bowl destruction of Alabama an afterthought.
If that dream turns into reality, the Sooners will likely have their defensive line to thank. As the defensive line went, so went the Sooners in 2013, as the group sparked the Sugar Bowl win yet faltered in OU's losses to Baylor and Texas.
[+] Enlarge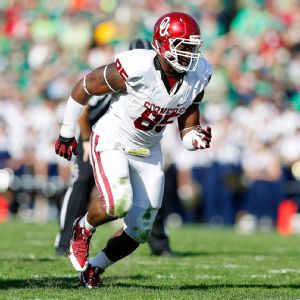 Joe Robbins/Getty ImagesOklahoma's Geneo Grissom is hoping to build off a two-sack performance in the Sugar Bowl win over Alabama.
It's hard to imagine the defensive line taking a step backward in 2014. In fact, the group could end up becoming one of the best defensive lines of Bob Stoops' tenure after entering the spring of 2013 as one of the biggest question marks on the roster.
"It has a chance to be one of our deeper and better ones," Stoops said. "Imagine that, in a year's period of time."
Every significant contributor returns along the defensive line, including All-Big 12 end
Charles Tapper
, and the group should be boosted even more if tackle
Jordan Phillips
, who was playing at an all-conference level early last season, returns to full health after a back injury ended his sophomore season early. From top to bottom, it's one of the deepest units in years.
"Yeah, no question," defensive coordinator Mike Stoops said when asked if this would be one of the deepest defensive lines he has coached.
"You get Jordan Phillips back and we can go two deep and not really slide much. Tapper and
Geneo [Grissom

]
are difference-makers, and the other guys will be difference makers as they continue to grow too.
Chuka [Ndulue

]
is the old, reliable horse in there that holds down the fort, he pushes things to the other guys. They all work together extremely well. We have a unique group and they play hard."
The bowl win over Alabama was a glimpse at just how good OU's defensive line could be. Crimson Tide quarterback
AJ McCarron
, who was sacked seven times, probably still has nightmares of defenders setting up camp in the backfield. Make no mistake, OU won the game in the trenches and hopes to continue that trend in 2014.
The returnees have proven to be quality Big 12 defensive linemen, yet their playing time is far from secure. The development and growth of several young defensive linemen has spurred Mike Stoops' belief they can go two deep without a drop off.
Matt Dimon
,
Mike Onuoha
,
Charles Walker
and
Matt Romar
are just a few of the young defensive linemen on the roster who have increased the competition.
"There's a huge competition," Ndulue said. "There's a bunch of great guys out there, and any one of them could be the starting man. There's just more drive because you want to play, so we just know that your job is on the line each snap so it just makes you play to the best of your ability. As the defensive line, we know that there's competition every day. It makes our [meeting] room a lot better."
At the center of it all is defensive line coach Jerry Montgomery, who joined the Sooners in February 2013 to jump start a disappointing defensive front. He has done that and more, proving to be stellar position coach after arriving from Michigan with a reputation as an elite recruiter.
"The defensive line is where the game is played," Mike Stoops said. "They are very disruptive and that is what you need to have. [Montgomery] is very good with technique and he has a great relationship with the players, and that has all been very positive. They play hard and they play with technique, and that is where it all starts up front. They have been a catalyst for us."
Few envisioned the Sooners' defensive line becoming one of the Big 12's best in 2013. Yet it was.
"It wasn't supposed to be a very strong group for us a year ago, but they really flipped it and now it is one of the best groups in the country," Mike Stoops said. "Again, hopefully we can get [Phillips] back and make this group even stronger. It can be a dominating group if we can get him back healthy and playing at the level he was playing at a year ago."
Now the defensive line is looking to be called the nation's best, with the goal of being the driving force behind a College Football Playoff berth.
"It all starts with the big guys," Ndulue said. "If we're not being dominant, getting driven back into the linebackers, it's going to be a long day for us. If we're playing on their side of the line of scrimmage, we can do something great."
April, 11, 2014
Apr 11
5:30
AM ET
The Early Offer is RecruitingNation's regular feature, giving you a dose of recruiting in the mornings.
Earlier this week, I wrote about how
Oklahoma and Oklahoma State are facing tougher challenges
recruiting against in-state programs such as Texas, Texas A&M and Baylor, but there are plenty close to the situation who still have big expectations for the Sooners and Cowboys in the Lone Star State.
To continue reading this article you must be an Insider
April, 10, 2014
Apr 10
4:00
PM ET
Athlon Sports has always been big on lists. And this week, Athlon's Steven Lassan ranked
all 128 FBS coaches
. He also pulled out the
top 10
Big 12 coaches.
As a disclaimer, this is
NOT
our list. This is Athlon's. So forward all hate tweets and emails to them. Not me. I already get enough.
[+] Enlarge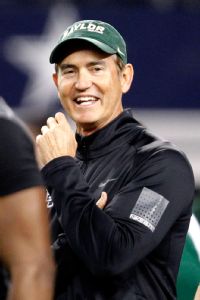 Ron Jenkins/Fort Worth Star-Telegram/MCT/Getty ImagesArt Briles' status has grown in the eyes of Athlon.
Without further ado:
1. Bob Stoops, Oklahoma
2. Art Briles, Baylor
3. Bill Snyder, Kansas State
4. Mike Gundy, Oklahoma State
5. Gary Patterson, TCU
6. Charlie Strong, Texas
7. Paul Rhoads, Iowa State
8. Kliff Kingsbury, Texas Tech
9. Dana Holgorsen, West Virginia
10. Charlie Weis, Kansas
Some observations:
Athlon prefers coaches who win conference championships. Briles, Snyder, Gundy and Stoops, the top four on this list, have won the past four Big 12 titles.

I went back and checked and noticed some interesting changes. Snyder was No. 1 in 2013, but dropped two spots this year (why, I'm not sure; K-State did win six of seven to close out the season). Mack Brown was No. 6 -- the same slot that Strong opened up here. Kingsbury moved up only one spot after going 8-5 in his first season.

In the eyes of Athlon, Patterson's stock is falling. He was the No. 2 coach going into his first year in the Big 12 and was ranked third going into last season. On the flip side, Briles has made the biggest rise in the last two years, going from sixth to second after winning the Big 12 last season.

Athlon actually had Snyder fifth in 2012, which is hard to believe. We're talking about one of the best coaches of all-time, right?

As you can see, I have a bigger beef with the 2012 and 2013 rankings than the 2014 one.

Kingsbury has the potential to ascend the most of anyone on this list. I don't know that the No. 8 spot is completely unfair, considering he's only been a head coach one season. But if he can turn Texas Tech into a Big 12 contender on a quasi-regular basis, he could jump several spots.

This is obviously not an easy list to compile. How do you weigh what Briles has done the last five years against what Snyder has the last 25? It's all a matter of subjectivity.
April, 10, 2014
Apr 10
12:00
PM ET
Who ya got in the
Masters
this weekend? I don't watch golf, but I'll take Jordan Spieth.
April, 10, 2014
Apr 10
11:30
AM ET
As the debate about whether the NCAA should pay college athletes continues,
Minnesota Vikings
and former Oklahoma star running back
Adrian Peterson
weighed in
strongly on the issue
Wednesday.
"Johnny Manziel made
Texas A&M
so much money," he said. "When I was at
Oklahoma
, they made so much money."
When Peterson was at Oklahoma, he said, his first daughter was born, adding responsibilities to his plate outside of "playing football and going to class."
"Nobody wants to live in the dorms for four years," Peterson said. "You see the guys who are older, and they have responsibilities. I feel like, as much money as universities make, some of that should come down to the players, as well."
Peterson also spoke out against NBA commissioner Adam Silver's comments that basketball players should stay in school for two years.
"They're trying to make basketball players go two years in college. Wow. I wonder why?" Peterson said. "Think about it -- just imagine if
LeBron James
had been in college for two years. How much money would that college have made off LeBron James? They would have made so much money off LeBron James. It's about the freedom to do as you want and make your own decisions."
April, 10, 2014
Apr 10
11:00
AM ET
Oklahoma's defense appears loaded.
The Sooners defensive line could be the foundation of the defense and several playmaking linebackers return along with three of five starters in the secondary. There don't appear to be many holes in a defensive unit that ranked among the Big 12's best a year ago.
Cornerback is clearly the biggest question mark on the defense as the Sooners try to replace All-Big 12 performer
Aaron Colvin
.
Stanvon Taylor
,
Dakota Austin
and
Cortez Johnson
are battling to replace Colvin but nobody has clearly pulled away from the competition.
[+] Enlarge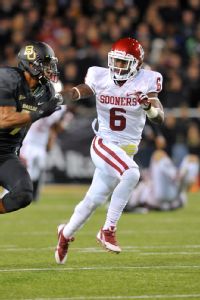 John Rivera/Icon SMIStanvon Taylor is one of several OU players battling for time at cornerback.
"Stanvon Taylor and Dakota Thomas are playing the best out there at corner," coach Bob Stoops said. "[But] Cortez is still in that mix very strongly."
They're competing hard but it's been a friendly competition built upon learning and improving as an overall group at cornerback.
"Everyone's working really hard and pushing each other," Taylor said. "We're all a team and we push each other to work every day."
All three players saw limited action in 2013 with Taylor and Johnson earning starts when Colvin was injured and Austin seeing snaps in the Allstate Sugar Bowl. Yet none of them played well enough to emerge as the favorite to replace Colvin heading into the spring and that hasn't changed with the end of spring on the horizon.
"We are very competitive," Johnson said. "Coach [Stoops] will make the call on who's going to start, so I'm just going to keep being competitive."
While Colvin is the man the Sooners are looking to replace, he will be gone but not forgotten this fall. He made a point to tutor Taylor and Austin during their true freshman seasons. He taught Taylor, who essentially arrived on campus as his protege, to forget his failings if he hoped to survive the ups and downs of the position.
"Just play and stay positive," Taylor said of the best advice Colvin gave him. "I used to get frustrated a lot and he would tell me to keep my head up and keep getting better."
Austin noticed completely different traits from the former Sooners standout.
"I learned instincts and just staying poised," Austin said. "[I also learned] the speed of the game, certain antics that the offense does, just picking up on film work. That's really the main thing, picking up on things the other team likes to do. He was really heavy on film and that's something that I would like to adopt in my game."
Saturday's spring game could go a long way in helping to crown a winner of the battle if one of the trio pulls away from the competition with a breakout performance. The battle to replace Colvin has been one of the top storylines of the spring and it will continue to be the biggest concern on the Sooners' defense until it's resolved. And even then every team will test the victor until he proves he's not the weak link on OU's defense.
"I know we're going to get challenged and I feel like we have a group that's up for it," Austin said. "We really have a lot of aggressive guys, guys that are going to get after it. I wouldn't want to do it with another group. I feel like we're really going to get the job done. We're really underrated and that's what's going to make it so much sweeter in the end."
April, 10, 2014
Apr 10
9:30
AM ET
NORMAN, Okla. --
Trevor Knight
still remembers attending University of Texas football games with his father and twin brother.
The Knights were in Austin for nearly every UT home game, and Trevor fondly remembers going to Darrell K Royal-Texas Memorial Stadium the week before the Longhorns played Oklahoma in the Red River Rivalry game in Dallas.
"I hated 'em," Knight said of the Sooners. "I did. Going to Texas games, I'd go to the one right before the Red River Rivalry game and yell, 'OU sucks!'"
[+] Enlarge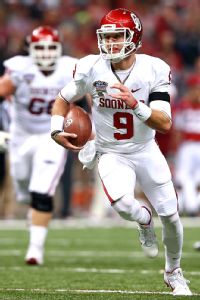 Streeter Lecka/Getty ImagesTrevor Knight led Oklahoma past Alabama in the Sugar Bowl, but his performance didn't surprise his coach.
Knight, who was ranked as a four-star recruit by ESPN RecruitingNation as a senior at Reagan High School in San Antonio in 2011, dreamed of playing quarterback for the Longhorns. His father, George Knight, attended UT, and so did several other family members.
But the day before Knight was scheduled to make his official visit to UT in February 2012, the Longhorns received a verbal commitment from quarterback
Connor Brewer
of Scottsdale, Ariz. Knight never made a visit to Austin and verbally committed to play at Texas A&M before flipping to Oklahoma after an official visit to Norman.
Instead of playing quarterback for Texas, he ended up playing for the team the Longhorns dislike the most.
"It was a blessing in disguise," Knight said. "Going through the recruiting process, you realize you have to pick the best place for you. The whole fan aspect goes out [the window]. I grew up a huge Texas fan and hated A&M and OU but committed to A&M and ended up at OU. It's how it works out. It's funny because I grew up hating OU and now I love it."
After two years at OU, it seems pretty clear that Knight made the correct decision. Heading into his sophomore season, Knight is the Sooners' undisputed starting quarterback after throwing for a career-high 348 yards with four touchdowns on 32-for-44 passing in a 45-31 victory over Alabama in the Allstate Sugar Bowl.
"I think a lot of positives came from it," Knight said. "Obviously, recognition came from it. It's a good thing to play well and be recognized for playing well. People have been saying, 'It's one game.' You've got to build off of it and continue to move in the right direction."
Before Knight's breakout performance against the Crimson Tide, he had endured an up-and-down first season as Oklahoma's quarterback in 2013. He won a tight quarterback competition and started the first two games before spraining his knee in a 16-7 win over West Virginia on Sept. 7.
Blake Bell
replaced Knight and kept the starting job for eight games until suffering an injury late in the season.
Knight's performance against Alabama ended any speculation about who would be OU's quarterback in 2014. So much so that Bell decided to move to tight end during the offseason and
Kendal Thompson
, another backup quarterback, transferred to Utah.
OU coach Bob Stoops said he wasn't surprised Knight played well against Alabama. In fact, it's what Stoops expected from his quarterback all along.
"When you go through the entire spring and two-a-days, we saw a lot of great throws and his ability to run and do things," Stoops said. "It's why he started the season. We don't name a starter haphazardly."
Added Knight: "I think there was a light switch for our whole team. Just the confidence we had and focus we had was different. We were carrying a chip on our shoulders. Nobody gave us a chance. They were fighting to keep us from trying to run out of the tunnel because we were so ready to play."
Now it's up to Knight to build on the Sugar Bowl and continue to get better. As good as he looked against Alabama, Knight was still wildly inconsistent last season. In eight games, Knight completed 59 percent of his passes for 819 yards with nine touchdowns and five interceptions. He also ran for 445 yards with two scores and was sacked four times.
"He is definitely coming along," Stoops said. "It's easy to say it's because of the Sugar Bowl, but I think it's because of natural maturity and the number of snaps he's taken. He's progressed. I think the Sugar Bowl allowed him to be a leader and take over the team."
Moving Bell to another position also allowed Knight to take ownership of OU's offense, according to Stoops.
"I think it helps so much now that he's 'the guy,'" said OU center
Ty Darlington
, Knight's roommate. "He's not looking over his shoulder."
Since setting an OU bowl record with four touchdown passes against Alabama, Knight has been the center of attention around campus. Darlington said it's rare that Knight isn't asked to take a photograph or sign an autograph when they attend sporting events or go out for late-night meals.
"Trevor hasn't changed a ton," Darlington said. "I would say the way people treat Trevor has changed. It's different. We've always gone everywhere together. Now it's like we can't go anywhere. He's done a good job of embracing it but hasn't let it go to his head."
Not that Darlington or Knight's fraternal twin brother would let his head get too big.
Connor Knight
is a sophomore tight end for the Sooners and played on special teams last season.
"He hasn't changed at all," Connor Knight said.
OU fans will have to wait until the Aug. 30 season opener against Louisiana Tech to find how much better he'll be this season. They hope to see the quarterback who lit up Alabama's vaunted defense instead of the one who struggled to keep the starting job.
"It was refreshing to play well and obviously to win a big game like that," Knight said. "That is what you dream of doing. Internally, it wasn't a surprise to us. We really did come together and peak at the right time. I think it's a vote of confidence. It's nice to play that way in your last game because it carries into the offseason. We just want to build on it and ride the wave and be the best we can be."
April, 9, 2014
Apr 9
3:00
PM ET
Oklahoma will hold its spring game on Saturday, and there are several storylines to keep an eye on for the Allstate Sugar Bowl champions. Here's a closer look at what to watch in OU's spring game.
When:
Saturday at 2 p.m.
[+] Enlarge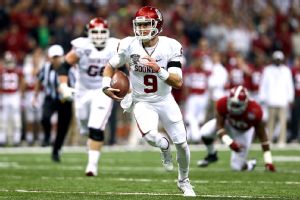 Streeter Lecka/Getty ImagesTrevor Knight won't play a lot in OU's spring game, but he has a chance to showcase his development.
Where:
Oklahoma Memorial Stadium
What to watch for:
Has Trevor Knight continued to develop? Don't expect the Sooners quarterback to get a lot of work during the spring game as his health is a top priority. Yet, Knight is still a young and relatively inexperienced quarterback who needs quality reps. The spring game will show if he carries himself like a veteran and if his teammates are responding to him as the man in command of OU's offense. A strong one or two series would show Knight is continuing to develop as a player despite not being pushed by daily competition for the starting job.

What about behind him? Quarterbacks Cody Thomas, a redshirt freshman, and Justice Hansen, a true freshman, are raw and untested. The spring game gives the duo the chance to show they can handle the No. 2 quarterback job if called upon in the fall. Thomas has been splitting his time with the Sooners' baseball team with no ill effects on his football duties, while Hansen enrolled early and is adjusting to life as a college football player.

Who will get the bulk of the carries? OU will welcome ESPN 300 signees Joe Mixon and Samaje Perine to its running backs group this summer. So this spring is the opportunity for sophomore running backs Keith Ford and Alex Ross to cement their spots at the front of the line alongside Knight. Ford was a pleasant surprise as a true freshman. He earned carries before fumble troubles placed him on the sideline. Ross has been one of the stars of the spring with coaches and teammates alike lauding his explosiveness in scrimmages. Saturday is their chance to show they're ready to fill the void left by the departures of Brennan Clay, Damien Williams and Roy Finch.

DB Ahmad Thomas: It would be a surprise if Thomas doesn't see the field a lot this fall. The sophomore is proving to be versatile and talented while lining up at multiple positions in OU's defense. After enrolling early in January 2012, Thomas played in 12 games as a true freshman and finished with nine tackles in limited action. Now, he appears poised to be a key piece of the Sooners defense as a sophomore. The Sooners are tinkering to find the best spot for Thomas, but a strong spring game could reaffirm his place as one of the breakout stars this spring.

New names: Several young players are creating a buzz, including receiver Jordan Smallwood, cornerback Dakota Austin and defensive tackle Charles Walker. Smallwood's name has repeatedly come up this spring, as he's made a solid impression after missing the 2013 season with a broken foot. Austin has been competing with Stanvon Taylor and Cortez Johnson to replace All-Big 12 cornerback Aaron Colvin, and, while undersized, his coverage ability and competitive nature have shone through. Walker has earned a reputation as a future star with his exceptional size and speed combination, so Saturday will be the first glimpse at the redshirt freshman. The spring game will give that trio and many other young Sooners the opportunity to show they can be contributors on offense or defense in 2014.
April, 9, 2014
Apr 9
1:14
PM ET
HOUSTON -- Both Bob Stoops and Mike Gundy know Oklahoma does not have a deep enough talent pool for both programs to win at the highest level relying primarily on homegrown recruits. So they've made it a priority to look south of the Red River to stockpile talent. The approach has worked quite well for years, as the Sooners and Cowboys have won conference titles with rosters loaded with Lone Star State prospects.
But the recruiting climate in Texas has changed dramatically over the past three years thanks to the Johnny Football-fueled rise of Texas A&M and the turnaround job Art Briles has done at Baylor. Schools that used to only have to truly recruit against the Longhorns for the state's top prospects are now locked in three- or four-team tussles. Suddenly, the ability of OU and OSU to go deep in the heart of Texas has been met with resistance. Could the days of the Cowboys and Sooners landing players like Dez Bryant, Justin Gilbert, Tommie Harris, Russell Okung, Trent Williams and Adrian Peterson be over?
To continue reading this article you must be an Insider
April, 9, 2014
Apr 9
12:00
PM ET
April, 9, 2014
Apr 9
11:00
AM ET
The injury bug has hit Norman, Okla. this spring.
Oklahoma will be without several players during its spring game on Saturday but none of the injuries are major.
Nickelback
Julian Wilson
, defensive lineman
Rashod Favors
, defensive tackle
Quincy Russell
, receiver
Sterling Shepard
, receiver
Durron Neal
, tight end
Blake Bell
, guard
Adam Shead
, tackle
Tyrus Thompson
, guard
Nila Kasitati
and guard
Tyler Evans
will miss the action due to various injuries but none of them require surgery and head coach Bob Stoops said he expects all of them to return after a short hiatus.
Those injuries have opened the door for several young players on the roster.
"They're getting more snaps and having to step up," Stoops said.
Here's a closer look at how those injuries could open up spring game opportunities for several players on the roster.
[+] Enlarge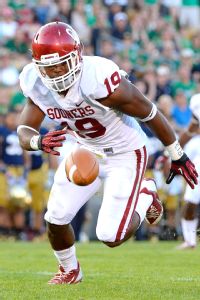 Robin Alam/Icon SMIOLB Eric Striker has been taking some reps at nickelback this spring.
Wilson:
The senior has missed the spring anyway, allowing
Ahmad Thomas
,
Eric Striker
and others to get the reps at nickelback. Thomas is showing great versatility and carving himself a role on the defense. Striker, a returning All-Big 12 second teamer, will be on the field regardless, it's just a matter of where. Both guys get the chance to prove they can fill a variety of roles on Saturday.
Favors:
Several young defensive ends including
Mike Onuoha
are showing good upside this spring and Favors' injury gives them more chances to impress in the spring game. Onuoha was right alongside returning Big 12 first teamer
Charles Tapper
as the future at the position before a shoulder injury forced him to miss his sophomore season while Tapper starred. He could be hungry to prove he could have made a similar impact.
Matt Dimon
and
D.J. Ward
are other young defensive ends who could end up providing quality depth this fall.
Russell:
This injury hurts Russell in the race to earn playing time in 2014 and opens up additional opportunities for redshirt freshman
Charles Walker
to show he's ready to make an impact in the fall. It also gives the opportunity for another redshirt freshman,
Matt Romar
, to show Walker isn't the only youngster looking to force his way into the lineup along a veteran defensive line.
Bell:
More than anything Bell's injury robs us of the opportunity to see the Belldozer play tight end before the fall. And, quite frankly, that's all anyone is going to think about when it comes to Bell's absence on Saturday. The overriding question about Bell is not if he can win the starting tight end job, it's can he prove to be one of the best 11 players on offense? That answer will define his playing time and it won't come until the fall.
Shepard and Neal:
Redshirt freshman
Jordan Smallwood
,
K.J. Young
and
Dannon Cavil
could have lost all right to complain about a lack of opportunities with these injuries. Don't be surprised if Smallwood is one of the stars of the spring game, Young is silky smooth and Cavil brings a unique size and athleticism to the receiving corps. Sophomores
Derrick Woods
and
Austin Bennett
will also get the chance to shine after limited duty as freshmen in 2013.
Offensive line:
Injuries have hammered the offensive line throughout the spring, so being thrown into duty in the spring game will be nothing new for guys like tackle
Sam Grant
, tackle
Christian Daimler
and guard
Kyle Marrs
. They'll get the chance to get a bunch of reps against a deep defensive line and potentially secure a reputation for themselves before a talented group of offensive line signees arrive in the summer looking to rise past them on the Sooners' depth chart.
Spring Game Wrap-Up
BIG 12 SCOREBOARD
Saturday, 8/30
Sunday, 8/31