January, 9, 2012
1/09/12
3:30
PM CT
After taking the Ohio State job, Urban Meyer referenced Bob Stoops as someone he learned a lot from after a trip to Norman. Not on the football field. But off it.
Meyer told The New York Times
that Stoops had a simple philosophy that resonated with him: "I'm going to coach and coach real hard. But I'm going home. I'm going to take my kids to school in the morning, and no one on this planet can stop me from doing that.
[+] Enlarge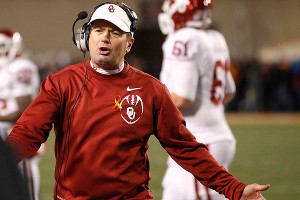 AP Photo/Sue OgrockiOklahoma coach Bob Stoops has tried to keep what happens on the football field out of his private life.
"I'm looking at him, and he's serious. I say that, but I have to talk to this recruit. I got. … I learned a lot that day."
Stoops said he wasn't aware of Meyer's comments. But he did explain how he has been able to balance football and family.
"Every coach has to do it how he feels is best for him," Stoops said. "You guys know me well enough. I don't need this. I can do a lot of things. It's never going to be a … When it's all done, there'll be a record. So what? What's that going to do for me? My wife, my kids, my friendships, my close people … that's what matters. This stuff will go by the wayside at some point. The other stuff you'll keep forever.
"It will never consume me where I'm going to sacrifice my relationships with people. And relationships with kids and faith, those things. That's what matters."
Stoops went on to say that football is important to him. But it's also not life or death.
"Shoot, nobody's more competitive. I'm competitive. I want to win," Stoops said. "These people think I don't care enough. Try doing it.
"But when I go inside the house, I'm not going to hang my head around for five days. That's not happening. So, sorry if someone wants me to, or they're going to get me to do it."
January, 9, 2012
1/09/12
2:25
PM CT
By
SoonerNation Staff
| ESPN.com
Freshman receiver
Justin McCay
, a four-star prospect in the class of 2010, is transferring to the University of Kansas, SoonerNation's Jake Trotter has confirmed.
McCay, from Shawnee Mission, Kan.,
was No. 142
in the 2010 ESPNU 150 and ranked No. 15 at receiver. He redshirted in 2010, and played sparingly this season. He did not record any statistics.
It's expected that McCay will only sit out the 2012 season, despite transferring within the Big 12 Conference. He will have two years of eligibility remaining.
McCay is not the first high-profile player to transfer to Kansas.
Big 12 blogger David Ubben details new head coach Charlie Weis' acquisitions here
.
January, 9, 2012
1/09/12
1:38
PM CT
Oklahoma is looking to earn its first conference win when the
Sooners travel to Stillwater to take on Oklahoma State
at 6 p.m. CT on Monday.
The Sooners are coming off back-to-back blowout losses to Missouri and Kansas after a 10-2 non-conference record. OU's strong rebounding and good shooting, keys to their non-conference success, has left them early in Big 12 play. Their one constant has been defensive effort, which should give them an advantage heading into Bedlam.
The Cowboys enter the game at 8-7 overall (1-1 in Big 12). There's plenty of unrest in Stillwater with point guards
Reger Dowell
and
Fred Gulley
leaving the team after Christmas leaving freshman
Cezar Guerrero
and
Keiton Page
to handle most of the ball handling duties. To top it off, OSU lost third-leading scorer
J.P. Olukemi
for the season after he suffered a torn ACL.


Both teams need something good to happen to get them moving in a positive direction, making for an intense Bedlam battle.
Key to OU win:
Sam Grooms
needs to win the point guard battle. If Grooms can control the game and the tempo it will allow
Steven Pledger
to get quality shots and
Andrew Fitzgerald
to do his work inside. Grooms will set the tone, particularly on defense, for the Sooners.
Key to OSU win:
The Cowboys will have to win the battle on the perimeter with Page and Guerrero having terrific games. If the Cowboys come out and have a great shooting game, they will be tough to beat. Freshman
LeBryan Nash
will also need to step up with a great first Bedlam. A top 2011 recruit, Nash can be a matchup nightmare when he's playing well.
Stat line that will tell the tale:
OSU assists. The ball tends to stick in people's hands on offense for OSU, meaning the Cowboys often go one-on-one instead of running the offense to get quality shots. If they share the ball, they're a different team.
Sooners X factor:
Andrew Fitzgerald. The junior forward is the best inside scoring threat in this game. He has quality post moves and the Sooners tend to try to get him involved early. If he has a good game, OU could be tough to beat.
Cowboys X factor:
Phillip Jurick. A quality shot blocker, Jurick could have a big impact on this game if he is able to contain Fitzgerald and lessen the offensive rebounding of
Romero Osby
. He averages 2.3 blocks per game in 18.3 minutes of action.
January, 9, 2012
1/09/12
10:45
AM CT
Following an eventful week for Oklahoma verbal commits and targets in the Under Armour All-America Game and U.S. Army All-American Bowl, it appeared the week would end quietly. But four-star prospect De'Vante Harris (Mesquite, Texas/Horn) changed all that when he de-committed on Saturday. Bob Przybylo answers your recruiting questions each week. Have a question? Send it to his mailbag at bprzybyloespn@gmail.com.
Andy in Dallas asks:
Why, De'Vante, why?
Bob Przybylo:
I've had so many different versions of this question on Twitter and the inbox, but I liked how this one was phrased. At this point, I still do not know the exact reason why Harris de-committed from the Sooners on Saturday.
To continue reading this article you must be an Insider
January, 9, 2012
1/09/12
9:00
AM CT
Three thoughts this morning:
1.
It didn't take long for
de-committed
cornerback
De'Vante Harris
to pick up offers from some of the name programs in college football, including Ohio State, TCU and Oregon. Harris is scheduled to visit the Ducks this weekend. Initially, I thought the Sooners could get back in the mix for Harris even if/when Mike Stoops replaces Willie Martinez, Harris' primary recruiter from OU. But reading Harris' Twitter page, it seems as though he's moved on. The Sooners probably will have to as well.
2.
I can't remember the last time a Bedlam basketball game arrived with such little fanfare (
the two schools play tonight for those who didn't know
). It wasn't that long ago Bedlam basketball was one of the main sporting events in Oklahoma. I doubt either game sells out, including tonight's bout in Stillwater. Despite the injuries, OSU has the more talented team and the home-court advantage, but OU is playing better despite the 0-2 start in-conference. The Sooners hung tough with Kansas on Saturday, before getting outclassed in the second half. If the Sooners can keep Keiton Page from bombing 3s and exploit OSU's problems at point guard, I like their chances.
3.
Our Bob Przybylo pointed something out very interesting. Wide receivers coach and co-offensive coordinator coach
Jay Norvell
began following several University of Florida Web sites and reporters on Twitter over the weekend on. Coincidence? Probably so. But at one time Norvell was rumored to be a candidate for the offensive coordinator job with the Gators. Boise State assistant Brent Pease is believed to be Florida's top choice, but Pease is also being interviewed at Alabama this week. If Pease ends up taking a job with the Crimson Tide, could Florida circle back to Norvell? It's something worth keeping an eye on. Norvell is happy at OU, but he also wants to be a play-caller. Just last week, Norvell spoke with Wisconsin officials about their offensive coordinator position, but opted not to pursue the job. Norvell has done a terrific job recruiting for the Sooners this class; blue-chipper
Durron Neal
even
telling SoonerNation he would have de-committed
from OU had Norvell left.
To continue reading this article you must be an Insider
January, 9, 2012
1/09/12
8:00
AM CT
January, 8, 2012
1/08/12
2:12
PM CT
Oklahoma wide receiver verbal commit
Sterling Shepard
(Oklahoma City/Heritage Hall) has always had nerves before his football games. He had nerves playing in front of hundreds of people in high school, and it was multiplied significantly last week.
But nerves, however, have never impacted Shepard's performance. It didn't in four seasons at Oklahoma City Heritage Hall, and it didn't last Thursday night at the Under Armour All-America Game.
"I think it's a good thing to be nervous like that," Shepard said. "It lets me know how important everything means to me. Once you get on the field, it goes away, and you just play your game."
To continue reading this article you must be an Insider
January, 8, 2012
1/08/12
10:00
AM CT
SAN ANTONIO -- Twenty juniors have given verbal commitments to play in the 2013 U.S. Army All-American Bowl next January. Four of the players -- receiver Ahmad Fullwood (Jacksonville, Fla./Bishop Kenny), linebacker
Dorian O'Daniel
(Olney, Md./Our Lady Of Good Counsel) and defensive backs
Eli Woodard
(Voorhees, N.J./Eastern) and
Kendall Fuller
(Olney, Md./Our Lady Of Good Counsel) -- were announced during the second quarter of this year's game.
Here's the list of the other 16 players expected to play next year:
DE
Kenny Bigelow
(Bear, Del./Red Lion Christian)
QB
Max Browne
(Sammamish, Wash./Skyline)
QB
Ryan Burns
(Ashburn, Va./Stone Bridge)
DB
Cam Burrows
(Trotwood, Ohio/Trotwood-Madison)
DB
Su'a Cravens
(Vista Murrieta, Calif.)
OL
Austin Golson
(Prattville, Ala.)
WR
Derrick Griffin
(Rosenberg, Texas/Terry)
LB
Peter Kalambayi
(Matthews, N.C./Butler)
LB
E.J. Levenberry
(Woodbridge, Va./E.D. Hylton)
LB
Daniel McMillian
(Jacksonville, Fla./First Coast)
OL
Khaliel Rodgers
(Bear, Del./Red Lion Christian)
DL
Garrett Sickels
(Little Silver, N.J./Red Bank)
TE
DeSean Smith
(Lake Charles, La./Barbe)
QB
Tyrone Swoopes
(Whitewright, Texas)
OL
Laremy Tunsil
(Lake City, Fla./Whitewright)
DB
Nick Washington
(Jacksonville, Fla./Trinity Christian)
January, 7, 2012
1/07/12
5:53
PM CT
Kansas coach Bill Self didn't feel like his team
outplayed Oklahoma in the Jayhawks' 72-61 win
over the Sooners at the Lloyd Noble Center on Saturday afternoon.
Except for a 11-minute stretch to begin the second half. And that was more than enough.
After battling the No. 15-ranked Jayhawks head-to-head for the first 20 minutes, even taking their 34-33 halftime lead. The Sooners then came out flat to open the second half with careless turnovers and poor shooting. KU went on a 29-6 run to take a 62-40 lead with 8:41 left.


OU outscored KU 55-43 in the other 28:41 of the game.
Player of the Game:
Carl Blair
. The senior point guard provided a solid spark for OU off the bench. He scored 11 points on 2 of 3 shooting along with 3 assists and one turnover in 12 minutes of action. If Blair can provide similar production for the rest of the Big 12 schedule, he will provide allow OU to go small and matchup better with some of the league's quicker teams.
Unsung Hero:
Romero Osby
. The junior was solid with nine points and nine rebounds but ended up with a team-high five turnovers. But Osby should have been more aggressive, particularly in the second half as KU began to pull away. The transfer from Mississippi State is a mismatch for most big men with his athleticism and needs to take advantage of that more often.
Key Stat:
48. KU finished the game with 48 points in the paint. The Jayhawks got several dunks and layups thanks to their penetration and offensive rebounding.
Key Stat, Part II:
14. The Jayhawks had 14 steals which helped contribute to their 48 points in the paint and 50 percent shooting (29 of 58 field goal attempts).
Quotable: "Not only did we turn it over, but we turned it over with them shooting layups, which is the worst of both worlds, of course." - OU coach Lon Kruger on the Sooners carelessness with the ball in the first 10 minutes of the second half.
"I think we came out kind of flat on both ends of the court. We made a couple of costly turnovers. Like Coach said, they equal points on the other end for them. So I think that's really where it started." - Osby on KU's second half run.
"I thought that the 10 minutes, or whatever it was, to start the second half was probably the best run we've had all year. I thought our defense was active and we got our hands on balls and we were able to get out in transition. We're pretty good when we get out in transition." - KU coach Bill Self
Up Next:
at Oklahoma State on Monday at 6 p.m.
January, 7, 2012
1/07/12
4:44
PM CT
One day after Oklahoma secondary coach Willie Martinez was rumored to be leaving for a jobs at either Illinois or Kansas, cornerback
De'Vante Harris
, the Sooners' top defensive recruit,
de-committed
.
It's not difficult to connect the dots.
Harris has not yet given his reasons for
disclosing Saturday via Twitter
that he is no longer committed to the Sooners. But something dramatic must have occurred to lead Harris to make such a stunning announcement.
To continue reading this article you must be an Insider
January, 7, 2012
1/07/12
2:04
PM CT
Cornerback
De'Vante Harris
(Mesquite, Texas/Horn), who has been committed to Oklahoma since the spring,
announced on Twitter
that he has decommitted from the Sooners on Saturday and confirmed with a text message that the decommitment was true.
Harris, a four-star prospect ranked No. 14 at cornerback, had been one of the biggest recruiters for the Sooners since committing. He had made several unofficial visits and an official visit and had coaches for in-home visits recently. There were rumors two weeks ago of Harris looking at Texas, but Harris quickly shot those down.
[+] Enlarge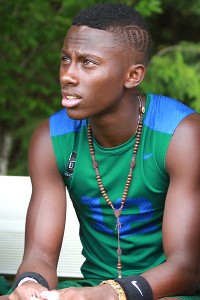 Tom Hauck for ESPN.comLongtime Oklahoma commit De'Vante Harris decommitted from the Sooners on Saturday.
Reports have also surfaced of OU defensive backs coach Willie Martinez being considered for other jobs. He has been reported as a defensive coordinator candidate at both Kansas and Illinois in the last 24 hours. Martinez has been the primary recruiter for Harris.
The news wasn't just a shock to OU fans, but also to Mesquite Horn coach Rodney Webb.
"Really? I have no knowledge of that," Webb said about Harris decommitting. "I was with him in Orlando this week, and he was doing his thing.
"I saw him briefly after the game. Nothing seemed wrong. He seemed like himself, like he always is with his personality. I'm kind of at a loss because he has been such a solid commitment."
Harris was in Florida all week for the Under Armour All-America game and returned home Friday still talking up the Sooners. Calls to Harris' cell phone were not returned though he did text the confirmation so there would be no speculation about his Twitter account being hacked.
Harris had also developed a good bond with the secondary, including sophomore Tony Jefferson. When a fan tweeted Jefferson that the Cali Trio needed to bring back Harris, Jefferson replied: "if he wanna go let EM. Gotta go where his best for him. No hard feelings."
Harris, in his first tweet after the announcement, tweeted back: "Thanks Tony."
Future teammates were also unaware of Harris' departure. Cornerback commit
Kevin Peterson
(Wagoner, Okla./Wagoner) said he found out via a text message from Wagoner coach Dale Condict.
"It's a big shock. Coach Condict texted me like two minutes before you called," Peterson said. "I have no idea what happened."
Peterson said he has not heard from Martinez in more than a week, fueling the speculation about the future of Martinez. During the dead period, it was Bob Stoops that called Peterson.
Harris was OU's top-ranked defensive prospect for the 2012 class.
January, 7, 2012
1/07/12
1:41
PM CT
By
Recruiting Nation
| ESPN.com
Four-star linebacker
Brian Nance
(Euless, Texas/Trinity) said he will play college football at Baylor
during the U.S. Army All-American Bowl
.
Nance, a 6-foot-3, 210-pound linebacker, chose Baylor over offers from Arkansas, UCLA and Oklahoma, among others. Nance is considered the 15th-best linebacker in the country.
"The [Baylor] coaches act just like our Trinity coaches," Nance said. "They treated me like a family, and the players all respect each other. I like schools like that. I just want to fit in. They have a good recruiting class, and they're an up-and-coming program.
To continue reading this article you must be an Insider
January, 6, 2012
1/06/12
10:30
PM CT
All week at the U.S. Army All-American Bowl, Oklahoma wide receiver verbal commit
Durron Neal
(St. Louis/De Smet Jesuit) has been trying to recruit fellow Missouri product, receiver
Dorial Green-Beckham
(Springfield, Mo./Hillcrest), to join him with the Sooners.
But for a short period of time on Thursday, Neal wasn't even sure if he was going to stay committed to Oklahoma. There were reports that OU wide receivers coach Jay Norvell was talking to Wisconsin about becoming its offensive coordinator.
Norvell, however,
has decided to stay at OU
. And now Neal said he is solid once again with the Sooners.
To continue reading this article you must be an Insider
January, 6, 2012
1/06/12
6:00
PM CT
The start of Big 12 Conference play could not have been worse for Oklahoma. The Sooners were
destroyed by No. 7 Missouri
, 87-49, in a game that left forward
Andrew Fitzgerald
so disappointed with the outcome, he was embarrassed to look at the OU coaching staff.
Next up, Kansas.
The Sooners are looking to rebound from the upset loss when the
No. 15 Jayhawks visit Lloyd Noble Center
at 1 p.m. CT on Saturday. KU got their Big 12 schedule off to a good start with a 67-49 home victory over Kansas State.


Key to OU win:
Attacking KU forward
Thomas Robinson
, the lone Big 12 player averaging a double-double (17.2 points, 12.3 rebounds), with Andrew Fitzgerald and
Romero Osby
on offense. If the Sooners can get Robinson into foul trouble, KU will have to count on its inexperienced depth, giving OU a potential advantage. Fitzgerald and Osby will need to be aggressive with the aim of getting 15-20 points apiece.
Key to Kansas win:
Defense. The Jayhawks rank No. 12 nationally in opponent field goal percentage (36.9 percent) and are annually among the best defensive squads in the Big 12. OU has struggled to get good shots at times this season and the Jayhawks could take advantage of the Sooners lack of penetrating ball handlers.
Stat line that will tell the tale:
OU field goal percentage. The Sooners will have to shoot extremely well from the outside or get easy shots through penetration or in transition. If KU forces OU to try to create open shots in one-on-one situations, the Jayhawks have the advantage.
Sooners X factor:
Sam Grooms
. The junior college transfer has proven to be the only Sooner who can consistently create a shot for himself or his teammates this season. He will need to do that on Saturday. If he struggles against KU's defense, quality shots will be much harder to find.
Jayhawks X factor:
Elijah Johnson
. The incredibly athletic guard does a lot of things well and makes KU very hard to beat when he plays well. He's averaging 9.7 points, 3.8 assists, 2.9 rebounds and 1.6 steals per game. A 40 percent shooter, Johnson could make KU impossible to beat if he scores efficiently on Saturday.