January, 30, 2012
1/30/12
11:00
AM CT
By
SoonerNation Staff
| ESPN.com
Which Oklahoma commit in the class of 2012 is the most underrated?
QB Trevor Knight
Knight doesn't have the flashy five-star ranking of a
Blake Bell
, but to me is just as intriguing a prospect. Knight (6-foot-2, 190 pounds) isn't nearly as big as Bell, but he's more athletic and equipped with a big-time arm. Bell is the favorite to take for
Landry Jones
in 2013. After Bell, Knight could be the next in line.
- Jake Trotter
To continue reading this article you must be an Insider
January, 30, 2012
1/30/12
9:55
AM CT
With just two days left before national signing day, Bob Przybylo answers all your recruiting questions. Have a question? Send it to his mailbag at bprzybyloespn@gmail.com.
Jerry in Norman, Okla., asks:
Are we being set up for disappointment again in terms of getting involved with
Davonte Neal
?
Bob Przybylo:
This year has certainly felt like the year of the "miss" when it comes to the big-time recruits that were legitimately on OU's board. But right now not enough has happened for Sooners fans to get too down about Davonte Neal (Scottsdale, Ariz./Chaparral). We will find out a lot more about Neal's interest, or lack thereof, later this week when he decides where his final official visit is going to be.
To continue reading this article you must be an Insider
January, 30, 2012
1/30/12
9:00
AM CT
Three thoughts this morning:
1.
The Sooners picked up a commitment from junior-college offensive tackle
Will Latu
, who also took visits to Arkansas State and Utah. It's always difficult to project junior-college players, especially on the offensive and defensive lines, but the Sooners are bringing in Latu to play right away, and maybe even start.
Lane Johnson
is guaranteed to be one starting tackle, probably on the left side, but the right tackle spot is wide open.
Daryl Williams
is the favorite, and
Tyrus Thompson
will be in the mix. But Latu will be given every opportunity to win the job, too.
2.
You have to like OU's chances of flipping junior-college wideout
Courtney Gardner
, who has been committed to Arkansas for the last month but took a visit to OU this weekend. In turn, the Hogs just accepted a commitment from junior-college transfer Demetrius Wilson, giving them already five receivers in the class (and six if you count athlete
Nathan Holmes
, who was recruiting by Arkansas as a running back/receiver). The Razorbacks, obviously, have high hopes they'll be able to land
Dorial Green-Beckham
, which would give them six receivers for the class. Do they intend on signing six receivers? Or are they counting on one of them, Gardner maybe, de-committing and signing elsewhere? We don't know at this point. But Gardner will certainly be a player worth watching this week for OU fans.
3.
You could make the case that outside the big-name, 5-star guys, cornerback
Gary Simon
is the player the Sooners need most. Simon has only 3 stars and is ranked the No. 55 athlete in the country by ESPNU, but he fills a huge need in a position where the Sooners need help, if only for depth purposes after the de-commitments of
De'Vante Harris
, then
Kevin Peterson
. Simon, who is considering Arkansas and Iowa State as well, will announce Wednesday where he is headed.
To continue reading this article you must be an Insider
January, 29, 2012
1/29/12
4:29
PM CT
No program has been more active in recruiting defensive end
Michael Onuoha
(Edmond, Okla./Santa Fe) than Missouri. But following an official visit to Oklahoma this weekend, the Sooners are neck and neck with the Tigers.
"It's tough. It is definitely something that is 50-50 right now," Onuoha said. "I'm going to talk it over with my coaches, my family and make the best decision for me."
Last week Onuoha said he was going to make his announcement on signing day, but he was singing a different tune Sunday. He said he is going to decide either late Monday night or early Tuesday so he can enjoy his signing ceremony on Wednesday afternoon.
To continue reading this article you must be an Insider
January, 29, 2012
1/29/12
1:43
PM CT
Junior college offensive tackle
Will Latu
(St. Petersburg, Fla./College of the Canyons) had thought about waiting until national signing day to make his decision. He thought about doing the "hat routine" and having some suspense. But following an official visit to Oklahoma, there were no doubts about his decision.
Latu verbally committed to the Sooners on Sunday, becoming the 19th member of the 2012 class and the 15th on offense.
"It felt comfortable," Latu said. "It was a gut feeling. I knew it, and I was ready to commit and get things over with.
To continue reading this article you must be an Insider
January, 29, 2012
1/29/12
1:30
PM CT
With the graduation of Butkus Award winner Rocky Calmus, Oklahoma made linebacker its No. 1 priority in the class of 2002. Then the Sooners went out and snagged the best linebacking class in the country.
OU first hit pay dirt by locking up junior-college linebackers Pasha Jackson and Lance Mitchell from the City College of San Francisco. Then the Sooners added two of the top high school linebackers in the country in Zach Latimer and Rufus Alexander.
As a result, the Sooners ended up with a consensus Top 10 class loaded with players who would make impacts on the defensive side of the ball.
To continue reading this article you must be an Insider
January, 29, 2012
1/29/12
10:45
AM CT
Cornerback
Gary Simon
(St. Petersburg, Fla./Gibbs) knew the first month of 2012 was going to be crazy, but he had no idea just how busy.
Simon knew he would be visiting Iowa State and Arkansas, but a couple of weeks ago everything got thrown for a loop when Oklahoma entered the chase for his signature.
OU coach Bob Stoops and defensive backs coach Mike Stoops had an in-home visit with Simon two weeks ago that got the ball rolling for the Sooners and the three-star prospect.
To continue reading this article you must be an Insider
January, 29, 2012
1/29/12
9:00
AM CT
January, 28, 2012
1/28/12
9:09
PM CT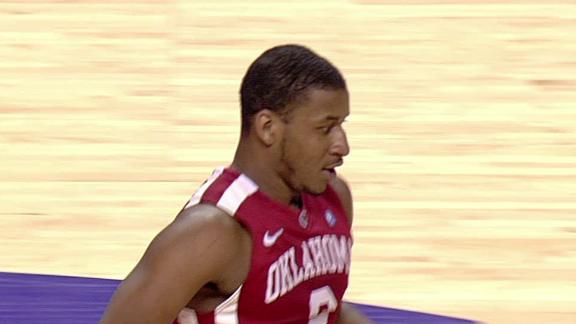 Maybe it wasn't an upset.
Oklahoma defeated Kansas State 63-60
at Bramlage Coliseum on Saturday night to earn its first Big 12 road win under first-year coach Lon Kruger. The Sooners swept the season series with the No. 24 ranked Wildcats after winning the first meeting, 82-73, on Jan. 14.
Guard
Steven Pledger
put the Sooners on his shoulders, scoring 30 points on 11 of 17 shooting from the field including 4 of 7 shooting from the three-point line. He made more field goals (11) than any other Sooner attempted (9).


Player of the Game:
Who else could it be but Pledger? Despite getting into foul trouble, the junior was unstoppable when he was on the floor. His terrific start -- he scored 10 of OU's first 12 -- sent the message that the Sooners were ready and playing to win.
Unsung Hero:
Sam Grooms
. The Sooner point guard had a clutch steal with 15 seconds remaining and OU protecting a one-point lead, then buried two free throws with five seconds left to extend OU's lead to 63-60. The Big 12's leader in assist-turnover ratio had a bad shooting night (1 of 8) but finished the game with 4 points, 4 rebounds, 7 assists and 1 turnover.
Key Stat:
17.6 percent. Kansas State shot 3 of 17 from the three-point line and Kruger took advantage of their poor shooting, going to a zone defense in the second half and forcing KSU to settle for jumpers while OU played through foul trouble.
Up Next:
at Kansas, Tuesday at 8 p.m. CT
January, 28, 2012
1/28/12
9:00
AM CT
By
SoonerNation Staff
| ESPN.com
Oklahoma quarterback
Landry Jones
calls in to College Football Live to discuss his decision to return to Oklahoma for his senior season.
January, 28, 2012
1/28/12
2:03
AM CT
Four-star wide receiver
Nelson Agholor
(Tampa/Berkeley Prep) couldn't believe the hot streak Tampa Catholic went on in the third quarter of their basketball matchup on Friday.
"They couldn't miss," said Agholor, who finished with 21 points in the 66-53 loss. "In the third quarter everything they threw up went in."
Agholor takes his basketball serious, as he's been playing AAU for years, but even he understands that the two hours on the court is the best opportunity he has to avoid the same questions about his recruitment.
To continue reading this article you must be an Insider
January, 27, 2012
1/27/12
4:30
PM CT
By
SoonerNation Staff
| ESPN.com
Before the Sooners' 31-14 win over Iowa in the Insight Bowl, Jake Trotter and Brandon Chatmon analyzed each Oklahoma position group. Now, the SoonerNation staff is giving each position a grade for its performance in 2011.
Grade: A
You couldn't asked much more from ends
Frank Alexander
and
Ronnell Lewis
, who were all-conference performers. Backup ends
R.J. Washington
(two sacks in the Insight Bowl) and
David King
had breakout seasons, as well. Inside, the trio of
Casey Walker
, Jamarcus McFarland and
Stacy McGee
were solid, though not spectacular like the ends. Still, this was one of the better d-lines of the Stoops era.
- Jake Trotter
To continue reading this article you must be an Insider
January, 27, 2012
1/27/12
3:40
PM CT
Kansas State won't be happy to see Oklahoma when the Sooners arrive at Bramlage Coliseum on Saturday at 6 p.m. CT. The last time the Wildcats lost, it was the Sooners on the winning side, a 82-73 win on Jan. 14.
The Sooners won't be in a much better mood, having lost two straight games after back-to-back wins over KSU and Texas Tech. At 2-5 in the Big 12, OU is on the cusp of watching the season slip away and their goal of making the NCAA Tournament become almost impossible to achieve.
Another upset win over the Wildcats could get the Sooners moving back in a positive direction. But it won't be easy.


Key to OU win:
Regaining confidence and playing together. As the Sooners have lost 5 of 7 games in conference play, memories of their non-conference success (10-2) are fading quickly. As the Sooners have hit bumps in the road, they have been more likely to bark at each other and quit playing as one. They can't do that on Saturday.
Key to Kansas State win:
In the first meeting between the two teams, KSU shot 25 of 64 from the field (39.1%) and the Sooners shot 28 of 51 from the field (54.9%). The Wildcats will have to play much better defense if they hope to split the season series with the Sooners.
Stat line that will tell the tale:
Kansas State turnovers. In the two teams' last meeting, the Wildcats had 19 turnovers and the Sooners finished with 12 steals. Those turnovers led to easy shots for OU as
Sam Grooms
(9) and
Carl Blair
(5) combined for 14 assists.
Sooners X factor:
Steven Pledger
. It's kind of crazy to call the Sooners leading scorer an "X factor" but he didn't shoot particularly well (5 of 13) in the first meeting. If he can shoot the ball well and raise his game to another level on the road, OU's chances of a win will increase.
Wildcats X factor:
Will Spradling
. KSU's point guard was outplayed by Grooms in the first meeting and he finished 4 of 15 shooting including 3 of 12 from the 3-point line. He had a team-high four turnovers and fouled out. He shooting 38.2 percent from the 3-point line in 19 games this season.
January, 27, 2012
1/27/12
2:00
PM CT
Three-star cornerback
Zack Sanchez
(Keller, Texas/Central) simply couldn't wait around forever. On his first trip to Oklahoma's campus last year at OU's Junior Day, Sanchez said he fell in love with the Sooners.
Unfortunately, that love wasn't reciprocated. OU briefly recruited Sanchez but then the attention stopped so Sanchez reluctantly moved on.
He camped at Baylor in the summer and verbally committed to the Bears in July. But in the back of his head, he never gave up hope that he would hear from the Sooners.
To continue reading this article you must be an Insider