August, 19, 2014
Aug 19
9:30
AM ET
Two trademark wins. Two drastically different game plans.
Oklahoma
defeated Oklahoma State and Alabama in its final two games of the 2013 season, a pair of wins that stand as the driving force behind OU's preseason accolades heading into this season.
And the Sooners looked like two different offenses in each triumph, leaning on their running game and physical nature to overwhelm the Cowboys in a 33-24 win in early December before using an up-tempo passing attack to confuse and disorient Alabama's defense in the 45-31 Allstate Sugar Bowl win in early January.
[+] Enlarge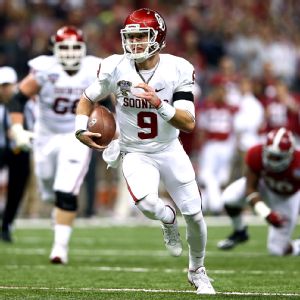 Streeter Lecka/Getty ImagesTrevor Knight's versatility is one of the reasons why Oklahoma has a diverse offense.
Against OSU, the Sooners opened the game with a three-receiver, one-tight end, one-running back pistol formation and began the game with back-to-back zone read plays. OU's second offensive snap of the game came with 14 seconds on the play clock. Against Alabama, OU began the game with the same personnel grouping but opened with a completed pass followed by an no-huddle, uptempo approach that resulted in the Sooners second snap with 30 seconds left on the play clock.
In addition, the Sooners ran 18 plays (out of 73 total plays) with two tight ends on the field against OSU. Against Alabama, OU ran three plays (out of 74 total plays) with two tight ends on the field.
That type of versatility is one of the foundations of the Sooners offense and serves as one key reason why OU could find itself right in the thick of the College Football Playoff race in November.
"Our best teams have been versatile," co-offensive coordinator Jay Norvell said. "That's what we've built this offense on. We look at the talents of our players and then we try to move the pieces of the puzzle around to take advantage of it."
Those two games could be a glimpse at the versatility at the disposal of Norvell, offensive coordinator Josh Heupel and the rest of the Sooners' offensive coaches in 2014. Quarterback
Trevor Knight
started both of those games, although he left the OSU game due to injury, and returns this fall to allow his versatility as a passer and runner to open up options for the Sooners offense.
Knight is the poster boy for OU's offensive explosion against the Crimson Tide but the Sooners' game plan and high tempo approach had just as much of an impact. Alabama looked ill-prepared for the Sooners' tempo, resulting in its defense playing much of the game on its heels as OU created chaos and confusion with the high-tempo game plan. It was a far cry from the Sooners' offense that averaged 38.7 plays per game with one or two tight ends on the field in the final six games of the regular season before running 21 plays with one or two tight ends against Alabama.
"When we have a quarterback that can handle it and our skill position players can handle it as well, our versatility helps our tempo package out tremendously," Heupel said. "I think that's where we are a little different than some tempo teams."
The change in approach gave OU an immediate advantage. And the Sooners are aiming to do more of the same in 2014.
"I think we're starting to see that with some of the kids we have the in the program now," Norvell said. "We're using that flexibility to be in tight formations and be spread out, use them as blockers, use them as receivers. We're trying to utilize those strengths the best we can. We've learned a lot about our new players in the last few weeks."
Knight is a terrific piece to build around, particularly if his passing skills continue to develop, but having a veteran offensive line could be the biggest piece of the puzzle. OU has eight different offensive linemen who have started a game in crimson and cream and
feature a Big 12-best 107 career starts
among those offensive linemen. That experience could pay dividends this season.
"It's huge," Heupel said of the impact of an experienced offensive line on the ability to play with tempo. "We're playing multiple formations so their ability to recognize things up front is critical. There's a lot on their plate so that experience is huge."
With Knight and an experienced offensive line to build around, OU is spending preseason camp identifying the players who can enhance the overall versatility of the offense while also fulfilling conventional roles with championship-level precision. Relatively unproven players like senior tight end
Blake Bell
, freshman fullback
Dimitri Flowers
and others will need to emerge for OU's offense to mimic the versatility it showed at the end of 2013.
"At the end of the day we have to play the guys who can go out and help compete for a championship," Heupel said. "That's what fall camp has been about."
August, 19, 2014
Aug 19
9:30
AM ET
Boston College coach Steve Addazio remembers an era when players wanted to redshirt as true freshmen to better prepare them for the final four years of their college career.
"Now it's 'I want to play,' " Addazio, 55, said. "If you're talking about not playing them early, the majority are like 'What do you mean?'"
So, the ability to play or possibly even start as a true freshman has become a regular sales pitch for coaches from the Power Five to the Group of Five. It's certainly a tool in the belt for Florida State coach Jimbo Fisher. Last week, Fisher alluded to the number of freshmen All-Americans he's coached the last four seasons. Twenty-four hours later, it was on the program's official recruiting Twitter page.
"The last [four] years we've had 14 freshmen All-Americans," said Fisher, condensing multiple outlets' freshmen award teams into one, concise Florida State propaganda poster. "If you come in ready to play, we're willing to put you on the field. It's critical for guys to come in saying 'When I'm the best, I'll play.'"
Fisher has the goods to back up his claims, even if the numbers are obviously skewed to best represent his program. But how does his résumé compare to those coaching some of the country's other top programs?
I tried to come up with a way to accurately discern which schools play the most freshmen and decided true freshmen letterwinners was the simplest and most effective way to crunch the numbers. To earn a letter, a player has to actually play consistently through the season. The disclaimer is each program can use different benchmarks when awarding letters, but there is never going to be a perfect way.
I began with Florida State's, looking back at the 2011-2013 classes. To properly quantify the data from Florida State, I decided I'd look at the five schools ranked highest in the preseason polls that have had its coach in place at least five seasons. Oregon's Mark Helfrich was offered an exemption because he was promoted from within and is in his sixth season with the Ducks. Coaches in place at least five years was the stipulation since an incoming coach might be susceptible to playing the prospects he recruited or having a number of transfers that could open up starting or rotational spots.
The criteria: Each class was looked at and the total number of signees was pared down to just those who enrolled as members of the football team in the fall. Junior college signees were excluded, as were any recruits who were academically or medically disqualified before playing a game. That explains why the total number of freshmen for our purposes might look different than what might be seen on RecruitingNation. Any true freshmen who spent a year at a post-graduate or prep school was also excluded. Redshirt freshmen were disqualified, too.
Bottom line is if the player was not a part of the football team the fall following his high school graduation, he was excluded.
Nearly all of the data was collected after poring through media guides and archives, although the communications departments at some of the schools were also helpful providing numbers and deserve recognition.
So, here is the actual data:
It is hardly a coincidence that Fisher and Alabama's Nick Saban, who mentored Fisher at LSU, have identical percentages of true freshmen earning a letter. Fisher and Saban arguably have been the two best recruiters over the last few cycles, and, the data shows those two are not going to keep young talent off the field simply because of age. Nearly half of the true freshmen at Alabama and Florida State lettered over the last three seasons.
Mark Dantonio has built Michigan State into a national title contender in a different manor, relying on experience. Only 12 percent of true freshmen lettered over the last three seasons. Recruiting to Michigan State is not the easy task it is at some other top-10 programs, and the Spartans are not recruiting as many ESPN 300-level players as the likes of Alabama and Florida State.
It should be noted Michigan State, Oklahoma and Oregon don't have quite the recruiting base Alabama and Florida State do.
Inquiring minds want to see how that 45 percent stacks up to some of the other top programs in the country, so even though they did not fit the criteria I looked at a few other schools with coaches in place at least five seasons and lately in the top half of the rankings. LSU was worth a look considering it's Les Miles' 10th season in Baton Rouge and, like Fisher and Saban, has recruited exceptionally well for a long period of time. Mark Richt is in his 14th season at Georgia and, like Miles, usually has a highly-regarded recruiting class. Steve Spurrier is in his 10th season at South Carolina and has steadily improved the Gamecocks' class to the point that the 2015 class is No. 5 nationally. Dabo Swinney has turned Clemson from a perennial disappointment into a two-time BCS bowl participant. And Ohio State and Texas A&M, mainly because it's worth seeing how third-year Buckeyes coach Urban Meyer fares considering he frequently voices his preference to avoid redshirting. Kevin Sumlin is also in the process of trying to build an SEC power that can compete with Alabama and LSU in the SEC West.
For the Buckeyes, out of the 69 true freshmen to land in Columbus, Ohio, from 2011-2013, 31 lettered -- the same 45 percent. Looking at just Meyer's two seasons, however, he is decimals ahead of Fisher and Saban at 46 percent (21 out of 46), thanks in large part to 14 freshmen letterwinners in his first season.
Georgia's Mark Richt has a percentage of nearly 50 percent, but the Bulldogs' numbers might be the most skewed. Along with South Carolina, the Bulldogs had several recruits that either did not qualify or spent time at a prep school or junior college. Also, Georgia's long list of dismissals and transfers is well documented, and all of the departures has opened up spots for freshmen to earn immediate playing time.
It is Miles, though, who plays a higher percentage of freshmen than all of the others. Twelve true freshmen lettered for LSU in both 2012 and 2013, and another nine earned a letter in 2011. There were a total of 65 applicable freshmen to enter LSU during that span and 33 of them lettered. That's a percentage of 51 percent.
Certainly the numbers will fluctuate year to year, and coaches at every single program are playing freshmen more frequently than ever before. When taking into account the timeline is over three years, LSU averages just one more freshman letterwinner per season than Alabama and Florida State. For our intents and purposes, though, the data shows which top programs consistently play the most freshmen in this new era of freshmen phenoms.
And, uh, FYI, Alabama has 19 ESPN 300 players prepping for their freshmen season this fall. LSU has 16, and Florida State isn't far off with 13 of their own.
August, 18, 2014
Aug 18
5:04
PM ET
ESPN.com news services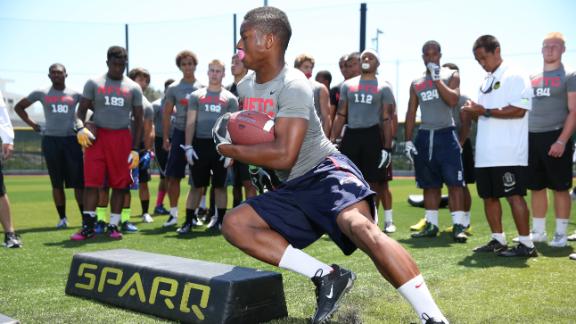 Oklahoma freshman running back Joe Mixon has been suspended from all activities with the football team for the entire season, the university announced Monday.
Mixon was charged Friday with misdemeanor assault stemming from an alleged incident in which he was accused of punching a woman in the face.
"As the university has demonstrated in the past, we are committed to winning the right way," athletic director Joe Castiglione and coach Bob Stoops said in a joint statement. "As an example to others, OU sets the highest possible standards for its student-athletes, coaches and staff."
The Sooners are ranked No. 4 in the AP's Top 25 preseason poll and No. 3 in the USA Today Coaches Poll.
Mixon will be allowed to take classes and remain eligible for financial aid if he meets certain conditions.
According to the Cleveland County district attorney's office, Mixon could face up to one year in jail if convicted on the charge of an act resulting in gross injury.
The alleged incident occurred at Pickleman's Gourmet Cafe on July 25. According to the incident report, Amelia Rae Molitor, a 20-year-old Oklahoma student from Euless, Texas, told police that Mixon punched her, breaking four bones in her face.
Mixon's attorney said his client had done nothing wrong and was protecting himself "from a very intoxicated and troubled young woman."
The district attorney declined Friday to file charges against Molitor after the Norman police department submitted the findings of its investigation.
August, 18, 2014
Aug 18
2:45
PM ET
Last season, Baylor captured its first Big 12 title and BCS berth and notched the most wins in school history (11). Incredibly, the Bears outgained their conference opponents by 223 yards per game, the best mark in the Big 12 since Oklahoma was plus-267 YPG in 2003. While the Bears were upset by UCF in the Fiesta Bowl, the Sooners did give the conference a jolt thanks to their upset win over Alabama in the Sugar Bowl, which is the primary reason they enter 2014 as the favorite.
Despite some recent player dismissals, both Texas and TCU could score major upsets in Big 12 play this season, while Oklahoma State -- due to its inexperience -- could be in store for a major drop-off.
Here are my 2014 projected Big 12 standings:
---
Projected Record: 12-0
Early lines on toughest matchups:
at TCU (minus-3), Baylor (minus-6)
While analysts and Vegas experts can overreact to bowl wins, OU does have 14 returning starters, including an offensive line that returns 107 starts (15th-most in the country). They have my No. 12 offense, No. 8 defense and No. 9 special teams. The Sooners also have the path of least resistance among the top four contenders. They're 57-4 at home the past decade, and in their five true road games this season, they take on just one team (Texas Tech) that had a winning record last year. Plus, they don't have to play a Big 12 title game, and they get the revenge game against Baylor at home. I have OU favored in all 12, but four are by a TD or less.
---
August, 18, 2014
Aug 18
1:00
PM ET
We're less than two weeks away from the season and only 170 days away from national signing day. Here's your weekly update on where each Big 12 program stands on the recruiting front:
BAYLOR
Total commits:
11
ESPN 300 commits
: 3
The latest:
ESPN 300 WR
Chad President
made it official: He's now a Baylor Bear. President, who's been committed since last summer, inked financial aid papers with the Bears this week. Coach Art Briles appears intent to let the 6-foot-3, 195-pound standout from nearby Temple, Texas, play quarterback when he enrolls early.
IOWA STATE
Total commits:
10
ESPN 300 commits
: 0
The latest:
ISU will soon get a visit from one of their top targets, junior college CB
Antoine Albert
of Diablo Valley College in California. The 6-foot-2 defender has seen his offer list grow considerably -- now including Tennessee and Arizona -- but Iowa State got in the mix early and has to like its chances.
KANSAS
Total commits:
13
ESPN 300 commits:
0
The latest:
The Jayhawks are having a hard time winning recruiting battles within their own state. That'll make the guys KU can get even more important. Keep an eye on safety
Darreon Jackson
from Derby, Kansas. He's a move-in who came from a big-time Texas program, Mesquite Horn, where he earned all-district honors at linebacker. Charlie Weis' staff should like its chances with him.
KANSAS STATE
Total commits:
9
ESPN 300 commits:
0
The latest:
The Wildcats continue to do an impressive job of locking down their backyard. Their latest pledge came from three-star OT
Evan Applegate
, who's listed at 6-foot-7 and 280 pounds. Applegate turned down offers from Arkansas, Oklahoma State and Nebraska to join a KSU class that's off to a nice start.
OKLAHOMA
Total commits:
10
ESPN 300 commits:
5
The latest:
The Sooners have missed on a bunch of big-time offensive line targets, but they got a good one last week in
Cody Ford
. OU coaches convinced the three-star offensive guard from Pineville, Louisiana, to back out of his six-month pledge to TCU and join fellow linemen
Bobby Evans
and
Dominique Hearne
in their class.
OKLAHOMA STATE
Total commits:
10
ESPN 300 commits:
3
The latest:
OSU beefed up its offensive line class last week with the addition of three-star tackle
Joshua Jones
and junior college tackle
Brandon Pertile
. Jones, one of the top linemen in the Houston area, chose the Pokes over Texas Tech and TCU. Pertile spent one year at Georgia State before enrolling at Mesa Community College in Arizona.
TCU
Total commits:
16
ESPN 300 commits:
0
The latest:
TCU has joined what should end up being a long list of suitors for 2016 DE
Erick Fowler
. The ESPN Junior 300 defender from Manor, Texas, went up to Fort Worth last week to watch a fall practice and went home with an offer. He now has at least six, and that list will continue to grow.
TEXAS
Total commits:
14
ESPN 300 commits:
7
The latest:
The Longhorns are among the top contenders for Mesquite (Texas) Poteet teammates LB
Malik Jefferson
and ATH
DeAndre McNeal
, and both have decided to announce their decisions in late December. McNeal might project out best as a linebacker in college, but he now says he wants to play offense. They'll take their official visit to out-of-state schools, and one lucky program could snag both for Christmas.
TEXAS TECH
Total commits:
9
ESPN 300 commits:
3
The latest:
The leaders of Tech's class, ESPN 300 recruits
Jarrett Stidham
and
Breiden Fehoko
, are both set to enroll early and have now signed financial aid papers with the school. The ability to unofficially sign in August is a beneficial deal for all involved, because Tech coaches are now permitted unlimited calls and visits (and even public tweets) with their top two committed guys.
WEST VIRGINIA
Total commits:
17
ESPN 300 commits:
2
The latest:
The Mountaineers already have two QBs committed for their 2015 class, but they could be chasing another in
Lamar Jackson
. The three-star dual-threat passer from Boynton Beach, Florida, reportedly intends to take an official visit to Morgantown this fall and will also check out Nebraska. With
David Sills
and
Chris Chugunov
already on board, it'll be interesting to see how seriously WVU pursues him.
August, 18, 2014
Aug 18
11:00
AM ET
This summer, ESPN.com is taking a closer look at each scholarship player on the Oklahoma Sooners' roster in our Crimson Countdown series. Each day, we analyze each player's impact on the program since arriving on campus, his potential impact this fall, and his long-term projection. Starting with No. 1 Dominique Alexander, the series follows the roster numerically through No. 98 Chuka Ndulue.
No. 95 Quincy Russell, defensive tackle, 6-foot-4, 310 pounds, senior
Impact thus far:
The junior college signee didn't make much of an impact during his first season in Norman, Oklahoma. He played in two games and finished with three tackles in 2013.
Impact in 2014:
There's no reason to expect Russell to make a major impact this fall with the Sooners' wealth of talent at the position. Quite frankly, he may have missed his opportunity last season when
Jordan Phillips
was lost for the year early in the campaign.
Long-term upside:
Any contribution will make OU's depth along the defensive interior even better.
Evaluation grade for Russell:
D. More would have been expected from Russell in 2013. As a junior college signee, there are high expectations for an immediate impact and Russell fell short in that regard. Nonetheless, he still has a season to make people forget that disappointing debut.
Development grade for Russell:
A. Not much else the Sooners could have done for Russell. He arrived late in the summer of 2013 yet played in OU's first two games, a sign they wanted to give him the opportunity to make an immediate impact but he didn't seize the opportunity and cement himself in the defensive tackle rotation.
August, 18, 2014
Aug 18
10:51
AM ET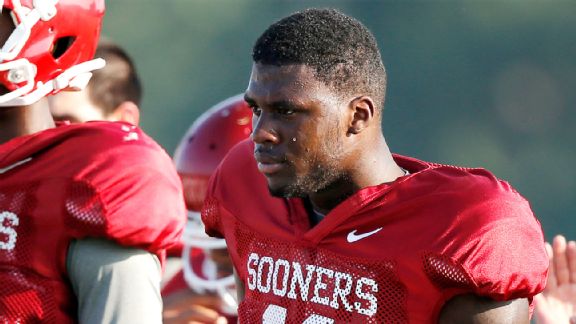 AP Photo/Sue OgrockiOklahoma coach Bob Stoops felt he knew enough about Dorial Green-Beckham to bring him in.
After receiver Damore'ea Stringfellow left the Washington program following his arrest for being involved in a fight during a Super Bowl celebration for the Seattle Seahawks, it didn't take long for other FBS programs to line up for his services.
In fact, Nebraska coach Bo Pelini was so upset about not landing Stringfellow, who was charged with two counts of fourth-degree assault and one count of third-degree malicious mischief, that he all but accused Ole Miss' coaches of improper recruiting.
Former Missouri receiver Dorial Green-Beckham was dismissed in April after he was accused (but never charged) with pushing an 18-year-old female student down four stairs. He had previously been arrested twice on marijuana-related charges. Despite Green-Beckham's troubled past, Oklahoma accepted him as a transfer in July and has even appealed to the NCAA for a waiver to allow him to play this season.
August, 18, 2014
Aug 18
8:00
AM ET
August, 17, 2014
Aug 17
3:54
PM ET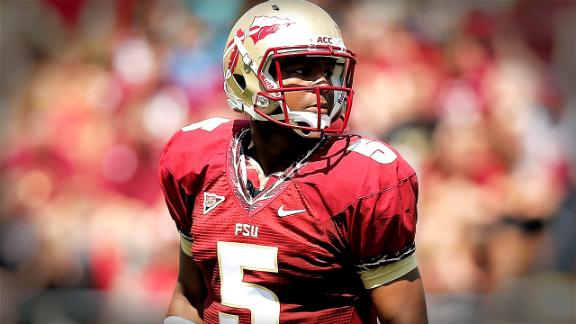 This one's for you, Auburn fan who thinks the national runner-up should be higher than sixth in the
Associated Press preseason poll
, released Sunday afternoon. And it's for you, Ohio State fan, to defend the chronically criticized Big Ten, the only Power Five league without a team in the top four of either the AP or
USA Today coaches'
preseason poll.
Don't worry, Baylor fan, we didn't forget you. If you want to climb to the top of beautiful new McLane Stadium and scream about why your Bears should be higher than No. 10 in both polls, go right ahead. Maybe you can hear the same outcries from fans of No. 19 Arizona State, No. 20 Kansas State or No. 24 Missouri, the defending SEC East champ excluded from the coaches' poll while barely squeaking into the AP.
Speaking of the SEC, no other conference had more teams (eight) in the preseason AP poll. So what's the complaint? There could have been more. Meanwhile, the league that ended the SEC's run of national titles, the ACC, placed just three teams -- No. 1 Florida State, No. 16 Clemson and No. 23 North Carolina -- in the AP rankings. Duke fans, grumble away.
Preseason polls serve a therapeutic purpose. They allow us to vent, to argue, to compare, to exclaim, to protest and, most important, to fill time before the games begin later this month. They are part of the American sports fan experience, and you should enjoy them.
Yet for the first time, the polls will have little to no bearing on shaping college football's national championship race. And that's a great thing too.
If Tom Osborne, Condoleezza Rice and Jeff Long were relentlessly refreshing Twitter at 2 p.m. ET Sunday, the time the AP poll was released, we have a problem. If Oliver Luck, Tyrone Willingham and Archie Manning furiously began calculating the Top 25 breakdown by conference, this might not work out. If Mike Tranghese, Barry Alvarez and Pat Haden immediately noticed how similar the AP and coaches' preseason polls are -- teams ranked 7 to 17 are identical, and only two teams, Missouri and Texas, made just one of the polls -- the playoff selection process could go very wrong.
The 13 members of the College Football Playoff selection committee shouldn't care about these rankings. They shouldn't spend one nanosecond analyzing them. They shouldn't read this or any other media report about what the polls suggest about this team or that conference. Here's hoping they spent Sunday fishing, golfing or anything other than poll watching.
This is about you, not them. So go ahead and wonder if a Wisconsin team with a largely revamped roster is rated way too high -- No. 14 in both polls -- and why Iowa, which loses far less than the Badgers off a vastly improved team, failed to make either preseason poll. Ask which set of voters correctly has the order of "O" teams -- Oregon, Oklahoma and Ohio State. Argue whether teams with new quarterbacks (Alabama, Georgia, LSU, Clemson, Texas A&M) are too high or too low.
Notre Dame's inclusion at No. 17 will set off fireworks, but remember the AP votes took place before Friday's announcement that four starters, including star cornerback
KeiVarae Russell
, have been held out pending an academic investigation into potential misconduct.
There's little debate at the top, as defending champion Florida State, led by reigning Heisman Trophy winner
Jameis Winston
, received 57 of the 60 first-place votes in the AP poll. Alabama, which will have a new quarterback but returns arguably the nation's most talented roster, is solidly in second position. It's very close for No. 3 between Oregon, which could have the nation's best player (
Marcus Mariota
), and Oklahoma, which stunned Alabama in the 2014 Sugar Bowl and eyes the next step.
Although the SEC has three teams among the top nine and five in the top 13, the Pac-12 enters the season projected as the nation's No. 2 conference. The quarterback-stacked league has three teams in the top 11 and five in the top 19.
Few would be shocked if the inaugural playoff reveals a field similar to the top of the preseason rankings. We could see four teams from four conferences, as both polls show, or multiple teams from a league like the SEC or Pac-12. Perhaps a team outside the preseason top 10 rises up, like Georgia, Arizona State or Nebraska. While zero teams from Group of Five conferences appear in the AP poll, don't write off UCF, the reigning Fiesta Bowl champion.
Talking season might be over, but debate season is in full swing, at least until the real season begins. So tell the world what you think of the polls. Just don't expect the committee members to listen.
August, 17, 2014
Aug 17
2:14
PM ET
Associated Press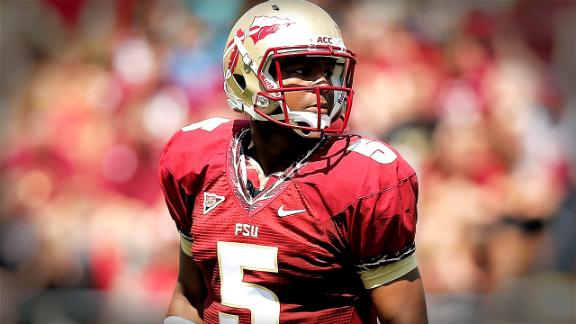 Jameis Winston and defending national champion Florida State are No. 1 in The Associated Press preseason college football poll.
The Seminoles will start the season No. 1 for the sixth time -- the first since 1999 when they became the first team to hold the top spot for the entire season.
Florida State received 57 of 60 first-place votes Sunday from the media panel. No. 2 Alabama, No. 3 Oregon and No. 4 Oklahoma each received one first-place vote. Ohio State is No. 5 and Auburn is No. 6.
Winston, the Heisman Trophy winner last season as a redshirt freshman, led Florida State to a 34-31 victory against Auburn in the last BCS national championship game.
This season the Bowl Championship Series is being replaced by the College Football Playoff. A selection committee will pick the top four teams in the country for two national semifinals.
The rest of the top 10 is UCLA
August, 15, 2014
Aug 15
4:14
PM ET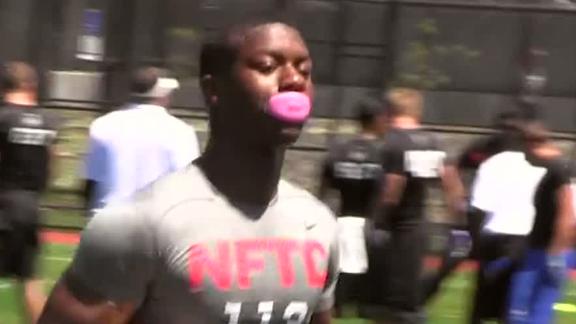 Oklahoma freshman running back Joe Mixon was charged Friday with misdemeanor assault stemming from an alleged incident in which he was accused of punching a woman in the face.
According to the Cleveland County district attorney's office, the penalty for an act resulting in gross injury could be up to one year in jail if convicted.
Oklahoma has not made a decision on Mixon's status.
"The University of Oklahoma understands that charges have now been filed against Joe Mixon based upon an investigation by local law enforcement agencies,'" athletic director Joe Castiglione said in a statement. "Under its policies, the university must independently evaluate student conduct matters and will review the facts as part of its internal process. At an appropriate time, the university will determine Mixon's status."
The alleged incident occurred at Pickleman's Gourmet Cafe on July 25. According to the incident report, Amelia Rae Molitor, a 20-year-old Oklahoma student from Euless, Texas, told police that Mixon punched her, breaking four bones in her face.
Mixon's attorney said his client had done nothing wrong and was protecting himself "from a very intoxicated and troubled young woman."
The district attorney declined Friday to file charges against Molitor after the Norman police department submitted the findings of its investigation.
Mixon was the top signee in Oklahoma's most recent recruiting class. The Oakley, Calif., native was rated the No. 6 running back recruit in the country.
Before the alleged incident, Oklahoma coach Bob Stoops said in an ESPN radio interview on "The Herd With Colin Cowherd" that Mixon would have a chance to start in the backfield for the Sooners.
August, 15, 2014
Aug 15
1:41
PM ET
Green-Beckham's Waiver Request To Play In 2014 Denied
BIG 12 SCOREBOARD
Saturday, 8/30
Sunday, 8/31