October, 19, 2014
Oct 19
9:00
AM ET
Lots of love to go around after a wild day in the Big 12. The top performers in the conference on Saturday:

WR Josh Doctson, TCU:
The game-changer in TCU's
42-9
beatdown of Oklahoma State. His 77- and 84-yard touchdown catches broke the game open, and Doctson's 225 receiving yards came 1 short of tying the Horned Frogs' single-game school record. He led all of FBS in receiving this week and only needed seven receptions to do so.
DT Travis Britz, Kansas State:
Sometimes it only takes one play to earn your Helmet Sticker. Britz gets a bravo for an unexpected game-changer: He blocked
Michael Hunnicutt
's extra-point attempt in the fourth quarter to ensure K-State kept its
31-30
lead over Oklahoma. Thanks to another Hunnicutt miss, this time a field goal, that proved to be the final score in Norman.
LB Ben Heeney, Kansas:
We hear you, Ben. You know you belong on our midseason All-Big 12 team. We should've known, too. Heeney racked up a career-high 21 tackles (his previous best was 15) and added a 37-yard interception return in KU's
34-21
loss to Texas Tech. To suggest he's not playing at an All-Big 12 level ... that's just ignorant.
QB Trevone Boykin, TCU:
The nation's leading passer in Week 8, Boykin only played three quarters and finished with a career-best 410 passing yards and three scores plus 41 rushing yards. He's playing at an unreal level right now and ranks top-five nationally in total offense at nearly 370 yards per game.
QB Jake Waters, Kansas State:
Got a little dinged up but just keep going. Waters threw for 225 yards on 15-of-23 passing, the best of the bunch a 62-yard TD to
Glenn Gronkowski
on a delayed pop pass, and he added 51 rushing yards and a key 4-yard score to retake the lead late in the third quarter. In production, versatility and leadership, Waters is right there with the Big 12's best QBs.
WR Kevin White, West Virginia:
All-American all the way. White racked up 132 receiving yards and two touchdowns on eight catches in the
41-27
upset win over Baylor. He needed just seven games to surpass 1,000 receiving yards and is up to seven touchdown catches. Everyone knows the ball is going to him, and still nobody has stopped him.
QB Tyrone Swoopes, Texas:
This kid is getting good. Swoopes threw for 321 yards and a touchdown and rushed for a career-best 95 yards and another score. But that's not what was impressive. His 39-yard pass to
Jaxon Shipley
and 29-yard pass to
John Harris
on back-to-back plays, both with under 30 seconds left, set Texas up for the game-winning field goal and
48-45
victory over Iowa State.
DE Shaquille Riddick, West Virginia:
The Gardner-Webb transfer came to WVU to play in big games and played big Saturday: Five tackles, four tackles for loss, and three sacks. He got consistent pressure on
Bryce Petty
and is quite a weapon in WVU's scheme.
RB DeAndre Washington, Texas Tech:
The Red Raiders' run game is enjoying a revival thanks to the steady Washington, whose 164 rushing yards in the win over Kansas were the most by a Tech running back in a game since Taurean Henderson in 2004.
WR Sterling Shepard, Oklahoma:
Had to give him a shout-out for a career day in an excellent career. Shepard tied the OU school record with 15 receptions against Kansas State and took them for 197 yards, including a 47-yard score.
October, 18, 2014
Oct 18
4:07
PM ET
Associated Press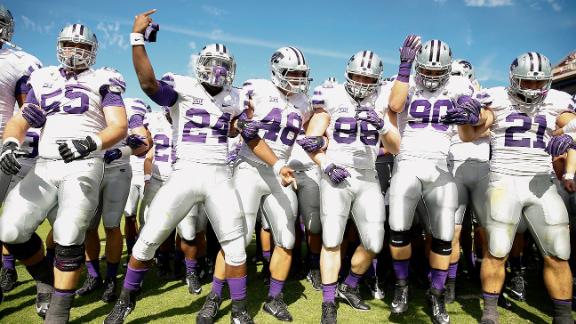 NORMAN, Okla. -- Michael Hunnicutt missed a 19-yard field goal late as No. 14 Kansas State held off No. 11 Oklahoma 31-30 on Saturday afternoon.
Oklahoma, trailing by a point in the fourth quarter, drove to the Kansas State 1-yard line, but couldn't punch the ball in. Hunnicutt then missed the short field goal that would have put the Sooners ahead with 3:53 remaining. Kansas State (5-1, 3-0 Big 12) took possession and ran out the clock.
Hunnicutt, touted as an All-America candidate before the season, missed a total of two short field goals and had an extra point blocked.
Jake Waters passed for 225 yards and two touchdowns for the Wildcats, who defeated the Sooners 24-19 two years ago on their previous trip to Norman.
Oklahoma's Sterling Shepard tied a school record with 15 catches for 197 yards and Trevor Knight passed for 318 yards and three touchdowns for Oklahoma (5-2, 2-2).
October, 18, 2014
Oct 18
3:45
PM ET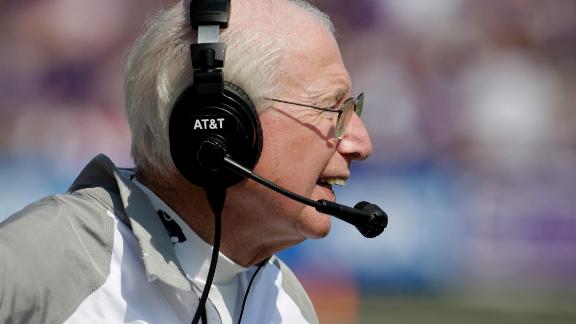 NORMAN, Okla. -- Kansas State stunned the
Oklahoma Sooners
with a
31-30 victory
on the road. Here is what happened:
How the game was won:
Michael Hunnicutt
, Oklahoma's all-time leading scorer, missed an extra point and two chip-shot field goal attempts, including a 19-yarder with 5:39 to go. The Sooners had first-and-goal from the K-State 2-yard line before the 19-yard miss, but running back
Samaje Perine
couldn't punch it in on three straight carries.
Game ball goes to:
Kansas State quarterback
Jake Waters
, who was sensational with 225 yards passing and 51 yards rushing. He also accounted for three touchdowns despite having to go to the locker room momentarily with an undisclosed injury.
What it means:
With two losses in the past three weeks, Oklahoma is out of the playoff conversation, and maybe the Big 12 title chase, too. With its second straight win in Norman, Kansas State is right in the thick of both.
Playoff implications:
The Wildcats have replaced the Sooners as a Big 12 possibility for a playoff spot. The Wildcats do have a loss, but it was to Auburn. And though K-State has a tough remaining schedule with trips to Baylor, TCU and West Virginia remaining, those games also offer the Wildcats chances to land more marquee victories.
Best play video embed:
Waters got the K-State offense rolling with this 62-yard strike to fullback
Glenn Gronkowski
, the younger brother of NFL star Rob Gronkowski.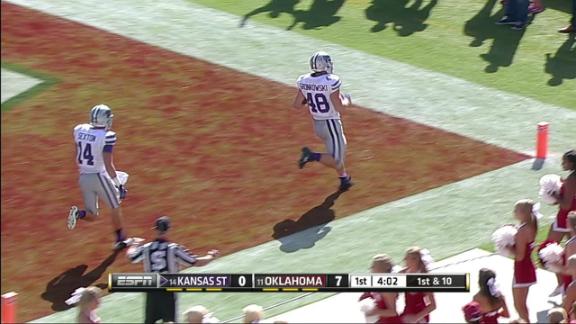 What's next:
The Sooners have a week off to lick their wounds before traveling to Iowa State on Nov. 1. The Wildcats face Texas in Manhattan next weekend.
30 for 30: Brian and The Boz - Trailer