October, 22, 2014
Oct 22
10:45
AM ET
The
updated ESPN 300 player rankings are now live
, and one of the primary Big 12 targets is the newly crowned top-ranked running back.
Soso Jamabo
said in September that he was gunning for the No. 1 spot at running back, and after several huge games, Jamabo has earned that spot, bypassing Kentucky running back
Damien Harris
. The hunter, however, is now the hunted, as Jamabo looks to maintain that spot. He'll have to fight off Harris, Oklahoma State commit
Ronald Jones II
, fast-rising
Chris Warren III
-- who jumped from 183 to 102 in the new rankings -- and several others.
Here are five things to know involving Big 12 recruiting:
October, 21, 2014
Oct 21
2:30
PM ET
It's amazing how things can change in a matter of 18 days. Earlier this month we took a look at the Big 12's
most efficient offenses based on the points per possession
of the top five teams in the conference.
Almost three weeks later, the list has transformed, much like the Big 12 standings. Here's a look at the overall efficiency of all 10 Big 12 offenses, with the help of ESPN Stats & Information, including each team's points per drive during the past three weeks.
T-1. Kansas State -- 3.11 points per possession overall
Key stat:
The Wildcats' success on third down has been a key to their efficiency. They convert 50 percent of their third-down conversion attempts.
Last three games:
KSU has been even better in recent weeks, averaging 3.53 points per possession in games against UTEP, Texas Tech and Oklahoma as
Jake Waters
has gotten comfortable in his dual-threat role.
Future outlook:
The Wildcats' running game has been solid but not spectacular, but KSU's efficient offensive numbers should continue with Waters' ability to provide a run-pass threat and
Curry Sexton
's emergence alongside
Tyler Lockett
.
T-1. Baylor -- 3.11
Key stat:
Baylor has gained 58 percent of the possible yards on its drives this season, best in the Big 12. The conference average is 46.7 percent.
Last three games:
As the competition has stepped up, Baylor's offense has slowed down. The Bears averaged 2.22 points per drive in games against Texas, TCU and West Virginia.
Future outlook:
In recent weeks, the Bears and
Bryce Petty
haven't displayed the consistency that made them the conference's most explosive offense. All the ingredients still remain for Baylor's elite production to return in the second half of the season.
3. TCU -- 2.79
Key stat:
The Horned Frogs are averaging 83.2 plays per game, ranking behind only Baylor and West Virginia in the Big 12. It's a clear sign TCU has made a smooth transition into its new up-tempo attack.
Last three games:
The Horned Frogs' offense has continued to be productive against Oklahoma, Baylor and Oklahoma State, averaging 2.54 points per drive in its last three games.
Trevone Boykin
has been at his best against increased competition.
Future outlook:
There's no reason to think TCU's offense will slow down any time soon with Boykin and a roster full of big-play running backs and receivers.
4. Oklahoma -- 2.51
Key stat:
The Sooners score touchdowns 73.3 percent of the time in the red zone, second in the Big 12.
Last three games:
OU averaged 1.95 points per drive against TCU, Texas and Kansas State as a lack of big plays has resulted in Sooners stumbles.
Future outlook:
More playmakers must emerge to join
Sterling Shepard
or the Sooners could tumble down this list.
5. West Virginia -- 2.43
Key stat:
Only 22 percent of WVU's drives have ended without a first down or touchdown. Only Baylor has a better percentage (21.3), and the conference average is 29.3.
Last three games:
The Mountaineers averaged 2.26 points per possession in games against Kansas, Texas Tech and Baylor.
Future outlook:
As long as
Clint Trickett
and
Kevin White
continue playing like the Big 12's best quarterback-receiver duo, the sky is the limit for WVU's offense.
6. Texas Tech -- 2.3
Key stat:
The Red Raiders have committed a turnover on 17 percent of their drives, worst in the Big 12.
Last three games:
Tech averaged 1.98 points per drive in games against Kansas, Kansas State and West Virginia.
Future outlook:
Kliff Kingsbury's offense would be just fine if it could cut down the turnovers and limit the penalties. Quarterback
Davis Webb
and a reborn running game make this offense one to keep an eye on.
7. Oklahoma State -- 2.12
Key stat
: The Cowboys have settled for field goals on 17 percent of their drives, worst in the Big 12.
Last three games:
OSU averaged 1.4 points per drive in games against Kansas, Iowa State and TCU.
Future outlook:
As the Cowboys look toward the second half of their season, the offensive line needs to steadily improve if the Pokes hope to rise up this list.
8. Iowa State -- 2.07
Key stat:
The Cyclones are averaging 4.96 yards per play, with only Kansas (4.6) averaging less yards per play.
Last three games:
ISU is getting better as the season progresses, averaging 2.5 points per drive in its last three games against Texas, Toledo and Oklahoma State.
Future outlook:
The Cyclones are starting to find a rhythm under new offensive coordinator Mark Mangino and could rise up this list in the second half of the season.
9. Texas -- 1.58
Key stat:
The Longhorns' average drive distance is 25.8 yards per drive, ranking ninth in the Big 12. The Big 12 average is 32.6, with West Virginia leading the conference at 39.5.
Last three games:
UT averaged 1.72 points per drive in games against Baylor, Oklahoma and Iowa State.
Future outlook:
Quarterback
Tyrone Swoopes
is coming along behind center after a poor start. If he continues to play like he did against Iowa State last Saturday, UT's offense could make some noise in the second half of the season.
10. Kansas -- 1.08
Key stat:
The Jayhawks have managed a touchdown on just 12.9 percent of their drives, worst in the Big 12. The conference average is 28.7 percent.
Last three games:
KU has averaged 1.09 points per drive in games against West Virginia, Oklahoma State and Texas Tech.
Future outlook:
The offense is on a upswing with
Michael Cummings
at quarterback under Clint Bowen. After struggles in Bowen's first game at WVU, KU averaged 1.33 points per drive against OSU and 1.5 points per drive against Tech in the past two weeks.
October, 21, 2014
Oct 21
1:00
PM ET
In our weekly Big 12 roundtable, we examine what the strongest position has been in the league so far, who has a better chance of going bowling between Texas and Texas Tech, and whether Oklahoma State should consider pulling the redshirt off quarterback
Mason Rudolph
:
What has been the strongest position in the league so far?
[+] Enlarge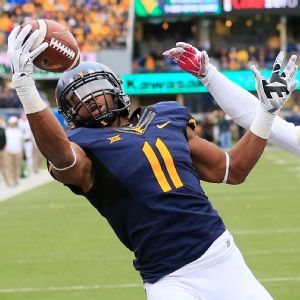 AP Photo/Chris JacksonThrough seven games this season, Mountaineers senior receiver Kevin White has 69 receptions for 1,020 yards and seven touchdowns.
Brandon Chatmon:
As we saw last week with our midseason All-Big 12 team, it's got to be the linebacker spot. The Big 12 is overflowing with all-conference worthy linebackers. Oklahoma's
Eric Striker
, Kansas'
Ben Heeney
, Baylor's
Bryce Hager
and Kansas State's
Jonathan Truman
entered the season among the Big 12's best at the position and haven't disappointed while other linebackers such as West Virginia's
Nick Kwiatkoski
, Texas'
Jordan Hicks
, Texas Tech's
Pete Robertson
, TCU's
Paul Dawson
and Iowa State's
Jevohn Miller
have emerged to join the fray. There are more teams with an all-conference worthy linebacker than without one.
Max Olson:
I agree it's linebacker right now, but I think we'll be talking about this group of wide receivers as being special by the end of the season. West Virginia's
Kevin White
is playing at Biletnikoff Award level.
Sterling Shepard
is a potential All-American. You can make a case that
KD Cannon
,
Tyler Lockett
,
Josh Doctson
,
Antwan Goodley
,
Jakeem Grant
and
John Harris
are playing at an all-conference level or should be soon. Throw in underrated guys such as
Mario Alford
,
Curry Sexton
,
Kolby Listenbee
and
Bradley Marquez
and this position group looks deep and impressive in 2014.
Jake Trotter:
Linebacker is a deep position in the Big 12. But I'm going with wide receiver. White has begun to generate Heisman buzz. Shepard has had an All-American season. And Lockett and Goodley are All-American-caliber players. It doesn't stop there. Doctson had 225 yards receiving over the weekend. Grant could break 100 receptions. Harris could pass 1,000 yards. And true freshmen
Allen Lazard
(Iowa State) and Cannon are budding stars. There's no better league for the position in the country.
At 3-4, both Texas Tech and Texas are holding out hope of qualifying for a bowl game. Of the two, who has the better shot?
Chatmon:
Texas Fight! Or least that's what Charlie Strong's team looks like it will do for the remainder of the 2014 season. The Longhorns' defense is superb and
Tyrone Swoopes
is looking better and better with each game, surpassing my expectations for the sophomore quarterback. Even with three of its final five games away from Austin, I think Texas will find a way to go bowling in Strong's debut season.
Olson:
That Texas Tech schedule just scares me too much. The Red Raiders go to TCU, host Texas, then a bye, home against Oklahoma, on the road at Iowa State and a meeting Baylor at AT&T Stadium to finish that run off. Are there two obvious wins on that slate? That's just a brutal ask. Texas doesn't have it much easier -- they'll probably have to beat Tech, West Virginia and Oklahoma State to win six -- but already having OU and Baylor out of the way at least gives them the upper hand here.
Trotter:
Given their remaining schedules, it's possible -- if not probable -- that neither qualifies for a bowl. But even though the Longhorns have to go to Lubbock, I give them the better chance. Texas has been playing better than Tech as of late. The Longhorns have the decidedly superior defense. And Swoopes seems to be gaining confidence with every start. The Red Raiders will have to beat either No. 10 TCU, No. 17 Oklahoma or No. 12 Baylor, just to have a chance at a bowl. And they'll be heavy underdogs in all three.
[+] Enlarge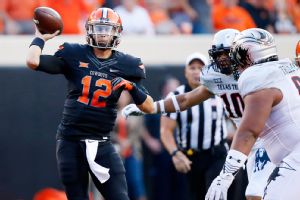 AP Photo/Sue OgrockiDaxx Garman has led OSU's offense since starter J.W. Walsh went out in Week 2 with an injury.
In light of the recent struggles offensively, should Oklahoma State give redshirting freshman Mason Rudolph a crack at QB?
Chatmon:
No. That just changes who will spend the game running for their life. Some Cowboys fans might point the finger at
Daxx Garman
, but the Cowboys' struggles are rooted in the problems up front with a inexperienced offensive line. OSU is averaging 3.69 yards per carry (96th among FBS teams) and has a 7.5 sack percentage (99th among FBS teams). It doesn't matter who is playing quarterback.
Olson:
I'm with Brandon on this. No point in crossing that bridge unless Rudolph begins to consistently and seriously outplay Garman in practice. Mike Gundy says he's getting maximum reps during the week. That's a good start. But you can't throw the rookie in there, behind that offensive line, out of sheer curiosity of whether he's a little better than Garman. I get the whole build-for-the-future viewpoint, but isn't
J.W. Walsh
still the imminent future? The potential downsides still seem like they outweigh the marginal benefits, at least for now.
Trotter:
Rudolph intrigues me. The
ESPN recruiting scouts loved his skill set

, and he was a winner in high school. But with only five games remaining, I don't see the point in pulling his redshirt. This Oklahoma State team is not contending for a Big 12 championship, regardless, due to other issues, namely along the offensive line. The staff clearly feels he's not ready, or else they would have given him a shot early in the season after Walsh's injury in Week 2. Rudolph might very well be the Cowboys' QB of the future. But it's way too late to squander his redshirt for the last five games of a rebuilding season.
October, 21, 2014
Oct 21
10:00
AM ET
While West Virginia landed a commit at a much-needed position, Oklahoma hosted one of the nation's top-ranked players -- hoping to lure him away from his SEC commitment. Those were the highlights of the weekend in the Big 12, but here's a recap of the recruiting weekend, one that could lead to some much bigger results as October progresses.
To continue reading this article you must be an Insider
October, 20, 2014
Oct 20
4:15
PM ET
Oklahoma coach Bob Stoops thought his team played better against Kansas State than it had the previous two weeks in a loss at TCU and a narrow win against Texas.
The Sooners missed fewer assignments defensively. Quarterback
Trevor Knight
completed 26 of 32 passes for a sparkling QBR of 90.5 (scale 0-to-100). Oklahoma also averaged 6.8 yards per play for its best statistical offensive output since Week 2 against Tulsa.
Stoops, however, said the performance that resulted in a 31-30 loss to the Wildcats was still not good enough.
[+] Enlarge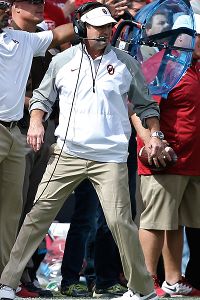 AP Photo/Sue OgrockiBob Stoops said crucial mistakes by the Sooners negated their improved overall play Saturday.
"Nothing's well enough when you lose by a point," Stoops said during his weekly news conference Monday. "We needed to be a play or two better on offense. A series or two better on defense. Or (a play better) on special teams. It all isn't good enough when you lose."
Though Oklahoma generated 13 more first downs than the Wildcats and outgained them 533-to-385, the Sooners were ultimately doomed by several costly mistakes.
From his own goal line, Knight elected to throw on a run-pass option call. The ill-advised pass was picked off by
Danzel McDaniel
, who returned it three yards for a touchdown.
"Certain plays are tagged," Stoops said "If (Knight) gets a soft corner he has the option to throw the out. When the guy squeezed back down, you can't throw it."
The Sooners had another ill-advised throwing decision, though it didn't come from Knight. Off a reverse/wide receiver pass,
Durron Neal
forced a throw into a coverage trying to hit
Sterling Shepard
for a touchdown. Instead, K-State's
Morgan Burns
intercepted in the end zone for a touchback and thwarted the scoring opportunity.
"We didn't have as many mental breakdowns, we executed our passing game in a really good way, we were much better on third-down conversions," Stoops said. "We were much better as far as missed assignments.
"But it doesn't matter. I'd take the other in a minute. You can't make the critical mistakes that change the game."
The Sooners also made critical mistakes elsewhere. Safety
Ahmad Thomas
whiffed trying to tackle quarterback
Jake Waters
on the opening play of the third quarter, resulting in a 53-yard run that set up a field goal. Earlier, Oklahoma turned fullback
Glenn Gronkowski
loose on a delayed pass play that led to a 62-yard touchdown, though Stoops implied he wasn't pleased with the way the play was officiated.
"The guy (Gronkowski) running down the middle of the field, that's a difficult play when (Waters) waits and waits and the center (B.J. Finney) is blocking the linebacker," said Stoops, who wanted officials to flag K-State for an illegal man downfield. Before that, Stoops was also upset that his fullback,
Aaron Ripkowski
, was ejected in the first quarter for targeting, and that on the same play, the Wildcats weren't penalized for hitting Knight after he had hit ground diving.
"Those are tough plays to defend," Stoops said of the delayed pass, "in the way they're allowed to play them."
Yet the biggest play that decided the outcome came on special teams. Senior
Michael Hunnicutt
, the school's all-time leading scorer, missed two field goals, including a 19-yarder late in the fourth quarter. Hunnicutt also had an extra point blocked in the fourth.
"He just rushed the second (field goal). He hit a bad shot," Stoops said. "Michael has been as consistent and as good a player as we've had here. He's been a big part of a lot of wins. He had a bad day and a couple of bad shots. It came at a bad time.
"We all respect him and think the world of him. And we'll need (him) to win more games coming forward."
October, 20, 2014
Oct 20
2:30
PM ET
Here's the latest around the Big 12 on the recruiting trail after another big weekend of official and unofficial visits:
BAYLOR
Total commits:
12
ESPN 300 commits:
3
The latest:
There aren't many spots left in Baylor's class, but one of them is presumably being saved for Waco Midway four-star safety
Kahlil Haughton
. He took an official visit to Arkansas last weekend and could take his official trip to a Baylor game on Nov. 1. Haughton has already taken officials to Oklahoma and Nebraska, and his final two trips are expected to go to BU and Texas Tech.
IOWA STATE
Total commits:
13
ESPN 300 commits:
0
The latest:
The Cyclones' latest pledge came from Itawamba (Mississippi) C.C. -- defensive lineman Xavier Pegues. He committed one day after juco teammate Larry Jefferson picked ISU. Both big men attended Iowa State's win over Toledo this month. Pegues, a 6-foot-3, 270-pound lineman, will likely play defensive tackle next year.
KANSAS
Total commits:
13
ESPN 300 commits:
0
The latest:
Despite the coaching change, Kansas' recruiting class has stayed intact to this point. The Jayhawks aren't making many new offers under interim coach Clint Bowen, and its committed prospects seem to be taking a wait-and-see approach on how this season and subsequent coaching search play out.
KANSAS STATE
Total commits:
10
ESPN 300 commits:
0
The latest:
One recruit expected to be in Manhattan on Saturday for the Wildcats' game against Texas is Kylan Johnson. The three-star safety from Dallas Skyline is planning to take an official visit and is reportedly also considering Texas Tech and Arkansas.
OKLAHOMA
Total commits:
14
ESPN 300 commits:
6
The latest:
The Sooners had a surprising star on campus for an official visit this weekend: Texas A&M commit
Kyler Murray
, the No. 1 quarterback recruit in the nation. The five-star from Allen, Texas, also attended OU's Red River Showdown win last week before taking in A&M's loss to Ole Miss.
OKLAHOMA STATE
Total commits:
13
ESPN 300 commits:
4
The latest:
Playing at TCU gave OSU coaches a chance to check in on their DFW-area commitments on Friday night. The Pokes staff got a chance to watch their coveted ESPN 300 running back pledge,
Ronald Jones II
, rush for 130 yards and two scores (including a 73-yard TD) to help McKinney North beat rival McKinney.
TCU
Total commits:
16
ESPN 300 commits:
0
The latest:
The Horned Frogs had a nice collection of 2016 recruits in the house Saturday for their beatdown of OSU, including No. 1 overall recruit
Greg Little
and ESPN Junior 300 defensive backs
Jared Mayden
and
Jaylon Jones
. Three more important visitors: 2015 three-star corner DeShawn Raymond, LSU commit Hanner Shipley and 2017 athlete
Anthony Hines III
, who holds more than 50 offers.
TEXAS
Total commits:
17
ESPN 300 commits:
8
The latest:
The Longhorns got a critical opportunity on Saturday to convince receiver
John Burt
to stick with his commitment. The ESPN 300 receiver from Florida is contemplating flipping his commitment to Auburn after taking an official visit there this season. He returned to Austin this weekend for an unofficial visit to watch Texas' 48-45 win over Iowa State. Burt has been committed to UT since July.
TEXAS TECH
Total commits:
11
ESPN 300 commits:
3
The latest:
The Red Raiders landed a commitment last Sunday from three-star defensive tackle
Courtney Wallace
of Monroe (Louisiana) Neville. He turned down a dozen offers to become the fourth defender in Tech's class. This Sunday, TTU extended an offer to ESPN Junior 300 linebacker
Dontavious Jackson
, the Houston Elsik standout who now holds six offers.
WEST VIRGINIA
Total commits:
21
ESPN 300 commits:
3
The latest:
The latest member of the Mountaineers' class is Longwood, Florida, defensive end Adam Shuler. He committed on Saturday after taking an official visit to WVU earlier this month for the Kansas game. The 6-foot-5 end turned down offers from Cincinnati, Purdue and Indiana.
October, 20, 2014
Oct 20
2:05
PM ET
October, 20, 2014
Oct 20
1:00
PM ET
ESPN's Football Power Index is a measure of team strength that is meant to be the best predictor of performance going forward for the rest of the season. Every week, ESPN will be updating its FPI to compile a ranking based on 10,000 simulations of the rest of the season using results to date and the remaining schedule.

In the updated standings, Oklahoma and Baylor held onto their top-10 rankings despite losses, but the new Big 12 title odds saw the kind of shakeup you'd expect after what we witnessed Saturday.

Baylor (31 percent) and TCU (30.9) are the co-favorites to win the Big 12 now, according to FPI, and both are now projected to win 9.8 games. There's a gap between those two, Kansas State (18 percent) and Oklahoma (11.5) in the conference title odds. West Virginia is now in the hunt, too, with 8.1 percent odds of winning the league.

A week ago, FPI graded the odds of either OU or Baylor taking the title belt at about 85 percent. It's wide open now.

WVU made a nine-spot jump into the top 30 nationally with its upset win over Baylor, while Oklahoma State and Texas each dropped back nine spots in the rankings. Here's how they and the rest of the conference stack up going into Week 9:


October, 20, 2014
Oct 20
11:00
AM ET
Taking stock of Week 8 in the Big 12:
Team of the week:
West Virginia and Kansas State split the honor this week after toppling Big 12 preseason co-favorites Baylor and Oklahoma. The Mountaineers dominated the fourth quarter on their way to a 41-27 victory over the Bears. Quarterback
Clint Trickett
, whose father was hospitalized over the weekend, led West Virginia with 322 passing yards and three touchdowns, while the Mountaineer defense put the clamps on Baylor's high-powered attack. Kansas State quarterback
Jake Waters
was just as impressive, totaling three touchdowns in the Wildcats' 31-30 victory over the Sooners. With their big wins, West Virginia and K-State emphatically inserted themselves into the Big 12 title race.
Disappointment of the week:
With a surging QB, a veteran offensive line and nine returning defensive starters, the Sooners went into the season with expectations of qualifying for the inaugural playoff. Those dreams have been all but dashed after Oklahoma's second loss in the last three weeks. The Sooners outgained K-State. But they couldn't overcome numerous miscues, which included Trevor Knight's pick-six pass, Durron Neal's interception toss off a reverse and Michael Hunnicutt's two missed field goals and blocked extra point. Oklahoma is now tied with Texas for sixth in the Big 12 standings.
Big (offensive) man on campus:
There were several spectacular offensive performances this weekend, notably by TCU receiver
Josh Doctson
, Waters, West Virginia receiver
Kevin White
, Oklahoma receiver
Sterling Shepard
and Texas Tech running back
DeAndre Washington
. But the honor here goes to quarterback
Tyrone Swoopes
, who led the Longhorns on consecutive scoring drives late in the fourth quarter to lift Texas to a dramatic 48-45 win over Iowa State. The first drive, he rushed for 28 yards, then hit
Jaxon Shipley
on a 22-yard screen to convert a third-and-long, which led to Malcolm Brown's touchdown plunge on the next play. Swoopes, however, wasn't done. After Iowa State tied the game with 28 seconds to play, Swoopes came right back with back-to-back bombs to Shipley and
Josh Harris
to set up Nick Rose's 21-yard game-winning field goal. All told, Swoopes threw for 322 yards and ran for another 95.
Big (defensive) man on campus:
Sunflower State linebackers
Ben Heeney
and
Jonathan Truman
were phenomenal this weekend, combining for 38 tackles. Truman was instrumental in K-State's late goal-line stand in Norman. Heeney added a 37-yard interception return in the Jayhawks' 34-21 loss at Texas Tech. But the edge here goes to West Virginia defensive end
Shaquille Riddick
, who sacked Baylor quarterback
Bryce Petty
three times in a swarming breakout performance. Riddick, who transferred in from FCS school Gardner-Webb in the offseason, added another tackle for loss, as the Mountaineers held Baylor 26 points below its season average.
Special-teams player of the week:
The Sooners fell a single point short against the Wildcats, and K-State defensive tackle
Travis Britz
was the reason why. He busted through the line of scrimmage, and got a hand up to bat away Michael Hunnicutt's extra-point attempt with 10 minutes to go in the game. Who knows how much the block affected the psyche of Hunnicutt, who later also missed a potential game-winning field goal from 19 yards out. Either way, it was a monumental play by Britz, who led the country in special teams blocks last season.
Play of the week:
Even in defeat, Baylor had the hit of the day in college football, as Baylor wide receiver
Corey Coleman
decleated West Virginia cornerback
Terrell Chestnut
to clear a path for teammate
Antwan Goodley
'
s 63-yard touchdown. Officials initially ejected Coleman for targeting, but reversed the call after viewing replay. Chestnut did not return to the game after taking this violent, but clean hit.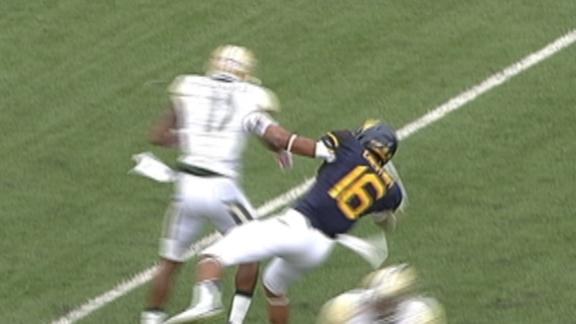 Stat of the week:
Baylor broke a Big 12 record with 215 penalty yards at West Virginia, also shattering the previous Baylor record of 157 yards set in 1976. The Bears were flagged 18 times in Morgantown, including seven times for pass interference. As a result, Baylor has overtaken Texas Tech for the national lead in both penalties and penalty yardage.
Quote of the week:
"You better get some help." -- West Virginia WR
Kevin White
,
who told
Baylor CB
Xavien Howard
that after burning him for a touchdown in the first quarter. White finished with eight catches for 132 yards and two touchdowns in the win over the Bears.
October, 20, 2014
Oct 20
10:10
AM ET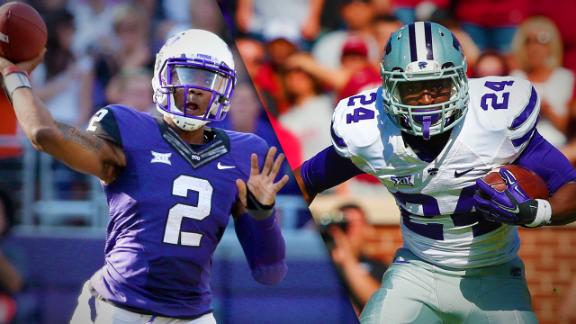 Welcome to a brave new world of Big 12 football.
Aldous Huxley told us things could get weird. And chaos reigned in a wild Big 12 weekend, as heavyweights Baylor and Oklahoma went down, leaving preseason predictions (
and Morgantown
) smoldering, the conference race hazy and the league's hopes for playoff inclusion on the brink.
The depth of teams has boosted the Big 12's reputation, firmly cementing it as the nation's second-best conference behind the almighty SEC. But will the self-cannibalization also knock the Big 12 out of the playoff party?
We're about to find out. And either way, the next six weeks should be fun.
As many as five teams could still realistically win the Big 12, making it the tightest conference race in the country according to
ESPN's Football Power Index
, and three Big 12 teams still have a shot to make the playoff (though a fourth, Oklahoma, might also have a chance in an Armageddon-level scenario -- more on that later).
But out of the dust from this past weekend, TCU has emerged as the league's best hope to do both.
According to FPI, the Horned Frogs have a 31 percent chance to win the Big 12, up 22 percentage points from last week on the back of a resounding
42-9 victory
over Oklahoma State, coupled with
Baylor's loss
at West Virginia.
[+] Enlarge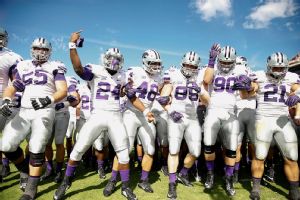 Kevin Jairaj/USA TODAY SportsAfter a win over Oklahoma, Kansas State is the lone team in the Big 12 that controls its own destiny for an outright conference title.
FPI also suggests TCU has a 24.7 percent chance to win out, which would make the Horned Frogs a strong candidate for the playoff.
TCU's 30-7 nonconference victory over Minnesota (6-1, 3-0 Big Ten) looks better and better. And the Horned Frogs'
lone defeat at Baylor
, while catastrophic at the time, won't look bad in the eyes of the playoff selection committee in the long run.
But as dominant as TCU has been, running the table won't be a cinch, even with the Sooners and Bears in the rearview mirror. And the first two weeks in November should determine TCU's playoff fate. The Horned Frogs go to Morgantown (assuming it's still standing) Nov. 1, then welcome No. 11 Kansas State the following weekend. A two-game sweep would all but catapult the Horned Frogs into the playoff. But a loss in either would further the pandemonium.
At the moment, Baylor is the other co-favorite to win the league, even after the loss at West Virginia. FPI also gives the Bears a 31 percent chance of winning the Big 12. Baylor has the head-to-head advantage over TCU. And the Bears have only one road game remaining -- at Oklahoma Nov. 8 in a game everyone pegged as the game of the year in the Big 12 before the season. Baylor will have another chance to impress the playoff committee in the regular-season finale against Kansas State.
But even if the Bears win out (FPI gives them a 17.9 percent chance of doing so), their nonconference schedule could ultimately doom them. Baylor's two FBS nonconference wins came against teams ranked 114th (Buffalo) and 125th (SMU) in the FPI. When stacked against other potential one-loss teams, that won't look good. Which is why ESPN playoff guru Brad Edwards says
Baylor needs the other Power 5 leagues to produce two-loss champions

in order to get back in the mix.
Yet while Baylor might need help to get in the playoff, Kansas State is the lone team in the Big 12 that truly controls its own destiny for an outright conference title. After a
31-30 win
at Oklahoma, the Wildcats might control their destiny in the playoff hunt, too.
But that doesn't mean it will be easy.
Of all the Big 12 contenders, K-State has the toughest remaining road. The Wildcats still have to travel to TCU, West Virginia and Baylor, all games they could be underdogs in. K-State has a 17.1 percent chance to win the league according to FPI but only a 1.9 percent chance of winning out. Having lost to Auburn in nonconference, the Wildcats would likely have to win out, too, to have a chance. And even then, K-State would probably need Auburn to fall out of contention, since the Tigers would hold the head-to-head advantage over the Wildcats in the eyes of the committee.
Still, K-State has a feather-in-cap win in Oklahoma already in its hip pocket. And if the Wildcats were able to somehow topple TCU, West Virginia and Baylor all on the road, their résumé would be formidable.
West Virginia has a feather-in-cap win, too, after its
41-27 victory
over Baylor, which has propelled the Mountaineers into the Big 12 title conversation. West Virginia now has a 9.1 percent chance to win the Big 12 according to FPI and a favorable remaining schedule, with both TCU and K-State coming at home.
While the Mountaineers have entered the Big 12 picture, the Sooners haven't completely exited it even with two conference losses. According to FPI, Oklahoma has the best chance of any Power 5 team of winning out with a 43.8 percent chance. The Sooners get Baylor at home, which gives them an opportunity for a statement victory.
Though it is highly unlikely at this point, Oklahoma (and who knows, maybe even West Virginia?) could get back into the playoff discussion as a two-loss conference champion, should chaos strike elsewhere.
It certainly struck the Big 12 on Saturday, when the league was turned on its head yet again.
October, 20, 2014
Oct 20
8:00
AM ET
Things got a
little crazy
in Morgantown, and I don't mean on the football field...
October, 19, 2014
Oct 19
8:00
PM ET
It's moving day!
Chaos reigns as West Virginia's and Kansas State's wins join TCU's domination to result in the Horned Frogs sitting atop the queue. West Virginia could be the sleeper pick to win the conference, while K-State still faces a difficult road to its second Big 12 title in three years with road trips to TCU, West Virginia and Baylor left on the schedule.
The conference landscape is full of teams that could stake their claim in the Big 12 title race.
Allstate Sugar Bowl:
TCU
Cotton Bowl:
Kansas State
Valero Alamo Bowl:
West Virginia
Russell Athletic Bowl:
Baylor
AdvoCare V100 Texas Bowl:
Oklahoma
AutoZone Liberty Bowl:
Oklahoma State
Cactus Bowl:
Texas
30 for 30: Brian and The Boz - The Vault