March, 24, 2015
Mar 24
10:00
AM ET
His world had changed in a matter of hours, and the atmosphere surrounding him had become saturated with unease and uncertainty.
Sitting in the home of Oklahoma starting center Ty Darlington, Sooners cornerback Zack Sanchez looked at teammate Eric Striker amid feelings of bewilderment.
"Bro, we committed here three years ago, who knew we would be in this position?" he pondered.
[+] Enlarge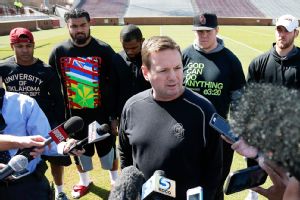 AP Photo/Sue OgrockiCoach Bob Stoops and his players say the team has become closer since a video of members of a campus fraternity participating in a racist chant went viral on March 8.
Striker, Sanchez and Darlington were among the leaders on the football team who helped to create a plan of action after a video of members of the Sigma Alpha Epsilon fraternity at the University of Oklahoma participating in a racist chant went viral March 8. Oklahoma president David Boren acted swiftly, closing the campus chapter of SAE and expelling a pair of students in the following week.
While Boren was handing out punishments, the football team was shaken and unsure about the future. Once the entire team got together in the Adrian Peterson team meeting room at the Switzer Center, the debate went on for hours with various players expressing their opinions on the subject.
"The room was very split in what was the right thing to do moving forward," Darlington said. "This almost tore us apart. Instead it really brought us together in a way that is unparalleled in my time here."
The focus became being proactive in trying to raise awareness of racism, not only at the University of Oklahoma but nationwide. You already have seen some of the ideas that were born during that debate with the Sooners' decision to postpone practice and hold demonstrations instead, along with their joint statements on social media in the week that followed the incident.
"At the end of the day, guys put away their beliefs and whatever the captains wanted to ride with, they were behind us 100 percent," Sanchez said. "I think this has made us stronger than anything could have, it's kind of a blessing the way it has bonded us."
On Monday, the Sooners returned to the practice field for the first time since their worlds were rattled. And their activism returned with them in the form of black practice jerseys, shorts and socks as they went through practice No. 2 of the spring.
"It signifies the strong message they want to send across the country," coach Bob Stoops said. "They realize this isn't just an issue on our campus, it's something they know from talking to their friends across the country, you have different incidents and hopefully it can be stopped. It's their way of putting it in people's minds."
The offense wore black jerseys and the defense wore white jerseys Monday. The plan is to switch colors between each side of the ball on a practice-by-practice basis. The Sooners also have other things planned this spring as they continue their efforts to increase awareness.
"It brings awareness about our stand for a positive change," Striker said.
After a trying few weeks, the Sooners' return to the practice field was a welcome sight. They don't want to be known as "just football players," but the lack of football left a void after postponing a pair of practices in the days following the incident, then heading to various locales for a weeklong spring break.
"It felt good being back out there with my teammates," Striker said. "I love being around my teammates, it's my family, it's like medicine being around them."
When they returned, the Sooners hit the practice field as a more unified team than ever before, ready to return to the game that brought them together as the outside world threatened to tear them apart.
"It was very important," defensive end Charles Tapper said. "We were ready to get out there and release some anger on each other. To show [we're a] brotherhood, we can fight to change the culture here and still go out on the field, is very important."
After Monday's practice, Darlington announced the Sooners plan to begin their media opportunities during the spring with a statement to raise awareness of racism with the goal of making sure the burning fire doesn't go out with time.
"We want to continue to keep it in people's minds," he said. "When these things happen people get really emotional about it for a couple of days or weeks, then the passion fades away and sometimes the change doesn't happen like you would want it to."
Stoops, Players Want To Effect Change
BIG 12 SCOREBOARD
Thursday, 9/3
Friday, 9/4
Saturday, 9/5