Oklahoma Sooners:

Realignment
January, 30, 2013
1/30/13
4:56
PM ET
Two weeks ago it looked like Oklahoma was done looking for defensive tackles for its 2013 class. Assistant coach Jackie Shipp had put in major work and landed three quality commitments.
But Shipp wasn't done. He went to Port Arthur (Texas) Memorial last weekend and offered three-star prospect
Matthew Romar
.
Romar saw OU's campus for the first time this weekend and took some time to think it over before committing to the Sooners, Port Arthur Memorial coach Kenny Harrison confirmed on Wednesday afternoon.
Romar, who is 6-foot-3 and 265 pounds, also had offers from Tulsa and Baylor, among others. Once the Sooners fully entered the race, though, it became clear it was up to OU to simply close the deal.
He played a little bit of running back in high school so there was some speculation about his size. Harrison said once Shipp saw Romar in person two weeks ago, all the doubts vanished.
September, 30, 2011
9/30/11
12:14
AM ET
Jake Trotter will answer readers' questions about Oklahoma football in his mailbag every Friday. Got a question for Jake?
Submit it here.
Mike in Heppner, Ore., asks:
At this point it's pretty obvious that
Dominique Whaley
is the best back and should be starting over Clay. His numbers are better, he's more dangerous as a pass receiver, runs downhill better, breaks the first hit better, and passes the "eye test". I understand it's basically a time-share in the backfield, but why isn't Whaley starting? More importantly, why isn't he getting 60-70 percent of the carries over this 50-50 stuff?
[+] Enlarge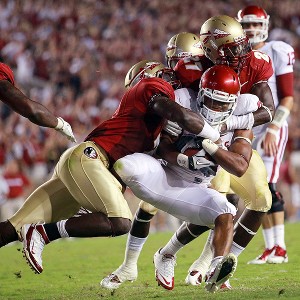 Ronald Martinez/Getty ImagesOklahoma walk-on Dominique Whaley has proven to be the Sooners' best running back in 2011.
Jake Trotter:
Mike, I think the Sooners wanted to ease Whaley in and see how he responds before making him the primary back. By Texas, I think Whaley will be starting and getting at least 70 percent of the carries. I agree, Whaley is OU's best back and warranting a heavier workload. It shouldn't be long before he gets it.
Matt in Oklahoma City asks
: Assuming West Virginia, Cincinnati, Boise State, BYU, Air Force, Louisville, and TCU were all viable options to add to the Big 12, which do you feel would be the best additions and how would the divisions break out?
Jake Trotter:
Assuming the goal was to go back to 12 teams, I'd add TCU, Louisville and West Virginia and expand the footprint east. Louisville is a great college town, West Virginia has a rabid fan base and TCU is a natural fit. TCU would take A&M's place in the South, and Louisville and West Virginia would join Iowa State, Kansas, Kansas State and Missouri in the North. Assuming Missouri doesn't bolt to the SEC, too.
Jeff in Ankeny, Iowa, asks:
Is the realignment question mark going to have an impact on recruiting or does the tradition, coaching staff, etc. outweigh OU's conference?
Jake Trotter:
OU's winning tradition outweighs the conference issue. Big-time recruits care most about winning and getting to the NFL. The Sooners have a track record of delivering both. That said, Texas A&M will have a compelling recruiting pitch to Texas kids: the chance to go play in the SEC, the preeminent conference in college football. That will probably win the Aggies a few recruiting battles.
Dan in Norwich, Conn., asks:
Why does the OU offense continue to throw end zone corner fades to the 5-10
Ryan Broyles
instead of the 6-4
Dejuan Miller
? I know Broyles is a spectacular receiver, but it seems that he runs out of room on those routes, usually attempting catches at the edge of the end zone. It would appear to me that using a jump-ball throw to Miller would be easier. I assume the OU coaches know this, but I just thought I'd get your insider's take on this.
Jake Trotter:
Jump ball, quick out, inside screen, flinging the ball Broyles' direction is never a bad idea, goal line or not. After struggling at the goal line at Florida State and early against Missouri, the Sooners began throwing the ball over and over to Broyles. The result was three touchdowns. Could Miller become a red-zone threat? With his size and strength, absolutely. But I have no problem with OU throwing the ball up to Broyles, who plays much bigger than his 5-10 frame.
Dave in Honolulu asks:
Hey Jake, after watching OU's offense struggle against the better teams on the schedule in recent years, do you think it's a strength to promote from within? I personally wish Bob had a Dana Holgorsen or Gus Malzahn by his side.
Jake Trotter:
Aloha, Dave. I believe it to be a major strength. Holgorsen and Malzahn are excellent offensive minds. But continuity among the coaching staff is a big reason why the Sooners have been so consistent under Stoops. There's been no overhaul of the offense. The schemes, the terminology, the calls have pretty much been the same, meaning the players haven't had to worry about learning a new system. Other people seem to think Stoops' promoting-from-within philosophy works, too. Every one of his offensive coordinators has been hired away to be a head coach.
September, 23, 2011
9/23/11
2:00
PM ET
When the idea of Oklahoma moving from the Big 12 to the Pac-12 was presented, nobody was more excited than OU sophomore Tony Jefferson.
Jefferson was one of three California natives who signed with the Sooners two years ago, joining running back
Brennan Clay
and wide receiver
Kenny Stills
. Jefferson said he believed they wouldn't be the last ones, either. With OU playing a more prominent role on the West Coast, the Sooners were going to build a pipeline and be a factor with some of the top prospects in the area, according to Jefferson.
[+] Enlarge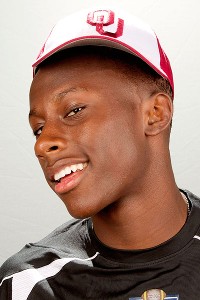 Miller Safrit/ESPN.comOklahoma's success at sending players to the NFL helped secure DeVante Harris.
It might still end up that way, but the Sooners are going to have to work for it. The announcement Tuesday by Pac-12 commissioner Larry Scott that the conference wouldn't expand didn't just surprise OU fans. It also shocked OU verbal commits.
"I had accepted that we were going out west," said defensive back and OU commit
De'Vante Harris
(Mesquite, Texas/Horn). "I was going to be able to play against some friends out west and against their speed. The weather was going to be great. But like I've said before, it doesn't matter what conference we're in, because we're going to dominate no matter where we go."
Most Oklahoma natives grow up as big OU fans and this year's duo of commits
Sterling Shepard
(Oklahoma City/Heritage Hall) and
Alex Ross
(Jenks, Okla./Jenks) are no different. Conference affiliation doesn't matter to them.
But Florida native
Ty Darlington
(Apopka, Fla./Apopka) did have a preference.
"Of course I wanted OU to come to the SEC. It would be a lot closer to home, playing in Florida and Georgia and places like that," Darlington said. "My family is going to have to travel if they're going to attend a game anyway, but it would have been nice if it was closer to home."
Remaining in the Big 12 is not a deal-breaker for anybody, either. Tight end
Laith Harlow
(Tallahassee, Fla./Godby) said conference affiliation doesn't have him second-guessing anything.
Remaining in the Big 12 does have the advantage for Texas high school recruits who want to stay close to home. OU commit defensive end
Polo Manukainiu
(Euless, Texas/Trinity) said OU's location played a role because his family and friends could watch him play.
It might take a while for the conference shakedown to be completed, but the commits are confident everything is going to work out.
"Wherever OU goes, that's where I'm going," said offensive guard and OU commit
John Michael McGee
(Texarkana, Texas/Texas). "If we went out west, my family could have watched it on TV. If we stay here, then they can watch me play. We're going to make the best out of whatever situation we're in."
September, 19, 2011
9/19/11
9:32
AM ET
Oklahoma wasn't hosting any recruits Saturday night in its game against Florida State, but it might have won over some prospective recruits.
In front of a national television audience on ABC in primetime, the Sooners showed the type of poise championship teams display in tough situations in a 23-13 victory against the Seminoles.
"That was tight. I'm not going to lie," said linebacker
Brian Nance
(Euless, Texas/Trinity). "I was surprised to see Travis Lewis out there. I was looking at the defense and how they handle a big pressure situation. That was impressive."
Nance is one of the top Sooners targets for the 2012 class and has listed OU as one of his favorites.
For Florida natives and OU verbal commits
Ty Darlington
(Apopka, Fla./Apopka) and
Laith Harlow
(Tallahassee, Fla./Godby) it was about bragging rights.
Darlington made the four-hour drive and watched the game with his brothers and said it was one of the best experiences of his life.
Harlow had no problem playing the villain role in Tallahassee, proudly wearing his Sooners apparel all week. He attended ESPN's "College GameDay" Saturday morning before watching the game back home.
But the trash talking didn't just go on in Florida, as wide receiver
Durron Neal
(St. Louis/De Smet Jesuit) had to endure a week of taunts.
"It was so exciting to watch that game," Neal said. "All week people had given me stuff about how OU didn't deserve to be No. 1. I told them to just sit back and watch. I was really excited to see how they responded to adversity."
Defensive end
Polo Manukainiu
(Euless, Texas/Trinity) is the latest OU commit. And for someone who was a little torn between the Sooners and Baylor, Saturday night is a step in the right direction.
"It was an absolute dogfight," Manukainiu said. "It gave me chills. Who wouldn't want to play in an environment like that? It has me excited about the future."
Stoops, Players Want To Effect Change
BIG 12 SCOREBOARD
Thursday, 9/3
Friday, 9/4
Saturday, 9/5