Oklahoma Sooners:

Position Analysis
December, 23, 2011
12/23/11
8:00
AM ET
The defensive coaching staff at Oklahoma became the primary scapegoat as the Sooners finished the 2011 season with three losses after beginning the year ranked No. 1 in multiple preseason polls.
While the Sooners' defensive coaches deserve plenty of blame, OU's defense had several dominant performances in 2011 that seem to have been forgotten.
To make things easier, let's examine the good, the bad and the ugly from Oklahoma's defensive staff this season:
The Good
- Against Florida State, Texas, Kansas State, Kansas, Iowa State and Ball State, the Sooners allowed less than 4.25 yards per play. In big games against FSU, UT and KSU, OU's defense was dominant and was the main reason for victories.
- With plenty of hype and pressure, the OU defense knocked out FSU quarterback E.J. Manuel and controlled the game by completely shutting down the Seminoles running game allowing just 27 yards on 26 carries in their September win.
- In the Red River Rivalry, OU's run defense again controlled the game, holding UT to 36 rushing yards on 45 rushing attempts. The Sooners had eight sacks and forced five turnovers in the blowout win over the Longhorns. One of the most impressive performances of the season.
[+] Enlarge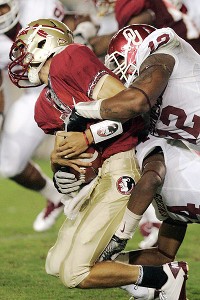 AP Photo/Steve CannonFrank Alexander and the Oklahoma defense dominated Florida State in September.
- Against Kansas State, the Sooners allowed just 240 total yards. Oklahoma sacked Wildcats quarterback
Collin Klein
seven times as KSU's offense never found a rhythm or got on track against the Sooners.
- Defensive coordinator Brent Venables and OU's defensive staff came up with a four defensive end package to get the Sooners best defenders on the field. The package, which featured Ronnell Lewis, R.J. Washington, Frank Alexander and David King, allowed OU to put pressure on the passer without needing to blitz on passing downs.
- Defensive ends coach Bobby Jack Wright had his group performing at a high level throughout the year. Senior Frank Alexander earned Big 12 Co-Defensive Player of the Year honors with 8.5 sacks while junior Ronnell Lewis had 5.5 sacks while becoming a legit NFL prospect at the position. And King and Washington combined for five sacks to make 19 total sacks by Wright's top four defensive ends.
- At linebacker, sophomores Tom Wort and Corey Nelson both made terrific progress from their true freshman seasons, becoming key contributors on the defense. That speaks to Venables' tutelage with both players.
- In the secondary, Willie Martinez should receive some credit for the smooth transition of Aaron Colvin to safety and the strong play of Tony Jefferson despite the sophomore being moved around the defense all season long.
The Bad
- There were early-season signs of trouble for OU's defense when mental mistakes led to big plays against Tulsa in the season opener and physical limitations led to big plays from Missouri in OU's first Big 12 conference game. The Sooners won both games but the cracks in their armor were pretty clear.
- The Missouri win was particularly troubling as the Sooners could not stop the run (241 rushing yards) or the pass (291 passing yards). Tiger running back
Henry Josey
showed teams how to take advantage of OU on the ground while using the spread offense. And Mizzou showed that the Sooners' secondary had limited depth.
This should have been the first sign to the coaching staff to prepare to find a way to mask their personnel limitations through altering schemes and personnel packages. It also should have sparked the coaching staff to get some of their backups more in-game reps show those players would gain confidence and be comfortable on the field when called upon.
Neither of those things happened.
The Ugly
- All three losses were ugly performances for the defense. While that group won its share of games in 2011, it lost its fair share, too, particularly against Texas Tech and Baylor.
- Against Texas Tech, the defense (
or
the offense for that matter) didn't come out with any fire or intensity. That falls on the coaching staff. If the defense had come out with passion, the Sooners win. Simple as that.
- Against Baylor, the overriding theme seemed to be defenders trying to do too much. Secondary players jumping on short routes and pass rushers out of their lane, thus allowing the Heisman Trophy winner,
Robert Griffin III
, to create big plays with his feet. There are probably still Bears receivers running untethered through the Sooners secondary.
The most disappointing aspect for the coaching staff was seeing a long Baylor touchdown called back on the Bears first possession, yet no changes were made until late in the game.
- The loss to Oklahoma State wasn't nearly as ugly as the other two. The defense played well early until a couple of game-changing fumbles by
Landry Jones
. The worst thing to say about the Sooners defense against OSU is they didn't respond to major adversity well as Cowboys running backs
Joseph Randle
and
Jeremy Smith
began breaking off seven and eight yards per carry in the second half.
Frankly, there's probably not too much the defensive coaching staff could have done against OSU once the Sooners offense's struggles came to the forefront in Bedlam.
Overall
Two terrible performances shouldn't overshadow multiple dominant performances by the Sooners defense.
Nonetheless, the defensive coaching staff should have recognized and addressed its personnel limitations earlier and, frankly, since they recruit every player on the roster, they deserve the blame for the lack of depth on defense.
Venables and company also should have altered the defensive system and schemes around their current personnel to try to mask the holes in the defense. While they can't do anything about players' mental mistakes, they could have made things easier so there was less thinking and more reacting. And if a player continues to make mental mistakes, they should have someone ready to step in and, at the very least, play assignment sound defense.
December, 22, 2011
12/22/11
8:00
AM ET
When Kevin Wilson bolted to become the head coach at Indiana, Bob Stoops tabbed former Oklahoma quarterback Josh Heupel to run his offense.
Despite season-ending injuries to leading rusher
Dominique Whaley
and leading receiver
Ryan Broyles
, the Sooners still managed to finish fourth nationally in total offense. Only Houston, Baylor and Oklahoma State gained more yards per game.
Not bad for a year one play-caller.
Problem was, Heupel capped the regular season at Oklahoma State with a disastrous game plan, which Stoops even halfway threw under the bus afterward.
Despite facing a suspect run defense, despite possessing an unstoppable ground force in
Blake Bell
, despite playing with a banged up receiving corps, Heupel elected to call 15 pass plays, one reverse and no runs to start the game. By halftime, Heupel had called 38 passes to only 10 runs, and the Sooners fell behind 24-3. The offense ultimately folded with multiple turnovers, and OSU jumped to a 44-3 lead before the fourth quarter.
The rest of the offensive staff also had mixed reviews.
Jay Norvell's wide receivers were phenomenal against Florida State and Kansas State, but tumbled down the stretch because of drops. Discipline was also a major issue with the unit as three different players served suspensions. Running backs coach Cale Gundy and tackles/tight ends coach Bruce Kittle ended up losing many of their players to transfer. The Sooners will go to the Insight Bowl with two running backs after opening the preseason with six, and have no returning tight ends for next season after Austin Haywood's unexpected midseason departure. But the unearthing of Whaley was a major coup for Gundy, and Lane Johnson came along at right tackle under Kittle's tutelage.
James Patton, meanwhile, had as good a coaching season as anyone, maneuvering through an injury to his most experience player, center Ben Habern, without a hitch. After Habern's broken forearm injury, Gabe Ikard made a seamless transition to center, and Adam Shead became a blocking force at left guard out of the Belldozer. Tyler Evans was solid, too, and all four interior linemen are back next season.
In many games, Heupel and the OU offense was close to flawless. But for most of two games, the offense was a no-show – a big reason why the Sooners placed fourth in the Big 12 after beginning the year preseason No. 1.
To continue reading this article you must be an Insider
December, 21, 2011
12/21/11
7:30
AM ET
There were plenty of questions about Oklahoma's special teams units heading into this season.
Who will be the kicker? Will the kickoff coverage team improve? Will a game-breaking kickoff returner emerge?
The Sooners special teams units answered the call in 2011.
Michael Hunnicutt
took over the primary kicking duties after OU's second game against Florida State. He made 20 of 23 field goal attempts as a redshirt freshman. But he did struggle against Texas Tech, missing two field goals in the Sooners' first loss of the season.
[+] Enlarge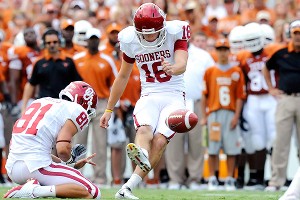 Icon SMIFreshman kicker Michael Hunnicutt has brought stability to the Sooners' kicking game this season.
Nonetheless, Hunnicutt's emergence was huge for the Sooners as it allowed them to attempt long field goals, something they hadn't done the past few seasons. OU's future at the position appears very promising.
Tress Way entered the season as the main anchor of the Sooners' special teams. He was as consistent as ever this season, averaging 41.2 yards per punt.
While the junior's average per punt was down 3 yards from last season's mark (44 ypp), Way recorded a career-high 33 punts downed inside the 20-yard line with only six touchbacks in 57 punts. He's a solid weapon as a punter, and the Sooners' punt coverage was solid as OU allowed just 121 punt return yards on 11 punt returns.
OU's kickoff coverage, a major problem in 2010, was much improved in 2011. The Sooners held opponents to under 20 yards per return. Three opponents -- Texas Tech, Baylor and Texas A&M -- averaged less than 17 yards per return.
Texas was the only team which caused OU's kick coverage team to struggle with 248 kickoff return yards, including a 100-yard touchdown return by Fozzy Whitaker.
The biggest problem for the Sooners' special teams was their return units. OU had five games with a 6 or less yard per punt return average as main returners
Ryan Broyles
and
Kenny Stills
never broke a game open with their punt return abilities.
On kickoff returns,
Trey Franks
and
Roy Finch
handled much of the return duties, but neither player made opponents scared of their abilities. Franks finished with a 22.6-yard average while Finch had a 20.3-yard average.
Punt and kickoff returns can completely change the momentum of a game but the Sooners didn't have any game-changing returns in 2011.
Deep snapper
James Winchester
was one of the most valuable and overlooked performers on the team with his consistent snapping and hustle on punt coverage. Austin Woods was just as solid on field goal snaps.
Holder Niko Symonds was solid as well, going unnoticed as his holds remained consistent throughout the season.
Overall, the Sooners special teams took a step forward in 2011, shoring up some potential game-changing problems with consistent play.
To continue reading this article you must be an Insider
December, 20, 2011
12/20/11
9:24
AM ET
Before the season, they were "Sharks." But on at least a couple of occasions, they became shark meat.
Of any OU position group, the defensive backs were most disappointing because they were big culprits in two of the Sooners' three losses.
Robert Griffin III
became the Heisman frontrunner after gashing the Sooners for a Baylor-record 479 passing yards and four touchdowns, including a game-winning 34-yard bomb with eight seconds to go.
[+] Enlarge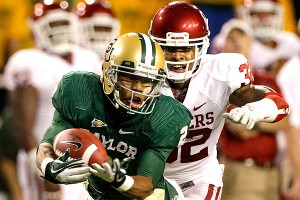 AP Photo/Tony GutierrezOklahoma will lose its best defender in the secondary when Jamell Fleming graduates.
Seth Doege
looked like a Heisman frontrunner while picking apart the Sooners for 441 yards in what, amazingly, was Texas Tech's only victory after Oct. 1.
At corner, Jamell Fleming and Demontre Hurst were tenacious. At safety, Tony Jefferson and Aaron Colvin were solid. But after that, the Sooners didn't have anyone else they could count on week in, week out, creating massive holes for opposing offenses to exploit in the OU defensive backfield.
The first landmine struck when Fleming had to undergo minor knee surgery, which sidelined him against the Red Raiders.
Time after time, Doege picked on Fleming's replacement, sophomore Gabe Lynn, until secondary coach Willie Martinez mercifully took him out of the game in the third quarter, and moved Colvin to corner. Doege finished with four touchdown passes, and to put that into context, Doege would pass for just six more touchdowns total in Tech's final five games.
The Sooners fell into another's wheelhouse a month later in Waco. Safety Javon Harris, who made several big plays this season but was sporadic other times, could not keep Baylor's wideouts in front of him. And had it not been for a penalty, a rare Griffin misfire to a wide-open receiver and a dropped touchdown, Griffin could have easily thrown for 650 yards.
Again, OU had no dependable replacements and had to suffer through Harris' mistakes until the Sooners finally yanked him late in the game.
Two weeks later at Oklahoma State, the Sooners tried another combination, sliding Jefferson to back safety in place of Harris and subbing Joe Ibiloye in at nickelback. But that only made OU vulnerable underneath. In the first quarter, OSU inside receiver
Tracy Moore
beat Ibiloye across the middle of the field for a 57-yard gain, setting up the first of many Cowboys touchdowns. The secondary settled down and played relatively well against the OSU pass. But the Sooners were so concerned with getting beat, the Pokes were able to pound away 278 yards on the ground.
After the Insight Bowl, the secondary must cope with losing its best player in Fleming, which will open up the same gaping void at corner.
The Sooners have tried to address this by targeting junior college safety Gerald Bowman (deciding between OU and USC) and junior college corner Kasseim Everett (down to OU and Texas Tech). If the Sooners land Everett, they might be able to leave Colvin at safety. And if they land Bowman, they will have the luxury of being able to slide Colvin to corner if needed. But counting on junior-college transfers to make an immediate impact is always a roll of the dice.
OU has some nice pieces coming back. Jefferson has All-American potential. Colvin and Hurst are all-conference caliber players. But if the Sooners don't find more help –- and more depth -- the secondary could suffer the same shortcomings next season.
To continue reading this article you must be an Insider
December, 19, 2011
12/19/11
9:00
AM ET
Oklahoma's linebackers were expected to anchor the Sooners defense during the chase for the BCS title.
For a few games, they stepped up and accepted the challenge. Against Florida State and Texas, OU's linebackers helped the Sooners hold both teams -- each ranked in the top 15 at the time -- to less than 2 yards per carry.
But other performances left plenty to be desired. Oklahoma State ran at will against the Sooners, finishing with 278 rushing yards while averaging 8.42 yards per carry, and Missouri rushed for 241 yards while averaging 5.74 yards per carry.
[+] Enlarge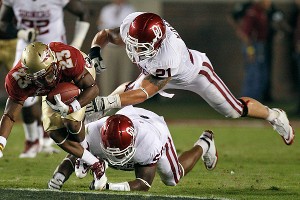 AP Photo/Chris O'MearaOklahoma's Tom Wort had a stellar game against Florida State but was inconsistent on the season.
Senior Travis Lewis played the majority of the season hurt after breaking his toe in preseason camp. He missed the season opener against Tulsa but returned to the field against Florida State. And he never returned to the sidelines for any extended amount of time after the win over the Seminoles.
Playing with a broken toe, Lewis finished second on the team with 79 tackles in 11 games to earn second-team All-Big 12 honors. Kansas State and Iowa State were the only games where Lewis recorded less than five tackles. Nonetheless, it was clear Lewis wasn't himself at times while he played through the injury.
Tom Wort's play against Florida State was an example of what the sophomore can do when healthy. His interception against the Seminoles was one of the plays of the year as Wort finished with eight tackles including 2.5 tackles for loss and two sacks.
The bigger the game the better he seemed to play as Wort averaged more than 6 tackles per game against ranked opponents. The injury bug hit Wort as well, but he was solid for the majority of the year, finishing with 66 tackles in 11 games.
The expectations for Corey Nelson heading into the season overshadowed a solid year by the sophomore. After Bob Stoops called him one of the best players on the team last spring, Nelson finished with 55 tackles and 4.5 sacks but saw his solid play often go unnoticed.
Nelson really came on in the Sooners final four games, averaging 6.25 tackles per game. He is unquestionably one of the Sooners most active defenders and better pass-rushing threats.
Behind OU's three starters, Jayden Bird was solid in limited action. He had a career-high six tackles against Texas, then stepped in for an injured Wort against Kansas to record five tackles. Bird, a junior, finished the season with 16 total tackles.
True freshman Kellen Jones showed flashes of big-time potential during his first semester on campus. He was active and consistently around the football when given the opportunity to see the field, recording at least one tackle in six of the 11 games he played in this season.
As a group, the Sooners linebackers were athletic and quick to the ball but their tackling was subpar at times, leading to large gains and clutch third-down conversions by opponents. The talent is there, but greater focus on the fundamentals is needed if Oklahoma expects to field one of the best groups of linebackers in the Big 12 in 2012.
To continue reading this article you must be an Insider
December, 16, 2011
12/16/11
7:45
AM ET
The Sooners have possessed multiple lethal defensive end combinations in the Bob Stoops era, but none more disruptive than
Frank Alexander
and
Ronnell Lewis
were as a tandem this season.
Alexander earned Big 12 Defensive Player of the Year honors after leading the league with 8.5 sacks and 18 tackles for loss. Lewis was a handful on the other side, totaling 5.5 sacks and 13 tackles for loss while snagging several first-team All-Big 12 votes despite missing the last two-and-a-half games with an MCL sprain and class suspension.
David King
and
R.J. Washington
proved to be solid and versatile backups, too, allowing the Sooners effectively to utilize the "Endy" package, which sent all four ends after the quarterback on third-and-long situations. King and Washington added five sacks total, as the Sooners ranked ninth nationally with 37 sacks and 12th with 90 tackles for loss.
But as good as the ends were, the pass rush, which was terrific in September and October, tapered off in November. Part of it was due to the injuries to Lewis and Alexander, who played with a pinched nerve against Oklahoma State. Part of it was due to the level of competition. Part of it simply was that the pass rush wasn't as disruptive.
Through the first eight games, OU registered 34 sacks. In the last four, the Sooners had just three.
At tackle, OU didn't have an All-American like a Tommie Harris or a Gerald McCoy, but the trio of
Casey Walker
,
Stacy McGee
and
Jamarkus McFarland
were serviceable at times, especially earlier in the season in wins over Florida State and Texas. Other times, they were manhandled, especially in Stillwater where the Cowboys piled up almost 300 yards on the ground.
With Alexander, and likely Lewis, moving on to the NFL, several others will have to elevate their performance for the line not to suffer a significant drop-off next season. Freshman ends Geneo Grissom and Chuka Ndulue and tackles Jordan Phillips, Jordan Wade, Eric Humphrey, Marquis Anderson and Torrea Peterson will be on the spot. That could be asking a lot, considering none has yet to play a meaningful snap.
To continue reading this article you must be an Insider
December, 15, 2011
12/15/11
9:00
AM ET
Oklahoma's offensive line had plenty of great moments during the 2011 season.
The Sooners offense line dominated Kansas State while gaining 690 total yards in a 58-17 win and they methodically dismantled Iowa State, gaining 253 rushing yards and 256 passing yards, in a 26-6 win over the Cyclones.
OU ranked among the nation's best in sacks allowed (sixth at 0.75 per game) and tackles for loss allowed (11th at 4.33 per game).
At other times, they struggled mightily in short yardage and red zone situations. And against Oklahoma State, in a game that was essentially the Big 12 championship game, they had difficultly handling the Cowboys blitzing pressure which completely knocked
Landry Jones
out of rhythm.
[+] Enlarge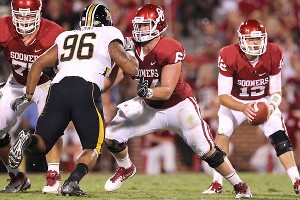 Matthew Emmons/US PresswireOklahoma guard Gabe Ikard (center) had a stellar season at center and guard.
And they deserve a large share of the blame for the Sooners' red zone struggles early in the year.
Here's a position-by-position breakdown of the Sooners offensive line in 2011.
Center
Junior Ben Habern was solid until a broken forearm forced him to miss five games in the middle of the season. A preseason All-Big 12 selection, Habern's assignment sound play was anchor of the line before the injury.
Guard Gabe Ikard replaced Habern at the center position and made a seamless transition as the change was barely noticeable. Ikard, a former high school tight end, earned All-Big 12 honors for his play as a sophomore.
Guard
Ikard started three games at guard then returned to the guard spot after Habern's return against Texas A&M. He moved back and forth between guard and center, showing the versatility and intelligence to be an anchor of OU's offensive line for the next two seasons.
Redshirt freshman Adam Shead's emergence was a clear positive of the injury to Habern. When Ikard moved over to center, Shead seized the opportunity and proved himself to be a quality run blocker. He was a key to the Sooners success with the
Blake Bell
-focused "Belldozer" package.
Senior Stephen Good rotated with Ikard and Shead at left guard. He battled various injuries and held his own for the most part, although Ikard and Shead proved to be better options.
Junior Tyler Evans quietly had a solid season at right guard. The Sooners rotate their guards and Evans stayed in the rotation for the entire season and performed well. He earned honorable mention All-Big 12 honors.
Tackle
Senior Donald Stephenson was a solid anchor at left tackle. He was a big reason why the Sooners allowed just nine sacks this season. He earned honorable mention All-Big 12 honors.
Right tackle was a different story. Daryl Williams, a redshirt freshman, opened the season as the starter before an ankle injury forced him to missed multiple games. It will be interesting to see what he can do if he's completely healthy.
Junior Lane Johnson stepped into his spot and seized the starting role but never became the anchor on the right side to match Stephenson on the left. Johnson has the talent but is relatively new to playing offensive line after bouncing around from tight end and defensive end. A strong, productive spring will be key for Johnson.
Senior Jarvis Jones was also in the mix at tackle and guard but never made a big impact in his final season in Norman.
Overall
OU ranked No 4 nationally in total offense at 532.08 yards per game and that doesn't happen without a quality offensive line but without a doubt they could be more physical up front, more assignment sound and consistent.
The Sooners front five had their struggles in 2011 but that doesn't change the elite production of the offense which doesn't happen without a strong, productive offensive line.
To continue reading this article you must be an Insider
December, 14, 2011
12/14/11
9:30
AM ET
Going into the season, Oklahoma's wide receivers were widely regarded as one of the best units in the country.
Perhaps,
the best.
The receivers certainly lived up to that billing early, as back-to-back fourth quarter grabs by
Ryan Broyles
and
Kenny Stills
propelled the Sooners to a 23-13 win at Florida State.
But after Broyles suffered a season-ending knee injury, the wide receivers morphed into a rather ordinary group.
Broyles capped his career in Norman with another fabulous season, breaking the FBS record for career receptions while moving up to second in career receiving yardage. He also had 13 or more receptions in four of his first eight games. But Broyles' true value wouldn't be completely known until he went down with a torn ACL against Texas A&M with three games to go. Without Broyles, the offense –- and the receivers as a whole –- began to fall apart, scoring 38, 26 and then 10 points.
Stills had his moments this season, notably the game-winning snag in Tallahassee. But he actually finished with fewer catches as a sophomore than he did during his record-breaking freshman season. Stills, who missed two of OU's first three games (suspension, concussion), was slowed by a preseason hamstring injury, which quietly hampered him throughout the year. As a result, Stills was unable to fill the role of No. 1 receiver after Broyles went down.
Third receiver
Jaz Reynolds
had his moments, too, including a trio of spectacular catches at Kansas State. But he too proved to be a non-factor down the stretch, getting suspended against Iowa State before suffering a kidney injury during the first half at Oklahoma State. Reynolds has been hospitalized ever since, placing his football future in limbo.
At tight end, seniors
James Hanna
and
Trent Ratterree
never became integral parts of the passing game, and
Austin Haywood
left the team midseason. If Haywood fails to work his way back onto the team, the Sooners could be without a single returning scholarship tight end next season.
The rest of the receivers were too inconsistent, as
Trey Franks
,
Kameel Jackson
and
Dejuan Miller
were shuffled in and out of the lineup. Based on how many wideouts the Sooners are recruiting, it's clear the coaching staff believes an infusion of talent is needed. Who would have guessed that before the season?
To continue reading this article you must be an Insider
December, 13, 2011
12/13/11
7:30
AM ET
Deep and talented.
Those two words perfectly describe Oklahoma's running back corps at the beginning of preseason camp.
[+] Enlarge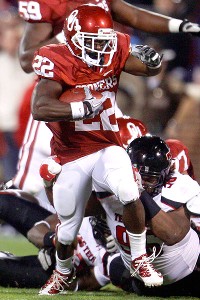 AP Photo/Sue OgrockiRunning back Roy Finch rushed for 601 yards and three touchdowns this season.
True enough, the Sooners had to replace DeMarco Murray -- one of the most versatile and explosive runners in school history -- but OU had several talented youngsters on campus who appeared ready to fill the void, including preseason All-Big 12 selection
Roy Finch
and
Brennan Clay
.
Junior
Jermie Calhoun
was a highly regarded prospect, sophomore Jonathan Miller was battling for carries and junior
Dominique Whaley
was quietly making a statement on the practice field to make running back one of the team's deepest positions on the roster. And incoming freshman
Brandon Williams
was one of the top running back signees in the nation.
What a difference three months can make.
Heading into the Insight Bowl on Dec. 29, Finch and Clay will have to carry the load against Iowa with Calhoun and Miller electing to transfer in September and Whaley and Williams out for the bowl game due to injury.
While the Sooners did not have a 1,000-yard rusher and appeared to miss Murray badly, OU averaged more yards per carry this season (4.64 yards per carry) than in 2010 (3.36 ypc). And the Sooners leading rushers, Whaley (627 rushing yards) and Finch (601 rushing yards) each averaged more than five yards per carry.
Replacing Murray's production wasn't easy, but Oklahoma found a way by using multiple backs.
Whaley was the surprise of the season with 113 carries for 627 yards and nine touchdowns. The walk-on was on pace for a 1,000-yard season before a broken ankle ended his breakout campaign against Kansas State. His loss was critical because he combined excellent running skills with assignment-sound pass protection as the Sooners' most complete running back, thus allowing the coaches to keep him on the field in various situations.
Few roller coaster rides could match the peaks and valleys of Finch's season. The sophomore showed flashes of the explosiveness and talent which makes Sooner fans hold their breath with anticipation when he touches the ball. But he also struggled in pass protection at times and the Sooners' experimentation of Finch at slot receiver was unsuccessful.
Clay went from opening day starter to afterthought, thanks in large part to another injury-filled season. Various injuries limited Clay's impact on the offense after he had proven to be a solid red zone runner and pass catcher out of the backfield early in the year. He had 41 carries in September and 25 carries during the final two months of the season.
Whaley, Finch and Clay were the only Sooners who had more than 50 carries this season but freshman Brandon Williams showed flashes of his ability in limited action. He averaged six carries per game in OU's final eight games to finish with 219 rushing yards and 4.76 yards per carry.
As productive as the Sooners running backs were in 2011, OU's backfield seemed unsettled throughout much of the year. Whaley carried the load at times, Finch shouldered the burden after Whaley's injury and Williams flashed game-breaking ability during his limited time.
This season, the coaches consistently referred to the situation as running back-by-committee, especially after Whaley's injury. If any running back on campus wants that to change, clearly they're going to have to prove to be complete running backs in practice first, then on game day. Otherwise, expect OU to continue to use multiple running backs in 2012.
To continue reading this article you must be an Insider
December, 12, 2011
12/12/11
9:00
AM ET
In 2010,
Landry Jones
saved his best quarterbacking for the end of the season.
In 2011, not so much.
In one of the worst performance in his three seasons as a starter, Jones committed four turnovers, including two fumbles that both led to Oklahoma State touchdowns, igniting the Cowboys' 44-10 rout in a game that decided the Big 12 champion.
[+] Enlarge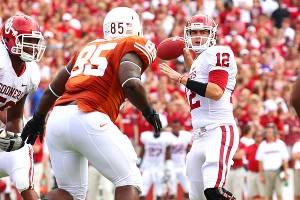 Matthew Emmons/US PresswireLandry Jones has thrown for 4,302 yards this season with 28 touchdowns and 14 interceptions.
"You can't put it on anyone but me," Jones said afterward. "I singlehandedly lost this game for us. That's just the way it is. Coach put the ball in my hands to win the game, and I lost it for us."
This proved to be a season divided for Jones, who entered October a Heisman frontrunner and the No. 2 quarterback on most NFL Draft boards after Stanford's
Andrew Luck
.
In nine games with FBS career receptions leader
Ryan Broyles
in the lineup, Jones owned a 155.14 passer rating. In the three games after Broyles' season-ending knee injury, Jones' passer rating was just 107.68. Going into the bowl season, he now ranks No. 35 nationally with a No. 142.44 passer rating.
"The last few games, you know, without Ryan Broyles, it's been more of a struggle for him," coach Bob Stoops admitted last week.
Jones, however, didn't get much help from his other receivers after Broyles went down. Drops, including six in the first half in Stillwater, plagued the offense, and neither
Kenny Stills
nor
Jaz Reynolds
stepped up to be a No. 1 receiver.
But Jones' footwork and decision-making weren't the best, either. Especially under pressure, raising concerns about whether he even would be a first round pick if he entered the draft.
"That's something we'll discuss here in the next couple of weeks," Stoops said. "You know, there is a lot of legitimacy both ways, what are the opportunities, and we'll see what's best for him."
Even though backup
Blake Bell
shined rushing the ball out of the "Belldozer" package, Jones would remain OU's starting quarterback if he chose to return for his senior season. And in doing that, Jones could recoup any lost draft stock by improving on his footwork and decision-making, while showing he can quarterback at a high level, with or without Ryan Broyles. And, potentially, Jones could end his college career on a much higher note.
But if Jones leaves, the Blake Bell era could be full-steam ahead in Norman.
Bell would first have to beat out
Drew Allen
, who so far has shown to be the better passer. And Bell's skill-set would require significant tinkering to the base offense.
But Bell, who has rushed for 10 touchdowns this season, has proven to be a special talent running the ball and would have to be considered the favorite to take over as Jones' successor.
To continue reading this article you must be an Insider
Will Eagles' Gamble On Bradford Pay Off?
BIG 12 SCOREBOARD
Thursday, 9/3
Friday, 9/4
Saturday, 9/5