February, 6, 2014
Feb 6
5:30
AM ET
The Early Offer is RecruitingNation's regular feature, giving you a daily dose of recruiting in the mornings. Today's offerings: Alabama's 2014 class is special, but is it the best class ever? Who were my biggest winners Wednesday, and what can we look forward to with the class of 2015?
Special class for Bama
To continue reading this article you must be an Insider
February, 4, 2014
Feb 4
5:30
AM ET
The Early Offer is RecruitingNation's regular feature, giving you a daily dose of recruiting in the mornings. Today's offerings: Duke is quietly putting together a solid 2014 class, which got a whole lot better Monday after landing a pledge from an ESPN 300 receiver; Oklahoma commit
Joe Mixon
has long been the center of rumors about how solid his commitment is, and an unofficial visit to UCLA this weekend only fanned those flames even more.
Blue Devils score ESPN 300 WR
To continue reading this article you must be an Insider
January, 13, 2014
Jan 13
10:30
AM ET
By
Brett Perrotta, ESPN Stats & Info
| ESPN.com
With the door closed on the 16-year reign of the BCS, we dove into the 72 BCS bowl games to find the 10 most memorable moments of the BCS era.
10. Utah's hook-and-ladder:
The first team ever dubbed a "BCS Buster" was the Urban Meyer-coached and
Alex Smith
-led Utah Utes in 2004. In the 2005 Fiesta Bowl, Utah led Pittsburgh 28-7 late in the third quarter and lined up at the Panthers' 18-yard line. Smith swung it left to Steven Savoy, who lateraled to
Paris Warren
, who ran it in for the score as the Utes completed a 12-0 season.
9. Peerless Price down the sideline:
Tennessee led Florida State 14-9 with 9:29 remaining in the fourth quarter in the 1999 Fiesta Bowl with the first BCS Championship on the line. UT quarterback
Tee Martin
found Price down the right sideline, and Price took it the distance for a 79-yard score. Price had 199 receiving yards for the winning Vols, the most ever in the BCS title game.
8. Ginn's costly return:
Ohio State received the opening kickoff from Florida in the 2007 BCS Championship game, and
Ted Ginn
Jr. wasted no time in getting the game's first score on a 93-yard return. What will always be remembered, however, is that Ginn suffered a foot injury on the ensuing celebration and was out for the rest of the Buckeyes' 41-14 loss.
7. Warrick's juggling score:
Though the championship of the 1999 season was marked by Virginia Tech freshman QB
Michael Vick
, it was Florida State's
Peter Warrick
who was named the most outstanding player. He had a punt return for a touchdown in the second quarter, and his juggling catch on a 43-yard score midway through the fourth served as the dagger.
6. Vince Young, Part I:
Facing Michigan in the 2005 Rose Bowl, Young was responsible for all five Texas touchdowns in a 38-37 win. Though he had runs of 60, 23 and 20 yards, the most impressive was a 10-yard run in which Young escaped the tackle of Michigan lineman Pat Massey before scampering to the right pylon.
5. Dyer isn't down:
Tied at 19 with Oregon with just more than two minutes remaining in the 2011 BCS Championship Game, Auburn running back
Michael Dyer
appeared to be tackled for a short gain at the Auburn 45-yard line. Having rolled over the defender, Dyer was never ruled down, and ended up gaining 37 yards on the play before he was taken down at the Oregon 23-yard line. Auburn would win on a field goal as time expired.
[+] Enlarge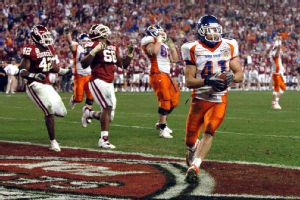 Steve Grayson/WireImageIan Johnson's two-point conversion run in overtime propelled Boise State over heavily-favored Oklahoma in the 2007 Fiesta Bowl.
4. Winston to Benjamin:
Trailing Auburn 31-27 in the final BCS Championship Game, Heisman Trophy winner
Jameis Winston
drove the Noles 78 yards in less than a minute to the Auburn 2-yard line. Receiving the snap with 17 seconds left in a wild fourth quarter, Winston threw a perfect pass to
Kelvin Benjamin
, who brought it down for the game-winning score to complete an undefeated season.
3. Was it pass interference?
Some will remember Maurice Clarett's game-saving strip of
Sean Taylor
, but the lasting legacy of the game is the dubious pass interference call in overtime. Miami led 24-17 and Ohio State faced fourth-and-3 from the 5-yard line.
Glenn Sharpe
was called for pass interference, giving the Buckeyes new life in a game they would win 31-24.
2. Boise State's trick plays:
In the 2007 Fiesta Bowl, Boise State trailed heavily favored Oklahoma 35-28 with 18 seconds left and facing fourth-and-18 from the 50-yard line. Jared Zabransky completed a pass to Drisan James just short of the first down, but he lateraled it to Jerard Rabb, who took it the rest of the way for the tying touchdown. In overtime, down 42-35 on fourth down, wide receiver Vinny Perretta completed a 3-yard pass to
Derek Schouman
for a touchdown. Chris Petersen elected to go for two, and Zabransky faked a throw to his right before handing it behind his back to Ian Johnson on the Statue of Liberty play for the winning two-point conversion. Johnson would propose to his girlfriend, a Boise State cheerleader, on the sideline after the game.
1. Vince Young, Part II:
After a Longhorns touchdown and key fourth-down stop, undefeated Texas trailed undefeated USC 38-33 with 26 seconds remaining and faced fourth-and-5 from the 9-yard line, with the 2005 BCS championship on the line. Vince Young dropped back to pass but saw nobody open, and immediately sprinted for the right pylon for the title-winning score in the marquee game of the BCS era.
November, 7, 2013
11/07/13
4:30
PM ET
By
ESPN.com staff
| ESPN.com
Oregon-Stanford. Oklahoma-Baylor. Four top-10 teams. Conference and BCS implications galore.
It's almost certainly the biggest non-Thanksgiving Thursday in college football regular-season history and we know many of you will be working the remote and following social media during this titanic night. Keep Thursday Title Talk Live open throughout the evening – starting at 7:30 p.m. ET -- and we'll bring you real-time reaction and analysis from ESPN's stable of reporters, analysts and experts.
October, 6, 2013
10/06/13
9:35
PM ET
A bye week allowed ESPN 300 defensive end
Solomon Thomas
(Coppell, Texas/Coppell) to take a road trip to the West Coast.
To continue reading this article you must be an Insider
September, 28, 2013
9/28/13
2:30
PM ET
By
ESPN.com staff
| ESPN.com
A top-10 SEC showdown between the hedges? Two of the winningest programs of all-time battling in South Bend?
We'll be watching these games and many more on Saturday afternoon and we'd like you to join in on the conversation. Head on over to
Campus Connection
at 3:30 ET and follow the action along with eight of our reporters. Post your comments and questions and we'll include as many of them as possible.
August, 16, 2013
8/16/13
12:45
PM ET
By
ESPN.com staff
| ESPN.com
The
All-American wealth
has spread across the land. The Pac-12 leads the conferences with seven, one more than the SEC. Dual-threat QB
Marcus Mariota
and RB
Lache Seastrunk
both originally signed with Oregon. Now that Seastrunk plays for Baylor, he and Mariota no longer have to share a backfield. Seastrunk and G
Cyril Richardson
make the Bears the only team with two on offense. Richardson is surely the first All-American named Cyril, but Lache is not the first body of water to make it. He joins 1939 Heisman winner Nile Kinnick.
Alabama has won three of the past four BCS titles with defense and placed LB
C.J. Mosley
and S
Ha Ha Clinton-Dix
on this team. Alabama and Oregon lead with three players apiece on the list. That's one more than the Big Ten and two more than the ACC and Conference USA. -- Ivan Maisel
View ESPN.com's 2013 Preseason All-America team here
.
August, 14, 2013
8/14/13
2:00
PM ET
By
ESPN.com staff
| ESPN.com
This is the last year of the BCS, and our writers look at its impact on college football:
From Ivan Maisel
: The BCS has moved NCAA football forward in a way no system before it could and given it a national stage, but along with exposure comes greater pressure and expectations, which in the end the series couldn't overcome.
From Mark Schlabach
: As we prepare for the final season of the BCS, let's take a look back at its highs and lows.
From Brian Bennett
: Five of the last seven national champions have had at least one loss, and with a playoff looming, going undefeated will be harder than ever.
April, 14, 2013
4/14/13
12:00
PM ET
With his commitment to Stanford Saturday afternoon, ESPN Watch List safety
Brandon Simmons
(Arlington, Texas/Mansfield Timberview) had Oklahoma fans asking one question: Will he still visit Norman, Okla.?
Simmons had a five-school tour planned from Thursday through Tuesday, and Oklahoma was the last stop on the itinerary. After committing to Stanford on his visit, Simmons said plans for the immediate future have changed.
"I don't think I'll be taking that visit now," Simmons said. "I found everything I wanted [in Stanford]."
To continue reading this article you must be an Insider
February, 6, 2012
2/06/12
3:25
PM ET
By
SoonerNation Staff
| ESPN.com
ESPN The Magazine and RecruitingNation compiled the past five years (2007-11) of ESPNU 150 rankings and then crowned college football's
top 10 recruiting programs
.

Here's how they did it:
Our methodology was simple: We re-tallied the scores following signing day and ranked the schools based on total number of ESPNU 150 recruits (there have been 900) hauled in over the last six years. Of course, like success on the field, recruiting is cyclical -- and fans of programs both on and off this list might look back on Feb. 1, 2012 as the day their team began its rise (or fall) on the trail.
Here's the top-10:
1. Florida
2. Texas
3. USC
4. Alabama
5. Florida State
6. Notre Dame
T-7. Georgia
T-7: LSU
9. Miami
T-10. Ohio State
T-10. Oklahoma
Here's what it says about Oklahoma:
Top states: Texas (14), Oklahoma (seven)
Surprise state: California (three)
Oklahoma continues to reel in the relatively small amount of ESPNU 150 talent produced in the Sooner State, signing its top two 2012 recruits: WR Sterling Shepard (Oklahoma City) and RB Alex Ross (Jenks). That puts the Sooners at 7-for-13 since 2007. Bob Stoops also went into Florida (No. 2 OC Ty Darlington of Apopka) and Missouri (WR Durron Neal of St. Louis) for the first time in the past six years.
January, 30, 2012
1/30/12
11:55
AM ET
ESPNU's national signing day coverage kicks off at 9 a.m. ET. Here's the list of the announcements and time for some of the top prospects.

NOTE: Bold names are announcements, all others are interviews.


October, 12, 2011
10/12/11
10:26
AM ET
We've looked back at the Big 12 this week with an
overview of the conference
and
each team
.
[+] Enlarge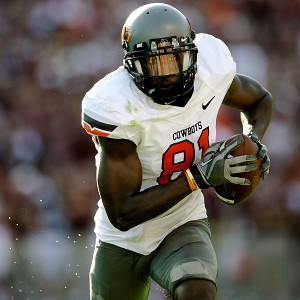 Brett Davis/US PRESSWIREWhen Oklahoma State wide receiver Justin Blackmon and the Cowboys meet rival Oklahoma on Dec. 3, the nation will be watching a default Big 12 title game.
What can we expect moving forward?
Bold prediction: The Big 12 championship game returns.
Well, not exactly. But pretty much. It might as well be back. On Dec. 3 in Stillwater, Okla., Oklahoma State and Oklahoma, the nation's No. 2 and No. 3 teams (behind No. 1 Alabama) right now, play for a gigantic barrel of marbles.
They will also play for a Big 12 title and a spot in the national championship game. The Big 12 championship might not explicitly exist, and it might not be played in Cowboys Stadium, but this will be just as good. Two of the league's best offenses going head to head in a renewal of one of the best games of the 2010 season, when the Big 12 South was on the line. This will be a classic, and one of the best games in Big 12 history.
Who wins? (Who always wins?)
What I'm looking forward to: The Big 12 sorting itself out.
I mean this both on and off the field. There's an inherent excitement in bringing new members into the league, and TCU is already on the list. Could BYU, Louisville, West Virginia or others be next? And what about Missouri? You'd have to think by season's end we'll know who's in and who's out with the Big 12. I'll be happy when it's over.
With that, I also want to know more about these teams. Just how good is Kansas State? How far can it carry this run without a loss? Will Texas Tech bully its way into the Big 12 title race with some late-season wins? Is Missouri actually underrated, or is this a 6- to 8-win down season in Columbia? How far back from 5-7 is Texas? Can Texas A&M get some help from above the standings and re-enter the Big 12 title picture? And what about Baylor? Can the Bears grab more than a bowl bid this season? We'll know before too long.
Top Impactful Games:
Here are the dates you should look forward to most.
1. Oklahoma at Oklahoma State, Dec. 3:
To borrow a phrase, this looks like the Granddaddy of Them All. This could be one of the most epic games in Big 12 history, and if the ball bounces the right way, it might even be a matchup of No. 1 versus No. 2 on the final weekend of the season. Unbelievable. And between two of the most fun teams to watch in the country. This will be must-see TV.
2. Texas A&M at Oklahoma, Nov. 5:
This is the best opportunity for someone to muck up that dream game and change the face of the Big 12 title race. If Texas A&M wins this and doesn't lose beforehand, it likely vaults the Aggies back into the top 10, and might make season-ending Bedlam a different exercise than last year. Texas A&M had almost no chance to slip in the Big 12 title game despite sharing a division title, but if the Aggies win this one, an Oklahoma win in Bedlam might give A&M its first Big 12 title since 1998 in its last year inside the league.
3. Texas at Texas A&M, Nov. 24:
The bad blood will be flowing in this one. The hatred in this rivalry helped fuel Texas A&M's decision to leave for the SEC, and it could be the last time we see this rivalry for a long while. Texas will likely be the underdog, but we all remember
what happened the last time Texas came into a hugely meaningful game off the field
as big underdogs ...
Spring Game Wrap-Up
BIG 12 SCOREBOARD
Saturday, 8/30
Sunday, 8/31