Oklahoma Sooners:

Duke Blue Devils
April, 29, 2014
4/29/14
9:00
AM ET
Florida has Florida State. Georgia has Georgia Tech. Kentucky has Louisville. And, of course, South Carolina has Clemson.
When it comes to the
new SEC scheduling format starting in 2016
, those four schools are already on board. Their annual rivalry games fulfill the league's forthcoming requirement for a yearly nonconference game against an ACC, Big 12, Big Ten or Pac-12 school.
But for the rest of the teams around the league, there's a void.
Sure, they can go year to year and rotate in nonconference opponents. But where's the fun in that? Let's create some new rivalries, and in the case of some programs, reignite old ones.
[+] Enlarge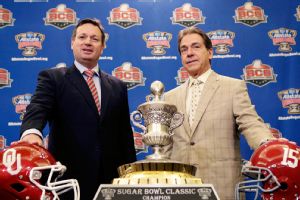 AP Photo/Gerald HerbertThe spectacular salaries of college football coaches such as Bob Stoops, left, and Nick Saban are generated mostly by the labor of unpaid workers.
Alabama-Oklahoma:
If FSU wasn't already taken, the Noles would have been a perfect fit. The physical and philosophical proximity between programs is obvious. But looking elsewhere, Oklahoma might be a fun matchup. The Sugar Bowl has already created tons of tension on both sides with
Sooners coaches delighting in calling out Nick Saban
and the SEC.
Arkansas-Baylor:
Call it a throwback to the old Southwest Conference. Arkansas, which didn't join the SEC until 1992, has played more games against Baylor (69) than any school in its current conference. On top of that, the differences between Bret Bielema's physical style and Art Briles' free-flowing offensive scheme would be a joy to watch.
Auburn-Oregon:
Recent history and playing styles dictates this matchup. Not only do we get a rematch of the 2010 BCS National Championship Game, but it pits offenses that live to go fast. Maybe it could be a two-hand touch game in which whoever reaches 100 points first wins.
LSU-Notre Dame:
We couldn't make a list of nonconference matchups and leave Notre Dame off, could we? Pitting the Golden Domers against an SEC program would be appointment viewing. Make that program LSU and the opposing coach Les Miles, and television networks will scratch each other's eyes out to get the game.
Mississippi State-Texas Tech:
The Bulldogs have shied away from high profile nonconference games in the past, loading up on the likes of Memphis, UAB and South Alabama. Well, it's time to infuse a little spice into the schedule. Kliff Kingsbury is too cool to keep out of the SEC. His Red Raiders would be a good matchup with Mississippi State, which faced Texas Tech seven times from 1953-70.
Missouri-Kansas:
Does this one really need to be explained? The Border War should have never gone away in the first place. Now is the perfect opportunity to save face and bring back a rivalry that goes all the way back to 1891.
Ole Miss-Miami:
We've got to get 'The U' involved. Miami and Ole Miss have already played a few times in their history, with the Rebs holding a 2-1 series lead. But bigger than that, it would get the SEC back into South Florida on a permanent basis because
Miami and Florida don't have the common sense to do that
already.
Tennessee-North Carolina:
Even if most people don't remember it, there's history there. Tennessee and UNC have played 29 times, with the Vols holding a 20-8-1 advantage. Plus, even if your memory is short, you should recall the double overtime
Music City Bowl from 2010
between the schools. If they can re-create that just once, it would make the rivalry worth it.
Texas A&M-Texas:
See Missouri-Kansas. Don't let conference affiliations ruin great rivalries. Texas A&M-Texas should have never been shelved in the first place. And while the
UT administration
might not see a reason to bring it back -- nor
Texas A&M's leadership,
for that matter -- surely both fan bases do.
Vanderbilt-Duke:
Call it a private school showdown. The proximity is reasonable, the fan bases similar, and the rivalry could easily extend to the hard court. Plus, have you seen Derek Mason's nonconference schedule this year? It needs help.
February, 4, 2014
2/04/14
5:30
AM ET
The Early Offer is RecruitingNation's regular feature, giving you a daily dose of recruiting in the mornings. Today's offerings: Duke is quietly putting together a solid 2014 class, which got a whole lot better Monday after landing a pledge from an ESPN 300 receiver; Oklahoma commit
Joe Mixon
has long been the center of rumors about how solid his commitment is, and an unofficial visit to UCLA this weekend only fanned those flames even more.
Blue Devils score ESPN 300 WR
February, 25, 2013
2/25/13
5:57
PM ET
Forgive offensive tackle
Jordan Sims
(Homewood, Ala./Homewood) if he seems rather stunned. He has had a busy afternoon. After returning from Auburn on Saturday -- where he picked up an offer from the Tigers -- he received a couple messages to call various coaches after school. Sims did so, and now his offer list has grown yet again.
To continue reading this article you must be an Insider
September, 14, 2012
9/14/12
8:00
AM ET
By
Bob Przbylo
| ESPN Insider
It has been evident for a while that offensive tackle is one of Oklahoma's major needs for the 2013 recruiting class. Entering the season, though, it looked like OU had two commits in Tulsa (Okla.) Union's
Dalton Rodriguez
and San Antonio Regan's
Matt Beyer
.
But it's possible the Sooners don't have any commits at the spot. Beyer, a four-star prospect, said earlier this week
he has to give up football because of a neck injury
.
Rodriguez, a three-star prospect, has not played offensive tackle in high school. If he cannot put on the weight needed to be a tackle, he will most likely stay at his more natural defensive end position in college.
OU is looking for at least three offensive linemen in this class. Where are the Sooners going to find that help? Here is a look at the prospects who have had the most recent contact with the OU coaching staff:
Caleb Benenoch (Katy, Texas/Seven Lakes, 6-foot-6, 321 pounds, No. 19 OG, Uncommitted)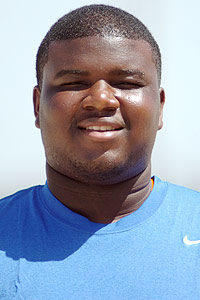 Max Olson/ESPN.comCaleb Benenoch will take an official visit to Oklahoma next weekend.
Why OU is in the mix
: Because ever since Benenoch decommitted from Michigan State, it has felt like a two-horse race between OU and Texas.
Texas A&M made a strong impression on Benenoch following his visit last weekend, his brother plays at Baylor and he is \ intrigued by what UCLA has to offer after the Bruins' recent interest.
OU offensive guards coach James Patton has made a strong connection with Benenoch throughout the summer, and Benenoch is going to be one of many top-ranked recruits taking his official visit to OU next weekend for the showdown against Kansas State.
Why OU is out:
Benenoch is not bashful about saying he grew up a huge Longhorns fan. And no matter how good of an impression some of the other schools make, it's going to be tough to top Texas in this pursuit.
Rob Boyd (Vian, Okla./Vian, 6-4, 285, No. 39 OG, Committed to Tulsa)
Why OU is in the mix:
Because if history has taught us one thing, it's that the Sooners can come in as late as they want to and snatch up a top in-state prospect.
OU can show minimal interest initially, but once it decides to get in the race, the Sooners are usually successful.
Boyd has admitted to wanting to play for the Sooners and is the best offensive lineman prospect in the state.
Why OU is out:
Boyd has remained adamant that he is a man of his word. He has committed to Tulsa, and he is done with the process. There is no way to guess how things will go if OU makes the offer, but the first part of that statement has to happen. The Sooners have still not offered Boyd.
Aaron Cochran (Atwater, Calif./Buhach, 6-8, 364, No. 24 OT, Uncommitted)
Why OU is in the mix:
The Sooners offered Cochran in May. Though not much was reported during the summer, he and tackles coach Bruce Kittle kept in steady contact.
It has been that relationship that has helped the Sooners not only stay in the race but also made them a legitimate candidate in trying to land Cochran.
He is hoping to make an official visit to OU sometime this fall and is eyeing Nov. 9 as his target date. The Sooners host Baylor that weekend.
Why OU is out:
Could the Sooners really steal a quality West Coast prospect like this? Especially one who has an older brother that plays for California? Cochran said distance is not a concern at all for him, but what happens if it comes down to UCLA, Cal and OU?
Sean Dowling (Fallbrook, Calif./Union, 6-6, 260, No. 58 OT, Committed to UCLA)
Why OU is in the mix:
Dowling has been pretty honest about how much he enjoys talking with Kittle. The encouraging part is most of it doesn't have to do with football.
Dowling has been so intrigued about Kittle's life experiences that he said he has felt a different type of bond with Kittle than some of the other coaches.
He promised OU that his first official visit would be with the Sooners. He has kept his word and will be in Norman on Oct. 19, the weekend of the Kansas game.
Why OU is out:
Because the Bruins haven't done anything to make Dowling look elsewhere. Dowling was among several UCLA commits that took a lot of pride in the victory against Nebraska last weekend. It appears he likes OU but it also appears that he hasn't soured on UCLA either.
Sterling Korona (San Antonio/Reagan, 6-7, 260, No. 69 OT, Committed to Duke)
Why OU is in the mix:
With all the time the OU staff spent getting to know Beyer, they didn't forget about his teammate. Kittle started to increase his interest in the summer and has already contacted Korona in the last two weeks.
No offer has officially been made, but the Sooners would be in the mix if one is extended.
Why OU is out:
Because the offer isn't there and Korona is firmly committed to Duke. He is taking an official visit to see the Blue Devils this weekend, which could reaffirm his commitment to Duke or make him start to think about looking elsewhere. That question can't be answered yet.
Kenny Lacy (Phoenix/Mountain Pointe, 6-5, 260, No. 42 OT, Committed to UCLA)
Why OU is in the mix:
The relationship between the OU coaches and Lacy goes back a while, especially with Mike Stoops and Tim Kish back when they were at Arizona.
This spring, Lacy got comfortable with James Patton and Bruce Kittle so he has a good feel about the OU coaching staff and likes what he has heard and talked about with them.
Despite his recent commitment to the Bruins, he said he is still going to take his official visit to OU for Bedlam weekend. The Sooners visit is the last of his five officials and will give OU a chance at a great last impression.
Why OU is out:
Nobody thought Lacy was going to make his commitment before taking all five of his official visits. The atmosphere and the coaching staff at UCLA must have been something special for him to make that call less than 48 hours after the visit.
Christian Morris (Memphis, Tenn./East, 6-6, 293, No. 74 OT, Committed to UCLA)
To continue reading this article you must be an Insider
August, 27, 2012
8/27/12
9:26
PM ET
By
RecruitingNation
| ESPN Insider
Power forward
Julius Randle
(Prestonwood Christian), ESPN's No. 3 ranked player, has narrowed his choices to 10 schools. The Dallas native Tweeted out his list on Monday and the news has been confirmed by mulitiple sources.
To continue reading this article you must be an Insider
August, 17, 2012
8/17/12
12:50
PM ET
Four-star defensive lineman De'Asian Richardson (Orange Park, Fla./Orange Park) will make a verbal commitment this weekend, Orange Park assistant coach Ryan Wolfe said.
The 6-foot-3, 280-pound senior will choose between West Virginia, Oklahoma, Tennessee, Mississippi State and Missouri.
"He's probably going to make the decision sometime Sunday and we might wait until Monday morning to call the school and announce it at that time," said Wolfe.
To continue reading this article you must be an Insider
March, 18, 2012
3/18/12
5:22
PM ET
At 6-foot-10 and 280 pounds,
Dan Skipper
(Arvada, Colo./Ralston Valley) is a wanted individual. His size and length alone make him an intriguing candidate for a BCS offensive tackle.
Skipper currently holds nine offers and is receiving interest from several other high-major programs. Colorado was his first offer picked up the beginning of February. Since then, he has received offers from Colorado State, Vanderbilt, Duke, Arizona State, Utah, Oregon State, Wyoming and Missouri.
"This is definitely different from what I'm used to. It's very exciting," Skipper said of the extra attention via the recruiting process. "Everything kind of hits at once, and it's different from anything I've ever done. It's just great knowing that my parents won't have to pay for college."
To continue reading this article you must be an Insider
March, 15, 2012
3/15/12
4:30
PM ET
Defensive back
Erik Huhn
(Cibolo, Texas/Steele) is up to seven offers, and there's a possibility two of the nation's biggest rivals could be fighting for him when the proverbial dust settles.
Huhn has an offer from Oklahoma, but Texas is showing heavy interest. The 6-foot-3, 205-pound safety also has offers from Baylor, TCU, Texas Tech, Houston, UTSA and Duke.
Huhn has been to both Texas and Oklahoma's junior days, as well as junior days for Baylor and TCU. While he has stressed that he is wide open, Huhn said he has a lot of interest in both the Longhorns and the Sooners.
To continue reading this article you must be an Insider
Big 12 2015 Recruiting Overview
BIG 12 SCOREBOARD
Thursday, 9/3
Friday, 9/4
Saturday, 9/5