Nebraska Cornhuskers:

Zach Zenner
September, 22, 2013
9/22/13
10:00
AM ET
LINCOLN, Neb. -- South Dakota State scared Nebraska early, but the Huskers dominated over the final three quarters in a 59-20 win on Saturday at Memorial Stadium. What we learned from Nebraska's third victory of the year:

The Huskers have three solid quarterbacks
: OK, maybe they're not a threat to
Taylor Martinez
's position atop the depth chart, but
Tommy Armstrong Jr.
and
Ron Kellogg III
provide Nebraska depth at the position like it has not enjoyed since 2010. Armstrong is the future, and Kellogg is a stabilizing force. They combined on Saturday to complete 20 of 24 passes for 305 passes and two touchdowns without an interception as Martinez sat out with turf toe. Not bad, regardless of the opponent. Coach Bo Pelini said he expects Martinez to return in two weeks against Illinois. His healthy presence is best for the Huskers, but if they need to turn to Armstrong or Kellogg, it's OK.
They're not having fun yet
: Pelini's suggestion last week that the Huskers must to turn football into a fun game again didn't exactly produce the defensive results for which he had hoped. South Dakota State churned out 186 yards in the first quarter, stunning Nebraska with two long touchdown drives. From there, the Blackshirts stiffened, but SDSU still finished with 465 yards, including 202 on 21 carries by running back
Zach Zenner
. Apparently, there's no switch to turn on the fun. And Pelini wasn't in the mood to show his fun side after the game as he discussed the defense. In fact, he was unhappy, calling this performance the worst of the season. That's saying something, in light of the 602 yards surrendered to Wyoming and 38 unanswered points scored by UCLA.
Fan support is not a given
: Nebraska fans are the forgiving types, for sure, evidenced by their ovation for Pelini on Saturday after the events of the past week. But empty seats speak loudly at Memorial Stadium, where the Huskers have sold out 329 consecutive games, dating to 1962. A few hundred seats in the student sections of the southeast corner went unoccupied on Saturday. Maybe the students stayed away because it was South Dakota State -- or maybe because the weather was so nice and they preferred to stay ... inside. Or maybe it had something to do with Pelini's choice words from 2011. Overall, the feeling in Lincoln was a positive one. The Huskers' performance in Big Ten play will shape the mood in the season's second half.
September, 21, 2013
9/21/13
7:00
AM ET
LINCOLN, Neb. -- Nebraska returns to Memorial Stadium Saturday against South Dakota State after a week that likely felt like a month to many of the Cornhuskers. Here's what we'll be watching.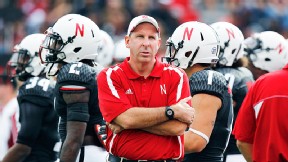 Bruce Thorson/USA TODAY SportsHow will the Cornhuskers and embattled coach Bo Pelini respond after a tumultuous week?
Ready or not
: The past week unfolded like no other in recent history at Nebraska. It began with the attempt to rebound from a deflating loss to UCLA but quickly morphed into a full-blown drama over head coach Bo Pelini's controversial two-year-old comments about Nebraska's fans. Everyone was distracted, but how will the Huskers respond? All of this has the potential to unify the Huskers or splinter them.
Hello, Tommy
: Fourth-year starting quarterback
Taylor Martinez
looks unlikely to play because of a turf toe injury. So if, as expected, redshirt freshman
Tommy Armstrong
gets the call for Nebraska, it marks an exciting moment for the Huskers. Armstrong might well represent the future at this position for the program. This could a preview. The dual-threat Texan has yet to throw a pass at the collegiate level.
Remember the Jackrabbits
: Nebraska is 9-0 against FCS competition, though this game offers more storylines than any of the previous mismatches. South Dakota State pushed Nebraska in a 17-3 Huskers victory in 2010. This SDSU team might be better, led by running back
Zach Zenner
, who tops all players at the FCS and FBS levels in rushing. Strange as it sounds, the Jackrabbits, who will bring a strong contingent of fans to Lincoln, probably care more about their game next week, when they host North Dakota State, the top-ranked FCS team and a Missouri Valley Conference rival.
Are we having fun yet?
: Before Pelini's week descended into a nightmarish scenario, he spent much of his time with the media on Monday talking about how he hoped to inject fun back into the game for his players. They played tight against UCLA, evidenced by the avalanche of mistakes and poor execution after the Bruins began to cut a 18-point deficit. So just how does Pelini achieve his plan now? A few Huskers said it's simply a matter of focus. In that case, this week provides a sizeable test.
The crowd factor
: When Pelini leads the Huskers from the tunnel before kickoff, there's no doubt the vast majority of the 91,000 in attendance will show their support for the coach. It's been a tough week for Pelini, but he's actually emerged from it remarkably well. If the Huskers start slow, though, look out. Patience for the coach and his team might wane quickly -- not so much because of the controversy this week but instead over the frustration that remains from UCLA and other recent disappointing performances.
ESPN Sport Science - Randy Gregory Ruins A Tackling Dummy
BIG TEN SCOREBOARD
Thursday, 9/3
Friday, 9/4
Saturday, 9/5
Sunday, 9/6
Monday, 9/7