Nebraska Cornhuskers:

Trevor Roach
March, 5, 2015
Mar 5
7:00
PM ET
LINCOLN, Neb. – Nebraska's three participants at the recent NFL combine headlined pro day at the school on Thursday as nine former Huskers worked out before representatives from 26 NFL teams.
Randy Gregory
,
Ameer Abdullah
and
Kenny Bell
, as expected, drew the most attention from scouts. In particular, Gregory, who pulled off his T-shirt for position drills to reveal a physique noticeably larger than last fall, attracted a crowd at every turn.
At 6-foot-4½, Gregory added three pounds since the combine last month, weighing in at 238. After a two-year Nebraska career at defensive end, the first-round prospect showcased his skills primarily Thursday at linebacker.
Some former teammates watched in awe as Gregory shined in drills with linebackers
Zaire Anderson
and
Trevor Roach
.
[+] Enlarge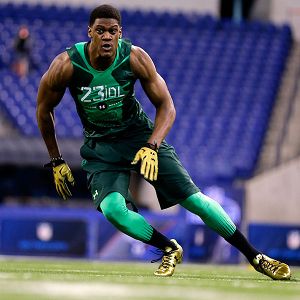 AP Photo/David J. PhillipRandy Gregory, shown at the NFL combine on Feb. 22 in Indianapolis, was watched by several scouts Thursday at Nebraska's pro day.
"He's big-time," safety
Corey Cooper
said. "He's a freak. But it's just Randy. He's a better athlete than everybody on the field."
Gregory has received a lot of attention since his declaration in January to leave Nebraska after his junior season. Some analysts question his ability to hold up physically at the next level, especially in a 4-3 defense similar to what he played in college.
"I'm used to it, being here," Gregory said of the spotlight. "Any athlete at this level, at this point in their life, they've dealt with that. Just knowing me as a player, I think I'm my biggest critic. Nothing that's said in the media or from anybody else hasn't been said in my own mind.
"I know what I need to get better at. I don't need anybody to tell me that. I think I'm doing a good job of self-evaluating."
Gregory did not participate in testing at pro day, He ran the 40-yard dash in 4.62 seconds at the combine.
Abdullah, the second-leading rusher in Nebraska history, appeared to improve upon his combine performance of 4.60 in the 40 with a time, he said, in the 4.4- to- 4.5 range.
He posted 24 bench-press reps at the combine and ranked first among running backs in vertical leap (42 ½ inches), broad jump (130 inches), three-cone drill (6.79 seconds) and 20-yard shuttle (3.95 seconds).
"I'm a competitor, man," Abdullah said Thursday. "I like to just compete. Any time you can get in front of scouts and get in front of the professional eye, you should take advantage of the opportunity. I didn't do everything today, but I felt like I came out here and did what I wanted to show."
Abdullah said he believed he could have "done much better" at the combine.
"I know what kind of athlete I am," he said. "I think I'm the best back in this class."
Abdullah is represented by his brother, Muhammad Abdullah, an attorney who also attended pro day.
Other Nebraska pro day notes:
Nebraska coach Mike Riley attended a portion of the pro day in addition to several other coaches from his new staff and a crowd of current Huskers, who watched from the balcony at the Hawks Championship Center. Former Nebraska assistants Rich Fisher, who coached receivers under Bo Pelini, and Rick Kaczenski, the defensive line coach for the past three seasons, also attended.
Anderson, who led Nebraska with 103 tackles last season, and Cooper said they were motivated after not receiving invitations to the combine. Both defenders said they believed they tested well Thursday before the scouts. Anderson, at 229 pounds, ran a 4.6 40-yard dash, he said, posted 18 reps on the bench press and a 34-inch vertical. Cooper said he ran 4.57 in the 40 with a 34-inch vertical and 21 reps on the bench.
Others at the workout included cornerback Josh Mitchell and offensive linemen Jake Cotton and Mike Moudy.
Bell, Nebraska's all-time leader in receiving yardage and catches, attempted to improve on his 4.42-second combine time in the 40. Bell and Abdullah caught passes from Joe Ganz, who started at quarterback for Nebraska in 2008.
April, 15, 2014
4/15/14
2:30
PM ET
LINCOLN, Neb. -- Spring football is done. It's time to work on the little things, which, for Nebraska, equate to the big things.
Coach Bo Pelini left the Huskers with a message after Nebraska completed 15 practices over the past five weeks.
"The challenge I laid out to this football team is to move forward," Pelini said. "If we don't keep thinking about football, if we don't attack it and we don't keep continuing to work at it, to spend some time away from the facility, put themselves in position to keep learning and build, if we forget about football until August and just worry about the conditioning part of it, it won't happen for this football team."
Pelini's words are as clear as a slap in the face. It's not good enough to remain in good shape during the offseason.
[+] Enlarge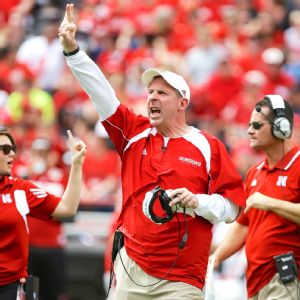 AP Photo/Nati HarnikBo Pelini is looking for team leaders to be serious about offseason workouts.
College players once went above and beyond by staying committed to a training regimen in the summer. Today, that's only half the quest, especially at Nebraska, where mental aspects of the game have appeared, in recent years, to largely prevent a breakthrough back into the nation's elite.
The Huskers struggled again last season in some areas of special teams. Turnovers were costly, too, as Nebraska finished minus-10 in its four losses. It was minus-11 for the season, 117th out of 126 nationally and one of two teams -- Cincinnati was the other -- to place among the bottom 57 while winning more than eight games.
"Everything's out there," Pelini said, "as far as I'm concerned, for this football team to achieve, but it won't happen by chance. It won't happen if we're half in. We've got to have a group of guys who are absolutely all in to get done what we want to get done. I think they understand that."
Pelini delivered his message with notable eloquence. The seventh-year coach, no doubt, has devoted considerable thought to this subject.
He's looking for leaders within the team to repeat his words in May, June and July.
"I'm not worried about that at all," senior receiver
Kenny Bell
said. "We did it this entire winter. The hard work doesn't stop."
Offensively, Bell and classmate I-back
Ameer Abdullah
at I-back, alongside senior linemen
Jake Cotton
and
Mark Pelini
, have formed a strong voice. They're joined by sophomore quarterback
Tommy Armstrong Jr
. in keeping Pelini's message on the minds of the Huskers.
Armstrong, in particular, said he wants to continue to drill the importance of ball security through the offseason.
"I take all responsibility for it," he said.
Armstrong said he believes the turnover problems were responsible for every Nebraska loss last year – a debatable assertion that, nonetheless, marks a step in the quarterback's development as a leader.
"We can win all of our games if we take care of the football," Armstrong said.
Teammates share similar confidence in the ability of Armstrong to lead.
"When you see it day in and day out, a guy putting your team in right positions, you have confidence," junior I-back
Imani Cross
said. "That's something we have in Tommy."
Defensively, leadership remains more uncertain. Senior defensive backs
Josh Mitchell
and
Corey Cooper
are entrenched. Among the front seven, the Huskers look to junior
Randy Gregory
and veteran linebackers
David Santos
,
Zaire Anderson
and
Trevor Roach
.
The defenders hear the same message.
"I think everyone has to come together," Anderson said, "and be committed to the team being able to make strides every day."
It's no easy task, Pelini said. Even this spring, he said, the Nebraska coaches saw various levels of commitment.
"There are some guys taking advantage of their opportunity and some who haven't," Pelini said.
"There are some guys who probably haven't put the necessary time in. Bottom line, when that happens and I put on the film day after day and I see repeat errors, you send a message to us as coaches that it's not important enough to you – either that or you don't show the ability to be able to execute our football."
The majority of the Huskers moved forward this spring, he said. The coach walked away from spring practice with a good feeling about his team and an understanding of areas in which Nebraska must improve.
There's a plan in place, he said.
"Now it's going to be time to go into the next phase and move this football team forward," Pelini said. "This has just begun."
April, 3, 2014
4/03/14
1:00
PM ET
LINCOLN, Neb. -- Let's face it, the
Nebraska
defense played at an average level in 2013.
Early in the season, the Huskers were below average. Remember the 38 consecutive points scored by UCLA and the 465 yards surrendered to South Dakota State? Later, Nebraska rated better than the norm, winning away from home against Michigan, Penn State and Georgia largely on the back of the Blackshirts.
[+] Enlarge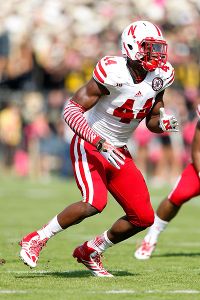 Joe Robbins/Getty ImagesRandy Gregory expects the Nebraska defense to reach new heights this fall.
But in 12 of 15 key defensive categories, Nebraska ranked no higher than third in the Big Ten and no lower than ninth.
So yes, as a whole, the group was average.
All-league defensive end
Randy Gregory
and his teammates want a new label for 2014.
Dominant or suffocating -- either is fine. How about being the strength of coach Bo Pelini's seventh team?
"Definitely," Gregory said. "Let's be physical. We can dominate. If we play our game, we can play with anybody."
The defensive performance and growth this spring appear to substantiate Gregory's claim. This Nebraska defense looks stronger, deeper and more physical than any of the past few seasons.
Pelini's defenses at Nebraska in 2009 and as coordinator in 2003 stand out as the best of the post-championship era in Lincoln. Both units ranked among the top two nationally in scoring and passing yardage allowed. They both featured a play-making All-American among the front seven. And both units surrendered fewer than 300 yards per game. They were the only Nebraska defenses of the past 12 seasons to reach the threshold that was commonly crossed in the 1990s, when the Huskers contended for five national titles, winning three.
"I think we can be a top-10 defense," linebacker
Zaire Anderson
said. "If we keep working and making progress, we can be a great defense."
Why such optimism? Well, first of all, it's spring; positive energy abounds in April. But such talk did not flow from Nebraska camp a year ago as the Huskers attempted to replace several key pieces.
"They learned a lot last year," linebacker
Trevor Roach
said.
Through the growing pains emerged a mix of experience and athleticism from front to back. Much like its dynamic mixture at I-back on the offensive side, the Huskers did not necessarily concoct the diversity of this defensive lineup.
It just kind of happened, with Gregory, an All-America candidate in his second season at Nebraska, anchoring a front four that has turned the heads of many observers this spring. At linebacker, seniors Anderson and Roach and junior
David Santos
have grown into the elders, but youth still rules.
In the secondary, where the Huskers need it most, cornerback
Josh Mitchell
is the vocal leader of the entire defense. And perhaps more than anywhere else on the field, the maturity of young safeties
LeRoy Alexander
and
Nathan Gerry
-- in the absence of injured veteran
Corey Cooper
-- has rated as a key surprise.
At all three levels, positive storylines have emerged this spring.
The evidence of defensive chemistry was on display Wednesday in Nebraska's 10th practice of the spring.
Late in the workout in a sequence between the top offense and the Blackshirts, defensive tackle
Vincent Valentine
, Anderson and Gregory pressured quarterback
Tommy Armstrong Jr.
on three consecutive plays, the last of which resulted in a Gerry interception that had the whole defense abuzz.
"As much as I've seen, I know we've got a lot of upside right now," said cornerback
Jonathan Rose
, who is competing with newcomer
Byerson Cockrell
for a top job opposite Mitchell. "We've got a lot to prove. It's like a whole 'nother defense coming out this year."
Gregory said he liked what he saw, too, on Wednesday, but the junior warned that a few practices in the spring can mark only the beginning.
Even early in the season last fall, the defense possessed plenty of talent, he said. It just wasn't making plays.
"We have a clear mind coming into this year," Gregory said. "Tackling for us was a problem last year, but I don't think we were a bad tackling team. It's just all mental.
"It all starts, really, in the film room."
Gregory notices more teammates studying film. They're "taking it upon themselves to put in the work," he said.
The Huskers could use a highly rated defense to help ease pressure on the offense, which will work with a reconstructed line and an inexperienced group at quarterback. Behind third-year sophomore Armstrong, who started eight games as a substitute for the injured
Taylor Martinez
in 2013, no quarterback has handled a collegiate snap.
"We have faith in our offense, certainly," Roach said, "because we have a ton of weapons. But we have to focus on us. We have to worry about what we're doing. I get the vibe that we have the potential to do great things."
March, 18, 2014
3/18/14
12:00
PM ET
I'll make a deal with you, Warren Buffett. You cut me a check for $10 million right now, and I'll spare you the embarrassment of acing your little challenge.
March, 14, 2014
3/14/14
10:00
AM ET
LINCOLN, Neb. -- Nebraska has completed three practices -- 20 percent of its spring workload -- with five sessions set for the next week before a weeklong break. Yes, it goes fast at this time of year.
Already, storylines are taking shape. Here are a few of the most interesting topics from the opening week:
[+] Enlarge

Phil Sears/USA TODAY SportsTommy Armstrong Jr. has seized control of the quarterbacks group and taken the most reps with the first team so far this spring.
March, 13, 2014
3/13/14
12:00
PM ET
Hoops, hoops everywhere. Here's some football:
ESPN Sport Science - Randy Gregory Ruins A Tackling Dummy
BIG TEN SCOREBOARD
Thursday, 9/3
Friday, 9/4
Saturday, 9/5
Sunday, 9/6
Monday, 9/7