Nebraska Cornhuskers:

Minnesota Gophers
October, 26, 2013
10/26/13
7:07
PM ET
MINNEAPOLIS -- Play calls in football have unusual names. Coaches assign the words to ensure clarity in the language barked at the line of scrimmage, to offer a reminder of the formation or personnel.
Rarely does their strategy involve the opponent. This one did: Shift Husker Bob Y-Go.
Minnesota offensive coordinator Matt Limegrover called it for the first time on Saturday as the Gophers opened their second drive of the third quarter.
Ahead by four points, they sent 6-foot-6, 302-pound freshman Ben Lauer wide like a receiver. He settled into a stance at the snap, providing a distraction just long enough for tight end Drew Goodger to flash open and snag a pass from Philip Nelson that gained 21 yards.
Four plays later, Nelson scored. Minnesota went back to the 6-5, 265-pound Goodger twice more in the third quarter for a total of 68 yards -- more than double his receiving yardage total in six games this year prior to Saturday.
[+] Enlarge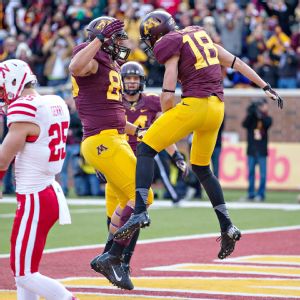 Jesse Johnson/USA TODAY SportsMinnesota took a page out of Nebraska's playbook to pull out the victory against the No. 24 Huskers.
Yes, Minnesota went big against 24th-ranked Nebraska in this 34-23 victory at TCF Bank Stadium. The Gophers beat the Huskers at their own once-dominant game, punishing the Blackshirts in a way Nebraska has for 50 years trounced Minnesota.
The Gophers rushed for 271 yards, the most allowed by Nebraska in an already disappointing defensive season, and they did it by running downhill. Few big gains; just a consistent, powerful, deflating attack that stung Nebraska in ways the Huskers never imagined might happen at this venue.
You see, Minnesota has long served as a Nebraska doormat, like an out-of-conference version of Kansas or Iowa State before the Huskers' 2011 Big Ten entry. The victory on Saturday snapped a 16-game Nebraska winning streak in the series.
Minnesota last beat the Huskers in 1960. Nebraska won the past 12 games by an average of more than 40 points.
"Those games have no meaning to us," said Tracy Claeys, the Gophers' acting coach and defensive coordinator under Jerry Kill before the Minnesota coach took a medical leave to undergo treatment for his epileptic seizures.
Kill watched again on Saturday from the press box. He attended practice last week and spoke to the Gophers before the game. He came to the locker room again at halftime and told the other coaches to leave him with the players.
Claeys said he's never spent time around a coach as competitive and caring as Kill, a rare mix.
"To have him around just means so much," Claeys said. "We want to make sure we do him well."
They sure did, storming back from a 10-0 deficit with 17 straight points in the first half, then burying the Huskers with a late defensive stand and a 34-yard touchdown march to ice it in the final minute.
Minnesota completed just eight passes. But it controlled the line of scrimmage. It forced two turnovers and committed none. It sacked Nebraska quarterback Taylor Martinez four times.
A small army of Huskers limped off the field.
"We know who we are," Minnesota running back David Cobb said, "and we know what we like to do."
Cobb rushed for 138 yards on 31 carries. The junior from Killeen, Texas, talked to the Huskers in the recruiting process, he said, but Nebraska didn't offer a scholarship.
"If you're going to win Big Ten football games," Claeys said, "you've got to run the ball and stop the run."
It stings for Nebraska, because that plan, for decades, epitomized Nebraska. So much of what happened on Saturday stings for the Huskers. The name of the jumbo formation, the method through which Minnesota inflicted misery.
And then there's this: Limegrover said the Gophers pored over film of Wisconsin's 70-31 victory over the Huskers last year in the Big Ten championship game. Some of Minnesota's misdirection and sweep plays came straight from that film.
You mean, the Huskers haven't fixed that yet?
"This game comes down to blocking and tackling," Nebraska coach Bo Pelini said, "and we didn't do that very well."
Really, it's about more than that for Nebraska. It's about a painful loss on Saturday that harkened images of an era in this program that began a decade ago with defeats to programs like Kansas and Iowa State and ended with the 2007 hiring of Bo Pelini that was supposed to stop such madness.
Claeys said after the game that "there are bigger wins out there for us."
Painful words again for Nebraska, but the coach is right. Minnesota, after consecutive Big Ten wins for the first time since 2010, is bowl eligible in October and plays Indiana and Penn State before a tough finishing stretch against Wisconsin and Michigan State.
The Gophers celebrated Saturday on the field with Minnesota students, but they're not ready to rest on this success.
"Whatever we're doing right now is working," sophomore quarterback Philip Nelson said, who replaced starter Mitch Leidner after three possessions.
It's an odd mix, for sure, the quarterback rotation and uncertain coaching situation.
"On the inside, as a staff, we could see it getting better," Claeys said. "But the kids needed something to give them belief."
Saturday gave them belief.
Claeys said he was a freshman in high school when Nebraska visited Minnesota 30 years ago and won 84-13. Some old-timers at Minnesota bitterly remember that game. None of the current Gophers, of course, were alive.
The Huskers also played UCLA and Wyoming out of conference in 1983, winning by a total of 68 points -- opponents that combined to outscore Nebraska by 17 points this season.
It's a new age at Nebraska.
At Minnesota, too, and for the better here.
October, 22, 2013
10/22/13
3:00
PM ET
LINCOLN, Neb. -- The second half starts in four days for Nebraska.
The first six games of the schedule featured just one real test of the team's progress under Bo Pelini, and the Huskers failed that exam on Sept. 14 with a 20-point home loss to UCLA. Sure, Wyoming pushed Nebraska. South Dakota State scared them for 15 minutes. Purdue forced freshman quarterback
Tommy Armstrong
into a few mistakes. Really, though, anything worse than 5-1 would have ranked as something close to a disaster.
And while the meat of the second-half lineup previously did not appear set to start until November, let's power up the truth machine a week early in honor of Minnesota's upset win over Northwestern and the uncertainty that still hovers around the QB spot at Nebraska.
So here are three truths that could lead the Huskers to a successful second half:
[+] Enlarge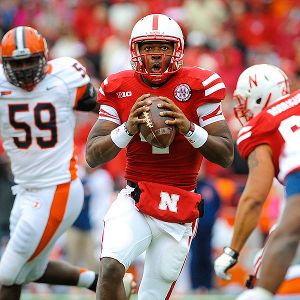 Eric Francis/Getty ImagesTommy Armstrong has gained valuable experience in place of an injured Taylor Martinez. What will it mean for Nebraska when Martinez returns?
A healthy Taylor Martinez is set to return soon.
The most optimistic of Nebraska fans envision that Martinez, out since the UCLA game with turf toe, will return to the field and finish his career with a fantastic flurry similar to the stretch that marked its beginning in 2010, when he ran wild for five games. More realistic, Martinez will be fresh for November, and his backups, Amstrong and senior
Ron Kellogg III
, have earned valuable experience that can help the Huskers down the stretch. If Martinez goes down again, there's no reason to panic.
The defense is starting to gel.
Let's hold off on placing too much emphasis on the vast statistical improvement and near shutout delivered against Purdue. The Boilermakers are awful on offense. But look deeper, and the Huskers have shown growth since bottoming out in that forgettable first quarter on Sept. 21 against South Dakota State. This unit had nowhere to go but up; nonetheless, improvement is evident at all three levels, and veterans have emerged in leadership roles -- the point of Pelini's preseason captain-naming, Blackshirt-awarding tactics.
The Legends Division is there for taking.
Yes, Minnesota and Iowa are better, and the winning percentages look good for Michigan and Michigan State. But let's be real, this is not the SEC West. Or even the Leaders Division, which showcases the league's top two teams in Ohio State and Wisconsin. If Nebraska played in the old Big 12 with this team, a four- or five-loss season would loom as a real possibility. And while the gimmes of the past month are gone, basic, week-to-week improvement should earn the Huskers a second straight ticket to Indianapolis.
And now here are three truths that could doom the Huskers between now and the day after Thanksgiving:
A quarterback controversy is dangerously near:
All looks good on the surface as Martinez nears a return. Pelini appears set to hand all control back to his fourth-year starter; no more rotating QBs, which is typically akin to playing with fire. But what happens when Martinez twists his ankle or bangs his shoulder on the cold turf? Or if his turnover troubles resurface? Armstrong is a competitor, and his mood this week is easy to read. He wants to keep playing. If Martinez slips, others – inside and outside of the program -- are likely to share the freshman's feelings.
The young defense is sure to encounter adversity:
That much we know, whether it happens on Nov. 2 at home against the Wildcats, or more likely, in 60 minutes that could turn crazy -- don't all Michigan games? -- at the Big House a week later. The Blackshirts, particularly that youthful front seven, have yet to prove they can avoid collapse at a time of stress against a quality opponent. The Nebraska offense is good, but it also remains turnover prone, especially with Martinez in command. What if momentum turns against the defense and carries from one game to the next? It's a scary thought.
That schedule, on second thought, is a grind:
Despite the absence of a team ranked in the top 20 of the BCS standings in Nebraska's next six weeks, it is, for any school, a tough set of games. Notably, you've got the volatility of Michigan, a stout defense from the Spartans and foes in Penn State and Iowa that want revenge on the Huskers for two seasons of tough defeats. The Big Ten, if not on the skill level of other leagues, will beat you up. And this stretch for Nebraska rates as a serious challenge. Injuries are already taking a toll in Lincoln. And this run of games taxed the Huskers in 2012. If they make it to Indy, will they even remain in physical condition to contend for a Rose Bowl berth?
October, 21, 2013
10/21/13
3:30
PM ET
LINCOLN, Neb. -- Nebraska quarterback
Taylor Martinez
returned to practice on Sunday after a five-week layoff due to a foot injury, but his availability for Saturday as the 24th-ranked Huskers visit Minnesota remains in question.
"I thought he looked good, but we didn't give him a lot," coach Bo Pelini said on Monday. "We'll just see how it goes as the week goes on, how he feels."

Martinez has missed three games with a turf-toe injury to his left foot. He last played on Sept. 14 in a 41-21 loss to UCLA.
The fifth-year senior, who owns the school's career total offense record, gave way to redshirt freshman
Tommy Armstrong Jr
. Armstrong played well in wins against South Dakota State and Illinois before struggling on Oct. 12 in the Huskers' 44-7 win at Purdue.
Senior
Ron Kellogg III
has also played extensively in the absence of Martinez.
Saturday's visit to Minnesota (noon ET, ESPN) marks the start of a stretch in which Nebraska (5-1 overall, 2-0 in the Big Ten) will play the Gophers, Northwestern, Michigan, Michigan State, Penn State and Iowa.
Senior receiver
Kenny Bell
said he was excited to see Martinez back in pads on Sunday, saying he was "very optimistic" that the 43-game starter could return this week.
Pelini described the quarterback's work in practice as "good."
"Obviously, he's got some rust in some areas that he's got to get cleaned up," the coach said. "It's going to be getting back footwork-wise and feeling comfortable with the different movements -- and obviously feeling comfortable being able to put his foot in the ground."
Asked if Armstrong or Kellogg would still factor in Nebraska's plan this week if Martinez returns, Pelini said it's too early to make a call.
"Lots of ifs," he said. "We'll see how it goes."
October, 18, 2013
10/18/13
2:00
PM ET
LINCOLN, Neb. -- Only twice in its illustrious history has Nebraska averaged 200 yards rushing and 200 yards passing in the same season.
Only once – last season – has it reached 250 rushing and 200 passing.
Through six games this fall, the Huskers sit at 285 rushing and 205 passing. Granted, three of the Big Ten's top four rushing defenses – Michigan State, Iowa and Michigan – await Nebraska in November, and the other top unit against the run, Ohio State, might well be there for the Huskers in Indianapolis on Dec. 7 if things go as planned in Lincoln.
Regardless, credit the Nebraska offensive line, whose members talked in August of ranking as a vintage Huskers group. That's a mouthful at a school that won six Outland Trophies and 13 NCAA rushing titles in the 1980s and 1990s alone.
[+] Enlarge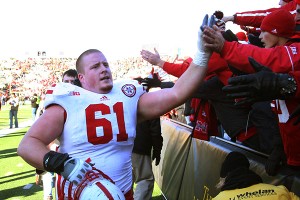 Reese Strickland/US PresswireSpencer Long will miss the rest of the season with a knee injury, forcing a shift on the Nebraska offensive line.
These guys have held their own, though, allowing a FBS-low three sacks in the season's first half.
Now they meet their biggest challenge, the test the Nebraska linemen hoped they would never face: the loss of
Spencer Long
. How they respond will define the way they are remembered.
"From here on out, we're playing for Spencer," said junior
Mike Moudy
, Long's likely replacement at right guard next Saturday when Nebraska visits Minnesota. "We've got the drive to compete for him. Without him, we wouldn't be where we're at. But everyone's just taking that in stride and saying we're going to give our all to Spence."
Long meant so much to his teammates. He was a throwback to the great linemen of Huskers past – a walk-on from Elkhorn, Neb., who toiled on the scout team, earned his scholarship, then all-conference honors and a recognition as a captain in his fifth-year senior season.
He started 33 games. He remains a top student, majoring in pre-med. He'll probably be a doctor, even if the NFL delays his continued studies.
He went down on the fifth play from scrimmage last week in the Huskers' 44-7 win at Purdue. Long was hustling around the backside of a rush by
Imani Cross
and fell over the legs of defensive end
Ryan Russell
. Long's left knee buckled.
Coach Bo Pelini was among the first to reach him on the ground. Long underwent surgery Thursday to repair a torn MCL. Don't bet against his return in time to work for NFL scouts ahead of the May 8-10 NFL draft.
"What happened to Spencer sucks," senior left tackle
Jeremiah Sirles
said. "There's no way around it. His career got cut short here at Nebraska, but a lot of young guys have got great opportunities now.
"We're going to honor Spencer with our effort. We're going to honor Spencer with the way we play, because he was our captain. We followed him."
Who will they follow now? Perhaps Sirles, a veteran of 34 starts, fellow seniors
Andrew Rodriguez
at right tackle and center
Cole Pensick
. With Moudy and junior
Jake Cotton
at left guard, the offensive line is still a seasoned group.
Coaches have talked this week of shifting Pensick, using untested
Ryne Reeves
or
Givens Price
or even pulling the redshirt from junior college transfer
Chongo Kondolo
.
It will work best if Moudy sticks. He fits the pedigree at 6-foot-5 and 300 pounds, another top student who has worked in the program for four years. As recently as last season, Moudy spent time on the scout team. Pelini said he noticed a big jump in the spring.
What happened?
"Probably just wanting to play, "Moudy said. "The desire to play. I kind of got tired of sitting on the scout team. I had to take another step mentally."
Long, with Cotton and offensive line coach John Garrison, aided Moudy in his ascent.
He began to prove himself at Purdue. Moudy allowed one sack but otherwise played well.
The other linemen chided him for the mistake.
"He did a great job," Sirles said, "but he's going to held to the same standard Spencer was held to. People are like, 'Oh, that's not fair.' But we all hold ourselves to a high standard. It doesn't matter who's out there playing."
Injuries such as this one are all too common over the past two seasons at Nebraska. Senior defensive tackle Baker Steinkuhler went down last year during the Huskers' regular-season finale against Iowa.
The defense did not respond well as Wisconsin and Georgia gouged Nebraska for 115 points in subsequent games.
I-back Rex Burkhead, a leader and motivational figure in the same vein as Long, missed six games of his senior year with a knee injury last season. In his place, the Huskers found a new star,
Ameer Abdullah
, and hardly missed a beat.
Which path will the offensive line take over the next six weeks? It figures to define their legacy.
October, 16, 2013
10/16/13
10:00
PM ET
News and notes from Nebraska's practice on Wednesday:
Martinez nears return
Senior quarterback
Taylor Martinez
, out since Sept. 14 with turf toe, is "really close" to a return to practice, coach Bo Pelini said. The Huskers had planned for Martinez to run on Wednesday but opted to wait until a set of custom orthotics arrive.
Pelini said he was confident Martinez would play on Oct. 26 against Minnesota. The quarterback has missed three consecutive games after 42 starts over four seasons. Despite the injury, Pelini said, Martinez has remained in good condition.
"He's been doing what he has to do," Pelini said. "Conditioning has never been an issue for him, so he'll be ready to roll. He's been on the bike. Taylor's a hard worker, so I don't think that'll be an issue."
The Huskers spent most of Tuesday's practice working at an up-tempo pace with the top defensive unit matched against the first-team offense. On Wednesday, the Huskers split time between more top-unit work and an introduction to Minnesota.
Replacing Long
Junior
Mike Moudy
continues to look like the most likely candidate to fill the starting spot at right guard held by All-Big Ten senior
Spencer Long
before he was hurt on Saturday at Purdue.
"We have confidence in him," Pelini said. "He's a big physical guy. He has good feet. I think he's come a long way. He's come a long way, really since spring ball on."
The coach reiterated on Wednesday that Long's injury was not as serious as feared. He is set to undergo surgery this week to repair a torn MCL in his left knee, hurt in the first quarter against the Boilermakers.
Nebraska trainers thought Long may have torn the MCL and PCL.
"God willing, it won't affect his shot at the NFL," Pelini said.
No clarity on ejection
Pelini said he had not received correspondence from the Big Ten office on the decision by officials to eject Nebraska cornerback
Stanley Jean-Baptiste
in the second quarter on Saturday.
Jean-Baptiste was flagged for targeting on a hit of Purdue running back
Dalyn Dawkins
. Replay officials upheld the ejection.
Pelini said he would seek to speak with the league about the play.
Nebraska coaches have discussed the play with Jean-Baptiste.
"I slow framed it," he said. "I spent a lot of time looking at it, and it's awareness thing. You try not to make it close. I thought he made a good football play, but you have to talk about it. And you've got to show it to him and keep educating him.
"Hopefully you don't put yourself in that situation, try not to make it close. I didn't feel any different about the play when I watched on film than when I saw it live and saw it on the big screen, but obviously [the officials] saw it different than I did."
ESPN Sport Science - Randy Gregory Ruins A Tackling Dummy
BIG TEN SCOREBOARD
Thursday, 9/3
Friday, 9/4
Saturday, 9/5
Sunday, 9/6
Monday, 9/7