Nebraska Cornhuskers:

Michigan State Spartans
December, 19, 2013
12/19/13
12:00
PM ET
November, 15, 2013
11/15/13
11:00
AM ET
Michigan State visits Nebraska (3:30 p.m. ET, ABC-ESPN2) Saturday in a Big Ten Legends Division showdown. The winner owns the inside track to Indianapolis and the league title game. Statistics favor the Spartans and their No. 1-ranked defense, but the Huskers are 9-1 at home as a member of the Big Ten. And MSU is 0-7 all-time against Nebraska, including 0-2 as a division foe over the past two years.
[+] Enlarge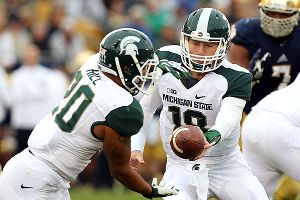 Brian Spurlock/USA TODAY SportsConnor Cook and the Michigan State offense will have to handle an imposing crowd and improving Nebraska defense.
1. With those numbers in mind, what makes these Spartans different?
Chantel Jennings
: This defense is just going to give every team fits. I've been really impressed with
Ameer Abdullah
but he hasn't faced a front seven like Michigan State's. The pressure the Spartans get against the run game and on opposing quarterbacks just forces other teams into mistakes and poor decisions. They've allowed just 24 rushing first downs this season. The next closest defenses? Alabama and Louisville … with 46. Streaks are streaks, but I think the more impressive streak of note in this situation is that Michigan State has gone nine games without allowing an opponent to rush for more than 100 yards. That streak matters in this game way more than the fact that MSU is winless against Nebraska.
Mitch Sherman:
While the Spartans haven't exactly faced an elite offense this year -- save for perhaps Indiana, which scored 28 points on MSU -- don't rank Nebraska among that group, either. The Huskers deserved consideration as a top-tier unit before quarterback
Taylor Martinez
went down, followed by both starting offensive guards and left tackle
Jeremiah Sirles
. This week, junior
Mike Moudy
, the replacement at right guard, is doubtful with a shoulder injury. Additionally, junior receiver
Jamal Turner
, who caught the winning touchdown in the final seconds last year at Michigan State, remains out with a hamstring injury. The Huskers have struggled recently to move the football against mediocre defenses, so this challenge could overwhelm Nebraska.
2. Nebraska is riding a wave of momentum after emotional victories over Northwestern and Michigan. Will it matter on Saturday?
Sherman:
Much like a week ago at Michigan, it depends on how Nebraska starts. The Huskers arrived in Ann Arbor on a high and jumped to a quick 10-0 lead. The fast start helped neutralize the huge crowd and provided an extra shot of confidence for freshman quarterback Tommy Armstrong and an injury-plagued offensive line. If Nebraska falls behind against Michigan State's suffocating defense, the momentum will die in a hurry. But if the Huskers jump out, it might be the one-loss Spartans who have trouble handling the pressure.
Jennings:
I totally agree with Mitch here. If Nebraska can get off to a really strong start, then that momentum can mean something. However, other teams have gotten off to good starts against MSU and it hasn't meant much. Michigan's first drive against Michigan State looked pretty solid (nine plays, 51 yards for a field goal). And then the rest of the game happened. But that game was played in Spartan Stadium and there's definitely something to be said for getting your fans in to the game. I think the Nebraska fans could affect the MSU offense more than it could affect the MSU defense, and even in a low scoring game, I think the experience of the Michigan State defense would find a way to win.
3. Connor Cook has brought stability to the MSU offense. How will he handle the environment in Lincoln?
Jennings:
He's a confident kid and he told me earlier this season that he really doesn't get fazed by any of the external factors in those situations. I think the MSU offensive line has gotten better and better every game this season and those five guys are going to do everything they can to make sure Cook doesn't feel too much pressure. But getting to Cook will be the key here. The Nebraska defense is coming off a seven-sack performance against Michigan, but the MSU O-line has only allowed seven sacks all season.
Sherman:
The Nebraska defense is making real strides this month. Confidence is growing as players improve at each level. Cook needs to keep an eye out for No. 44. Defensive end
Randy Gregory
sacked
Devin Gardner
three times last week, in something of a breakout game on the national level, but Gregory was well known to those who watch the Huskers closely. He's a force and will likely create problems for Cook and the Spartans. The sophomore quarterback would also be smart to watch out for fellow defensive end
Avery Moss
, plus blitzing safety
Corey Cooper
and cornerback
Ciante Evans
. And when the defense gets rolling, Memorial Stadium turns intimidating for a visiting QB.
4. So what must each team do to win?
Sherman:
For Nebraska, it's all about playing a clean game. The Huskers lost the turnover battle against Michigan and Northwestern. They lost important field position by failing to field a late first-half punt last week. And penalties killed a pair of late drives against the Wildcats. None of this can happen against the Spartans, who will make Nebraska pay for its mistakes. The Huskers might not need -- and likely won't get -- a great deal of offensive production, but if the chance arrives to capitalize on a short field, they must cash in.
Jennings:
I have a feeling this is going to be a relatively low-scoring game. So, each team is going to have to go for the big plays when it can. The MSU defense stacks the box and gets as much pressure on opposing quarterbacks as it can. The Nebraska offense will have to do is find a way to force MSU out of that game plan. If Armstrong can take some shots down field or Abdullah breaks out for a few big runs, then the Spartans won't be able to keep 10 guys up there. The same -- to a lesser degree -- is true of Cook and running back
Jeremy Langford
.
November, 14, 2013
11/14/13
8:00
AM ET
LINCOLN, Neb. -- The first two questions posed to Nebraska cornerback
Ciante Evans
during his turn this week at the Huskers' news conference focused on the Michigan State defense.
Evans shrugged them off. He is concerned, you see, only with the Spartans' offense.
[+] Enlarge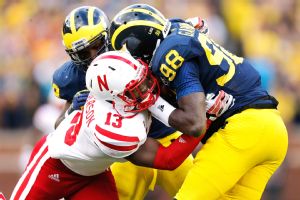 Gregory Shamus/Getty ImagesLinebacker Zaire Anderson and the Cornhuskers defense have been much improved over the last two games.
But it's an unavoidable topic as No. 16 Michigan State prepares to visit Lincoln on Saturday -- the nation's No. 1-ranked defense is coming to Memorial Stadium. Listening to the buzz around this Legends Division showdown, you'd wonder if MSU fields an offensive unit.
Alas, it does. And while so much of the hype involves Pat Narduzzi's swarming group, Evans and the Nebraska defense have hatched plans of their own. The Blackshirts, much improved over the past two weeks, figure if they play to their capabilities, Nebraska can match the vaunted Spartan D.
The Huskers have come of age as a defensive unit over the past two weeks against Northwestern and Michigan, allowing 251 yards per game. In its first seven games, opponents gouged Nebraska for 410 per game.
"The biggest thing is, we're playing as 11 guys," defensive coordinator John Papuchis said, "and we're playing well together. We haven't made very many mistakes. We're communicating better. And when we're all on the same page, we're pretty good.
"I said it a long time ago, when we were struggling a little bit on defense, it wasn't wholesale. It was usually one guy. That guy was different from play to play. But if we could ever find a way to clean that up, we'd be pretty good."
At each level of its defense, improvement is evident. Defensive ends
Randy Gregory
and
Avery Moss
have developed into playmakers for Nebraska. Linebackers
Michael Rose
and
Zaire Anderson
are growing up fast.
In the secondary, Evans and fellow corner
Stanley Jean-Baptiste
remain consistent. Safety
Corey Cooper
has taken a step forward, especially in defending the run.
"The level of execution is increasing but really not to the level that I'm comfortable with yet," Nebraska coach Bo Pelini said. "Our guys are getting better. They are playing harder, and they are gaining confidence.
"I think you can see, with the type of athletes that we have, that if we can play fast, we can be pretty good."
More than the stats, Papuchis pointed to late-game situations against Northwestern and Michigan in which the Nebraska defense faced short fields after turnovers.
Both times, with the score tied, the Huskers forced field goals. Both times, the Nebraska offense came back to score winning touchdowns.
On Saturday, Papuchis said, the Huskers need to do more.
"We're going to need some takeaways in this game," he said.
Do it, and maybe then, they'll start talking about the Nebraska defense.
October, 22, 2013
10/22/13
3:00
PM ET
LINCOLN, Neb. -- The second half starts in four days for Nebraska.
The first six games of the schedule featured just one real test of the team's progress under Bo Pelini, and the Huskers failed that exam on Sept. 14 with a 20-point home loss to UCLA. Sure, Wyoming pushed Nebraska. South Dakota State scared them for 15 minutes. Purdue forced freshman quarterback
Tommy Armstrong
into a few mistakes. Really, though, anything worse than 5-1 would have ranked as something close to a disaster.
And while the meat of the second-half lineup previously did not appear set to start until November, let's power up the truth machine a week early in honor of Minnesota's upset win over Northwestern and the uncertainty that still hovers around the QB spot at Nebraska.
So here are three truths that could lead the Huskers to a successful second half:
[+] Enlarge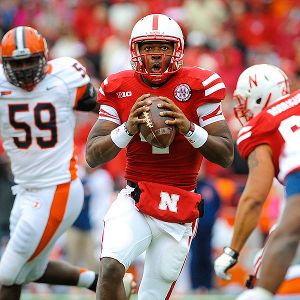 Eric Francis/Getty ImagesTommy Armstrong has gained valuable experience in place of an injured Taylor Martinez. What will it mean for Nebraska when Martinez returns?
A healthy Taylor Martinez is set to return soon.
The most optimistic of Nebraska fans envision that Martinez, out since the UCLA game with turf toe, will return to the field and finish his career with a fantastic flurry similar to the stretch that marked its beginning in 2010, when he ran wild for five games. More realistic, Martinez will be fresh for November, and his backups, Amstrong and senior
Ron Kellogg III
, have earned valuable experience that can help the Huskers down the stretch. If Martinez goes down again, there's no reason to panic.
The defense is starting to gel.
Let's hold off on placing too much emphasis on the vast statistical improvement and near shutout delivered against Purdue. The Boilermakers are awful on offense. But look deeper, and the Huskers have shown growth since bottoming out in that forgettable first quarter on Sept. 21 against South Dakota State. This unit had nowhere to go but up; nonetheless, improvement is evident at all three levels, and veterans have emerged in leadership roles -- the point of Pelini's preseason captain-naming, Blackshirt-awarding tactics.
The Legends Division is there for taking.
Yes, Minnesota and Iowa are better, and the winning percentages look good for Michigan and Michigan State. But let's be real, this is not the SEC West. Or even the Leaders Division, which showcases the league's top two teams in Ohio State and Wisconsin. If Nebraska played in the old Big 12 with this team, a four- or five-loss season would loom as a real possibility. And while the gimmes of the past month are gone, basic, week-to-week improvement should earn the Huskers a second straight ticket to Indianapolis.
And now here are three truths that could doom the Huskers between now and the day after Thanksgiving:
A quarterback controversy is dangerously near:
All looks good on the surface as Martinez nears a return. Pelini appears set to hand all control back to his fourth-year starter; no more rotating QBs, which is typically akin to playing with fire. But what happens when Martinez twists his ankle or bangs his shoulder on the cold turf? Or if his turnover troubles resurface? Armstrong is a competitor, and his mood this week is easy to read. He wants to keep playing. If Martinez slips, others – inside and outside of the program -- are likely to share the freshman's feelings.
The young defense is sure to encounter adversity:
That much we know, whether it happens on Nov. 2 at home against the Wildcats, or more likely, in 60 minutes that could turn crazy -- don't all Michigan games? -- at the Big House a week later. The Blackshirts, particularly that youthful front seven, have yet to prove they can avoid collapse at a time of stress against a quality opponent. The Nebraska offense is good, but it also remains turnover prone, especially with Martinez in command. What if momentum turns against the defense and carries from one game to the next? It's a scary thought.
That schedule, on second thought, is a grind:
Despite the absence of a team ranked in the top 20 of the BCS standings in Nebraska's next six weeks, it is, for any school, a tough set of games. Notably, you've got the volatility of Michigan, a stout defense from the Spartans and foes in Penn State and Iowa that want revenge on the Huskers for two seasons of tough defeats. The Big Ten, if not on the skill level of other leagues, will beat you up. And this stretch for Nebraska rates as a serious challenge. Injuries are already taking a toll in Lincoln. And this run of games taxed the Huskers in 2012. If they make it to Indy, will they even remain in physical condition to contend for a Rose Bowl berth?
Big Ten Signing Day Round-Up
BIG TEN SCOREBOARD
Thursday, 9/3
Friday, 9/4
Saturday, 9/5
Sunday, 9/6
Monday, 9/7