Nebraska Cornhuskers:

Michael Bennett
January, 1, 2014
Jan 1
8:00
AM ET
JACKSONVILLE, Fla. -- Nebraska seeks to avenge its loss in the Capital One Bowl from a year ago against No. 22 Georgia on Wednesday at noon ET on ESPN2. Here's a preview:


Who to watch:
The quarterbacks are a good place to start. They won't be
Taylor Martinez
and
Aaron Murray
, the record-setting senior duo who led these teams to a combined 76 points last year in Orlando; rather freshman
Tommy Armstrong Jr
. is expected to start for the eighth time this season for Nebraska, and junior
Hutson Mason
gets the call for the Bulldogs for a second straight game. Also, keep an eye on Nebraska defensive end
Randy Gregory
, an SEC-caliber star with size, speed and strength. If he's not the best player on the field, it might be Georgia running back
Todd Gurley
.
What to watch:
Statistically, it's difficult to identify too many spots at which one team might exploit the other. Remember, though, Georgia was challenged by a schedule that featured five teams arguably as good or better than Nebraska's best foe. So the numbers matter little in gauging matchups. Here's a hunch that the Huskers, who couldn't stop Minnesota or, for one quarter, South Dakota State, will struggle to contain Gurley. He was in contention for the title of best SEC back before the midseason injury. And watch the matchup of UGA receivers
Chris Conley
and
Michael Bennett
against Nebraska defensive backs
Ciante Evans
and
Stanley Jean-Baptiste
. It should be good.
Why to watch:
The trio of Big Ten-SEC clashes on New Year's Day is always entertaining -- at least, it is for fans of the SEC teams. Seriously, the Big Ten is 0-2 in bowls (0-4 if you count 2014 newcomers Rutgers and Maryland), and the SEC is 3-0. Perhaps this game presents the Big Ten with its best chance to win on Wednesday. If that doesn't get you, tune in to see if Nebraska's Bo Pelini can join the likes of Mack Brown, Tom Osborne, Steve Spurrier and Barry Switzer as the eighth BCS-conference coach in history to win nine games in each of his first six years at a school.
Prediction:
Georgia 34, Nebraska 24. A big day for Gurley and a typical turnover or two will spell doom for the Huskers. Look for
Ameer Abdullah
to keep the Huskers close for a while, but like last year, the Bulldogs will make plays when necessary late.
December, 23, 2013
12/23/13
7:00
AM ET
This season's similarities are striking for the combatants in this season's TaxSlayer.com Gator Bowl, Georgia and Nebraska. Perhaps the most notable similarity between the Bulldogs (8-4) and Cornhuskers (8-4), though, is the numerous injuries that helped prevent them from playing up to their potential.
ESPN.com's David Ching and Mitch Sherman discussed how injuries affected the teams' seasons and what might have been if not for all the physical ailments.


1. Out of all of the injuries they sustained this season, which one was the costliest and why?
Ching:
There are a lot of directions you could go here, but
Todd Gurley
's ankle injury and ensuing three-and-a-half-game absence probably hurt the most. Gurley is one of the biggest difference-makers in the country, and Georgia's potent offense simply wasn't as good without him in the lineup -- particularly when fellow tailback
Keith Marshall
suffered a season-ending knee injury the week after Gurley went down against LSU. It's not a coincidence that Georgia bounced back from a two-game losing streak upon Gurley's return, nor that the Bulldogs went 4-1 down the stretch once he was back. He totaled 755 yards and 10 touchdowns in those five games.
Sherman:
Taylor Martinez
began this season as most indispensable Husker -- and by November, we saw why. Without the fifth-year senior, who started a school-record 43 games at quarterback, including four this season, the Nebraska offense shifted from the strength of this team to a liability. The Huskers failed to gain 400 yards in each of their final four games.
Tommy Armstrong Jr
. and
Ron Kellogg III
performed admirably, but their numbers paled in comparison to the production expected from a healthy Martinez. In good position to become the second QB in FBS history to surpass 9,000 career passing yards and 3,000 rushing yards, he suffered the fateful foot injury in Nebraska's season opener. By mid-September, his limitations were painfully apparent, stamped into the record books with losses to UCLA and Minnesota in Martinez's final two starts.
2. Which position group dealt with the most injury issues?
Sherman:
Problems on the offensive line began on the opening series of the sixth game against Purdue as All-Big Ten right guard
Spencer Long
went down with a season-ending knee injury. Long was the leader of the line and a motivating force for the entire team as a senior captain and former walk-on turned solid NFL prospect. As soon as his linemates began to wear Long's jersey No. 61 as a tribute, the injury bug spread. First, it was left guard
Jake Cotton
. Tackles
Jeremiah Sirles
and
Brent Qvale
, despite staying in the lineup, dealt with injuries, too, as did center-turned-guard
Cole Pensick
. Long's replacement,
Mike Moudy
, missed the final four games. The injuries hurt most in practice, and Long's injury got the snowball rolling. Before the Purdue game, Nebraska rushed for 285 yards or more in four of five games. After Purdue, it never topped 195 on the ground.
Ching:
Georgia's safeties could make a reasonable argument here, but let's go with the receivers.
Malcolm Mitchell
suffered perhaps the most bizarre injury of the season when he tore an ACL while leaping into the air to celebrate Gurley's 75-yard touchdown run against Clemson on the Bulldogs' second offensive possession of the fall.
Justin Scott-Wesley
, who essentially caught the game-winning touchdown passes in the fourth quarter against South Carolina and LSU, tore an ACL while covering a punt against Tennessee.
Michael Bennett
and
Chris Conley
also missed multiple games with midseason injuries, and junior college transfer
Jonathon Rumph
didn't play until Game 8 against Florida after injuring his hamstring in August. Because of the regular lineup shuffling, six Bulldogs have at least 20 catches this season.
[+] Enlarge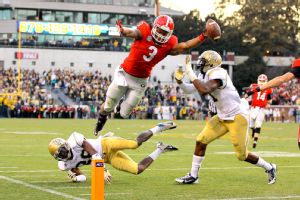 Todd Kirkland/Icon SMIGeorgia went 4-1 after sophomore RB Todd Gurley returned to the lineup, and the only loss was the 'Miracle at Jordan-Hare.'
3. What do you think this team might have accomplished if health hadn't become such a factor?
Ching:
I hesitate to say Georgia would have been a BCS title contender because its defense was probably not championship caliber. But it's hard to predict what might have been with any certainty since the Bulldogs started losing key contributors in the first quarter of the first game. I'll go so far as to say the Bulldogs at least would have won a third straight SEC East title and been in the running for an at-large BCS bowl spot. With
Aaron Murray
, who suffered a season-ending knee injury of his own against Kentucky, at the trigger and an impressive array of skill talent, this had the potential to be the scariest offense Georgia has ever put on the field, but we never saw the full complement for even one full game.
Sherman:
It's difficult to quantify in wins and losses, considering the other problems that plagued these Huskers, notably with turnovers and on special teams. Nebraska could have outscored Minnesota with a healthy Martinez and Long. And it's likely that the second-half meltdown against UCLA never would have happened if Martinez was operating at full strength. The Huskers moved the ball well in a 41-28 loss to Michigan State. Injuries weren't the issue against the Spartans; turnovers were, but freshmen committed all five. And Martinez, while turnover-prone since his freshman season, torched the Spartans a year ago. But even at 10-2, Nebraska would have missed a repeat trip to the Big Ten title game.
December, 20, 2013
12/20/13
4:00
PM ET
Wishing you a great weekend. Check out the
full ESPN bowl schedule
(with broadcast teams).
Don't forget to follow us
on Twitter
if you aren't already.
To the inbox ...

Mike from Allentown, Pa., writes:
Hey Adam, with all the talk about Penn State's bowl ban being looked into this offseason, I have a hypothetical question for you. If the NCAA were to drop Penn State's bowl ban, would the Big Ten comply and make them eligible for the Big Ten championship? Or, is it possible the Big Ten could extend that ban separate from the NCAA?
Adam Rittenberg:
Mike, the Big Ten's penalties always were tied to the NCAA's. Big Ten rules state that if the NCAA declares a team ineligible for postseason play, that team can't play in the Big Ten championship game. So if the NCAA lifts the bowl ban, the Big Ten would declare Penn State eligible for a league title (the Lions already can win their division). Big Ten commissioner Jim Delany has been pleased with Penn State's response to former Sen. George Mitchell, the independent athletics integrity monitor assigned to the school. So I'd be shocked if the Big Ten added or maintained any sanctions against Penn State once the NCAA ones are lifted.
---

Josh from Indy writes:
Have you ever thought about the comparison between Darqueze and his cousin Alfonzo? Both had great careers for their respective teams. Just wanted your take on this.
Adam Rittenberg:
Josh, I definitely thought about it after
Darqueze Dennard
won the Big Ten's Tatum-Woodson Defensive Back of the Year award, which Nebraska's Alfonzo Dennard claimed in 2011. I can't imagine two family members have won the same award while playing for different teams in the same league. Pretty cool. Darqueze's numbers this season are more impressive than Alfonzo's in 2011, although Alfonzo was a true shut-down guy who basically eliminated one side of the field. Darqueze's pro prospects are better, as many peg him as a first-round draft pick. We'll never know where Alfonzo would have been drafted if he hadn't had the off-field trouble. Both are great players, though.
---

Derek from Preston, Iowa, writes:
Hey Adam, I was just curious as to what you thoughts were on Derrell Johnson-Koulianos' Twitter tirade against Kirk Ferentz. Ferentz is beloved for the most part in Hawkeye Country, and this whole thing just seems weird. Why now?
Adam Rittenberg:
The timing is interesting, Derek, as much of this happened three years ago. I understand Derrell's perspective that Ferentz blackballed him with the NFL and stifled his playing career. Some of his teammates back up the accusations against Ferentz and strength coach Chris Doyle. It's an unfortunate situation, but I would be very surprised if Ferentz or Iowa has anything to say about the accusations, especially so long after the fact. Iowa has moved forward and Ferentz's word still carries weight in NFL circles.
DJK has the right to air his grievances, and he has never held back on his views. Honestly, I can't think of a Big Ten player I've covered who fit in less with a particular program. But I doubt there will be major consequences for Ferentz or Iowa.
---

Fatback from Newark, Ohio, writes:
Just wanting to know what your thoughts about Ohio State's defensive coordinator position. I know Fickell is an OSU guy, but we definitely need a change of pace. What do you think about Fickell moving down to just a position coach ( if he doesn't get another job this offseason), and hiring another person from the outside or moving Mike Vrabel up? I think with Vrabel we would play much more aggressive and sit back in all the zone coverage that teams seem to kill us on. Again, your thoughts?
Adam Rittenberg:
It would be tough for Ohio State to demote Fickell, who was the Big Ten's
third highest-paid assistant this year
($610,000). You're not going to pay that salary to a position coach (at least you shouldn't). Fickell still brings a lot of value to Ohio State as a recruiter, and while his defense has its issues this year, youth in the front seven and
Christian Bryant
's injury didn't help matters. On the other hand, Urban Meyer has extremely high standards, and if he feels Fickell isn't helping the team to a national championship, maybe you make the change.
I've heard that Vrabel has definite head-coaching potential, and he did a nice job with a young defensive line this year. With Everett Withers reportedly departing to James Madison, don't be surprised to see a co-coordinator situation with Vrabel and Fickell. Perhaps Vrabel has more say on play calls. I just can't see Ohio State forcing out Fickell right now.
---
Joe from Kentucky writes:
How can you guys leave off
Blake Countess
and
Stanley Jean-Baptiste
from the All-B1G selection for
Bradley Roby
? Roby was suspended for his off-the-field antics (looks really all-conference) and he got exposed by any of the good WRs he faced.
Jared Abbrederis
and
Jeremy Gallon
made him look silly to the tune of almost 400 yards combined. That does not sound like an all-conference performer to me. On the other hand, Countess led the conference in INTs and Jean-Baptiste was right there (if not tied). I think you guys were a little biased in trying to make MSU and OSU the top two represented teams (which their records show). Also,
Ryan Shazier
is the only person on that Ohio State defense to be named All-B1G.
Adam Rittenberg:
Roby's one-game suspension really isn't relevant, as we included
Carlos Hyde
on the team despite his three-game suspension because he was the Big Ten's best running back in league play (few would argue). I agree that Roby struggled against Abbrederis in the Wisconsin game, but many of Gallon's yards didn't come against Roby in the Michigan game. Roby made a touchdown-saving tackle on Gallon, running completely across the field, one of several displays of athleticism he had this season. He had a very good Big Ten season and is one of the better special-teams players I can remember in this league. SJB had a nice season but no picks in Big Ten play. You could make a case for Countess, but I still feel Roby performed better in Big Ten play than any corner other than MSU's Dennard. Shazier is the only other Buckeye defender on our All-Big Ten team, although lineman
Michael Bennett
deservedly made the second-team.
---

Will from Columbus, Ohio, writes:
Should I be concerned that Michigan will be breaking in two new starters at both offensive tackle positions in 2014? Lewan and Schofield took 99.9 percent of the snaps this year, likely making their replacements having VERY little, to no game experience. After the abysmal display on the interior of the line this year, I do believe there are positives in game time reps of the interior line translating to better protection up the middle next season. Will inexperience on the edge hurt the line more next year than the inside this year, or can you mask the youth more on the outside than in?
Adam Rittenberg:
Some good points here, Will. I agree that Michigan's interior line will be improved next year because of all the experience gained, even through some tough times. It will be interesting to see what Michigan does with
Erik Magnuson
, who can play either guard or tackle but might be best at tackle depending on his development. The staff was excited about
Ben Braden
's development in the offseason, and he could step in for Lewan at left tackle. I'm really interested to see how the line performs in Arizona following bowl practices, but you're right that the group will continue to be under the microscope with both veteran tackles departing.
---
Ken from Carmel, Ind., writes:
When
Clifton Garrett
recently committed to LSU, he mentioned the great game-day atmosphere. Having attended a game there, I agree. Sometimes I think the B10 doesn't get that -- and is slow to pick up other little things like that (night games) that can make the difference in winning or losing recruiting battles, and eventually games. As an Iowa grad, the large number of 11 a.m. games certainly don't help the game-day atmosphere. I get the feeling that the people at the top -- president, and A.D. -- don't understand this. You'll have a couple more arrests with later games, but most people just cheer louder and have more fun - a.k.a., better game-day atmosphere. Your thoughts?
Adam Rittenberg:
Couldn't agree more, Ken, and I've been writing this for years. The Big Ten needs to prioritize prime-time games and become more open to weekday games, which would get some of the smaller programs some much-needed exposure. The good news: the league is definitely warming up to the idea, adding more prime-time games and becoming open to November night games, most likely in the 2014 season. Purdue athletic director Morgan Burke said Thursday that the Big Ten's next television contract will feature more prime-time games. That's a good thing, as the noon ET and 3:30 p.m. ET windows just don't carry the same weight with recruits.
December, 16, 2013
12/16/13
2:45
PM ET
Officially, we only do
a first-team All-Big Ten
here at the ol' blog. But there were tough decisions and plenty of players deserving of recognition in the 2013 season. So if we had to do a second team, here's what it would look like:
Offense
QB:
Connor Cook
, Michigan State
RB:
Jeremy Langford
, Michigan State
RB:
James White
, Wisconsin
WR:
Jeremy Gallon
, Michigan
WR:
Cody Latimer
, Indiana
TE:
C.J. Fiedorowicz
, Iowa
C:
Jack Allen
, Michigan State
OL:
John Urschel
, Penn State
OL:
Blake Treadwell
, Michigan State
OL:
Rob Havenstein
, Wisconsin
OL:
Andrew Norwell
, Ohio State
Defense
DL:
Michael Bennett
, Ohio State
DL:
DaQuan Jones
, Penn State
DL:
Theiren Cockran
, Minnesota
DL:
Carl Davis
, Iowa
LB:
Denicos Allen
, Michigan State
LB:
Anthony Hitchens
, Iowa
LB:
Jonathan Brown
, Illinois
DB:
Blake Countess
, Michigan
DB:
Stanley Jean-Baptiste
, Nebraska
DB:
Isaiah Lewis
, Michigan State
DB:
B.J. Lowery
, Iowa
Specialists
K:
Pat Smith
, Nebraska
P:
Cody Webster
, Purdue
KR:
Akeem Hunt
, Purdue
Some tough calls here, including the quarterback. Illinois'
Nathan Scheelhaase
has a strong case. But ultimately we went with the guy who was 9-0 in the Big Ten as a starter and won a league title with a 20-to-5 touchdown-to-interception ratio. ... Wisconsin's
Melvin Gordon
couldn't crack our first two teams despite running for 1,466 yards. We thought White and Langford were better in the key parts of the season than Gordon, who did most of his best work in the first six games. ... We had three tackles on our first team, so the interior linemen get their due with four spots on the second team. ... Several of our defensive players here were difficult omissions from the first team, including Allen, Countess, Jean-Baptiste, Lewis and Lowery. ... We chose Smith as the kicker in a close call over Michigan State's
Michael Geiger
, whom we honored on
our all-freshman team
.
December, 13, 2013
12/13/13
10:00
AM ET
We're examining the Big Ten bowl opponents this week. Time to take a look at Georgia, Nebraska's repeat postseason foe in the TaxSlayer.com Gator Bowl.
TaxSlayer.com Gator Bowl
Jacksonville, Fla., Jan. 1, noon ET, ESPN2
Nebraska (8-4) vs. Georgia (8-4)

Georgia Bulldogs
Coach:
Mark Richt (13th season)
Record:
8-4, 5-3 SEC
Combined opponents' record:
90-56
Common opponents:
none
Leading passer:
Aaron Murray
, 225-347 (64.8 percent) for 3,975 yards with 26 touchdowns and nine interceptions. Murray is injured. In his place, Georgia looks to
Hutson Mason
, 46-71 (64.8) for 648 yards with four touchdowns and two interceptions.
Leading rusher:
Todd Gurley
, 144 carries for 903 yards in nine games (6.3 per carry) and 10 touchdowns.
Leading receiver:
Chris Conley
, 42 receptions for 605 yards (14.4 per catch) and four touchdowns.
Leading tackler:
Linebacker
Ramik Wilson
, 72 solos and 56 assists, 11 tackles for loss, four sacks and seven quarterback hurries.
What to know:
The Bulldogs fought injuries almost from the outset after a three-point, season-opening loss to Clemson. The low point came during the first three weeks of October, when Gurley, the sophomore tailback, missed time with an ankle injury as the Bulldogs snuck past Tennessee before losing to Missouri at home and at Vanderbilt. Since Gurley's return, Georgia has won four of five games, losing only at Auburn on Ricardo Louis' miraculous game-winning catch. Murray, the record-setting senior QB, went down with ACL tear against Kentucky, but Mason, a junior, stepped in nicely to throw two touchdowns against Georgia Tech. The receiving duo of Conley and
Michael Bennett
, both 6-foot-3 and back from midseason absences, will test the Nebraska secondary. It's been an adventure for the Bulldogs on defense after replacing a talented, veteran group from a year ago. Eight opponents scored 30 points or more. Georgia was especially susceptible against strong aerial attacks and ranked last in the SEC in allowing 7.6 yards per passing attempt.
Key matchup:
Gurley vs. Nebraska's defensive front seven. As Nebraska gets healthy on offense and prepares to face a Georgia defensive unit that has struggled plenty this year, you might expect the Huskers to fare well in a shootout, especially with Murray on the sideline. Not probable. It didn't work last year in the Capital One Bowl, won by Georgia 45-31 after a close 2½ quarters. To succeed in Jacksonville, the Huskers likely need a strong defensive showing focused on Gurley, the bruising runner who finished strong with 122 yards and four scores against Georgia Tech. Nebraska was gouged on the ground by the likes of Wyoming, South Dakota State, Minnesota and Northwestern this year. Gurley is better than all of their backs. But the Huskers' defensive front, notably first-year starters
Randy Gregory
,
Vincent Valentine
Avery Moss
and
Michael Rose
, have shown rapid improvement and now rank as a strength of this team.
October, 18, 2013
10/18/13
11:00
AM ET
We've reflected on the
first half of the Big Ten season
, evaluated
each team
and looked ahead to what promises to be a
more exciting second half
.
As we put a bow on the first half, we're selecting a midseason All-Big Ten team. This list certainly isn't as significant as the postseason squad, but these players merit recognition for their performances during the first seven weeks of the season.

The envelope, please ...
OFFENSE
QB:
Nathan Scheelhaase
, Illinois
RB:
Melvin Gordon
, Wisconsin
RB:
Ameer Abdullah
, Nebraska
WR:
Allen Robinson
, Penn State
WR:
Jared Abbrederis
, Wisconsin
TE:
Ted Bolser
, Indiana
C:
Corey Linsley
, Ohio State
OL:
Spencer Long
, Nebraska
OL:
Brandon Scherff, Iowa

OL:
Rob Havenstein, Wisconsin

OL:
Jack Mewhort, Ohio State
DEFENSE
DE: Shilique Calhoun, Michigan State
DT: DaQuan Jones, Penn State
DE: Tyler Scott, Northwestern
LB: Chris Borland, Wisconsin
LB: Ryan Shazier, Ohio State
LB: Max Bullough, Michigan State
LB: James Morris, Iowa
DB: Darqueze Dennard, Michigan State
DB: Stanley Jean-Baptiste, Nebraska
DB: Ibraheim Campbell, Northwestern
DB: Blake Countess, Michigan
SPECIALISTS
K:
Jeff Budzien
, Northwestern
P:
Mike Sadler
, Michigan State
KR:
Marcus Jones
, Minnesota
PR:
Kevonte Martin-Manley
, Iowa
We'll start with the quarterback spot, which has been underwhelming around most of the league, partly because of injury. It was a close call between Scheelhaase and Penn State true freshman
Christian Hackenberg
, but Scheelhaase gets a slight edge with more touchdown passes and fewer interceptions. We had another tough decision at the No. 2 running back spot between Abdullah and Iowa's
Mark Weisman
, who has been very productive so far. Ultimately, Abdullah has made more out of his carries and got the nod.
The Big Ten's depth at linebacker prompted us to go with a 3-4 defensive alignment for the midseason team. We had some debate for the lone defensive tackle spot between Jones, Ohio State's
Michael Bennett
and Minnesota's
Ra'Shede Hageman
, but went with Jones, the league's leader in tackles for loss (8.5). Linebacker is so deep that it was tough limiting the list to only four. We ultimately went with Morris over Illinois'
Jonathan Brown
because Morris has made more game-changing plays. Cornerback has been a deeper position than safety through the first half, so we went with three corners and only one safety.
Kick returner was another close call between Minnesota's Jones and Illinois'
V'Angelo Bentley
.
October, 2, 2013
10/02/13
12:00
PM ET
We're driving Cadillacs in our dreams.
September, 29, 2013
9/29/13
10:00
AM ET
Five lessons from four games in Week 5. Got that?
Let's go ...
1. Ohio State's young defense is growing up:
Lost amid the
Braxton Miller
-
Kenny Guiton
debate this week was the fact a mostly young Ohio State defense with only one returning starter in the front seven would be put to the test by
Melvin Gordon
,
James White
and the formidable Wisconsin run game. The young Bucks certainly earned a passing grade after holding Wisconsin to just 104 yards on 27 carries. Gordon's knee injury limited the Badgers, but Ohio State prevented big runs and forced Wisconsin to win the game through the air. Linebacker
Ryan Shazier
shined, while linebacker
Curtis Grant
and lineman
Michael Bennett
both recorded sacks. The loss of safety
Christian Bryant
to a season-ending ankle injury is a big blow, but Ohio State has enough talent in the secondary to make up for it, as long as they don't run into
Jared Abbrederis
again soon. Ohio State's offense will win plenty of games, but you know what they say about defenses and championship. These might not be the typical Silver Bullets, but they're developing and can build on Saturday's performance as they face an even another formidable offense in Northwestern next week.
[+] Enlarge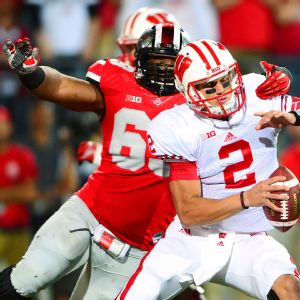 Andrew Weber/USA TODAY SportsJoel Stave and the Badgers hung around, but they were eventually tamed by Michael Bennett and the Buckeyes.
2. Wisconsin is an excellent 56-minute team:
Gary Andersen's crew showed plenty of grit Saturday night in Columbus. Quarterback
Joel Stave
quieted some of his critics -- thanks in large part to a career performance from Abbrederis (10 catches, 207 yards, 1 TD) -- and linebacker
Chris Borland
was brilliant, as usual. But Wisconsin's inability to finish off halves remains a troubling trend, and it surfaced in the loss to Ohio State. The Badgers trailed by only three points when freshman cornerback
Sojourn Shelton
dropped an easy interception near the goal line. Miller found
Philly Brown
for a 40-yard touchdown on the next play, giving Ohio State a huge boost with one second left in the half. Wisconsin struggled to manage the clock down the stretch as its comeback attempt fell short. This isn't a team built to come back in games based on the pass game, and it showed. Coupled with the Arizona State debacle (granted, more officiating than execution), Wisconsin has had a lot of bad things happen at critical moments. That's what could separate the Badgers from a fourth consecutive Big Ten title.
3. Iowa will be a factor in the Legends Division:
The Hawkeyes might not be a great team yet, but it's clear they are vastly improved from last season. On Saturday, Iowa went into Minnesota and pushed the Gophers around on their home turf, piling up 464 total yards and allowing only 30 rushing yards in a 23-7 win. The pig will return to Iowa City, but even more importantly, the hogs up front are getting it done in classic Kirk Ferentz fashion. Iowa has rushed for at least 200 yards in every game this season and went for 246 against a Minnesota defense that thought it had made strides in that area. This team has an identity, and it starts with the power running game led by
Mark Weisman
and a solid offensive line. Quarterback
Jake Rudock
has shown an ability to extend plays, and Iowa even got an explosive play in the passing game when
Damond Powell
took a short pass 74 yards to paydirt. The defense is also playing well right now; the Gophers' only score came after a long kickoff return. The Hawkeyes are 4-1 and gets Michigan State at home next week, while Northwestern and Michigan still must come to Kinnick Stadium. The schedule is difficult the rest of the way, but Iowa will have a big say in who wins the Legends.
4. Nathan Scheelhaase is the Big Ten's most improved player:
A year ago, Scheelhaase was sputtering at the helm of one of the nation's worst offenses, hardly resembling the player who had shown promise as a freshman and during the first part of his sophomore season. No Big Ten player has made bigger strides in the past season than the Illinois senior quarterback, who threw five first-half touchdown passes Saturday against Miami (Ohio) and finished with 278 pass yards on 19 of 24 attempts. Scheelhaase leads the Big Ten in passing yards and is second in touchdowns (12), tripling his total from last season. He's just five touchdown passes shy of his single-season best and 15 shy of Kurt Kittner's single-season team record. Offensive coordinator Bill Cubit deserves a lot of credit for Scheelhaase's surge -- and that of the entire Illini offense -- but Scheelhaase clearly is back on track after a year and a half in the dark. It will be interesting to see what he does this week against Nebraska's shaky defense.
5. Future starts now for Etling, Purdue:
Darrell Hazell stuck with senior quarterback
Rob Henry
through this season's early offensive struggles, but the Purdue coach realized it was time for a change Saturday against Northern Illinois. The last straw was Henry's second interception of the first half, a terribly thrown floater into the Huskies' end zone. That prompted Hazell to give the reins over to true freshman
Danny Etling
, the prized former recruit who made his collegiate debut. This was no fairy tale, so Etling didn't lead the Boilermakers to a comeback victory. He threw two interceptions, including a pick-six, and narrowly avoided another one. But Etling (19-for-39, 241 yards) did show good mobility and flashed his strong arm, especially on his first career touchdown pass, a 16-yarder to
Cameron Posey
. The offense will have more of a chance to stretch the field with him under center. Quarterback is hardly the only problem for Purdue, which got housed 55-24 at home by a MAC team and might have a hard time finding another win this season. But while Boilers fans don't like to see the words "Danny" and "hope" in the same sentence, Etling at least gives them something to look forward to as Hazell tries to work the program out of this mess.
Nebraska Debuts New Mascot At Spring Game
BIG TEN SCOREBOARD
Thursday, 8/28
Saturday, 8/30