Nebraska Cornhuskers:

Illinois Fighting Illini
December, 19, 2013
12/19/13
12:00
PM ET
October, 8, 2013
10/08/13
4:30
PM ET
Defensively, for Nebraska this season, two categories exist in surrendering chunks of yardage: There are simply big plays, and there are big plays with catastrophic results.
In the Huskers' Big Ten opener last week against Illinois, a 39-19 Nebraska victory, the Blackshirts progressed little in limiting the big play. But, the frequency of disastrous plays diminished significantly.
Nebraska continues to rank in the bottom 8 percent among FBS schools in allowing gains of 10 yards or more. Illinois accumulated 17 -- just two fewer than the Huskers' defensive average through four games -- to bring the total for the season to 96. That's 114
th
nationally.
[+] Enlarge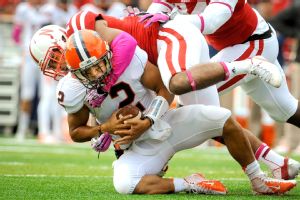 Eric Francis/Getty ImagesCiante Evans and the Blackshirts made some timely plays to keep Illinois in check.
What you didn't see last week at Memorial Stadium, though, was the domino effect so prevalent in non-conference play, in particular on Sept. 14 against UCLA, when the Huskers collapsed in allowing the final 38 points of the game. Against Wyoming and South Dakota State, too, problems snowballed for the defense.
"It's small, baby steps to give these guys some confidence," defensive line coach Rick Kaczenski said.
Coaches asked their players in the two weeks that followed the Huskers' 59-20 win over South Dakota State to let go of the bad thoughts.
If you make a mistake on the field, forget about it. If the offense makes a mistake, let it go.
"Don't look at the JumboTron," Kaczenski said. "Don't worry about it. We can't ride the highs and lows of the offense. We've got to concentrate on what we're doing.
"We signed up for this gig, too. Go put the fire out."
The Huskers did just that on defense against the Illini, which averaged 478.5 yards before the trip to Lincoln. Nebraska held it to 372.
But it's not necessarily the yardage that matters; it's how the Illini got its yards. And when.
Notably, Nebraska held Illinois when it needed stops. Here are three examples from the first half:
The Illini drove inside the Huskers' 25 late in the first quarter after Nebraska jumped on top 14-0. On third-and-7, defensive end Jason Ankrah sacked Nathan Scheelhaase for a 4-yard loss. Next play, Scheelhaase fired a strike to Steve Hull, who was met over the middle by Stanley Jean-Baptiste, whose hit jarred the ball loose to end a scoring threat.

Early in the second quarter after the Huskers made it 17-0, Illinois marched from its 8 to the Nebraska 6. It faced just one third down, on which Scheelhaase needed 12 yards and scrambled for 17. But on first-and-goal, cornerback Ciante Evans hit Donovonn Young for a 3-yard loss. Evans sacked the quarterback for an 11-yard loss on third down to force a field goal.

Leading 23-3, Nebraska endured a brain cramp in the shadow of its goal line, utilizing Imani Cross on a wide run. Illinois linebacker Houston Bates nailed Cross for a safety, and suddenly Illinois had momentum with less than two minutes to play before halftime. The Illini started near midfield but went nowhere as Nebraska linebacker David Santos made an open-field tackle of Josh Ferguson then pressured Scheelhaase into a third-down incompletion.
"Sometimes, in the course of a game, plays get lost in the shuffle," Nebraska defensive coordinator John Papuchis said. "I thought we did a nice job kind of standing up when they got in the red zone, not breaking at that point."
The defensive stops prevented Illinois from chopping into Nebraska's lead. Once the Huskers drove 75 yards in four plays to score on the opening possession of the third quarter, the game was out of reach.
"I think we played a lot more confident, a lot more loose out there on defense," linebacker
Michael Rose
said. "We gave up a lot of plays to (South Dakota State) that were head scratchers. There comes a time when enough is enough. Someone's got to step up and make a play. That's the attitude we took."
Coach Bo Pelini said he credits some of the improvement at key moments to better communication.
"We got to the point where we, as a staff, got fed up with it," Pelini said. "We demanded that we expect to see 11 guys talking on every single play. Eleven guys. And if you're not talking, you're coming out. I said, 'Try it for a day.' I think they found out what a difference it makes."
Still, the Huskers rank 98
th
nationally in total defense (445.4 yards per game), 102
nd
in yards allowed per play (6.15), 118
th
in first down per game (25.4) and 90
th
in yards per pass attempt (7.92).
But they were looking for some sign of improvement. Against Illinois, they got it by avoiding disasters. As Pelini said on Monday, "it shouldn't get to that point" where the Huskers sit on the brink. That's a challenge for this week as Nebraska prepares for its trip to Purdue.
"When it was time to bow up, they did," Kaczenski said. "That's good. That's the stuff you preach. You've got to walk the walk. These are steppingstones, and you take small strides."
October, 6, 2013
10/06/13
9:00
AM ET
LINCOLN, Neb. -- Top performers from Nebraska's
39-19
victory on Saturday over Illinois to open Big Ten play:

IB Ameer Abdullah:
The offensive star of Saturday for Nebraska. Sure,
Tommy Armstrong Jr.
is captivating the fans with his poise, but Adbullah was the workhorse on a great afternoon for running the football. The junior gained a career-best 225 yards on 20 carries and scored two touchdowns. He set the tone with a 30-yard scamper on the opening drive, and his 43-yard cutback for a TD in the third quarter goes directly into the highlight file.
CB Ciante Evans:
The Huskers' most heralded defender before the season, the senior co-captain produced three huge plays at key moments. First, he stripped running back
Donovonn Young
after a 21-yard gain to the Nebraska 31-yard line in the opening quarter.
LeRoy Alexander
recovered for Nebraska. Evans sacked
Nathan Scheelhaase
on third and goal later in the first half to force a field goal. The returning All Big Ten defender later forced an interception with a quarterback hurry.
DE Jason Ankrah:
The senior started 22 games over the past three seasons before Saturday but never enjoyed a game like this -- with a sack, another tackle for loss and an interception forced by the corner blitz of Evans. Ankrah made just those two tackles, but he was part of an invigorated Nebraska pass rush that harassed Scheelhaase early and often. Ankrah's sack, the fourth of his career, helped kill a promising drive in the first quarter after the Huskers built a 14-0 lead.
October, 5, 2013
10/05/13
6:41
PM ET
LINCOLN, Neb. -- An uncomfortable situation is brewing at quarterback for Nebraska.
Right now, it's all roses. Redshirt freshman
Tommy Armstrong Jr.
started and starred in his second straight game on Saturday,
a 39-19 Cornhusker victory
over Illinois in the Big Ten opener for both teams. Record-setting senior
Taylor Martinez
remains out with turf toe, but his return is looming.
Maybe it's next Saturday at Purdue. If not, he ought to be ready for Nebraska's Oct. 26 trip to Minnesota.
And then what?
"Taylor's earned it over a long period of time [so] when he's ready to go," coach Bo Pelini said Saturday, "he'll be the starting quarterback."
Sounds simple. But it never is.
[+] Enlarge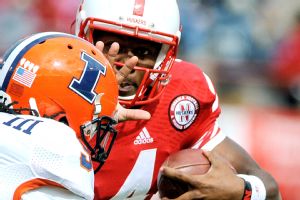 Eric Francis/Getty ImagesTommy Armstrong Jr. is putting on a show while Taylor Martinez recovers from an injury.
What happens when the offense sputters against Northwestern on Nov. 2, or more likely against Michigan State on Nov. 16? You know what will happen.
A groundswell of support for Armstrong has already begun to form. So far, there's no decision for the coaches to make. At least, not a real decision.
Pelini and offensive coordinator Tim Beck insist that Martinez, who was clearly bothered by the injury to his left foot through portions of September, must return to 100-percent health before he gets back on the field. Interestingly, that's never been the standard previously with Martinez, a tough guy who has played through injuries for the better part of his three-plus years as the Nebraska starter.
Asked last week to pinpoint Martinez's proximity to 100-percent health in the Huskers' 20-point loss to UCLA on Sept. 21, Beck couldn't do it.
This is not
Braxton Miller
, returning on a white horse to reclaim his spot. Despite his statistical genius, Martinez is rough around the edges. He has not led the Huskers to a conference championship. A faction of Nebraska fans question whether he could do it this year.
To compound matters, Armstrong has been pretty darn spectacular. He took to the Big Ten on Saturday like it was no big deal, completing 8 of 13 throws for 135 yards and two touchdowns. In two starts, he's 20 of 28 for 304 yards, three TDs and no interceptions. His Total QBR index is 94.8, a figure that ranked second nationally this season through the early set of games on Saturday.
"He just went out there and did his job and did it well," said receiver
Quincy Enunwa
, who caught a first-quarter TD from Armstrong.
The kid is enjoying it, no doubt. He said with a smile that people around Lincoln have started to recognize him. He chooses mainly, though, to stay at home with roommates
Jordan Westerkamp
and
Imani Cross
.
Armstrong's voice drops a bit as he talks about the inevitable, that Martinez is going to retake the position.
"He's the guy for this offense," Armstrong said of Martinez. "I'm going to be patient. If it's next week, if it's in two weeks, three weeks, I'm just going to prepare myself the right way.
"I'm just going to keep doing what I'm doing. It's going to be my time. My number's going to be called every game next year. I'm just preparing the right way."
Armstrong threw off his back foot in the first half as he tried to navigate balls through a 25 mph wind. The offense got sloppy in the second half. He misfired a few throws, including on the spectacular, one-handed, leaping grab by
Kenny Bell
that went for a 37-yard touchdown in the third quarter.
"I told him thanks for saving my butt," Armstrong said.
Mostly, Tommy just clicks.
He and receivers Bell and Enunwa have developed a nice chemistry. Same with I-back
Ameer Abdullah
, who ran for a career-best 225 yards against the Illini. The O-line, too, has appeared to mesh with the freshman QB.
As for the fans, well, know this: Armstrong is a savant when it comes to running the option. He froze a defender in the second half Saturday with a pitch fake 5 yards past the line of scrimmage, harkening memories of Tommie Frazier.
There's no path more immediate into the hearts of Husker fans than by running a smooth option play.
Yes, the time is coming, like two trains on a collision path under the night-time sky.
It's going to get uncomfortable.
October, 1, 2013
10/01/13
11:30
PM ET
LINCOLN, Neb. – Nebraska coaches continue to plan for the absence on Saturday of Taylor Martinez.
The senior quarterback again did not practice on Tuesday as the Huskers resumed preparations for Illinois after an off day on Monday. The school's career leader in total offense whose streak of 32 consecutive starts ended two weeks ago, Martinez is out with a turf-toe injury.
Offensive coordinator Tim Beck reiterated the Monday comments of coach Bo Pelini that Martinez must reach "100 percent" to get back in the lineup.
"He's got to be healthy," Beck said. "He's got to say he's healthy. He's got to compete like he's healthy. He's got to play like he's healthy."
Redshirt freshman Tommy Armstrong and senior Ron Kellogg III split reps on Tuesday. Beck said the dual-quarterback system, which worked well on Sept. 21 in the Huskers' 59-20 win over South Dakota State, remains a good option.
"If it helps us win games," Beck said. "I think those guys are very compatible with each other. They do a good job, and I think it doesn't really affect our team."
Martinez likely must practice Wednesday or Thursday in order to play this week. He was not available Tuesday for interviews.
"We're just getting him ready mentally right now," Beck said, "making sure he understands the game plan. He's played a lot of football around here. If there's a guy who can miss a couple practices, it's probably him."
Armstrong completed 12 of 15 passes for 169 yards and one touchdown in his starting debut against South Dakota State. He said on Tuesday that Martinez has stayed supportive of the other quarterbacks.
"Mentally, he seems like he's ready," Armstrong said.
And the freshman?
"I'm going to prepare like I'm going to play every game," he said. "I'm going to stay mentally focused and whenever my number's called, that's when I'm going to be ready."
September, 30, 2013
9/30/13
6:30
PM ET
LINCOLN, Neb. –
Taylor Martinez
is coming back. It'll happen.
Maybe not this week, though. And don't be shocked if he sits for a good portion of October.
[+] Enlarge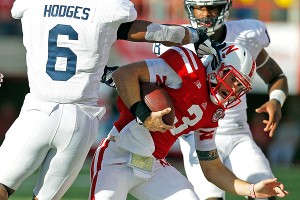 Bruce Thorson/US PRESSWIREQuarterback Taylor Martinez is questionable for the Cornhuskers' Big Ten opener Saturday against Illinois.
Reading between the lines of Bo Pelini's comments on Monday, the Nebraska coach appears ready to err on the side of caution in determining the right time for the
return on his senior quarterback from a turf-toe injury
.
On Sept. 21, Martinez, who has more than 10,000 yards of total offense to his credit among dozens of school records, missed his first game since 2010 as freshman
Tommy Armstrong
and senior
Ron Kellogg III
filled in nicely to direct a 59-20 win over South Dakota State.
Since then, Martinez has not practiced. He's getting closer to 100 percent, Pelini said.
"It's still to be determined," Pelini said Monday of the starting assignment against the Illini Saturday (noon ET, ESPNU).
That's coachspeak.
This from Pelini is not: "I would assume Taylor wants to play. But at the same time, I deal with doctors and trainers. Taylor knows. We've talked to him. We're not putting him out there until I know he's going to feel 100 percent and can execute our offense at 100 percent."
Pelini's thinking represents something of a change from early in the season, when Martinez played at less than 100 percent. His rushing figures decreased each week, from 80 yards against Wyoming to 34 on just six carries against Southern Miss to minus-13 against UCLA.
Martinez is the second-leading active rusher among FBS players with 2,959 career yards, trailing only
James White
of Wisconsin. When Martinez presents little or no threat to run, his entire game suffers.
You saw it in the second half against UCLA, and it's why you might not see him in uniform at Memorial Stadium this week.
"You've got to be able to put your foot in the ground and go," Pelini said. "That's a big part of our offense."
Martinez won't return, Pelini said, "until he shows us that he's ready, willing and able to do that."
Likely, there's more at work here. Nebraska is excited about the prospects of Armstrong, the heir apparent to Martinez, who looked ready, willing and able to do it all in his first start, albeit against the FCS-level Jackrabbits. And Kellogg provides a stabilizing, veteran presence.
As a duo, they work.
Additionally, look at the schedule. After upstart Illinois, the Huskers travel to 1-4 Purdue before another bye week. The Huskers need a healthy Martinez for the stretch run that starts Oct. 26 with Minnesota and includes Northwestern, Michigan, Michigan State, Penn State and Iowa.
Pelini said he feels better about Armstrong and Kellogg than he did before they directed Nebraska to its first-ever 300-yard rushing, 300-yard passing game against SDSU.
"I have a lot of confidence in those guys," Pelini said. "I think they are both good players. I know we'll play well around them, too, whatever gives us the best chance to win the football game. We'll have somebody who is physically and mentally ready to roll at that position."
Offensive guard
Spencer Long
said he knew from their practice reps that Armstrong and Kellogg could handle the job.
"It's really just a matter of doing it in front of 92,000 people," Long said. "They showed that they could."
For his part, Kellogg said he's preparing to start, though Pelini said if Martinez can't go, Armstrong would probably remain as the first to play.
As for Martinez, he has handled the waiting time of past two weeks, according to Kellogg, "like an adult."
Don't be surprised if the wait continues.
September, 12, 2013
9/12/13
9:00
AM ET
Both Ted and Kevin went 9-1 last week, both missing on picking USC to beat Washington State.

For the year, Kevin is 18-2 and Ted is a miserable 17-3.
STANFORD at ARMY
Kevin Gemmell
: The Cardinal thrive on efficiency, and they were very efficient in their season opener. Army is hardly the test San Jose State was. It makes its living by running the ball, averaging 329 yards on the ground through the first two weeks. Guess which team loves for teams to run at them? …
Stanford 38, Army 7
.
Ted Miller
: Army is not going to win this football game, but on a week when we remember 9/11, let's tip our cap to those guys. I'm sure they'll compete hard and make sure Stanford comes back west knowing it played a football game. …
Stanford 35, Army 10
.
FRESNO STATE at COLORADO
Gemmell
: The Buffs probably lose this one. It was a nice couple of games. They got a little momentum, doubled their win total from last season and generated a little excitement early in the rebuilding process. Fresno State has some weapons. Then again, as Ben Bradlee famously said during the Watergate investigation: "[Bleep] it, let's stand by the boys." …
Colorado 31, Fresno State 28
.
Miller
: Colorado has already shown it's a better football team than it was in 2012. Better will make this one closer than last season -- way closer. But Fresno State might be the nation's best non-AQ team. …
Fresno State 38, Colorado 30
.
TENNESSEE at OREGON
Gemmell
: Had he taken the Colorado job, Butch Jones would have had to wait two more weeks to get blown out by the Ducks. At least now he gets it out of the way sooner. Look for those little mistakes Oregon had last week to disappear as the Ducks return home. …
Oregon 48, Tennessee 17
.
Miller
: There is a level of intrigue for this game based on the Volunteers having a great offensive line and the Ducks being somewhat questionable at linebacker. Is that enough to keep it close? Probably not. …
Oregon 44, Tennessee 20
.
OHIO STATE at CALIFORNIA
Gemmell
: The Buckeyes showed some depth against San Diego State last week when
Braxton Miller
went down. That doesn't bode well for a Cal defense that is rife with injuries right now. The Bears can put up points. No one is disputing that. Stopping people is the bigger priority right now. …
Ohio State 38, Cal 27
.
Miller
: The Buckeyes are going to pile up rushing yards, whether Miller plays or not. So can the Bears pile up passing yards to match them, score for score? Maybe for a little while, but not for four quarters. …
Ohio State 40, California 21
.
WISCONSIN at ARIZONA STATE
Gemmell
: Welcome to the desert, where the temperature at kickoff is expected to be a toasty 102 degrees. But it won't be the heat that burns the Badgers. It will be ASU's precision efficiency, which is amplified when
Taylor Kelly
plays at home. In eight career home games, he has 19 TDs to three INTs and is completing 74.2 percent of his throws. …
Arizona State 35, Wisconsin 24
.
Miller
: But it's a dry heat! My question is whether the Sun Devils defense will be able to stand up to the relentless power-rushing attack of the Badgers. My guess is both teams will be pretty darn worn out by the end of the game. Kevin thinks the UCLA-Nebraska game was the toughest pick this week. This was it for me. …
Arizona State 24, Wisconsin 23
.
OREGON STATE at UTAH
Gemmell
: Two weeks ago, I said I would pencil this in as an Oregon State win. Pencils have erasers. The Beavers have all sorts of issues on defense, and the Utes are playing with a confidence we've rarely seen since they joined the league. I think
Sean Mannion
and
Brandin Cooks
have a big day, but I think
Travis Wilson
& Co. have a bigger day. …
Utah 31, Oregon State 27
.
Miller
: This feels like a HUGE game for both teams. As in, neither will accomplish its goals this season if it loses. I like the matchup with a more mature Travis Wilson against the injury-riddled Beavers defense, but I also think Mannion and Cooks have an edge versus the Utes' questionable secondary. The edge for the Utes is playing at home. …
Utah 38, Oregon State 35
.
UTSA at ARIZONA
Gemmell
: The Wildcats still haven't put it all together. But, once again, their schedule allows for tweaking and growing.
Ka'Deem Carey
's return was as spectacular as expected, and the defense continues to show signs of improvement. I suspect we'll learn more about the Wildcats when they open league play on Sept. 28 against Washington. For now, they'll continue to tweak their way to another win. …
Arizona 42, UTSA 21
.
Miller
: I'm with Kevin. I'm ready to see Arizona get tested. The Wildcats' big goal in this game is fleshing out a passing attack that has been poor to middling in the first two games. …
Arizona 48, UTSA 17
.
BOSTON COLLEGE at USC
Gemmell
: A whole week for
Cody Kessler
to take the first-team snaps might do wonders. But, for now, if the Trojans do win, it will continue to be on the coattails of the defense, which has been outstanding, and that's getting lost in all of this quarterback mess. …
USC 31, Boston College 17
.
Miller
: Forget Lane Kiffin for a moment. What about the players? Do they have pride? Or are they ready to wave a white flag on their season and their head coach? I think we'll see USC bounce back, but I'm far from certain of it. …
USC 24, Boston College 17
.
SOUTHERN UTAH at WASHINGTON STATE
Gemmell
: The worst thing in the world would be an emotional letdown. Don't see it happening. The offense gets back on track this week and the defense continues to improve in Year 2 under Mike Breske. The Air Raid should be in full effect this week. …
Washington State 48, Utah State 10.
Miller
: Washington State is going to win this game, but the Cougars need to get their offense back in sync. That means enough running game to keep a defense honest and more than 300 passing yards. We'll see both on Saturday. …
Washington State 51, Utah State 13
.
UCLA at NEBRASKA
Gemmell
: By far the toughest game to pick this week. It all comes down to which defense can better contain the other's quarterback. I think the bye week was a good thing for the Bruins, though this week will certainly be emotionally trying with the death of receiver
Nick Pasquale
. They have on film what they did right and wrong versus a mobile quarterback from the Nevada game. I think they put that film to good use. …
UCLA 36, Nebraska 31
.
Miller
: Both teams have good offenses, but I think the UCLA defense is better. Further, I like
Brett Hundley
to take control in the fourth quarter and
Anthony Barr
to make some game-changing plays against
Taylor Martinez
. …
UCLA 40, Nebraska 31
.
WASHINGTON at ILLINOIS (in Chicago)
Gemmell
: This is the next big test for the Huskies: Can they be as productive on the road? They come off the bye week healthy and rested, and the return of
Austin Seferian-Jenkins
gives
Keith Price
another outstanding weapon. Looking for the Huskies to take a big step forward. …
Washington 35, Illinois 24
.
Miller
: If the Huskies play like they did against Boise State, they will roll. I expect them to. I also expect Seferian-Jenkins to have a big game, both catching the ball and blocking for
Bishop Sankey
against a middling defense. …
Washington 41, Illinois 20
.
Big Ten Signing Day Round-Up
BIG TEN SCOREBOARD
Thursday, 9/3
Friday, 9/4
Saturday, 9/5
Sunday, 9/6
Monday, 9/7