Nebraska Cornhuskers:

Brent Qvale
November, 29, 2013
Nov 29
7:00
AM ET
LINCOLN, Neb. -- Iowa hasn't beaten Nebraska at Memorial Stadium since 1943 as it visits for the second time as a Big Ten foe on Saturday (noon ET, ABC.) Here's what we'll be watching:
[+] Enlarge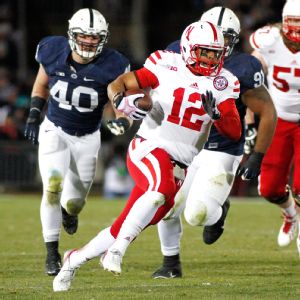 Justin K. Aller/Getty ImagesSenior Ron Kellogg III, a former walk-on, could be in line for his first career start on Saturday.
1. The Nebraska quarterback:
Who will it be? The Huskers never made an announcement on a starter this week, perhaps because they're simply not sure if freshman
Tommy Armstrong
is healthy enough to go on his injured ankle. Or maybe it's because Nebraska wanted to build the suspense on Senior Day before handing former walk-on
Ron Kellogg III
his first career start. We're going with the latter. Offensive coordinator Tim Beck said redshirt freshman
Ryker Fyfe
would be ready if needed, which might mean Armstrong is hurt worse than we know.
2. The Senior Day effect:
The fifth-year guys among Nebraska's 23 seniors -- players like linemen
Brent Qvale
,
Cole Pensick
and
Jeremiah Sirles
, quarterback
Taylor Martinez
and defensive back
Andrew Green
-- were part of the first group scouted and signed by Nebraska coach Bo Pelini after a full year to recruit. In other words, they were his kind of guys. And say what you want about Nebraska's fall from the national radar, these seniors were tough. They've led the Huskers to eight straight wins in games decided by seven points or fewer, including the overtime victory last week at Penn State. Emotions will run high before kickoff.
3. Ameer Abdullah's durability:
The Huskers' junior I-back has answered every question through 11 games. But he has averaged 24.5 carries per game over the past four weeks. If he's getting tired, this is not the right opponent to face. Iowa's rushing defense ranks 20th nationally, allowing 123.6 yards per game. Abdullah needs 17 yards to record the fifth 1,500-yard season in Nebraska history. As long as he has plenty of gas in the tank, Abdullah is a good bet to get to 1,600 on Friday.
4. Iowa's downhill running attack:
Led by bruiser
Mark Weisman
, the Hawkeyes do nothing fancy in the running game. They'll line up and pound it at the Huskers. It worked with decent success for Penn State a week ago, but Nebraska stiffened after halftime. The Blackshirts continue to show improvement and climb the charts statistically as the young linemen and linebackers grow into their roles. Iowa has been especially potent in the first half this year, so the importance of a good start defensively for Nebraska is magnified. One way to set the tone? Get ahead in the turnover department, a problem for both teams this year.
5. The white elephant in the room:
We can't finish without mentioning the uncertain status of Pelini, who has taken the Huskers within one win of a sixth straight nine-win season. Still, Nebraska appears no closer to the nation's elite than three years ago, and the school's administration, given ample opportunities, has offered little public support for the coach. It's policy for first-year athletic director Shawn Eichorst to stay quiet on personnel matters, but there's a tense moment or two on tap for Nebraska in the wake of this regular-season finale, win or lose.
November, 23, 2013
Nov 23
7:00
AM ET
Nebraska returns to State College, Pa., for its first visit since a three-point win in the days after Joe Paterno was fired in November 2011. Much different circumstances exist this time.
Here's what to watch:


Nebraska's attempt to slow Allen Robinson:
With apologies to Nebraska I-back
Ameer Abdullah
and defensive end
Randy Gregory
, Penn State's junior wideout is the best player in this game. Robinson leads the Big Ten in receptions and receiving yards and forms a dynamic duo with freshman quarterback
Christian Hackenberg
. The Nittany Lions will find a way to create favorable matchups for Robinson. It's up to the Huskers' much-improved defense to play well in coverage and make tackles when Robinson gets the ball.
The turnover battle:
Nebraska has struggled to take care of the football over its past five games, committing 16 turnovers. Nearly as troubling, it's forced only three for a minus-13 margin that ranks last nationally over that period. Five turnovers last week in Lincoln cost Nebraska a chance to beat Michigan State. Penn State isn't much better in this area, ranking 99th in turnover margin to the Huskers' 106th. This sounds like the mantra week after week for the Huskers, but they need to play a clean game offensively and on special teams.
The O-line woes:
More trouble struck the Nebraska offensive line this week as
Cole Pensick
, the Huskers' center turned guard, missed practice time because of a knee injury suffered against the Spartans. Pensick, tackle
Jeremiah Sirles
, and guards
Jake Cotton
and
Mike Moudy
are all questionable to play in State College. That leaves a patchwork group that might include sophomores
Givens Price
,
Ryne Reeves
and
Zach Sterup
in addition to junior
Mark Pelini
and senior
Brent Qvale
. At this point, it's amazing that the Huskers' pass protection and run game have held up. Credit O-line coach John Garrison and his men for their fight.
Tommy Armstrong Jr.'s mindset:
To date, the Huskers' redshirt freshman quarterback has proven resilient at handling everything from a flurry of turnovers to hostile crowds and uncertainty over his playing time. But in five starts before last week, he never dealt with a loss. As Armstrong heads back into a huge stadium on the road, his confidence and poise might have taken a hit, considering that two of his fumbles against the Spartans led directly to touchdowns. Keep an eye on how he rebounds.
The Huskers' mood:
Nebraska players and coaches said all the right things this week. The Huskers are eliminated from contention for a league title with two games left for the first time since 2007. Pride remains a key source of motivation. It's been a tough week in Nebraska, though, with negativity swirling and speculation at an six-year high over the job status of the head coach. Athletic Director Shawn Eichorst is predictably quiet about Bo Pelini. The Huskers are adopting a bunker mentality, but if adversity strikes again, how will they respond, knowing the climate back home is ripe for controversy?
November, 21, 2013
Nov 21
8:00
AM ET
LINCOLN, Neb. -- When your dreams are dashed and most of your goals gone, there's just one way to react, according to Nebraska I-back
Ameer Abdullah
.
"Move on," he said. "That's part of college football."
Nebraska finds itself out of position to win a conference title with two regular-season games to play for the first time since 2007.
[+] Enlarge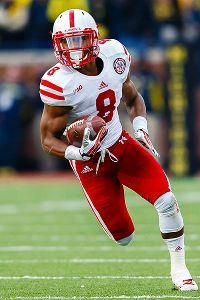 Rick Osentoski/USA TODAY SportsEven though there is no Big Ten title to play for, Ameer Abdullah and the Huskers still have plenty on the line.
The Cornhuskers said the situation makes no difference in their preparation for a visit Saturday to Penn State. Nebraska faces Iowa next week with incentive still to win nine games for a sixth consecutive season.
Actually, a 10-win season -- bowl game included -- remains possible.
The plan for Nebraska success in State College involves tapping a strong reserve of pride.
"We have too high character of guys to have a letdown," senior offensive tackle
Brent Qvale
said. "I think we'll be doing just fine. But if there is any lull, it's going to be up to myself and the rest of the seniors to really push everyone along and make sure we are executing in finishing out the season the right way."
Nine wins is a big deal.
"It's the No. 1 thing we're working for right now," linebacker
David Santos
said.
It helps that the Huskers match in these final two weeks against the Nittany Lions and Hawkeyes.
Nebraska and Penn State share a notable history as nonconference foes. In Big Ten play, the Huskers won the first two meetings, including an emotional-wrapped 17-14 victory at Beaver Stadium two years ago in the wake of Joe Paterno's firing.
Iowa and Nebraska share a border and a Big Ten-assigned, post-Thanksgiving rivalry.
The Huskers continue to deal with injuries. Another starter on the offensive line is doubtful for Saturday as center-turned-guard
Cole Pensick
fights a knee injury suffered last week in Nebraska's 41-28 loss to Michigan State.
Pensick's injury brings to four the number of top-unit offensive linemen who are not healthy. All-Big Ten guard
Spencer Long
went down against Purdue with a season-ending knee injury. He was followed to the sideline by guard
Jake Cotton
, tackle
Jeremiah Sirles
and Long's replacement,
Mike Moudy
.
Still, Nebraska found a way rush for 182 yards against the Spartans, nearly twice as many as any foe had gained against MSU this season.
"There's a lot of character on this football team," Nebraska coach Bo Pelini said.
Individually, many goals remain. Abdullah is a semifinalist for the Doak Walker Award, presented to the nation's top running back. He's also in contention to be named the Big Ten's offensive player of the year.
But the junior, who has rushed for more than 100 yards in nine of the Huskers' 10 games, is more concerned about his team.
"I feel like, as a team, we're a pretty prideful bunch," Abdullah said. "We want to win, and we want to get the bad taste of a loss out of our mouths. We are going to do everything we can this week to ensure that we can do that."
November, 17, 2013
Nov 17
10:00
AM ET
LINCOLN, Neb. -- Nebraska dropped from contention in the Big Ten Legends Division race with a 41-28 loss to Michigan State on Saturday at Memorial Stadium. Here's what we learned:

1. The Huskers can't get out of their own way.
The turnover problems of past seasons began to emerge in October. But nothing suggested Nebraska would fall apart like this. The Huskers fumbled on their third offensive play.
Tommy Armstrong Jr
. threw an interception on the sixth play. When it was over, Nebraska committed five turnovers, moving to minus-13 over its past five games -- dead last among 126 FBS teams. All five turnovers on Saturday occurred in Nebraska territory, including three inside the 25-yard line.
2. The injury problems aren't going away:
Nebraska's offensive line remains a mess. On Saturday, only right tackle
Jeremiah Sirles
started at his normal position. And Sirles, hurt last week against Michigan, sat out the second half. Otherwise, we saw tackle
Andrew Rodriguez
at guard, center
Cole Pensick
at center and backup
Mark Pelini
in the middle.
Brent Qvale
started at left tackle for the second straight week.
Mike Moudy
and
Jake Cotton
missed the game in addition to
Spencer Long
, who's out for the year. Quarterback
Taylor Martinez
and receiver
Jamal Turner
sat out again.
3. Nebraska's special teams still aren't special:
As if the turnovers weren't bad enough, Michigan State decisively won the kicking game. The Huskers' return game is non-existent.
Jordan Westerkamp
muffed another punt. His first-quarter gaffe gave Michigan State possession at the Nebraska 8-yard line, leading to a touchdown. In coverage, the Huskers allowed a 26-yard punt return to
Macgarrett Kings Jr
. and were flagged for a kick-catch interference penalty. Additionally, Michigan State's game-icing touchdown came after the Spartans executed a fake field goal as punter
Mike Sadler
followed a blocker through the middle of the Nebraska line on a fourth-and-1 early in the fourth quarter.
November, 16, 2013
Nov 16
7:00
AM ET
LINCOLN, Neb. -- Sparty comes calling for Nebraska at Memorial Stadium on Saturday at 3:30 p.m. ET. It's time to learn if the Legends Division race is all but over, or if it'll stretch to the weekend after Thanksgiving. Here's what to watch:


Tommy Armstrong Jr.'s composure.
We've talked for much of the past two months about Nebraska's uncertainty at the quarterback position. So why stop now, with all drama seemingly set aside? Armstrong is entrenched as the starter, and he produced a performance last week at Michigan that looked like a coming-of-age moment, particularly the winning drive. The freshman is poised beyond his years, but the Michigan State defense poses a test unlike any that he's faced.
Nebraska's surging defense.
Is it for real? The Blackshirts' progress over the past two weeks looks real. You don't keep two foes out of the end zone on 17 straight drives with smoke and mirrors. But the Huskers defense has teased us before. Remember Purdue? That near shutout came before Minnesota punched Nebraska in the mouth. Consider the level of competition the past two weeks; it's not great. But neither are the Spartans on offense, so perhaps the Huskers will extend their strong defensive play another week.
The Spartans D:
No doubt, these guys are for real. Michigan State brought nearly half of this starting group to Lincoln two years ago, losing 24-3. Last year in East Lansing, the Huskers scored in the final seconds to win 28-24. Some wondered this week if the Spartans might lack for confidence because of the past two years. Unlikely. If anything, the Michigan State defense will come out hungrier, more angry and aggressive.
The Huskers' O-line:
Who's going to play and where? First, guards
Spencer Long
and
Jake Cotton
went down with knee injuries. Then left tackle
Jeremiah Sirles
suffered the same fate. Now, replacement guard
Mike Moudy
is doubtful with a shoulder injury. That's four starters at three positions, if you're counting. Cotton might try to come back, but the fact remains that Nebraska will field a patchwork group, led by
Cole Pensick
, the center who may have to play guard, tackle-turned-guard
Andrew Rodriguez
and tackle
Brent Qvale
, who has flipped from the right to left side.
Special teams and turnovers:
Michigan State has developed into an efficient offensive team since its September loss to Notre Dame. The Spartans rank second in the Big Ten in turnover margin. They execute well on special teams. Nebraska, meanwhile, has fallen into old habits over the past four games after posting a positive turnover margin in the season's first five games. It's minus-8 since Oct. 12. That won't be good enough against the Spartans. The Huskers must also find a way to at least break even in the punting game.
November, 14, 2013
Nov 14
11:00
AM ET
LINCOLN, Neb. -- There's a cold-blooded side to Nebraska quarterback Tommy Armstrong.
You saw it in the final minutes last week as the Huskers rallied behind him to beat Michigan on the road.
You hear it as he talks. Armstrong's confidence, for a redshirt freshman thrust into a starting role, is unusual, even striking in how it resembles a Nebraska legend.
[+] Enlarge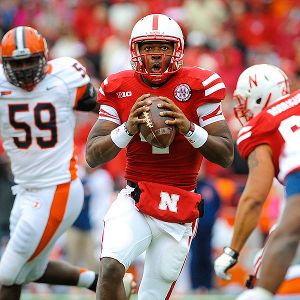 Eric Francis/Getty ImagesTommy Armstrong has what his coaches call the "it factor" and is one of just three QBs in Nebraska history to win their first five starts.
Armstrong walks on the edge -- with his words and in his play.
Of Michigan State, which enters Memorial Stadium on Saturday with the nation's No. 1-ranked defense, Armstrong said, "they can be beat."
Sure, but beaten by injury-plagued Nebraska, which has sputtered in recent weeks against defensive units far inferior to the Spartans?
"Our offense," he said, "when we're clicking, I don't think anybody in the country can stop us."
Armstrong turned 20 last week. He has much to learn about the Big Ten and college football. But this much we know, after five starts: The kid commands respect. His presence instills a belief among teammates.
He embraces leadership. Armstrong carries himself like a veteran. He said he feels like a captain in his first season of action.
Armstrong, according to offensive coordinator Tim Beck, has the "it factor."
"How do you describe that?" Beck said. "How do you describe that he has that instinct for running the option? How does he have the instinct for making that calm throw? How does he have the instinct to check to the right play?"
"He has it," Beck said. "It just applies to all the things that he does as a player and as a person."
Listen to the Huskers.
"He's mature beyond his years," senior offensive tackle
Brent Qvale
said. "No situation is too big for him. It's something you need in your quarterback. I love his poise. I love how he handles himself."
Said junior I-back
Ameer Abdullah
: "He isn't a young guy any more. He's a leader. … He says the right things when they need to be said."
And from senior fullback
C.J. Zimmerer
: "We trust him with everything now. He's our guy, and we're going to go with him 'til the end."
Armstrong inherited a difficult situation, taking over for injured senior
Taylor Martinez
, the starter since his redshirt freshman year in 2010. Fellow senior
Ron Kellogg III
, seemingly a friend to everyone, including Armstrong and Martinez, eased the transition.
But Armstrong made this work.
A week after he threw a costly, fourth-quarter interception against Northwestern, Armstrong watched
Jordan Westerkamp
-- the hero alongside Kellogg against the Wildcats -- drop a punt in a moment similar to Armstrong's mistake.
Armstrong said he rushed to Westerkamp on the sideline. The quarterback told him the Huskers would get it done, that they would drive for a winning score. After a Michigan field goal, Armstrong made good on his word.
He completed 5 of 7 passes for 59 yards on the final march. He checked to a fourth-and-2 throw that gained 26 yards. He improvised an option call at the goal line, cooking up a 5-yard touchdown pass to Abdullah for the winning points.
So what happens against Michigan State?
"Tommy Armstrong is not going to be intimidated," Nebraska coach Bo Pelini said. "That much I know."
Armstrong has given his teammates reason to follow him.
He's had help, for sure, but only two other Nebraska quarterbacks won their first five starts -- Martinez and Brook Berringer, who won nine straight as a junior after playing behind Tommie Frazier for two years.
Frazier, in fact, was the original cold-blooded Nebraska quarterback.
He won national championships. The talent around him was remarkable. He was a once-in-a-generation combination of skill and savvy, determination and confidence.
And of all who played the position over the past two decades in Lincoln, Armstrong's athletic and intellectual makeup appears to resemble no one more closely than Frazier.
It's not a fair comparison, Tommy and Tommie.
Gotta figure the kid likes it.
November, 11, 2013
Nov 11
5:15
PM ET
LINCOLN, Neb. -- Toughness shows its face on fourth-and-2, late in the fourth quarter, down three points before a crowd of 112,000 on enemy ground.
Pride emerges on the goal line in a tie game, when a defensive stand is the only answer that will lead to a victory.
[+] Enlarge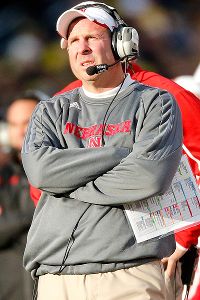 Gregory Shamus/Getty ImagesCoach Bo Pelini's Nebraska team has back-to-back come-from-behind victories over Northwestern and Michigan.
Resiliency rises to the surface, 83 yards from the end zone with 74 seconds to play in the shadowy din of a home stadium set to turn hostile.
Ten days ago, before Northwestern visited Memorial Stadium, most observers had left Nebraska out in the cold to die in the wake of a loss at Minnesota, stunning in how the Gophers punched Bo Pelini's team square in the face and drew little response.
With two minutes left against the Wildcats on Nov. 2, the Huskers were all but buried despite a tenacious defensive performance over the final 2 ½ quarters.
Yet here they sit as mid-November arrives, riding a renewed sense of confidence ahead of a visit Saturday from Legends Division leader Michigan State (3:30 p.m. ET/ABC-ESPN2).
Again.
This is old habit for the Huskers. Dig a hole, crawl inside, then as the walls appear set to collapse, find an escape route.
Nebraska punches its way out of a corner better than any team in the Big Ten. We've often wondered in Pelini's six years about the identity of his teams. Maybe, after another dramatic victory on Saturday at Michigan -- the Huskers have won seven straight games decided by a touchdown or less -- it's this: They're a direct reflection of their coach, who for his all his faults, never stops fighting.
Pelini is a survivor. He thrives in averse situations, or so it seems. When the walls around him drew near in September after the ill-timed release of an embarrassing, two-year-old audio tape, he used the support of his former boss, Tom Osborne, to fend off critics and hunkered down for a rough week.
When his defense, bruised and confused by the likes of Minnesota, UCLA and Wyoming, faced a do-or-die moment against Northwestern, it responded just like Pelini had drawn it up.
Over the past two weeks among teams that have played twice, Nebraska's defense ranks third nationally in allowing 250.5 yards per game.
No team, in two games this month, has fared better defensively on third down.
"We play for one another," senior cornerback
Ciante Evans
said. "We're never going to lay down for anybody. We're tough. When you're backs up against the wall, you have to come out fighting.
"That's something we see from the coaching staff."
Often, in the midst of a demanding time, it's difficult to see what's happening right in front of you.
Pelini said on Monday that he's not sure if the Huskers' resiliency reflects his persona.
"Hopefully, it's reflective on the culture of our program," he said.
The coach said he and his staff preach a culture of togetherness.
"Fight until the end," he said, "no matter what happens."
That message, above all others, gets through.
"Guys have embraced what our coaching staff has asked us to do," senior offensive tackle
Brent Qvale
said. "One of our big things is just stay the course. Don't ever give up. Don't ever get down on yourself. You've got to have a short memory when you play. That's something they've instilled in us."
Whatever they're doing, it helped freshman quarterback
Tommy Armstrong Jr
., starting away from home for just the second time, stare down the Michigan defense and its imposing crowd and convert a fourth down with a pass to
Kenny Bell
en route to the game-winning touchdown on Saturday.
It helped Evans, linebacker
David Santos
and budding star
Randy Gregory
at defensive end stuff back-to-back Northwestern runs in the red zone, forcing a field goal to keep the Huskers alive in the final minutes.
It helped backup QB
Ron Kellogg III
engineer a decisive drive that revived the Huskers' season.
A formidable challenge arrives this week as the Spartans bring the nation's top-ranked defense to Lincoln.
Nebraska crawled out of its hole last year to beat MSU, one of four double-digit deficits overcome by Pelini's team in Big Ten play. The Huskers, if nothing else this week, promise to fight.
"One of these weeks," Qvale said, "we'll be ahead in at the start the fourth quarter. That would be nice."
With the inexperienced Armstrong and a patchwork offensive line, the Huskers look overmatched.
In other words, they're right at home.
November, 7, 2013
Nov 7
8:00
AM ET
LINCOLN, Neb. -- College football teams, when dealing with the weekly turns of momentum in an intense sport, have no choice but to accept the cards they're dealt.
Nebraska, as it heads to Michigan on Saturday, holds something akin to a royal flush.
[+] Enlarge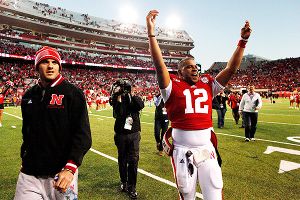 Bruce Thorson/USA TODAY SportsNebraska is hoping the celebration from last weekend's Hail Mary victory over Northwestern gives it momentum moving forward.
The Huskers beat Northwestern in spectacular fashion last week at Memorial Stadium, scoring as time expired on a 49-yard Hail Mary from
Ron Kellogg III
to
Jordan Westerkamp
. It turned what would have been a dark time in Lincoln into a period of joy, relief and optimism -- for a few days, at least.
The Huskers hope the feelings persist. Their plan for success at Michigan Stadium? Keep it going.
"Honestly, that may have just defined the rest of our season," senior offensive tackle
Brent Qvale
said. "It's given us great motivation to move forward and be able to continue into this week and for the rest of the year."
As a result of the victory over Northwestern, the Huskers remain in control of their destiny in the Big Ten's Legends Division. Nebraska needs a win on Saturday, two years after losing 45-17 at the Big House, then a victory next week over division leader Michigan State to remain in good position.
It's possible.
"It's just like last year," junior I-back
Ameer Abdullah
said.
A year ago, momentum carried Nebraska from one comeback win to another. The Huskers staged rallies from double-digit, second-half deficits against Wisconsin, Northwestern, Michigan State and Penn State to reach the Big Ten championship game.
Adding to the momentum factor, Michigan is reeling after a 29-6 loss to the Spartans that all but eliminated it from Big Ten title contention. The Huskers are not expecting to find a troubled opponent, though. Not in Ann Arbor, where the Wolverines seek a 20th straight victory under third-year coach Brady Hoke.
"They've got a good scheme," Nebraska offensive coordinator Tim Beck said. "They're well coached. It's going to be a dog fight."
Abdullah agreed. And he's not expecting an environment hospitable for Nebraska's momentum surge to continue.
"It's going to be fun, man," he said. "The Big House two years ago, they killed us up there. ... Michigan fans are nasty. They are ruthless. That's Big Ten football. We've got a lot of young guys, and we've got to bring them down to planet Earth and make them realize just to stay with your techniques and do what you're taught, and we'll like the results."
Last year, after the string of dramatic wins, all momentum disappeared in the title game as Wisconsin throttled Nebraska 70-31.
The cards can turn that fast.
November, 6, 2013
Nov 6
8:00
AM ET
The numbers don't look good for Nebraska.
Michigan is 19-0 at home under coach Brady Hoke in three years. Over that same time, Nebraska is 7-8 away from home, including a 6-4 mark in Big Ten opponents' stadiums.
[+] Enlarge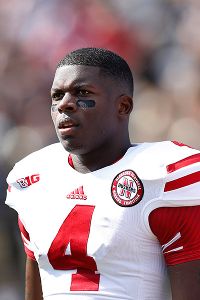 Joe Robbins/Getty ImagesTommy Armstrong Jr. struggled in his only road start, throwing three interceptions Oct. 12 at Purdue.
When the Huskers visit the Wolverines on Saturday (3:30 p.m. ET, ABC), the visitors won't take good memories of their last trip to Michigan Stadium -- a 45-17 loss in 2011.
Redshirt freshman quarterback
Tommy Armstrong Jr
., Nebraska's expected starter, of course, wasn't there two years ago. He's started just one road game, Oct. 12 at Purdue, and threw three interceptions before he was replaced in the second half.
Northwestern also intercepted Armstrong three times last week in Lincoln.
So how will the Huskers and their young quarterback survive the mayhem of the Big House and more than 100,000 fans?
"We've just got to make sure we don't turn the ball over and give our defense a chance," Armstrong said. "They're starting to click at the right time."
The Blackshirts held Northwestern scoreless on 11 consecutive drives from midway through the second quarter until the Wildcats kicked a go-ahead field goal in the final two minutes. The Huskers will likely need a similar effort against Michigan, which is averaging 46.6 points in five home games this year.
"I guess I can't really explain it," Nebraska coach Bo Pelini said of the Wolverines' elevated play at home. "I know I feel a lot more comfortable here, playing at home, because of our crowd and the energy they bring.
"I'm sure Michigan shares the same thing. I've played in Ann Arbor, and they've got a good fan base. The place will be loud. It's 110,000 people, so obviously that gives them an advantage. We have to understand that going in."
Another key for Nebraska involves stability on the offensive line. It lost All-Big Ten guard
Spencer Long
against Purdue last month. Guard
Jake Cotton
went down last week with a sprained knee ligament.
The Huskers may shift tackles
Andrew Rodriguez
or
Brent Qvale
to guard or move center
Cole Pensick
and play backup
Mark Pelini
at center.
Regardless, they must avoid mistakes like the three penalties that cost Nebraska a pair of scoring opportunities in the fourth quarter against Northwestern.
"We've got to find guys who can step up," left tackle
Jeremiah Sirles
said. "And when they step up, they've got to step up with a purpose. We have a standard that we set. It stays the same, no matter who's in there."
November, 4, 2013
Nov 4
4:20
PM ET
LINCOLN, Neb. -- Lots of talk on Monday from Nebraska players and coach Bo Pelini about the Hail Mary pass the Huskers used on Saturday to defeat Northwestern, 27-24.

Quarterback
Ron Kellogg III
and receiver
Jordan Westerkamp
remained in the spotlight, answering questions from reporters. Kellogg, the former walk-on and fifth-year senior from Omaha, spent more than an hour in attendance at the Huskers' weekly press conference.
Of note, Pelini said he was reluctant to celebrate after Westerkamp's reception, as he heard officials call for a replay review of the play. Did Westerkamp catch the football? Was he in the end zone? Was Kellogg behind the line of scrimmage?
Pelini didn't know. His view from the sideline was blocked. The coach said his mind flashed to the 2009 Big 12 championship game, when Nebraska celebrated an apparent win over Texas as time expired. After a review, officials added time, allowing the Longhorns to kick a game-winning field goal.
"I was sitting there thinking, 'Oh, my goodness,' " Pelini said, "there's going to be a riot here if this thing gets called back."
Pelini also addressed the Huskers' injury situation. Quarterback
Taylor Martinez
remains out with a series of problems that now includes an abdominal strain related to the hip pointer he sustained Oct. 26 in Nebraska's loss at Minnesota.
Martinez also still is bothered by the foot and shoulder problems that caused him to miss three games in September and October. Pelini offered nothing on a plan for Martinez's return.
Redshirt freshman Tommy Armstrong is set to start his fifth game Saturday at Michigan.
Receivers
Kenny Bell
and
Jamal Turner
are questionable for the Michigan game. Guard
Jake Cotton
, after straining a knee ligament against Northwestern, is doubtful. The Huskers might consider options at guard that include reserve
Ryne Reeves
and tackles
Brent Qvale
or
Andrew Rodriguez
.
Tight end
Jake Long
, sidelined by a hamstring injury, should return to practice this week, Pelini said. His brother, All-Big Ten guard
Spencer Long
, is out for the year after undergoing knee surgery.
August, 28, 2013
Aug 28
3:00
PM ET
LINCOLN, Neb. -- Nebraska seeks its 28th straight win in a season opener on Saturday night against Wyoming.
[+] Enlarge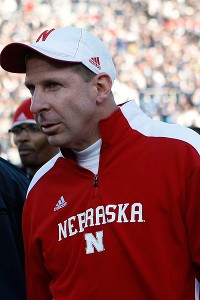 Rob Christy/US PresswireBo Pelini is once again stressing the importance of winning the turnover battle.
The Huskers have not lost to their western neighbors in six meetings, and the Cowboys enter Memorial Stadium as a four-touchdown underdog after a 4-8 finish in 2012. Still, there's suspense on tap. The largest crowd in school history is expected after the addition of 6,000 seats in the east balcony, and there are plenty of questions to answer for Nebraska.
Enjoy this kickoff edition of Talking Points, featuring the most interesting comments of the week -- and why they're important – as coach Bo Pelini and the Huskers met with the media:
"We know that if we win the turnover battle, we've got a better chance to win these games. That's something we definitely put an emphasis on, and we're trying to do better this season. We drill it. It's always in the back of our head." – junior safety Corey Cooper
Perhaps the No. 1 objective this offseason was to find a way to reduce turnovers. Nebraska ranked dead last nationally last season with 22 lost fumbles. Only 1-11 Idaho topped the Huskers' 35 total turnovers.
Since Pelini took over at Nebraska in 2008 the Huskers are minus-20 in turnover margin. That's 100th out of 120 FBS programs. Still, just 10 teams over that time have won more than Nebraska's 48 games. And each one ranks among the top 18 in turnover margin since 2008.
With a favorable schedule that starts with five home games, Nebraska must clean up its act -- or risk fumbling away the chance at a memorable season.
"It's like playing defense in basketball. The really good teams are out there communicating and talking and anticipating things. That's the level you want to get to… The way our defense works, as long as we communicate and are on the same page, that's all I'm concerned with." – Pelini
Pelini says he's not a stat guy, so he doesn't care about the numbers that say Nebraska is rated as a slightly above-average defense in 2012 – 35th in yardage allowed and 46th in third-down conversation rate. Yes, it led the nation in opponent pass-completion percentage but still managed to allow 115 points in season-ending losses to Wisconsin and Georgia that sent the Blackshirts reeling into the winter.
How to fix it? Pretty clear that Pelini believes it starts with communication. He's got a point about the best teams, too. Have you noticed the Alabama and LSU defenses, always communicating, pointing? Actually, they're reminiscent of a few old Pelini units at Nebraska.
"I think this is going to be one of Nebraska's best offensive lines. They are going to be the strong point of our offense. There are so many good players up there and strong guys who have played in big games, and I'm excited to see how they do." – senior quarterback Taylor Martinez
A bold statement from the four-year starting QB, who knows a good offensive line when he sees it. No one at Nebraska has started more games at the position than Martinez. No one has totaled more yards.
And he's done it behind a line that's often rated as the most maligned group on the field. Nebraska has experienced a run of bad luck on the line over, oh, the past decade, undermining its offensive consistency. This could be the line to reverse all of that, with
Spencer Long
as an anchor from the guard spot, experienced bookends in
Jeremiah Sirles
and
Brent Qvale
and guard
Andrew Rodriguez
perhaps ready to show the talent that made him a top recruit in 2010.
"A lot of times last year I was over-thinking things because I was young. I have a season under my belt now, and I'm much more confident in what I can do. And I'm just excited to show everyone what we've been working on." – junior I-back Ameer Abdullah
A scary thought for Nebraska foes: Abdullah's confidence has skyrocketed after a sophomore season in which his 1,884 all-purpose yards ranked as the most by a Husker since 1997. Abdullah looks set to again handle kickoff and punt returns in addition to the top spot in the backfield. And he's a leader now, too, learning from Rex Burkhead over the past two seasons.
Abdullah has helped the progress of sophomore
Imani Cross
and true freshmen
Terrell Newby
and
Adam Taylor
. They all figure to handle the football this fall, which is wise if Nebraska wants to keep Abdullah fresh for a tough November stretch.
"I never get excited. Come on. You ever seen me get excited? That's an ongoing problem in my life. I have to check my emotion at the door." -- Pelini
Pelini made the comment in a candid, comical and part-sarcastic moment near the end of his half-hour in front of reporters on Monday. He was relaxed and, considering the time of year, relatively open in discussing all matters.
The mood of the head coach is a non-issue at most places. With Pelini at the helm, it's become a pastime here. But this month in preseason camp, he
pulled a great prank
on the Huskers, poking fun at his own emotions when he smashed an iPhone before faking a fight with defensive tackle
Thad Randle
.
If that's not a sign of a loosened-up Pelini, then Bo won't wear khakis and chomp hard on his gum on Saturday night. Just keep an eye on the sideline. It's what we do in Nebraska.
Final Verdict: Hired And Fired