Nebraska Cornhuskers:

Bill Belton
February, 26, 2014
Feb 26
1:00
PM ET
Spring practice is off and running in the Big Ten, as Michigan took the field Tuesday and Northwestern followed on Wednesday. We're taking snapshots of where each team stands at each position group.
We've already discussed the quarterbacks -- and will have much more on the way -- so the series begins with the running backs.

Illinois:
The Illini are in a bit better shape here than they were the past two springs, as veterans
Josh Ferguson
and
Donovonn Young
both return. Ferguson averaged 5.5 yards per carry and added 50 receptions for 535 yards as the primary playmaker for Illinois' revamped offense. Young added 376 yards on 93 carries. The Illini are looking for others behind the top two, and Dami Ayoola is back with the team after being dismissed in September for a rules violation.

Indiana:
Tevin Coleman
quietly put together a superb sophomore season and leads the Hoosiers' running backs in 2014. Coleman provides big-play ability after averaging 7.3 yards per carry with 12 touchdowns on only 131 attempts in 2013. Indiana loses
Stephen Houston
but brings back veteran
D'Angelo Roberts
, who will play behind Coleman. Younger players such as sophomore
Laray Smith
could get a look here.

Iowa:
Not only did the Hawkeyes toss AIRBHG to the side and get through the season without any major injurie, but they bring back everyone for 2014. Senior
Mark Weisman
leads the contingent after rushing for 975 yards and eight touchdowns last fall.
Jordan Canzeri
came on strong late in the season and is showing no effects from his ACL tear in 2012. Veteran
Damon Bullock
also returns to the mix, and Iowa has talented younger backs such as
LeShun Daniels Jr.
at its disposal. Good situation here.

Maryland:
The Terrapins wide receivers tend to get more attention, but the team also returns its top three running backs from 2013 in
Brandon Ross
,
Albert Reid
and
Jacquille Veii
. Maryland also regains the services of Wes Brown, who finished second on the team in rushing as a freshman in 2012 before
being suspended for all of last season
.
Joe Riddle
is back in the fold as well. The group brings different strengths, from power (Brown) to speed (Veii) to a mixture of both (Ross, Reid).

Michigan:
Sophomore
Derrick Green
enters the spring as the frontrunner to be Michigan's lead back, although coach Brady Hoke wants to ramp up competition everywhere. The Wolverines struggled to consistently run between the tackles, but the 240-pound Green could change things. Hoke also is excited about another sophomore,
De'Veon Smith
. Michigan moved
Ross Douglas
from cornerback to running back, and
Justice Hayes
and
Wyatt Shallman
also are in the mix. "We've got more depth," Hoke said.

Michigan State:
Things look much more promising than they did last spring, when the Spartans ended the session with a linebacker (
Riley Bullough
) as their top back.
Jeremy Langford
emerged as a very solid option during the season, rushing for 1,422 yards and 18 touchdowns. He's back as the clear-cut starter, and
Nick Hill
also returns. It will be interesting to see if
Gerald Holmes
makes a push, or whether
Delton Williams
remains on offense.

Minnesota:
Here's another team that finds itself in very good shape at running back entering the spring.
David Cobb
leads the group after rushing for 1,202 yards and seven touchdowns as a sophomore. Veterans
Donnell Kirkwood
and
Rodrick Williams Jr
. are still around, and highly touted redshirt freshman
Berkley Edwards
will take the field after missing last fall because of knee and ankle injuries. Perhaps the best news will come in the summer as decorated recruit
Jeff Jones
arrives.

Nebraska:
Notice a theme here? Nebraska is yet another Big Ten squad that can feel very good about its running backs entering the spring.
Ameer Abdullah
elected to bypass the NFL draft for one final season at Nebraska, where he led the Big Ten with 1,690 yards on 281 carries as a junior. Abdullah will contend for national awards in the fall.
Imani Cross
, who rushed for 10 touchdowns last year, is one of the nation's top backups.
Terrell Newby
and others add depth behind the top two.

Northwestern:
Top back
Venric Mark
(ankle) will miss spring practice following surgery, and reserve
Stephen Buckley
(knee) also is rehabbing, but Northwestern has no reason to panic.
Treyvon Green
, who filled in well for Mark last season with 736 rushing yards, will get much of the work.
Warren Long
also is in the mix after appearing in seven games as a true freshman. Northwestern also loaded up at running back in recruiting to solidify the position for years to come.

Ohio State:
This will be a position to watch in the spring as Ohio State must replace
Carlos Hyde
, who was nearly unstoppable during Big Ten play last fall. Veteran
Jordan Hall
also departs, and
Rod Smith
will be the veteran of the group despite only 83 career carries. The Buckeyes have some talented young backs, from
Dontre Wilson
, who saw significant playing time last fall, to
Bri'onte Dunn
,
Ezekiel Elliott
and
Warren Ball
. Keep an eye on Elliott, who averaged 8.7 yards per carry in limited work last season but could emerge this spring.

Penn State:
If it feels like
Zach Zwinak
and
Bill Belton
have been competing for carries forever at Penn State, it's because they have. Zwinak and Belton have been part of Penn State's running back rotation for the past two seasons and enter another competition this spring with talented sophomore
Akeel Lynch
, who rushed for 358 yards on only 60 carries last season. It will be interesting to see how much Lynch can push Zwinak and Belton in the team's first spring under a new coaching staff. Penn State has depth issues at several positions, but running back isn't one of them.

Purdue:
The Boilers finished 122nd nationally in rushing offense last season, so the fact all of their running backs return might not spark mass celebration. Senior
Akeem Hunt
leads the group after recording 123 of the team's 319 rushing attempts in 2013. Other veterans
Brandon Cottom
and
Raheem Mostert
also are back, along with younger ball-carries such as
Dayln Dawkins
and three backs --
Keyante Green
,
David Yancey
and
Keith Byars II
-- who redshirted last fall and could have much bigger roles.

Rutgers:
Here's yet another team that returns basically its entire stable of running backs for spring ball.
Paul James
is the name to watch, as he rushed for 573 yards in the first four games last season before suffering a leg injury. James' health is a concern for Rutgers, which could also turn to
Justin Goodwin
, who showed some flashes following James' injury.
Savon Huggins
, who entered last season as the starter before losing ground, is in the mix as he looks to re-establish himself on the depth chart.

Wisconsin:
How many teams can lose a 1,400-yard rusher and still claim to have the best running back group in the Big Ten?
James White
is gone, but Wisconsin remains in very good shape in the backfield.
Melvin Gordon
bypassed the NFL draft for another year in Madison after rushing for 1,609 yards and 12 touchdowns on only 206 carries. Gordon should move into more of a featured role beginning this spring, although he'll be pushed by
Corey Clement
, who had 547 yards and seven touchdowns on only 67 carries.
Jeff Lewis
provides another option behind the top two.
January, 29, 2014
Jan 29
5:00
PM ET
Coming at you from the United Mailbaggers Local 40205 …
David from Nashville writes:
All Players United! Well except walk-ons, that is. I'm sorry, but
Kain Colter
is losing me. Personally, I completely understand wanting medical coverage for football injuries sustained while representing the university. But excluding walk-ons from having a "'voice at the table," as Colter calls it? Do they not sustain injuries, get concussions or have medical bills? And they don't even get the free education from a very prestigious, and expensive, school like Northwestern! Or perhaps, just like the NCAA, Kain Colter just wants "his," and including your walk-on teammates will hurt his legal argument to get "his."
Brian Bennett:
Clearly, there are more questions than answers right now about the Northwestern labor union movement. Can students at a university really be classified as "employees?" How would such a union arrangement work with Title IX? How long would medical benefits last, and who would decide whether a former player's injury was football-related?

The issue of walk-ons is another one, although a minor point, in my opinion. Only those who are receiving scholarships can really argue that they are being compensated like an employee, and any walk-on who plays enough to merit post-career benefits would likely be put on scholarship at some point. It's also not fair to say Colter is looking to "get his" when he has already completed his eligibility and likely would not see any personal gain from leading this movement. On the contrary, he's risking a lot by agreeing to become the public face of this movement.
I question whether a labor union is the right way for the players to go, and it certainly was odd to see college football players standing alongside steelworkers' union members at Tuesday's news conference. But I also think it's way past time for players to organize in some way and make sure their rights and concerns are being considered. College football is a multibillion-dollar industry that's only going to get richer with the new playoff system, and everybody from
head coaches
to
assistants
to
athletic directors
are getting rich off the sport. Everybody except the players, who put their bodies at risk for our enjoyment, that is.
Yes, the players receive scholarships, and at a place like Northwestern, the value of that can exceed $250,000 over the course of a player's career. But the players in this movement aren't asking for cash. They're asking for things such as medical treatment beyond their playing days, better concussion prevention and care and a trust fund that can allow players to continue their schooling following their careers. (Many of their demands, by the way, are not that different from Big Ten commissioner
Jim Delany's own collegiate reform plan
). Mostly, they are asking for a larger voice and a seat at the table in a system that too often treats them like disposable indentured servants. That seems a highly reasonable request to me.
---
[+] Enlarge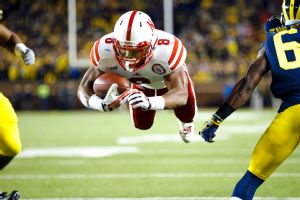 Rick Osentoski/USA TODAY SportsNebraska's Ameer Abdullah is a good role model for running backs looking to improve next season.
Zach from Southgate, Mich., writes:
Brian, who will be 2014's
Carlos Hyde
in the B1G? By that, I mean a player who showed flashes of talent early in his career but blossoms into an all-conference type of performer his final season. Guys like Ohio State CB
Doran Grant
, PSU RB
Bill Belton
, and Northwestern LB
Chi Chi Ariguzo
come to my mind as possibilities.
Brian Bennett:
I'm not sure Hyde blossomed as much as he was healthier in 2013 and got plenty of opportunities after his early-season suspension. He did run for 995 yards and 16 touchdowns in 2012 despite some injury problems, after all. I think a better example of someone who went from very good player to all-out beast in 2013 is Nebraska's
Ameer Abdullah
. Belton could be a guy who takes a similar path, though he has some competition for carries with
Zach Zwinak
and
Akeel Lynch
around. Indiana's
Tevin Coleman
is another running back who could take it to the next level after running for 958 yards in his first season starting. Maybe Iowa's
Jordan Canzeri
, if he can get more reps (and stay healthy).
On defense, I'd say Michigan State cornerback
Trae Waynes
could follow
Darqueze Dennard
's path into superstardom. And Ohio State defensive end
Joey Bosa
could go bonkers on the league.
---
Dane from Akron, Penn., writes:
Really, Brian? PSU/Michigan, 4-OT game
at No. 6?
This game had it all. A freshman QB drives 60-plus yards in like 40 seconds (two unbelievable catches on that drive), a clutch kicker missing three field goals... I repeat, 4 OTs!
Brian Bennett:
The game had it all except quality of play, as I explained in my post. Just because a game goes long does not mean that it was well-played. You mentioned the missed field goals. The two teams each failed to score in two of the overtimes and there was only one touchdown in all four of the extra periods, which led to a lot of national writers poking fun at the Big Ten on Twitter during the game. There were also seven combined turnovers. It was exciting, no doubt, and a great win for Penn State after a tremendous regulation comeback. But it was also very sloppy.
---

John R. from Dubuque, Iowa, writes:
Brian, am I the only Illini fan that's thrilled to see a new QB take the reins in Illinois? Sure the numbers were great, but the predictable interception always happened! I can't wait for
Wes Lunt
to play. The way the defense talked about his skills when he ran the scout team's offense is enough make any humbled Illini fan excited of something. Thoughts?
Brian Bennett:
You're definitely not alone, John. There's a big buzz about Lunt taking over and running Bill Cubit's spread offense. At 6-foot-5 and 210 pounds, he looks more like a classic quarterback than
Nathan Scheelhaase
did, and Lunt was a blue-chip stud coming out of high school. I'd caution you not to view him as the savior yet; remember that Lunt struggled a bit as a freshman at Oklahoma State, a program that usually makes quarterbacks look great. There are also questions at receiver for Illinois, and don't discount what Scheelhaase did last year in passing for more than 3,000 yards. Still, the talent is definitely there, and I'm also excited to see what Lunt can do in that offense.
---

Brutus from The Ninth Circle writes:
I don't know about other people, but I've long held the opinion that Penn State underachieves. By this I mean that they are a national power in terms of fan base, facilities, revenue and name brand appeal. Just not a national power on the field. I felt this was certainly true for the last 10-15 years under Paterno. Under O'Brien, you had the sense that the game and team were being upgraded, but he himself didn't have a catchy personality. And I didn't even think it was important until I'm seeing Franklin and his recruiting. It's way too early to tell if that translates to success on the field. But it appears that the foundation is (hopefully) being laid for better results in the future. What I see is someone putting energy into the whole program. It certainly would seem like the program might actually start taking advantage of its assets and capability. Thoughts?
Brian Bennett:
I think you can make some parallels between Penn State and Florida State. Both programs were probably held back a little because their legendary coaches stayed on too long. Remember when Joe Paterno was doing his recruiting via Skype from his office? Now you have the almost manic energy of James Franklin, who along with his aggressive assistants will likely kill it on the recruiting trail. Of course, the toll of the NCAA sanctions can't be overstated, and Franklin has to prove that A) he's a championship-caliber head coach; and B) that he's willing to stick around Penn State for a long time. But you're right in that the marriage of Penn State's resources and Franklin's particular skills should prove very fruitful for the Nittany Lions.
---
Michael B. from East Lansing, Mich., writes:
The East Division next season seems to be Michigan State's to lose. I understand that Ohio State will be in the picture, but can we really place Michigan in that race with their lackluster performances over the past few years? Seems to me that Penn State would be the next best in the division going into the season.
Brian Bennett:
Michigan State and Ohio State appear to be the clear co-favorites for the East next season. While I expect Michigan to improve on its 2013 showing, the Wolverines still have a lot more question marks in my view than the Spartans or Buckeyes, and they have to play both those teams on the road in '14. Penn State is an intriguing contender because it gets both Ohio State and Michigan State at home, where the Nittany Lions played much better than on the road last year. But I think the Buckeyes and Spartans still have the commanding edge in talent and depth, and we should see one of those two in Indianapolis in December.
November, 22, 2013
11/22/13
9:00
AM ET
Among the celebrated history of the Nebraska-Penn State series, Saturday in State College marks, well, the 16th game. This meeting of storied programs arrives without much of the drama that has accompanied prior clashes. The Cornhuskers are Nittany Lions are both unranked and out of contention for The Big Ten title.
Regardless, plenty of pride remains at stake. Let's talk about it:
Considering the circumstances, what are the mindsets at Nebraska and Penn State as Saturday nears?
[+] Enlarge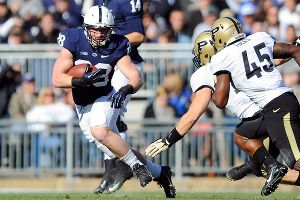 Rich Barnes/USA TODAY SportsFor Zach Zwinak and the rest of the Penn State seniors, this final home game is sure to be an emotional one.
Josh Moyer:
Believe it or not, even without a postseason, the future is not on the minds of these Nittany Lions. This is the final home game for Penn State's seniors, and there's more on the line Saturday than usual. The Lions can't play for any bowl games because of the sanctions but, in the words of cornerback
Jordan Lucas
, these final two games are Penn State's bowl games. These seniors have endured more than most in the country -- the death of a longtime coach, a scandal heard 'round the nation, unprecedented sanctions, etc. -- and this is their final opportunity to leave a mark. Expectations this season hovered around eight wins, so a win here -- getting past .500 -- would be huge for Penn State. This game will be an emotional one for PSU, and a win surely means a lot to this team.
Mitch Sherman:
The Huskers are a prideful bunch. And despite the many goals that vanished this year earlier than ever in coach Bo Pelini's six seasons, Nebraska shows no signs of playing with less than 100-percent effort. The Penn State name and setting at Beaver Stadium figures to stir some emotions with Huskers who understand the history of these programs. Nebraska is young on both sides of the football after injuries decimated the veteran offensive line. Young players tend stay focused more easily on the future. And once you get past pride and the incentive to again win nine games, the future serves a primary motivational factor for the Huskers.
What do you envision as the role in this game of Penn State's star receiver, Allen Robinson?
JM:
He's the Penn State X-factor, as he's being targeted around every third throw. He's accounted for nearly half of the Penn State passing offense this season, and he's one of the top wideouts in school history. For PSU to experience any kind of success through the air, Robinson will need to have a big game. Minnesota had the right idea when it shadowed Robinson with two defenders on nearly every play – Gophers defensive coordinator Tracy Claeys said you could count on one hand the number of times Robinson experienced single-coverage -- but, even in that game, Robinson came away with seven of
Christian Hackenberg
's 14 completions. It's boom-or-bust for Robinson and the passing game.
MS:
The Huskers are confident in their ability to cover with cornerbacks
Ciante Evans
and
Stanley Jean-Baptiste
, but they'll be hard-pressed to stay with Robinson. Jean-Baptiste is a playmaking NFL prospect, but he's not a lockdown corner on the level of, say, Michigan State's
Darqueze Dennard
-- or even Evans. Nebraska will mix its coverages in an attempt to confuse Hackenberg. Still, the freshman QB will find a way to get the football to Robinson. But just how much and in what position to gain yards after the catch? The answer figures to loom large in determining a winner.
Nebraska and Penn State feature freshmen quarterbacks. How do you expect them to play?
MS:
Tommy Armstrong has shown excellent poise and resilience in his six starts as a replacement for injured senior
Taylor Martinez
. Armstrong has also displayed a streak of carelessness and a tendency to make mistakes. He threw three interceptions against both Purdue and Northwestern, then committed three more costly turnovers against Michigan State. In between, he led the Huskers on a game-winning drive at Michigan. Look for Nebraska to utilize Armstrong's athleticism against Penn State and rely on a heavy dose of
Ameer Abdullah
in an attempt to beat the Nittany Lions in the perimeter run game. The less Nebraska can place Armstrong in high-pressure spots, the better.
JM:
Unlike Armstrong, Hackenberg has had the luxury of starting since Week 1. He's shrugged off mistakes, led PSU to two comeback wins (Michigan, Illinois) and has progressed every week. Despite his strong arm, he's been most dangerous on short-to-intermediate throws, and he's attempted at least 23 passes every game. Bill O'Brien isn't afraid to air it out but, like Nebraska, we'll likely see quite a bit of
Bill Belton
and
Zach Zwinak
in the backfield. Outside of Robinson, Hackenberg doesn't really have a key receiving target, and O'Brien has really been emphasizing the running game lately.
How do you expect the game to unfold?
JM:
It's really going to come down to Penn State's hit-or-miss defense. The secondary has struggled, the entire unit is slow, and missed tackles have become a common occurrence. I could see this game following a similar path as the Minnesota contest, in that PSU will aim to stop the run. But even if that works early on -- just as it did against the Gophers -- there's no guarantee PSU will be able to stop a so-so passing attack. A good early indicator to PSU's defense will be how many long runs it allows and just how it fares on third downs. When the defense struggles, those seem to be the places where it really falls apart. That being said, the defense has played poorly all season -- and I think Nebraska has the advantage. I'm calling for the Huskers in a mild upset.
MS:
For Nebraska, it's the same story, new chapter. Much like every game since the Huskers visited Minnesota on Oct. 26, the opportunity to win is right there, but Nebraska must limit its turnovers and special teams mistakes. Don't discount the emotion in play for Penn State on Senior Day. These Nittany Lions have endured so much in State College, and they've failed to beat Nebraska in two tries, a reality that ought to stoke the fires additionally for PSU players and fans. Still, Nebraska has the edge in talent and depth. And with a week to replay all the mental errors that spelled doom against Michigan State, look for the Huskers, by comparison, to play a clean game. Pull it off, and I like Nebraska to win a one-score contest.
November, 21, 2013
11/21/13
10:15
AM ET
Storylines to watch in the Big Ten this weekend:
1. Let's settle this:
Yes, four teams remain in the running to play in the Big Ten title game. But seriously, it's going to be Ohio State and Michigan State. OK, crazy things can happen, but the third-ranked Buckeyes, who welcome Indiana to the Ohio Stadium on Saturday, must lose twice. Same goes for the No. 13 Spartans, who visit Northwestern and host Minnesota to close. It's time to end the uncertainty and start booking travel to Indy. Who are we kidding, it's already started.
[+] Enlarge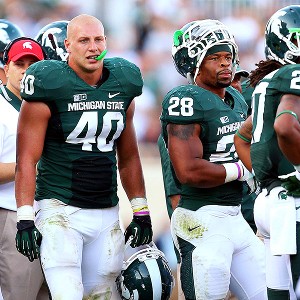 Mike Carter/USA TODAY Sports Michigan State seems to be on a collision course with Ohio State in the Big Ten championship game.
2. Big-time test for the Gophers:
Minnesota, riding a once-in-40-years run of four straight Big Ten wins, faces a serious road block in its bid to keep streaking Saturday as No. 19 Wisconsin visits Minneapolis in the battle for Paul Bunyan's Axe. The 25th-ranked Gophers knocked off Northwestern, Nebraska, Indiana and Penn State, but the Badgers present a test with a new level of difficulty. Led by their pair of 1,000-yard rushers, Melvin Gordon and James White, Wisconsin steamrolled Indiana last week, gaining 554 yards on the ground.
3. A trophy game that's not worth a trophy:
If the Purdue Cannon fails to launch and implodes inward Saturday, well, that would create a mess befitting of this battle of winless Leaders Division teams. Illinois, which has lost 20 straight Big Ten games, is favored by a touchdown on the road over the Boilermakers, who have fallen apart since playing Michigan State to within two touchdowns Oct. 19. Since then, Purdue has been outscored 139-35 by Ohio State, Iowa and Penn State. The Illini, meanwhile, have scored 35 points in back-to-back losses to Indiana and OSU. Something's gotta give Saturday.
4. Freshman quarterbacks on display:
Two of the league's top young QBs converge at Beaver Stadium. Nebraska redshirt freshman Tommy Armstrong earns his seventh start, and true freshman Christian Hackenberg, looking to secure a winning record for Penn State on Senior Day, again gets the call for the Nittany Lions. Hackenberg has endured ups and downs, but his numbers are solid considering the circumstances. Armstrong has struggled with turnovers, but he's 5-1 as a starter and displaying impressive poise behind an injury-plagued Nebraska offensive line that might be without four season-opening starters Saturday.
5. Dark days continue for Wildcats:
Northwestern has fallen so far off the map after a perfect nonconference season that it's not even visible from the top of the Legends Division as we reach late November. Who'd have thought these Wildcats would sit 0-6 in league play when "College GameDay" visited Evanston on Oct. 5 as Pat Fitzgerald's team lost 40-30 to Ohio State? Each of the past four losses has come in excruciating fashion, from the Hail Mary defeat at Nebraska to overtime thrillers against Iowa and Michigan. These Wildcats might have forgotten how to win, and Michigan State, trying to secure an outright division title, appears likely to extend their misery.
6. Buckeyes and the BCS:
It seems inevitable now that if Ohio State keeps winning and Baylor keeps winning, the Bears will pass OSU in the BCS standings and upend the Buckeyes' bid to reach the title game if Alabama or Florida State slips. No. 4 Baylor trails Ohio State this week by 13 thousandths of a point. The switch might occur Sunday as the Bears visit No. 10 Oklahoma State while Ohio State faces Indiana. No score against the Hoosiers or amount of Buckeyes lobbying is likely to reverse the Baylor climb. So expect all eyes in Columbus, Ohio, to be on Stillwater, Okla., Saturday night.
7. Could it be Braxton Miller's finale at the Horseshoe?
Ohio State's junior quarterback was understandably mum when asked this week if Saturday at home against Indiana might mark the final game of his collegiate career. Miller has made huge strides under coach Urban Meyer as a dual-threat QB, and his strengths fit the evolving style of NFL offenses, though he's far from a done deal to leave early. If this is the end, expect him to go out with a bang against the Hoosiers, who have lost four of five and rank among the bottom five nationally in total defense and rushing defense.
8. Tracking the top running backs:
November brings out the best in Big Ten running backs. Six of the league's top individual rushing performances have occurred in the past three weeks, highlighted by a 246-yard effort from Ohio State's Carlos Hyde last week. White, Indiana's Tevin Coleman and Penn State's Bill Belton also have topped 200 yards in a game this month. Hyde and Nebraska's Ameer Abdullah, who has reached 100 yards in every conference game, rank among the leading candidates for Big Ten offensive player of the year. Hyde has rushed for 821 yards in the past five games. He needs 53 yards to become the first running back ever to top 1,000 yards under Meyer.
9. The at-large BCS watch:
Michigan State jumped three spots to 13th in the BCS standings Sunday, promoting the Spartans into position to qualify for an at-large BCS bowl bid. But if it loses again -- even to Ohio State in Indy -- MSU might slide back out of contention. It would be well served to win impressively against Northwestern and Minnesota and root for losses this week from the likes of Oklahoma State, Texas A&M and Missouri, which face challenging games. Wisconsin, at No. 19 in the BCS standings, still must jump into the top 14 to qualify for BCS consideration, though chaos is its best hope.
10. And then there's Iowa-Michigan:
What's the compelling storyline here? Iowa has exceeded expectations this year, but the Hawkeyes are no longer fighting to get bowl eligible for the 12th time in 13 seasons after a win two weeks ago at Purdue. Michigan has failed to meet expectations but last week ended its skid with a win at Northwestern. Iowa has won three of the past four meetings, including two straight in Iowa City. And here's an interesting stat to close: The four teams to beat the Hawkeyes this season have a combined record of 37-3.
November, 14, 2013
11/14/13
9:00
AM ET
It's picks time again as we attempt to forecast the five teams that will walk off the field Saturday with smiles on their faces.
Brian Bennett is still smiling these days as he clings to a one-game lead in the season standings. Adam Rittenberg has three weeks left to close the gap, or he'll be paying for Bennett's dinner in Indianapolis before the Big Ten championship game.
Iowa and Minnesota are off in Week 12, but the other 10 league squads are in action.
Let's get started …


PURDUE at PENN STATE
Bennett:
Penn State is a much better team at home, and Purdue is … well, let's be kind. The Nittany Lions' struggling offense gets well versus the Boilermakers, as both
Bill Belton
and
Zach Zwinak
run for a pair of touchdowns.
… Penn State 38, Purdue 14.

Rittenberg:
The Lions get the win at home, but it's close for a half as Purdue's offense shows some life behind quarterback
Danny Etling
. But another freshman signal-caller,
Christian Hackenberg
, steals the show with three touchdown passes, two to
Allen Robinson
, as he regains his swagger for Penn State.
… Penn State 31, Purdue 17


INDIANA at WISCONSIN
Rittenberg:
Indiana has had absolutely no answers for Wisconsin's offense in recent years, and I can't see the script changing Saturday.
Melvin Gordon
breaks out of his mini-slump with two 60-yard touchdown runs,
James White
adds two more touchdowns and Wisconsin puts another big number on IU. The Hoosiers strike for some early points before Wisconsin's defense buckles down.
… Wisconsin 45, Indiana 28
Bennett:
204-41. That's the combined score of the past three meetings between these teams. Indiana's offense is better and should score a bit, but Wisconsin could run for 400 yards if it wanted to this week. It will settle for 350.
… Wisconsin 48, Indiana 24.



OHIO STATE at ILLINOIS
Bennett:
It's 19 Big Ten losses in a row versus 21 overall wins in a row. Yeah, these teams could hardly be going in more different directions. The Buckeyes are rolling right now, and while I don't agree with
Evan Spencer
that they would wipe the floor with Alabama or Florida State, they will be taking a giant Swiffer to the Illini as
Carlos Hyde
rumbles for 185 rushing yards and three scores.
… Ohio State 58, Illinois 17.

Rittenberg:
Ohio State players are openly talking about the need to win with style points, and that's a scary situation for the Illini, who can't stop anyone right now.
Braxton Miller
attempted four passes in his previous game at Illinois. He fires four touchdowns to three different receivers, and Hyde adds 150 yards and two scores as the Buckeyes roll easily. Kenny G gets into the act late too with a pair.
… Ohio State 52, Illinois 13


MICHIGAN at NORTHWESTERN
Rittenberg:
I've been burned for picking Northwestern in its past two games, so while Michigan looks shakier right now, I'm going with the Wolverines. Northwestern is still really banged up, and Michigan's defense will contain
Kain Colter
and an offense operating with a limited playbook. Michigan's offense struggles early but hits on two big pass plays for touchdowns in the fourth quarter, including the game-winner to
Devin Funchess
.
… Michigan 24, Northwestern 20
Bennett:
Both teams have some major issues, especially on the offensive side of the ball. I just really don't like the mojo around Michigan right now. Northwestern has been close to breaking through the past couple of games and had a bye week to get healed up. The Wildcats should be able to stuff the Wolverines' nonexistent run game, and Colter leads his team on a last-minute drive for the game-winning field goal.
… Northwestern 20, Michigan 17



MICHIGAN STATE at NEBRASKA
Bennett:
I admire what Nebraska has done the past couple of weeks with an injury-plagued offense. At the same time, I shudder to think what Michigan State's defense can do to that offense, especially given some of the shuffling on the offensive line and the lack of a big-time passing attack. The Huskers' defensive improvement will be enough to keep this a close, low-scoring affair. But Nebraska will have too much trouble getting points and yards, and the Spartans hang on after building an early 10-point lead.
… Michigan State 17, Nebraska 13.

Rittenberg:
The Huskers are 5-0 with young
Tommy Armstrong Jr
. as their starting quarterback, but they haven't seen a defense as fearsome as Michigan State's. The Spartans are healthier and better on both sides of the ball, and they're motivated to beat Nebraska after blowing a fourth-quarter lead last year. Running back
Jeremy Langford
rushes for two touchdowns and cornerback
Darqueze Dennard
seals the win with an interception as Michigan State overcomes another gritty effort from
Ameer Abdullah
and the Huskers.
… Michigan State 20, Nebraska 13
You've seen our predictions. Now it's time to hear from one of you. As a reminder, throughout the season, we'll choose one fan/loyal blog reader each week to try his or her hand at outsmarting us. There's nothing but pride and some extremely limited fame at stake. If you're interested in participating, contact us
here
and
here
. Include your full name (real names, please), hometown and a brief description of why you should be that week's guest picker. Please also include "GUEST PICKS" in all caps somewhere in your email so we can find it easily.
This week's guest checks in from the Land of the Rising Sun.
John Wells from Yokohama, Japan (formerly of Kenosha, Wis.)
, the floor is yours …
Konnichi wa (Hello) from Japan, where I have lived for 41 years after graduating from the Univ. of Wisconsin in 1973. I would love to be your "guest picker" for Week 12. I am an AVID Badger fan and Big Ten follower every week. My students know about Wisconsin and the Big Ten. I do not get much sleep on Saturday nights as I wake at odd hours just to catch the Badgers or any good Big Ten battle. I have flown across that wide Pacific three times to see the Badgers play in the Rose Bowl. I am a happy senior now (66) and what fun it would be if you both chose me. Can't imagine what life would be without Big Ten football! Thanks for considering me.
Domo arigato, John. Here are John's picks:
Penn State 31, Purdue 10
Wisconsin 45, Indiana 10
Ohio State 56, Illinois 10
Michigan 24, Northwestern 17
Michigan State 24, Nebraska 14
SEASON RECORDS
Brian Bennett:
64-13
Adam Rittenberg:
63-14
Guest pickers:
60-19
November, 10, 2013
11/10/13
10:00
AM ET
Five lessons from the week that was in Big Ten football:
[+] Enlarge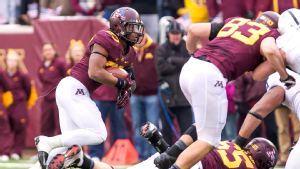 Brad Rempel/USA TODAY SportsDavid Cobb and the Gophers have won four conference games in a row for the first time since the Nixon administration.
1. The Legends Division is officially a three-team race:
If you thought Michigan State was going to cruise into the Big Ten championship game, think again. The Spartans remain the favorite in their division, but they have to travel to Nebraska this week in a potential winner-take-all scenario. While the Huskers' banged-up offense figures to have serious trouble against Michigan State's defense, one thing Bo Pelini's team has shown the past couple of weeks is heart, particularly in its hard-fought 17-13 win at Michigan. We've criticized Nebraska in the past for not winning key conference road games; well, credit is due for dealing the Wolverines their first home loss under Brady Hoke. And remember that the Cornhuskers are 2-0 versus Michigan State since joining the Big Ten. Don't count out Minnesota, either. While the Gophers will need some help to win the division, they have grown beyond a nice little story and into a full-fledged contender. Once again, a stout defense and running game led the way in a 24-10 win over Penn State, giving the program its first four-game Big Ten winning streak since 1973. The Gophers have beaten Nebraska and play at Michigan State in the season finale. They're a team no one wants to play right now.
2. Ohio State is one stumble away:
Despite not playing in Week 11, it was a good weekend for Ohio State, because one of the three teams ahead of it lost when Oregon fell to Stanford on Thursday night. It could have been a great weekend had Alabama lost to LSU, but the Buckeyes can't complain too much. That's because they're in position to move into the BCS national title game should either the Crimson Tide or Florida State stumble in its final games. Ohio State still has to worry about potentially getting passed by undefeated Baylor or one-loss Stanford, but it should remain in good shape if it keeps winning in style like it has the past few weeks. Wisconsin continuing to win also helps. We've known all along that the Buckeyes would need some help to get in the final two, but a big fluorescent green domino fell on Thursday night. One more break might be all Ohio State needs.
3. No quick fixes for Michigan, Penn State:
Two of the Big Ten's marquee brands have fallen on hard times -- and might not be getting up soon. At least not much before the end of this season. Michigan followed up its beatdown at Michigan State by losing at home to Nebraska, snapping a 19-game win streak at the Big House. The Wolverines still can't run the ball; they had minus-21 rushing yards on Saturday, a week after going for minus-48 in East Lansing. Their flaws have been evident for weeks and have finally caught up to them; with road trips to Northwestern and Iowa and a date with Ohio State left, there's no guarantee this team finishes better than 6-6. Michigan is just 14-8 since the Sugar Bowl victory in Hoke's first year, and he'd better hope that all of those glittery recruiting rankings translate into better success down the road. Penn State's struggles are more understandable, given the sanctions, but things are still rougher than many expected. Not only is the defense still a mess, but the offense has taken a nose dive the past few weeks as the Nittany Lions have averaged just 13.7 points per game in regulation the last three times out. That's surprising, given the presence of stars such as
Allen Robinson
and
Bill Belton
and a talented, albeit freshman, quarterback in
Christian Hackenberg
. Penn State has lost to Indiana and Minnesota, and if not for near-miraculous overtime wins over Illinois and Michigan, it could be riding a five-game losing streak. Luckily, Purdue is up next, but with the final two games coming against Nebraska and then at Wisconsin, Bill O'Brien's team will need to do some good work just to finish at .500.
[+] Enlarge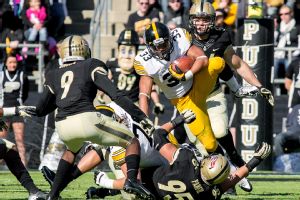 Zach Bolinger/Icon SMIJordan Canzeri and the Iowa offense got on track against Purdue and looks to be building momentum.
4. Iowa has positioned itself for a strong finish:
The Hawkeyes are bowl eligible again, and this season will go down as a step forward no matter how it turns out. Kirk Ferentz's team has won the games it should and dropped games to four very good teams (Northern Illinois, Michigan State, Ohio State and Wisconsin). But the Hawkeyes have an opportunity to turn a decent season into a good one as they close things out against Michigan at home and Nebraska on the road. After getting the offense on track against Purdue and racking up 318 rush yards and three touchdowns, Iowa enters a bye week before hosting Michigan on Nov. 23. Iowa has won three of its past four against Michigan at Kinnick Stadium, and the Wolverines aren't the same team on the road under Brady Hoke. A victory there could set up an intriguing Black Friday matchup against Nebraska, as Iowa needs to provide some juice for that series. An 8-4 season certainly is within reach for the Hawkeyes, who could climb up the bowl pecking order and build some momentum for 2014.
5. James White deserves his due:
The Wisconsin running back has played all four years in the shadow of other backs, first with John Clay, then Montee Ball and even now as a senior with
Melvin Gordon
. But we should not overlook the fact White has had a spectacular career. Forget that he's one of the Big Ten's best players right now. He ran for 147 yards and two touchdowns and caught another score in Saturday's 27-17 win over BYU, a week after he put up 132 rushing yards and two touchdowns at Iowa. White, not Gordon, has been Wisconsin's best back in November. He has 951 rushing yards for the season, leaving him poised for his second 1,000-yard campaign and ranking him fourth among league rushers this year. White has rushed for more than 3,500 yards in his career. And if he keeps playing like he has lately, White might accomplish something even more special: playing in four straight BCS games.
November, 7, 2013
11/07/13
10:15
AM ET
Storylines to watch this week in the Big Ten:
1. Legends eliminator:
Michigan State has the lead and its feet up on the couch during its bye week. It can simply relax and watch as Michigan and Nebraska fight to stay alive in the division race, with the loser effectively out of the picture after just two weeks in November. The Wolverines, in particular, are barely hanging on and would need a lot of help after dropping the head-to-head tiebreaker to the Spartans. Meanwhile, after nearly having their chances extinguished a week ago, but surviving with a Hail Mary, the Huskers have a chance to make the most of their good fortune. Consecutive games against Michigan and Michigan State -- with a couple of wins -- could surprisingly put them in first place.
[+] Enlarge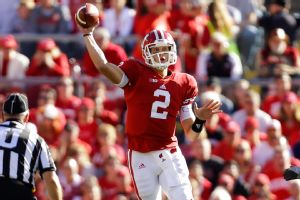 Mike McGinnis/Getty ImagesJoel Stave and the Badgers look to keep their BCS at-large hopes alive on Saturday.
2. Resume building:
The Badgers can't get the help they need in the Leaders Division with Ohio State on a bye week, and they can't make a move within the conference anyway as they step outside the Big Ten for a late-season date with BYU. Gary Andersen just can't seem to escape the Cougars after four encounters with them at Utah State and 11 more as an assistant at Utah,
and he could use a win over his old foe as the Wisconsin coach tries to keep his program in the running for a potential BCS at-large bid. A win over the Cougars won't do anything to change their fate in the league, but it could provide a boost nationally for the perception of the Badgers.
3. Digging into the mix:
The Gophers need some help if they're going to win the division, but the way they've handled their own business to even stay in the picture in the middle of November is impressive enough no matter what happens. Given all the potential distractions that could have come with coach Jerry Kill's health or playing multiple quarterbacks, the work Minnesota has done to get to 3-2 in the league and within striking distance if things break its way is one of the better stories of the season. It also won't be over if it can take care of Penn State at home.
4. B.B. firing:
There is no uncertainty in the Penn State backfield now, and it's safe to assume that any chance of a road win over the Gophers will involve a heavy dosage of
Bill Belton
. The Nittany Lions junior is coming off a career-best 201-yard performance in a win over Illinois that made it quite clear that he's the best option for Bill O'Brien's rushing attack. And while Minnesota hasn't been a slouch on defense during its surprising run, it has allowed more than 142 yards per game on the ground, which Belton would be more than willing to exploit.
5. Postseason plans:
With Penn State again ineligible for a bowl bid due to its NCAA sanctions, only Iowa can clinch a postseason appearance with a win this weekend. And if the Hawkeyes can't get it done against Purdue, they probably don't deserve to go anywhere but home for the holidays. The Boilermakers have been shut out for two straight games, and Iowa has appeared more than capable of extending that scoring drought with its solid defense against Ohio State and Wisconsin in recent weeks, even in losing efforts. Struggling Purdue could put an end to that losing skid and ensure the Hawkeyes get an extra game this season.
6. Worst nightmare for a scoreboard operator:
The two worst defenses in the Big Ten are set to do battle on Saturday, and the first unit to get a stop as Illinois visits Indiana might just get a win. The Hoosiers have been far and away the least productive defensive team in the league this season in allowing more than 500 yards per game, almost 50 more than the Illini. Indiana does balance that out with an offense that is putting up 40 points per game, which ranks second only to Ohio State's ruthless scoring machine in the Big Ten. But points figure to be easy to come by this weekend, so forcing a turnover or two could decide the outcome.
7. Purdue is searching for the red zone:
Forget about scoring points. The first thing the Boilermakers need to do is just move the football inside the 20-yard line. The Boilermakers have made a total of only 16 trips into the red zone all season, an average of just two visits per game and obviously a major factor for an offense putting up just 11.5 points every week. That's still just half the battle, though, and three missed field goals and three interceptions have ended scoring threats for the Boilermakers even when they do put together a deep drive into opposing territory.
[+] Enlarge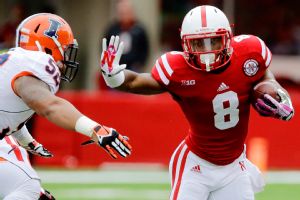 AP Photo/Nati HarnikAmeer Abdullah is locked in a duel with Wisconsin's Melvin Gordon for the B1G rushing crown.
8. Rushing title up for grabs:
There's enough distance now to officially call it a two-man race for the season rushing title, and Nebraska's
Ameer Abdullah
and Wisconsin's
Melvin Gordon
are once again going to see plenty of the football with lots at stake for both teams this weekend. Abdullah holds the lead by just 34 yards, though Gordon has a decisive edge in yards per carry thanks to his 33 fewer attempts. Ohio State's
Carlos Hyde
is in the discussion with those two tailbacks for All-Big Ten honors, but his three-game suspension early in the season leaves him lagging behind the leaders for the rushing crown.
9. Dueling defensive backs:
The co-leaders atop the Big Ten in interceptions obviously won't be on the field at the same time, but if either Michigan's
Blake Countess
or Nebraska's
Stanley Jean-Baptiste
are able to pull ahead with a pick on Saturday, it could be critical in determining which team keeps its division hopes alive for another week. There's obviously a chance they could both add to their total of four interceptions since the Wolverines and Huskers have combined to throw 21 of them already this season, but turnovers figure to be decisive and those guys have proven they can force them.
10. Ohio State looks for help:
Even without a game, the Buckeyes could still be a big winner on the off date as they cheer for a few upsets to boost their national title case. In order, Ohio State will be tuned in looking for Oklahoma to knock off Baylor, Stanford to beat Oregon or Alabama to lose to LSU as it continues to wait for some assistance to climb higher than No. 4 in the BCS standings. Within the Big Ten, and with Michigan State off, the Buckeyes figure to be most interested in Wisconsin extending its winning streak to continue making their win in September look better.
November, 4, 2013
11/04/13
11:00
AM ET
We had our first, full six-game conference day on Saturday, and half of those games came down to the absolute wire.
If you're not at the top end of the Big Ten (hello, Ohio State, Wisconsin and Michigan State) or the bottom (sorry, Purdue), chances are you're going to find yourself in a very tight game in November. That's why execution at the end of halves and end of games is so big, and why some of what we saw Saturday was troubling.
[+] Enlarge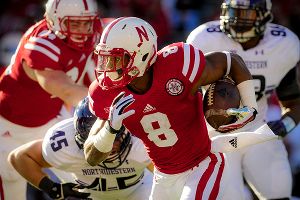 Eric Francis/Getty ImagesAmeer Abdullah rushed 24 times for 127 yards in Nebraska's thrilling win over Northwestern.
Take Illinois, for example. The Illini moved the ball almost at will at Penn State and had several chances to grab a lead. At the end of the first half, coach Tim Beckman's team displayed atrocious clock-management skills after getting a first-and-goal opportunity. Illinois would have gone to halftime with no points had Penn State not committed a personal-foul penalty with no time left that led to a field goal. The Illini would eventually lose when
Nathan Scheelhaase
threw an interception on the first play of their overtime possession.
Indiana's transgression was even worse. The Hoosiers had the ball on the Minnesota 9-yard line, trailing 42-39, in the final minute. They then called for a swing pass to running back
Tevin Coleman
that
Nate Sudfeld
appeared to deliver a little early. Coleman hadn't yet turned around for the ball and was still behind Sudfeld, making it a lateral. Coleman didn't catch the ball and didn't immediately realize it was live, while the Gophers scooped it up to save the win.
IU coach Kevin Wilson said the swing pass was "not an ideal call." Uh, yeah. It wasn't going to result in a touchdown, and the risk of a backward pass made it a curious choice. Wilson also made another questionable decision earlier, going for the two-point conversion after the Hoosiers had scored to take a 39-35 lead. He explained his reasoning later that Indiana would have a chance to remain tied by blocking a PAT in the event Minnesota scored a touchdown. But what are the odds of that? Had Wilson simply kicked the extra point for the 40-35 lead, the Hoosiers could have later kicked a short field goal for the win.
And then there was the ending of the Northwestern-Nebraska game. By now, you know what happened, with the Huskers winning on a play they call "Geronimo."
Ron Kellogg III
heaved the ball about 55 yards in the air, where it was tipped by a Northwestern defender into the waiting arms of
Jordan Westerkamp
.
A crazy fluke of a play? OK, maybe. But the Wildcats -- who say they practice against the Hail Mary every Thursday -- made the unpardonable mistake of not accounting for the deepest receiver in the end zone.
"You can never let someone get behind the pile," coach Pat Fitzgerald said. "That's pretty much it."
Northwestern could have avoided the pain of the play if, after reaching the Nebraska 1-yard line on second down in the final two minutes, it had scored a touchdown instead of settling for a field goal.
It's the little things at the end of halves and games that could decide the outcome of some more November Saturdays.
Take that and rewind it back:
Team of the week:
Michigan State. The Spartans
bullied, battered and bruised
Michigan in one of the most impressive defensive performances we've seen in a while. They should be favored in their final three games, even though the next two (at Nebraska and at Northwestern) are on the road. Michigan State fans might actually root for Michigan this week, because a Wolverines' victory over Nebraska this week would give Mark Dantonio's team a two-game lead over everybody in the Legends Division.
Worst hangover:
Michigan. This may be a literal, physical hangover for the Wolverines, who were beaten up all day in East Lansing.
Devin Gardner
looked shell-shocked as his
jersey was covered with mud
after taking so many hits. At least this week's game is at home. Brady Hoke is just 5-7 in true road games in three years.
Best play:
Nothing more needs to be said about Westerkamp's Hail Mary catch. Just
enjoy the video again
.
Biggest unsung play:
The Westerkamp catch would never have happened if not for
Ameer Abdullah
's heroics earlier on the final Nebraska drive. The Huskers faced fourth-and-15 when Kellogg scrambled and threw a dump-off pass to his running back. Abdullah caught the ball at the 34-yard line and needed to get just past the 39 for a first down. Two Northwestern defenders barreled in on him. But Abdullah shook off a tackle at the 36, got hit near the 38 and then lunged forward with the ball to just cross the first-down marker. Abdullah has left no doubt this season who Nebraska's best player is.
Big Man on Campus (Offense):
Penn State's
Bill Belton
ran for 201 yards and a touchdown on 36 carries versus Illinois. All that was nearly forgotten when he fumbled near the goal line late in the fourth quarter. But all was forgiven as the Nittany Lions came back to win in OT.
[+] Enlarge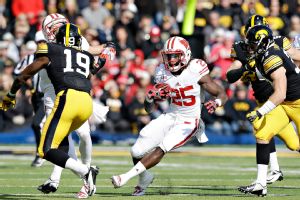 AP Photo/Charlie NeibergallRB Melvin Gordon was kept in check (17 rushes, 62 yards), but the Badgers rolled Iowa 28-9.
Big Man on Campus (Defense):
We could pick just about every Michigan State defender here. We'll single out linebacker
Denicos Allen
, who had nine tackles, two sacks and another tackle for loss. Allen is having a tremendous season and putting himself in the conversation for first-team All-Big Ten honors at the league's deepest position.
Big Men on Campus (Special teams):
Michigan State's
Michael Geiger
drilled all three of his field goal attempts in a game where offense was at a premium for three quarters, and punter
Mike Sadler
helped keep Michigan pinned in bad field position by averaging 40.8 yards on five kicks. The Wolverines started three of their drives from the 10-yard line or worse. No surprise there. Michigan State leads the country in punts downed inside the opponent 10, with 15.
A rule that needs review:
Wisconsin's
Jack Russell
appeared to make a 54-yard field goal at the end of the first half, but Iowa had called a timeout just before the snap. The Hawkeyes then proceeded to call two more timeouts in a row, and Russell would finally miss the attempt after several minutes of waiting. Credit Iowa coach Kirk Ferentz for using the ploy, since there is no sense in saving first-half timeouts. But can anyone argue this is good for the game? I don't think teams should be allowed to call more than two consecutive timeouts without a play happening. It disrupts the flow of the game and certainly doesn't embody the spirit of sportsmanship and collegiality the Big Ten claims to prioritize.
Again, that's not a criticism of Ferentz, just the rule. (And am I the only one who
thinks of this
when discussing whether to put Jack Russell in a timeout situation? Yeah, I probably am).
Fun with numbers (via ESPN Stats & Info):
After holding Michigan to minus-48 rushing yards on Saturday, Michigan State's defensive numbers have gone from outstanding to other-worldly. The Spartans are now allowing an average of just 43 rushing yards per game. The next best team in the FBS is Louisville at 82 yards per game. MSU is also giving up just 1.61 yards per rush attempt, which is a full yard lower than any other team in the country. Opponents are gaining zero or negative yardage on 36.5 percent of their attempts against the Spartans, also the highest number in the land, and only 22.7 percent of rushes versus that defense have gone for 5 yards or more. We could go on and on, but you get the point.

With its 56-0 win over Purdue following a 63-point effort versus Penn State, Ohio State registered its third back-to-back 50-plus point performance in two seasons under Urban Meyer. The program did that only four times total in the previous 122 seasons. The offense has been incredibly productive, as 38.4 percent of the Buckeyes' plays have gone for either a first down or a touchdown and 53.9 percent of those plays have gone for at least 5 yards. That latter figure is the highest in the FBS.

Do bye weeks help? Wisconsin would say yes. The Badgers have won last their past seven games following a bye week, including Saturday's win over Iowa. All of those victories have come by at least 19 points.

Penn State's Allen Robinson now ranks second in the nation in receiving yards per game, at 130.4. He trails only Oregon State's Brandin Cooks, who is averaging 149.3 yards per game. What might hurt Robinson come awards time is that he has only six touchdown catches. Cooks, by comparison, has 14. (And remember that Robinson missed half of the season opener because of a suspension).

Since October began, Michigan is averaging just 2.69 yards per rush attempt, which is 116th out of 123 teams in that span. (Purdue is dead last at 1.45 yards per attempt). In that same time period, the Wolverines have 63 rushes for zero or negative yards, more than any other FBS team.
November, 4, 2013
11/04/13
9:00
AM ET
We have true separation in the Big Ten, and not just with Ohio State at the No. 1 spot. Although the Buckeyes remain the league's kingpin, both Wisconsin and Michigan State also belong in the Big Ten's upper crust.

The big debate in these rankings concerns the No. 2 spot, which Wisconsin has occupied for several weeks. The Badgers handled Iowa on the road and delivered a salty defensive performance even without superstar linebacker
Chris Borland
. Michigan State smothered Michigan, complementing a dominant defense with timely passes from
Connor Cook
. Both teams have won at Iowa and at Illinois. Michigan State has the best win between the bunch but has played the easier schedule.
For now, we're keeping Wisconsin at No. 2. We realize we're in the minority there, but Wisconsin hasn't done much to move down since the Northwestern game. It's too bad the Badgers and Spartans can't play this season to decide the second spot.
Elsewhere, Nebraska avoids another drop thanks to its Hail Mary against sad-sack Northwestern. We debated whether to move Minnesota higher, and we will if the Gophers keep winning. Iowa falls down a few spots, and the bottom of the rankings remains unchanged.
Here's one last look at the
Week 9 rankings
.
Now, the new rundown ...
1. Ohio State (9-0, 5-0 Big Ten; last week: 1):
Ross-Ade Stadium is no longer a graveyard for the Buckeyes, who buried Purdue in a matter of minutes Saturday. Ohio State scored 28 first-quarter points and 42 in the first half, as the tight ends got involved, quarterbacks
Braxton Miller
and
Kenny Guiton
both had jump-pass touchdowns and the defense blanked Purdue. Whether style points matter, Ohio State is finally getting them. The Buckeyes are off this week before visiting Illinois on Nov. 16.
2. Wisconsin (6-2, 4-1; last week: 2):
The offense struggled and top defender Borland watched from the sideline with a hamstring injury, but Wisconsin found a way to beat Iowa.
Marcus Trotter
was fabulous filling in for Borland, as the Badgers' defense repeatedly turned Iowa away in plus territory. Running back
James White
came alive late as Wisconsin pulled away. The Badgers will need a stronger performance this week as they step out of league play against a good BYU squad.
3. Michigan State (8-1, 5-0; last week: 3):
Not only did the Spartans reclaim their superiority against in-state rival Michigan, but they looked like a worthy competitor for Ohio State in a potential Big Ten championship game matchup. If Nebraska falls this week at Michigan, MSU would have a two-game lead on the rest of the division with three weeks to go. An elite defense had its best performance under Pat Narduzzi, as end
Shilique Calhoun
and linebackers
Denicos Allen
and
Ed Davis
combined for seven sacks and 8.5 tackles for loss. Cook made some impressive throws as the Spartans pounded Michigan. They'll have some extra time to celebrate during an open week before visiting Nebraska on Nov. 16.
4. Nebraska (6-2, 3-1; last week: 7):
One play makes all the difference between another Power Rankings drop for Big Red and a three-spot gain. Nebraska had defensive problems early and turnover problems late against Northwestern, but the Huskers never gave up and won a game on a Hail Mary to
Jordan Westerkamp
for the first time in team history. Credit running back
Ameer Abdullah
for keeping a potentially splintering team together. The young defense also shut down Northwestern's offense in the second half. Nebraska must beat Michigan on the road this week to stay in the Legends Division race.
5. Michigan (6-2, 2-2; last week: 4):
That Notre Dame win feels like years ago as Michigan's warts were exposed in Saturday's loss at Michigan State. The Wolverines are either too young or simply not tough enough, as they were pushed around the field at Spartan Stadium. Michigan had a program-low rushing total (minus-48 yards) and couldn't protect quarterback
Devin Gardner
. The program's Big Ten championship drought almost certainly will reach nine years, and it's fair to question where things are really headed under third-year coach Brady Hoke. At least Michigan returns home, where it has never lost under Hoke, to face Nebraska this week.
6. Minnesota (7-2, 3-2; last week: 6):
The Minnesota mojo continues, thanks in large part to an inexcusable crunch-time blunder by Indiana. Minnesota blew a 22-point third-quarter lead but rallied behind
Philip Nelson
, who established himself as the team's offensive leader with 298 pass yards and four touchdowns. It was a rough second half for the defense, but linebacker
Aaron Hill
came up with the decisive play late as the Gophers got out of Bloomington with their third consecutive league win. Minnesota is a factor in the Legends Division race but must keep winning this week against Penn State.
7. Iowa (5-4, 2-3; last week: 5):
Sure, the Hawkeyes are improved this season, but some of the same maddening offensive traits remain, like being unable to finish drives. Iowa should have been up at halftime rather than down 7-6 to Wisconsin, and although quarterback
Jake Rudock
's injury impacted the game, the Hawkeyes' second-half struggles on offense are nothing new. The defense is good enough to get Iowa a few more wins, but can the offense start scoring? Iowa visits Purdue this week.
8. Penn State (5-3, 2-2; last week: 8):
It isn't always pretty with Penn State, but the Lions don't quit, especially on their home field. Freshman quarterback
Christian Hackenberg
once again rallied his team from a late deficit and stepped up in overtime as Penn State avoided what would have been a bad loss to Illinois.
Bill Belton
established himself as the team's top running back with 201 yards and a touchdown. The defense remains far too vulnerable to big passing plays. Penn State will need to be better on both sides of the ball this week as it visits surging Minnesota.
9. Indiana (3-5, 1-3; last week: 9):
Coach Kevin Wilson's crew doesn't quit, but the Hoosiers still don't know how to win. They were 9 yards away from completing a huge second-half comeback against Minnesota and moving a step closer to bowl eligibility. At worst, they were in position to send the game to overtime. Instead, everything fell apart on a dropped backward pass to
Tevin Coleman
, who had a big game (108 rush yards, TD). The quarterback race took another turn with
Nate Sudfeld
outplaying
Tre Roberson
, and the defense had a wildly inconsistent performance. Indiana hosts Illinois this week but will need a road win at Ohio State or Wisconsin to become bowl eligible.
10. Northwestern (4-5, 0-5; last week: 10):
The former Cardiac Cats are only giving their fans heartache at this point as they've forgotten how to perform in the clutch. Northwestern had another golden opportunity for a road win, but let it slip away when it couldn't finish off Nebraska on either side of the ball, leading to the Hail Mary touchdown to
Jordan Westerkamp
. Injuries continue to mount in a snakebitten season for the Wildcats, who likely won't make a bowl. Northwestern has an off week to regroup before hosting Michigan on Nov. 16.
11. Illinois (3-5, 0-4; last week: 11):
The Big Ten losing streak has reached 18 games, and arguably no defeat stung more than Saturday's at Penn State. Illinois wasted opportunities early, took the lead late and still couldn't hold on for a victory. Tim Beckman's team performed better than expected and can take some positives from its performance in Happy Valley, but there's still too much inconsistency on both sides of the ball, as the defense allowed 250 rush yards. Illinois visits Indiana this week.
12. Purdue (1-7, 0-4; last week: 12):
The misery continues for Darrell Hazell's crew, which is on its way to its worst season since 1993 (1-10) and might be one of the worst squads in recent Big Ten memory. Young quarterback
Danny Etling
had another rough outing as Purdue never challenged Ohio State and had no answers for the Buckeyes' offense. Purdue has been shut out in consecutive games and has scored just 17 points in four Big Ten contests. The remaining schedule is a little more favorable, but Purdue has to show something positive by season's end.
November, 3, 2013
11/03/13
10:00
AM ET
Lessons learned from a (finally) full day of conference action:
1. Mark Dantonio's Spartans own the state:
The buzz around the Big Ten during the offseason was that Ohio State and Michigan soon would separate themselves, creating a Big 2-Little 10 dynamic in the conference. While both programs are recruiting at a nationally elite level, only Ohio State is translating the talent into tangible progress. Michigan fell to Michigan State on Saturday for the fifth time in six years, and the gulf between the two programs is unmistakable.
[+] Enlarge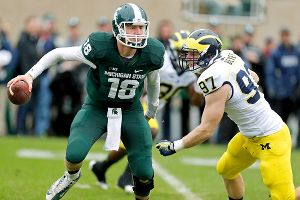 Gregory Shamus/Getty ImagesConnor Cook has stabilized the Spartans offense, making Michigan State a Big Ten title contender.
Michigan State appears on its way to a second Legends Division title in three seasons, showing that last season's struggles are the exception more than the rule under Dantonio. Much like his mentor Jim Tressel did at Ohio State, Dantonio is mastering Michigan right now. The Spartans' defense, elite for the past few years, has reached another level this season, and a dormant offense has awakened behind quarterback
Connor Cook
. Michigan State is in control of the Legends Division and appears to be on a collision course with Ohio State.
Michigan still can spoil the Buckeyes' national title hopes later this month, but the Wolverines continue to fall short of their self-imposed standard for success: a Big Ten championship.
2. Some programs just seem snake-bitten:
We don't believe in curses or anything like that, but it sure seems like some programs are the victims of voodoo. How else to explain how Illinois, Indiana and Northwestern keep finding incredible ways to lose?
The Illini shot themselves in the foot over and over again at Penn State but still had the lead and the ball after a
Bill Belton
fumble near the Illinois goal line with 3:23 left. They lost in overtime.
Indiana, after trailing Minnesota 35-13, rallied to take a 39-35 lead. The Hoosiers then trailed 42-39 in the final minute and had the ball on the Gophers' 9-yard line. They tried a pass to running back
Tevin Coleman
, which ended up being a lateral that Coleman dropped and gave up on. Minnesota scooped the ball up to survive.
And Northwestern suffered the biggest heartbreaker, giving up a 49-yard Hail Mary touchdown to
Jordan Westerkamp
on the game's final play. Remember when Northwestern thrived in the clutch? Not anymore.
Learning to win is a skill, and Indiana and Illinois -- the latter of which has lost 18 straight Big Ten games -- still haven't mastered that. We thought Northwestern had, but the Wildcats have lost five straight games now and have been hit the hardest by injuries of any league team. Makes you almost believe in curses.
[+] Enlarge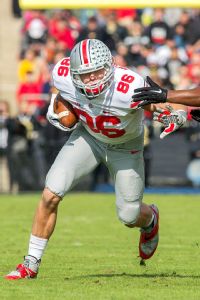 Zach Bolinger/Icon SMIJeff Heuerman had his best game of the season as Ohio State's offense dominated Purdue.
3. Ohio State is kicking things up a notch:
OK, so it was only against Purdue, which looks like one of the worst Big Ten teams we've seen in the past several years. Still, it's impossible not to notice that Ohio State seems to have found another gear in the past couple of weeks. For the second straight week, the Buckeyes scored 42 points in the first half en route to a 56-0 trouncing of the Boilermakers. Urban Meyer's team has won its last two games by a combined score of 119-14.
Much of that can be credited to the improvement of
Braxton Miller
as a passer; he has thrown seven touchdown passes with only 10 incompletions his past two games. The defense has been stifling as well. Yes, the competition hasn't been stellar, but remember that Ohio State historically has had trouble against Purdue and hadn't really dominated anybody in the Big Ten. But this team appears to be hitting its stride now and making a statement to those who doubt it belongs in the national title discussion.
4. Wisconsin can win without its stars:
When Wisconsin has had success this year, it usually has happened by riding stars like
Melvin Gordon
,
Chris Borland
and
Jared Abbrederis
. The Badgers proved they're a complete team in a 28-9 win at Iowa.
Borland didn't play because of a bum hamstring. Gordon rushed for a season-low 62 yards. Abbrederis had only 30 receiving yards and left the game after catching a third-quarter touchdown pass. Still, Wisconsin's defense held the Hawkeyes to only 289 yards and no touchdowns, while the offense chipped away until breaking free late, thanks to senior
James White
's 132 yards rushing and two touchdowns. It was a defensive slog most of the afternoon, but a team like the Badgers with BCS bowl hopes has to win some games like that along the way.
Meanwhile, Iowa just wishes it had a few offensive stars. The Hawkeyes' defense is very good, but a complete lack of explosiveness on the other side of the ball ultimately limits this team's potential.
5. Minnesota is in the thick of the Legends Division race:
We talked last week about Minnesota being a great story. The Gophers are more than that now. They've won three straight games to improve to 7-2 (3-2 conference). While they trail Michigan State by two games in the standings, they do play the Spartans in the final week of the season. Next week's home game against Penn State, which has played valiantly at home but very shaky on the road, is entirely winnable.
We're not saying Minnesota is going to Indianapolis for the Big Ten title game. The Gophers still have some issues, and the team did not handle a huge lead at Indiana very well. But the mere fact that the Gophers are even still in the discussion for the division crown is a testament to what the players and coaching staff have accomplished under difficult circumstances.
November, 3, 2013
11/03/13
9:00
AM ET
Recognizing the best and the brightest around the Big Ten in Week 10:
October, 31, 2013
10/31/13
9:00
AM ET
Trick or treat, everyone. Ready for the scariest set of Big Ten predictions you've ever seen? What's truly scary is the fact that this marks the first week since Week 3 that all 12 league squads are playing. It's a full slate of Big Ten action, and with the predictions race all tied up, this is a big week.
At steak
: dinner at St. Elmo in Indianapolis.
Let's begin ...
ILLINOIS at PENN STATE


Brian Bennett:
The last time Illinois coaches came to State College ... OK, that's old news by now. Both defenses are really struggling right now, but the Fighting Illini have even more issues than Penn State. And I expect the Nittany Lions to be much better at home than on the road the rest of the way.
Allen Robinson
scores three times in a big Penn State win. .
.. Penn State 42, Illinois 20

Adam Rittenberg:
The Lions get well this week against an Illinois defense that hasn't stopped anyone lately.
Bill Belton
racks up 130 rush yards and two scores in establishing himself as the Lions' top back. Penn State's tight ends get more involved in the pass game as the Lions pull away early in the third quarter.
... Penn State 38, Illinois 21
WISCONSIN at IOWA


Rittenberg:
It's great to have this rivalry back on the slate, and I expect an extremely physical game at Kinnick Stadium. Iowa jumps ahead early on a
Damon Bullock
touchdown run, but Wisconsin's offense kicks into gear after another long scoring run by
Melvin Gordon
on a jet sweep. Badgers quarterback
Joel Stave
finds wideout
Jared Abbrederis
for a fourth-quarter touchdown that proves to be the difference.
... Wisconsin 28, Iowa 21
Bennett:
Very excited for this one and tempted to pick Iowa, whose three losses are to teams that are a combined 23-1 this season. But I also saw how Northwestern shut down the Hawkeyes' offense after the first drive last week, and that scares me away from choosing the home team. Stave has a nice game and throws for three touchdown passes after Iowa stacks the box defensively.
... Wisconsin 30, Iowa 20

OHIO STATE at PURDUE


Bennett:
Can you say cruise control? That's what Ohio State will be on after scoring 21 points in the first 10 minutes on Saturday.
Carlos Hyde
has four touchdowns in the first half of a romp.
... Ohio State 56, Purdue 13

Rittenberg:
Like they say at Harry's Chocolate Shop, this one will go ugly early. Although Ross-Ade Stadium usually brings out the worst in Ohio State, I expect another big game from
Braxton Miller
, who picks apart Purdue's secondary for three touchdown passes. Purdue's offense looks better than it did against Michigan State as
Danny Etling
connects with
B.J. Knauf
for a touchdown, but it's way too much Ohio State in this one.
... Ohio State 48, Purdue 10
MINNESOTA at INDIANA


Rittenberg:
Minnesota's recent surge has been incredibly impressive, but I just don't like the matchup here for the Gophers. Indiana is playing for its bowl life and must win this game at home coming off of a bye. Unlike Minnesota's past two opponents, Indiana is healthy on offense and will strike with big-play threats
Cody Latimer
and
Shane Wynn
for some early scores. Minnesota's run game shows up again, but the Hoosiers use a big fourth quarter to get the W.
... Indiana 35, Minnesota 31
Bennett:
Does Vegas know something here? Indiana is a solid favorite despite how well Minnesota is playing. Seems weird. But ... maybe the wiseguys are on to something. Indiana has had two weeks to prepare and figure out something defensively, and this will be one of the best offenses the Gophers have seen. I predict a big day for
Tre Roberson
as the Hoosiers temporarily halt Minnesota's nice run.
... Indiana 33, Minnesota 30.

MICHIGAN at MICHIGAN STATE


Bennett:
Bottom line here is I know what I'm getting from Michigan State. I have no real idea what to expect from either side of the ball from Michigan. The Wolverines could come out and play great or turn the ball over a bunch of times. I'll side with the elite defense and the home team. The Spartans will force three turnovers, including a pick-six from
Denicos Allen
, and they will emerge as the leaders of the Legends.
... Michigan State 17, Michigan 14

Rittenberg:
Michigan needs this game more than Michigan State. It could be the most important game in coach Brady Hoke's tenure to date. But Mark Dantonio is masterful in getting Michigan State in the right mindset to play Michigan, and the Spartans defense is the best unit on the field. MSU cornerback
Darqueze Dennard
records a key fourth-quarter interception against
Devin Gardner
, and the Spartans get two more rushing touchdowns from
Jeremy Langford
to rally for a win.
... Michigan State 21, Michigan 17
NORTHWESTERN at NEBRASKA


Rittenberg:
Both teams seem fragile at the moment, and it's hard to confidently pick one over the other. This is a better matchup for Northwestern's offense to finally get on track, and
Kain Colter
has given Nebraska problems before. Colter takes the team on his back and scores three second-half touchdowns, including the game-winner in the final minute. Nebraska wastes another 150-yard rushing performance from
Ameer Abdullah
as Pelini Watch really begins.
... Northwestern 27, Nebraska 24
Bennett:
Northwestern has given Nebraska trouble the past two seasons, but the Wildcats don't seem able to get out of their own way right now.
Taylor Martinez
sits this one out and the Huskers rely heavily on the run game, overcoming two costly fumbles to win on a late field goal.
... Nebraska 24, Northwestern 21.

You've heard from us. Now it's time to hear from one of you. As a reminder, throughout the season we'll choose one fan/loyal blog reader each week to try his or her hand at outsmarting us. There's nothing but pride and some extremely limited fame at stake. If you're interested in participating, contact us
here
and
here
. Include your full name (real names, please), hometown and a brief description of why you should be that week's guest picker. Please also include "GUEST PICKS" in all caps somewhere in your email so we can find it easily.
This week's guest is
Andrew Schout from Kansas City, Mo.
Andrew, the floor is yours.
I am a Michigan State grad who just happens to be getting married the same day as the biggest football game of the year. As a football fan, I know the frustration/annoyance of missing a game due to a wedding. Now I'm the guy causing those feelings in others. On what's sure to be a big day, for more reasons than just the game, I'd enjoy the chance to be your guest picker! Thanks, Andrew S., Michigan State University, Class of 2005.
Congrats, Andrew! Here's a prediction from us: "Twist and Schout" will play at your wedding. And we might crash the reception.
Here are Andrew's Week 10 picks:
Penn State 34, Illinois 24
Wisconsin 24, Iowa 17

Ohio State 48, Purdue 10

Indiana 41, Minnesota 38
Michigan State 27, Michigan 16

Nebraska 26, Northwestern 20
SEASON RECORDS
Adam Rittenberg:
57-11
Brian Bennett:
57-11
Guest pickers:
52-16
October, 13, 2013
10/13/13
9:00
AM ET
Recognizing the best and brightest from the Big Ten in Week 7:

Michigan State RB Jeremy Langford: Unlike Penn State last week, the Spartans realized that running the ball against Indiana is usually a good idea. And Langford was the star of that strategy, carrying the ball 23 times for 109 yards and three touchdowns in Michigan State's 42-28 victory over the Hoosiers. His last touchdown, a 32-yarder, put his team ahead 35-21. In all, the Spartans rushed for 238 yards as a team.
Nebraska DE Randy Gregory: There aren't many Big Ten defensive ends playing better than Gregory right now. The one-time Purdue commit and Indiana native haunted his home-state school with two sacks, a fumble recovery and a safety in the Huskers' 44-7 blasting of the Boilermakers. The entire Nebraska defense deserves a nod after holding Purdue scoreless until the final 39 seconds.
Wisconsin's defense: The Badgers held Northwestern -- a team that had scored at least 30 points in seven straight games -- to just two field goals in a dominating 35-6 win. Seven different Badgers had at least one sack. Chris Borland led the way with 10 tackles, but this was a total team effort -- and a very impressive one at that.
Wisconsin RB Melvin Gordon: With only four games this week, we give a second sticker to a deserving Badger. Gordon rushed 22 times for 172 yards, including a 71-yard touchdown, in a bounce-back performance from his showing at Ohio State.
Penn State RB Bill Belton: We could have gone a number of ways in the Nittany Lions' wild, weird 43-40 win over Michigan in four overtimes. Christian Hackenberg made some great throws down the stretch, Brandon Felder provided a strong complement to Allen Robinson and Michigan's Devin Funchess was great for a second straight week. But we ultimately went with Belton, whose final numbers (27 carries, 85 yards) might not stand out in a box score. But Belton picked up the crucial first down on fourth-and-one in overtime No. 4 before finally ending things with a 2-yard touchdown run. That's enough to earn a sticker.
October, 1, 2013
10/01/13
12:00
PM ET
The baseball postseason starts today. Who ya got? (Hint: birds on a bat).
Nebraska Debuts New Mascot At Spring Game
BIG TEN SCOREBOARD
Thursday, 8/28
Saturday, 8/30