Nebraska Cornhuskers:

Ameer Adbullah
December, 20, 2013
12/20/13
1:00
PM ET
We continue our delivery of the regular-season report cards with Nebraska.
It was an odd year in Lincoln, shaped by injuries and controversy but growth and promise, and it ended with a fan base largely divided. For every member of Husker Nation ready to hand out passing grades, there's another who saw it in just the opposite way.
So at the risk of just adding to the confusion, here it goes:
Offense: B-minus
[+] Enlarge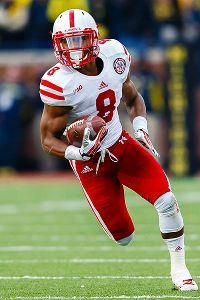 Rick Osentoski/USA TODAY SportsAmeer Abdullah, who ran for 1,568 yards, was one of the bright spots for the Nebraska offense this year.
Considering the bevy of injuries on the offensive line and the loss of quarterback
Taylor Martinez
for all but one game in Big Ten play, Nebraska gets the benefit of the doubt. Its replacements played well enough to keep the Huskers in every game -- if not for the turnovers.
Oh, the turnovers. Nebraska lost the football 28 times, most in the Big Ten, and often turnovers came at the worst times. There's likely not a team in the country that could have handled four fumbles and an interception against Michigan State better than the Huskers did on Nov. 16. But it was still a 13-point loss.
Before the injuries hit, the Huskers' running game was a force. And I-back
Ameer Abdullah
still finished with 1,568 yards, arguably the best season by a Huskers back since 1997. Freshman QB Tommy Armstrong enjoyed some nice moments. Receivers
Kenny Bell
and
Quincy Enunwa
did their jobs well.
Nebraska badly missed a playmaker at tight end. But no one will soon forget the Ron Kellogg-to-
Jordan Westerkamp
Hail Mary that beat Northwestern, a play that single-handedly nudges this grade upward.
Defense: C
Remember the fourth quarter against Wyoming and the first 15 minutes against South Dakota State? Too much bad stuff happened to bump this grade past the point of average.
Sure, the Huskers were young. They needed time to grow into their roles. Why is that, though? How did Nebraska find itself, six years into the coach Bo Pelini regime, in a spot that required a rebuilding job? In year two or three, we'd understand more easily.
There was also debacle in Minneapolis as Minnesota rushed for 271 yards and basically punched the Blackshirts in the face.
Nebraska responded well late. It played a great defensive game in the win at Michigan and a good one to win at Penn State. Even against Iowa, despite losing 38-17, the defensive play was decent.
When factoring the promise for next year -- with emerging stars like
Randy Gregory
,
Avery Moss
and
Michael Rose
-- this defense is better than average. But production doesn't always meet potential.
Special teams C-minus
Bell on kickoff returns and place-kicker
Pat Smith
, who was solid all year and hit a game-winning field goal in overtime at Penn State, prevented a failing grade here.
Just too many mistakes and lack of adjustments.
Nebraska averaged 3.04 yards per punt return -- better nationally than only Mississippi State and 1-11 Cal. More than that, the Huskers fumbled a pair of punt returns and erred too often on decisions in the return game.
Additionally, Michigan State converted a key fake field goal against the Huskers, and Pelini's ill-advised decision to fake a punt against Iowa proved costly.
Overall: C-plus
Nebraska sits 8-4 as it prepares for the TaxSlayer.com Gator Bowl against Georgia, leaving it with a chance to again reach nine wins. A loss on New Year's Day would mark Pelini's first season with five defeats and make this the second Nebraska team not coached by Bill Callahan since 1968 to miss the nine-win benchmark. The absence of key players, youth on defense, turnovers and other mistakes factor in the Huskers' overall grade. None of it weighs heavily enough to sink this team to great depths, yet Nebraska hasn't done enough, either, to get far above the industry average.
November, 29, 2013
11/29/13
7:00
AM ET
LINCOLN, Neb. -- Iowa hasn't beaten Nebraska at Memorial Stadium since 1943 as it visits for the second time as a Big Ten foe on Saturday (noon ET, ABC.) Here's what we'll be watching:
[+] Enlarge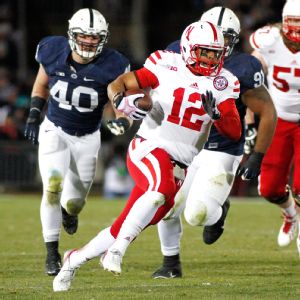 Justin K. Aller/Getty ImagesSenior Ron Kellogg III, a former walk-on, could be in line for his first career start on Saturday.
1. The Nebraska quarterback:
Who will it be? The Huskers never made an announcement on a starter this week, perhaps because they're simply not sure if freshman
Tommy Armstrong
is healthy enough to go on his injured ankle. Or maybe it's because Nebraska wanted to build the suspense on Senior Day before handing former walk-on
Ron Kellogg III
his first career start. We're going with the latter. Offensive coordinator Tim Beck said redshirt freshman
Ryker Fyfe
would be ready if needed, which might mean Armstrong is hurt worse than we know.
2. The Senior Day effect:
The fifth-year guys among Nebraska's 23 seniors -- players like linemen
Brent Qvale
,
Cole Pensick
and
Jeremiah Sirles
, quarterback
Taylor Martinez
and defensive back
Andrew Green
-- were part of the first group scouted and signed by Nebraska coach Bo Pelini after a full year to recruit. In other words, they were his kind of guys. And say what you want about Nebraska's fall from the national radar, these seniors were tough. They've led the Huskers to eight straight wins in games decided by seven points or fewer, including the overtime victory last week at Penn State. Emotions will run high before kickoff.
3. Ameer Abdullah's durability:
The Huskers' junior I-back has answered every question through 11 games. But he has averaged 24.5 carries per game over the past four weeks. If he's getting tired, this is not the right opponent to face. Iowa's rushing defense ranks 20th nationally, allowing 123.6 yards per game. Abdullah needs 17 yards to record the fifth 1,500-yard season in Nebraska history. As long as he has plenty of gas in the tank, Abdullah is a good bet to get to 1,600 on Friday.
4. Iowa's downhill running attack:
Led by bruiser
Mark Weisman
, the Hawkeyes do nothing fancy in the running game. They'll line up and pound it at the Huskers. It worked with decent success for Penn State a week ago, but Nebraska stiffened after halftime. The Blackshirts continue to show improvement and climb the charts statistically as the young linemen and linebackers grow into their roles. Iowa has been especially potent in the first half this year, so the importance of a good start defensively for Nebraska is magnified. One way to set the tone? Get ahead in the turnover department, a problem for both teams this year.
5. The white elephant in the room:
We can't finish without mentioning the uncertain status of Pelini, who has taken the Huskers within one win of a sixth straight nine-win season. Still, Nebraska appears no closer to the nation's elite than three years ago, and the school's administration, given ample opportunities, has offered little public support for the coach. It's policy for first-year athletic director Shawn Eichorst to stay quiet on personnel matters, but there's a tense moment or two on tap for Nebraska in the wake of this regular-season finale, win or lose.
November, 27, 2013
11/27/13
3:00
PM ET
LINCOLN, Neb. -- In the view of Iowa coach Kirk Ferentz, before his program can claim a rivalry with Nebraska, the Hawkeyes ought to first clear one hurdle.
"We haven't beaten them in a while," Ferentz said. "Like decades."
[+] Enlarge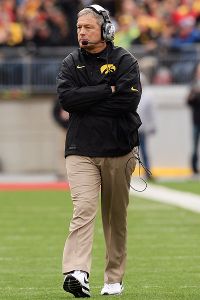 Jamie Sabau/Getty ImagesKirk Ferentz's Hawkeyes hope to beat Nebraska for the first time since 1981.
It was 1981, in fact. Nebraska has won its past five meetings with Iowa and seven of the past eight, including victories in each of the past two seasons after the Huskers joined the Big Ten.
Iowa visits Memorial Stadium on Friday (noon ET, ABC).
Ferentz is 0-4 against Nebraska. The games in 2011 and 2012, billed as the conference's newest border showdown, frankly, have lacked intrigue.
A year ago, the Huskers clinched the Legends Division with a 13-7 win in Iowa City marred by biting cold and wind. Nebraska won 20-7 in Lincoln in 2011, holding the lackluster Hawkeyes scoreless until less than four minutes remained.
It's not exactly the stuff of Little Brown Jug or Paul Bunyan's Axe, though Nebraska and Iowa have branded this annual day after Thanksgiving clash as the Heroes Game. To the winner goes a trophy sponsored by Hy-Vee, a grocery store chain prominent in both states.
Really gets your blood boiling, huh?
"We're playing for a trophy so I guess it's a rivalry," Nebraska linebacker
Michael Rose
said. "Geographically, it makes sense. I don't know what really constitutes a rivalry, but it's a game on our schedule, and we need to be ready to play."
Here's a thought: Construct the rivalry on the field, the way Michigan-Ohio State, Alabama-Auburn and other historic post-Thanksgiving games were born.
It'll take years, but maybe, this third meeting as Big Ten foes can serve as the start of something good.
First, there's intrigue at Nebraska surrounding coach Bo Pelini as questions swirl about his job status in the vacuum of public support from the school's administration. The Huskers are playing to extend their streak of nine-win seasons to six years and secure an attractive postseason destination, possibly matched against an old Big 12 rival.
Iowa, after a four-win season in 2012, has rebounded nicely. It seeks an eighth win on Friday.
"It's nothing fancy," Pelini said of Iowa. "They execute. They are very fundamentally sound. It exudes the fact that they are a well-coached football team."
Notably, the Huskers and Hawkeyes play a similar style that figures to create a competitive, if not eye-pleasing, matchup. Nebraska ranks 19th nationally in rushing offense; Iowa is 20th against the run.
The Hawkeyes' defense has played more consistently since September. Iowa ranks 10th in total defense, allowing 304.5 yards per game. Nebraska, while burned early, has shown strong defensive growth in November.
"This is a new rivalry, but being border states, you can really feel it growing more and more each year," Nebraska I-back
Ameer Abdullah
said. "With each year that passes, I feel the rivalry getting stronger. I'm just happy to be a part of it."
No reason to force it. Over time, likely, passionate feelings will develop. Nebraska and Iowa are set to play on Black Friday through at least 2019.
"I hope Nebraska fans don't get mad at me, but I think Nebraska and Iowa are almost the same kind of culture," said Rose, a freshman from Kansas City, Mo., "just a hard-working, blue-collar kind of state.
"They're not really know for anything flashy, anything way out there, but just a consistent approach in everything they do. I think that adds to the rivalry."
November, 27, 2013
11/27/13
8:00
AM ET
LINCOLN, Neb. -- Inevitably in recent years, as football seasons neared an end at Nebraska, the questions arose, usually from an outsider -- perhaps a visiting fan or recruit or member of the media.
What is it about this place? Why, in a season like this one, with the Huskers unranked at 8-3 as Iowa visits on Friday (noon ET, ABC), does the passion continue to run so deep, for better or worse?
[+] Enlarge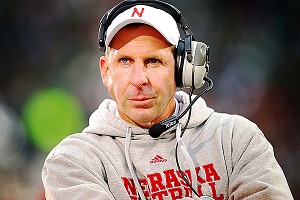 Mike Carter/USA TODAY SportsChampionships are the only goal for Bo Pelini.
From outside Memorial Stadium, Nebraska looks like most traditional programs. It has a history of national championships and Heisman trophies, nice facilities and lots of resources, a loyal and demanding fan base, highly paid coaches and well-trained players who feast on a surplus of amenities.
So why, nearly a decade and a half into a conference-title draught, has the obsession failed to wane?
Because Nebraska is, in fact, different. This is not Baylor or Missouri or Stanford, which dip in and out of the spotlight. When out, the interest drops, which works there; just not at Nebraska.
The culprit here is consistency. For 35 straight seasons until 2004, Nebraska played in a bowl game, still an NCAA record. Every year from 1969 to 2001, it won nine games -- another record.
While those streaks ended when the seniors on this team were in middle school, the impact remains. The standard has not changed.
Consistency did not come as a result of championships. It was the opposite. The solid, if not spectacular, play came first. And it's why many Nebraska players and coaches said they believe the construction of another championship foundation is underway.
Friday brings the first opportunity this year to reach nine wins, a key cog in the standard for Nebraska success. The Huskers need no additional motivation against Iowa.
"That's important to the program, staying consistent," linebacker
Michael Rose
said. "The way to get there is to continue to play with passion, continue to focus."
The nine-win streak under coach Bo Pelini sits at five years, matched over that period only by Alabama, Oregon and Boise State. The Broncos this year stand at seven wins with one regular-season game left.
Michigan, by comparison, has reached nine wins once in the past five years. Texas and USC have done it three times.
"Our goal is to win championships," Pelini said this week when asked about the possibility of a 10-win season after the bowl game. "Period. End of story."
Sometimes, the story includes a circuitous adventure.
Running backs coach Ron Brown, whose Nebraska teams have won nine games or more in 21 of his 22 seasons over two stints as an assistant at the school, recently told his players about an old team that struggled through a tough stretch.
"They went on to win a national championship in the years to come," junior I-back
Ameer Abdullah
said. "A lot of people wrote them off, saying, 'Oh, they can't win a national championship. They can never get over the hump.' And eventually they did.
"I feel like the same can be said about our group. You never know. We've been really consistent."
At Nebraska, it seems, you always know. And that's what makes Friday matter all that much more.
November, 17, 2013
11/17/13
9:00
AM ET
LINCOLN, Neb. -- Top Nebraska performers on Saturday from the Huskers' 41-28 loss to No. 16 Michigan State:

IB Ameer Abdullah:
The junior ought to get his own award every week so a teammate could squeeze in here. No way to keep Abdullah off this list after his 123 rushing yards on 22 carries against a Spartan defense that entered Saturday allowing 43 yards per game. Abdullah is the first back to top 100 yards against MSU since he did it a year ago in East Lansing. The Big Ten's leading rusher moved his season total to 1,336 yards.
WR Kenny Bell:
Recently back from a groin injury, the junior snapped seven passes for 81 yards. His 38-yard touchdown catch in the third quarter was a thing of beauty. Bell leapt for the pass from
Tommy Armstrong Jr
. and landed flat on his back. The TD catch marked his fourth of the year and 15th of Bell's career, tied for fourth in Nebraska history. Each of his past 13 touchdowns have covered 20 yards or longer.
CB Ciante Evans:
The senior co-captain recorded an 8-yard sack of
Connor Cook
in the second quarter, Evans' 10th tackle for a loss this year. He added another stop behind the line of scrimmage in the second half to establish a season record for a Nebraska defensive back. All of his tackles behind the line have come during Big Ten play. Evans totaled eight tackles against the Spartans and played well in coverage.
November, 3, 2013
11/03/13
9:00
AM ET
LINCOLN, Neb. -- Top Nebraska performers on Saturday in the Huskers' 27-24 win over Northwestern:

QB Ron Kellogg III and WR Jordan Westerkamp:
No matter the outcome of this season or their careers at Nebraska, these two will forever be linked for the final play on Saturday. Kellogg's heave to from midfield toward the south end zone bounced off the hands of a Northwestern defender and straight to the redshirt freshman Westerkamp for a 49-yard touchdown. Kellogg earns extra praise for his management of the game-winning drive, which included a 16-yard connection with
Ameer Abdullah
on fourth-and-15.
RB Ameer Abdullah:
Speaking of the junior, he shook a sore ankle to rush 24 times for 127 yards and caught three passes for 31 yards. His big catch on the final drive featured an extra effort to move the chains. Abdullah pushed his season rushing total to 1,108 yards, the first Husker to reach 1,000 yards in the first eight games of a season since Ahman Green in 1997. He's also the eighth player in Nebraska history to rush for 1,000 yards in back-to-back seasons.
DE Randy Gregory:
Nebraska's high-impact sophomore made two plays that loomed large in the second half. Gregory crushed Northwestern quarterback
Trevor Siemian
on a third-quarter rush, forcing the interception taken back 25 yards for a score by
Avery Moss
. Later, after Northwestern reached the 1-yard line on second down in the final two minutes, Gregory made the second of two stops, hitting
Kain Colter
for a 2-yard loss, to keep the Wildcats out of the end zone.
November, 2, 2013
11/02/13
11:10
PM ET
LINCOLN, Neb. --
Jordan Westerkamp
grew up in the western Chicago suburbs, about 25 miles from Evanston and the Northwestern campus.
Pat Fitzgerald knew all about him two years ago at Montini Catholic. Westerkamp was one of the top prospects in the state of Illinois' 2012 high school class. Fitzgerald and Northwestern recruited him, but Westerkamp, the son of a former Illinois wide receiver, picked Nebraska early in the process.
On Saturday, at last possible moment, he buried a dagger in the hearts of the Wildcats and their head coach.
"You can never let somebody get behind the pile," Fitzgerald said.
His words echoed hollow in the aftermath of this improbable, 27-24 Nebraska victory at Memorial Stadium.
With his snag of a 49-yard Hail Mary from backup quarterback
Ron Kellogg III
as time expired, Westerkamp assured Northwestern of a losing Big Ten season. And in the most unlikely of moments, his catch pumped life into an almost-deflated season at Nebraska.
Jubilance masks all kinds of trouble. As celebratory music rained down on Tom Osborne Field while thousands above screamed with joy and disbelief, the problems of Saturday and last week and the season's first half seemed momentarily insignificant to the Cornhuskers.
[+] Enlarge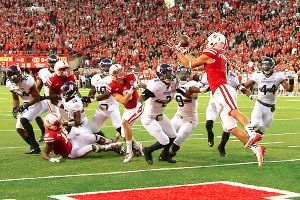 AP Photo/Nati HarnikNebraska wide receiver Jordan Westerkamp catches the game-winning touchdown, a desperation heave from quarterback Ron Kellogg III.
Can one play reverse the momentum of a football season? The Huskers hope so.
"I hope it keeps them believing," Nebraska coach Bo Pelini said, "keeps them up."
Pelini stopped to correct himself. His players would never stop believing, he said.
But the message lingered. Pelini didn't need to say it; things were beginning to look bleak in Lincoln. Without the miracle in the south end zone, Nebraska was headed to Michigan next week -- with Michigan State on tap a week later -- off two consecutive bad losses.
Pelini's critics were sharpening their knives even as the Huskers drove to near midfield before the final, fateful play.
Face it: The offense, for much of Saturday, was a mess of injuries and inefficiency. After an impressive opening drive, Nebraska sputtered throughout. Before the final play, Nebraska's only score in the second half came on
Avery Moss
' pick-six of a
Trevor Siemian
throw.
When the Huskers twice neared scoring range in the second half, they committed drive-killing penalties.
Freshman quarterback
Tommy Armstrong Jr.
threw three interceptions, including a seemingly deadly pick by
Tyler Scott
that led to a
Jeff Budzien
field goal with 80 seconds left, placing the Wildcats on top.
And these are Nebraska's cards.
Taylor Martinez
, the injured veteran quarterback who started 43 games over four seasons and set the school's all-time total-offense mark, does not look set to return soon, if at all.
Martinez watched from the press box on Saturday. Asked after the game about the senior's status, Pelini danced around the question. The coach didn't even bother to list Martinez's ailments. He was sick, too, this week, Pelini said, for whatever that's worth.
"I'm going to stick with the way it went today," Pelini said.
The defensive performance was equally confounding. The Blackshirts, shoved around a week ago in a loss at Minnesota, allowed three touchdowns on Northwestern's first four possessions. The Wildcats led 21-7.
Then, as if to throw their arms skyward in despair, Pelini and defensive coordinator John Papuchis asked the defenders what they wanted to do differently. The players voted to scrap the game plan, which called for a three-man front.
The Huskers went back to their traditional look with four linemen. They stopped Northwestern on 11 consecutive possessions before the fourth-quarter field goal, which ought to count as another stop. It came after the Wildcats reached the 1-yard line on the first down after Scott's interception return.
"We're going to need that type of energy going into Michigan," said Moss, the defensive end who tied the score at 21 with the 25-yard interception return midway through the third quarter.
Maybe it'll work. Maybe it started on the last drive. Nebraska took over at its 17-yard line with 74 seconds to play. Pelini summoned Kellogg. The senior, who hadn't played since the second quarter, said he felt "extremely nervous" before taking the field.
A former walk-on who's never started a game, Kellogg found
Ameer Abdullah
for a 16-yard gain on fourth-and-15 to the Nebraska 40 with 21 seconds left. The signal-caller completed two short throws to the sideline before an incompletion and a prayer into the end zone.
"I didn't even know I could throw it that far," Kellogg said, "but thank God for Jordan Westerkamp."
The kid snuck behind the pile, just a couple of yards deep in the end zone as Kellogg let it go toward Nebraska receiver
Quincy Enunwa
and a mess of defenders. Enunwa said he never touched the ball. It bounded off a Northwestern player and right to Westerkamp.
"I was just fortunate to be there," Westerkamp said.
Kellogg didn't see it. He got hit in the head at the line of scrimmage, he said, and lost his helmet on the field. Pelini missed it, too. He saw Westerkamp flash and heard the crowd roar. The coach wore a look of incredulity as he left the field.
Important lessons apply, he said.
"It's about attitude," Pelini said. "It's about character."
Don't give up, no matter how dire the situation.
"Whether we caught that ball or didn't catch that ball," Pelini said, "we're still the same team tomorrow."
Perhaps, but as sure as Northwestern's heartbreak after a fifth consecutive defeat, this one at the hands of a home-state kid, the Huskers got a reprieve Saturday. Another shot to show they're not done yet.
October, 31, 2013
10/31/13
8:00
AM ET
LINCOLN, Neb. -- Of all the ugly residue this week from Nebraska's first loss of the Big Ten season, nothing hurt as badly back at Memorial Stadium as the reality that Minnesota physically dominated the Cornhuskers.
The Gophers rushed for 271 yards, a season high against Nebraska. More than that, Minnesota sent numerous Huskers walking slowly to the sideline. The Gophers, in winning 34-23, owned the line of scrimmage.
[+] Enlarge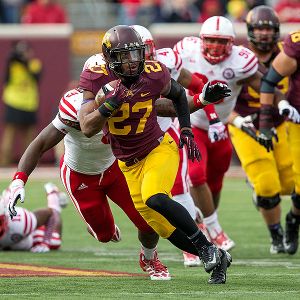 Jesse Johnson-USA TODAY SportsNebraska's defense was physically overwhelmed by Minnesota, causing the Huskers to focus on being tougher in practice this week.
A common sight on Saturday in Minneapolis: running
David Cobb
blasting through the first and second contacts from Nebraska defenders.
"You have to be physical all the time," Nebraska coach Bo Pelini said. "You can't pick and choose. There were some times when it hurt us. It was a guy here or a guy here. It was a breakdown here or there. That's not the standard that I want these guys to live by."
So on Sunday as the Huskers returned to practice, guess what awaited? Not the helmets and shorts of a normal day-after-the-game workout; rather, Nebraska broke out the shoulder pads. Two days later, gone from practice were the Blackshirt practice jerseys -- a symbol of defensive excellence at the school -- worn since August by much of the first-team unit.
As the Huskers prepare for a visit on Saturday from Northwestern, their plan for success calls for increased physical play. It's a staple of Nebraska football that must remain consistent, players and coaches said.
"We have a standard that we want to live up to here," defensive coordinator John Papuchis said. "Certainly what we put on the field Saturday wasn't up to that Blackshirt standard. I don't wear a Blackshirt, but if I wore a Blackshirt, I would take mine off too.
"We didn't play good enough and we didn't do anything well enough to warrant them."
No one gets off easy in this area. Nebraska surrendered four sacks, more than the Huskers' first six opponents combined.
Offensively, Nebraska attempted 30 passes and rushed 30 times -- nice balance, but likely not the most favorable breakdown, considering the blustery conditions and the fact that I-back
Ameer Abdullah
averaged 8.7 yards on 19 carries.
Too often, the Huskers went for the big play in the passing game. Yes, Minnesota dared Nebraska to throw, stacking seven or eight defenders near the line of scrimmage. But when the Huskers ran, they usually ran well.
Still, offensive coordinator Tim Beck preferred balance.
"We need to execute," Beck said in reference to the running and passing games.
The Huskers stand behind their play-caller.
"You can't just pound the rock every play," left tackle
Jeremiah Sirles
said. "You can try, but if there's nine people in the box, we need to get the ball to our playmakers on the outside."
Offensively and defensively, a focus lasted through the week in Lincoln to get more physical as a tough November schedule awaits.
"That's definitely our No. 1 (objective) right now," defensive end
Randy Gregory
said. "I don't think we've ever had a problem playing physical, but I think (last week) just showed we need to bring our level up a little bit more than it is right now. The games are only going to get tougher."
October, 27, 2013
10/27/13
9:00
AM ET
MINNEAPOLIS -- Top Nebraska performers on Saturday in the Huskers' 34-23 loss at Minnesota:

RB Ameer Adbullah
: Seemingly, he makes an every-week appearance here. As teammates struggled mightily, the junior continued to build his case as one of the best skill players in the Big Ten, rushing 19 times for 165 yards. Abdullah left with an apparent ankle injury but returned to run tough, even leaping cornerback
Martez Shabazz
for a fourth-quarter gain of 22 yards that set up the Huskers' final score.
PK Pat Smith
: A first-year Husker, the senior, who transferred from Western Illinois, made his biggest contribution yet by nailing three field goals of 45, 42 and 37 yards. His accurate leg helped keep Nebraska in striking range until the final minute. Smith also returned consistency to an area in which the Huskers have struggled this year by missing three extra points. The 45-yarder missed tying his career long by one yard.
TE Sam Cotton
: The redshirt freshman, brother of offensive guard
Jake
and son of tight ends coach Barney, did the family proud with his first career touchdown catch and third reception. Cotton caught the 3-yard pass from
Taylor Martinez
late in the third quarter to cut Minnesota's lead to 27-20. Cotton was uncovered, but he executed the play well -- more than can be said for many of the receivers, who appeared generally out of sync with Martinez.
October, 13, 2013
10/13/13
9:00
AM ET
These three stood out in
Nebraska's 44-7 win
Saturday at Purdue:

Randy Gregory, DE:
Quite the happy homecoming for Gregory, huh? The Fishers, Ind., native and one-time Purdue commit had a blast playing some 70 miles away from home, recording four total tackles, two sacks and forcing a fumble and recovering it. The first sack was a safety, as he knocked
Danny Etling
down 17 yards behind the line of scrimmage. The second sack was good for an 11-yard loss.
Ameer Abdullah, RB:
The junior had another strong outing Saturday, as Abdullah carried the ball 20 times for 126 yards and a touchdown at Purdue. The game marked Abdullah's fifth 100-yard outing through the Huskers' first six games, as he keyed a rushing attack that tallied 251 yards on the ground.
Ron Kellogg III, QB:
The senior saw his most extensive action of the season and was solid, completing 10 of 13 passes for 141 yards and a touchdown. He split reps with starter
Tommy Armstrong
, who was an underwhelming 6-of-18 for 43 yards with three interceptions. (Armstrong did record one rushing touchdown.)
September, 25, 2013
9/25/13
3:00
PM ET
The bye week for Nebraska comes at an opportune time, allowing the Huskers to assess problem areas after a roller-coaster ride of a non-conference season. Additionally, the extra week benefits quarterback
Taylor Martinez
, who missed his first start last week because of a turf-toe injury after a streak of 32 in a row.
As the Huskers (3-1) turn their attention to Illinois and the Big Ten opener on Oct. 5, here's a look at the internal areas on which they're likely to focus.
[+] Enlarge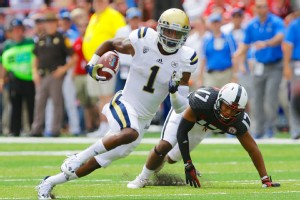 AP Photo/Nati HarnikOnly winless New Mexico State has allowed more plays of 10 yards or more than Nebraska.
1. Identify the leaders
: Interesting that in the year coach Bo Pelini assigned captains months ahead of schedule and distributed Blackshirt practice jerseys before the season opener for the first time in his six seasons, the Huskers enter Big Ten play without a clearly defined core of leaders. Yes, offensive guard
Spencer Long
, receiver
Quincy Enunwa
, Martinez and cornerback
Ciante Evans
have all done a nice job in their own ways, but look what has happened when adversity struck. Against UCLA, no one stepped up. Against Wyoming, the clock may have saved the Huskers. Against South Dakota State, youngsters like
David Santos
and
Randy Gregory
on defense made big plays.
Ameer Abdullah
has the personality of a leader, but he's still working to cut his fumbles. Look for the usual suspects to take on a bigger leadership role over the next eight games but also for some of the youngsters to assert themselves.
2. Determine a cause of the defensive woes
: The poor play of Nebraska's young defense has hindered the overall progress of the team. It impacts everything. When the defense can't get off the field, the offensive players feel the negative energy. It permeated the stadium on Sept. 14, aiding the Bruins' 38 unanswered points after Nebraska took a 21-3 lead. Defensively, the stats look bad. The Huskers are 106
th
in total yardage allowed and 109
th
in yards allowed per play. Only winless New Mexico State has allowed more plays of 10 yards or more than the Huskers' 79. More than that, the defensive mindset is lacking. Pelini noticed it against UCLA and South Dakota State. Nebraska's defense lacks a killer instinct. It leads to tentative play and missed assignments. The coach said this week he thinks his players are embarrassed. Best way to cure that is to play better.
3. Clean up the special teams, penalties and turnovers
: It has been better this year, but problems still exist. Nebraska has fumbled 11 times; only Auburn, Florida and Idaho have dropped the football more often. Nebraska ranks 119
th
nationally in yards per opponent punt at 46.1. Some of that is a result of unlucky bounces, but the Huskers – notably
Jamal Turner
-- have shown a tendency to pick the wrong moments to act aggressively and passively. It has cost the Huskers field position and cost Turner his role as the top return man. On the bright side, Nebraska ranks 16
th
in turnover margin. Penalties continue to be a problem as the Huskers' 28 rank as more than all but 19 teams nationally.
September, 7, 2013
9/07/13
7:00
AM ET
Southern Miss (0-1) at No. 22 Nebraska (1-0)
Kickoff:
Saturday, 5 p.m.


Where:
Memorial Stadium, Lincoln, Neb.
Coaches:
Southern Miss, Todd Monken (0-1, first year); Nebraska, Bo Pelini (50-20, sixth year)
Series:
Nebraska leads 3-1
Last meeting:
2012, Nebraska 49, Southern Miss 20
When Nebraska has the ball
: Expect to see a determined group, especially up front. The Nebraska linemen opened holes for 375 rushing yards in the season-opening win over Wyoming, but they left the field with a bad feeling after the Cowboys' fourth-quarter comeback was made possible, in part, by Nebraska's inability to finish. "Everyone remembers how the game ended," offensive tackle
Jeremiah Sirles
said. "Everyone remembers how we got stopped on a fourth-and-1."
When Southern Miss has the ball
: The Golden Eagles feature a potentially prolific passing attack, with quarterback
Allan Bridgford
– a fifth-year senior and transfer from Cal – throwing to receivers
Rickey Bradley
,
Tyre'oune Holmes
and running back
Tyre Bracken
. Together, they caught 23 passes in USM's opening loss to North Texas. Bridgford figures to test a Nebraska secondary that was torched by
Brett Smith
last week for 383 yards and four touchdowns. USM rushed for just 23 yards last week and committed an FBS-high six turnovers.
Who to watch
: Junior WR
Kenny Bell
. Quietly, Bell continued his assault on Nebraska's record book. He grabbed seven passes for 57 yards in the opener, his fourth game with six or more receptions. Bell ranks eighth at Nebraska in career receiving yards (1,381) and ninth in receptions (89). While others in his position group are faster and bigger, Bell is simply the best – and always a threat.
Who else to watch
: Inexperienced linebackers
Michael Rose
,
Josh Banderas
,
Nathan Gerry
and
Zaire Anderson
might get a chance to show more in this second game. The Huskers, after Wyoming amassed 602 yards, are open to different looks defensively, and these youngsters provide an alternative. Banderas, a true freshman, is pushing blackshirt
David Santos
in the middle.
Noteworthy
:
Last week marked Nebraska's 14th consecutive game with two or more turnovers. The Huskers nearly ended the streak, playing turnover-free until Taylor Martinez was intercepted with 6:26 left in the game. Martinez lost a fumble less than three minutes later. In the past 14 games, the Huskers have committed 37 turnovers; only Idaho has lost the football more in that same time. The last time Nebraska avoided a turnover, in fact, came against Southern Miss in the season opener a year ago.
Pelini has won 50 games as Nebraska's coach, joining Tom Osborne, Bob Devaney, Frank Solich and Dana Bible in exclusive company. Pelini's next victory will move him ahead of Bible, who coached the Huskers from 1929 to 1936. Among his win total, Pelini counts the 2003 Alamo Bowl over Michigan State, in which he served as interim coach after the firing of Solich.
Pelini and Monken worked together under Les Miles at LSU in 2005 and 2006, with Pelini as the defensive coordinator and Monken as receivers coach. The Tigers finished 11-2 in both seasons and captured the SEC West title in 2005. Pelini stayed on staff for the Tigers' 2007 BCS championship before taking the Nebraska job. Monken went to the Jacksonville Jaguars as an assistant coach from 2007 to 2010 and spent the past two seasons as Oklahoma State's offensive coordinator.
I-back Terrell Newby rushed 15 times for 76 yards in the opener, the largest output by a true freshman at Nebraska in an opener since Quentin Castille in 2007. Newby joined Ameer Abdullah, Imani Cross and Martinez in topping 75 yards to mark the first time since 2001 that four Huskers rushed for 75 or more yards in a game.
Final thought
: Southern Miss has lost 13 games in a row, the longest skid in the nation. The Golden Eagles are better than that, though, and no doubt hungry to make a statement. But if USM keeps this close deep into the first half or longer, it would rank as another blow for the Huskers in advance of their battle next week with No. 18 UCLA.
September, 1, 2013
9/01/13
2:00
PM ET
LINCOLN, Neb. -- The best performances from Nebraska's season-opening win over Wyoming:
QB Taylor Martinez:
Nothing spectacular from the fifth-year senior, and that's kind of the point. He didn't try to do too much, which was a problem in the past. Martinez was workmanlike in completing 17 of 22 throws for 129 yards and rushing for 80 yards. He lofted a beautiful TD to
Jamal Turner
. On the down side, he turned it over twice with an interception and a fumble.
RB Imani Cross:
The sophomore gained 105 yards on 13 carries, including a 31-yard romp in the third quarter as he spun twice en route to the end zone. Nebraska needs the 225-pound Cross to help lessen the load on
Ameer Abdullah
, who gained 114 yards on the ground. Freshman
Terrell Newby
also showed well, rushing for 76 yards in his debut.
P Sam Foltz:
An unexpected star, the redshirt freshman walk-on averaged 45.6 yards on five punts in his collegiate debut. He boomed a 56-yarder on his first kick and twice pinned Wyoming inside its 20-yard line. His final punt may have been his best, a 31-yarder downed at the Wyoming 6 with just more than a minute to play, leaving the Cowboys a long field in their bid to win or force overtime.
WR Quincy Enunwa:
The senior co-captain stayed quiet until the third quarter, when he hauled in a 3-yard touchdown from Martinez on which he was originally ruled out of bounds. He then snagged a 7-yard pass to put the Huskers up by 16 early in the fourth quarter. Enunwa's two touchdowns doubled his total from 2012 and give him five for his career.
CB Stanley Jean-Baptiste:
The 6-3 corner came up big with an interception of Wyoming's
Brett Smith
at the goal line in the first quarter, ending a streak of 183 throws by Smith without a pick. Later, Jean-Baptiste's open-field tackle of
Jalen Claiborne
after a third-and-2 reception ended a Wyoming possession and helped turn momentum toward Nebraska for the decisive second and third quarters.
August, 28, 2013
8/28/13
3:00
PM ET
LINCOLN, Neb. -- Nebraska seeks its 28th straight win in a season opener on Saturday night against Wyoming.
[+] Enlarge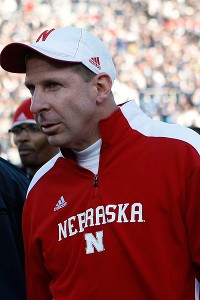 Rob Christy/US PresswireBo Pelini is once again stressing the importance of winning the turnover battle.
The Huskers have not lost to their western neighbors in six meetings, and the Cowboys enter Memorial Stadium as a four-touchdown underdog after a 4-8 finish in 2012. Still, there's suspense on tap. The largest crowd in school history is expected after the addition of 6,000 seats in the east balcony, and there are plenty of questions to answer for Nebraska.
Enjoy this kickoff edition of Talking Points, featuring the most interesting comments of the week -- and why they're important – as coach Bo Pelini and the Huskers met with the media:
"We know that if we win the turnover battle, we've got a better chance to win these games. That's something we definitely put an emphasis on, and we're trying to do better this season. We drill it. It's always in the back of our head." – junior safety Corey Cooper
Perhaps the No. 1 objective this offseason was to find a way to reduce turnovers. Nebraska ranked dead last nationally last season with 22 lost fumbles. Only 1-11 Idaho topped the Huskers' 35 total turnovers.
Since Pelini took over at Nebraska in 2008 the Huskers are minus-20 in turnover margin. That's 100th out of 120 FBS programs. Still, just 10 teams over that time have won more than Nebraska's 48 games. And each one ranks among the top 18 in turnover margin since 2008.
With a favorable schedule that starts with five home games, Nebraska must clean up its act -- or risk fumbling away the chance at a memorable season.
"It's like playing defense in basketball. The really good teams are out there communicating and talking and anticipating things. That's the level you want to get to… The way our defense works, as long as we communicate and are on the same page, that's all I'm concerned with." – Pelini
Pelini says he's not a stat guy, so he doesn't care about the numbers that say Nebraska is rated as a slightly above-average defense in 2012 – 35th in yardage allowed and 46th in third-down conversation rate. Yes, it led the nation in opponent pass-completion percentage but still managed to allow 115 points in season-ending losses to Wisconsin and Georgia that sent the Blackshirts reeling into the winter.
How to fix it? Pretty clear that Pelini believes it starts with communication. He's got a point about the best teams, too. Have you noticed the Alabama and LSU defenses, always communicating, pointing? Actually, they're reminiscent of a few old Pelini units at Nebraska.
"I think this is going to be one of Nebraska's best offensive lines. They are going to be the strong point of our offense. There are so many good players up there and strong guys who have played in big games, and I'm excited to see how they do." – senior quarterback Taylor Martinez
A bold statement from the four-year starting QB, who knows a good offensive line when he sees it. No one at Nebraska has started more games at the position than Martinez. No one has totaled more yards.
And he's done it behind a line that's often rated as the most maligned group on the field. Nebraska has experienced a run of bad luck on the line over, oh, the past decade, undermining its offensive consistency. This could be the line to reverse all of that, with
Spencer Long
as an anchor from the guard spot, experienced bookends in
Jeremiah Sirles
and
Brent Qvale
and guard
Andrew Rodriguez
perhaps ready to show the talent that made him a top recruit in 2010.
"A lot of times last year I was over-thinking things because I was young. I have a season under my belt now, and I'm much more confident in what I can do. And I'm just excited to show everyone what we've been working on." – junior I-back Ameer Abdullah
A scary thought for Nebraska foes: Abdullah's confidence has skyrocketed after a sophomore season in which his 1,884 all-purpose yards ranked as the most by a Husker since 1997. Abdullah looks set to again handle kickoff and punt returns in addition to the top spot in the backfield. And he's a leader now, too, learning from Rex Burkhead over the past two seasons.
Abdullah has helped the progress of sophomore
Imani Cross
and true freshmen
Terrell Newby
and
Adam Taylor
. They all figure to handle the football this fall, which is wise if Nebraska wants to keep Abdullah fresh for a tough November stretch.
"I never get excited. Come on. You ever seen me get excited? That's an ongoing problem in my life. I have to check my emotion at the door." -- Pelini
Pelini made the comment in a candid, comical and part-sarcastic moment near the end of his half-hour in front of reporters on Monday. He was relaxed and, considering the time of year, relatively open in discussing all matters.
The mood of the head coach is a non-issue at most places. With Pelini at the helm, it's become a pastime here. But this month in preseason camp, he
pulled a great prank
on the Huskers, poking fun at his own emotions when he smashed an iPhone before faking a fight with defensive tackle
Thad Randle
.
If that's not a sign of a loosened-up Pelini, then Bo won't wear khakis and chomp hard on his gum on Saturday night. Just keep an eye on the sideline. It's what we do in Nebraska.
Moving Day For Maryland And Rutgers
BIG TEN SCOREBOARD
Thursday, 8/28
Friday, 8/29
Saturday, 8/30