ESPN 300: Top Big Ten targets
April, 16, 2014
Apr 16
11:45
AM ET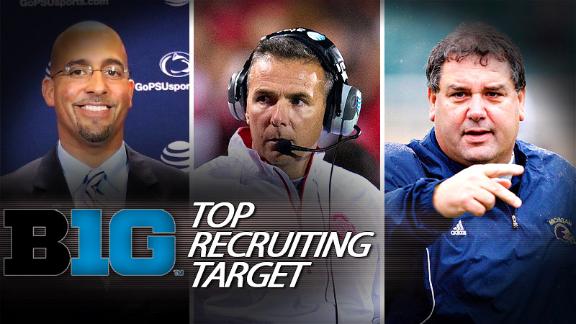 The top-ranked prospects tend to wait out the process, so there are still some huge names at the top of Big Ten recruiting boards. The top targets will be fought over by most teams within the conference, which will make for some interesting recruiting battles.
Here is a look at the top five targets within the Big Ten in the
2015 ESPN 300
.
DE Jashon Cornell
6-4, 270 pounds
ESPN 300 rank: No. 16
To continue reading this article you must be an Insider
Insider
First Month Standouts and Surprises
Heather Dinich and Toni Collins look at the surprises and lingering question marks after the first month of the college football season, plus a look ahead to a big weekend of games.
First Month Standouts and Surprises
VIDEO PLAYLIST
First Month Standouts and Surprises

First Month Standouts and Surprises

Heather Dinich and Toni Collins look at the surprises and lingering question marks after the first month of the college football season, plus a look ahead to a big weekend of games.

Abdullah, Nebraska Run By Illinois

Abdullah, Nebraska Run By Illinois

Ameer Abdullah rushes for more than 200 yards in back-to-back games and the third time this season as Nebraska races by Illinois.

Abdullah, Nebraska Improve To 5-0

Abdullah, Nebraska Improve To 5-0

Ameer Abdullah rushed for 208 yards and three touchdowns in Nebraska' 45-14 win over Illinois
CORNHUSKERNATION RECRUITING NEWS
NEBRASKA FB RECRUITING SCORECARD
HuskerExtraBC

Brian Christopherson


Tommy Armstrong knows it's going to be rowdy on the road. He also plans to be the face of calm amid it all. http://t.co/PwihGEJLAl #Huskers
3 minutes ago

ESPN_BigTen

ESPN BigTen


Planning for success: Nebraska http://t.co/sxgixP2fdk
27 minutes ago

CornNation

CornNation


Corn Flakes: Randy Gregory Second In Big Ten In Sacks http://t.co/pro7gLxVI6
32 minutes ago

Huskers

Nebraska Huskers


Catch up with this last weekend in #Huskers Athletics in Nebraska Sports Report. #GBR http://t.co/jKr1qm1WuX
37 minutes ago

CornNation

CornNation


Apparently the 20 million dollars worth of scoreboard on each end of the stadium wasn't quite enough. http://t.co/CnWRMCqqx4 via @MaizenBrew
44 minutes ago

ESPN_BigTen

ESPN BigTen


Big Ten morning links http://t.co/SVDfyoTVkm
about an hour ago

AdamCarriker94

Adam Carriker


You either like bacon or you're wrong.
about 2 hours ago

ESPN_BigTen

ESPN BigTen


Michigan AD Brandon: 'We have to learn' http://t.co/hX22yguvaE
about 7 hours ago

GabeMiller_LS

Gabriel Miller


I will be having back surgery tomorrow morning. I appreciate the prayers that have been sent my way. I serve a great God and He has a plan.
about 10 hours ago

Sean_Callahan

Sean Callahan


Still trying to figure out why @AFRO_THUNDER80 hugged the ref after his TD on Sat and what did he say? Funny stuff. http://t.co/81PpdNPWHT
about 11 hours ago

vinestpod

Vine St. Podcast


WE POD TOMORROW. @thehooch36 from @CornNation is our guest. Hit us with your questions and comments. #Huskers
about 11 hours ago

RandyYorkNSider

Randy York


Andy Hoffman brings us up-to-date on Jack Hoffman's medical situation: http://t.co/SdkgNkY0sfPlease keep this #Huskers hero in your prayers
about 12 hours ago

Huskers

Nebraska Huskers


#Huskers photos from Saturdays win. G.B.R.https://t.co/gVZvGfUJjW http://t.co/ZVikegAIgV
about 12 hours ago

CollegeGameDay

College GameDay


Which RB do YOU want?#Abdullah#Gordon#Gurley http://t.co/8YydukamWU
about 13 hours ago

Sean_Callahan

Sean Callahan


Great time to be in Kansas City. MNF with the Patriots tonight and Wildcard baseball on Tuesday. Just like old times.
about 13 hours ago

AdamCarriker94

Adam Carriker


With Roman Reigns out for months, the main event for #WrestleMania next year will be Brock Lesnar vs The Rock. #HollywoodVsMMA #Raw #WWE
about 14 hours ago

HuskerExtraBC

Brian Christopherson


Tommy Armstrong had 67 rushes for 202 yards all of last year. So far, in 2014: 50 rushes, 420 yards. #Huskers
about 14 hours ago

FauxPelini

Fake Bo Pelini


@cbfowler here is a limerick maybe you could read it at the end of the first quarter http://t.co/e0PlCnYaTX
about 15 hours ago

Sean_Callahan

Sean Callahan


Husker Buzz: Tim Beck vs. Pat Narduzzi Part IV: https://t.co/cPkzJWTvFF #Huskers #Spartans http://t.co/FoYjgYflj8
about 15 hours ago

HuskerExtraBC

Brian Christopherson


Red Report: #Huskers trying to keep their focus in-house during this very big game week... http://t.co/8ZHYgZErU5
about 15 hours ago

Sean_Callahan

Sean Callahan


For those wondering Kirk Herbstreit and Chris Fowler will be on the call for Saturday's Nebraska vs Michigan State game. #Huskers #Spartans
about 15 hours ago

NdamukongSuh

Ndamukong Suh


More #ThisIsAwall winners! Keep them coming http://t.co/rDqc16vl3q
about 16 hours ago

RandyYorkNSider

Randy York


Keil 'Pumped' about Playing No. 3 Penn State - By Randy York Check Melanie Keil in the above photo.  The... http://t.co/uWIYza5zFw
about 16 hours ago

HuskerExtraBC

Brian Christopherson


Red Bull, Michigan beat writers. Lots of it. MT @coachingsearch Michigan has gauged the interest of 2 current ADs http://t.co/4uPw2uiSfC
about 16 hours ago

ESPN_BigTen

ESPN BigTen


Big Ten mailbag http://t.co/2ZVGkImtsV
about 16 hours ago

Huskers

Nebraska Huskers


Finish off your Monday and catch up with the #Huskers weekly press conference.Full Videos // http://t.co/3SF8lfVZWrhttp://t.co/cR7oZpqKlU
about 16 hours ago

ESPN_BigTen

ESPN BigTen


Michigan job might be too big for Brady Hoke http://t.co/nSIfCZQyQM
about 16 hours ago

EricXWest

Eric West


@Huskers @UNLBands all love! 🙌
about 17 hours ago

Huskers

Nebraska Huskers


Thanks for the Facebook love @EricXWest! We agree, @UNLBands knocked it out.#FearAmeerhttp://t.co/0Dc6MiX0Xn http://t.co/gTYyvamXAi
about 17 hours ago

ChaseVinatieri

Chase Vinatieri


Blessed to announce that I have committed to further my career to play football for South Dakota State University #GoJacks 🐰🏈
about 17 hours ago

Sean_Callahan

Sean Callahan


Sioux Falls (S.D.) Roosevelt kicker Chase Vinatieri is following his uncle Adam's footsteps and just committed to South Dakota State.
about 17 hours ago

MikelSevere

Mike\'l Severe


The #TBL #Huskers Rewind defense side. @AdamCarriker94 http://t.co/uHmF0M1ldg
about 17 hours ago

AdamCarriker94

Adam Carriker


"@Jake_Interstate: @AdamCarriker94 thanks for taking the time to take a picture with my sister today at the tough mudder!" You're welcome.
about 17 hours ago

Huskermax

Huskermax.com


Toss out the Nebraska game and Miami has given up 293 rushing yards all season. Abdullah alone got 229. #FearAmeer #Huskers
about 17 hours ago

McMurphyESPN

Brett McMurphy


Stat of week: 416 FBS players, including 3 defensive, have scored more points than SMU this year
about 17 hours ago

ESPN_BigTen

ESPN BigTen


FauxPelini meets MSU P Mike Sadler http://t.co/QBCXyKSl0m
about 18 hours ago

ESPN_BigTen

ESPN BigTen


Northwestern win a big step forward http://t.co/dHM6cxurDg
about 18 hours ago

CornNation

CornNation


Huskers vs Illinois: Photo Gallery http://t.co/e8Jbjgg2TV
about 18 hours ago

bigtenconf

Big Ten Conference


.@PennStateWSOC's Crouse is Freshman of the Week
about 19 hours ago

bigtenconf

Big Ten Conference


.@gophersoccer's Pafko is Defensive Player of the Week
about 19 hours ago

bigtenconf

Big Ten Conference


.@NebraskaSoccer's Conroy is #B1G Offensive Player of the Week
about 19 hours ago

bigtenconf

Big Ten Conference


#B1GSoccer Players of the Week http://t.co/3SF7N4USrl
about 19 hours ago

bigtenconf

Big Ten Conference


.@PennStateMSOC's Maloney is Offensive Player of the Week and @MSUmsoccer's Bennett is Defensive Player of the Week http://t.co/WUTvPghTvb
about 19 hours ago

bigtenconf

Big Ten Conference


.@PennStateMSOC and @MSUmsoccer Earn Weekly Men's Soccer Honors: http://t.co/PXZtKNmehx
about 19 hours ago

ESPN_BigTen

ESPN BigTen


B1G early look: Setting up Week 6 http://t.co/5PliHdWXUi
about 19 hours ago

bigtenconf

Big Ten Conference


.@NebraskaSoccer, @gophersoccer and @PennStateWSOC Receive Weekly Women's Soccer Accolades: http://t.co/yd0EjwRBKq
about 19 hours ago

HuskerExtraBC

Brian Christopherson


Bo unsure of David Santos' status. "He's feeling a lot better. Until we have some practice this week, it's hard to say." #Huskers
about 19 hours ago

HuskerExtraBC

Brian Christopherson


Jake Cotton on Armstrong: " The biggest thing I like about Tommy is he wants it. He's not a guy who shies away from leading." #Huskers
about 19 hours ago

RandyYorkNSider

Randy York


2 Heisman winners, 2 Huskers in the NFL, Tim Miles and 2 Big Red fans with Illinois ties are featured in The N-Sider! http://t.co/05e8P4P7iX
about 19 hours ago

CornNation

CornNation


At this week's press conference, Bo Pelini talked Huskers injuries and this week's game against Sparty. http://t.co/EIEK47dFhR
about 19 hours ago

HuskerExtraBC

Brian Christopherson


Pelini on Ameer: "He feels fresh. He feels good." Pelini on Mitchell: "Josh is doing good." Also says Taariq Allen is "OK." #Huskers
about 20 hours ago

Huskers

Nebraska Huskers


"He wants to win. That's all Ameer has on his mind ... That's who he is." - Bo Pelini on Ameer's goals for the season.
about 20 hours ago

HuskersGameday

Huskers Gameday


Horrible Optics RT @Jamie_Edmonds Hoke:I don't make dec. on who plays or doesn't play.Wehave experts for that. http://t.co/BRAupEyFkf
about 20 hours ago

HuskersGameday

Huskers Gameday


It's MSU week, which means if you aren't following @HondoCarpenter, you're doing it all wrong.
about 20 hours ago

AdamCarriker94

Adam Carriker


If you have to sign a release form, then it's probably worth doing.
about 21 hours ago

HuskerExtraBC

Brian Christopherson


A Tim Beck mention. MT @BruceFeldmanCFB With Charlie Weis done, here's how #KU's search may shape up: http://t.co/H69xjwnvuI …
about 21 hours ago

HuskerExtraBC

Brian Christopherson


Watch the weekly presser here. Bo and players usually start around 11:30... http://t.co/ntA1UJjU1g #Huskers
about 21 hours ago

ESPN_BigTen

ESPN BigTen


A year can change a lot in B1G landscape http://t.co/gX1GpVh4GU
about 21 hours ago

CornNation

CornNation


Ameer Abdullah Wins Big Ten Offensive Player Of The Week (Again) http://t.co/wHMCgabVAc
about 21 hours ago

HuskerExtraBC

Brian Christopherson


Read the #Husker notes, sure, but you're welcome in advance for this picture of Bo and Tim Beckman. BFFs. http://t.co/nb3W2wRVDJ
about 22 hours ago

CornNation

CornNation


Twitter Recap: Riley O'Toole's, Nebrnois makes a comeback and Jack Hoffman gets his own baseball card http://t.co/EXJFmQNzZw
about 22 hours ago

B1Gfootball

Big Ten Football


Abdullah of @Huskers earns 4th POW laurel of career & 3rd this season - also honored on Sept. 1 & 22.
about 22 hours ago

Sean_Callahan

Sean Callahan


"@B1Gfootball: The #B1G Offensive POW is RB Ameer Abdullah - rushed for 208 yards & 3 TDs in win over Illini. http://t.co/gcahNRlWMe"
about 22 hours ago

B1Gfootball

Big Ten Football


The #B1G Offensive POW is RB Ameer Abdullah of @Huskers - rushed for 208 yards & 3 TDs in win over Illini. http://t.co/jy6R08rvbC
about 23 hours ago

danhoppen

Dan Hoppen


Ameer Abdullah leads the country with 941 yards from scrimmage, 122 more yards than the next closest player. #Huskers
about 23 hours ago

Huskers

Nebraska Huskers


It was a great weekend to be part of the #Huskers!Be sure to like us on Facebook for more // https://t.co/CZjnFUdgRg
about 23 hours ago

ESPN_BigTen

ESPN BigTen


Weekend Rewind: Big Ten http://t.co/fIOmlGPNnR
about 23 hours ago

CornNation

CornNation


Cobs: Penn State, Michigan Players, Brady Hoke, Temple, and @slmandel. Who's the worst of the weekend? Vote: http://t.co/643DqnuUlp
about 23 hours ago

HuskersGameday

Huskers Gameday


Say what you want about Ed Cunningham, he's 100% on the money with this call. http://t.co/zjTwswT2gh
about 23 hours ago

CornNation

CornNation


Corn Flakes: Charlie Weis Out At Kansas, Brady Hoke Next? http://t.co/M9Y5Bc7iqi
1 day ago

Huskers

Nebraska Huskers


What did the #Huskers win Saturday look like for @RandyYorkNsider? The #FearAmeer bandwagon added some passengers: http://t.co/KT8RErpvtz
1 day ago

ESPN_BigTen

ESPN BigTen


Big Ten morning links http://t.co/jzT9awJ6VZ
1 day ago

HuskersGameday

Huskers Gameday


Catching up with Johnny Mitchell. http://t.co/ynl1Nl6u71
1 day ago

Sean_Callahan

Sean Callahan


.@MikelSevere With Lunt playing Illinois didn't beat WKU, Youngstown State or Texas State by more than 11.5 pts.
1 day ago

Sean_Callahan

Sean Callahan


I'm very intrigued to see what Wisconsin does on Saturday at Northwestern as a 9.5 point favorite.
1 day ago

Sean_Callahan

Sean Callahan


Illinois is an 11.5 point favorite over Purdue right now. After watching last night it's hard to think they are 11.5 pts better than anybody
1 day ago

ESPN_BigTen

ESPN BigTen


Big Ten bowl projections: Week 5 http://t.co/OzWmsOOH9w
1 day ago

HuskerExtraBC

Brian Christopherson


You had a good Saturday? Probably not as good as John Garrison's. #Huskers http://t.co/8ozvwDr3Nf
1 day ago

AdamCarriker94

Adam Carriker


And just in case you were wondering yes...we're a very competitive family. #CarrikerVsCarrikerGameNight #SundayFunday http://t.co/KQI1ZmdZ9m
1 day ago

Huskers

Nebraska Huskers


More than a few #Huskers highlights here. #GBRhttp://t.co/vCRjdyI5ug
1 day ago

CornNation

CornNation


How would you grade the Huskers for their 45-14 victory over Illinois? Read our report card at: http://t.co/feDGgEy5l8
1 day ago

TMAG1C

Taylor Martinez


What a game against Russia! Let's go @usavolleyball @Krobin32 #USA
1 day ago

HuskerExtraBC

Brian Christopherson


Another Ameer Abdullah stat: He is six rushes from having carried the football more than any #Huskers before him, surpassing Mike Rozier.
1 day ago

Huskers

Nebraska Huskers


Hear what the #Huskers had to say after yesterday's punishing ground performance in the 45-14 win over Illinois.http://t.co/kG61FWtOUi
1 day ago

Sean_Callahan

Sean Callahan


Aaron Rodgers is ridiculous. The throws he has made today have been incredible.
1 day ago

Sean_Callahan

Sean Callahan


.@KETV's @AndyKendeigh7 and I break down last night's Illinois win in our Sunday quarterback. https://t.co/IiuzDCvWNR http://t.co/qwvk3tZ2Go
1 day ago

Huskers

Nebraska Huskers


#Huskers at No. 17 in Coaches' Poll: http://t.co/3dTBVSYXvsUp to 19 in AP Top 25 Poll: http://t.co/DzPEYeSvNH#GBR
1 day ago

HuskerExtraBC

Brian Christopherson


#Huskers move up two slots to 19 in AP. Sparty ranked 10th... http://t.co/D9NkmaV8X9
1 day ago

Sean_Callahan

Sean Callahan


Sorry that link was not updated. Huskers up from 21 to 19 in the AP Poll.
1 day ago

Sean_Callahan

Sean Callahan


Nebraska up from No. 24 to 21 in the AP Top 25 Poll | College Football http://t.co/e4PitNHc7y
1 day ago

ESPN_BigTen

ESPN BigTen


Big Ten Power Rankings: Week 5 http://t.co/Oud0WqdJez
1 day ago

ericolson64

Eric Olson


#Huskers up 2 spots to No. 19 in AP Top 25. #Spartans, this week's foe in East Lansing, slip 1 spot to No. 10.
1 day ago

AdamCarriker94

Adam Carriker


It's a beautiful day. #SelfieSunday #SundayFunday http://t.co/pz4AoeHpwC
1 day ago

JohnBishop71

John Bishop


Alex Henery bangs his first FG as a Lion. A 51 yarder. Welcome back, Alex! #Huskers
1 day ago

SportsCenter

SportsCenter


Lions preparing to lose Ndamukong Suh who is ready to move on as free agent after season. (via @AdamSchefter) http://t.co/xHGCCqOUWF
1 day ago

ESPN_BigTen

ESPN BigTen


Best of the visits: Big Ten http://t.co/dUhpCDl5yG
1 day ago

CornNation

CornNation


The #Huskers won off the field as well last night, as they got 2 big OL commits for 2016 as well. http://t.co/wvnyF2mJlD
1 day ago

Huskermax

Huskermax.com


This week in #Huskers history: 3 future 1st-round NFL draft picks make their NU debuts vs Wyoming. What was the year? http://t.co/2slpJep5L4
1 day ago

NebraskaSoccer

Nebraska Soccer


Kick off today is at 2 pm. Come to our tailgate by the Hawks Championship Center starting at 12:00. #Huskers
1 day ago

HuskerExtraBC

Brian Christopherson


This was interesting from @HuskerExtraBR: Bill Callahan changed the band's Tunnel Walk formation too... http://t.co/FBQiPcLQAV
1 day ago
BLOG ARCHIVE:
CATEGORIES: