ESPN 300: Top Big Ten targets
April, 16, 2014
Apr 16
11:45
AM ET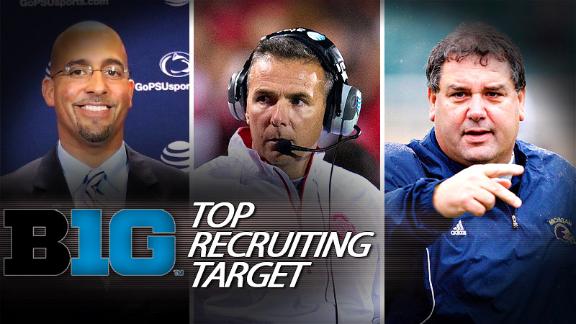 The top-ranked prospects tend to wait out the process, so there are still some huge names at the top of Big Ten recruiting boards. The top targets will be fought over by most teams within the conference, which will make for some interesting recruiting battles.
Here is a look at the top five targets within the Big Ten in the
2015 ESPN 300
.
DE Jashon Cornell
6-4, 270 pounds
ESPN 300 rank: No. 16
To continue reading this article you must be an Insider
Insider
Drive Through: Big Ten Preview
Cary Chow and Heather Dinich preview the Big Ten conference.
Drive Through: Big Ten Preview
VIDEO PLAYLIST
CORNHUSKERNATION RECRUITING NEWS
NEBRASKA FB RECRUITING SCORECARD
Sean_Callahan

Sean Callahan


It took 35 minutes for Bo Pelini to get his first "cat question" on Friday at the Big Red Breakfast. #Huskers
less than a minute ago

HuskerExtraBC

Brian Christopherson


Bo on turnovers: "We can talk about it all we want. We got to do it on Saturday. If we don't do it you're going to the bench." #Huskers
about a minute ago

HuskerExtraBC

Brian Christopherson


Bo on Randy Gregory: "He's an unusually good pass rusher. He can do some things you just can't teach." #Huskers
8 minutes ago

Sean_Callahan

Sean Callahan


Pelini said Drew Brown will get the nod at kicker based on the finals numbers.
10 minutes ago

HuskerExtraBC

Brian Christopherson


Bo: "I'm not a big numbers guy. I kind of go by feel a lot of time. But the numbers on the field told me Drew Brown would be the guy."
10 minutes ago

HuskerExtraBC

Brian Christopherson


So far Pelini has confirmed potential on-the-fence true frosh Chris Jones and DeMornay Pierson-El will play this year. #Huskers
11 minutes ago

Sean_Callahan

Sean Callahan


Pelini says DB Chris Jones won't redshirt at corner and "will help" NU this year. #Huskers
13 minutes ago

HuskerExtraBC

Brian Christopherson


Bo said Daniel Davie will start at corner. "Jonathan Rose you'll see in there a lot playing." Also said you'll see Boaz Joseph and C. Jones.
13 minutes ago

HuskerExtraBC

Brian Christopherson


Bo on Marcus Newby: "I think you guys are going to have fun watching him play (though) sometimes he makes me hold my breath." #Huskers
15 minutes ago

HuskerExtraBC

Brian Christopherson


Pelini on defensive system: "People act like it's complicated. It's not complicated but it requires discipline." #Huskers
17 minutes ago

HuskerExtraBC

Brian Christopherson


Bo: Tommy's the guy. "We're not thinking about rotating guys or anything." #Huskers
18 minutes ago

Sean_Callahan

Sean Callahan


Pelini says Ryker Fyfe is the "clear No. 2 QB," but also said Johhny Stanton has looked good. Just needs to play more relaxed.
19 minutes ago

HuskerExtraBC

Brian Christopherson


Pelini on true frosh DeMornay Pierson-El: "He's going to play for us this year." #Huskers
22 minutes ago

HuskerExtraBC

Brian Christopherson


Bo says Stanton has moments when he looks like the No. 1 QB, but has as many when he still looks like No. 3. #Huskers
22 minutes ago

HuskerExtraBC

Brian Christopherson


Bo: "Ryker Fyfe, to me right now, is the clear No. 2 ... I wouldn't be afraid to put him in as I wouldn't be able to put in Johnny Stanton."
23 minutes ago

HuskerExtraBC

Brian Christopherson


Bo says average practice time this fall has been about 1 hour, 45 minutes. At times would go 2:30 last year. "I think it was good for us."
27 minutes ago

ESPN_BigTen

ESPN BigTen


Big Ten morning links http://t.co/7wK03HjRRZ
34 minutes ago

HuskerExtraBC

Brian Christopherson


Big Red Breakfast season. It begins with Bo at the microphone. Will tweet this and that as we go. #Huskers
34 minutes ago

Herbie_Husker

Herbie Husker


6am practice with @LilRed_Husker and @HuskerSpirit this morning, perfecting the pre-game routine. #GBR #OneMoreDay http://t.co/7JujihFnlD
about an hour ago

AdamCarriker94

Adam Carriker


Football season's back. I love this game. Favorite if you're looking forward to #CollegeFootball. RT for #NFL. #FootballFriday
about an hour ago

ESPN_BigTen

ESPN BigTen


Rutgers 41, Washington State 38 http://t.co/O1C3zXjl1d
about 5 hours ago

HuskerExtraBC

Brian Christopherson


You won't find more happier team flights than the cross-country one Rutgers is about to make.
about 6 hours ago

bigtenconf

Big Ten Conference


RT @B1Gfootball: FINAL: @RFootball defeats Washington St. in Seattle, 41-38, in 1st game as member of #B1G.
about 7 hours ago

ESPN_BigTen

ESPN BigTen


And that's it. In Rutgers' first game as a member of the B1G, it comes away with the upset win. Definitely earned some respect there ...
about 7 hours ago

ESPN_BigTen

ESPN BigTen


4th-and-13 -- and Rutgers knocks the ball loose. Great play; should've been a catch and 1st down. RU just has to run the clock out now
about 7 hours ago

ericolson64

Eric Olson


#washingtonstate may not end up being very good in #pac12, but this is going to be a very good win for #rutgers and #B1G
about 7 hours ago

ESPN_BigTen

ESPN BigTen


Rutgers has to feel good posting up 41 points ... but, with 3:24 left in the game, there's plenty of time for WSU to make a comeback.
about 7 hours ago

ESPN_BigTen

ESPN BigTen


Veteran DB Lorenzo Waters couldn't wrap up the WSU receiver there, and it leads to a third-down TD. Lead's changed 3 times the last 20 mins
about 7 hours ago

ericolson64

Eric Olson


You gotta believe Commissioner Delany is going to swell with pride if #B1G newbie Rutgers can come back and beat #pac12 foe
about 7 hours ago

ESPN_BigTen

ESPN BigTen


A lot to be happy about with Rutgers' O so far. Nova rebounding, OL doing well & James establishing himself. But D needs to tighten up
about 7 hours ago

ericolson64

Eric Olson


Tim Brando cracks me up
about 7 hours ago

ESPN_BigTen

ESPN BigTen


When we look back on this game, that might just end up being THE key play. WSU 3rd-and-goal from the 14, and it's another Halliday TD.
about 8 hours ago

ESPN_BigTen

ESPN BigTen


Stop me if you've heard this before: "Completion over the middle." Doesn't seem like RU's defense is adjusting much here ...
about 8 hours ago

ESPN_BigTen

ESPN BigTen


This is the first time all game that Rutgers is playing from behind. Have to keep running the ball. After the first play, Nova's been shaky
about 8 hours ago

ESPN_BigTen

ESPN BigTen


This is the first time all game that Rutgers is playing from behind... Have to keep running the ball. Nova's been shaky since the 1st play
about 8 hours ago

ESPN_BigTen

ESPN BigTen


Could've been a costly 15-yard penalty for RU -- but WSU misses the last-second FG anyway. RU up 21-17 at the half. We have ourselves a game
about 8 hours ago

ESPNJoshMoyer

Josh Moyer


After Nova's first pass (which went for a 78-yard TD), he's gone 4-of-9 for 29 yards and 1 INT. RB Paul James has really been the constant.
about 8 hours ago

ESPN_BigTen

ESPN BigTen


Heading into this game, we wondered if Rutgers could keep up with Washington State. Now the question is whether WSU can keep up with Rutgers
about 9 hours ago

ESPN_BigTen

ESPN BigTen


13 carries, 110 yards RT @ESPNRittenberg: . @BennettESPN talked up Paul James this offseason. Seeing why. If he can stay healthy, look out.
about 9 hours ago

NewEra_54

Lavonte David


Great seeing my Husker brothers tonight @_willcompton @Niles_Paul84 @slong_61 And #RoyHelu
about 9 hours ago

Sean_Callahan

Sean Callahan


#Rutgers #BigTen Wow
about 9 hours ago

ESPN_BigTen

ESPN BigTen


Rutgers *was* off to a fast start, but you can't sleep on WSU's fast-paced offense. Anybody's game; RU's OL looking pretty good, too.
about 9 hours ago

Huskers

Nebraska Huskers


#GBR! "@aroundthehornkc: Gordon is now the all-time leader in home runs for MLB players born in Nebraska...#119 passes Wade Boggs"
about 9 hours ago

ESPN_BigTen

ESPN BigTen


Rutgers defense hanging tough vs. WSU. Keep that up, Steve Longa, and you might have a helmet sticker in your future ...
about 9 hours ago

bigtenconf

Big Ten Conference


RT @B1Gfootball: FINAL: @GopherFootball defeats Eastern Illinois, 42-20.
about 9 hours ago

CornNation

CornNation


Time for a pick in this Boise-Ole Miss game.
about 10 hours ago

ericolson64

Eric Olson


Guy next to me at high school game says he wishes game would speed up so he could get home and watch #rutgers game. Never heard that before
about 10 hours ago

ESPN_BigTen

ESPN BigTen


Minn's Berkley Edwards was supposed to be a home-run threat - but didn't really get the opportunity until just now. 42-yard TD. Name to know
about 10 hours ago

ESPN_BigTen

ESPN BigTen


First offensive drive for Rutgers: 78-yard TD. First defensive drive for Rutgers: Interception.Can't really ask for a better start ...
about 10 hours ago

CornNation

CornNation


Scored TD on first play, those Scarlet Knights. RT @FOXSports1: The #Rutgers Big Ten era. UNDERWAY WITH A BANG.
about 10 hours ago

ESPN_BigTen

ESPN BigTen


Welcome to the Big Ten, Rutgers. Quite a start! Nova to Carroo for a 78-yard TD on its first-ever play as a member of the B1G.
about 10 hours ago

ESPNJoshMoyer

Josh Moyer


RU-WSU ... Yikes RT @DDuggan21: If @StevePoliti wants a seat in section 306, I think we can squeeze you in: http://t.co/AF8YBGXAaH
about 10 hours ago

CornNation

CornNation


Eek RT @NussCoug: 20 minutes to kickoff. I can confirm that the hoped for walk up crowd has not materialized. http://t.co/zRXeNbyjZ2
about 10 hours ago

CornNation

CornNation


So So Dumb. RT @RedditCFB: EIU player ejected for playing bag tag with a Gopher: https://t.co/uBBLZ1Pj2Q
about 10 hours ago

ESPN_BigTen

ESPN BigTen


Eastern Illinois LB Kamu Grugier-Hill is DQ'd and leaves the game after ... umm ... semingly giving Minnesota's OL an unwanted cup check.
about 10 hours ago

CornNation

CornNation


Eastern Illinois LB gone after punching a Minnesota lineman in the jewels while walking back after a play….
about 10 hours ago

CornNation

CornNation


RT @TunnelWalkShame: Crack open a big ole' IPA and enjoy. Your first TWOS of the 2014 season is LIVE: http://t.co/JF4U7IlOwC
about 11 hours ago

ESPN_BigTen

ESPN BigTen


Another forced turnover by the Minnesota defense. This game hasn't always been pretty, but 3 turnovers and a blocked punt isn't too shabby.
about 11 hours ago

Huskers

Nebraska Huskers


Well?Can you? #GBR #Huskers https://t.co/XHCwxDVwY8
about 11 hours ago

CornNation

CornNation


But wait! There's more! RT @MattRHinton: Pick-Fil-A Classic
about 11 hours ago

ESPN_BigTen

ESPN BigTen


And Whitlow smacks a 3-yard punt. Maybe the QB will get some tips from Hackenberg the next time he tries a kick ... That was ugly.
about 11 hours ago

CornNation

CornNation


Eastern Illinois does a quick-kick for 3 yards…
about 11 hours ago

HuskerExtraBC

Brian Christopherson


Maliek Collins doesn't hear much of the #Husker D-line hype. His ears have caught the chatter about Sparty though... http://t.co/JPIHse8zQK
about 11 hours ago

ESPN_BigTen

ESPN BigTen


Well ... nevermind ... a punt block for a TD works just as well anyway. Certainly starting the 2nd half off on the right foot. Gophers 21-0
about 11 hours ago

ESPN_BigTen

ESPN BigTen


Can someone explain to me how that call stands? Sure seems like it should be Minnesota's ball ...
about 11 hours ago

CornNation

CornNation


Pretty clear. And stupid RT @SBNationCFB: Yeah, that's an ejection. http://t.co/YZzsjIaW93 http://t.co/KJ11ABpbvW
about 12 hours ago

CornNation

CornNation


Targeting in Boise State/Ole Miss game.
about 12 hours ago

ESPN_BigTen

ESPN BigTen


Initially thought that was an INT- but worked out just fine for the Gophers. 90-yard TD drive should be a good boost after a sluggish start
about 12 hours ago

HuskerExtraBC

Brian Christopherson


South Carolina better put some lipstick on this pig late or risk dropping four or five spots in the polls.
about 12 hours ago

CornNation

CornNation


Minnesota starting to dominate up front, as they should, up 14-0 over Eastern Illinois
about 12 hours ago

HuskerExtraBC

Brian Christopherson


Spurrier says screw it. Goes five wide from his own half yard line. All that's left now.
about 12 hours ago

JoshHarveyScout

Josh Harvey


That's #huskers commit @DaishonNeal90 throwing some bones tonight after a tackle for loss. #Nebraska http://t.co/hYuzS1g4T2
about 12 hours ago

ESPN_BigTen

ESPN BigTen


TE Maxx Williams gets his first touch of the game - which took waay too long - and makes sure its highlight-worthy. Nice hurdle over the D
about 12 hours ago

Sean_Callahan

Sean Callahan


"@GVMcElroy: SCar went 3 DL on 69% of first half snaps and allowed avg. of 8.3 yards per play."
about 12 hours ago

HuskerExtraBC

Brian Christopherson


Red Report: Pelini expects Jamal Turner to make most of final season, kicker update, Price is right, etc. http://t.co/KL9bvq3G1X #Huskers
about 12 hours ago

adamgorney

Adam Gorney


If #TAMU is the sixth-best team in the SEC West, then call me impressed with that division. #Aggies
about 12 hours ago

Sean_Callahan

Sean Callahan


Watching Texas A&M's offense reminds me of the Big 12 in 2007. There were about seven offenses like this that year.
about 12 hours ago

Sean_Callahan

Sean Callahan


This is why preseason polls don't mean anything. Everybody just assumed A&M would get rolled.
about 12 hours ago

bigtenconf

Big Ten Conference


Keep an eye out for the recently unveiled #B1G PSA & share your favorite part with B1G fans everywhere #B1GFootball
about 12 hours ago

ESPN_BigTen

ESPN BigTen


Gophers up 7-0 after the first quarter, but they haven't showed much so far. Actually gotten a few good breaks. Let's see if that changes...
about 12 hours ago

GophersNow

Marcus R. Fuller


Starting defensive tackle Scott Ekpe could be done for the game with a right knee injury, per @jgkfan
about 12 hours ago

ESPN_BigTen

ESPN BigTen


3 offensive drives for Minnesota; 1 first down. And that came on the first play, an 11-yard run.Reminder: Minn. is playing an FCS team
about 13 hours ago

ESPN_BigTen

ESPN BigTen


This game is not going how Minn. envisioned. It's VERY early, but the first two offensive drives were pretty poor. Leidner needs to rebound
about 13 hours ago

Huskers

Nebraska Huskers


#Huskers Coach Pelini after practice today.Full report >> http://t.co/Ef1fhdDZqFhttp://t.co/onOeUSk3Oy
about 13 hours ago

ESPN_BigTen

ESPN BigTen


First drive of the season doesn't quite go as planned for the Gophers: 11-yard run, dropped pass, bad throw, sniffed-out run.
about 13 hours ago

bigtenconf

Big Ten Conference


RT @B1Gfootball: And the #B1Gfootball season is officially underway. @GopherFootball takes the opening kickoff on @BigTenNetwork.
about 13 hours ago

AdamCarriker94

Adam Carriker


"@TheBryMan15: @AdamCarriker94 These guys disagree. haha http://t.co/4SfH2VfPpH" I couldn't agree more. #GreatestTeamEver #GBR
about 13 hours ago

Huskers

Nebraska Huskers


Sneak peek. https://t.co/MbIpQlaSQL
about 13 hours ago

CornNation

CornNation


Corn Nation FAU Bold Predictions http://t.co/SkJcAOJ6EY
about 13 hours ago

HuskerExtraBC

Brian Christopherson


Pelini not ruling out Zach Sterup for the opener. Said he could "possibly" play. #Huskers
about 13 hours ago

HuskerExtraBC

Brian Christopherson


Pelini said #Huskers will likely use both place-kickers but expects Drew Brown to get the first try.
about 13 hours ago

CornNation

CornNation


2014 College Football TV schedule Week 1: How to Watch, Game Times, Channels, and Live Streaming http://t.co/eBsacxtPae
about 14 hours ago

RandyYorkNSider

Randy York


HOF Husker's Grandson Seeks His Own Path - Charles Bryant walked on at Nebraska before receiving a... http://t.co/KDbxKP6KRM
about 14 hours ago

ESPN_BigTen

ESPN BigTen


Twitter: PSU sights & scenes from Ireland http://t.co/fCVcU9LX8U
about 14 hours ago

CornNation

CornNation


Nebraska releases football depth chart with no real surprises. http://t.co/Y4FTkOqzfZ
about 14 hours ago

bigtenconf

Big Ten Conference


Just 1 hour until #B1Gfootball returns - #Gophers host Eastern Illinois at 7 ET/6 CT on @BigTenNetwork.
about 14 hours ago

bigtenconf

Big Ten Conference


1997 @umichfootball team won the National Championship after going 12-0 & winning @rosebowlgame. #ThrowbackThursday http://t.co/3wwxoRhr6h
about 14 hours ago

HuskerExtraBC

Brian Christopherson


Here's your official #Husker depth chart heading into the opener... http://t.co/tGnXdF4b9V
about 14 hours ago

Huskers

Nebraska Huskers


#Huskers depth chart for the Florida Atlantic game. #GBRBigger >> http://t.co/QtqujIwyN2 http://t.co/NTI3D6Q2jn
about 15 hours ago

CornNation

CornNation


Join us at CN as we blather on incoherently about tonight's games! http://t.co/mub93GIxWA
about 15 hours ago
BIG TEN SCOREBOARD
Thursday, 8/28
Friday, 8/29
Saturday, 8/30
BLOG ARCHIVE:
CATEGORIES: