ESPN 300: Top Big Ten targets
April, 16, 2014
Apr 16
11:45
AM ET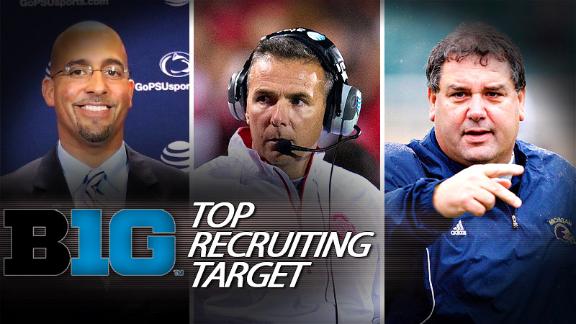 The top-ranked prospects tend to wait out the process, so there are still some huge names at the top of Big Ten recruiting boards. The top targets will be fought over by most teams within the conference, which will make for some interesting recruiting battles.
Here is a look at the top five targets within the Big Ten in the
2015 ESPN 300
.
DE Jashon Cornell
6-4, 270 pounds
ESPN 300 rank: No. 16
To continue reading this article you must be an Insider
Insider
'CFL' Extra: Picks Of The Week
Brian Griese and Robert Smith make their picks for the biggest games of Week 4 between Clemson-Florida State, Mississippi State-LSU and Miami-Nebraska.
'CFL' Extra: Picks Of The Week
VIDEO PLAYLIST
CORNHUSKERNATION RECRUITING NEWS
NEBRASKA FB RECRUITING SCORECARD
RandyYorkNSider

Randy York


1994 Husker Captains Became Leaders in Life - By Randy York When Bob Devaney asked Tom Osborne to become... http://t.co/mULMw8RIhZ
about 2 hours ago

HuskerExtraBC

Brian Christopherson


"Auburn pulls away," the ESPN header says. I must have missed that part.
about 2 hours ago

CornNation

CornNation


ICYMI, Huskers WR Sam Burtch tore his ACL two days after returning to practice. He's out for the year. http://t.co/GsKHhMjgBp
about 2 hours ago

HuskerExtraBC

Brian Christopherson


Tommy Armstrong is confident & throws a mean stiff arm. He's also a tough grader when it comes to his season so far. http://t.co/LeGEmn95Bx
about 2 hours ago

HuskerExtraBC

Brian Christopherson


Lane Hovey made his own highlight tape. Sent it to NU & Iowa. Now here he is catching passes for the #Huskers... http://t.co/U7wip5sXnH
about 2 hours ago

KellisRobinett

Kellis Robinett


When asked if Auburn won the game or K-State lost it, Bill Snyder says "The latter."
about 2 hours ago

Omaha_Ace

Nick Gregor


Breaking down game tape with @BarrettRuud / @Sean_Callahan #StBernadette #Omaha http://t.co/Xq37pX5faS
about 2 hours ago

NebrasketballFN

Ryan Carnahan


Thanks to @Sean_Callahan for coming to St. Bernadette #Huskers Night. Always great watching film and talking about recruiting! #GBR
about 2 hours ago

CornNation

CornNation


RT @Husker_Mike: Yep... That was @CornNation discussing Nebraska with @BTNDaveRevsine on @BTNLive http://t.co/hsAYiOG4aL
about 2 hours ago

NebHSFootball

NebraskaHSFootball


Final: Omaha North 62 Bellevue West 21.
about 3 hours ago

KirkHerbstreit

Kirk Herbstreit


Auburn better count their blessings with this win! Good win in the road, but Cats missed plenty of opportunities!! #AUBvsKSU
about 3 hours ago

CornNation

CornNation


The KSU student section should just walk onto the field and cry in a big, sweaty pile.
about 3 hours ago

CornNation

CornNation


Just burned.. burned… burned.
about 3 hours ago

CornNation

CornNation


and this is how Auburn will start rolling. I don't get the pass on every play by KSU.
about 3 hours ago

CornNation

CornNation


This is an unexplainably stupd series by KSU.
about 3 hours ago

ericolson64

Eric Olson


http://t.co/OykjFNXOd4. Yes!
about 4 hours ago

CornNation

CornNation


Nice drive by Auburn… still time for them to smash KSU and the first 3Q's won't matter
about 4 hours ago

jaason_lewis

THE J Lew1?


Next Thursday !!! Olé Miss , Arizona State , Nebraska
about 4 hours ago

CornNation

CornNation


OMG KSU… what the hell.
about 4 hours ago

HuskerPower811

The Log Home Expert!


@HuskersGameday I'm way too realistic to believe this is gonna be an easy Win, if a Win at all. Our Defense HAS to step up tomorrow. #GBR!!
about 4 hours ago

huskermdb

Michael Bauer


@HuskersGameday No kool-aid , if the @Huskers play their game , #Canes will get smoked
about 4 hours ago

DrewBrettauthor

Drew


Outside of Mich St, even that is questionable this year, Nebraska will not face another defense as strong up front or as athletic.
about 4 hours ago

HuskersGameday

Huskers Gameday


Seeing lots of 'Huskers scoring in the 30's and winning by double digits' predictions. #bigredkoolaid
about 4 hours ago

ericolson64

Eric Olson


Live how Kliff Kingsbury morphs into Charlie Weis in that #BIG12 ad
about 4 hours ago

HuskersGameday

Huskers Gameday


Time for your Nebraska-Miami predications. And no, 'pain' is not acceptable.
about 4 hours ago

CornNation

CornNation


Bill Snyder will a bullhorn would be a good look, no?
about 5 hours ago

CornNation

CornNation


There he goes again with all this sexy talk RT @smartfootball: K-State just hit Lockett on the old Don Coryell "F-Post" play
about 5 hours ago

CornNation

CornNation


The score right before halftime is always huge. Always. It's HUGE.
about 5 hours ago

CornNation

CornNation


BIG 12 SPEED!!! OWOHOOOOOOO!!!
about 5 hours ago

CornNation

CornNation


Get going! RT @CdnsForNebraska: The #CanadiansForNebraska have arrived! Come meet us at @BarrysBarLNK now! First round on us
about 5 hours ago

CornNation

CornNation


HAHAHAHA What a suck play by Auburn receiver
about 5 hours ago

HuskerExtraBC

Brian Christopherson


Red Report: Sam Burtch's season ends, Kevin Williams looks ready, Instagram smack by a Cane, and more... http://t.co/azqTW2j3nm #Huskers
about 5 hours ago

MensHumor

Men\'s Humor


This kid is definitely going places... http://t.co/JmeJEYGkfC
about 5 hours ago

CornNation

CornNation


Nice job KSU defense!
about 6 hours ago

CornNation

CornNation


RT @JoniCohen1: @CornNation Tom Osborne visits ecreamery for his @TeamMates1Hour mentoring program #GiveBack #mentors http://t.co/yKhzE2QSwX
about 6 hours ago

Huskers

Nebraska Huskers


"We've gotta finish it up tomorrow and get ready to go." - PeliniFull Practice Report >> http://t.co/Qf7GRjsDEmhttp://t.co/PGhmgAiqnG
about 6 hours ago

CornNation

CornNation


Thursday Night Football - Game Thread!!! JOIN US AS WE BAD MOUTH EVERYONE! http://t.co/xisJr1ytfu
about 7 hours ago

HuskerExtraBC

Brian Christopherson


#Husker punter Sam Foltz was wearing a walking boot but Pelini said: "That's just precautionary, he's fine. There's nothing. He's fine."
about 7 hours ago

HuskerWeather

Husker Weather


Small storm chance for the @Huskers vs Miami game Saturday evening. Most of the game should be dry and mild! http://t.co/BfBtcmqk0Q
about 7 hours ago

CornNation

CornNation


What is this? RT @Dorseyitis: .@CornNation Soon http://t.co/elccmcj5Kg
about 7 hours ago

CornNation

CornNation


two people in an office yelling at each other about who is yelling is like…
about 7 hours ago

CornNation

CornNation


Poopy RT @HuskerSports: Bo Pelini after practice announces that Sam Burch is out for the year with torn ACL.
about 7 hours ago

HuskerExtraBC

Brian Christopherson


Interesting side note: Long snapper Paul Kelly won't suit up this week. It's a deal the #Huskers made to get a waiver for the Miami transfer
about 7 hours ago

HuskerExtraBC

Brian Christopherson


Sam Burtch returned to practice this week but tore his ACL and is out for the season, Pelini said. #Huskers
about 7 hours ago

grunkus

Matt Grunke


@TMAG1C Totally addicted to playing #StupidFAST but my high score is only 25!
about 7 hours ago

TMAG1C

Taylor Martinez


#TakeAStand against childhood brain cancer. Call 1-855-RUN-JACK to take part in the #TeamJack Radiothon #SupportResearch
about 7 hours ago

TeamJack

Team Jack


@huskerextra @BigRedWrapUp @bigrednetwork ... Pediatric Brain Cancer Research needs your help ... PLS retweet ... 855-786-5225 #TakeAStand
about 7 hours ago

PrinceAmukamara

Prince Amukamara


#TakeAStand against childhood brain cancer. Call 1-855-RUN-JACK to take part in the #TeamJack Radiothon! #SupportResearch
about 8 hours ago

Huskers

Nebraska Huskers


Yo. https://t.co/l81cHQbg2x https://t.co/mhh6aSgvCV http://t.co/KuHZ7P0zOj
about 8 hours ago

TheIronN

The Iron N


.@Huskers We'll be the thunder of the #RedStormOh, and keep an eye on the @HuskerBoneyard just before kickoff... http://t.co/6Ncaai3IOU
about 8 hours ago

PrinceAmukamara

Prince Amukamara


There's a place in the middle of the ocean where all our trash ends up. Watch @sunnyangela new doc @plasticpdise http://t.co/vu9gteLpw8
about 8 hours ago

BruceBeck4NY

Bruce Beck


Congrats Steve Beck, @PrinceAmukamara @StevePoliti - honored 2night by (WOS) Write on Sports! Thx @SI_PeterKing 4 being emcee!
about 8 hours ago

CornNation

CornNation


We've updated the visitor list for this weekend's #Huskers/#Canes game for Nebraska after some news just broke. http://t.co/CjAytgGiFO
about 9 hours ago

ericolson64

Eric Olson


Random question: why does @HyVee sell ping pong balls next to the potato chips?
about 9 hours ago

BooneOWH

Tony Boone


The K-State rally cry for tonight's game with Auburn. Big one at home for the 'Cats with a national TV audience. http://t.co/r61ghDR8RB
about 9 hours ago

ESPN_BigTen

ESPN BigTen


Tracking our B1G fantasy teams: Week 4 http://t.co/86zON6oYwG
about 9 hours ago

Sean_Callahan

Sean Callahan


Miami LB D. Perryman: "I'm excited to go out there and see all the fans with the little corn on their heads. I can't wait for this matchup."
about 9 hours ago

Huskers

Nebraska Huskers


Hey @TheIronN, first two games were stellar. Listen to the man, #GetRowdy in the @HuskerBoneyard Saturday. #Huskershttps://t.co/8OZ4GVGMf6
about 9 hours ago

B1Gfootball

Big Ten Football


Senior CLASS Award candidates include Devin Gardner of @umichfootball & Ameer Abdullah of @Huskers.
about 9 hours ago

PrinceAmukamara

Prince Amukamara


Wow insane trick kick by @giants kicker @Kickingitwith3 @TommyBahama https://t.co/fWADz37uwZ
about 9 hours ago

OWHbigred

World-Herald Big Red


#Huskers history! On this day in 2010, @TMAG1C went 80 yds for a TD in NU's 56-21 win vs Wash: http://t.co/wXuVgDLhUM http://t.co/JUpWBNnB4B
about 9 hours ago

TouchdownTommie

Tommie Frazier


RT Is #15 Pierson-El the excitement maker Husker fans have been hoping for? http://t.co/K7JZP91iGb @AdamCarriker94 @dpwrs @TouchdownTommie
about 10 hours ago

TouchdownTommie

Tommie Frazier


Thursday edition of In The Huddle w/ @AdamCarriker94 & myself - Can the Huskers carry the B1G flag into the playoffs? http://t.co/ce95LGgQk7
about 10 hours ago

DanMurphyESPN

Dan Murphy


Doing my first #B1G mailbag tomorrow afternoon. Help me out with some good questions here.
about 10 hours ago

TeamJack

Team Jack


@JournalStarNews @HuskerExtraSip @HuskerExtraBC @HuskerExtraBR ... Pediatric Brain Cancer needs your help ... PLS retweet ... 855-RUN-JACK
about 10 hours ago

CornNation

CornNation


Vote Early, Vote Often! in the Miami Score Prediction Contest on Corn Nation http://t.co/ns6dSHlXiJ
about 11 hours ago

CornNation

CornNation


College football week 4. Plan your weekend of TV gluttony right here. http://t.co/cbv4wXiKoR
about 11 hours ago

HuskerHoops

Nebraska Basketball


The complete 2014-15 #Huskers schedule with times and TV info. https://t.co/IAzcaF6qk4 http://t.co/86ByToHyK1
about 11 hours ago

B1GMBBall

Big Ten Men\'s Hoops


All 252 #B1GMBBall games will be televised on @CBSSports, @BigTenNetwork or an @espn network. http://t.co/QrXhrw1kZ9 http://t.co/eVW8S4vgK7
about 11 hours ago

HuskerExtraBC

Brian Christopherson


#Huskers have renegotiated their media rights deal with IMG. Will receive about $21.5 million more over next 6 years. http://t.co/ao2b5WnEzt
about 12 hours ago

CornNation

CornNation


What recruits are coming to Lincoln for the #Huskers game vs. Miami? Check them all out here. http://t.co/qGbGNMbBFR
about 12 hours ago

HuskerExtraBC

Brian Christopherson


Some great photos of #Huskers-Hurricanes through the years. Awesome airport shot after '84 Orange Bowl in there... http://t.co/HAPQsGTyxq
about 12 hours ago

HuskerExtraBC

Brian Christopherson


Video: @HuskerExtraSip and I discuss what we believe will be a few keys for the #Huskers to beat the Canes... http://t.co/vWI9SDWyim
about 12 hours ago

TMAG1C

Taylor Martinez


Hey @ADAMDEVINE @itsgabrielleu @MargHelgen @WarrenBuffett @GitRDoneLarry @andyroddick join #TeamJack Radiothon today & call 1-855-RUN-JACK
about 12 hours ago

AdamCarriker94

Adam Carriker


A producer at NBC called me & wants me to do one of their new Prime Time Reality TV shows next year. #LargestArmsInHollywood #YouNeverKnow
about 12 hours ago

Sean_Callahan

Sean Callahan


According to @SeatGeek the Miami vs. Nebraska game ($188) is the second most indemand game of the weekend behind Florida vs. Alabama ($206).
about 13 hours ago

Huskers

Nebraska Huskers


"[Abudullah] just wants to win football games." from @GottliebShow.#FearAmeer #Huskers http://t.co/O5Ewz3zBbQ
about 13 hours ago

CoSozo

CoSozo


#MSUSpartanFootball, get it all on Spartan Nation Radio! @HondoCarpenter @JoeyLucci @NickBaumgardner @Sean_Callahan http://t.co/HZdlMsF9Hw
about 13 hours ago

Huskers

Nebraska Huskers


"A wonderful and crowning moment in the career of Tom Osborne. Nebraska, National Champs, 24-17." - Bob Costas#TBThttp://t.co/8VEg3f99ey
about 14 hours ago

ESPN_BigTen

ESPN BigTen


Butt's return provides options for Michigan http://t.co/sY6nWdPVKW
about 14 hours ago

CornNation

CornNation


New on Corn Nation - FSU Score Contest Results and Season Pick 'em Leaderboard http://t.co/tDGzmxcrjO
about 14 hours ago

HuskerExtraBC

Brian Christopherson


Armstrong gives himself a 'B' grade as a runner. Stats-wise, he's 6th among QBs in rush yds per game (86.0) & 1st in yds per attempt (9.56).
about 14 hours ago

Sean_Callahan

Sean Callahan


Rex Burkhead and Ameer Abdullah (@Ameerguapo) talk about their program defining friendship https://t.co/s1e7IHxGzU http://t.co/Gn3DP1Hn4z
about 14 hours ago

TeamJack

Team Jack


@Sean_Callahan #TeamJackRadiothon today in Lincoln to fight child brain cancer ... 1-855-RUN-JACK #FindACure #TakeAStand #TeamJack
about 14 hours ago

ericolson64

Eric Olson


AP: Take a trip down memory lane with the #Huskers and #MiamiHurricanes http://t.co/7ypRpoTfZS
about 14 hours ago

bigtenconf

Big Ten Conference


.@IowaXC_TF's Diane Nukuri set a Big Ten Championships 6,000-meter record of 19:37 in 2007. #B1G #TBT http://t.co/dfhc5S07iv
about 15 hours ago

ESPN_BigTen

ESPN BigTen


#TBT: Tom Brady's college resume http://t.co/fdzqcsqg39
about 15 hours ago

HuskerExtraBC

Brian Christopherson


All of us, let's studiously avoid self-aggrandizement as we finish off this week.
about 15 hours ago

ESPN_BigTen

ESPN BigTen


Kickoff Live: Week 4 (1 ET) http://t.co/YaEiB4cfgs
about 15 hours ago

HuskerExtraBC

Brian Christopherson


Scouting report: The easy, breezy breakdown of the Miami Hurricanes by @HuskerExtraBR... http://t.co/xqYcvmw4DM #Huskers
about 15 hours ago

Huskers

Nebraska Huskers


Happy Birthday @HuskerLance. Thanks for Trying out for @HuskerHoops. "@CoachMiles: My newest "Guard" http://t.co/LwGt16XcqW"
about 15 hours ago

Huskers

Nebraska Huskers


Agreed. #TBT "MT: @MikeBhuskers: today is the 18th of the month. Let's honor Brook Berringer. http://t.co/C5HKaHFOHX"
about 16 hours ago

ESPN_BigTen

ESPN BigTen


Watch: B1G chat live 2 p.m. ET http://t.co/nUm1GedPfN
about 16 hours ago

CornNation

CornNation


Corn Flakes: What's "Cute" About Nebraska's Offense? (Cause I really want to know) http://t.co/QUTC56rcWQ
about 17 hours ago

ESPN_BigTen

ESPN BigTen


Big Ten Week 4 predictions http://t.co/DN6jDOJi0l
about 17 hours ago

TMAG1C

Taylor Martinez


Support the #TeamJack Radiothon for kid brain cancer today! Call 1-855-RUN-JACK or visit http://t.co/B29ajM3lZL for info! #ad #TakeAStand
about 17 hours ago

ESPN_BigTen

ESPN BigTen


Big Ten morning links http://t.co/SMeMOlR9cO
about 18 hours ago

PrinceAmukamara

Prince Amukamara


The #TeamJack Radiothon is TODAY #TakeAStand against kid brain cancer & call 1-855-RUN-JACK Visit http://t.co/JvAKXJUuZ3 for more info #ad
about 18 hours ago

AdamCarriker94

Adam Carriker


I enjoy the several shows I do talking about my #Huskers, but nothing compares to playing at #Nebraska. #TBT #GBR http://t.co/os0QBMsEUs
about 18 hours ago

RandyYorkNSider

Randy York


Who Wants to Pose with Johnny, Mike and Eric? - Johnny Rodgers, Mike Rozier and Eric Crouch will be in... http://t.co/omqMt48Ftd
1 day ago
BLOG ARCHIVE:
CATEGORIES: