Big Ten ESPN 300 analysis
October, 29, 2013
10/29/13
8:00
PM ET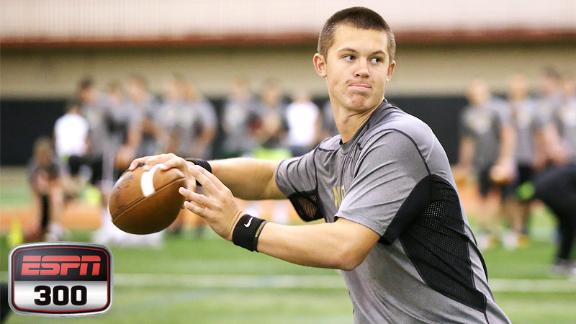 The
ESPN 300
list has been updated and with 24 ESPN 300 commitments in the Big Ten, it's no surprise that there are some changes to the conference.
Here is a look at how the Big Ten was impacted by the recent changes.
Who is rising:
To continue reading this article you must be an Insider
Welcome
!
We see that you are not an ESPN Insider. Upgrade today and gain access to our exclusive coverage.
ESPN The Magazine subscribers

Need more information?
Top Returning Players: Big Ten West
Top Returning Players: Big Ten West
VIDEO PLAYLIST
Top Returning Players: Big Ten West

Top Returning Players: Big Ten West

Top Returning Players: Big Ten East

Top Returning Players: Big Ten East

As the college football world gets ready for spring football, Toni Collins and ESPN Big Ten reporter Chantel Jennings discuss who are some of the top returning players in the new Big Ten East division.

Tags: Big Ten East

,

Michigan State Spartans

,

Ohio State Buckeyes

,

Penn State Nittany Lions

,

Michigan Wolverines

,

Braxton Miller

,

Christian Hackenberg

,

Connor Cook

,

Jeremy Langford

,

Shilique Calhoun

Top College Football Spring Storylines

Top College Football Spring Storylines
NEBRASKA FB RECRUITING SCORECARD
Schutt Nebraska Cornhuskers Mini Authentic Football Helmet Shop »
Sean_Callahan

Sean Callahan


Baylor is currently a 3.5 point favorite over Nebraska in San Antonio. Vegas sees it as almost a toss-up right now.
about 2 hours ago

Sean_Callahan

Sean Callahan


For those traveling to San Antonio, the high for Friday will be 77 degrees - perfect outdoor partying weather on the River Walk.
about 2 hours ago

Sean_Callahan

Sean Callahan


Anybody else looking forward to the Tim Miles-Craig Sager halftime interview on Friday. That should be pretty good! #Huskers
about 2 hours ago

Sean_Callahan

Sean Callahan


Another big winner today was the local Nebraska media having Nebraska and Creighton in one spot so they can cover both teams easier.
about 3 hours ago

Sean_Callahan

Sean Callahan


I can't even imagine how crowded local sports bars are going to be on Friday afternoon with Nebraska and Creighton both playing.
about 3 hours ago

HuskerExtraBC

HuskerExtraBC


You are coming down with a cough. I can tell. #Nebrasketball-Baylor tip time set for 11:40 a.m. on Friday.
about 3 hours ago

Sean_Callahan

Sean Callahan


RT @RobinWashut: #Nebrasketball plays at 11:40 a.m. CT on Friday, and Creighton plays immediately after.
about 3 hours ago

Huskers

Nebraska Huskers


RT @HuskerHoops: Huskers vs. Baylor (11:40 a.m, CT) - TruTV - Marv Albert/Steve Kerr/Craig Sager on the call #Huskers #GBR #Nebrasketball
about 3 hours ago

AdamCarriker94

Adam Carriker


"@iconoclast8543: @AdamCarriker94 Knowing that you are a huge wrestling fan, after NFL career would you consider a lateral move?" Not yet.
about 4 hours ago

HuskerExtraBC

HuskerExtraBC


A primer on #Nebrasketball's opening NCAA tourney foe, the familiar Baylor Bears... http://t.co/rs2lQAgI1J via @JournalStarNews
about 4 hours ago

HuskerExtraBC

HuskerExtraBC


A primer on #Nebrasketball's opening NCAA foe, the familiar Baylor Bears... http://t.co/rs2lQAgI1J via @JournalStarNews
about 4 hours ago

Huskers

Nebraska Huskers


RT @CoachMiles: Nebrasketball Selected for NCAA Tournament http://t.co/vRkfqNHHmB
about 4 hours ago

TMAG1C

Taylor Martinez


RT @CoachMiles: Nebrasketball Selected for NCAA Tournament http://t.co/vRkfqNHHmB
about 4 hours ago

ESPN_BigTen

ESPN BigTen


Just checking out bracket now. Michigan State a 4 seed? Wow. Wonder if having @MSUAD on committee worked against Spartans in the end.
about 4 hours ago

TMAG1C

Taylor Martinez


RT @WobbleWobbleApp: Wobble Wobble Hint-The slower you move your phone left and right the more points you get!Faster you tilt your phone fa…
about 4 hours ago

ESPN_BigTen

ESPN BigTen


RT @DantonioMark: Went back to Indy to watch our bball team win the 2014 Big Ten Championship game. Congrats Coach Izzo, staff, & team! htt…
about 5 hours ago

TMAG1C

Taylor Martinez


RT @TeamJack: @TMAG1C @WobbleWobbleApp Jack loves this game! #WayBetterThanDad
about 5 hours ago

TMAG1C

Taylor Martinez


RT @espensandnes: . @TMAG1C working hard and praying and still cant get past 10 #Magic3Apps #TM3 http://t.co/o8dcXgcDdL
about 5 hours ago

bigtenconf

Big Ten Conference


RT @B1GMBBall: The #Spartans are the 1st team to win the #B1GFCG & a #B1GTourney title in the same season.
about 5 hours ago

AdamCarriker94

Adam Carriker


RT if you've got our #Huskers advancing past Baylor in the big dance. I know I do! #NebrasketbalI #GBR
about 5 hours ago

AdamCarriker94

Adam Carriker


RT if you've got our #Huskers advancing past Baylor in the big dance. I know I do! #NebrasketbalI #GBR
about 5 hours ago

HuskerExtraBC

HuskerExtraBC


RT @HuskerExtraBR: Petteway asked about potential Creighton game. Miles leaned over and whispered in his ear: "Don't answer that." And he d…
about 5 hours ago

HuskerExtraBC

HuskerExtraBC


RT @GarySharp1620: NCAA just released official seeding list. Creighton 11th Nebraska 42nd. Iowa 45th.
about 5 hours ago

HuskerExtraBC

HuskerExtraBC


This storyline is too juicy RT @TBinOmaha if it's cold the Creighton fans will be wearing husker red tho. Ya know, their fall gear...
about 5 hours ago

HuskerExtraBC

HuskerExtraBC


As @toddkoozer pointed out on my timeline, Benny Parker's ankle apparently isn't an issue judging by the way he jumped around at watch party
about 5 hours ago

bigtenconf

Big Ten Conference


RT @B1GMBBall: 6 #B1GMBBall teams are dancing: #Wolverines (2), #Badgers (2), #Spartans (4), #Buckeyes (6), #Cornhuskers (11) & #Hawkeyes (…
about 5 hours ago

bigtenconf

Big Ten Conference


RT @B1GMBBall: The 2014 #B1GTourney Champions: @MSU_Basketball. http://t.co/spwLbMxG9f
about 5 hours ago

HuskerExtraBC

HuskerExtraBC


RT @JohnMartinCA: If Memphis-George Washington is going to be a war, as Doug Gottlieb suggests, how do you pick against George Washington?
about 6 hours ago

HuskerExtraBC

HuskerExtraBC


Also good: You won't have to spend the next 48 hours hearing the mind-numbing debate about whether a "play-in" win counts. #Nebrasketball
about 6 hours ago

ericolson64

Eric Olson


Did Miles just gig the McDermott statue thing? He told Shavon Shields he promised him a statue if Huskers beat Baylor.
about 6 hours ago

ericolson64

Eric Olson


Miles pats Petteway on back after Petteway says it's focus is on Baylor, not #Creighton.
about 6 hours ago

ericolson64

Eric Olson


Miles, on putting #Creighton and #Huskers at same site: "Whether those things come together by accident... it's a smart move..."
about 6 hours ago

ericolson64

Eric Olson


Petteway, on how he moved on from loss to Ohio State: "I went home and watched cartoons."
about 6 hours ago

CornNation

CornNation


Interesting. RT @thepowerrank: Interactive bracket with win probabilities. updated with the actual bracket. http://t.co/M4oV856ENs
about 6 hours ago

CornNation

CornNation


Nebraska To Face Baylor Bears In First Round of 2014 NCAA Basketball Tournament #huskers http://t.co/ARty9fGxMc
about 6 hours ago

Huskers

Nebraska Huskers


RT @HuskersWBB: Happy to have a dance partner! "@HuskerHoops: Let's Dance. #Huskers in San Antonio against Baylor. http://t.co/69IGqhTZjS"
about 6 hours ago

HuskerExtraBC

HuskerExtraBC


The committee also gift-wrapped a nice Doc Sadler sidebar by putting Iowa State at the same site as #Nebrasketball.
about 6 hours ago

CornNation

CornNation


Forget Creighton match up. Focus on Baylor. Focus on our first NCAA tourney win. All that other crap afterwards. #huskers
about 6 hours ago

HuskerExtraBC

HuskerExtraBC


The Riverwalk will be some scene: Carolina's baby blue, Iowa State fans and divided Nebraskans all rubbing elbows.
about 6 hours ago

Huskers

Nebraska Huskers


RT @HuskerHoops: Watch what it was like for the #Huskers when #Nebrasketball appeared on the screen. #GBR http://t.co/HzFrlbjUwp
about 6 hours ago

ericolson64

Eric Olson


"State of Neb is going to take over River Walk. Be nice to those Creighton fans. Don't dump them in the river." - Miles
about 6 hours ago

Huskers

Nebraska Huskers


"I've still got goose bumps. Who's with me?!" -Tim MilesOver here. We do. http://t.co/Xu1IB2CQXa
about 6 hours ago

HuskerExtraBC

HuskerExtraBC


Iowa in a play-in game. Wow.
about 6 hours ago

Herbie_Husker

Herbie Husker


Looks like I'll be dusting off my cowboy boots. Headed to #SATX with @HuskerHoops #DancingTime #GBR
about 6 hours ago

HuskerExtraBC

HuskerExtraBC


Pick your brackets wisely Nebraskans. You could lose friendships over this. #Nebrasketball #Jays
about 6 hours ago

Huskers

Nebraska Huskers


RT @HuskerHoops: Let's Dance. #Huskers in San Antonio against Baylor. http://t.co/DPlIPTKsxs
about 6 hours ago

ericolson64

Eric Olson


No. 11 #Huskers vs. No. 6 Baylor in San Antonio; could play #Creighton with a win
about 7 hours ago

HuskerExtraBC

HuskerExtraBC


Oh *****. The #Nebrasketball-Creighton dream tourney matchup is a real possibility.
about 7 hours ago

CornNation

CornNation


#11 Seed vs Baylor!!!!! #huskers
about 7 hours ago

HuskersGameday

Huskers Gameday


RT @kevinkugler: Nebraska is an 11 seed in San Antonio vs. Baylor. Would play Creighton, the 3 seed in West. Jays play Louisiana Lafayette…
about 7 hours ago

ericolson64

Eric Olson


#Husker fans at PBA boo Creighton when its name comes up.
about 7 hours ago

Sean_Callahan

Sean Callahan


Ohio State, Syracuse, New Mexico and Kansas is one tough grouping
about 7 hours ago

CornNation

CornNation


anticipation is palpable
about 7 hours ago

ericolson64

Eric Olson


Exec assoc AD Marc Boehm estimates about 2,000 are on hand for #Huskers NCAA Selection Show watch party.
about 7 hours ago

Huskers

Nebraska Huskers


RT @CoachMiles: T-minus 5 min and PBA IS ROCKING!!! #GBR http://t.co/r5Zg2KCgG6
about 7 hours ago

HuskerExtraBC

HuskerExtraBC


Playing "One Shining Moment" before the dance starts? Questionable. How'd Gumbel let that go?
about 7 hours ago

ericolson64

Eric Olson


Miles said he got a note from Supreme Court Justice Clarence Thomas after win over Wisconsin. #Huskers
about 7 hours ago

Huskers

Nebraska Huskers


"WE'RE NOT DONE YET! LET'S GO BIG RED" - Tim Miles
about 7 hours ago

ericolson64

Eric Olson


Miles, noting 15-1 home record, says Michigan win at PBA was a fluke. "Next year we're going to let no one get lucky in here." -
about 7 hours ago

Huskers

Nebraska Huskers


"Next year we're going to let nobody get lucky in here." #PBAMagic Tim Miles
about 7 hours ago

HuskerExtraBC

HuskerExtraBC


RT @HuskerExtraBR: Miles said he's proud of his team: "At the beginning of the year, we had a love hate relationship. They loved to make me…
about 7 hours ago

HuskerExtraBC

HuskerExtraBC


TV delayed interviews are the best interviews.
about 7 hours ago

Huskers

Nebraska Huskers


"We're going to find out if this group of young men got us to where we want to be… We're trying to do it for you [the fans]." -Tim Miles
about 7 hours ago

Huskers

Nebraska Huskers


"Are we having fun yet?" - Tim Miles
about 7 hours ago

Huskers

Nebraska Huskers


Can't be at @PinnacleArena? Join the Husker Sports Network online at http://t.co/TBohybVzvI. #GBR
about 7 hours ago

TMAG1C

Taylor Martinez


Wobble Wobble Game-Download Now on the IPhone and Google #Splash https://t.co/QfhaY6D6nS
about 7 hours ago

Huskers

Nebraska Huskers


Good crowd on hand for @HuskerHoops #SelectionSunday watch party at @PinnacleArena. #PBAMagic #Huskers http://t.co/h5YWS2ZjO2
about 7 hours ago

HuskerExtraBC

HuskerExtraBC


You always have a friend in Greg Gumbel.
about 7 hours ago

bigtenconf

Big Ten Conference


RT @B1GMBBall: .@MSU_Basketball beat the #Wolverines 69-55 to win the 2014 #B1GTourney Championship. #ChampWeek
about 7 hours ago

ericolson64

Eric Olson


Nice crowd at Pinnacle Bank Arena for NCAA Selection Show watch party. http://t.co/xSeqNZkqfB
about 7 hours ago

HuskerExtraBC

HuskerExtraBC


RT @HskrPage: @HuskerExtraBC 12 seed as big ten media predicted at the beginning of the year #GBR
about 7 hours ago

HuskerExtraBC

HuskerExtraBC


Call-your-shot Sunday: I'll go 11 seed. No "play-in" game. You say? #Nerbrasketball
about 8 hours ago

Sean_Callahan

Sean Callahan


RT @PinnacleArena: Wow!!!! http://t.co/vQuru497UH
about 8 hours ago

Huskers

Nebraska Huskers


RT @HuskerHoops: #Huskers fans lined up outside @PinnacleArena ready for #SelectionSunday. #GBR #Nebrasketball http://t.co/NSmiyQlcjq
about 8 hours ago

NdamukongSuh

Ndamukong Suh


Thanks to the big homie for looking out on my Shoe game. #GettinRight #Nike @ck1nike http://t.co/qGY98gUPvp
about 9 hours ago

TMAG1C

Taylor Martinez


RT @SportsKoesters: #wobblewobble @TMAG1C my high score http://t.co/UI5Ar1Danl
about 9 hours ago

CornNation

CornNation


NCAA Selection Show: Will Nebraska MBB Make The Big Dance? Join us online! #huskers http://t.co/jzGqOHWQWy
about 9 hours ago

bigtenconf

Big Ten Conference


RT @MichaelSeel: 20 minutes to tip off. @MSUSpartanBBall @bigtenconf http://t.co/14CHfHms3i
about 10 hours ago

TMAG1C

Taylor Martinez


RT @hskrandy: @huskersjkb @TMAG1C Gentle movements...once you start going fast you're done
about 10 hours ago

CornNation

CornNation


Selection Sunday Open Thread http://t.co/E9eJSidcxC
about 10 hours ago

AdamCarriker94

Adam Carriker


Daddy's little girl. #BackOffBoys #SundayFunday http://t.co/N1yPgJNz11
about 10 hours ago

Huskers

Nebraska Huskers


RT @SharpeGreg: Join @KentPavelka, @Matt_Davison and me for live coverage of the selection show from PBA at 4:45. We'll be joined by @Coach…
about 10 hours ago

TMAG1C

Taylor Martinez


RT @ogcoleyoung: #wobblewobble highscore #gbr @TMAG1C http://t.co/iJtSEC2AMi
about 10 hours ago

TMAG1C

Taylor Martinez


RT @Real_VanAcker: @WobbleWobbleApp is actually pretty tough! Great game and addicting. Good one, @TMAG1C! #GBR
about 11 hours ago

TMAG1C

Taylor Martinez


RT @hskrandy: #100club @TMAG1C http://t.co/uAJdcYehGG
about 11 hours ago

ericolson64

Eric Olson


AP: NCAA bid worth extra $150,000 for #Huskers' Miles http://t.co/ar1eeNCZLX
about 11 hours ago

bigtenconf

Big Ten Conference


In 1914, the #B1G commissioned R. Tait McKenzie to create the #B1GMOH100, which is still used to this day: http://t.co/4C6SEPB47r
about 12 hours ago

HuskerExtraBC

HuskerExtraBC


Play-in game or not, who would've guessed a Selection Sunday like this after a 29-point loss that put #Nebrasketball at 11-10. Some story.
about 12 hours ago

bigtenconf

Big Ten Conference


#B1GMBBall Tournament Facts: Today's title game is the first time @umichbball & @MSU_Basketball will face off in the #B1GTourney.
about 12 hours ago

bigtenconf

Big Ten Conference


.@umichbball and @MSU_Basketball battle for the great lakes state & a #B1GTourney title. Who's your pick? http://t.co/gk049wORDh
about 12 hours ago

bigtenconf

Big Ten Conference


ICYMI: @GopherWomensGym & @HuskersWGym clinched a share of the regular season Championship. http://t.co/QsKnaILRuF http://t.co/s3GX1vANoo
about 12 hours ago

bigtenconf

Big Ten Conference


RT @B1GMBBall: It's Championship Sunday. RT if you're ready. #B1GTourney #ChampWeek http://t.co/6oEfcFgB9d
about 13 hours ago

Sean_Callahan

Sean Callahan


RT @HuskerOnline: 10 early spring observations through five practices http://t.co/qrtIRUMiHD
about 13 hours ago

Sean_Callahan

Sean Callahan


RT @kevinsjuts: CBS NCAA Tournament Selection Show is planning a live look-in at @PinnacleArena for the @HuskerHoops watch party. Show begi…
about 13 hours ago

HuskerExtraBC

HuskerExtraBC


Greg McMullen has gone from a bit part to a leading role. As he put it, "the grind is real." http://t.co/IvgOPMgr7Y #Huskers
about 14 hours ago

AdamCarriker94

Adam Carriker


Teaching our 3 little ones how to fly a kite. I love being a dad. #CarrikerFamily #SundayFunday http://t.co/Fywy7EY7aB
about 14 hours ago

Huskers

Nebraska Huskers


We've called it #PBAMagic all season for good reason. One. More. Time. @HuskerHoops Selection Sunday. @CoachMiles http://t.co/lbecMLBYqm
about 15 hours ago

HuskerExtraBC

HuskerExtraBC


Clearly #Nebrasketball would rather avoid a "First Four" game, but the early data shows teams can make a tourney run out of such a position.
1 day ago

HuskerExtraBC

HuskerExtraBC


I think play-in winners are dangerous in that next round because they've already knocked away some NCAA nerves and are riding a high.
1 day ago

HuskerExtraBC

HuskerExtraBC


Adding on to last tweet: VCU went to the Final Four in 2011 and LaSalle made it to the Sweet 16 last year after play-in wins.
1 day ago
BIG TEN SCOREBOARD
Saturday, 12/21
Monday, 12/23
Tuesday, 12/24
Thursday, 12/26
Friday, 12/27
Saturday, 12/28
Monday, 12/30
Tuesday, 12/31
Wednesday, 1/1
Thursday, 1/2
Friday, 1/3
Saturday, 1/4
Sunday, 1/5
Monday, 1/6
BLOG ARCHIVE:
CATEGORIES: