Most important targets: Big Ten
October, 22, 2013
10/22/13
8:00
AM ET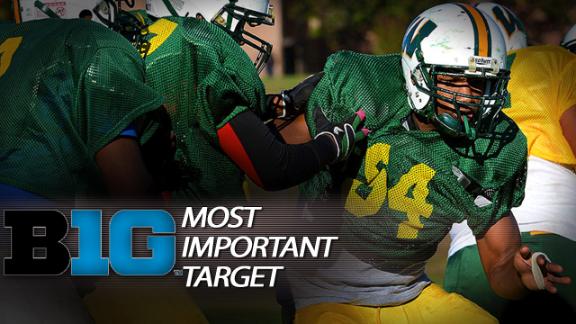 As teams across the country get closer and closer to filling recruiting classes for 2014, every recruit becomes that much more important for each program.
Big Ten teams are still targeting some big names in this class and have the opportunity to fill some major needs. Here is a look at some of the most important prospects within the Big Ten.
To continue reading this article you must be an Insider
Insider
Nebraska Rallies To Top Iowa In OT
Kenny Bell caught a 9-yard touchdown pass in overtime as Nebraska rallied to beat Iowa 37-34.
Nebraska Rallies To Top Iowa In OT
VIDEO PLAYLIST
CORNHUSKERNATION RECRUITING NEWS
NEBRASKA FB RECRUITING SCORECARD
HuskerHoops

Nebraska Basketball


The #Huskers are 8-of-14 from long range, led by #WaltPfor3 hitting 4-of-5. Here are some other halftime stats. #GBR http://t.co/m5nZ1clYVc
about a minute ago

HuskersGameday

Huskers Gameday


Ten reasons in favor of Bo. http://t.co/w5xcbny6KR
4 minutes ago

HuskersGameday

Huskers Gameday


Bo should stay.
38 minutes ago

HuskerExtraBC

Brian Christopherson


Out of fight? Turns out the #Huskers had a few more punches to throw. My game story... http://t.co/7Xian7KM78
38 minutes ago

Huskers

Nebraska Huskers


#WaltPfor3!!! Here we go @HuskerHoops. #GBR #Nebrasketball http://t.co/8mWn7eT4fJ
46 minutes ago

Huskermax

Huskermax.com


HuskerMax Iowa game pagehttp://t.co/48ji18W5NM
54 minutes ago

Huskers

Nebraska Huskers


#DontPuntMore photos from today's #Huskers game: http://t.co/OZkJ9yGTrd http://t.co/ujMshPSdVq
about an hour ago

Huskermax

Huskermax.com


HuskerMax Twitter summaryhttp://t.co/zYo2CaIyLP
about an hour ago

Huskermax

Huskermax.com


Nebraska-Iowa Tweet summary on HuskerMaxhttp://forum.huskermax.com/vbbs/showthread.php?68027-Post-Game-Tweets-Of-Interest-Nebraska-v-Iowa
about an hour ago

CornNation

CornNation


GameThread! #Nebrasketball vs. Tennessee-Martin #Huskers http://t.co/OehLrYaaZI http://t.co/BCTmVViJnM
about an hour ago

Matt_Davison

Matt Davison


Just landed in Lincoln! Off to PBA to announce the second Husker win of the day. #GBR #Huskers
about an hour ago

BTNStatsGuys

BTNStatsGuys


Bo Pelini is just the 6th coach all-time to win at least 9 games in each of his 1st 7 seasons at a Power 5 Conference school. #Huskers #GBR
about an hour ago

Huskers

Nebraska Huskers


Here you go sir. KB's TD catch early in the fourth quarter. #Huskers http://t.co/ZB3XkSFlpR
about an hour ago

Herbie_Husker

Herbie Husker


What a way to win!! Always feels good bringing home a W against Iowa. #GBR #HuskerPower
about 2 hours ago

HuskerExtraBC

Brian Christopherson


Pierson-El on them kicking it to him again: "I was like, 'Seriously, again?'" #Huskers
about 2 hours ago

HuskerExtraBC

Brian Christopherson


"I wasn't letting it happen the second time," Pierson-El said. "I made sure of that." #Huskers
about 2 hours ago

Huskers

Nebraska Huskers


Goodnight Iowa. Finish strong @HuskersWBB!You've got next @HuskerHoops. #GBR #Huskers http://t.co/5AaAMyUzvo
about 2 hours ago

HuskerExtraBC

Brian Christopherson


De'Mornay Pierson-El on the punter getting him down on his first big return. "I beat him the first time. He just got lucky." #Huskers
about 2 hours ago

CornNation

CornNation


Victory Thread of Happiness http://t.co/ANS09HO1kE
about 3 hours ago

NdamukongSuh

Ndamukong Suh


Good seeing my niece kayxki3 and nephew jordanking0829 at today's #Nebraska VS #Iowa game. Love… http://t.co/a2w2ybK1FC
about 3 hours ago

Huskers

Nebraska Huskers


One more time. Because #GBR. "MT: @BigTenNetwork: #Huskers win it with this OT TD catch by Kenny Bell. http://t.co/VuRZJA3Zo2"
about 3 hours ago

RealMikeWelch

Mike Welch


Joined by @AdamCarriker94 talking #Huskers 37-34 OT victory over #Hawkeyes at 4:30 on @937TheTicket.
about 3 hours ago

Sean_Callahan

Sean Callahan


Remember Nebraska didn't even force Iowa to punt until the midway point of the third quarter. One of the crazier turns I've ever seen.
about 3 hours ago

Sean_Callahan

Sean Callahan


The funny thing after the game was even Coach Papuchis said the same thing. At 24-7, he thought it was going to be very tough.
about 3 hours ago

Sean_Callahan

Sean Callahan


Guys I made a tweet with the score 24-7 thinking the game was over at that point. Obviously it wasn't. I was wrong. Hell of a performance.
about 3 hours ago

HuskerExtraBC

Brian Christopherson


Yes, Kenny Bell was surprised he caught a winner on that particular play. "Receivers are cosmetic" on that play call. #Huskers
about 3 hours ago

tyorges

Todd Yorges


@HuskerExtraBC -El of a comeback
about 3 hours ago

Huskers

Nebraska Huskers


These guys. Seniors. #GBRAlways #Huskers http://t.co/TC25yOeMf6
about 3 hours ago

Huskers

Nebraska Huskers


These guys. Seniors. #GBRAlways #Huskers http://t.co/TC25yOeMf6
about 3 hours ago

beauvier5

Beau Viergutz


@HuskerExtraBC saved by the bell
about 3 hours ago

HuskerExtraBC

Brian Christopherson


Pelini said he hasn't had any conversations with Eichorst. "I know what we have going & people can make their deductions any way they want."
about 3 hours ago

CornNation

CornNation


The #Huskers survive Iowa City by defeating the #Hawkeyes 37-34 in Overtime http://t.co/m6IdjvUmEe http://t.co/eajkfwsyro
about 3 hours ago

ESPN_BigTen

ESPN BigTen


Video: Nebraska 37, Iowa 34 (OT) http://t.co/nQ9UoQ9JNN
about 3 hours ago

Huskers

Nebraska Huskers


"He got me one time, I wasn't going to let it happen again."Pierson-El on getting tackled, then beating the Iowa punter.
about 4 hours ago

Huskers

Nebraska Huskers


Today's 17-point comeback tied the largest road comeback in school history, the second-largest overall comeback in program history. #GBR
about 4 hours ago

HuskerFBNation

Nebraska Football


The guys you fight for. #GBR http://t.co/DHOVductiL
about 4 hours ago

Huskers

Nebraska Huskers


Here's the game-winning pitch-and-catch from Tommy to Kenny.http://t.co/X6pxWAWD0I
about 4 hours ago

Huskers

Nebraska Huskers


"That is one of the gutsiest performance I've ever seen."#Huskers Coach Pelini on Tommy Armstrong.
about 4 hours ago

CornNation

CornNation


If I were in Nebraska, I'd totally be wearing Minnesota or Michigan gear alla the time
about 4 hours ago

Huskers

Nebraska Huskers


Kenny. Bell. #GBR #Huskers http://t.co/SfM8Mll393
about 4 hours ago

HuskerExtraBC

Brian Christopherson


Headlines? #Huskers
about 4 hours ago

AdamCarriker94

Adam Carriker


Great comeback win. #Nebraska never gave up & fought hard to the end to get the victory over a good Iowa team. #HuskerStrong #GBR #Huskers
about 4 hours ago

Huskers

Nebraska Huskers


CONFIRMED. WIN. #HUSKERS
about 5 hours ago

Huskers

Nebraska Huskers


The touchdown in being reviewed.
about 5 hours ago

CornNation

CornNation


Touchdown! KENNY BELL and Nebraska WINS!!!!
about 5 hours ago

Huskers

Nebraska Huskers


KENNY. BELL. TOUCHDOWN.#HUSKERS WIN!
about 5 hours ago

AdamCarriker94

Adam Carriker


Great comeback win. #Nebraska never gave up & fought hard to the end to get the victory over a good Iowa team. #HuskerStrong #GBR #Huskers
about 5 hours ago

Huskers

Nebraska Huskers


Kenny Bell hauls in the 3rd and Long pass from Tommy to give the #Huskers a first down at the 9. #GBR
about 5 hours ago

CornNation

CornNation


Iowa takes the lead on OT FG, 34-31. Time for us to win!
about 5 hours ago

Huskers

Nebraska Huskers


#Huskers hold on the goal line and force a FG from Iowa. Hawkeyes lead 34-31.
about 5 hours ago

HuskerFBNation

Nebraska Football


OT. #GBR http://t.co/h4jf8egAUX
about 5 hours ago

ESPN_BigTen

ESPN BigTen


Wow, Scherff had it at the end. OT in Iowa City. #NEBvsIOWA
about 5 hours ago

CornNation

CornNation


It might have been fitting to have Iowa scored there.
about 5 hours ago

Huskers

Nebraska Huskers


Overtime.A Thanksgiving weekend extra helping of football.
about 5 hours ago

Huskers

Nebraska Huskers


8 plays. 69 yards. Tie Game. http://t.co/3fYbIjNrM1
about 5 hours ago

CornNation

CornNation


yay, it's tied. with :08 left. you completely gutless bastards.
about 5 hours ago

Huskers

Nebraska Huskers


Brown ties the game on a 20 yard field goal. 8 seconds left, all knotted at 31.
about 5 hours ago

CornNation

CornNation


What a completely ballless play call.
about 5 hours ago

Huskers

Nebraska Huskers


Ameer rushes for 4 yards, just shy of the first down. 3rd and 1 on the 3 yard line. 20 seconds left to play.
about 5 hours ago

Huskers

Nebraska Huskers


Reilly pulls in a 35 yard pass from Armstrong to the 12 yard line with under a minute left. Iowa calls a timeout.
about 5 hours ago

Huskers

Nebraska Huskers


Armstrong can't connect with Bell on the pass, but a pass interference call gives the #Huskers a first down.
about 5 hours ago

Huskers

Nebraska Huskers


Iowa finds the end zone on a swing pass. #Huskers fall behind 28-31 with 1:49 left to play.
about 5 hours ago

CornNation

CornNation


Dadgum. Iowa scores to go ahead.
about 5 hours ago

Huskers

Nebraska Huskers


Nebraska calls the first timeout of the half. #Huskers still lead 28-24 with 1:54 left to play. #GBR
about 5 hours ago

Huskers

Nebraska Huskers


Iowa gets another first down. 1st and Goal with under 3 minutes left to play.
about 5 hours ago

CornNation

CornNation


We still haven't found the missing linebackers.
about 5 hours ago

Huskers

Nebraska Huskers


Ruling stands as called. Hawkeyes try to convert 4th and 1.
about 5 hours ago

Huskers

Nebraska Huskers


Defense holds Iowa to a 4th and 1. The spot of the ball is being reviewed.
about 5 hours ago

Sean_Callahan

Sean Callahan


Crazy to see two kids from Central Nebraska in Gangwish (Wood River) and Ott (Giltner) impact this game at DE.
about 5 hours ago

ESPN_BigTen

ESPN BigTen


Very difficult in this game to count on either QB to win it with his arm. #NEBvsIOWA
about 5 hours ago

Huskers

Nebraska Huskers


Iowa declines a holding penalty to force a 4th down and punt by Nebraska. Hawkeyes start on their 47. 7 minutes left in the game.
about 5 hours ago

ESPN_BigTen

ESPN BigTen


Nebraska punter achieves butt punt -- or does he? http://t.co/NWa94pXPrR
about 5 hours ago

Sean_Callahan

Sean Callahan


This is a "feed Ameer" drive. Ride the kid home.
about 5 hours ago

CornNation

CornNation


Hey. let's run the ball now. maybe some guy could run it. some good guy.
about 5 hours ago

Sean_Callahan

Sean Callahan


Iowa didn't punt once in the first 2.5 quarters...they've punted five times in about the last 10.
about 5 hours ago

Huskers

Nebraska Huskers


Punt rolls out of bound... will be 1st and 10 #Huskers at the NU 12
about 5 hours ago

CornNation

CornNation


Oh, look it's a punt
about 5 hours ago

Huskers

Nebraska Huskers


Hawkeyes miss on 3rd and 13, DPE back to return the punt
about 5 hours ago

Huskers

Nebraska Huskers


Valentine with the sack! Now 2nd and 20 from the Iowa 26
about 5 hours ago

Huskers

Nebraska Huskers


Hawkeyes pick up the 1st down... 1st and 10 at the 25
about 5 hours ago

Huskers

Nebraska Huskers


Following the completion, 3rd and 2 for the Hawkeyes
about 5 hours ago

Huskers

Nebraska Huskers


HEY, MUST BE DE'MORNAY! #SCTop10 againMT @ESPNCFB: Huskers are feelin' it!Pierson-El returns punt 80 yds for TD. http://t.co/2cMzJ2ST7m
about 5 hours ago

Sean_Callahan

Sean Callahan


The clock has been frozen in this fourth quarter. Still 12 minutes left in this thing.
about 5 hours ago

Huskers

Nebraska Huskers


This time it's Pierson-El! #GBR #Huskers! http://t.co/w3ZNnH47M1
about 5 hours ago

Huskers

Nebraska Huskers


Following the short return, Hawkeyes start 1st and 10 at their own 15
about 5 hours ago

HuskerExtraBC

Brian Christopherson


There's just 12:06 left,which means about three bizarre things are still to happen. #Huskers
about 5 hours ago

Sean_Callahan

Sean Callahan


There better be a spot on the All-Big Ten first-team for De'Mornay Pierson-El, as well as the freshman All-American team.
about 5 hours ago

ESPN_BigTen

ESPN BigTen


Nebraska is now winning. Incredible. #NEBvsIOWA
about 5 hours ago

Huskers

Nebraska Huskers


DPE with his 3rd punt return of the season, an 80 yarder! PAT is good and #Huskers with a 28-24 lead
about 5 hours ago

HuskerExtraBC

Brian Christopherson


Time is running out. Get your bids in on who gets to build the DPE statue. #Huskers
about 5 hours ago

CornNation

CornNation


DPE for a go-ahead touchdown!!!! WHOOOOOOOOO!O!!! Nebraska leads the derpfest!
about 5 hours ago

Huskers

Nebraska Huskers


TO THE HOUSE!
about 5 hours ago

Sean_Callahan

Sean Callahan


Lol Iowa punted to Pierson-El again. #Huskers lead 28-24.
about 5 hours ago

Sean_Callahan

Sean Callahan


This game is so Bo Pelini. Wow!
about 5 hours ago

Huskers

Nebraska Huskers


Gangwish with the pressure and incomplete, DPE back to return the punt
about 5 hours ago

Sean_Callahan

Sean Callahan


Iowa fans now booing
about 5 hours ago

Huskers

Nebraska Huskers


#SCTop10, indeed!MT @ESPNCFB: Huskers are coming back!Kenny Bell leaps for #SCTop10 TD receptionhttp://t.co/VDe2cdCxS3
about 5 hours ago

Huskers

Nebraska Huskers


Scramble by Rudock gives that Hawkeyes a 1st down, 1st and 10 at their 42
about 5 hours ago

MikelSevere

Mike\'l Severe


This is so 2012. #Huskers
about 6 hours ago

Huskers

Nebraska Huskers


It only took one play to put up another 7 points. #GBR http://t.co/WyHnnlcqyc
about 6 hours ago
BIG TEN SCOREBOARD
Friday, 11/28
Saturday, 11/29
BLOG ARCHIVE:
CATEGORIES: