Michigan Wolverines:

Sara Driesenga
May, 24, 2012
5/24/12
9:00
AM ET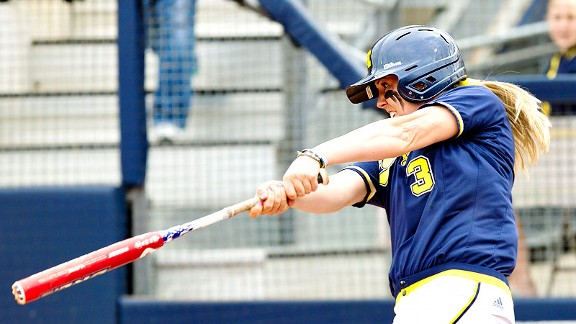 Courtesy University of Michigan AthleticsThe bat of Amanda Chidester needs to get hot if Michigan is to advance to the WCWS.
ANN ARBOR, Mich. -- It was a season where so much of Michigan softball was an unknown.
Over the past two seasons, Michigan graduated the majority of its lineup, most of its power and saw All-American pitcher Jordan Taylor run out of eligibility after last season.
Unlike the previous two Michigan softball teams that slaughtered competition during the regular season only to have postseason failure when facing other top teams, this season's team has had the opposite happen entering Thursday's Super Regional at No. 3 Alabama (53-7).
For the first time since 2001, the Wolverines didn't host a regional. They were in a race for the Big Ten championship, which they won or shared for the fifth straight season, until the last weekend of the year.


In prior seasons they relied on a litter of All-Americans in the lineup and the circle. This season has been nothing like that. While the Wolverines have a lot of talent, they rely more on contributions from every spot in the lineup.
While it was tiring during the season, those experiences helped Michigan now.
"Our defense has moved a lot and you have a freshman battery," senior first baseman Amanda Chidester said. "There's been a lot of different changes. Our leadership roles have shifted and it was a little rough at the beginning.
"The things we were faced with at the beginning and even in the middle of the season have helped us grow and helped us work together better. We've been through everything. We've been through losses, been through wins, come back. In the past years, we had never been through everything because we just dominated everyone ."
This is Michigan-relative, of course, since the Wolverines are still 42-15. Consider, though, the Wolverines lost more than 10 games just once in the previous four seasons -- coincidentally the last time Michigan reached the Women's College World Series. Before this season Michigan hadn't lost 15 games in a year since 2006.
Michigan also lost two straight series in the Big Ten -- at Minnesota and at home to Illinois -- compared to the past eight seasons where the Wolverines lost four games or less in the Big Ten all year.
This season's team, though, has embraced the message coach Carol Hutchins has preached throughout her 28 seasons at Michigan: "Everyone do her part." To win, this season's team has actually needed to do that.
"In previous years, we probably depended more on our All-American pitchers and big hitters and now it is spread out through the whole team and that is making us better,' senior center fielder Bree Evans said. "We're not dependent on just one person. Like everyone in the lineup can get a hit at that one moment."
One other thing has given Michigan confidence during this season of transition: An unlikely star freshman pitcher.
After splitting games with fellow freshman Sara Driesenga early in the season, the Wolverines have turned to Haylie Wagner for most of their big games down the stretch. She won all three games in last weekend's Louisville regional and has won her last 10 decisions. Against Louisville in the regional final Sunday, Wagner set Michigan's freshman record for wins, breaking the record of the pitcher she replaced, Jordan Taylor.
"We just, more than anything, try to take the pressure off her," Hutchins said. "We are encouraging her to just do her part and that she can't do all of it."
May, 16, 2012
5/16/12
1:45
PM ET
Michigan won its fifth consecutive Big Ten title last weekend.

On Wednesday, it swept the league's awards as well.

Senior first baseman Amanda Chidester was named the Big Ten Player of the Year for the second straight season after hitting .433 in Big Ten play. It is the third straight season a Michigan player has won the award.

Pitcher Haylie Wagner was named the Big Ten Pitcher of the Year and Freshman of the Year, the first player to win both awards in the same season since 1992.

Michigan coach Carol Hutchins was named the Big Ten Coach of the Year for the 13th time.

Wagner and Chidester were also on the all-Big Ten first team along with freshman utility player Sara Driesenga.
April, 15, 2012
4/15/12
6:31
PM ET
ANN ARBOR, Mich. -- Entering this season, Michigan coach Carol Hutchins had good reason to be concerned with her pitching. All-American Jordan Taylor graduated. In her place, more than likely, were going to be two pitchers, Sara Driesenga and Haylie Wagner, who had never thrown a college pitch.

So far this season, if there has been one consistent thing for Michigan it has been this -- even if they give up some runs, their pitching has not been a problem.

Michigan shut a team out in back-to-back games for the first time since the Wolverines had four straight shutouts in the FAU Kickoff Classic on February 17-19 this weekend, beating Michigan State 2-0 in the first game of a doubleheader Sunday, and 5-0 in the second game.

It was the third straight shutout for Michigan, which beat the Spartans (11-30, 0-12 Big Ten) 8-0 on Saturday.


Michigan C Cites Concussions In Decision To Quit
BIG TEN SCOREBOARD
Thursday, 9/3
Friday, 9/4
Saturday, 9/5
Sunday, 9/6
Monday, 9/7