Michigan Wolverines:

Nick Saban
January, 8, 2014
Jan 8
11:42
PM ET
Michigan's offense has hopscotched under Brady Hoke, never establishing an identity despite repeated claims about a clear philosophy. We always hear about who the Wolverines want to be, but because of personnel, youth or fickle schematic decisions, we rarely see who they are.
Perhaps the best thing about Michigan's offensive coordinator transition was the lack of indecision. Hours after Michigan announced Al Borges had been fired, reports surfaced that Alabama offensive coordinator
Doug Nussmeier would be his replacement
. Hoke knew who he wanted, targeted him and got the deal done (the team has yet to officially confirm Nussmeier's hiring).
It's up to Nussmeier to refine Michigan's offense for the 2014 season. Otherwise, both he and Hoke could be looking for jobs in December. It's that simple.
[+] Enlarge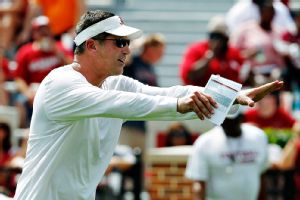 AP Photo/Butch DillHiring former Alabama offensive coordinator Doug Nussmeier is a step in the right direction for a Michigan offense that has sputtered lately and struggled to find an identity.
Nussmeier is a proven coach with an impressive track record, most recently at Alabama, which defended its national title in his first year as coordinator and put up solid offensive numbers this past season as well (38.2 points per game, 454.1 yards per game). Regardless of whether Alabama coach Nick Saban let Nussmeier walk to pave the way for Lane Kiffin, Michigan seems to be getting a high-quality coach. CBSsports.com's Bruce Feldman reports that Nussmeier, who earned $680,000 in 2013, will become
one of the five highest-paid coordinators in college football
. That's fine, too, as Michigan makes more than any Big Ten team and has yet to translate all that dough to championships on the field.
Hoke's rhetoric about Big Ten-title-or-bust and Team OneThirtySomething rings hollow until his teams start showing they can live up to Michigan's storied past. Rivals Ohio State and Michigan State have bypassed Michigan, and 2014 is pivotal for Hoke and the Wolverines, who enter the same division as the Buckeyes. They need to go for it now, and the Nussmeier hire is a good sign that they are.
Nussmeier must take a group of players, some recruited by Rich Rodriguez's staff and some by Hoke's staff, and mold them into a unit that's easy to identify. Quarterbacks such as Alabama's
AJ McCarron
, Washington's
Keith Price
and Michigan State's Drew Stanton and Jeff Smoker have improved under his tutelage. He must facilitate similar upgrades with Michigan's
Devin Gardner
and/or
Shane Morris
.
A record-setting signal-caller at Idaho who played in both the NFL and CFL, Nussmeier knows quarterbacks, but his first priority at Michigan will be resurrecting a run game that went dormant the past two seasons. Michigan's young offensive line needs to grow up in a hurry, especially after losing left tackle
Taylor Lewan
, a first-round draft pick in April, as well as right tackle
Michael Schofield
, a three-year starter. Nussmeier isn't exactly inheriting the Alabama offensive line in Ann Arbor. Or Alabama's running backs, for that matter. There's some young talent at Michigan, but it needs to be coached up.
As much criticism as Borges received, some of it deserved, coordinators can't do much when their offenses are incapable of generating moderate rushing gains between the tackles. Michigan set historic lows on offense this year, becoming the first FBS team in the past 10 seasons to record net rush totals of minus-20 or worse in consecutive games (losses to Michigan State and Nebraska).
Nussmeier has worked in different conferences as well as in the NFL (St. Louis Rams), but his stint in the Big Ten at Michigan State should help him in his new gig. His basic philosophy as a pro-style coach doesn't differ dramatically from Borges -- or what Hoke wants -- and shouldn't turn off Michigan's 2014 recruits.
But his ability to evaluate the strengths of Michigan's players and tailor his scheme around them will determine his success or failure. When Borges built a game plan around what Gardner does best, as we saw against both Notre Dame and Ohio State, the results proved positive. But we saw too much tweaking, too many versions of the Michigan offense, too many attempts to show who is the smartest coach in the building.
Nussmeier is a future head coach and entered the mix for recent vacancies at both Washington and Southern Miss. It might be hard for Michigan to keep him, but the future beyond the 2014 season isn't really important.
Michigan acted quickly and decisively Wednesday night. Nussmeier must do the same in refining the identity of an offense that will determine a lot about where Michigan is headed under Hoke.
December, 13, 2013
12/13/13
4:00
PM ET
Sadly, there's no Big Ten football this weekend for the first time since August. I'll be counting the minutes until bowl season.
Don't forget to follow us
on Twitter
.
To the inbox ...
Matthew from Minneapolis writes:
Hey Adam, I can't help but feeling you've been dodging my question about "national brand teams" in Michigan/Penn State. What qualitative or quantitative data do you have to substantiate these claims? You recently wrote "...what they're used to seeing, and that's Michigan/Penn State [being good]..." really? When was the last time either of these teams were even remotely decent?
Adam Rittenberg:
Matthew, I'm not sure how old you are. If you're under 30, the Michigan and PSU brands might not resonate for you as much as Wisconsin's, MSU's and Iowa's. But it's different for those who remember Michigan's national title in 1997 and five Big Ten championships between 1997-2004, not to mention the program's long-term history. The same holds true for those who remember Penn State's national titles in the 1980s or the great teams in 1994, 2005 and 2008.
You want data that validates Michigan and Penn State as big brands? Look at the money they bring in. They're always included in
Forbes' list of most valuable college football teams
. They have huge stadiums, massive alumni/fan bases and plenty of NFL alumni. I'm not arguing that Michigan and, to a lesser extent because of the circumstances, Penn State are underachieving. I'm actually underscoring that in Michigan's case. But they're still national brands because of what they've done over time.
---

Ron from Minneapolis writes:
Hi, Adam. I think the Gophers got the shaft this year for their bowl game. Gophers fans don't travel well because they end up in bad bowl games. I would bet anything that had they been selected to the Gator Bowl, the fan base would be very good. What I worry about is, even if they would go 9-3 or 10-2 next year, they will still get passed over to a good bowl because of fan travel? It's hard to recruit and become a contender when people don't even watch a lower bowl game like this. As fans, how do we get the word out to the bowl committees so this doesn't keep happening?
Adam Rittenberg:
Ron, the good news for you and your fellow Gophers fans is that the Big Ten, beginning in 2014, will
take over the bowl selection process
rather than put it solely in the hands of bowl officials. Bowls and teams will be assigned to tiers, and the league will work to avoid repeat destinations or repeat opponents for teams. "We're going to really want to have different teams in different bowls," Big Ten commissioner Jim Delany said in announcing the new bowl lineup in June. "... You'll see a real focus on getting diversity and freshness."
All that said, it's important for Minnesota fans to show up at this year's Texas Bowl, support a good team and begin to change the perception about how well they travel. Quite frankly, you're overestimating the gap between the TaxSlayer.com Gator Bowl and the Texas Bowl. The Gator Bowl has some more tradition, but I'd argue the Texas Bowl is in better location with a better time slot, away from the New Year's Day gridlock. Bowl committees don't care about head-to-head results or fans whining about being passed over. You probably won't have this problem in the future, but you still should go and support your team if possible.
---

Todd from Peoria, Ill., writes:
How did Ohio State end up playing Clemson and Alabama playing Oklahoma? Given how close both came to the title game, wouldn't that be a better match-up than either got this year? It would prove how the (true) best SEC team this year compares to the best available B1G team and whether OSU had any business thinking of playing for the crystal football. Also, what do you think of the apparent decision by Tim Beckman to keep DC Tim Banks despite two years of dismal defense by my beloved Illini?
Adam Rittenberg:
Todd, it has more to do with the current relationships between BCS bowls and certain leagues. The ACC's tie to the Discover Orange Bowl led the bowl to replace Florida State with Clemson. The same held true with the SEC and the Allstate Sugar Bowl, which replaced Auburn with Alabama. Ohio State-Alabama would have been great, though I was hoping the Sugar would pick Oregon to face Bama, a matchup we've wanted for years. But because of the game's upcoming Big 12 tie-in (Champions Bowl), it went with Oklahoma, and Alabama-Oklahoma looks like a mismatch.
As for Illinois, I'm a little surprised Beckman will
keep his entire defensive staff intact
. He's entering a make-or-break season, and he wants to sink or swim with the coaches he hired. He probably doesn't want another year of significant staff turnover. But the defense must get a lot better.
---

Tony from Austin, Texas, writes:
Hey Adam, what are the chances of
Taylor Martinez
playing in the NFL? Is it likely he has a future as an NFL quarterback or is he best changing positions (see Denard Robinson)?
Adam Rittenberg:
Tony, Nebraska coach Bo Pelini told me before the season that he thinks Martinez can play quarterback in the NFL. Pelini knows the NFL, but I'd be surprised if Martinez is taking snaps in the pros next year. His mechanics are improved from his sophomore year but remain far from textbook, which is the standard in the NFL. I don't see enough arm strength, either. Martinez certainly has skills that translate to the next level, namely his speed, so I see him moving to another position.
---

Todd from Louisville writes:
Adam, your comments in two different posts appear to be almost directly opposed to me. Should Iowa fans demand and expect more than an 8-4 record or be realistic/objective about being ambitious and excited for the future? Do you intend to appear combative with these fans no matter what position they espouse?
Adam Rittenberg:
Todd, I think my Iowa comment was misinterpreted, and that's my fault. Iowa fans obviously should be excited about their team's four-win improvement this season. My comment was that in general, an 8-4 record seems to please more fan bases in the Big Ten then it would in the SEC. I don't think enough Big Ten fan bases demand excellence from their programs. That's not a shot at Iowa fans, who were understandably disappointed in 2012. But now the bar must be raised for 2014. Iowa has a real chance to win the West division, and anything less should be considered a disappointment. Kirk Ferentz makes big money and should be held to a higher standard than 8-4. That's more than fair.
There are many reasons why the Big Ten has slipped a bit nationally in football. But I wonder if enough teams in this league take a championship-or-bust approach to seasons, and whether that's contributing to the mediocrity.
---

Sam from Detroit writes:
Adam, if things go how they usually go with Nick Saban and he decides to leave for Texas, do you think Mark Dantonio would be a candidate for the Alabama job? He has to be one of the more desirable coaches out there right now, and Alabama is obviously one of the better jobs. I seem to remember Dantonio being in the middle of the pack as far as compensation for B1G coaches and while I'm sure he'll get a bump this year, it won't be an SEC-esque bump. Do you think he'd leave for a job like Alabama?
Adam Rittenberg:
I don't think so, but Michigan State needs to step up and provide Dantonio and his assistants substantial raises. Dantonio knows he's in a great situation at MSU. He has a great boss in Mark Hollis, and his family is happy there. His only tie to the SEC is the fact he played at South Carolina. Dantonio definitely has some leverage if other schools begin courting him, but I'd be a bit surprised if he leaves. He's not a guy completely driven by money, and he knows he can compete for the College Football Playoff at MSU.
November, 6, 2013
11/06/13
4:00
PM ET
USA Today has come out with its
annual database of college coaching salaries
. Not surprisingly, Alabama's Nick Saban tops the chart with a salary of $5,545,852 for 2012.
[+] Enlarge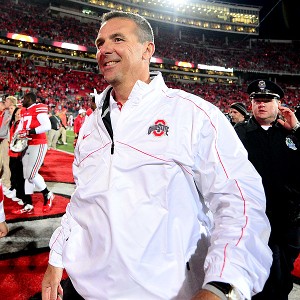 Andrew Weber/US PresswireOhio State's Urban Meyer is the highest-paid coach in the Big Ten.
Those questioning Bret Bielema's move from Wisconsin to Arkansas might change their opinion after seeing Bielema's 2013 salary with the Hogs ($5,158,863), which ranks third behind Saban and Texas' Mack Brown. Then again, Bielema's compensation also i
ncludes a $1.9 million buyout that had to be paid to Wisconsin
.
Where do the Big Ten coaches stack up?
Ohio State's Urban Meyer is first in the Big Ten and sixth nationally with a salary of $4,608,000, two spots ahead of Michigan's Brady Hoke ($4,154,000). Meyer and Hoke both are eligible for $550,000 bonuses in 2013.
Iowa's Kirk Ferentz follows Hoke and ranks ninth nationally in salary ($3,985,000). Ferentz also has an insane maximum bonus of $1,750,000. The conversation about his value for a program hovering around .500 isn't going to go away.
Penn State's Bill O'Brien ($3,282,779) and Nebraska's Bo Pelini ($2,975,000) also appear among the top 20 coaches in 2013 salary. The SEC has three of the nation's four highest-paid assistants, four of the top seven and eight of the top 20. The Big Ten and Big 12 are tied for the second-most in the top 20 with five each.
But there's a sizable dropoff after Pelini as Northwestern's Pat Fitzgerald comes in next at 41st nationally ($2,221,153). Michigan State's Mark Dantonio undoubtedly is the best value in the league at $1,959,744, behind first-year coaches Darrell Hazell of Purdue ($2,160,833) and Gary Andersen of Wisconsin ($2,120,823).
Purdue had been criticized for underpaying for coaches, but Hazell's deal, which includes a maximum bonus of $1,095,000, is certainly competitive nationally.
Illinois coach Tim Beckman comes in 60th nationally in salary ($1,700,000), while Indiana's Kevin Wilson ($1,291,220) and Minnesota's Jerry Kill ($1,200,000) round out the list. Both Wilson and Kill earn less than coaches from Colorado State, Navy, South Florida and Central Florida. That seems a bit troubling for teams in a loaded league like the Big Ten.
Although the Big Ten is somewhat competitive with the SEC at the top in paying coaches, the
overall numbers aren't close
.
Maryland coach Randy Edsall, whose team joins the Big Ten in 2014, ranks right behind Andersen in salary at 48th overall ($2,025,440). Rutgers coach Kyle Flood is earning just $860,000, trailing the coaches from Air Force, Memphis, Wyoming and others. Fairly or unfairly, that won't help the perception that Rutgers doesn't belong in a league like the Big Ten.
What are your thoughts on the coaching salaries around the Big Ten and nationally?
September, 27, 2013
9/27/13
12:00
PM ET
Enjoy the fact that your royal overlords are a frail old woman and a tiny baby.
August, 26, 2013
8/26/13
5:30
AM ET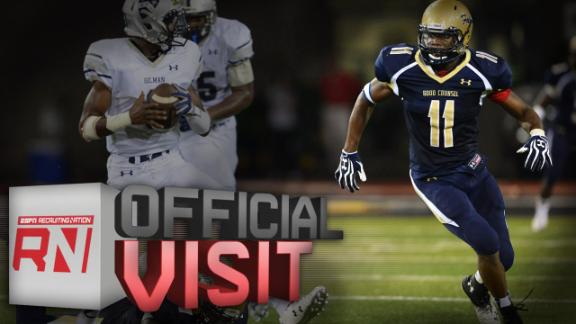 The Early Offer is RecruitingNation's latest feature, giving you a daily dose of recruiting in the mornings. Today's offerings: Success recruiting receivers might be the most overlooked reason for Alabama's recent run; what one Big Ten recruiter said about Michigan's 2015 class; and how Maryland landing
Jesse Aniebonam
was huge for in-state recruiting efforts.
To continue reading this article you must be an Insider
June, 19, 2013
6/19/13
9:00
AM ET
ANN ARBOR, Mich. -- It's never a surprise to see Alabama football near the top of any ratings. Nick Saban has a proven track record on the field. That has translated to the recruiting trail as he has pulled in top classes year in and year out, finishing in the top three in recruiting in each of the past five years. He's had the top class for the past two seasons.
To continue reading this article you must be an Insider
June, 13, 2013
6/13/13
10:00
AM ET
By
Chantel Jennings & Tom VanHaaren
| ESPN.com
ANN ARBOR, Mich. -- Quick Hits is a look at the must-know facts for each region in regards to Michigan and its football recruiting efforts. It will give you an idea of the Wolverines' history in that region, as well as what one can expect from that region over the next few seasons.
SOUTHEAST
To continue reading this article you must be an Insider
March, 6, 2013
3/06/13
9:00
AM ET
ANN ARBOR, Mich. -- Welcome to March and with it, one of the greatest tournaments and spectacles in sport, the NCAA men's basketball tournament.
While there aren't questions -- yet -- in this week's mailbag about Michigan's NCAA future, we discuss basketball and a little bit of college football recruiting in this week's edition.
Have questions for next week's Mailbag? Send them to
jenningsespn@espn.com
or @chanteljennings on Twitter.
On to your questions.
To continue reading this article you must be an Insider
August, 30, 2012
8/30/12
8:52
AM ET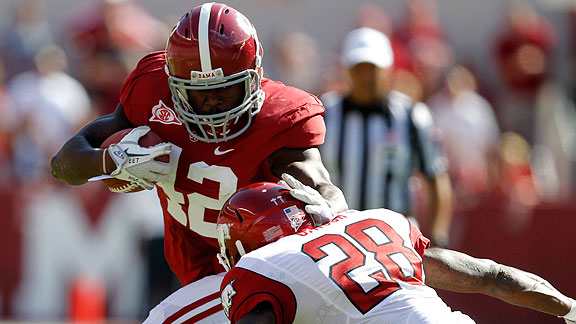 AP Photo/Butch DillStopping Eddie Lacy and the Tide's potent run game will be a major priority on Saturday night.
ANN ARBOR, Mich. -- Michigan finally plays a football game on Saturday, opening the season in a long-awaited matchup against defending national champion Alabama.
Our staff focused on the Michigan-Alabama game this week, taking on three questions -- including who wins -- in the WolverineNation roundtable.
1. Michigan, despite how its feels publicly, is a clear underdog to Alabama. What is the biggest key for the Wolverines to have a chance at winning?
To continue reading this article you must be an Insider
August, 29, 2012
8/29/12
12:33
PM ET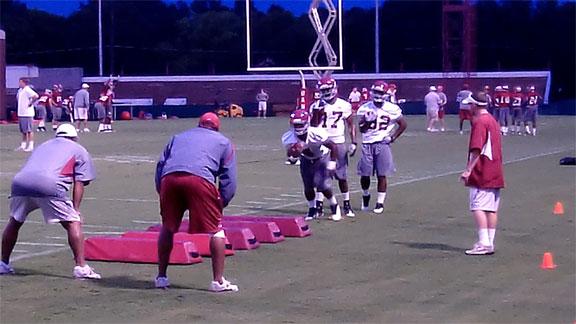 University of Alabama coach Nick Saban took to the SEC teleconference on Wednesday morning and spoke about his team heading into Saturday's showdown against No. 8 Michigan. Here's some of what the sixth-year coach had to say:
Opening statement: "First games are always really exciting for everyone. Everybody is certainly tired of practicing against each other. We're really looking forward to the opportunity we have to play a really good, well-coached Michigan team. They have a fantastic player playing quarterback and it will be very challenging for us to contain him. ... In first games you like to see where you are. … It's always exciting for us to have a challenging game in the home opener. That really excited the players throughout the year and not just this week."
On Michigan coach Brady Hoke: "Their staff does a great job, he's obviously done a great job. He was a great coach when he was an assistant at Michigan, which is when I knew him. He did a really good job at San Diego State. Their team is fundamentally sound in everything they do. They have a really good scheme defensively in terms of the things they do. Offensively, they have a really good scheme that features the players they have. They do a great job on special teams. They do an outstanding job and that's got to be, to some degree, a reflection of his leadership."
On focusing on the process, not the result: "We're process-oriented in what we do. We're trying to make this team as good as we can make this team. When you lose 25 percent of your team every year in college football so you have a whole different team, a whole different mindset, a whole different chemistry, character, strengths, weaknesses, things that you have to do to work hard to try to get young players to have the maturity they need to have to play winning football."
Finding leaders on defense: "The important thing for leadership is how they do it in a game. Coaches can always affect practice, in my opinion, the tempo of practice, the energy, the enthusiasm. Leadership can help that. We have had a few guys on defense step up and show some leadership. Them continuing to do that in game-like situations is going to be critical."
Different identity on defense: "The biggest thing about this defense … is when you have a lot of new starters is the experience they have we had last year that we don't have this year. How these guys mature, how they focus -- when you lack college experience sometimes you make more mental errors. What's the consequence of that going to be? To me, that's the biggest thing I worry about when you have a lot of inexperienced players, you don't have a lot of starters coming back. It doesn't mean they're not capable, it just takes a little time for them to develop. Sometimes make the mistakes in practice and you correct them, but they always seems to have a greater impact when they make them in the game. Hopefully we'll be able to minimize that and play well as a unit."
August, 27, 2012
8/27/12
1:40
PM ET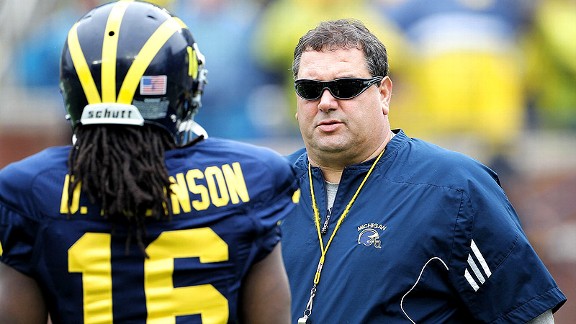 Leon Halip/Getty ImagesBrady Hoke and the Wolverine have a big challenge Saturday night against Alabama.
Jim Delany has never suppressed his desire for Big Ten members to test themselves outside the conference.
It's why the commissioner puts together unquestionably the nation's toughest bowl lineup each year. It's why he spearheaded the short-lived scheduling alliance with the Pac-12.
Even as the Big Ten's losses in nationally significant games pile up and its last national title in football gets smaller in the rear-view mirror, Delany wants teams to measure themselves against the best.
Michigan has gotten the message, loud and clear.
The Wolverines open the season Saturday night against defending national champion Alabama in Arlington, Texas. Alabama has hoisted the crystal football in two of the past three seasons. The Tide boast a 55-12 record under coach Nick Saban and haven't dropped a nonconference game since the 2007 season, Saban's first in Tuscaloosa.
The big blue banner isn't the only one Michigan will carry onto the field Saturday night. The Wolverines are playing for their beleaguered conference, too.
"Saban is probably the coach of the decade, and Alabama's probably the team of the decade with two national championships in the last three years," Delany told ESPN.com on Monday morning. "Michigan's trying to re-establish a program and a team, and Saban has done a fabulous job of returning Alabama to its programmatic height. So for us, it's a big game. I don't think you can minimize it. It's an important game, a big game, a big stage, and those are the kinds of games we want to play."
August, 16, 2012
8/16/12
8:48
AM ET
By
WolverineNation Staff
| ESPN.com
Every Thursday, Tom, Mike and Chantel will discuss three issues in and around Michigan sports. This week, they consider Alabama's defense, Michigan football media day and whether the 2014 recruiting class can rival the 2013 class.
1. The Alabama defense has suffered a few significant losses this past week. Does it really make any difference for the Wolverines? Or does the Crimson Tide have enough depth that Michigan still won't get the ball deep?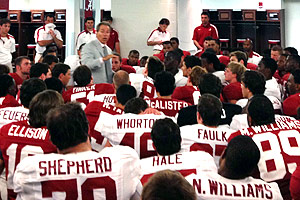 Alex Scarborough/ESPN.comThe names on the jerseys aren't as familiar on the defensive side, where the Tide will have a bevy of new starters.
Tom Van Haaren
: Alabama's defense is always going to be good as long as Nick Saban is there. However, they are losing the guys you mentioned and they're starting nine new players on defense. It's the first game of the season for the new starters, so it definitely doesn't hurt Michigan. I don't know how much it will help, but it definitely doesn't hurt.
I don't think this is a game changer, or changes the landscape of this game, but it's an interesting development on that side for the Tide. I'm curious to see how the new guys step in for Alabama and try to stop Michigan and
Denard Robinson
.
To continue reading this article you must be an Insider
April, 24, 2012
4/24/12
10:33
AM ET
TUSCALOOSA, Ala. -- Even as the Crimson Tide practiced in shells and shorts this April, coach Nick Saban had opening day on his mind.
[+] Enlarge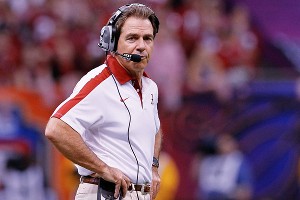 Kevin C. Cox/Getty ImagesNick Saban is already preparing for Michigan.
While the rest of the country waited on a groundhog to usher in the start of spring, the University of Alabama coaching staff prepared for a pack of wolverines.
The colossal Alabama-Michigan matchup at Jerry Jones' equally enormous Cowboys Stadium won't be left wanting for anticipation or, as it turns out, preparation. Tickets for the 80,000-seat venue are nearly sold out (a handful of $30,000 suites remain if you're into that sort of thing), hotels are slammed and travel routes are already being arranged as two of the country's most storied programs go head-to-head for the first time in more than a decade.
Saban, who has ties to the Great Lakes where he spent 10 years as both an assistant and head coach at Michigan State, isn't doing anything to stall the hype machine. Several times during spring practice he said he'd begin introducing next year's opponents, specifically citing the Michigan game.
In fact, following Alabama's A-Day scrimmage, the fiery coach let it be known just how serious he's taking the season opener. If anyone expected a glimpse of the game plan that day, they were wrong.
Top Returning Players: Big Ten East
BIG TEN SCOREBOARD
Saturday, 12/21
Monday, 12/23
Tuesday, 12/24
Thursday, 12/26
Friday, 12/27
Saturday, 12/28
Monday, 12/30
Tuesday, 12/31
Wednesday, 1/1
Thursday, 1/2
Friday, 1/3
Saturday, 1/4
Sunday, 1/5
Monday, 1/6