Michigan Wolverines:

Nick Saban
November, 6, 2013
Nov 6
4:00
PM ET
USA Today has come out with its
annual database of college coaching salaries
. Not surprisingly, Alabama's Nick Saban tops the chart with a salary of $5,545,852 for 2012.
[+] Enlarge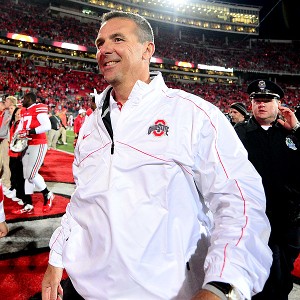 Andrew Weber/US PresswireOhio State's Urban Meyer is the highest-paid coach in the Big Ten.
Those questioning Bret Bielema's move from Wisconsin to Arkansas might change their opinion after seeing Bielema's 2013 salary with the Hogs ($5,158,863), which ranks third behind Saban and Texas' Mack Brown. Then again, Bielema's compensation also i
ncludes a $1.9 million buyout that had to be paid to Wisconsin
.
Where do the Big Ten coaches stack up?
Ohio State's Urban Meyer is first in the Big Ten and sixth nationally with a salary of $4,608,000, two spots ahead of Michigan's Brady Hoke ($4,154,000). Meyer and Hoke both are eligible for $550,000 bonuses in 2013.
Iowa's Kirk Ferentz follows Hoke and ranks ninth nationally in salary ($3,985,000). Ferentz also has an insane maximum bonus of $1,750,000. The conversation about his value for a program hovering around .500 isn't going to go away.
Penn State's Bill O'Brien ($3,282,779) and Nebraska's Bo Pelini ($2,975,000) also appear among the top 20 coaches in 2013 salary. The SEC has three of the nation's four highest-paid assistants, four of the top seven and eight of the top 20. The Big Ten and Big 12 are tied for the second-most in the top 20 with five each.
But there's a sizable dropoff after Pelini as Northwestern's Pat Fitzgerald comes in next at 41st nationally ($2,221,153). Michigan State's Mark Dantonio undoubtedly is the best value in the league at $1,959,744, behind first-year coaches Darrell Hazell of Purdue ($2,160,833) and Gary Andersen of Wisconsin ($2,120,823).
Purdue had been criticized for underpaying for coaches, but Hazell's deal, which includes a maximum bonus of $1,095,000, is certainly competitive nationally.
Illinois coach Tim Beckman comes in 60th nationally in salary ($1,700,000), while Indiana's Kevin Wilson ($1,291,220) and Minnesota's Jerry Kill ($1,200,000) round out the list. Both Wilson and Kill earn less than coaches from Colorado State, Navy, South Florida and Central Florida. That seems a bit troubling for teams in a loaded league like the Big Ten.
Although the Big Ten is somewhat competitive with the SEC at the top in paying coaches, the
overall numbers aren't close
.
Maryland coach Randy Edsall, whose team joins the Big Ten in 2014, ranks right behind Andersen in salary at 48th overall ($2,025,440). Rutgers coach Kyle Flood is earning just $860,000, trailing the coaches from Air Force, Memphis, Wyoming and others. Fairly or unfairly, that won't help the perception that Rutgers doesn't belong in a league like the Big Ten.
What are your thoughts on the coaching salaries around the Big Ten and nationally?
September, 27, 2013
Sep 27
12:00
PM ET
Enjoy the fact that your royal overlords are a frail old woman and a tiny baby.
August, 26, 2013
Aug 26
5:30
AM ET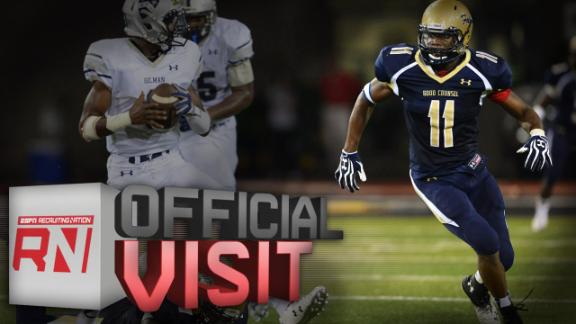 The Early Offer is RecruitingNation's latest feature, giving you a daily dose of recruiting in the mornings. Today's offerings: Success recruiting receivers might be the most overlooked reason for Alabama's recent run; what one Big Ten recruiter said about Michigan's 2015 class; and how Maryland landing
Jesse Aniebonam
was huge for in-state recruiting efforts.
To continue reading this article you must be an Insider
June, 19, 2013
Jun 19
9:00
AM ET
ANN ARBOR, Mich. -- It's never a surprise to see Alabama football near the top of any ratings. Nick Saban has a proven track record on the field. That has translated to the recruiting trail as he has pulled in top classes year in and year out, finishing in the top three in recruiting in each of the past five years. He's had the top class for the past two seasons.
To continue reading this article you must be an Insider
June, 13, 2013
Jun 13
10:00
AM ET
By
Chantel Jennings & Tom VanHaaren
| ESPN.com
ANN ARBOR, Mich. -- Quick Hits is a look at the must-know facts for each region in regards to Michigan and its football recruiting efforts. It will give you an idea of the Wolverines' history in that region, as well as what one can expect from that region over the next few seasons.
SOUTHEAST
To continue reading this article you must be an Insider
March, 6, 2013
Mar 6
9:00
AM ET
ANN ARBOR, Mich. -- Welcome to March and with it, one of the greatest tournaments and spectacles in sport, the NCAA men's basketball tournament.
While there aren't questions -- yet -- in this week's mailbag about Michigan's NCAA future, we discuss basketball and a little bit of college football recruiting in this week's edition.
Have questions for next week's Mailbag? Send them to
jenningsespn@espn.com
or @chanteljennings on Twitter.
On to your questions.
To continue reading this article you must be an Insider
August, 30, 2012
8/30/12
8:52
AM ET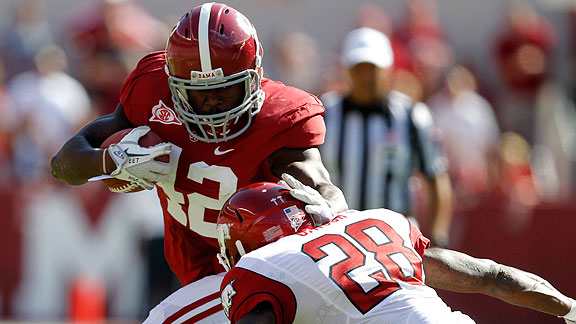 AP Photo/Butch DillStopping Eddie Lacy and the Tide's potent run game will be a major priority on Saturday night.
ANN ARBOR, Mich. -- Michigan finally plays a football game on Saturday, opening the season in a long-awaited matchup against defending national champion Alabama.
Our staff focused on the Michigan-Alabama game this week, taking on three questions -- including who wins -- in the WolverineNation roundtable.
1. Michigan, despite how its feels publicly, is a clear underdog to Alabama. What is the biggest key for the Wolverines to have a chance at winning?
To continue reading this article you must be an Insider
August, 29, 2012
8/29/12
12:33
PM ET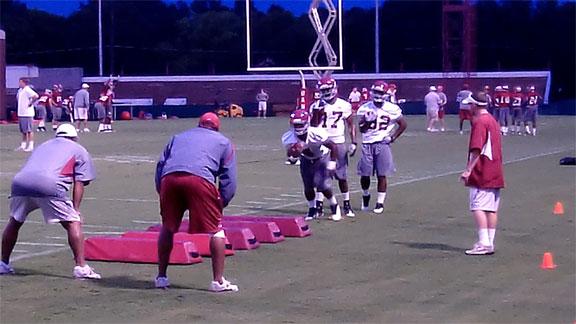 University of Alabama coach Nick Saban took to the SEC teleconference on Wednesday morning and spoke about his team heading into Saturday's showdown against No. 8 Michigan. Here's some of what the sixth-year coach had to say:
Opening statement: "First games are always really exciting for everyone. Everybody is certainly tired of practicing against each other. We're really looking forward to the opportunity we have to play a really good, well-coached Michigan team. They have a fantastic player playing quarterback and it will be very challenging for us to contain him. ... In first games you like to see where you are. … It's always exciting for us to have a challenging game in the home opener. That really excited the players throughout the year and not just this week."
On Michigan coach Brady Hoke: "Their staff does a great job, he's obviously done a great job. He was a great coach when he was an assistant at Michigan, which is when I knew him. He did a really good job at San Diego State. Their team is fundamentally sound in everything they do. They have a really good scheme defensively in terms of the things they do. Offensively, they have a really good scheme that features the players they have. They do a great job on special teams. They do an outstanding job and that's got to be, to some degree, a reflection of his leadership."
On focusing on the process, not the result: "We're process-oriented in what we do. We're trying to make this team as good as we can make this team. When you lose 25 percent of your team every year in college football so you have a whole different team, a whole different mindset, a whole different chemistry, character, strengths, weaknesses, things that you have to do to work hard to try to get young players to have the maturity they need to have to play winning football."
Finding leaders on defense: "The important thing for leadership is how they do it in a game. Coaches can always affect practice, in my opinion, the tempo of practice, the energy, the enthusiasm. Leadership can help that. We have had a few guys on defense step up and show some leadership. Them continuing to do that in game-like situations is going to be critical."
Different identity on defense: "The biggest thing about this defense … is when you have a lot of new starters is the experience they have we had last year that we don't have this year. How these guys mature, how they focus -- when you lack college experience sometimes you make more mental errors. What's the consequence of that going to be? To me, that's the biggest thing I worry about when you have a lot of inexperienced players, you don't have a lot of starters coming back. It doesn't mean they're not capable, it just takes a little time for them to develop. Sometimes make the mistakes in practice and you correct them, but they always seems to have a greater impact when they make them in the game. Hopefully we'll be able to minimize that and play well as a unit."
August, 27, 2012
8/27/12
1:40
PM ET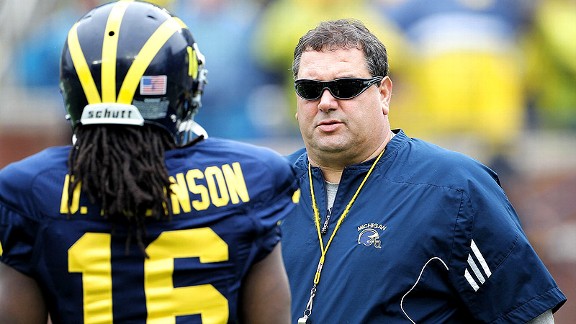 Leon Halip/Getty ImagesBrady Hoke and the Wolverine have a big challenge Saturday night against Alabama.
Jim Delany has never suppressed his desire for Big Ten members to test themselves outside the conference.
It's why the commissioner puts together unquestionably the nation's toughest bowl lineup each year. It's why he spearheaded the short-lived scheduling alliance with the Pac-12.
Even as the Big Ten's losses in nationally significant games pile up and its last national title in football gets smaller in the rear-view mirror, Delany wants teams to measure themselves against the best.
Michigan has gotten the message, loud and clear.
The Wolverines open the season Saturday night against defending national champion Alabama in Arlington, Texas. Alabama has hoisted the crystal football in two of the past three seasons. The Tide boast a 55-12 record under coach Nick Saban and haven't dropped a nonconference game since the 2007 season, Saban's first in Tuscaloosa.
The big blue banner isn't the only one Michigan will carry onto the field Saturday night. The Wolverines are playing for their beleaguered conference, too.
"Saban is probably the coach of the decade, and Alabama's probably the team of the decade with two national championships in the last three years," Delany told ESPN.com on Monday morning. "Michigan's trying to re-establish a program and a team, and Saban has done a fabulous job of returning Alabama to its programmatic height. So for us, it's a big game. I don't think you can minimize it. It's an important game, a big game, a big stage, and those are the kinds of games we want to play."
August, 16, 2012
8/16/12
8:48
AM ET
By
WolverineNation Staff
| ESPN.com
Every Thursday, Tom, Mike and Chantel will discuss three issues in and around Michigan sports. This week, they consider Alabama's defense, Michigan football media day and whether the 2014 recruiting class can rival the 2013 class.
1. The Alabama defense has suffered a few significant losses this past week. Does it really make any difference for the Wolverines? Or does the Crimson Tide have enough depth that Michigan still won't get the ball deep?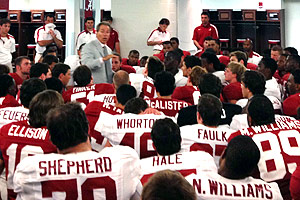 Alex Scarborough/ESPN.comThe names on the jerseys aren't as familiar on the defensive side, where the Tide will have a bevy of new starters.
Tom Van Haaren
: Alabama's defense is always going to be good as long as Nick Saban is there. However, they are losing the guys you mentioned and they're starting nine new players on defense. It's the first game of the season for the new starters, so it definitely doesn't hurt Michigan. I don't know how much it will help, but it definitely doesn't hurt.
I don't think this is a game changer, or changes the landscape of this game, but it's an interesting development on that side for the Tide. I'm curious to see how the new guys step in for Alabama and try to stop Michigan and
Denard Robinson
.
To continue reading this article you must be an Insider
April, 24, 2012
4/24/12
10:33
AM ET
TUSCALOOSA, Ala. -- Even as the Crimson Tide practiced in shells and shorts this April, coach Nick Saban had opening day on his mind.
[+] Enlarge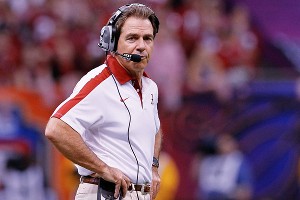 Kevin C. Cox/Getty ImagesNick Saban is already preparing for Michigan.
While the rest of the country waited on a groundhog to usher in the start of spring, the University of Alabama coaching staff prepared for a pack of wolverines.
The colossal Alabama-Michigan matchup at Jerry Jones' equally enormous Cowboys Stadium won't be left wanting for anticipation or, as it turns out, preparation. Tickets for the 80,000-seat venue are nearly sold out (a handful of $30,000 suites remain if you're into that sort of thing), hotels are slammed and travel routes are already being arranged as two of the country's most storied programs go head-to-head for the first time in more than a decade.
Saban, who has ties to the Great Lakes where he spent 10 years as both an assistant and head coach at Michigan State, isn't doing anything to stall the hype machine. Several times during spring practice he said he'd begin introducing next year's opponents, specifically citing the Michigan game.
In fact, following Alabama's A-Day scrimmage, the fiery coach let it be known just how serious he's taking the season opener. If anyone expected a glimpse of the game plan that day, they were wrong.
Weekend Recruiting Wrap: Big Ten - Dec. 2