Michigan Wolverines:

NCAA tournament
March, 18, 2012
3/18/12
2:03
PM ET
It has been a decade since Michigan has been in this spot. Sure, the Wolverines have played in the postseason before -- actually, every player on the team save the freshmen has

But that was the three-letter variety of postseason. Now, they are in t.he four-letter land of the NCAA as a No. 11 seed facing No. 6 Oklahoma at 7:35 p.m. Sunday on ESPN2.

So how can the Michigan women's basketball team pull an upset and ensure it isn't one-and-done this postseason.
March, 16, 2012
3/16/12
10:59
PM ET
Michigan won a share of a Big Ten championship with a freshman point guard and a team of shooters that had gone through an entire season playing better than expected.


But the past two weeks, all of that caught up with them. Freshman guard
Trey Burke
played like a freshman. The 3-point shooting that had been there for most of the season went cold.
And like that, the fourth-seeded Wolverines saw their season end in the Round of 64 on Friday evening, losing to No. 13 Ohio, 65-60.
To continue reading this article you must be an Insider
March, 16, 2012
3/16/12
2:53
PM ET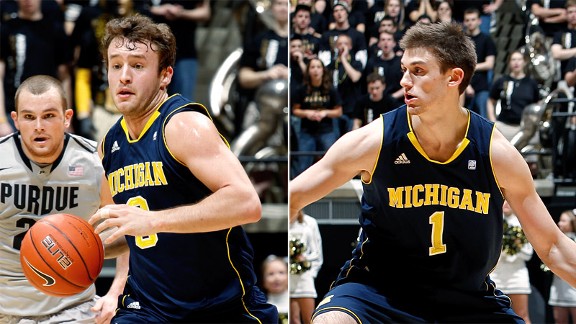 Getty ImagesZack Novak and Stu Douglass can each achieve major milestones for their longevity.
Zack Novak
hasn't heard it from his roommate yet. There has been no ribbing, no record-book lording done by
Stuart Douglass
.
Eventually, it'll happen. But so far, Douglass has been quiet about how barring injury, he'll always have played more games at Michigan than Novak.
"He's never said anything," Novak said this week. "We like to mess with the younger guys more than with each other. I'm sure he'll give me something after the season."
March, 16, 2012
3/16/12
10:51
AM ET
All season long, Michigan has waited for this. The Wolverines said "Big Ten champs" at the end of every huddle or meeting or practice, but even senior captain Stu Douglass said last month when it looked like the Big Ten championship was out of reach that he would be OK with that if it meant a long run in the NCAA tournament.


Now, the NCAA tournament has arrived.
The fourth-seeded Wolverines face No. 13 Ohio in the Round of 64 and while many are picking Michigan to advance to the Round of 32, the Bobcats will be a tough challenge for the Wolverines.
To continue reading this article you must be an Insider
March, 13, 2012
3/13/12
7:19
PM ET
Michigan basketball coach John Beilein met with the media Tuesday to discuss the fourth-seeded Wolverines' upcoming game against Ohio in the second round of the NCAA Tournament. Here are some of the key points he touched on:

First off, the team leaves for Nashville Wednesday after practice and Beilein said it doesn't make much difference whether the team plays Thursday or Friday.


March, 12, 2012
3/12/12
8:41
PM ET
ANN ARBOR, Mich. -- There was a nervous energy all day. Michigan had been through this before, living on the NCAA bubble the past two seasons.

Both years they were confident. Both years they were disappointed. So the Wolverines weren't sure exactly what to expect. They would try to remain calm, even if doing so was next to impossible.

Practice made it easier because it was normal. It was something that could be a distraction from whether or not Michigan would be on the NCAA or WNIT side of the bubble this season.


March, 11, 2012
3/11/12
9:06
PM ET
The final ESPN/USA Today coaches poll of the season is out and with it comes where the coaches ranked each team.

Here is how each coach voted for Michgian in its final poll, where the Wolverines were ranked 14th:


March, 11, 2012
3/11/12
9:04
PM ET
Here's a first look at Michigan's first NCAA tournament opponent, the Ohio Bobcats:
Conference:
Mid American
Record:
27-7
Coach:
John Groce
Path to the tournament:
Mid-American Conference champions, beating Akron, 64-63
Seed:
13
Common opponents this season:
Oakland (Ohio won, 84-82. Michigan won, 90-80).
Leading scorer:
D.J. Cooper
-- 14.6 ppg.
Leading rebounder:
Reggie Keely
-- 5.1 rpg.
Leading passer:
Cooper -- 5.7 apg.

What Ohio does well:
The Bobcats offensive rebound very well. They grab 35.3 percent of their offensive rebound chances according to statsheet.com and have grabbed 433 offensive rebounds this season, an average of 12.7 a game. Watch out for Saint Louis transfer Jon Smith, a 6-foot-7 forward, especially. He crashes the glass well.
Ball security will be critical. Ohio has 319 steals this season, ranked fifth nationally, and comes away with steals on 13.9 percent of its possessions. Cooper, the junior point guard, does this the best for Ohio with 81 steals, an average of 2.38 a game. At 5-foot-11 he is a smaller guard like Michigan's Trey Burke, but could cause him problems in his first NCAA tournament game.
To continue reading this article you must be an Insider
March, 11, 2012
3/11/12
6:37
PM ET
All Michigan needed to worry about this year was seeding.
And the Wolverines found out their fate Sunday evening, as the tri-Big Ten champions landed a No. 4 seed, playing No. 13 Ohio in the Midwest Regional on Friday in Nashville.


This is Michigan's second straight trip to the NCAA tournament and its third in four seasons. Under Wolverines coach John Beilein, Michigan has won its first game in both NCAA tournaments before losing in the Round of 32.
This is the highest seeding for Michigan since 1998, when the Wolverines were a No. 3 seed.
As a school, Michigan is 13-3 in the first round of the tournament.
According to the NCAA selection committee, Michigan is 23-9 as the season opener against Ferris State does not count. Overall at 24-9, the Wolverines have secured their most wins since 1997-98, when Michigan was 25-9.
Michigan C Cites Concussions In Decision To Quit
BIG TEN SCOREBOARD
Thursday, 9/3
Friday, 9/4
Saturday, 9/5
Sunday, 9/6
Monday, 9/7