Michigan Wolverines:

Martavious Odoms
June, 7, 2013
6/07/13
10:30
AM ET
ANN ARBOR, Mich. -- Can a true freshman really contribute at the college level? Is it easier to do so at one position than another? Over the coming weeks WolverineNation will be breaking down the probabilities of playing time and projections of the Wolverines' freshmen, position by position.


May, 11, 2012
5/11/12
10:00
AM ET
Michigan
2011 overall record:
11-2
2011 conference record:
6-2 (2nd, Legends Division)

Returning starters
Offense: 6; defense: 8; kicker/punter: 2
Top returners
QB
Denard Robinson
; RB
Fitzgerald Toussaint
; WR
Roy Roundtree
; WR
Jeremy Gallon
; LT Taylor Lewan; RT Michael Schofield; DE Craig Roh; LB Jake Ryan; LB Kenny Demens; LB Desmond Morgan; CB J.T. Floyd; CB Blake Countess; S Thomas Gordon; S Jordan Kovacs.
Key losses
WR Junior Hemingway; WR
Darryl Stonum
; WR/KR
Martavious Odoms
; TE
Kevin Koger
; C David Molk; RT Mark Huyge; DT Mike Martin; DE/DT Ryan Van Bergen; DT Will Heininger.
2011 statistical leaders (*returners)
Rushing:
Denard Robinson* (1,176 yards)
Passing:
Denard Robinson* (2,173 yards)
Receiving:
Junior Hemingway (699 yards)
Tackles:
Kenny Demens* (94)
Sacks:
Ryan Van Bergen (5.5)
Interceptions:
Courtney Avery* and J.T. Floyd* (2)
Spring answers
1. Quarterback accuracy:
Denard Robinson played one series in the public spring scrimmage, but coaches raved about his improved leadership, decision-making and accuracy throughout the spring. The latter two were major issues for Michigan last season. While it is unknown whether Robinson will truly be more accurate until Sept. 1 against Alabama -- Michigan closed all of its practices to the media this spring -- offensive coordinator Al Borges was very confident in Robinson's potential for his senior season.

2. Cornerback has depth:
Two seasons ago, cornerback was the biggest question on Michigan's team because of youth, inexperience and a lack of talent. That is no longer an issue. The Wolverines have as many as six players they could feel comfortable with come the fall, and that doesn't include incoming freshman
Terry Richardson
(Detroit/Cass Tech), the highest-ranked player in Michigan's incoming signing class. Sophomore Blake Countess could turn into a star, and fifth-year senior J.T. Floyd is the most consistent corner the Wolverines have. They'll be the likely starters.
3. A featured back is set:
Borges made no hesitation: Redshirt junior Fitzgerald Toussaint is going into the fall as his top tailback -- a marked change from what the Wolverines endured last spring and through the first half of last season. Toussaint rushed for 1,041 yards and nine touchdowns last season, giving Michigan a dynamic dual running game with Robinson. With major questions at wide receiver and tight end, expect a lot of running from Toussaint and Robinson, especially early in the season.
Fall questions
1. Who is catching the ball:
Michigan's coaches spoke highly of Jeremy Gallon,
Jerald Robinson
and Roy Roundtree during the spring as their top three receivers, but Robinson has never caught a pass, Gallon has had one season of consistent productivity, and Roundtree saw his numbers plummet last season, where he had 19 catches for 355 yards. Tight end isn't much better, as the position group has two career catches. Denard Robinson's two best safety valves -- Junior Hemingway and Kevin Koger -- graduated so even if Denard Robinson is improved, he might need to hunt to find a reliable receiver option. Incoming freshman
Devin Funchess
(Farmington Hills, Mich./Harrison) could be an option at tight end.
2. Who is pressuring the quarterback:
Michigan took its biggest hits on the defensive line, which saw three starters graduate -- Mike Martin was a third-round draft pick, Ryan Van Bergen signed a free agent contract and Will Heininger graduated -- and its fourth starter, Craig Roh, switch positions. Michigan insists it'll be OK there. Will Campbell and converted end Jibreel Black will likely start inside, and either sophomore Brennen Beyer or sophomore Frank Clark will start at rush end. The success of Michigan's defense last season relied on pressure the front four created. With an almost completely new group there, how they fare against opponents will be interesting to see.
3. Punting problems:
Somewhere along the way last season,
Will Hagerup
lost his mojo, much like kicker
Brendan Gibbons
the year before. A strong-legged punter, Hagerup wasn't connecting with the ball well and eventually lost his job to freshman
Matt Wile
. Now entering his junior year, Michigan hopes either Hagerup regains his form or Wile becomes more consistent. The Wolverines' offense should be fairly prolific, but with a defense searching for pressure early on, it needs to be able to control field position with the punter.
April, 29, 2012
4/29/12
2:23
PM ET
The three-day NFL Draft came and went over the weekend with few surprises for Michigan players. Three players -- Mike Martin, David Molk and Junior Hemingway -- were drafted.

Many more were not.

The three players drafted equaled the 2010 NFL Draft, which had Brandon Graham go in the first round, Zoltan Mesko in the fifth round and Stevie Brown in the seventh.

In this year's draft, Martin went to Tennessee in the third round, while Molk and Hemingway were selected in the seventh round by San Diego and Kansas City, respectively.

Hemingway, the last Michigan player taken, joins Steve Breaston as a wide receiver in Kansas City.


March, 15, 2012
3/15/12
4:57
PM ET
ANN ARBOR, Mich. -- Pittsburgh Steelers coach Mike Tomlin called Ryan Van Bergen and Mike Martin over, pulled his defensive line coach in, too, and told them to all work out.
The Steelers coach wanted to see the two former Michigan defensive linemen go through their position drills at the Wolverines' Pro Day on Thursday at Schembechler Hall.
Van Bergen got the feeling he did well.
To continue reading this article you must be an Insider
March, 12, 2012
3/12/12
3:24
PM ET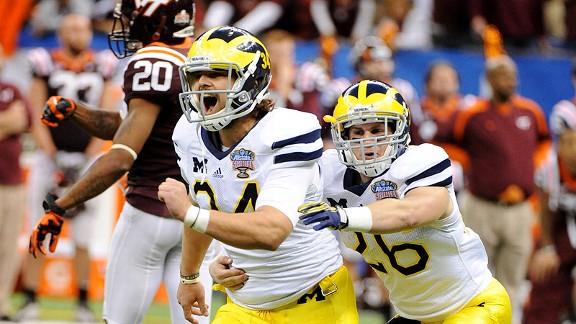 Chuck Cook/US PresswireBrendan Gibbons' Sugar Bowl performance solidified his spot as Michigan's No. 1 kicker.
For the past few seasons, Michigan has been searching for a good kicker. It had also been hoping that Will Hagerup would be a suitable replacement for Zoltan Mesko, now with the New England Patriots.
And it had to try and solve a return game that never really got much traction.
Well, two of those problems have been solved. The third is still being worked on as Michigan enters the spring.
To continue reading this article you must be an Insider
March, 2, 2012
3/02/12
11:01
AM ET
They were two receivers hampered by scheme switches and injuries, but the departures of
Junior Hemingway
and
Martavious Odoms
from Michigan will hurt more than most people realize.
Hemingway was the big target with great timing and jumping ability who would often bail out quarterback
Denard Robinson
. Odoms was the sure-handed receiver with some speed who ended up being the Wolverines' best return man.
Then there's
Darryl Stonum
, who was supposed to lead this group. Instead, he's off the team following another violation of team rules.
To continue reading this article you must be an Insider
February, 9, 2012
2/09/12
12:09
PM ET
ANN ARBOR, Mich. -- He was a last-minute decision, a quick-trigger addition to a class that looked mostly full. Yet running back
Dennis Norfleet
(Detroit/Martin Luther King) might be one of Michigan's most important overall additions.
While Norfleet doesn't fit the style of running back Michigan is attempting to recruit -- big, bruising backs with speed -- he does serve another key role. When the Wolverines dismissed Darryl Stonum for violations of team rules in January, Michigan was left with a big hole in the return game.
It is a role Norfleet could slip into almost immediately.
To continue reading this article you must be an Insider
February, 2, 2012
2/02/12
12:33
PM ET
With our Exit Interviews series, we will look at each starter/main rotation player and assess how much his loss will mean to Michigan next season.
Previous 'Loss Impact:'
DL Will Heininger
;
TE Kevin Koger
Martavious Odoms
played early at Michigan and often, finishing with 94 catches for 1,087 yards and five touchdowns, his yardage good for 28th all-time among Wolverines.
To continue reading this article you must be an Insider
January, 17, 2012
1/17/12
4:49
PM ET
Since Michigan offensive coordinator Al Borges arrived at Michigan with plans for a pro-style offense that would emphasize throwing to outside receivers instead of slot receivers like former coach Rich Rodriguez's system, two receivers were likely going to benefit the most:
Junior Hemingway
and
Darryl Stonum
.
Now, after Hemingway's graduation and Stonum's dismissal from Michigan on Tuesday for violation of team rules, the Wolverines will have neither of them.
January, 12, 2012
1/12/12
12:32
PM ET
Michigan continues to send football players to college All-Star games -- even some you've never heard of.
Senior receiver
Martavious Odoms
is on the South roster
for the Battle of Florida All-Star Game in Boca Raton, Fla. on Jan. 21. He'll be coached in the game by former Miami coach Howard Schnellenberger. Coaching the North will be former Florida State coach Bobby Bowden and the Gin Blossoms will perform a concert the night before the game.
Meanwhile, running back
Michael Shaw
is on the East roster
for Monday's Casino del Sol All-Star Game in Tucson, Ariz. Shaw will be coached in that game by former Ole Miss coach Houston Nutt.
They join the four Michigan players already slated for higher-profile games --
Mike Martin
and
David Molk
in the Senior Bowl and
Kevin Koger
and
Junior Hemingway
as East-West Shrine Game invitees.
And while no Michigan players are currently listed as players in the NFLPA Collegiate Bowl, there is a former Michigan coach. Former Michigan defensive coordinator Greg Robinson is
listed among the coaches for the game
on Jan. 21 at the Home Depot Center in Carson, Calif.
November, 19, 2011
11/19/11
3:31
PM ET
Turning point:
Michigan gunner
Josh Furman
blocked a Nebraska punt with 8:32 left in the third quarter -- yet another special teams play by the Wolverines in a game where they had a blocked punt and two recovered fumbles on kickoffs -- but this block led to an eventual 1-yard touchdown run by
Fitzgerald Toussaint
that gave Michigan a 31-10 lead over the Cornhuskers and blew the game open.
Player of the game:
Michigan quarterback
Denard Robinson
. The junior had his best game of the season -- and possibly his career -- on Saturday. He completed 11 of 18 passes for 180 yards and two touchdowns. He also ran 23 times for 83 yards and two touchdowns. While the total yardage wasn't there, it rivaled his performance against Notre Dame in 2010, when he ran for 258 yards and had 502 yards of total offense -- the best performance in Wolverines history.
Best call:
There were a couple of them for Michigan on Saturday, but the one that stands out is from offensive coordinator Al Borges. On a 3rd-and-goal from the 1-yard line, Robinson play-faked to Toussaint before rolling to his right for an easy 1-yard touchdown to give the Wolverines a 24-10 lead. The play was a great call because Michigan had run out of the same set before in prior games in those goal-line situations, but given the ball to Toussaint or fullback Stephen Hopkins. The Robinson bootleg was a new wrinkle and an easy touchdown.
What it means:
This puts Michigan in an interesting position. While it can't pass Michigan State for the Legends Division lead, it could put the Wolverines in prime contention for an at-large BCS bowl berth should they beat rival Ohio State on Saturday. It also gives Michigan its best season since 2007, when the Wolverines went 9-4. Michigan's win also makes its game against Ohio State more interesting than it has been since 2006, when the Buckeyes were No. 1 in the nation and the Wolverines No. 2.
Record performance
: This sounds somewhat bizarre, but Robinson threw the 35th touchdown pass of his career Saturday, tying him with Tom Brady for seventh on Michigan's all-time list. Robinson has now passed Brady, Brian Griese and Jim Harbaugh this season. Next up is No. 6, Todd Collins, who had 37 touchdown passes from 1991 to 1994.
November, 12, 2011
11/12/11
7:03
PM ET
Turning point:
Michigan cornerback J.T. Floyd read a
Nathan Scheelhaase
pass perfectly, jumping to pick off the play and return it 65 yards into Illinois territory with 10:50 left in the game. The Wolverines then scored on the following drive with a
Devin Gardner
27-yard touchdown pass to
Martavious Odoms
for a 24-7 Michigan lead.


Player of the game:
Michigan defensive tackle Mike Martin. The senior nose tackle was in the Illinois backfield all day, making a team-high nine tackles and having a half-sack. The nine tackles are one off his career high of 10, set against Wisconsin in 2009. He disrupted everything Illinois tried to do on offense in the first half.
Unsung hero of the game:
Michigan running back
Fitzgerald Toussaint
. The Michigan running back started the game hot, gaining 134 of his career-high 192 yards in the first half, but his play led to two early Wolverines touchdowns and forced Illinois to shift its defensive plan and focus on the running back.
What Michigan learned, What Illinois learned:
Michigan --
The Wolverines learned two things Saturday. First, that it can win with defense. Michigan defensive coordinator Greg Mattison called the best game of his first season in his second stint with the Wolverines against Illinois. Michigan held Illinois to negative-12 yards rushing in the first half and pressured Scheelhaase all game long. It also learned it might have a good quarterback in backup Gardner. As he received more snaps, he looked more comfortable and his touchdown pass to Odoms was one of the better throws of the season.
Illinois --
That the offensive line needs some work. Illinois couldn't block much of what Michigan ran at the Illini on Saturday, barely being able to run the ball and not giving Scheelhaase time to stay in the pocket. It seemed to throw Illinois' entire offense out of rhythm.
What it means:
For Michigan, it gives the Wolverines the most wins they've had since 2007, when Michigan went 9-4 in the final season for former coach Lloyd Carr. It also showed Michigan it could win on the road in a hostile atmosphere. For Illinois, it is four straight losses and what looked like a special season in Champaign, Ill. is now in freefall as the Illini have to face Wisconsin next Saturday.
Record performance:
It may not seem like a big record, but Odoms had a season-high two catches for 46 yards, including his first touchdown catch of the season. The 46 yards, though, pushed Odoms over 1,000 yards receiving for his career.
October, 25, 2011
10/25/11
4:51
PM ET
Got to see a little bit of a different view Tuesday for the 20 allotted minutes of practice viewing for the media. Instead of watching just stretching, the media was brought in early, although not too much happened. Here's what we observed -- in bullet form:
Martavious Odoms has shed his protective cast on his arm for good. He was out there catching kicks. Taylor Lewan was at practice, with his left ankle heavily bandaged and tape on both of his wrists. Tough to tell whether the tape on the wrists was at least in response to his injury suffered against Michigan State. Ricky Barnum was also at practice, with his right ankle heavily taped.
Cornerback Troy Woolfolk, who has had multiple injuries this season, was at practice with no wraps or braces of any kind to be seen.
To continue reading this article you must be an Insider
Michigan C Cites Concussions In Decision To Quit
BIG TEN SCOREBOARD
Thursday, 9/3
Friday, 9/4
Saturday, 9/5
Sunday, 9/6
Monday, 9/7