Michigan Wolverines:

Kevin Borseth
April, 25, 2012
4/25/12
11:53
AM ET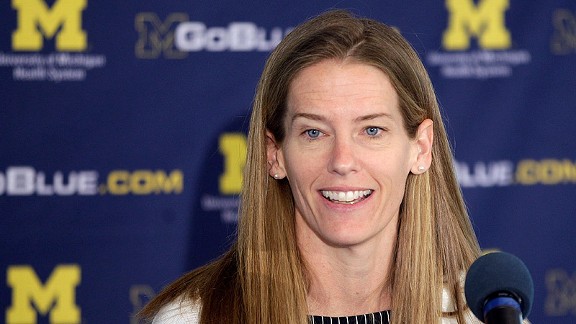 AP Photo/Carlos OsorioKim Barnes Arico comes to Michigan with a successful resume, but then again, so did the Wolverines' past two women's basketball coaches.
Summer is a time for student-athletes to recharge and prepare for their next season. But for fans, it's a solid few months where their questions pile up and turn to torment if they can't be answered.
Well, good thing we're here with the Wednesday mailbag.
April, 20, 2012
4/20/12
1:46
PM ET
ANN ARBOR, Mich. -- Michigan Athletic Director Dave Brandon announced Friday that he had hired Kim Barnes Arico as the women's basketball coach. Barnes Arico replaces former coach Kevin Borseth, who returned to Green Bay after coaching the Wolverines for five years.

"Kim is an elite coach that will help elevate our women's basketball program to new heights," Brandon said in a university press release. "Kim has been successful at every coaching stop and has built teams that compete for championships. She is a tireless recruiter who will accomplish great things at Michigan. We are extremely happy that Kim and her family chose to join Michigan Athletics."

Barnes Arico comes to Michigan from St. John's, where she led the Red Storm to four NCAA Tournament appearances during her 10 years at the helm of the program. Three other times, she led St. John's to the WNIT, making her the winningest women's basketball coach in the Red Storm's history.

She is the two-time Big East Coach of the Year (2006, 2012) and produced 11 All-Big East players.

"I am excited and honored to represent the University of Michigan as its new head women's basketball coach," Barnes Arico said in a university press release. "The University of Michigan is world renowned for its academic and athletic excellence and our program will continue to stress the Universities foundational values of being a true student-athlete – excellence in the classroom, excellence on the court and involvement in the community."

Before coaching at St. John's, Barnes Arico coached at Adelphi, the New Jersey Institute of Technology and Fairleigh Dickinson-Madison. In college, Barnes Arico played at Stony Brook University for one season before transferring to Montclair State University, where she was a two-time captain.
March, 18, 2012
3/18/12
4:20
PM ET
ANN ARBOR, Mich. -- There was this feeling two weeks ago, even if Courtney Boylan couldn't figure it out.
This sense that this season would not end the same. That after two years of missing the NCAA tournament on the bubble, it wouldn't happen again.
It didn't.
To continue reading this article you must be an Insider
March, 12, 2012
3/12/12
10:36
PM ET
Michigan basketball coach John Beilein spoke on his weekly radio show Monday night. Here are a few of the key notes he touched on:
The team leaves for Nashville on Wednesday.
This is the fourth team he has taken to the NCAA tournament, though it's the first time he has taken a school to the tournament three times.
To continue reading this article you must be an Insider
March, 12, 2012
3/12/12
8:41
PM ET
ANN ARBOR, Mich. -- There was a nervous energy all day. Michigan had been through this before, living on the NCAA bubble the past two seasons.

Both years they were confident. Both years they were disappointed. So the Wolverines weren't sure exactly what to expect. They would try to remain calm, even if doing so was next to impossible.

Practice made it easier because it was normal. It was something that could be a distraction from whether or not Michigan would be on the NCAA or WNIT side of the bubble this season.


March, 12, 2012
3/12/12
7:17
PM ET
The Michigan women's basketball team is heading back to the NCAA tournament for the first time in over a decade.

Firmly on the bubble entering selection Monday, the Wolverines picked up a No. 11 seed and will face No. 6 Oklahoma in Norman, Okla.

Michigan had made the WNIT in three of Kevin Borseth's first four seasons, but this is his first NCAA bid with the school in his fifth year. The Wolverines hadn't been to the NCAAs since 2000-01, when they advanced to the second round.

It will be the fifth NCAA tournament appearance in program history.

Michigan has faced Oklahoma once in school history, losing to the Sooners on Dec. 28, 1993.
January, 4, 2012
1/04/12
12:00
PM ET
ANN ARBOR, Mich. -- Through two seasons of struggles and two more seasons of almost-but-not-quite reaching the NCAA tournament, Michigan women's basketball coach Kevin Borseth has been looking for something like this -- for a team that might make the breakthrough he has sought.
So far, his Wolverines are off to the best start in school history -- 12-2 and counting.
"This is what we want to do," Borseth said. "We want to be competitive, we want to be in the hunt. We want to be a team that's respected. We want to be what we think Michigan basketball is supposed to be about."
To continue reading this article you must be an Insider
December, 15, 2011
12/15/11
6:59
PM ET
ANN ARBOR, Mich. -- The message was simple before the season started: "Find a way."

Find a way to win games, no matter what. Find a way to keep from bad losses. And find a way to reach the NCAA tournament after two seasons of close-but-not-quite performances by the Michigan women's basketball team.

That message -- Find A Way -- brings them to this week, the final week before Big Ten play starts.

They insist, though, this season is different than the prior two -- which both ended in the WNIT.

"We're in a different spot than last year," senior guard Courtney Boylan said. "We're a lot further along than last year, especially chemistry-wise, all of us have been playing with one another for so long."

That experience has helped early -- especially during a fairly difficult schedule. Michigan already has wins against Florida (69-66) and Seton Hall (51-47) on the road along with knocking off Utah (55-50) and Iowa State (56-49) at home.

The two losses aren't bad, either. Both came on the road -- one to then-No. 6 Maryland, 75-64, and at Eastern Michigan, 77-64. But the main difference with this team is it isn't solely reliant on one person for scoring.

A season ago, Michigan needed then-senior Veronica Hicks to have a big night or the Wolverines were in trouble. The year before, they'd need big performances out of Hicks or point guard Dayeesha Hollins, who has since transferred.

"We're a lot more confident than last year," center Rachel Sheffer said. "Just with our starting lineup and the people coming off the bench. You just feel like you're more confident with each other.

"Last year we looked to Roni a lot more and this year we're looking to whoever is having a good game. Or yourself."

Eight Michigan players average more than 13 minutes a game and a ninth averaged 8.2 minutes -- giving the Wolverines more depth as well.

However to finish what they wanted -- which is to make the NCAA tournament after two seasons of being on the WNIT side of the bubble, this week is important.

After playing six of the past seven games away from Crisler Arena, the Wolverines have mid-major teams Indiana State on Saturday and Illinois State on Dec. 22 at home before the Big Ten starts at Illinois on Dec. 30.

"We're going to have to all we can in these next two games to establish ourselves for post-season play because these two games here are very critical games," Michigan coach Kevin Borseth said. "We had a good start to our non-conference play and we need to continue that."
No. 1 CB Marshall: "Nobody Remembers Second"