Michigan Wolverines:

wolverines-boilers-100612
October, 6, 2012
10/06/12
9:46
PM ET
For at least one player of the Michigan defense, the normally elusive benchmark for this football team was reached in a 44-13 win over Purdue on Saturday.
[+] Enlarge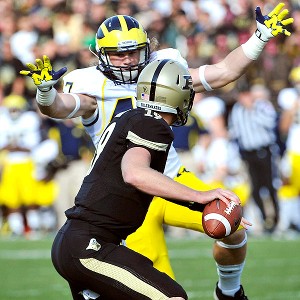 Sandra Dukes/US PresswireJake Ryan helped Michigan limit Purdue to 213 yards on offense.
"We played how a Michigan defense should play," sophomore linebacker
Jake Ryan
said. "We played with technique. We played with fundamentals."
The Wolverines gave up just 213 yards of offense to the Boilermakers and looked even more improved from their performance two weeks ago against Notre Dame.
But that doesn't mean there aren't parts of the game that still need to be improved. Ryan pointed several times to tackling as a point of emphasis for the defense moving forward. Michigan coach Brady Hoke wasn't pleased with his team's four-man rush. And senior linebacker
Kenny Demens
said his team can get better at watching film, starting Sunday when Michigan goes in to watch the Purdue tape.
"We have a lot to improve on," Demens said. "But in the past two weeks, from last game to this game we did a great job preparing, whether meeting, practicing well or whatever, but we have a long way to go."
One of the most marked areas of improvement was the Wolverines ability to force turnovers.
The Wolverines picked off two Boilermaker passes, with sophomore defensive back
Raymon Taylor
returning one for a touchdown. Taylor's score in the second quarter extended the Michigan lead to 21 and brought the game to all but out of reach for Purdue.
"That was awesome," Demens said. "Anytime you get a defensive score, that's great … it gives the ball back to the offense and creates points for us."
On top of the interceptions, Michigan had great pressure all around. The Wolverines forced three fumbles, recovering two. They accounted for two sacks, which totaled to a loss of 17 yards for the Boilermakers. And when push came to shove, they held strong in the red zone, allowing Purdue to score just once on its three trips there.
"I think that we played well up front," senior captain
Jordan Kovacs
said. "I think that we've played well the last few weeks. I think the defense as a whole, we're continuing to improve every day."
October, 6, 2012
10/06/12
9:11
PM ET
Against Purdue on Saturday, Michigan -- which had incurred 23 penalties through four games, with an average of 50 penalty yards per game -- accounted for just four penalties for 36 yards.
However, Michigan coach Brady Hoke didn't see that as any kind of marked improvement. In fact, he was quite disappointed with that kind of performance out of his team in the conference opener.
"We had some bad penalties, really three dumb penalties," Hoke said. "We don't want to play football that way."
The Wolverines had just one penalty in the first half -- five yards for a false start from redshirt junior offensive lineman
Mike Schofield
. Fellow redshirt junior offensive lineman
Taylor Lewan
committed the same penalty in the third quarter. His penalty moved Michigan from a first-and-10 to first-and-15, and Michigan eventually had to punt on that drive.
Defensive lineman
Quinton Washington
's unnecessary roughness personal foul on the 22-yard line allowed the Boilermakers to move up to the 11-yard line and helped Purdue eventually score a field goal, cutting Michigan's lead to 18.
On the next play, Scholfield's penalty on second-and-11 moved the Wolverines back 15 yards. At that point the Wolverines already led by 18, but Michigan had to settle for a field goal on the possession despite being in the red zone.
October, 6, 2012
10/06/12
9:07
PM ET
WEST LAFAYETTE, Ind. --- During the bye week, Michigan coach Brady Hoke said junior wide receiver
Devin Gardner
was fine after sliding into a structure during a play at Notre Dame Stadium two weeks ago. But on Saturday night following the Wolverines' 44-13 victory at Purdue, Gardner addressed the issue himself.
"I hit the ground and my shoulder felt really weird," Gardner said. "I didn't really feel good about it. And then I was advised to probably stay down. I'm fine."
Against Purdue, Gardner caught two passes, accounting for 31 yards and one touchdown -- the only passing touchdown of the game.
"It's OK; I'm fine," Gardner said. "I played today and I felt like I played, blocked and did everything that receivers should do."
Other injuries
: Senior safety
Jordan Kovacs
wore a brace on his right knee throughout the Purdue game, though he said he was fine. …
Brandon Moore
(MCL),
Stephen Hopkins
(hamstring) and
Richard Ash
(undisclosed) didn't make the trip to Purdue. …
Brennen Beyer
(knee) and
Marvin Robinson
(undisclosed), who were recently held out of games, both made the trip and played.
October, 6, 2012
10/06/12
7:16
PM ET
Michigan finished off its Big Ten opener by handily beating Purdue,
44-13
, in the Wolverines' first win outside of Ann Arbor this season. The Boilermakers, meanwhile, lost their Big Ten opener.


It was over when:
Michigan sophomore cornerback
Raymon Taylor
intercepted a tipped pass thrown by
Caleb TerBush
and returned it 63 yards for a touchdown, giving the Wolverines a 21-0 lead in the second quarter. It was the second straight game Taylor intercepted a pass.
Game ball goes to:
Michigan quarterback
Denard Robinson
. The senior needed a rebound performance after accounting for five turnovers in a loss to Notre Dame two weeks ago. He did, completing 8 of 16 passes for 105 yards and rushing for 235 more yards. He also showed improved decisions, actually throwing the ball away when pressured and going out of bounds instead of absorbing big hits.
Stat of the game:
Purdue's 56 rushing yards. The Boilermakers were never able to really establish any sort of ground game, led by 34 yards from
Akeem Shavers
on 10 carries. The lack of a running game made the Boilermakers, who trailed the majority of the game, very one-dimensional.
What it means
: For Michigan, it was the best game it had played all year both on offense and defense. The Wolverines were efficient on offense and save for one poor exchange, didn't turn the ball over. On defense, they flustered Purdue and overall put themselves in position to be a contender in the Legends Division. Purdue might leave Saturday with questions of who to play at quarterback, TerBush or
Robert Marve
, and some concerns about its previously strong defense.
Record performance
: Robinson had another standout day on the ground and became the Big Ten's career quarterback rushing leader with 3,905 yards, passing former Indiana quarterback Antwaan Randle El, who had 3,895 yards. He also moved into fourth place in the FBS quarterback rushing career list, passing Randle El. Next up on that list is former Nevada quarterback Colin Kaepernick with 4,112 yards.
October, 6, 2012
10/06/12
5:40
PM ET
WEST LAFAYETTE, Ind. -- Michigan jumped out to a 28-10 lead with a strong performance of its own and a bit of help from Purdue as well. Here's a breakdown of what has happened.


Stat of the half
: 28 points.
It was an scoring show for Michigan -- one touchdown through the air and three on the ground (including one from the Wolverines' special teams). The huge scoring output is only a good thing for Michigan and coach Brady Hoke. Under Hoke, the Wolverines are 13-0 when they score 20+ points.
Player of the half
:
Denard Robinson
. In his final conference opener of his Michigan career, he decided to remind Big Ten teams why people call him Shoelace. The senior rushed 14 times for 84 yards. And despite the hits he took, he didn't have to take a single play off. On top of that, his arm looked stronger and he proved that he can, in fact, throw away a pass (which he had assured the media of earlier last week). He completed 6 of 8 passes for 86 yards.
What's working for Michigan
: Offense, mostly. Defense, mostly. Special teams, mostly.
Offensively, Michigan seemed to be clicking on most cylinders. The Wolverines chose to run the ball mainly and pass selectively, though when it was necessary for Robinson to pass, he came through with big plays. Between big completions to
Roy Roundtree
,
Devin Funchess
and a touchdown throw to
Devin Gardner
, Robinson's arm looked solid (though, against a subpar defense).
Defensively,
Jake Ryan
(among a few others) came up huge for Michigan. Ryan was in beast mode from the first play, making hit after hit and coming up with a big 11-yard sack that
Caleb TerBush
will have a hard time forgetting. But on the Boilermakers' final drive, they missed tackles and misread plays, allowing Purdue to reach the end zone and head into halftime with the momentum.
Yes, kicker
Brendan Gibbons
missed a 40-yard field goal, but the kickoff team recovered a fumble midway through the second quarter. And Gibbons made four PAT's. That's 10 points for the special teams in one half.
Michigan C Cites Concussions In Decision To Quit
BIG TEN SCOREBOARD
Thursday, 9/3
Friday, 9/4
Saturday, 9/5
Sunday, 9/6
Monday, 9/7