Michigan Wolverines:

Tommy Rees
October, 11, 2013
10/11/13
4:00
PM ET
Thanks for all your questions and answers. Enjoy the games this weekend.
Don't forget:
Twitter
is the best way to follow us on game days.
Phil from Vancouver, Wash., writes:
Lets assume Ohio State runs the table and goes undefeated. If Wisconsin can win out and end up 10-1-0-1 (W-L-T-Screwed), where do you see them ending up for a bowl? With the BIG No. 5 in AQ leagues, I don't see them in the BCS.
Adam Rittenberg:
It depends on so many factors, Phil. If Ohio State doesn't make the national title game and goes to the Rose Bowl, the chances of the Big Ten receiving an at-large BCS berth go down. If the Rose Bowl loses a Big Ten team to the national title game, it likely would look for a Big Ten replacement, as long as one is eligible. Would the Rose want Wisconsin for a fourth consecutive year? Tough to tell. There are also other conferences in play, and right now you'd have to expect the SEC and Pac-12 to each send two teams to BCS bowls. And as long as Clemson and Florida State don't both fall apart, both teams are likely BCS bowl bound as well. The advantage Wisconsin would have is a long win streak to end the season, as opposed to a possible loss in the league title game, which often is the kiss of death when it comes to at-large berths.
---
Ian from Tacoma, Wash., writes:
Adam, I know there has been some talk from you and Brian recently in regard to conference perception and how it shapes top-25 rankings and the national championship picture, but I think this is becoming more of an issue than most folks realize. Why does Georgia scraping by a pretty lousy Tennessee team (that got slaughtered by Oregon) constitute a "tough road win" by the so-called experts, yet Ohio State's road win against top-15 Northwestern gets ignored? Even further, why does Ohio State get lambasted every week for their schedule, while Oregon gets constant media praise, despite having played a MISERABLE slate of games so far? Oregon is getting credit for games they haven't played yet, while Ohio State gets punished for games it hasn't played yet. I'm getting pretty frustrated with the inconsistency and hypocrisy in how teams are portrayed, simply because of the conference in which they compete.
Adam Rittenberg:
Ian, I hear ya, and Ohio State should be getting more credit for finding ways to win against good teams despite making some mistakes along the way. Georgia's win at Tennessee was vastly overvalued because the Bulldogs had so many injuries. Tennessee is mediocre at best. The Oregon example is interesting, because while Virginia and Tennessee aren't any good, it looks like the Ducks at least tried to schedule major-conference teams. Those quick to criticize Ohio State for living in cupcake city probably don't realize Vanderbilt canceled this year's game in Columbus. Vandy is no Alabama, but the Commodores are comparable to Virginia and Tennessee right now. And it's not Ohio State's fault that Cal is going through transition. Could Ohio State have done a little more with scheduling? Perhaps. But the bigger problem for the Buckeyes is the Big Ten's lousy perception, something Georgia and Oregon don't have to worry about.
---
Dan from Watercooler writes:
True or false: Bo [Pelini's] long-term outlook with the Huskers should be more based on what he does this and maybe next season, vs. what happened last season. Reasoning: Bo's defense last season had all sorts of seniors, effectively meaning he had a cap on what he could draw from them talent-wise. We've seen glimpses of what the defense is capable of (see: first half UCLA, parts of Illinois) and can see the talent there, but it needs time to build. Counterpoint: Last year's defense consisted largely of talent he developed; he should have been able to recognize gaps in the defense and find ways to correct them.I'd give him the benefit of a doubt and say, with the seemingly more athletic players he has coming up, he should be judged more on what happens from here.
Adam Rittenberg:
A nice breakdown from the water cooler, Dan. Nebraska's defense might be both younger and more talented this season. Pelini has alluded to it throughout the offseason, and I already see signs of more difference-makers with the Huskers D, especially in the front seven. That said, Pelini shouldn't get a pass for the struggles on defense last season because he brought in all of those players. Although Nebraska's move to the Big Ten probably didn't help a defense that had been shaped for the Big 12, the breakdowns in big games were inexcusable. This year's defense has had and will continue to have some growing pains, but if the unit isn't better in November than now, it falls on Pelini and the staff.
---
Matt from Baltimore writes:
I was looking at
this map of AAU schools
, and I was trying to guess where the next Big Ten expansion could be. Assuming that any schools in the ACC, SEC, or Pac-12 will stay put, it looks like the most appealing school from a state bordering a Big Ten state is Kansas (a distant second is Iowa State). What do you think the odds are of a Big Ten land grab into Big 12 territory in the near future?
Adam Rittenberg:
Ah, Matt, we must be overdue for an expansion question. Keep in mind that the Big 12 also
has a grant of rights agreement
, just like the ACC does, which makes it very difficult for schools to leave the league. The Big 12 also has great leadership now with Bob Bowlsby as commissioner. Although Texas could still send things into flux, I'd be surprised if more Big 12 schools jumped ship. The one league the Big Ten could look to, believe it or not, is the SEC, which amazingly doesn't have a grant of rights agreement. Anyone else think Missouri is a much better fit in the Big Ten than the SEC? Still, Mizzou would be giving up a lot, and I don't think the Big Ten wants to expand West when it has talked so much about being bi-regional and trying to bring in the northeast corridor. Problem is, there aren't any great candidates on the East Coast.
---
Matt from Iowa writes:
Who will be the last to surrender a rushing touchdown, Iowa or Michigan?
Adam Rittenberg:
I'm going with Michigan, especially since Iowa is off this week and the Wolverines face a Penn State team that, while lagging in rushing offense, has 11 rushing touchdowns through the first five games. I have
Akeel Lynch
scoring the game-winning touchdown for Penn State on Saturday, so I think the Wolverines' run of zero rush touchdowns ends.
---
Mike from Minneapolis writes:
Thoughts on the selection committee? As a Nebraska fan, I'm not all that thrilled to see that if they come into the playoff discussion Osborne/Alvarez will have to leave the room and their fate will be decided by a group of southerners.
Adam Rittenberg:
I'm glad you asked, Mike, as I didn't get much chance to address this last weekend. While I understand your concern about Nebraska and the ties that both Tom Osborne and Barry Alvarez have to the school, I couldn't be happier with these choices to represent the Big Ten on the committee. They're both home runs: smart football men who have served as administrations and have thick enough skin to handle the job after coaching major programs for a long time. Alvarez was the overwhelming choice among sitting athletic directors to represent the Big Ten when
we conducted a poll back in July
, and it would have been a close race between Alvarez and Osborne if Osborne still served as Nebraska's AD. Big Ten fans should be really pleased with these two.
---
Jon from Columbus writes:
Adam, Michigan has allowed seven offensive TDs in five games so far, and yet ... and yet ... you're calling for PSU to score 38 on them on Saturday? I just don't see your reasoning based on any sound football analysis. Listen, Penn State might beat Michigan this week. But if it happens, it very likely won't come in a fireworks-filled offensive shootout.
Adam Rittenberg:
Jon, maybe the score prediction is a little high, but Michigan has faced only one decent offense (Notre Dame) through the first five games -- the other four are ranked 106th or worse nationally -- and hasn't done much defensively to stand out aside from allowing no rushing touchdowns.
Tommy Rees
made plays against Michigan's secondary but couldn't avoid the turnover.
Christian Hackenberg
has more natural ability than Rees and poses a bigger challenge for the Wolverines, who still don't have any standouts on defense (
Jake Ryan
comes back soon). This is a great chance for Michigan's defense to stand out against a good quarterback in a tough road setting. But I expect to see quite a few points scored at Beaver Stadium.
September, 19, 2013
9/19/13
9:00
AM ET
Three weeks in and we're all square in the season standings. Get ready for a tightly contested race most of the way.
The Week 4 slate isn't nearly as appetizing as its predecessor, although there are a few sneaky good games on the docket. Big Ten play officially begins at Camp Randall Stadium and 11 league squads are in action (Illinois is off).
Let's begin …
SAN JOSE STATE at MINNESOTA
Brian Bennett:
Mitch Leidner
could start at quarterback for the Gophers as
Philip Nelson
is questionable with a hamstring injury. That's not good news against a San Jose State team led by a future NFL draft pick in
David Fales
. The Spartans are the best team Minnesota has played, and I say they pull off the road upset
. … San Jose State 24, Minnesota 20

Adam Rittenberg:
A tough one here as the Gophers haven't been tested and San Jose State's Fales could stress a
secondary already down one starter
(
Briean Boddy-Calhoun
). There's some uncertainty on offense at quarterback, but I like the fact the Gophers have a full stable of running backs. Minnesota racks up 200 rush yards and three touchdowns to survive with a win.
… Minnesota 27, San Jose State 24
FLORIDA A&M at OHIO STATE
Adam Rittenberg:
The scoreboard operator will be busy as Buckeyes backs
Jordan Hall
and
Carlos Hyde
combine for six touchdowns. The quarterbacks don't have to do much in this one as Ohio State rolls on to 4-0.
… Ohio State 59, Florida A&M 7
Brian Bennett:
This is a ludicrous matchup. Buckeyes can name their score.
… Ohio State 63, Florida A&M 10

WESTERN MICHIGAN at IOWA
Brian Bennett:
Oh boy. We get to watch Western Michigan take on a Big Ten team for the third time in four weeks. The first two times didn't go well for the Broncos, and
Mark Weisman
will add to their misery with 150 yards rushing.
… Iowa 35, Western Michigan 7

Adam Rittenberg:
Northwestern ran roughshod on Western Michigan and Iowa will do the same. Coach Kirk Ferentz gives Weisman a bit of a breather and spreads the ball around, as both
Damon Bullock
and
Jordan Canzeri
reach the end zone. Iowa pulls away in the third quarter.
… Iowa 31, Western Michigan 10
MAINE at NORTHWESTERN
Adam Rittenberg:
Expect another vanilla offensive game plan from Northwestern as the coaches save the goods for Week 6 against Ohio State. Five different Wildcats rush for touchdowns, including true freshman
Warren Long
, in the team's final tune-up before Big Ten play.
… Northwestern 48, Maine 13
Brian Bennett:
Please don't feed the Black Bears!
Ibraheim Campbell
makes it six games in a row with a pick as the Wildcats roll.
… Northwestern 45, Maine 17

MICHIGAN STATE at NOTRE DAME
Brian Bennett:
The Spartans finally have a bit of confidence and stability at quarterback, but
Connor Cook
still has a ways to go and this is a tough road spot. The Irish jump out early on a special-teams touchdown and manage to hold on in a defensive struggle.
… Notre Dame 17, Michigan State 10

Adam Rittenberg:
Michigan State's renewed offense comes in with confidence and scores early. But reality begins to set in on the road, and the Spartans stall midway through the second quarter. The defense keeps it close as always, but Notre Dame rallies late behind
Tommy Rees
and his receivers.
… Notre Dame 19, Michigan State 16
SOUTH DAKOTA STATE at NEBRASKA
Adam Rittenberg:
The Huskers rest top quarterback
Taylor Martinez
(toe), and backups
Ron Kellogg III
and Tommy Armstrong both play and combine for three pass touchdowns.
Imani Cross
sparks the rushing attack in the second quarter and Nebraska fans can smile a little after a brutal eight-day stretch.
… Nebraska 59, South Dakota State 14
Brian Bennett:
The Jackrabbits are just what Nebraska needs right now. The Huskers get off to a sluggish start without a healthy Martinez, but
Randy Gregory
forces a fumble for a defensive score and the running game is too much for SDSU to handle.
… Nebraska 38, South Dakota State 10

KENT STATE at PENN STATE
Brian Bennett:
I think the Penn State defense comes out mad after last week's performance, and Kent State has had a tough time scoring so far this season.
Zach Zwinak
scores twice and the defense comes up with three turnovers.
… Penn State 28, Kent State 10

Adam Rittenberg:
Unless
Blake Bortles
secretly suits up for the Golden Flashes, Penn State should be OK in this one and takes control in the second quarter. Chalk up two more touchdown passes from
Christian Hackenberg
to
Allen Robinson
, and defensive end
Deion Barnes
finally shows up for the Lions.
… Penn State 31, Kent State 20
PURDUE at WISCONSIN
Adam Rittenberg:
No officiating blunders in this one as Wisconsin starts a bit slowly before getting
Melvin Gordon
and the run game going in the second half. Gordon records his first 20-carry performance and racks up 180 yards and two touchdowns. Purdue jumps out to an early lead but once again struggles in the fourth quarter.
… Wisconsin 34, Purdue 21
Brian Bennett:
Purdue hasn't been able to stop the Wisconsin running game the past couple of years, and it's no different in this one. Gordon and
James White
each eclipse 100 yards and the Badgers take out some frustration on the Boilermakers.
... … Wisconsin 42, Purdue 14

MICHIGAN at CONNECTICUT
Brian Bennett:
The Wolverines haven't been quite the same team on the road as they have been at home for Brady Hoke, but Rentschler Field ain't exactly the Horseshoe. UConn doesn't have enough offensive talent to do much damage, and
Devin Gardner
bounces back with four total touchdowns and just one turnover.
… Michigan 38, Connecticut 9

Adam Rittenberg:
Last week's near disaster against Akron will heighten Michigan's focus. So, too, will a road game under the lights (even if it feels more like a home game). Gardner delivers a turnover-free performance, and Fitz Toussaint has a big game on the ground (130 rush yards, 2 TDs).
… Michigan 35, Connecticut 17
MISSOURI at INDIANA
Adam Rittenberg:
This should be the most entertaining game of the day, as both offenses will put up points. Maybe I'm buying into Indiana too much after last week's impressive performance, but I like what I saw from the defense, which does just enough against Mizzou and records a game-ending takeaway. Expect another balanced offensive performance as
Tevin Coleman
rushes for two more touchdowns.
… Indiana 41, Missouri 37
Brian Bennett:
I expect a wild shootout where the punters can probably chill out on the sidelines. Ultimately, I don't have enough faith in the Hoosiers' defense and think
James Franklin
and
Henry Josey
will be too much to overcome. But take heart, Indiana fans: I've been wrong on your team each of the past two weeks.
… Missouri 48, Indiana 42

You've heard from us. Now it's time to see what this week's guest picker has cooked up. As a reminder, throughout the season we'll choose one fan/loyal blog reader each week to try his or her hand at outsmarting us. There's nothing but pride and some extremely limited fame at stake. If you're interested in participating, contact us
here
and
here
. Include your full name (real names, please) and hometown and a
brief
description why you should be that week's guest picker. Please also include "GUEST PICKS" in all caps somewhere in your email so we can find it easily.
We felt a little sorry for this guy after what happened last week in Tempe, Ariz.
Garret Olsen from Madison, Wis.,
the floor is yours:
I am a born-and-raised Wisconsin fan and 2010 University of Wisconsin Grad in complete shock this week. I'm in need of a win. I attended my first Badger football game with my grandparents when I was 5 years old and have attended many more Badger games over the years with them. I never missed a home game during my time as an undergrad and traveled to many of the B1G stadiums and followed the Badgers to Indy and Pasadena. Each week my former Mifflin Street college roommate and I have a friendly pick-off between us and I can proudly report that I have beaten him the last two years. The blog is a daily read for me and I would be honored to pick alongside you and Adam and I promise not to botch any last-second pick situations.
Here are Garret's Week 4 selections:
San Jose State 35, Minnesota 34
Ohio State 45, Florida A&M 7
Iowa 28, Western Michigan 14
Northwestern 55, Maine 10
Notre Dame 17, Michigan State 10
Nebraska 42, South Dakota State 21
Penn State 33, Kent State 24
Wisconsin 49, Purdue 17
Michigan 34, Connecticut 13
Missouri 42, Indiana 38
SEASON RECORDS
Adam Rittenberg:
31-5
Brian Bennett:
31-5
Guest pickers:
27-9
September, 8, 2013
9/08/13
10:00
AM ET
On Saturday, the Wolverines picked up an impressive
40-31 win over Notre Dame
(their only opportunity for such a thing during their four-game nonconference schedule). Michigan continued to show a bit more and as a result, we got a better feel for this team. Here are three things we learned in the Wolverines' win:

1. This offense has the potential to be very good.
Eight different receivers were involved in the passing game.
Fitzgerald Toussaint
looked solid and forced the Notre Dame front seven to be honest in deciding how to defend the Wolverines.
Devin Gardner
showed progress in his decision making, while also taking risks -- some good, others not as good -- that could pay off in the long run. All of those elements combined make for a pretty potent offense and the Wolverines showed flashes of that against the Irish. Whether it was
Jeremy Gallon
making a catch that just seems scientifically impossible or players around Gardner showing they know what to do when he scrambles, Michigan showed that it has the skill to really utilize the type of playbook that offensive coordinator Al Borges can put together.
2. The defense needs to make major strides.
As a whole, the Michigan defense needs to be much more consistent. It allowed 18 plays of 10 or more yards and the Irish's two true touchdowns were 75- and 90-yard drives in which they methodically marched down the field. The front four provided some pressure on Notre Dame quarterback
Tommy Rees
, but there were far too many times that he had to much time to sit in the pocket. Michigan showed off a few of Greg Mattison's blitzes, which freed up guys like
Brennen Beyer
and
Raymon Taylor
for big-play opportunities. The secondary as a whole looked out of sorts at times and were at fault for several of Notre Dame's big plays.
3. There's a "clutchness" about this group.
Even with the bad that was evident on the field, Michigan displayed that it has an ability to come up with the big plays when needed. In the Irish's five trips to the red zone, they only scored three times and the Wolverines came up with what they needed to be successful. That trait is necessary for championship teams and finding ways to win is something the Wolverines haven't always been able to do in the past.
September, 7, 2013
9/07/13
7:00
AM ET
Saturday night, No. 17 Michigan and No. 14 Notre Dame face off for the last time in Michigan Stadium. Several words have been exchanged by the coaches and players leading up to this game, but Saturday night -- under the lights -- will afford both teams the opportunity to back up what has been said.
Both teams enter the game with a big win over a smaller opponent in week one, and week two should offer higher competition.

Up front, Notre Dame's talented defensive line, anchored by the 340-pound
Louis Nix III
, should present a challenge for the Wolverines offensive line, which features three interior linemen who saw their first starts last week. All-American
Taylor Lewan
will have his hands full with
Stephon Tuitt
as the two battle in front of what will likely be countless NFL scouts.
Alternatively, the Michigan defensive line will also be able to measure itself up against a stout Notre Dame offensive front. In a 59-9 win over Central Michigan, the Wolverines' defensive front looked vastly improved with not only its four-man rush but also with more blitz schemes -- expect defensive coordinator Greg Mattison to get creative with what he throws at Notre Dame QB
Tommy Rees
.
Rees will be facing a Michigan secondary which didn't play either starting safety against Central Michigan. However, strong safety
Thomas Gordon
returns from his one-game suspension and free safety
Courtney Avery
returns after undergoing arthroscopic knee surgery two weeks ago.
Devin Gardner
's challenge on offense doesn't get any easier with Notre Dame's stout front seven and its talented secondary. But in front of a home crowd that could likely surpass the stadium's record (set two years ago at this same game -- 114,804), Gardner will have plenty of support.
The two teams face off at 8 p.m. and the game will be televised on ESPN.
September, 5, 2013
9/05/13
9:00
AM ET
Ten items to track around Big Ten football in Week 2:

1. House party:
If the second night game at Michigan Stadium is anything like the first, we'll all be thrilled (well, except for those Notre Dame folks). Michigan and Notre Dame
delivered the drama two years ago under the lights
, and the spectacle Saturday night in Ann Arbor should once again be incredible. The teams' past four meetings have all been decided by seven points or fewer (19 points total). The series sadly disappears after the 2014 meeting in South Bend, so enjoy it while it lasts.
2. Rees vs. Gardner:
Notre Dame-Michigan features another appetizing quarterback matchup. While
Tommy Rees
remains a polarizing figure for some Notre Dame fans, it's hard to argue with what he has done against Michigan. Before last Saturday's opener against Temple, Rees' only 300-yard passing performance came against Michigan two years ago, and he led Notre Dame to victory last fall. Rees can stretch the field, as he had more passes of 20 yards or longer against Temple (7) than Everett Golson had in any game last season.
Devin Gardner
was Michigan's leading receiver last year against Notre Dame, but he's firmly entrenched as a quarterback. Gardner has been deadly in the red zone for the Wolverines, converting 19 touchdowns in 22 red zone trips as the starter.
3. Spartans looking for a spark:
Michigan State basically has two more weeks to get its offense right before facing one of the nation's top defenses on the road at Notre Dame. The unit's opening act was highly disappointing, as Michigan State averaged just 3.8 yards per play against a Western Michigan defense that ranked 61st nationally in 2012. Head coach Mark Dantonio has kept mostly quiet about his quarterback situation this week as
four players continue to get reps in practice
. The Spartans need a solution there and at other offensive spots against South Florida, which allowed 56 points to McNeese State in its opening loss.
4. Illini aim to continue big-play ways:
One of the nation's most feeble offenses in 2012 broke out last week against Southern Illinois, as Illinois recorded six plays of 30 yards or longer -- matching its total from all of last season! Senior quarterback
Nathan Scheelhaase
recorded a career-high 416 pass yards and featured weapons like
Josh Ferguson
and
Ryan Lankford
. The question is whether the Illini can come close to that type of production against a much, much tougher opponent in Cincinnati, which held Purdue to one short scoring drive and only 226 yards last week. We'll get a much better gauge about Illinois' offensive progress against Tommy Tuberville's defense.
5. Northwestern's health:
After a mostly injury-free season in 2012, Northwestern already has been bitten by that pesky bug early this fall. The Wildcats will be without starting cornerback
Daniel Jones
(knee) for the rest of the season, putting redshirt freshman
Dwight White
in the spotlight against Syracuse. Top quarterback
Kain Colter
(head) and running back
Venric Mark
(leg) both are questionable for the game. If Northwestern can survive again like it did last week against Cal, it has a chance to get healthy in the next two weeks against weaker opponents before a two-week prep for Ohio State.
[+] Enlarge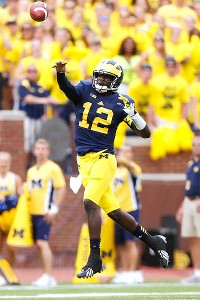 Gregory Shamus/Getty ImagesQuarterback Devin Gardner was 10-of-15 passing for 162 yards with one touchdown and two interceptions in Michigan's season-opening rout of Central Michigan.
6. Roby watch in Columbus:
After playing nine new defensive starters in last week's opener against Buffalo, Ohio State regains a very big piece in All-Big Ten cornerback
Bradley Roby
, who returns from suspension. Coach Urban Meyer wanted Roby to re-prove himself as a starter this week in practice, but it's only a matter of time before the junior distinguishes himself. Ohio State is looking for a cleaner performance in all three phases against struggling San Diego State, and it will be interesting to see how Roby performs.
7. Indiana's offensive efficiency:
Kevin Wilson's Hoosiers scored touchdowns on five of their first six offensive possessions in last week's opener against Indiana State, en route to a Memorial Stadium-record 73 points. If Indiana can come close to that type of efficiency Saturday against Navy, it will improve to 2-0. Possessions likely will be limited against the Midshipmen, as Indiana found out last year when it had only 10 offensive drives in a 31-30 loss. The Hoosiers had to settle for three field goals of 30 yards or less and need to be better about punching it in against Navy. "You don't get as many at-bats," Wilson said.
8. Second chances:
Purdue and Iowa didn't get off to the starts they wanted in Week 1, and neither did Nebraska's defense, which surrendered 35 first downs and 602 yards to Wyoming in the opener. Fortunately, all three teams should redeem themselves against weaker competition on Saturday. The Boilermakers need to boost quarterback
Rob Henry
's confidence and fix their communication problems on offense against Indiana State. Iowa quarterback
Jake Rudock
must rebound from his late interception against Missouri State. The Huskers defense, meanwhile, aims to clean things up against a Southern Miss team that has lost 13 straight and scored just 15 points against Texas State last week.
9. Wolverines' youth put to test:
Don't be surprised if Michigan-Notre Dame comes down to how well the Wolverines' young interior offensive line performs against an elite Fighting Irish defensive front led by nose guard
Louis Nix III
and end
Stephon Tuitt
, two potential first-round picks in next April's NFL draft. Michigan will start redshirt freshman
Kyle Kalis
at right guard, true sophomore
Jack Miller
at center and redshirt sophomore
Graham Glasgow
at left guard. They'll be challenged all night long (especially Miller) as they try to create running room for
Fitzgerald Toussaint
and protect Gardner.
10. Hack's home debut:
Penn State fans have been waiting more than a year and a half to watch quarterback
Christian Hackenberg
take snaps at Beaver Stadium. They'll finally get their chance Saturday as the Lions face Eastern Michigan in their home opener. Hackenberg had a few expected hiccups in his collegiate debut against Syracuse but also showed why he can be such a special player for Penn State's offense. Head coach Bill O'Brien vows to put Hackenberg in better positions to succeed this week. Hackenberg also will have top weapon
Allen Robinson
at his disposal from the start, which should make a big difference.
September, 5, 2013
9/05/13
8:00
AM ET
We went a combined 23-1 in our first week of predictions, so let's see if we can keep that robust pace going. And how will our Week 2 guest picker fare?

Let's get to it:
Eastern Michigan at Penn State
Brian Bennett:
Not much to see here, as Eastern Michigan has long been a Big Ten sacrificial lamb. This is a good opportunity for
Christian Hackenberg
to work out some kinks, and the kid throws three TD passes. ...
Penn State 35, Eastern Michigan 9.
Adam Rittenberg:
The Hackenberg-
Allen Robinson
connection will link up for two touchdowns, and Penn State coach Bill O'Brien will keep to his word and call better plays, sparking the run game to 175 yards and two scores. Lions roll.
... Penn State 31, Eastern Michigan 10
Indiana State at Purdue
Adam Rittenberg:
Rob Henry
gets the confidence boost he needs and Purdue fixes its communication issues on offense as running back
Akeem Hunt
goes for 135 yards and two touchdowns. The Boilers come out fast and get a first-quarter forced fumble from big
Bruce Gaston
.
... Purdue 38, Indiana State 14
Brian Bennett:
The FCS just had a great weekend, so maybe we should take the three Big Ten games against FCS opponents seriously on Saturday. Nah. A team that just got done giving up 73 points to Indiana is just what the sputtering Purdue offense needs. ...
Purdue 45, Indiana State 17.
Missouri State at Iowa
Brian Bennett:
Iowa finally snaps its seven-game losing streak, using its superior beef to run for 200 yards, and getting a special-teams score. ...
Iowa 31, Missouri State 13.
Adam Rittenberg:
Yeah, this game has
Mark Weisman
and
Damon Bullock
written all over it. The tandem combines for three rushing touchdowns and
Jake Rudock
adds two more through the air to
C.J. Fiedorowicz
and
Kevonte Martin-Manley
.
... Iowa 38, Missouri State 10
Tennessee Tech at Wisconsin
Adam Rittenberg:
James White
rushing touchdown,
Melvin Gordon
rushing touchdown,
Corey Clement
rushing touchdown. Rinse and repeat.
... Wisconsin 63, Tennessee Tech 3
Brian Bennett:
Yawn. Are we done with the FCS games yet? ...
Wisconsin 56, Tennessee Tech 7.
South Florida at Michigan State
Brian Bennett:
If the Spartans can't move the ball against a Bulls team that gave up 53 points to McNeese State last week, they've got even bigger problems than we realized. Three different QBs play for MSU, and two of them throw for TDs. ...
Michigan State 30, South Florida 10.
Adam Rittenberg:
I agree that Michigan State can't be much worse on offense than it was in the opener and will move the ball better, especially on the ground.
Jeremy Langford
and
Riley Bullough
both reach the end zone, and
Tyler O'Connor
makes the quarterback race a little more interesting.
... Michigan State 34, South Florida 3
Cincinnati at Illinois
Adam Rittenberg:
The Illini start quickly and jump ahead on a
Nathan Scheelhaase
touchdown pass to
Josh Ferguson
. But reality begins to set in as a superior Cincinnati team takes charge behind its athletic defense.
... Cincinnati 28, Illinois 17
Brian Bennett:
Illinois will put up a more respectable showing against the Bearcats than Purdue did. Scheelhaase throws for 300 yards and the game is close until midway through the third quarter. But there's just too much
Munchie Legaux
(I can't help myself). ...
Cincinnati 42, Illinois 27
.
San Diego State at Ohio State
Brian Bennett:
I was interested in this game until San Diego State gagged against Eastern Illinois. The Buckeyes turn in a better overall effort than in Week 1, and
Bradley Roby
has a pick in his first game back. ...
Ohio State 45, San Diego State 20.
Adam Rittenberg:
My concern is Ohio State might be less interested than you are, BB. The Buckeyes overcome a sluggish start as
Braxton Miller
fires two second-quarter touchdown passes. Freshman
Dontre Wilson
scores his first touchdown for the Scarlet and Gray.
... Ohio State 41, San Diego State 13
Southern Miss at Nebraska
Adam Rittenberg:
After a
passionate postgame speech last week
, emerging leader
Ameer Abdullah
takes matters into his own hands. The Huskers running back piles up 200 yards and three touchdowns. The defense has its typical hiccups early before settling down.
... Nebraska 42, Southern Miss 17
Brian Bennett:
I expect -- and would hope -- that the Nebraska offense comes out mad after not finishing key drives last week. The Huskers go for the jugular this week behind
Taylor Martinez
's five total TDs, and the defense makes slight improvements. ...
Nebraska 49, Southern Miss 24.
Navy at Indiana
Brian Bennett:
It's never easy or fun to play Navy, but the Hoosiers got some experience against the option last year. The Midshipmen will shorten the game and frustrate the IU offense some, but
Nate Sudfeld
throws a fourth-quarter TD pass to
Kofi Hughes
to seal it. ...
Indiana 28, Navy 20.

Adam Rittenberg:
Sudfeld and the Hoosiers will finish drives better than they did last year against Navy, as
Tevin Coleman
twice reaches the end zone. IU forces a key third-quarter fumble and pulls away midway through the fourth quarter.
Tre Roberson
sees more field time in this one.
... Indiana 34, Navy 23
Syracuse at Northwestern
Adam Rittenberg:
Northwestern's injury issues are worth monitoring, but the Wildcats have enough weapons on offense to outscore a Syracuse team that didn't impress me much last week against Penn State.
Trevor Siemian
connects with
Dan Vitale
on two touchdowns, and the defense comes up big again with a fourth-quarter takeaway.
... Northwestern 28, Syracuse 20
Brian Bennett:
Hard to know what to expect from Northwestern because of the iffy status of both
Venric Mark
and
Kain Colter
. But Syracuse looked limited offensively last week, and I think Siemian rescues the 'Cats once again. ...
Northwestern 31, Syracuse 24.
Minnesota at New Mexico State
Brian Bennett:
It was a tough call between Ann Arbor and Las Cruces for the "GameDay" crew this week -- seriously, what is Minnesota doing here? Are the Gophers just big "Breaking Bad" fans who are planning a side trip to Albuquerque? Anyway, it's close for a half but the defense comes up with another score to send the Aggies to Belize. ...
Minnesota 37, New Mexico State 20
.
Adam Rittenberg:
Maybe the Gophers can take a side trip to Roswell and check out the UFOs. Minnesota quarterback
Philip Nelson
will provide a few identified flying objects in this one, firing two touchdown passes in the second half. It's not a pretty game, but it's a win as Minnesota improves to 2-0.
... Minnesota 34, New Mexico State 21
Notre Dame at Michigan
Adam Rittenberg:
Can't wait to witness this one under the lights at the Grande Casa. Although Michigan struggles early with Notre Dame's fearsome defensive front, the offense settles down late as
Devin Gardner
and
Jeremy Gallon
connect for two second-half touchdowns, including the game-winner in the final minutes. Tommy Rees' mastery of Michigan ends with two second-half interceptions.
... Michigan 24, Notre Dame 21
Brian Bennett:
I just keep remembering how Michigan mostly outplayed Notre Dame last year except for all those picks, and I don't think Gardner will make the same mistakes. Gardner finds Gallon for a pair of scores, and
Blake Countess
intercepts
Tommy Rees
on Notre Dame's final series to turn the lights out on the Irish. ...
Michigan 27, Notre Dame 24.
Now it's time to hear from our guest picker. As we announced last week, we'll be choosing one fan/loyal blog reader each week to try his or her hand at outsmarting us. There's nothing but pride and some extremely limited fame at stake. If you're interested in participating, contact us
here
and
here
. Include your full name (real names, please) and hometown and a
brief
description why you should be that week's guest picker. Please also include "GUEST PICKS" in all caps somewhere in your email so we can find them easily.
The response so far has been overwhelming. This week's guest picker is
Nick Schmit from West Des Moines, Iowa
. The floor is yours, Nick:
"As a graduate of the University of Iowa, I have been following the conference and teams for as long as I can remember. I have plenty of insight and knowledge to offer. Besides, my wife is due with our first daughter on 10/19 (Iowa vs. OSU). Other than her birth, I need something to be excited about in what looks to be another long, depressing, mediocre (or worse) season for the Hawks."
Nick's picks:
Penn State 28, Eastern Michigan 13
Purdue 28, Indiana State 21
Iowa 34, Missouri State 10
Wisconsin 70, Tennessee Tech 3
Michigan State 35, South Florida 10
Cincinnati 31, Illinois 21
Ohio State 42, San Diego State 6
Nebraska 51, Southern Miss 17
Indiana 41, Navy 31
Northwestern 42, Syracuse 20
Minnesota 33, New Mexico State 21
Notre Dame 27, Michigan 24
SEASON RECORDS
Brian Bennett: 12-0
Adam Rittenberg: 11-1
Guest picker: 9-3
September, 4, 2013
9/04/13
5:00
AM ET
1. Boston College head coach Steve Addazio described in his press conference this week his instructions to offensive coordinator Ryan Day not to gamble this season when his offense is in the red zone. The reason: kicker
Nate Freese
, who made 18-of-20 field goals last season (all 16 inside of 40 yards). "The last thing you want to do is get inside field goal range and then somehow take a sack or something and lose field goal range," Addazio said. "When you know you have that kicker you have that mindset where you don't want to give away points. That's how I view it now when I get there."
2. The Notre Dame-Michigan game features quarterbacks who toiled in the shadow of more accomplished players. The Irish's
Tommy Rees
, who lost the starting job last season to Everett Golson, looked polished and comfortable against Temple. The Wolverines'
Devin Gardner
, who replaced the injured
Denard Robinson
last season, has been astounding. According ESPN Stats & Info, in six starts, Gardner has taken Michigan into the red zone 22 times and scored 19 touchdowns. That's a
Miguel-Cabrera
-like number.
3. Guess the author of this Facebook post Tuesday: "Woke up feisty and looking forward to traveling to Athens on Sat. If you know fans who act more like they're at a tennis match or watching a round of golf please buy their ticket and give it to someone on Adderall who's willing not to take it on Sat. If you don't have the stamina to stand on your feet & yell for several hours please give your ticket to someone who can. If you let down after the 1st sign of adversity, please sell your ticket. I'm tired of other fans out yelling and out lasting us. We MUST be a factor Saturday! That is all."
Aaron Murray
's mother Lauren wrote that post. Dawg fans, you have been challenged.
June, 11, 2013
6/11/13
8:25
AM ET
ANN ARBOR, Mich. -- We're less than a week away from Michigan's high school camp, which is always a fun time. I, for one, will likely forget sunscreen and be a tomato by the end of the week. And Tom, well, he'll bring the snacks. And Mike will make fun of us for being overly prepared for the football and underprepared for everything else. It's always a party at WolverineNation.
But with such an exciting offseason so far, there's so much more to talk about than snacks and sunscreen, so let's get to it. Next week Mike will take questions, so get those to him (michaelrothsteinespn@gmail.com or @mikerothstein).
Jimmy, Maynard Street, Ann Arbor:
Do you think
Jabrill Peppers
(Paramus, N.J./Paramus Catholic) will play immediately and if so, will he be an impact player?
May, 28, 2013
5/28/13
10:15
AM ET
ANN ARBOR, Mich. -- The Big Ten might not have a bevy of offensive skill players like some of the other conferences in the country, but there is enough talent in the league to cause some concern for the Wolverines.
As we begin the long buildup to the start of the Michigan football season in August, we take a look today at the top 10 offensive players the Wolverines will face this fall. Notre Dame quarterback
Everett Golson
was second on this list when it was written, but he was no longer enrolled at the school by the time this was published.
To continue reading this article you must be an Insider
September, 22, 2012
9/22/12
11:16
PM ET
Denard Robinson
was the difference in the Michigan-Notre Dame classics in 2010 and 2011.


Robinson was again the key figure in the 2012 meeting, though not in a good way for the Wolverines. And the game was anything but a classic -- but Irish fans will gladly take the ugly
13-6 victory
.
It was a bizarre game in South Bend that featured eight turnovers, including six of them by the losing team. Here's a quick look at how it went down.
It was over when:
Tommy Rees
found
Tyler Eifert
for a 38-yard gain on third-and-4 from the Notre Dame 31 with less than two-and-a-half minutes remaining. That play, coming against one-on-one coverage, allowed the Irish to run out the clock and keep Robinson from pulling off another miracle. It was Eifert's only catch of the game.
Game ball goes to:
The Notre Dame defense. For the past two years, they were absolutely terrorized and traumatized by Robinson. This time, the Irish not only held Michigan out of the end zone, they forced Robinson to turn it over five times (four interceptions, one fumble). He had 228 total yards, and his longest run was only 20 yards. It was like a photo negative of Robinson's previous two performances in this series. The front seven got great pressure and stayed in its lanes, while
Manti Te'o
played an enormous game with two interceptions and two hurries that led to turnovers. That's why the Irish erased their nightmares from years past.
Stat of the game:
Michigan had 299 total yards to only 239 for Notre Dame. But the minus-four in turnovers was too much to overcome.
How the game was won:
Turnovers, turnovers, turnovers. Notre Dame coach Brian Kelly made the best move of the game when he lifted
Everett Golson
for Rees in the first half. Golson looked too skittish for this stage and had two bad interceptions. Rees settled down the offense and while he threw for only 115 yards, he was the only quarterback in the game who took care of the ball.
Second guessing:
Michigan was driving the ball well in the first quarter and had the ball on the Notre Dame 10-yard line when offensive coordinator Al Borges got a little too tricky. He called for a halfback pass from the diminutive
Vincent Smith
, who jumped in the air with Te'o barreling down on him and lobbed an easy interception in the end zone. The Wolverines could have used the momentum early and ended up really needing the points.
What Notre Dame learned:
While this one wasn't pretty, the Irish could hardly have asked for a better start to this season. Its defense is playing at a championship level -- to hold Michigan and Robinson to six points is an outstanding achievement. There are still questions for this team, and Kelly will have to answer even more quarterback controversy questions this week, but this is the toughest Irish team we've seen in a while.
What Michigan learned:
The Wolverines still aren't ready for prime time. They got blown out in the opener against Alabama and then were ridiculously sloppy with the ball in this one. While Michigan had by far its best defensive performance to date and can build on that, Robinson is still making too many mistakes in the passing game. There's really no reason for the Wolverines to be ranked in the top 25 right now, but Michigan still will be a factor in the weakened Big Ten, which went 0-3 against Notre Dame.
Michigan C Cites Concussions In Decision To Quit
BIG TEN SCOREBOARD
Thursday, 9/3
Friday, 9/4
Saturday, 9/5
Sunday, 9/6
Monday, 9/7