Michigan Wolverines:

Tom Osborne
July, 25, 2014
7/25/14
12:00
PM ET
The Big Ten season unofficially begins Monday with media days. So enjoy the weekend, and then let's get after it.
June, 5, 2014
6/05/14
9:00
AM ET
Unlike the
ACC
or
SEC
, the Big Ten hasn't taken an official position on an early signing period. Many
Big Ten coaches see the benefits
, but there has been no united front.
Here's a bit of advice: The Big Ten coaches should band together about an urgent recruiting item, but not the early signing period.
The Big Ten must campaign for official visits to be moved up. No other league is affected more by population shifts that have created dense pockets of top recruits located far from its footprint. The
Big Ten is expanding its recruiting reach
, especially to the Southeast, but its proximity to many talent bases remains a significant obstacle.
If the Big Ten can't get prospects to its campuses before decisions are made, it will continue to fall behind in the recruiting race.
[+] Enlarge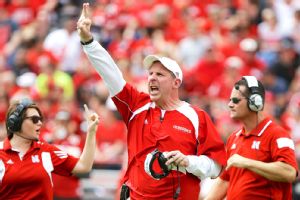 AP Photo/Nati HarnikEarlier official visits would be a boon to Bo Pelini and Nebraska, as the Cornhuskers have to recruit nationally because of a limited local talent base.
"The first thing we have to do is get kids on campus earlier," Michigan coach Brady Hoke told ESPN.com. "I'm sure our friends in the Pac-12 and the SEC would rather not that be the case. They'd rather have kids come in to Ann Arbor if it's winter.
"But I think it would help the guys from distance and the guys from those climates to come on campus to see what it is like."
NCAA rules state that prospects can't begin taking their five official visits -- paid for by the schools -- until the start of their senior year in high school. But many recruits make their college choices much earlier.
The accelerated recruiting cycle has minimized the significance of official visits. Many prospects commit after taking unofficial visits, for which they pay their own way. But the distance between Big Ten schools and the highest concentrations of elite prospects makes it challenging for recruits and their families to fund long, expensive trips.
"Since the trend is for early commitments, it makes sense that it favors schools located in population bases that produce a lot of players," said Big Ten Network analyst Gerry DiNardo, a former coach at Indiana, LSU and Vanderbilt. "So how do you combat that? How does a kid from Atlanta get to Lincoln, Nebraska, in the summer on their own expense?"
DiNardo views Nebraska as the FBS school most impacted by accelerated recruiting cycle. Nebraska always has recruited nationally because of its small local population base, but former coach Tom Osborne -- "a tireless recruiter," DiNardo said -- capitalized on the fact that recruits made their choices after an official visit to Lincoln.
Huskers coach Bo Pelini acknowledges earlier official visits "would help us."
"When you take official visits away from the equation, it really hurts a place like Nebraska," DiNardo said. "So early signing day has to be partnered up with official visits in a prospect's junior year.
"If just the date moves up without official visits, it sets the Big Ten even further behind."
DiNardo notes that a program such as Ohio State is less affected by the official visits timetable because it has a large local talent base that can easily reach its campus. But other Big Ten programs must cast a wider recruiting net.
It's especially true for programs in the western part of the league: Nebraska, Iowa, Minnesota and Wisconsin.
"It gives some of the schools that aren't surrounded by a lot of schools or a lot of places, it gives us a chance," Minnesota coach Jerry Kill said. "But I don't know if that's going to happen or not. People in Texas aren't going to vote for that because they never have to leave Texas."
Most Big Ten coaches interviewed by ESPN.com favor earlier official visits but want clear guidelines. One question is timing.
Several coaches mention late May or early June as the ideal time because many recruits already are touring schools unofficially and most staffs are conducting on-campus camps.
"With the way people are traveling around right now, it might be good to afford a prospect to take a couple of visits in June," Iowa coach Kirk Ferentz said. "Also, I think it'd be great to afford at least a parent the opportunity to join that prospect and make it part of the official trip."
Coaches say the parental component is critical.
"Sometimes kids just don't have the means to be able to get here, and they definitely don't have the means to have their parents come," Pelini said. "Hopefully, they'll change that. It's too big of a decision for a 17-year-old or 18-year-old kid to make without his parents or somebody being there."
[+] Enlarge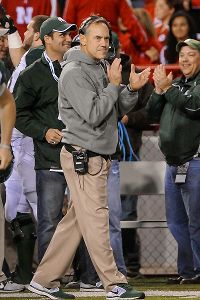 Eric Francis/Getty ImagesMark Dantonio wants an early official-visit period, but would prefer for it to be in a limited window instead of spanning the entire spring and summer.
Both Pelini and Michigan State coach Mark Dantonio want a limit on the number of official visitors schools could have in the spring. FBS teams can provide up to 56 official visits, but Dantonio rarely uses more than half of the allotment.
"It's not just carte blanche," Dantonio said. "I would make it a two-week window and cap those numbers."
Allowing 10-20 early official visits could work. Dantonio and Pelini also think prospects should be allowed to take multiple official visits to the same school.
Wisconsin coach Gary Andersen favors an earlier signing date in December, but he needs more clarity on official visits -- when they would take place, and for how long.
"I have to look at quality of life for my coaches," Andersen said. "Are we willing to take 4-5 weeks away in the summer? I don't want to do that."
Added Purdue coach Darrell Hazell: "You lose your life. The month of July, you need a little bit of decompression time."
The first two weeks in June makes the most sense. Create a dead period in July so coaches can take time off.
It also doesn't mean official visits in September and October will stop. Andersen can talk about Wisconsin's "Jump Around" and show videos, but, he said, "there's nothing like being there."
Big Ten teams still will have the chance to showcase their stadiums, facilities and campuses during football season. But they can't afford to wait that long for far-flung prospects to arrive, especially when they can afford to bring them in sooner.
"It would help everybody," Hoke said. "The other conferences aren't just staying in their region, either."
That's true, but the Big Ten has the most to gain, and pushing for change won't be easy.
"If that thing ever goes to a vote, everybody is going to say is that the Big Ten is just complaining," Indiana coach Kevin Wilson said. "They'll keep rallying their troops because they want to keep those kids at home."
The Big Ten coaches must rally, too. Otherwise, the recruiting gap will widen.
May, 2, 2014
5/02/14
12:00
PM ET
Read up and enjoy the weekend.
April, 30, 2014
4/30/14
12:00
PM ET
Everything's coming up Milhouse!
April, 16, 2014
4/16/14
5:00
PM ET
It's Wednesday. There's nothing good on TV (except for
this
). It's mailbag business time.

Ed from State of Rutgers writes:
How would you rank B1G head coaches on the hot seat in 2014? Which assistants are in the best position for a head coaching job after this season?
Brian Bennett:
Thanks for the question, Ed, and welcome to Big Ten country. We didn't see a single head coach get fired in the Big Ten last season, which was good news. But the way these things go, odds are the league won't make it two years in a row without any pink slips.
Let's answer your question by looking at this in tiers. Tier 1 includes the coaches who absolutely won't get fired this season unless there's some sort of unforeseen major scandal: Ohio State's Urban Meyer, Michigan State's Mark Dantonio, Penn State's James Franklin, Minnesota's Jerry Kill, Northwestern's Pat Fitzgerald, Wisconsin's Gary Andersen and Iowa's Kirk Ferentz.
[+] Enlarge
AP Photo/John RaouxKyle Flood could face a difficult first season in the Big Ten, but it might not be enough to cost him his job.
Tier 2 would be the guys who are most likely safe but who could feel some rising temperatures if the season goes awry. That would include: Indiana's Kevin Wilson, who seems to have the Hoosiers on an uptick but who needs to get the team to a bowl soon; Purdue's Darrell Hazell, who almost certainly won't get canned after just two years but can't afford another season as awful as last season's 1-11 debacle; and Michigan's Brady Hoke, who isn't on the hot seat now but who would definitely feel the wrath of fans and boosters if the Wolverines have another 7-5 type year and lose to Ohio State.
Tier 3 covers the coaches actually feeling some heat under their chairs. Let's evaluate them individually:
Tim Beckman, Illinois: This should come as no surprise. The Illini showed improvement last season, but Beckman is still just 6-18 and has seen fan support fall off a cliff. Anything less than a bowl game in 2014 could make things really dicey.

Bo Pelini, Nebraska: This is a well-documented situation, and many people were surprised Pelini wasn't fired at the end of last season, though athletics director Shawn Eichorst remains hard to read. The good news is that Pelini could have a very good team in Lincoln this year, and he sure doesn't appear to be sweating things this spring.

Kyle Flood, Rutgers: He went 9-4 his first season as head coach but just 6-7 with a dismal finish last season. He also has a new boss in town, and the Scarlet Knights will face a very difficult schedule in Year 1 in the Big Ten. He's only making $900,000, so a change wouldn't be too financially painful. The question is whether embattled new athletic director Julie Hermann has enough juice right now to make that call.

Randy Edsall, Maryland: This is the toughest call of the tier, as Edsall might have bought himself some time with last season's winning record and has had to deal with injuries to many star players. Yet he's still just 13-24 after three seasons, and life in the Big Ten might not be easy for the Terps. A losing record in 2014 would make things very uncomfortable in College Park.
---


George K. from Pittsburgh:
Brian, I'm disappointed in what you wrote about
Joe Paterno winning [the Big Ten coaches' tournament]
. There was way too much conjecture in what you said. Please think about it. Then issue a factual restatement, please.
Scott R. from Chadron, Neb., writes:
Pretty sure there was voter fraud on that Osborne/Paterno matchup. Am I the only one who noticed there were as many international votes as domestic? And that those international votes were 87% for Paterno? Every other poll on ESPN.com is about 75% domestic, 25% foreign. This one was 50/50, and the international vote was OVERWHELMINGLY for Paterno. Seems a little suspicious.
Brian Bennett:
File this one under "You Can't Please Everybody, Vol. 734." For the past two weeks, my mailbag was full of comments like Scott's, claiming some sort of voter fraud as Paterno got a huge international vote against both Tom Osborne and Woody Hayes. I have neither the technical expertise nor the time to figure out whether there was some sort of computer tomfoolery going on. But you'd have to be really naive not to raise an eyebrow at the fact that more than half the votes (17,000-plus) in the title matchup came from outside the United States and that those votes were wildly in favor of Paterno. Maybe there's a simple explanation why so many non-U.S. residents care about Big Ten football -- Italians for JoePa, perhaps?
The bottom line is that we placed no rules on this tournament, other than the most votes wins. If someone was ingenious enough to rig it, more power to them. Paterno certainly had the résumé and accomplishments that were deserving on their own. I had no personal stake in the outcome, and I found it to be a fun exercise to go along with March Madness. I hope everyone enjoyed it.
---


Andrew from Columbus, Ohio, writes:
While it is still possible that Ohio State-Michigan State could be a night game, what prevented it from being in the first batch of announced games? Since it would feature the two most compelling teams in the league from last year, it seems to me that it would be the marquee matchup the B1G has been looking to highlight.
Brian Bennett:
Andrew, I can't say I understand all the intricacies here at play, either, except that there are apparently some other details to iron out. That game still seems like a natural choice for a prime-time selection. It's still only mid-April. Stay tuned ...
---

Mike K. from Penn State writes:
With Penn State losing
Allen Robinson
and
Brandon Felder
at the WR position, along with some great O-linemen to the draft, do you think the team can still succeed in the Big Ten solely based on defense?
Brian Bennett:
I have great respect for what Bob Shoop and his staff accomplished at Vanderbilt and expect him to do a great job as the Nittany Lions' defensive coordinator. From what I saw last year, however, I don't think there's enough top-shelf talent on that defense for Penn State to pull a Michigan State and simply dominate everyone on defense. At least not at a championship level. I don't worry as much about the receiving group, because I think with
Geno Lewis
, some of the talented freshmen and those tight ends, they can piece together people for
Christian Hackenberg
to target. My biggest concern is the offensive line, which is thin and has some troubling injuries. It's nearly impossible to win at a high level in the Big Ten without a decent offensive line.
---
Tommy from Savannah, Ga., writes:
March Madness is one of the greatest times of the year, most people live for it. Why wouldn't the NCAA FBS decision makers want something like that with those ratings over the course of a few weeks? Definitely not 68 teams, but eight or 16 teams with a selection show, bracket challenge, Cinderellas, and endless coverage and hype. They already do it for FCS.
Brian Bennett:
You'll find no bigger NCAA tournament fan than me, Tommy, and my wife is really happy it's over so she can see me again. Still, it's hard to compare the sports. Football simply is a much more physical game, and so adding more games to the schedule becomes problematic, along with the logistical problems caused by Christmas break and the semester changes. I do believe we will eventually have an eight-team tournament, with the five power conference champions getting an automatic berth along with the top champion of the other leagues plus two wild cards. That's a perfect setup. But it took us decades just to get to a four-team playoff, and that semifinal day on Jan. 1 (most years) will instantly become one of the best days on the sports calendar.
Besides, I could argue college football already has March Madness all fall long, and the ratings reflect that. Before the Final Four began, the NCAA tournament averaged a reported 9.8 million viewers, which was a big increase. By contrast, the Big Ten championship game drew 11.6 million viewers, while the Auburn-Alabama game attracted 13.8 million. The men's basketball final (aired on network TV) between UConn and Kentucky got 21.2 million viewers, compared to 25.6 million for the BCS title game (aired on ESPN) between Florida State and Auburn. We could see record ratings for the inaugural rounds of the College Football Playoff.
April, 7, 2014
4/07/14
1:00
PM ET
It's championship Monday in the NCAA basketball tournament. And we're ready to announce the first participant in our
all-time Big Ten coaches tournament
championship game.
Our
opening semifinal game
pitted No. 3 seed Nebraska's Tom Osborne vs. No. 2 seed Michigan's Bo Schembechler. More than 13,000 votes were cast, and Osborne won in a rout, beating Bo by a count of 68 percent to 32 percent. Never underestimate the voting power of the Huskers faithful, but Osborne's record and résumé make him a very worthy finalist.
He'll advance to face the winner of the other semifinal game between Joe Paterno and Woody Hayes, which we'll reveal shortly. First, some of your comments about this matchup:
Lincoln S. from Sioux Falls, S.D.: I voted for Coach Osborne because what he did with the program has almost no parallel in the last hundred years. From what I can tell, besides Alabama, Cal from 1920-1925 and Minnesota from 1934-36, no one else has won three national titles in four years.

Nathan H. from Weeping Water, Neb.: All these coaches deserve admiration for what they've achieved, but at the end of the day, the championships are what really matter. Schembechler was an amazing coach, but the lack of national titles is why I have to give Osborne the vote.

Bill S. from Nebraska City, Neb.: Tom's record speaks for itself, and it was a lot of fun experiencing the incredible run in the 90s. What he has done off the field is what really defines him.

Walter from Omaha: It's Osborne, no question. Its hard to find a coach whose name is more synonymous with football, Big Ten or otherwise. He's one of the winningest coaches in history and has three national titles to boot, which as you noted, gives him a 3-0 sweep. Game. Set. Match!

Bob S. from Columbus, Ohio: I love (to hate) Michigan because of Bo, his Ten Year War and the universal respect afforded him and his program ... as evidenced by our tribute to him during The Game in Ohio Stadium the day after his death. Sadly, this icon of the Big Ten will lose this poll, as expected, solely because the minions that are the Red Sea have nothing better to do on prairie.

Crawdaddy from Ann Arbor: I love Bo. I grew up in Ann Arbor during the Ten Year War. I bleed Maize & Blue. But facts are facts. Osborne won three national titles. Bo zero. That is what separates the two. I voted for Osborne. Go Blue!
April, 3, 2014
4/03/14
5:00
PM ET
The real Final Four begins on Saturday, but our own version of it tips off right now.
The field in our
all-time Big Ten coaches tournament
has been whittled from 12 to four as our top overall four seeds advanced. As always, your vote will determine who wins.
Time now to take a look at our first semifinal ...
No. 3 Tom Osborne vs. No. 2 Bo Schembechler
Tournament résumés:
Osborne: It's hard for any coach to gain near universal respect and admiration, but Osborne achieved it with his illustrious tenure at Nebraska. He went 255-49-3 in leading the Huskers to three national titles in a four-year span (1994, 1995 and 1997), and his teams never won fewer than nine games in a season. Sure, he didn't coach in the Big Ten, but Nebraska is a member school and he was instrumental in getting the school into the league.
Schembechler: "Those who stay will be champions" was a motto Schembechler used early in his tenure, and he proved that to be true -- at least as far as Big Ten titles. His 13 league championships are tied for the most ever, and his 143 Big Ten victories are the second-most all time. Schembechler has the highest conference winning percentage (.850) of any coach who competed in the Big Ten for at least 10 years. The one thing missing? No national championship.
Which coach moves on to the title game? Voting will be open through the weekend, and make sure to
drop us a note
saying why you voted the way you did. The best responses will run in our results posts.
March, 19, 2014
3/19/14
1:00
PM ET
We're a 24/7/365 football blog around here, but it's impossible to not get caught up in the excitement of the NCAA men's basketball tournament.
But while football will have its own, smaller version of March Madness with the College Football Playoff this season, we don't want to wait that long. Why let the basketball guys have all the fun when we can hold our own tournament?
In past years, we did this with
the top players
and
championship teams
of the past 15 years. This time around, we're going to pit the best coaches in Big Ten history against one another in a winner-take-all bracket.
The Big Ten has an incredible roster of accomplished coaches in its lore. (And, yes, we're including all current Big Ten member schools, regardless of how long they've been in the league. We're inclusive here. Deal with it.). Narrowing the field to our customary eight was difficult, if not downright unthinkable. So we've expanded the bracket to 12 this time, with the top four seeds getting byes and the others trying to play their way in. Be on standby, Dayton.
We're looking for coaches who have won Big Ten titles and national championships, those who stuck around long enough to pile up Hall of Fame résumés and build unmistakable legacies. No current coaches are involved, as we'll let them finish their careers before we start stacking them up against the all-timers.
The tournament will kick off Thursday with the first couple of matchups. But first, here is a look at the entire field, in alphabetical order:
Barry Alvarez, Wisconsin: Alvarez revived the Badgers program during his 16 years at the helm in Madison, compiling 118 wins. He also earned three Rose Bowl victories and is the only league coach to ever win back-to-back Rose Bowls. He was inducted into the College Football Hall of Fame in 2010.
Bernie Bierman, Minnesota: The Gophers claimed five national titles under Bierman (1934, 1935, 1936, 1940 and 1941) and won seven Big Ten championships from 1932-41. He went 93-35-6 at Minnesota and also won a national title as a player with the Gophers.
Duffy Daugherty, Michigan State: Daugherty coached the Spartans from 1954 to 1972 and led them to back-to-back national titles in 1965 and 1966. The rest of his tenure didn't go as well, but Daugherty is tied for the sixth-most Big Ten wins ever.
Hayden Fry, Iowa: The Hawkeyes hadn't had a winning season in 17 years before Fry arrived before the 1979 season. He proceeded to go 143-89-6 in Iowa City, claiming three Big Ten titles. His 98 Big Ten wins are fourth-most ever.
Woody Hayes, Ohio State: Few coaches are as synonymous with a school as Hayes is with Ohio State. He won 205 games, the most of any coach while a member of the Big Ten, and a record 152 league games. Hayes also won 13 Big Ten championships, tying him for the most all time, and five national titles (1954, 1957, 1961, 1968 and 1970).
Tom Osborne, Nebraska: There aren't many coaches more beloved and universally respected than Osborne, who went 255-49-3 while leading the Huskers to three national titles in a four-year span (1994, 1995 and 1997). How about this: His teams never won fewer than nine games in a season, and this was before 12-, 13- and even 14-game seasons became the norm.
Joe Paterno, Penn State: JoePa won a record 409 games, plus two national championships (1982, 1986) and four other undefeated seasons. He won all four major bowl games -- the Rose, Orange, Fiesta and Sugar -- and was the AFCA national coach of the year five times. His career ended in scandal and a huge chunk of his wins were vacated by the NCAA.
Bo Schembechler, Michigan: Bo and Woody. Woody and Bo. Two coaches really defined the Big Ten for decades, and Schembechler was one of them. He is tied with Hayes for the most Big Ten titles ever (13) and his 143 Big Ten victories are the second-most all time. Schembechler has the highest conference winning percentage (.850) of any coach who competed in the Big Ten for at least 10 years. But he never won a national title.
Amos Alonzo Stagg, Chicago: Listen up, youngsters. The University of Chicago was a charter member of the Big Ten, and Stagg was its sports titan. He won 199 games, including 116 Big Ten victories, as well as two national championships (1905, 1913). Stagg is credited with innovating many plays and formations used in modern football, and he was also named to the Basketball Hall of Fame for his contributions to that sport.
Jim Tressel, Ohio State: Tressel coached exactly 10 years in the Big Ten before he was forced to resign, but what a decade it was. He has the second-highest winning percentage both overall and in league play for coaches who spent at least 10 years inside the conference, and he won or shared seven league titles (though the 2010 co-championship was later vacated). Tressel is the last Big Ten coach to win a national title, in 2002.
Fielding Yost, Michigan: The Wolverines won six national titles under Yost (1901, 1902, 1903, 1904, 1918 and 1923) and his 10 Big Ten titles trails only Hayes and Schembechler. His career winning percentage of .888 while a Big Ten head coach is the best all time among those who coached at least a decade in the league.
Bob Zuppke, Illinois: He was the Illini head coach from 1913 to 1941 and won four national titles (1914, 1919, 1923, and 1927). Zuppke is credited for inventing the huddle, which is kind of a big deal, and he also coached the legendary Red Grange. He is tied with Daugherty for the sixth-most Big Ten wins of all time, and he captured seven Big Ten titles.
As you can see, this is an impressive field. We couldn't even include all the amazing coaches from history, including Michigan's Fritz Crisler, Nebraska's Bob Devaney or Minnesota's Henry Williams, to name just a few. (Sorry, Huskers fans, but while Osborne has a tenuous connection to the Big Ten as the athletic director who ushered the school into the league, Devaney's great career had no Big Ten ties. Don't worry. You can simply throw all your considerable voting power behind Osborne if you desire.)
Stay tuned for the opening matchups.
"The ball is tipped ..."
December, 12, 2013
12/12/13
12:00
PM ET
Where did all the football go?
October, 11, 2013
10/11/13
4:00
PM ET
Thanks for all your questions and answers. Enjoy the games this weekend.
Don't forget:
Twitter
is the best way to follow us on game days.
Phil from Vancouver, Wash., writes:
Lets assume Ohio State runs the table and goes undefeated. If Wisconsin can win out and end up 10-1-0-1 (W-L-T-Screwed), where do you see them ending up for a bowl? With the BIG No. 5 in AQ leagues, I don't see them in the BCS.
Adam Rittenberg:
It depends on so many factors, Phil. If Ohio State doesn't make the national title game and goes to the Rose Bowl, the chances of the Big Ten receiving an at-large BCS berth go down. If the Rose Bowl loses a Big Ten team to the national title game, it likely would look for a Big Ten replacement, as long as one is eligible. Would the Rose want Wisconsin for a fourth consecutive year? Tough to tell. There are also other conferences in play, and right now you'd have to expect the SEC and Pac-12 to each send two teams to BCS bowls. And as long as Clemson and Florida State don't both fall apart, both teams are likely BCS bowl bound as well. The advantage Wisconsin would have is a long win streak to end the season, as opposed to a possible loss in the league title game, which often is the kiss of death when it comes to at-large berths.
---
Ian from Tacoma, Wash., writes:
Adam, I know there has been some talk from you and Brian recently in regard to conference perception and how it shapes top-25 rankings and the national championship picture, but I think this is becoming more of an issue than most folks realize. Why does Georgia scraping by a pretty lousy Tennessee team (that got slaughtered by Oregon) constitute a "tough road win" by the so-called experts, yet Ohio State's road win against top-15 Northwestern gets ignored? Even further, why does Ohio State get lambasted every week for their schedule, while Oregon gets constant media praise, despite having played a MISERABLE slate of games so far? Oregon is getting credit for games they haven't played yet, while Ohio State gets punished for games it hasn't played yet. I'm getting pretty frustrated with the inconsistency and hypocrisy in how teams are portrayed, simply because of the conference in which they compete.
Adam Rittenberg:
Ian, I hear ya, and Ohio State should be getting more credit for finding ways to win against good teams despite making some mistakes along the way. Georgia's win at Tennessee was vastly overvalued because the Bulldogs had so many injuries. Tennessee is mediocre at best. The Oregon example is interesting, because while Virginia and Tennessee aren't any good, it looks like the Ducks at least tried to schedule major-conference teams. Those quick to criticize Ohio State for living in cupcake city probably don't realize Vanderbilt canceled this year's game in Columbus. Vandy is no Alabama, but the Commodores are comparable to Virginia and Tennessee right now. And it's not Ohio State's fault that Cal is going through transition. Could Ohio State have done a little more with scheduling? Perhaps. But the bigger problem for the Buckeyes is the Big Ten's lousy perception, something Georgia and Oregon don't have to worry about.
---
Dan from Watercooler writes:
True or false: Bo [Pelini's] long-term outlook with the Huskers should be more based on what he does this and maybe next season, vs. what happened last season. Reasoning: Bo's defense last season had all sorts of seniors, effectively meaning he had a cap on what he could draw from them talent-wise. We've seen glimpses of what the defense is capable of (see: first half UCLA, parts of Illinois) and can see the talent there, but it needs time to build. Counterpoint: Last year's defense consisted largely of talent he developed; he should have been able to recognize gaps in the defense and find ways to correct them.I'd give him the benefit of a doubt and say, with the seemingly more athletic players he has coming up, he should be judged more on what happens from here.
Adam Rittenberg:
A nice breakdown from the water cooler, Dan. Nebraska's defense might be both younger and more talented this season. Pelini has alluded to it throughout the offseason, and I already see signs of more difference-makers with the Huskers D, especially in the front seven. That said, Pelini shouldn't get a pass for the struggles on defense last season because he brought in all of those players. Although Nebraska's move to the Big Ten probably didn't help a defense that had been shaped for the Big 12, the breakdowns in big games were inexcusable. This year's defense has had and will continue to have some growing pains, but if the unit isn't better in November than now, it falls on Pelini and the staff.
---
Matt from Baltimore writes:
I was looking at
this map of AAU schools
, and I was trying to guess where the next Big Ten expansion could be. Assuming that any schools in the ACC, SEC, or Pac-12 will stay put, it looks like the most appealing school from a state bordering a Big Ten state is Kansas (a distant second is Iowa State). What do you think the odds are of a Big Ten land grab into Big 12 territory in the near future?
Adam Rittenberg:
Ah, Matt, we must be overdue for an expansion question. Keep in mind that the Big 12 also
has a grant of rights agreement
, just like the ACC does, which makes it very difficult for schools to leave the league. The Big 12 also has great leadership now with Bob Bowlsby as commissioner. Although Texas could still send things into flux, I'd be surprised if more Big 12 schools jumped ship. The one league the Big Ten could look to, believe it or not, is the SEC, which amazingly doesn't have a grant of rights agreement. Anyone else think Missouri is a much better fit in the Big Ten than the SEC? Still, Mizzou would be giving up a lot, and I don't think the Big Ten wants to expand West when it has talked so much about being bi-regional and trying to bring in the northeast corridor. Problem is, there aren't any great candidates on the East Coast.
---
Matt from Iowa writes:
Who will be the last to surrender a rushing touchdown, Iowa or Michigan?
Adam Rittenberg:
I'm going with Michigan, especially since Iowa is off this week and the Wolverines face a Penn State team that, while lagging in rushing offense, has 11 rushing touchdowns through the first five games. I have
Akeel Lynch
scoring the game-winning touchdown for Penn State on Saturday, so I think the Wolverines' run of zero rush touchdowns ends.
---
Mike from Minneapolis writes:
Thoughts on the selection committee? As a Nebraska fan, I'm not all that thrilled to see that if they come into the playoff discussion Osborne/Alvarez will have to leave the room and their fate will be decided by a group of southerners.
Adam Rittenberg:
I'm glad you asked, Mike, as I didn't get much chance to address this last weekend. While I understand your concern about Nebraska and the ties that both Tom Osborne and Barry Alvarez have to the school, I couldn't be happier with these choices to represent the Big Ten on the committee. They're both home runs: smart football men who have served as administrations and have thick enough skin to handle the job after coaching major programs for a long time. Alvarez was the overwhelming choice among sitting athletic directors to represent the Big Ten when
we conducted a poll back in July
, and it would have been a close race between Alvarez and Osborne if Osborne still served as Nebraska's AD. Big Ten fans should be really pleased with these two.
---
Jon from Columbus writes:
Adam, Michigan has allowed seven offensive TDs in five games so far, and yet ... and yet ... you're calling for PSU to score 38 on them on Saturday? I just don't see your reasoning based on any sound football analysis. Listen, Penn State might beat Michigan this week. But if it happens, it very likely won't come in a fireworks-filled offensive shootout.
Adam Rittenberg:
Jon, maybe the score prediction is a little high, but Michigan has faced only one decent offense (Notre Dame) through the first five games -- the other four are ranked 106th or worse nationally -- and hasn't done much defensively to stand out aside from allowing no rushing touchdowns.
Tommy Rees
made plays against Michigan's secondary but couldn't avoid the turnover.
Christian Hackenberg
has more natural ability than Rees and poses a bigger challenge for the Wolverines, who still don't have any standouts on defense (
Jake Ryan
comes back soon). This is a great chance for Michigan's defense to stand out against a good quarterback in a tough road setting. But I expect to see quite a few points scored at Beaver Stadium.
September, 19, 2013
9/19/13
12:00
PM ET
Unlike in Cleveland, there are no white flags waving here in September.
September, 27, 2012
9/27/12
9:00
AM ET
Prediction time is here again, and at last, we can start forecasting some Big Ten conference games.
League play opens up at five Big Ten venues Saturday, while Purdue returns from an open week to wrap up its nonleague slate against Marshall. Week 4 was a rough one for Brian Bennett, who went 6-4 in predictions and fell three games behind Adam Rittenberg in the season standings. The good news: The entire Big Ten slate remains, so Bennett, like most Big Ten teams, has time to improve his record.
Let's get started ...
INDIANA (2-1) at NORTHWESTERN (4-0)
Brian Bennett: The Hoosiers are apt to hang around in this one, and their passing game could give the Wildcats' still somewhat shaky secondary a big test. But Northwestern has shown too much toughness so far this season to slip up now.
Venric Mark
rushes for two scores and
Kain Colter
throws for two more as Pat Fitzgerald's team moves to 5-0.
... Northwestern 35, Indiana 21
Adam Rittenberg: These teams typically play close games, and Indiana's passing game, led by quarterback
Cameron Coffman
, will challenge Northwestern's secondary more than the Wildcats' past few opponents did. Northwestern's offensive line is in a good rhythm, though, and Mark will record another 100-yard rushing performance and two touchdowns. The Wildcats open up their passing game a bit in the second half and improve to 5-0.
... Northwestern 34, Indiana 26
PENN STATE (2-2) at ILLINOIS (2-2)
Adam Rittenberg: Penn State is hitting its stride under Bill O'Brien, and the Lions will be fired up to face poacher coach Tim Beckman and the Illini. Matt McGloin and
Allen Robinson
connect for two more touchdowns, and running back
Bill Belton
adds another score in his return. The Lions bottle up Illinois' run game in the second half and win their third straight.
... Penn State 21, Illinois 17
Brian Bennett: The Nittany Lions' offense isn't going to give the Illini defense as many fits as the spread teams have this season. But McGloin is slinging it pretty well, and I don't know what the offensive identity is for Beckman's club. This one won't be pretty, but Penn State gets out to an early lead and hangs on with a defensive stand in the fourth quarter.
... Penn State 17, Illinois 10
MINNESOTA (4-0) at IOWA (2-2)
Brian Bennett: Somehow, Iowa is favored in this game. But even though it's at Kinnick Stadium, all the good vibes belong to Minnesota going into Saturday. The Gophers' pass defense has been strong, while
James Vandenberg
and the Hawkeyes' passing attack has sputtered.
Mark Weisman
will batter his way to 160 yards, but the Gophers come up with two picks and a special teams score to hogtie the Hawks.
... Minnesota 21, Iowa 14
Adam Rittenberg: I went against the Gophers last week and paid the price. Not happening again. The Gophers' defense contains Weisman and forces some mistakes from Vandenberg, while the run game surges behind
Donnell Kirkwood
. It'll be an up-and-down day for
Max Shortell
, but he finds senior tight end and Iowa native
John Rabe
for the game-winning touchdown in the fourth quarter.
... Minnesota 24, Iowa 20
MARSHALL (2-2) at PURDUE (2-1)
Adam Rittenberg: After dealing with a migraine in the Eastern Michigan game, Purdue quarterback
Caleb TerBush
bounces back nicely with a three-touchdown, zero-interception performance against the Thundering Herd. The Akeems run all over a woeful Marshall defense and Purdue pulls away in the second quarter and cruises to another easy win.
... Purdue 38, Marshall 21
Brian Bennett: The Thundering Herd lead the nation in passing, so they'll have a puncher's chance in West Lafayette. But they also have one of the worst defenses in the country, which should help TerBush and company enjoy a big day.
Kawann Short
and the Purdue defensive line are too much here, sacking
Rakeem Cato
five times.
... Purdue 48, Marshall 24
No. 14 OHIO STATE (4-0) at No. 20 MICHIGAN STATE (3-1)
Brian Bennett: At some point, the Spartans have to start catching balls thrown right at them. How about this week? This is a better matchup for the scuffling Ohio State defense, but I think Spartans defensive coordinator Pat Narduzzi will devise a plan to contain
Braxton Miller
. An actual touchdown pass from
Andrew Maxwell
and a 100-yard day from
Le'Veon Bell
will be just enough for Michigan State to escape at home. Next prediction.
... Michigan State 19, Ohio State 17
Adam Rittenberg: Ohio State looks like a team waiting to be beaten one of these weeks, but Miller Time refuses to lose. Miller starts slowly but turns in a big fourth quarter and breaks free for two touchdown runs to rally Ohio State for the victory. Michigan State's passing woes continue, and the Buckeyes' defense forces a key third-quarter turnover and starts looking a bit more like the silver bullets again.
... Ohio State 20, Michigan State 17
WISCONSIN (3-1) at No. 22 NEBRASKA (3-1)

Adam Rittenberg: Although Wisconsin started to look like its old self a bit at the end of the UTEP game, I don't see how the Badgers win this one. Nebraska has more weapons on offense, the home-field advantage and no shortage of motivation after being embarrassed last year in Madison.
Chris Borland
and the Wisconsin defense keeps this close for a while, but Nebraska quarterback
Taylor Martinez
goes off in the second half, and
Rex Burkhead
adds another long touchdown run.
... Nebraska 34, Wisconsin 21
Brian Bennett: I don't like where this is headed for the Badgers. They've got a quarterback making his first start on the road, a banged-up
Montee Ball
and injuries on their defensive line. These are all bad signs against a Huskers team that is averaging 54 points per game at home this season. Martinez (three touchdowns) and the Nebraska defense get redemption by pulling away in the third quarter. Call it an early retirement gift for Tom Osborne.
... Nebraska 35, Wisconsin 17
Michigan is off this week.
Season Records
Rittenberg: 36-10 (.783)
Bennett: 33-13 (.717)
Bold Predictions For Spring Recruiting
BIG TEN SCOREBOARD
Thursday, 9/3
Friday, 9/4
Saturday, 9/5
Sunday, 9/6
Monday, 9/7