Michigan Wolverines:

Tom Herman
May, 22, 2014
5/22/14
10:30
AM ET
The last time Ohio State's
Braxton Miller
and Michigan's
Devin Gardner
shared a field, the two quarterbacks combined for 10 touchdowns and 747 yards of offense in a
wildly entertaining shootout
at Michigan Stadium.
It proved to be the end of Gardner's season, as a foot injury sidelined him for the Buffalo Wild Wings Bowl and the first part of spring practice in March. Miller went on to suffer his first two losses under coach Urban Meyer. He injured his throwing shoulder in the Orange Bowl and
underwent surgery in Feb. 21
, limiting his throwing in spring practice.
[+] Enlarge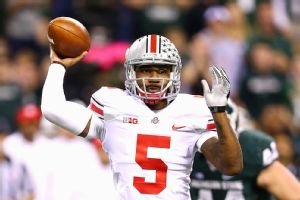 Andy Lyons/Getty ImagesShoulder surgery limited Ohio State's Braxton Miller, but the two-time Big Ten offensive player of the year is still finding ways to improve.
Both quarterbacks have delivered record performances for their teams. Miller owns back-to-back Big Ten offensive player of the year awards and could become the league's first three-time winner this fall. Gardner has been a quarterback of extremes --
prodigiously productive
in some games,
bafflingly bad
in others.
The final chapter for both players arrives this fall. Before that lies a pivotal summer.
Miller's first priority is to return to full strength. But some of his most important work in the coming months will be in the film room.
"In the digital age we live in, video is so easy to come by, so he can study whoever he wants," Ohio State offensive coordinator Tom Herman told ESPN.com. "Preferably, let's study us first and figure out the ins and outs of our offense. And then when you have extra time or want to take a break from that, let's study some defenses that we'll face this season. And beyond that, the next in the pecking order is why don't you study some other offenses, study some other quarterbacks."
Two quarterbacks Herman wants Miller to study likely will compete with him for national honors in 2014: Florida State's
Jameis Winston
, the reigning Heisman Trophy winner and national champion, and Oregon's
Marcus Mariota
, who might be the best pro quarterback prospect in the college ranks this season.
"What are those guys doing really well?" Herman said. "Is there anything you can glean from watching them on the field that might help your game?"
Herman had a similar plan for Miller last summer, encouraging him to watch Clemson's
Tajh Boyd
-- "That kid was a really good player," Herman said.
[+] Enlarge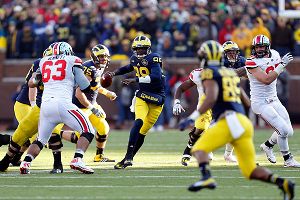 Gregory Shamus/Getty ImagesMichigan QB Devin Gardner, coming off a foot injury, struggled in the spring, but still looks on track to start the season opener.
Gardner went through most of the spring at less than 100 percent and struggled in the spring game, completing just 2 of 10 passes with an interception. He's still learning the offense under new coordinator Doug Nussmeier, and head coach Brady Hoke praised his consistency for much of the session.
But Hoke still discusses Michigan's quarterback situation by mentioning two names -- Gardner and sophomore
Shane Morris
. Many
question
whether Michigan's quarterback competition is
real or imagined
. Gardner has 16 starts at quarterback, while Morris has just one (the bowl game).
But unlike Miller, Gardner has to confirm himself as the top option when preseason camp begins in August.
"He has an advantage," Hoke told ESPN.com. "I wouldn't make that mistake. Because of the experience, playing a lot of snaps, being in a lot of big games. But at the same time, Shane, how he handled himself in the bowl game, how he was composed and how he approached the game, is encouraging."
Hoke wants both quarterbacks to not only retain what they learned in the spring but grow as leaders this summer.
"The message is we can't accept the players how they are right now," Hoke said.
The same applies to Miller, as good as he has been at times the past two seasons. His approach to rehab and film study will determine whether he -- and potentially Ohio State -- takes the next step in 2014.
"He's on fire right now, doing a great job with it from what I understand," Herman said. "The things that he is now able to talk to me about on the phone when I'm out on the road recruiting or when I see him in the building, you can tell he's poured himself into it, which is good."
March, 10, 2014
3/10/14
12:00
PM ET
How 'bout Nebrasketball? Impressed with what's happening in Lincoln.
February, 7, 2014
2/07/14
12:00
PM ET
Americans should have the right to bear yogurt anywhere ...
January, 8, 2014
1/08/14
5:00
PM ET
Hey, everybody, I'm back in my usual Wednesday slot now that the holidays are over. Answering your emails always feels like a holiday, however. Let's get to it:

Pat from Iowa writes:
With the new playoff system in place next year, will it help or hurt the Big Ten?
Brian Bennett:
It's a good question, and I suppose it depends on how you look at things. The BCS was actually pretty good to the Big Ten as far as getting teams into the major bowls. The league had two BCS teams this year as it did for most of the BCS era, thanks in large part to the schools' massive fan bases and attractiveness to bowls.
We're about to experience a sea change, no doubt. I believe that every other game outside of the four-team playoff will lose relevance, with the possible exception of the Rose Bowl. But even the Rose won't be quite as special as it has been to the Big Ten. Say the College Football Playoff were in place this year, the Rose wasn't a semifinal and you were a Michigan State fan. Would you have been as excited to go to Pasadena, knowing your team got squeezed out of playing for the national title? I don't think so.
The flip side of that coin is the playoff will help the Big Ten have a better chance to compete for a national championship, something the league has not done since the 2007 season. The Spartans would have had a great shot at making the four-team field this season, and undefeated or highly-ranked Big Ten champions will always be right in the mix. It's really up to the conference to make sure it consistently places teams in the Playoff, and then to perform well once there. Ridicule will await any of the five major conferences that repeatedly miss out on the four-team event.
Alex from Cincinnati writes:
Hey, Bennett, thanks for your good work. Orange Bowl: from what I saw the game could have ended either way, but Clemson happened to be up when the clock expired. Now the B1G narrative for the next 9 months will be vastly different than if Ohio State had pulled out the victory. Do you agree that we're often too quick to either anoint or admonish certain teams and conferences, when in reality there is quite a lot of parity at the top?
Brian Bennett:
Thanks for the kind words, Alex, and I agree with you that the margin between winning and losing at the very top level is very small. Just ask Auburn. The Big Ten, save for Michigan, was highly competitive in most of its bowls this year and came close to winning six of the seven.
But for the second straight year, the Big Ten finished 2-5 in bowls. A few teams, like Minnesota, Wisconsin and Ohio State, actually entered their games as favorites but failed to deliver. Ultimately, they keep score for a reason, and it has become a trend for the league to end up on the short end of the scoreboard in recent postseasons. I really don't think the gap between the Big Ten and other leagues like the SEC is that large, as shown by the three Jan. 1 bowls in Florida. But it's a tougher argument to make without using victories as evidence.
[+] Enlarge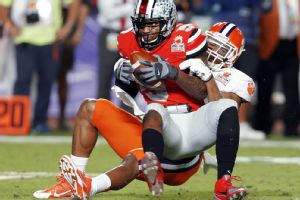 AP Photo/Lynne SladkyQuarterback Braxton Miller, who was banged up with shoulder and rib injuries, and the Buckeyes lost their final two games of the season.
Tom from DC writes:
Hey, Brian! Can you explain why
Braxton Miller
was still in the game? The guy was injured to the point that his play was compromised. During those last few series, I kept yelling at the TV for
Kenny Guiton
. Miller is great, but he clearly wasn't firing on all cylinders. Despite that, he was still given designed runs and big throws ... WHY? I cringed every time. Despite all the mistakes, the biggest one, I think, was letting a severely injured QB play, while a stellar backup was fresh and ready to roll. Miller is a team player -- he would have understood if he was benched for Guiton due to injuries.
Brian Bennett:
That's a fair and understandable question, Tom. I can tell you that offensive coordinator Tom Herman was asked if he ever considered putting Guiton in, and he quickly responded no. Asked if there was ever a conversation about it, Herman said the conversation went like this: If Miller can walk, he can play. So that shows you that Ohio State was firmly tying its sail to Miller just about under any circumstance. It makes sense, as Miller is the two-time Big Ten offensive player of the year and a guy who has proven throughout his career that he makes big plays in the clutch.
But I also agree with you that Miller's passing was compromised by his shoulder and rib injuries, and that all those hits might have contributed to the final interception. And I think Ohio State relied too much on Miller in the final two games while forgetting about
Carlos Hyde
in the fourth quarter.
Josh in an empty office building writes:
Hey B-ri, do you think the Spartans will struggle with complacency next year? They no longer have to prove themselves, and may be over-confident going into next year's Big Ten schedule.
Brian Bennett:
If Michigan State is complacent, then it will be in for a long day in Week 3 at Oregon. I'd be more worried about the offseason practices and whether the Spartans rest on their laurels a bit. But the good thing is this program has always played with a bit of a chip on its shoulders under Mark Dantonio, and the staff has been around these players so long that it should be able to spot and eliminate any complacency right away. It also helps that several jobs will be open on defense, and competition usually fosters intensity. You always wonder how a team will handle a new level of success, but the fact that several players and coaches have already mentioned competing for a national title next year indicates that they are still striving upward.
Nathan from San Antonio, Texas, writes:
Can you give us one final rundown of the new bowl tie-ins for the Big Ten next year? I know there were talks to add the Music City Bowl and Car Care Bowl, were those made official and are there still some bowls that could be a Big Ten tie-in next year?
Brian Bennett:
Sure thing, Nathan. Let's start at the top. The Rose Bowl remains the main tie-in for the Big Ten, but the Rose will be a semifinal game next year. So unless a Big Ten team makes it to the Playoff, the conference may not have a team in the Rose in 2014. The league also shares a spot in the Orange Bowl with the SEC and Notre Dame; if the 2014 Big Ten champ fails to make the four-team playoff, it could wind up in Miami.
The rest of the lineup goes like this:
Capital One
Outback
Holiday
Music City/Gator*
Kraft Fight Hunger
Pinstripe
Detroit
Heart of Dallas/Armed Forces*
*- Rotating.
Remember, too, that the selection process will be based on tiers of teams, with heavy input from the Big Ten office in order to create fresh and attractive matchups.
Indra from San Antonio, writes:
Hey, Brian, even though it's in the past now and what's done is done me and the handful of other UM fans down here in S.A. are really curious why
Derrick Green
and
De'Veon Smith
didn't get any carries in the Wings Bowl. I still doubt the outcome would have been different but it would have given them some much needed playing time/experience as it did for
Shane Morris
. Why do you think Coach Hoke opted to not utilize them?
Brian Bennett: I admit I was a bit baffled by that game plan, Indra.
I thought Green had established himself as Michigan's best running option late in the season, and yet he received one carry -- one! -- for five yards against Kansas State. Smith saw four carries for seven yards. I get that the Wolverines' offensive line was a mess and that their best chance might have been to throw the ball more. But given that it was Morris' first start and that
Justice Hayes
came out of virtually nowhere to get four touches, I can't say that I have any idea what was going on with Al Borges' plan. It's safe to say that plan needs a thorough review and reworking this offseason.
Dave from Iowa writes:
Does
Jake Rudock
get the starting nod for Iowa? Or would he get a leg up in a QB competition? Seems like
C.J. Beathard
has a stronger arm. Will Beathard get a shot?
Brian Bennett:
Beathard said after the game that it was his understanding that he'll be given a shot to compete for the starting job in the spring. But Rudock is still the guy who beat out Beathard last offseason and started all 13 games for the Hawkeyes this season. Was Rudock great? No, but I thought he played very well at times. He's got a huge experience edge. Beathard will probably have to really outplay Rudock this offseason to actually unseat him, as Kirk Ferentz is not exactly known for making drastic changes.
Drew from Lincoln writes:
Love the Big Ten blog, but I'm kind of confused about something. Can we finally put an end to the infatuation with Ohio State and Michigan? I'm not talking about publicity. A large fan base ensures publicity. I get that. I'm talking about the hype. Ohio State let down a lot of people in their last two games, and Michigan habitually underachieves and is way too inconsistent. Yet, Michigan State just finished the most successful season in the Big Ten since 2002, and it seems Wisconsin and Nebraska are just as competitive every year. Despite that, I'm sure Michigan and Ohio State will clean up recruiting again this offseason, and the hype will begin anew.
Brian Bennett:
I get where you're coming from Drew, though I think there was less hype from Adam and me about Michigan and Ohio State's supposed "dominance" than there was from other corners. I didn't pick Michigan to win the Legends Division in 2013, for example. It's also true that Ohio State and Michigan remain the Big Ten's two most recognizable brands, for historic, financial and a whole host of other reasons. Because of that, those two teams are always going to receive a lot of attention, and if you're someone who really gets into recruiting -- in other words, someone very unlike me -- then you'll understand all the accolades those two teams will get around signing day.
The "hype," as you put it, is still very much deserved for Ohio State. Sure, the Buckeyes lost their final two games this year, but they went 24-0 before that and are still the gold standard for this conference for what they've done over the years. Michigan is the program that has vastly disappointed and has in many ways hurt the entire Big Ten by not living up to its own expectations. We're always going to talk and write a lot about these two teams because of their importance to the league. That said, if in 2014 you ever catch me writing that those two schools are going to pull away from the rest of the Big Ten, you have permission to flog me.
Jordan M. from Greenville, S.C., writes:
I thought you said Ohio State was gonna win the Orange Bowl? Look how that turned out. Go Tigers!
Brian Bennett:
Boy, I got a lot of grief from Clemson fans over my
"Ten reasons Ohio State will win the Orange Bowl"
post. To clarify, I was assigned to write that post, as every blogger was assigned to write one for BCS bowl teams in his or her conference. I tried to have a little fun with it and jabbed the ACC and Clemson a little. What good is sports without a little trash talk? I also said Woody Hayes would reach down from the afterlife and trip a Tigers player, so that tells you how serious I was. Let me remind Clemson fans that I visited your town in November and
wrote nice things
about you. Met a lot of friendly folks down there. And my official prediction was Clemson 38, Ohio State 35. I'd say that worked out pretty well for me.
December, 12, 2013
12/12/13
2:30
PM ET
USA Today has released its annual
database of assistant coach salaries
throughout college football so let's see how the Big Ten aides stack up. Ten of the 12 Big Ten schools report coaches' salaries (Northwestern and Penn State do not).

Once again, Michigan defensive coordinator Greg Mattison leads Big Ten assistants in pay at $851,400, which ranks fourth nationally behind million-dollar coordinators Chad Morris of Clemson, Kirby Smart of Alabama and John Chavis of LSU.
Michigan offensive coordinator Al Borges is the only other Big Ten assistant in the top 10 nationally in total pay ($709,300). Nebraska offensive coordinator Tim Beck ($700,000) is next, followed by Ohio State defensive coordinators Luke Fickell ($610,000) and Everett Withers ($585,000), Michigan State defensive coordinator Pat Narduzzi ($558,908) and Ohio State offensive coordinator Tom Herman ($555,000).
On the whole, the Big Ten has fewer assistants making top-20 salaries than the SEC. There's also a decent drop-off in salary after Herman, as no others make more than $500,000 (Wisconsin coordinators Dave Aranda and Andy Ludwig both make $480,000).
Here are the highest-paid assistants for the 10 Big Ten squads reporting salary:
Michigan:
Defensive coordinator Greg Mattison ($851,400)
Nebraska:
Offensive coordinator Tim Beck ($700,000)
Ohio State:
Defensive coordinator Luke Fickell ($610,000)
Michigan State:
Defensive coordinator Pat Narduzzi ($558,908)
Wisconsin:
Defensive coordinator Dave Aranda and offensive coordinator Andy Ludwig ($480,000)
Purdue:
Offensive coordinator John Shoop ($400,000)
Illinois:
Offensive coordinator Bill Cubit and defensive coordinator Tim Banks ($400,000)
Indiana:
Offensive coordinator Seth Littrell ($356,500)
Minnesota:
Defensive coordinator Tracy Claeys ($346,800)
Iowa:
Defensive coordinator Phil Parker ($325,500)
Claeys clearly is the best value in the league, as he served as Minnesota's acting head coach during Jerry Kill's health-related absence and remained as the main sideline coach even after Kill returned to duty. Iowa's Parker, along with OC Greg Davis ($325,000) also earned their keep and then some as the Hawkeyes flipped their record from 4-8 to 8-4.
Some Michigan fans will scoff at Borges' salary after the Wolverines offense struggled for much of Big Ten play. Fickell, Shoop and Banks also directed units that had forgettable seasons.
One thing to keep in mind when some of these assistants are mentioned for head-coaching jobs is the pay cuts they'd likely take to lead teams in smaller conferences.
In terms of total staff pay, Ohio State leads the Big Ten and ranks sixth nationally at $3,474,504, trailing LSU, Alabama, Clemson, Texas and Auburn. Michigan comes in next at $3,072,000, which ranks 14th nationally.
Bret Bielema left Wisconsin for Arkansas in part because he had lost so many assistants in his final two years in Madison. Bielema's staff at Arkansas ranks 10th nationally in total staff pay ($3,233,000), while Gary Andersen's staff at Wisconsin ranks 28th ($2,495,000)
Here are the Big Ten teams sorted by total staff pay:
Ohio State:
$3,474,504
Michigan:
$3,072,000
Nebraska:
$2,648,500
Wisconsin:
$2,495,000
Michigan State:
$2,410,483
Iowa:
$2,367,500
Minnesota:
$2,152,350
Indiana:
$2,074,780
Illinois:
$2,066,400
Purdue:
$2,010,000
We can have an endless about debate whether college football coaches make too much money in general, but these numbers remain problematic for the Big Ten in my view. Only two teams are truly paying top dollar for their staffs, and some groups are undervalued.
Michigan State's staff obviously jumps out after the Spartans just won the Big Ten championship. MSU co-offensive coordinators Dave Warner ($280,800) and Jim Bollman ($262,000) are among the lowest-paid coordinators in the league, as several position coaches make more than them. Athletic director
Mark Hollis said last week that raises are coming
for head coach Mark Dantonio and his assistants.
Minnesota's staff also deserves a nice bump after handling such a tough situation this season. I also wonder whether Iowa's coordinators get a raise, especially considering what head coach Kirk Ferentz makes.
Purdue's Marcus Freeman and Jafar Williams are the Big Ten's lowest-paid assistants at $120,000. Only one SEC assistant, Kentucky's Derrick Ansley, makes less than $140,000.
November, 4, 2013
11/04/13
12:00
PM ET
Let's take a quick spin around the league …
October, 4, 2013
10/04/13
4:00
PM ET
Finishing out the week before an exciting slate of Big Ten games. Don't forget to follow us
on Twitter
, especially on Saturdays.
Let's get to that mail ...
Mikey from Seattle writes:
Great
piece on B1G football revenue
not translating to championships. I don't disagree with Dave Brandon's comment that football success is driven by things like tradition, culture, momentum, luck, recruiting, and consistency. However, if you look at all BCS National Champs, all but one (Oklahoma in 2000) come from traditional high school "hotbeds" -- Southeast, Texas, California, Ohio. (Note: most of the losing teams come from these areas, too.) So why doesn't the B1G use its significant revenue and resources to develop THE best youth/HS football programs in the country? While B1G can't influence demographic trends, it seems like it would be in their best long-term interests, increase athletic revenues, decrease escalating recruiting expenses, elevate conference perception to invest in their cash cow while giving back to their communities.
Adam Rittenberg:
Some interesting thoughts, Mikey. Keep in mind that the Big Ten distributes almost all of its revenue to the schools, which all would have to be on board with such a program to make it work. Most of these schools have athletic departments that are losing money or receiving subsidies, so it would be hard for them to part with revenue just for the off chance that it boosts one sport (football). I also wonder how much a college athletic conference could affect the way high school/youth programs do things in an entire region of the country. Would we see more spring football programs? More 7-on-7 football like there is in Texas and Florida? I think the better investment is for recruiting the South and Southeast. Big Ten schools must devote more of their recruiting budget toward those areas of the country and hire and pay assistants who can pluck some good players from states such as Georgia, Texas and Florida year after year.
---
Jim from New Jersey writes:
I do not say this is the only difference between the Big Ten and the SEC, but someone needs to be brave enough to say it in the press and no one does! The quality and type of kid that goes to an SEC school is not the same quality of a Big Ten kid academically. Bottom line. The SEC schools have much looser admission programs and standards and the kids are not the same. Bottom line, the Big Ten chooses to not take the same type of player. If the Big Ten wants a crystal ball, they need to lower admission standards.
Adam Rittenberg:
Jim, I've alluded to this before, and I agree that on the whole, Big Ten schools have tougher admissions standards for football players than SEC schools. But there are enough elite athletes with strong academic profiles to win at the national level. Look at what Stanford has done and continues to do. A lot of the SEC's top players had Big Ten offers, so they would have been admitted to Big Ten schools but chose to go elsewhere. Big Ten fans often cite admission standards and oversigning as two big differences between the Big Ten and the SEC. I agree they're factors, but the Big Ten's larger issue, in my view, is more strategic. Big Ten schools must continually examine where they're investing time and energy in recruiting and how they're branding themselves to recruits.
---
Megan from Columbus, Ohio, writes:
Hi Adam, love the work that you and Brian do! You have helped me discover what I want to do when I go to college. Anyway, I was wondering if you think
Braxton Miller
will be coming back for his senior year or not? Since his injury has him out of the Heisman talk (for now), do you think that will play a part of his decision?
Adam Rittenberg:
Thanks, Megan. Is it too late to talk you out of it? Kidding, kidding. I expect Miller to return next season and continue to develop his game. Ohio State offensive coordinator Tom Herman told me this summer that Miller likely won't reach his full potential until the 2014 season, as he continues to evolve as a passer and as a decision-maker. He's not considered a top NFL draft prospect at quarterback right now, but he could become one depending on how he improves. Unless you're a clear first-round pick or play a position like running back with a short shelf-life because of injury risk, you probably should stay in school. I believe Miller will.
---
Ryan from Crooksville, Ohio, writes:
All right, of all the things people could criticize the last few weeks about Michigan, why is it that the worst criticisms are about the defense? I mean, honestly, if our quarterback wasn't giving away seven points a game (and that's just the points the other teams got directly from him) and setting the opponents up in great field position a lot, Michigan's points allowed would conceivably be a lot less than they are. I honestly don't understand why the defense is taking as much heat as some people are giving it. They make key stops when they need to and they seem to play better red-zone defense than any other team I've seen this year. And as a Wolverines fan living in Buckeye country, I have to hear it more than most. Hoping to get your thoughts on it.
Adam Rittenberg:
Ryan, I guess we've been reading/hearing different things about Michigan, because
Devin Gardner
's turnover issues have been the top story line about the Wolverines the past two weeks. Every radio show I've been on has asked what's wrong with No. 7/98 and whether he can reclaim the form he showed against Notre Dame. Michigan's defense has been OK -- not great, but adequate -- and hardly the team's biggest issue. I'm a little concerned about the lack of star power on the Wolverines' defense. Who will be the reliable playmakers game in and game out? Linebacker
Jake Ryan
could be that guy when he returns from injury later this month.
---
Doc from Phoenix writes:
Adam, as an unapologetic Huskers fan and forever the optimist, I am curious about your current best-case scenario for Nebraska the rest of the way out. I see the best case for the Huskers as running the regular season table (despite some shaky defensive performances) and losing to OSU in the Big Ten championship. If that scenario plays out, do you see Nebraska getting an at-large bid to a BCS bowl? Whether or not OSU makes the National Championship game, Nebraska would be 11-2 with their only losses being to Ohio State and UCLA (a potential top-10 team). I could see the Rose Bowl reaching for Nebraska if Ohio State made the National Championship game to keep the Big Ten presence in the game, but I have doubt if other BCS bowl would feel the same way with the national perception of the Nebraska program being down of late. Given the reaching "best-case scenario," where would you put the Huskers come December/January?
Adam Rittenberg:
Doc, while I could see Nebraska running the table, I highly doubt it. The Huskers crumbled against the only really good team they've faced so far, and their November schedule features Northwestern, Michigan, Michigan State, Penn State and a clearly improved Iowa team on Black Friday. While I expect Nebraska to beat Illinois on Saturday, Purdue next week and Minnesota on Oct. 26, the Huskers will have to elevate their play consistently in November for one of the more brutal stretches any Big Ten team will face. Can they win out? Sure. But I don't see it. If the scenario plays out as you present it, a lot would depend on if there are other Big Ten teams eligible for BCS at-large selection. We've seen in the past that the league title game loser often is in a worse sport for at-large selection than a team that finishes the season, say, 10-2 on a roll.
---
Rob from Morristown, N.J., writes:
Adam, is Michigan State's defense REALLY as good as you and Brian make them out to be on a weekly basis (in every one one of your blog posts that mentions MSU, you talk about their stellar defense). Is it possible that their very good defensive numbers are due to the fact that they have played an FCS team, two of the worst offensive FBS teams in the country in USF and Western Michigan (ranked Nos. 121 and 122 in scoring offense, respectively) and a ND team starting a senior QB who lost the starting job to a freshman last season and lost their top two rushers off last year's BCS team? Maybe the "hype" is based off of last year's squad and is not necessarily indicative of this year's defense? I admit I have not watched much MSU football, but I think there is a good chance we realize the MSU defense isn't actually THAT good once they start playing some of the better offensive B1G teams. Your witness...
Adam Rittenberg:
Rob, you make a lot of fair points here. Michigan State has faced some of the weaker offensive teams in the country. But to this point, the Spartans can only be evaluated on who they face, and they're showing the suffocating play we've grown accustomed to from that unit. If this defense hadn't been among the nation's elite the past two seasons, we're probably not having this discussion. So yes, past performance plays a role because Michigan State has established a culture of elite defense that appears, albeit against weak competition, to be continuing this season. Context is important here, but I also should be careful not to overvalue Michigan State's defense until it faces better offense. But I really like the personnel and the coaching the Spartans have on that side of the ball. We'll certainly learn more in the coming weeks.
---
Chris from Middleton, Wis., writes:
Adam, which do you believe in when it comes to Wisconsin losing close games and their continued battle to go from good to great? 1) It shows how difficult it is to compete with the likes of Michigan and Ohio State's established programs. 2) Wisconsin is more closely scrutinized for penalties thus their success is handcuffed. 3) The gods are critical of football in general at Wisconsin. 4) Wisconsin players are overachievers that have reached their own personal mountain top. 5) If Wisconsin played ASU and Ohio State at home this year, they would be headed for the national championship game.
Adam Rittenberg:
Is there an option 6? If so, I would go with Wisconsin being a team not built to play from behind. The Badgers are a methodical, power-driven offense focused on the run game. They bleed clock and their opponents' will by pounding away with huge offensive linemen and talented ball carriers. But they're not a team that runs the two-minute drill well. They don't have enough at receiver -- a problem for several years. The Arizona State game was an odd and unfortunate case because the officials totally botched the call at the end. The football gods aren't out to get Wisconsin, and the Badgers have shown they can win big games. But they're a team better off grabbing the lead and holding on than mounting a late comeback.
---
Andrew from Hilldale, Mich., writes:
Recently there was an ESPN video posted on the blog suggesting that Ohio State's rep has been hurt by weak conference competition. One of the analysts also argued that OSU has beaten up the B1G only to get "slaughtered" in big games against faster nonconference opponents. Is that really a fair argument considering that the last two big bowl games they played -- the Rose Bowl against a very fast Oregon and forfeited Sugar Bowl against the SEC's very own Arkansas -- were solid wins on the field. It seems to me that, since the 2011 Sugar Bowl, they haven't really played any big nonconference games, and certainly none that would count as slaughters.
Adam Rittenberg:
Unfortunately, Ohio State still gets painted as a bad big-game team because of the losses to Florida and LSU in the 2007 and 2008 BCS championship games. It's a lazy argument, quite frankly, because those games occurred more than half a decade ago, which is an eternity in college football. If you want to argue that Ohio State won't get into the national title game because the Big Ten is so weak, that's fine. The Big Ten has done little to change its national perception this season. But don't blame it on games that happened so long ago, just because you weren't entertained for the national championship. Vacated wins or not, Ohio State has won its past two big games, as you point out. And I expect the Buckeyes to be a better team than they are now when early January rolls around. Whether they make it to Pasadena for the big one remains to be seen.
---
Joe from Central PA writes:
Hi, Adam. I'm a big PSU fan and although I didn't blame
Silas Redd
one bit for the decision he made to transfer, you have to wonder if he's second-guessing that now. If he was looking for a pro football career, I would think B'OB was more the coach to help him with that. It's a shame ... all of it really because I believe Silas is a nice/good kid. I really do hope he makes it to the NFL if that is what he wants to do.
Adam Rittenberg
: Joe, I couldn't agree more about Silas being a really nice guy, and I still expect him to go on and have a good NFL career. But you have to wonder whether he'd be better off at Penn State, working in O'Brien's pro-style offense. Look at what Penn State has done with a running back like
Zach Zwinak
, who isn't as naturally gifted as Redd. From a coaching standpoint, he definitely took a step back by leaving Penn State for USC. Then again, it's hard to blame a guy for going to a team that entered the 2012 season with national title aspirations.
---
John from New York writes:
Do you think that the reason that
Venric Mark
has been out these last three weeks relates solely to his injury? Pat Fitzgerald has seemed a little shifty when discussing Mark's status, including an assertion that Mark was "day-to-day" about one hour before the kickoff against Maine. I can see Fitzgerald wanting to spring Mark on OSU, depriving them of video of Mark from this season.
Adam Rittenberg:
John, Mark never was going to play against Maine, although he probably could have. Northwestern wanted to get his hamstring issue as close to 100 percent as possible before the Big Ten season kicked off against Ohio State. Once the Wildcats got through the Syracuse game, they really didn't need Mark to go 4-0, although it would have been nice for him and
Kain Colter
to get some more game reps together. It will be interesting to see how much the Colter-Mark zone read game can boost Northwestern's offense against the Buckeyes.
August, 21, 2013
8/21/13
12:00
PM ET
My dog tried to play with a skunk this week. I think we're all getting stir crazy waiting for the football season.
May, 20, 2013
5/20/13
9:00
AM ET
Ohio State already had started paying more competitive salaries for assistant coaches before Urban Meyer arrived in November 2011.
But when Meyer and athletic director Gene Smith sat down to discuss staff pay, Smith soon realized he needed to do more.
"I think Michigan had stepped up with their coordinators," Smith recalled last week during Big Ten spring meetings in Chicago. "So we were already going to that before Urban Meyer came, but we bumped it up a little more. Any time there's change, you have that opportunity."
[+] Enlarge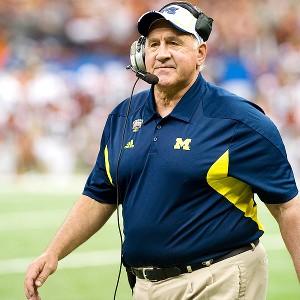 Lon Horwedel/Icon SMIMichigan DC Greg Mattison ranks as the highest-paid assistant coach in the Big Ten for the 2013 season.
"Everyone's always focused on head coaches' salaries," Smith continued. "That's always the thing. But really when you look at the changes, it's really been assistants' salaries across the country -- not just in the SEC, but the Big 12, Pac-12, all across the country."
The Big Ten is part of the change, too, as the league is allocating more money toward football assistants than ever before. The Detroit Free Press has an
excellent look at Big Ten assistants' salaries
, complete with a
database
that includes 10 of the 12 current members (Northwestern doesn't submit salaries as a private institution, and Penn State doesn't have to because of state laws).
The Free Press found that eight of the 10 schools are paying more for assistants in 2013 than they did in 2012 (only Indiana and Illinois are not). There are some significant total increases, such as Wisconsin (up $558,000), Nebraska (up $518,500), Purdue ($400,000) and Minnesota ($355,000). Staff pay had been an issue at Wisconsin, which lost six assistant coaches following the 2012 Rose Bowl, and at Purdue, which paid less for its staff during the Danny Hope era than any Big Ten school.
The total trend among the 10 schools is an increase of $1,720,852.24 for 2013.
Ohio State and Michigan remain No. 1 and No. 2 in Big Ten staff salary, as the Buckeyes allocate $3.416 million and the Wolverines allocate $2.805 million. Nebraska and Wisconsin make the biggest moves in the league for 2013, as the Huskers rise from sixth to third and the Badgers rise from seventh to fourth.
Illinois, which replaced five assistants from the 2012 team, including co-offensive coordinators Chris Beatty and Billy Gonzales, dropped from third in staff pay ($2.314 million) to eighth ($2.065 million).
The database shows that nearly every Big Ten assistant with "coordinator" in his title -- whether he's the sole coordinator or a co-coordinator -- will earn north of $300,000 for 2013. Only 18 assistants listed will make less than $200,000 in 2013 -- 15 work for Minnesota, Illinois, Purdue and Indiana.
Some notes:
Although Wisconsin paid former offensive coordinator Paul Chryst good coin, the school has increased its commitment for Gary Andersen's staff, not only with the coordinators but with some coveted position coaches like running backs coach Thomas Hammock ($300,000).
All of Nebraska's assistants are earning $200,000 or more for 2013, but there's a huge drop-off between Beck and the next highest-paid assistant (defensive coordinator John Papuchis at $310,000).
Michigan State has a similar drop off between Narduzzi and co-offensive coordinators Dave Warner ($270,000) and Jim Bollman ($260,000). Warner will be the primary offensive play-caller and has been on Mark Dantonio's staff since 2006, while Bollman is a newcomer.
Although Michigan is paying top dollar for its coordinators, the school gets its assistants for a relative bargain. Receivers coach/recruiting coordinator Jeff Hecklinski will earn $225,000 in 2013, while the others all will earn $205,000. Ohio State, meanwhile, pays all but one of its assistants $286,000 or more.
The Big Ten's three lowest-paid assistants all are in their first years: Illinois wide receivers coach Mike Bellamy ($125,000) and Purdue linebackers coach Marcus Freeman and running backs coach Jafar Williams (both at $120,000).
Although schools like Illinois, Wisconsin and Iowa ($325,000) pay their coordinators the exact same amount, others have slight differences in salary. Purdue's Shoop makes $5,000 more than defensive coordinator Greg Hudson. Minnesota defensive coordinator Tracy Claeys ($340,000) makes $5,000 more than offensive coordinator Matt Limegrover. Wonder if that leads to any underlying jealousy?
Most Big Ten schools have assistant salaries in round numbers, but there are some interesting totals from Indiana, which pays co-offensive coordinators Seth Littrell and Kevin Johns $255,500.04 and new recruiting coordinator/assistant defensive line coach James Patton $173,740.08. Never know when that change can come in handy.
The Big Ten still lacks some of the OMG totals seen in the SEC -- LSU is
paying new offensive coordinator Cam Cameron $3.4 million
in the next three years -- but the overall trend puts the league more on par with what we're seeing nationally.
October, 22, 2012
10/22/12
2:27
PM ET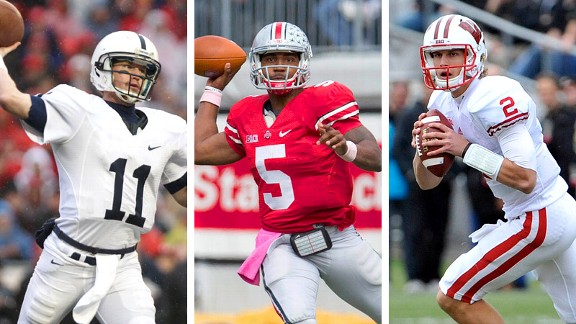 US PresswireThe recent performances by (L to R) Penn State's Matt McGloin, Ohio State's Braxton Miller and Wisconsin's Joel Stave give the Big Ten some hope for improved quarterback play.
Of the many theories to explain the Big Ten's collective struggles this season, the one about the league's dearth of elite quarterbacks certainly rings true.
Through eight weeks, the Big Ten has just one quarterback ranked among the nation's top 30 in pass efficiency (Nebraska's
Taylor Martinez
at No. 15). The league has just one quarterback in the nation's top 30 in completions per game (Penn State's
Matt McGloin
at No. 19). The league has zero quarterbacks ranked in the nation's top 30 in total passing yards.
As former
Ohio State coach Earle Bruce told me last month
, "A team can't get cut short at that position. I don't know whether the evaluation of the quarterbacks has been wrong, or they had injuries or whatever, but the quarterback position is down in the Big Ten. There's no doubt about that."
Bruce is right. There's no doubt. But there's also hope on the horizon for a league that hasn't had a quarterback selected in the first round of the NFL draft since 1995 (Penn State's Kerry Collins).
I sat in Kinnick Stadium on Saturday night and watched McGloin pick apart what had been a pretty salty Iowa defense. McGloin had complete command and tremendous awareness of his receivers and tight ends. He made correct reads and confident throws. McGloin's mobility is, well, limited, but one of his best plays came in the first quarter, when he evaded the rush and spotted tight end
Jesse James
on a deep crossing route to set up Penn State's first touchdown. As I
tweeted at the time
, McGloin is simply a different quarterback.
Michigan C Cites Concussions In Decision To Quit
BIG TEN SCOREBOARD
Thursday, 9/3
Friday, 9/4
Saturday, 9/5
Sunday, 9/6
Monday, 9/7