Michigan Wolverines:

Tom Harmon
July, 15, 2013
7/15/13
9:30
AM ET
ANN ARBOR, Mich. -- Nothing really says as much about a rivalry as a good villain. Every narrative, whether someone wants to admit it or not, has one. There's a white hat, a black hat, all of those cliched things.
With Michigan and Ohio State, there is plenty to go around.
Here's a look at the top five Michigan villains for the Buckeyes, most of whom had a hand in critical wins in the last game of the regular season.
1. Bo Schembechler, Coach:
Much like Woody Hayes on the Ohio State side (and maybe Jim Tressel) there is no surprise Schembechler is tops on this list. Heck, a band made up of Ohio State fans even called themselves the Dead Schembechlers. Bo vs. Woody still ranks among the best coaching rivalries in the history of sports. Schembechler finished 11-9-1 against his biggest rival and a 5-4-1 record against Hayes. Oh, and if there were any questions about this, Schembechler's win over Ohio State in 1969 ignited the "Ten-Year War," which elevated this rivalry to among the best in all of sports.
[+] Enlarge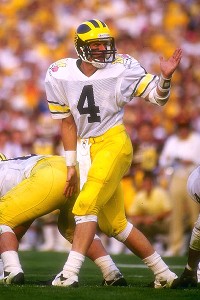 Mike Powell/Allsport Michigan quarterback and Ann Arbor native Jim Harbaugh guaranteed a win over Ohio State in 1986 and delivered.
2. Jim Harbaugh, QB:
You make a guarantee that you will beat your rival, you'd better back it up. When Harbaugh, who grew up in Ann Arbor, said Michigan would beat Ohio State, he permanently placed himself in the history of this rivalry. The Monday before The Game in 1986, Harbaugh said "I guarantee we will beat Ohio State and go to Pasadena." Michigan's response -- they had to do it. Harbaugh did, leading the Wolverines to a 26-24 win at Ohio State that Saturday, sending his team to the Rose Bowl.
3. Charles Woodson, DB:
Where to start? Woodson talked trash with Ohio State receiver David Boston prior to the 1997 contest, then went out and clinched the Heisman Trophy with a 37-yard touchdown reception, a 78-yard punt return touchdown and an interception. This on top of his 1995 performance as a freshman, where in the Tim Biakabutuka game he intercepted two passes to knock off the undefeated Buckeyes. Being from Fremont, Ohio, only makes it more difficult to deal with.
4. Tom Harmon, HB:
Harmon wasn't really even a villain in this rivalry except that he was just so much better than the rest of his peers at the time. According to the Heisman Trophy website, Harmon completed 11 of 12 passes for 151 yards and two touchdowns along with 139 rushing yards and two touchdowns in the final game of his college career and against Ohio State. He also intercepted three passes and kicked four extra points in the game. Harmon won the Heisman after the season. Why wasn't he a bigger villain? Consider this: After the performance, the Michigan Alumnus magazine (on the Bentley Historical Library website) said the crowd at Ohio State gave Harmon a "thundering ovation." Chances are, that doesn't happen today.
5. Barry Pierson, DB:
In the game which really launched the rivalry -- that 1969 one -- Pierson intercepted Ohio State three times. He also had a massive special teams play, returning an Ohio State punt 60 yards to set up a Michigan touchdown. While that entire 1969 team could probably be on that list, Pierson statistically made a major impact that day.
Bonus selection: Drew Henson, QB:
Henson is on this list for a couple of reasons. He was the last Michigan quarterback to beat Ohio State in Columbus in 2000. While that alone might not be enough to be on this list, consider this: When he left Michigan to pursue baseball following that season, he was assigned to be the third basemen for ... the Columbus Clippers. It did not go well. Henson was booed over and over again despite playing for the hometown team and the Triple-A affiliate of the Yankees. All because he played for Michigan and beat Ohio State.
July, 10, 2013
7/10/13
11:19
AM ET
Ohio State and Michigan don't get along very well, period.
But if the Buckeyes were able to nab one player for
their all-time draft
to round out a team, fans might not mind it. Well, if for no other reason than to stick it to the Wolverines.
After analyzing
WolverineNation's draft
and looking at my own team, it came down to three players.
[+] Enlarge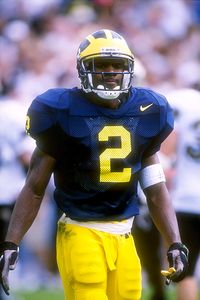 Jonathan Daniel/Stringer/Getty ImagesAt Michigan, Charles Woodson won the 1997 Heisman Trophy and became the first predominantly defensive player to win the award. And he's also from Fremont, Ohio.
It was either Tom Harmon from Chantel Jennings, Desmond Howard from Michael Rothstein or Charles Woodson from Tom VanHaaren.
All three were Heisman winners, and Harmon is the only player to lead the nation in scoring in consecutive years. But sorry, I'll still take two-time Heisman king Archie Griffin in my backfield.
That left the choice between Howard and Woodson. Both were great for Michigan, but Woodson was arguably the best player on the last national championship team for the Wolverines. Even if that title was shared. (Sorry, couldn't resist the dig there.)
That said, what Woodson did against Ohio State -- and all of college football for that matter -- can't be overstated.
An eight-time Pro Bowl selection and seven-time All-Pro, the defensive rookie of the year and Super Bowl champion's game certainly translated to the NFL.
But this wasn't a draft based on the NFL, it was a draft based on college, and what the native of Fremont, Ohio, did for the Wolverines was legendary.
The Big Ten Freshman of the Year in 1995, Woodson set a Michigan record for pass breakups as a sophomore with 15, was a finalist for the Jim Thorpe Award and was an Associated Press first-team All-American.
In 1997, he was the first predominantly defensive player to win the Heisman. He also won the Bronko Nagurski Trophy and Jim Thorpe Award and was the Chevrolet Defensive Player of the year for the second year in a row.
Ohio State remembers Woodson for returning a punt 78 yards for a score against the Buckeyes in 1997 and stopping a fourth-quarter drive with an interception in the end zone.
He finished his college career with 18 interceptions, 30 pass breakups and countless broken hearts collected from Buckeyes fans.
That made him an easy pick as the player I'd take from Michigan and suit up in scarlet and gray.
July, 10, 2013
7/10/13
9:00
AM ET
ANN ARBOR, Mich. -- The top picks in the
WolverineNation all-time draft
all had a few characteristics in common: They were tremendous players at Michigan; they had high goals and worked hard to achieve them; and they, for the most part, avoided serious injuries. And in the time since they left the maize and blue, they still seem recent in fans' memories.
So it's not hard to imagine that in 20 years, when a new set of writers are drafting an all-time team, there might be a member of the 2014 class going early, gracing himself among the one-named fames of Michigan football -- Harmon, Desmond, Woodson, Long, Braylon and maybe ... Peppers?
July, 8, 2013
7/08/13
10:30
AM ET
ANN ARBOR, Mich. -- Have you ever considered what a team consisting of the best Michigan players taken from all eras might look like? Who would you choose if you could pick only one quarterback? Only two wide receivers?
The three WolverineNation staff members -- plus two special guests, former Michigan tight end Bennie Joppru and former Michigan running back Chris Howard -- each drafted a starting 22 (11 offensive players, 11 defensive players), along with one kicker and one punter.
All of the participants were instructed to pick for a 4-3 defense; the offensive line with two tackles, two guards and a center; one quarterback, one running back, one tight end, two wide receivers, and a "flex" position that could be a second running back, second tight end or third wide receiver.
[+] Enlarge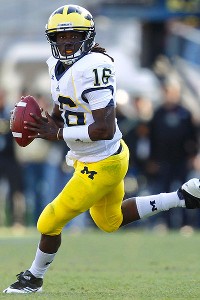 Michael Hickey/Getty ImagesWhere would you take Denard Robinson in an all-time Michigan fantasy draft?
This allowed for some offensive flexibility -- hello, offensive weapon Denard Robinson -- while not letting a team stack up on six running backs or four offensive tackles.
This obviously would lead to different strategies. Does someone believe Michigan is strong enough at quarterback that they'll wait until the end and pick among the quarterbacks not selected by the other four participants? What type of offense would you like to run? How do you deal with the old ironman-type players of Michigan's past, such as Tom Harmon, Bennie Oosterbaan and Ron Kramer? Where would you put them?
To be fair, we did a snake-order draft. That means at the end of the first round, teams went in reverse order for the next round. So the participant picking fifth also picked sixth to start the second round; the player who picked 10th to end the second round got to pick 11th to start the third round, and so on.
How would you draft? How did our general managers handle it? In a five-team draft with this structure, could a small run on players be a trigger for someone reaching for a pick, like in an actual fantasy football draft?
Our draft order went like this:
1. Former RB Chris Howard
2. Tom VanHaaren
3. Chantel Jennings
4. Michael Rothstein
5. Former TE Bennie Joppru
The full results of our draft, including team-by-team and position-by-position, will run on Tuesday, along with blogs from each of our participants on their strategies and how they felt about their teams. We also will ask you to vote in a poll in
The Den
for who had the best draft. Those results will run on Wednesday, along with a story on which 2014 commit could be a part of such a draft down the road.
June, 11, 2013
6/11/13
10:00
AM ET
By
Chantel Jennings & Tom VanHaaren
| ESPN Insider
ANN ARBOR, Mich. -- Quick Hits is a look at the must-know facts for each region in regard to Michigan and its football recruiting efforts. It will give you an idea of the Wolverines' history in that region, as well as what one can expect from that region over the next few seasons.
MIDWEST
1. How many players on Michigan's roster are from the region?
To continue reading this article you must be an Insider
Michigan C Cites Concussions In Decision To Quit
BIG TEN SCOREBOARD
Thursday, 9/3
Friday, 9/4
Saturday, 9/5
Sunday, 9/6
Monday, 9/7