Michigan Wolverines:

Tim Settle
February, 11, 2014
Feb 11
5:30
AM ET
The Early Offer is RecruitingNation's regular feature, giving you a daily dose of recruiting in the mornings. Tuesday's offerings: The Tiger was already out of the bag, but that didn't stop
Deondre Clark
from having his moment in the sun; it looks like the
Malik McDowell
saga is going to last quite a bit longer; and the defensive tackle position looks loaded in the Class of 2015.
To continue reading this article you must be an Insider
December, 9, 2013
12/09/13
8:00
AM ET
The Big Ten championship was the main focus this week, but that just gave coaches extra time to put in on the recruiting trail. Here is a look at what happened around the conference over the weekend.
To continue reading this article you must be an Insider
December, 6, 2013
12/06/13
2:00
PM ET
Now that the season has finished and a contact period is open, the Michigan coaching staff has been on the road scouting prospects. Plenty of 2015 targets have had Michigan coaches in their school, and a few recently received offers from the Wolverines.
To continue reading this article you must be an Insider
September, 26, 2013
9/26/13
10:00
AM ET
Two top-10 defensive linemen walk into a gym together. That's not the start of a bad joke, it's a weekly occurrence for No. 4 ranked
Da'Shawn Hand
(Woodbridge, Va./Woodbridge) and 2015 defensive tackle
Tim Settle
(Manassas, Va./Stonewall Jackson), who is ranked No. 7 in his class.
Their schools are only roughly 20 minutes apart, and the two have found a friendship through similarities and the ability to relate to the other's situation.
[+] Enlarge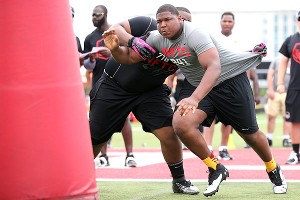 Tom Hauck for Student SportsESPN Junior 300 defensive tackle Tim Settle confides in his friend Da'Shawn Hand, who is ranked No. 4 overall in the 2013 class.
"Da'Shawn tells me the rights and wrongs and what I need to watch out for in recruiting. He's giving me advice like a big brother, or mentor," Settle said. "He told me to just go somewhere that fits me. He said it's going to be me going there for four years so it has to be where I want to be."
Settle has been able to take a few visits with Hand and experience the recruiting process alongside someone who has the same thoughts he does. Not everyone can relate to being a highly sought-after prospect, and the friendship is something Settle has really leaned on.
"One thing people don't understand is the position Tim is in, it's hard to talk to his friends about it. He sometimes wishes he didn't have interviews or coaches calling, but his friends wish they had that," mentor John Harris said. "Tim can talk to Da'Shawn about that stuff and they get on the phone talking about their visits and recruitment. Tim is going through the exact same thing that Da'Shawn went through, so it's helped him."
The two prospects are both originally from Philadelphia and naturally they share a love for food, noting a trip to Quickie Burger while in Ann Arbor, Mich., as the highlight of their visit to Michigan.
They are both quiet, religious and would rather stay at home than attend a party.
Both are considered disruptive forces along the line and are being recruited by similar schools. But with all the similarities they share, Settle wants to make something very clear to everyone he talks to.
"I tell this to everybody," Settle said. "Da'Shawn is Da'Shawn and I'm Tim. He has even told me I need to go somewhere where I fit in, for me."
Settle knows that he is his own person and he needs to go through the process for himself. There's no doubt that having a friend and big brother figure is a big help, but he's more than capable of getting through the process on his own.
Settle already has offers from some of the top programs, including Alabama, Clemson, Florida, Notre Dame, Ohio State, Oklahoma and USC, among others. At 6-foot-3, 308 pounds, he is well on his way to being an outstanding prospect in his own right.
The fast start to his recruitment wasn't entirely unexpected, and Settle knows exactly why he is so coveted.
He will tell you he can strip the ball at will and is able to make a big play when his team needs it.
He prides himself on his athleticism and how well he moves for a big man. To prove that point he talks about how he played basketball and tried to play baseball as well. He laughs as he describes himself playing in the outfield and striking out at nearly ever at bat.
"A 300-pound dude playing baseball isn't really normal," he says laughing. "My freshman year I didn't know how to slide so I would just run through the bases."
He even has a name for his game on the football field; he calls it chaos. Despite teams running away from his side of the line, he describes chaos as jamming holes, shedding blocks and making any tackle.
He models his game after his favorite NFL player,
Ryan Kerrigan
. Not just because he is a Redskins fan, but because nobody expected much out of Kerrigan when he entered the league.
That fits Settle's personality, being quiet and unassuming but then causing chaos.
The massive junior has a good grasp on his game and where he's headed in the recruiting process. It's still early, so he is just taking everything in as it comes.
Settle's taking in the advice from Hand while making sure he does his own homework as well. He'll have to make his own decision eventually, and he knows that time will come.
"Right now I'm trying to be open to everyone, and give everyone a chance before I give anything out. I just want to make sure I have a great time on every visit," he said. "I'll make sure I find a place with someone to take care of me. Coaches, teammates, just a place that will have my back no matter what. That's how I'll know the best place for me."
September, 13, 2013
9/13/13
11:00
AM ET
It's time to dip into the Big Ten recruiting mailbag and answer some of your questions. We'll try to give everyone a chance to get their questions answered. We encourage you to send your questions by Twitter to
@bbournival
or
@TomVH
.
@buckeyefan686: How do you see Urban Meyer and Co. utilizing a player like Noah Brown?
Brad Bournival:
First and foremost, Brown is a player who brings versatility and can play either split out or in the slot. He can even go in the backfield if Meyer needs him there. His size -- 6-foot-2 and 215 pounds -- makes him a solid choice to play the X receiver. With explosiveness and good route-running, he's a natural to go out wide for Ohio State. Expect to see him on special teams soon for the Buckeyes.
---
@kraut2k:
Is DeAnthony Arnett having a negative effect with Michigan State and Brian Cole?
Tom VanHaaren:
It seems as though he might be, yes. Arnett, a wide receiver from Saginaw, Mich., hasn't been getting playing time at Michigan State. He transferred from Tennessee after his freshman season, but hasn't made an impact yet. That does seem to be something Cole (Saginaw, Mich./Heritage) has taken notice of. Cole and Arnett are friends, as is Cole's father. A program can't change what it does on the field for a recruit, but in this case it does look like it's having an impact on this prospect. I'm not sure there is much that can be done if that's the way Cole and his family feels.
---
@PSUlions1121: Have you heard anything about Justin Hilliard's visit?
Bournival:
After talking to his dad, the ESPN Junior 300 junior is very intrigued by "linebacker university" and wants to see what Happy Valley is all about. He also has heard all about the atmosphere of a night game, so he wanted to see that firsthand this weekend as well. He has rescheduled his trip to Kentucky for Oct. 12 when the Wildcats play Alabama.
---
@UMKirwin12:
Which Big Ten teams do you think will see their class ranking change the most, up or down, from where they are now to where they end up on national signing day?
VanHaaren:
I think Michigan and Ohio State still have a lot left on their boards to bump each of them up in the rankings. They are both in the top 10, but with some big prospects still in play, they could still see a bump. Northwestern, Michigan State and Nebraska are also teams that have opportunity to jump in the rankings as well. All three teams have ESPN 300 prospects still listing them in their top group, so there is a chance we could see some upward movement.
---
@darkknight1093: With all the turmoil at Texas, do you now see Ohio State as a serious contender to land Solomon Thomas or Myles Garrett?
Bournival:
If things play out like they did with Penn State and Oregon in Meyer's first two classes, don't expect him to do much until after the season. I'm sure there is a lot of interest in Thomas and Garrett, but Meyer is very careful where he picks his spots.
---
@CooperLily21: General question for you. In your opinion what is the most important thing (or things) kids look for in a school?
VanHaaren:
That's tough to answer in a short response because there are so many factors for different kids. It really depends on what the prospect is looking for, what his situation is and what caliber player he is. I think the biggest similarity is a comfort level. This gets overlooked a lot, but a big part of why recruits take visits is to see how comfortable they feel with the coaches, players and that campus. That's partially why it doesn't always work out when a recruit is a fan of a school growing up and then ends up committing elsewhere. If he feels a different level of comfort or feels more wanted at a different program, that goes a long way.
---
@GRSportsBlog: Any idea what's up with Dravon Henry and his shakeup with the top schools?
Bournival:
In a nutshell, the ESPN 300 athlete just didn't think Penn State was a good fit. ACC recruiting reporter Jared Shanker wrote an
excellent piece
on it Wednesday. It looks like it's down to Pitt and West Virginia with Ohio State having an outside shot. The bowl ban might have played a role in Henry dropping the Nittany Lions.
---
@redwingyooper:
Why the delay in Michigan offering Matt Burrell Jr. and Tim Settle when they have shown interest?
VanHaaren:
Numbers are tight again for 2015, so every offer is important. Right now there are only around 15 scholarships available in that class. There are already technically seven spots taken up with greyshirt commit
Brady Pallante
counting towards 2015 for now. With attrition that total number of 15 can rise, so there are probably around 10 spots left, give or take. With Burrell, Michigan has
Jon Runyan Jr
. (Philadelphia/St. Joseph's Prep) already committed as an interior offensive lineman. That's also what Burrell position Burrell plays, and Michigan seems to be in the market for tackles.
September, 12, 2013
9/12/13
2:00
PM ET
From official visits past and future to a commitment, the Big Ten was buzzing with headlines this week.
Here's a look at a few programs that highlight a busy week in this week's Big Ten storylines.
Boiler Up
To continue reading this article you must be an Insider
September, 5, 2013
9/05/13
2:00
PM ET
By
Brad Bournival & Tom VanHaaren
| ESPN.com
This is a huge weekend in the Big Ten recruiting world with some very high-profile visitors invading college campuses around the conference.
Here's a look at a few programs that will highlight a busy week in this week's Big Ten storylines.
To continue reading this article you must be an Insider
September, 4, 2013
9/04/13
3:30
PM ET
We're moving into Week 2 of the college football season and there wasn't much movement in terms of recruiting. Here is a look at some trends and questions going into the weekend for the Big Ten conference.

Trending up:
Brad Bournival:
Michigan State. Even though the Spartans didn't move up in the rankings, the green-and-white have plenty of big-time visitors slated to attend this weekend's game against South Florida. ESPN 300 athlete
Montae Nicholson
(Monroeville, Pa./Gateway) is the biggest of the bunch, but he'll be joined by ESPN Junior 300 running back
Larry Scott
(Hubbard, Ohio/Hubbard), 2015 cornerback
Tyson Smith
(Bloomfield, Mich./St. Mary's Prep) and 2016 offensive tackle
Thiyo Lukusa
(Traverse City, Mich./Traverse City West), as well as 2014 commits
Matt Sokol
(Rochester Hills, Mich./Adams),
Deon Drake Jr
. (Detroit/Cass Tech),
Jalen Watts-Jackson
(Orchard Lake, Mich./St. Mary's Prep) and
David Beedle
(Clarkston, Mich./Clarkston).
To continue reading this article you must be an Insider
September, 3, 2013
9/03/13
5:30
AM ET
The Early Offer is RecruitingNation's latest feature, giving you a daily dose of recruiting in the mornings. Today's offerings: The fall contact period got underway with college coaches using the long holiday weekend to get a head start on reaching out to 2015 prospects; Notre Dame and Michigan get a chance to make a big impression this weekend; and top-25 player
Jamal Adams
has given recruiters a small window to woo him.
2015 RB Jacques Patrick said Al Golden messaged him at 12:01 last night. #Canes

— Derek Tyson (@DerekTysonESPN) September 1, 2013
To continue reading this article you must be an Insider
September, 2, 2013
9/02/13
8:00
AM ET
The opening weekend of college football and the beginning of a fall evaluation period means there is plenty to talk about in recruiting. Here is a look at what happened this weekend in Big Ten recruiting:
To continue reading this article you must be an Insider
August, 29, 2013
8/29/13
2:00
PM ET
Big Ten fodder is never hard to find, especially in recruiting. This week is no different as schools start positioning themselves in the recruiting world. Here's a look at a few programs that highligh a busy week in this week's Big Ten storylines.
Cornhusker in the making?
Defensive tackle
Peyton Newell
(Hiawatha, Kan./Hiawatha) is set to announce his decision on Friday. He is down to Kansas, Kansas State, Nebraska and South Carolina, but it's likely between South Carolina and Nebraska.
To continue reading this article you must be an Insider
June, 4, 2013
6/04/13
10:05
AM ET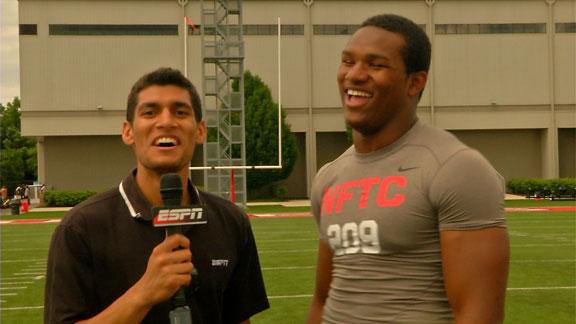 Da'Shawn Hand
(Woodbridge, Va./Woodbridge) came to Columbus, Ohio, over the weekend full of optimism and left with even more promise.
The fourth-ranked player in the nation and top-ranked defensive end, Hand was in town as part of the Columbus Nike Football Training Camp.
He left with an invitation to The Opening -- his second in as many years -- and even snuck in an unofficial visit to Ohio State the day before.
To continue reading this article you must be an Insider
June, 3, 2013
6/03/13
10:00
AM ET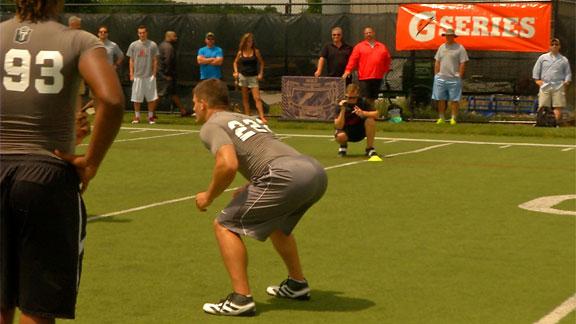 Editor's note: Finding the Future is a RecruitingNation feature that will appear throughout camps and combine season, ranking prospects strictly on their on-field performance at the particular event. It does not reflect where each will land when the class is ranked by ESPN.
COLUMBUS, Ohio -- The Nike Football Training Camp was loaded with top upperclassmen on Sunday, but a handful of 2015 prospects showed they could compete with some of the top competition from the Midwest.
1. OT Sterling Jenkins
6-foot-8, 295 pounds | OT | Pittsburgh Baldwin
Considering:
Offers from Arizona, Michigan, Ohio State, Penn State, Toledo, Virginia, Vanderbilt, Virginia Tech and West Virginia
What we learned:
With some of the top committed and uncommitted defensive linemen in the Midwest flocking to the NFTC, Jenkins certainly didn't back down as he more than held his own against top-ranked talent.
"What I like about Sterling is he has the reach, the length of an elite tackle," said former Florida State and NFL offensive guard Montrae Holland. "He's young right now and has to get a better understanding of angles, but the overall tools are there. He has the raw material to be very good."
To continue reading this article you must be an Insider
June, 2, 2013
6/02/13
5:17
PM ET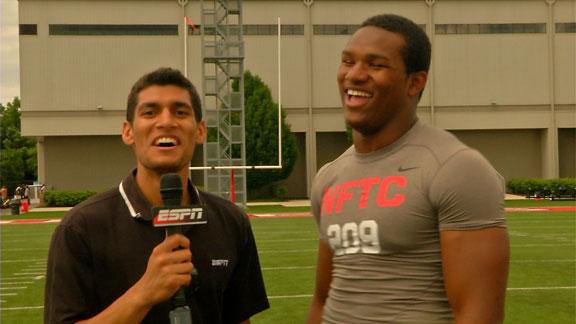 COLUMBUS, Ohio -- The 2013 Nike Football Training Camp tour continued Sunday as several top players from the Midwest showcased their skills on Ohio State's practice fields. The competitors didn't disappoint, either, as some hard hits, great runs and incredible one-on-one drills showed just how strong this group was.
Here is what we learned:
To continue reading this article you must be an Insider
Michigan Investigated By Feds
BIG TEN SCOREBOARD
Saturday, 12/21
Monday, 12/23
Tuesday, 12/24
Thursday, 12/26
Friday, 12/27
Saturday, 12/28
Monday, 12/30
Tuesday, 12/31
Wednesday, 1/1
Thursday, 1/2
Friday, 1/3
Saturday, 1/4
Sunday, 1/5
Monday, 1/6