Michigan Wolverines:

Tim Banks
January, 15, 2014
1/15/14
1:00
PM ET

Before we close the book on the 2013 season, here's the final version of the Big Ten power rankings. Bowl performances were factored in, as well as how teams finished the season, although there aren't too many changes from the
previous version of the power rankings
.
Let's get started ...
1. Michigan State (13-1, previously: 1):
The Spartans rallied to beat Stanford in the Rose Bowl Game presented by VIZIO to record their team-record 13th victory. Thanks to stifling defense and improved quarterback play, Michigan State had its best season since the mid-1960s. The Spartans return QB
Connor Cook
and most of the skill players on offense, but must replace a lot of production on defense.
2. Ohio State (12-2, previously: 2):
After winning 24 consecutive games to open the Urban Meyer era, Ohio State dropped consecutive games on big stages. The Buckeyes' defense couldn't slow down Clemson's pass game in the Discover Orange Bowl, and turnovers doomed Ohio State in the second half. Meyer's defensive staff will have a different look with new assistants Chris Ash and Larry Johnson.
3. Wisconsin (9-4, previously: 3):
Like Ohio State, Wisconsin ended its season with a thud and a sloppy bowl performance against South Carolina. The Badgers received big performances from running backs
Melvin Gordon
and
James White
but couldn't stop South Carolina quarterback
Connor Shaw
or hang on to the football.
4. Nebraska (9-4, previously: 6):
All roads lead to 9-4 for Bo Pelini's team, but the Huskers are much happier to be there after an upset victory over Georgia in the Taxslayer.com Gator Bowl. An improved defense did a nice job of keeping the Bulldogs out of the end zone, and seniors such as wide receiver
Quincy Enunwa
stepped up in their final college game.
5. Iowa (8-5, previously: 4):
A stout Hawkeyes defense kept the team in the Outback Bowl, but the offense never truly got going and lost starting quarterback
Jake Rudock
to injury. Iowa had its chances for a quality bowl win, but has to settle for a strong regular-season improvement and raised expectations entering the 2014 season.
6. Penn State (7-5, previously: 7):
An impressive victory at Wisconsin marked the final game of the Bill O'Brien era. New coach
James Franklin
has brought a lot of enthusiasm to Happy Valley and should sparkle on the recruiting trail. His management of talented quarterback
Christian Hackenberg
and an undermanned defense will loom large this fall.
7. Minnesota (8-5, previously: 5):
The Gophers had by far the most favorable bowl matchup but didn't reach the end zone for more than three quarters against Syracuse. Although a special-teams play ultimately doomed Minnesota, the Gophers' inability to establish a better passing game was a key element in a very disappointing loss. Minnesota should expect more in 2014.
8. Michigan (7-6, previously: 8):
You knew it would be tough for Michigan in the Buffalo Wild Wings Bowl when quarterback
Devin Gardner
hobbled off of the plane on crutches. But the Wolverines never gave themselves a chance in the game, caving defensively against Kansas State's
Jake Waters
and
Tyler Lockett
. A blowout loss ended Michigan's highly disappointing season and marked the end for offensive coordinator Al Borges. Can coach Brady Hoke get things turned around in 2014?
9. Northwestern (5-7, previously: 9):
Northwestern is awaiting confirmation that running back
Venric Mark
can return for a fifth season, and should get it in the next few weeks. Mark will help an offense that never truly got on track last fall and might need to be more of a pass-first unit if
Trevor Siemian
remains the starting quarterback. The defense returns nine starters.
10. Indiana (5-7, previously: 10):
It took a little longer than expected, but coach
Kevin Wilson
fired defensive coordinator Doug Mallory last week as Indiana again will try to upgrade a perennially porous unit. The Hoosiers will be more experienced throughout the roster this fall, but the defense must change the script under new leadership as they enter the brutal East Division.
11. Illinois (4-8, previously: 11):
While Wilson made a change at defensive coordinator, coach Tim Beckman is sticking with Tim Banks and the rest of his staff for a pivotal 2014 season. Like Indiana, Illinois will be more experienced on defense but must replace
Nathan Scheelhaase
at quarterback. A favorable schedule gives Illinois a chance to make a bowl game.
12. Purdue (1-11, previously: 12):
No Big Ten team is more excited to start working this offseason than the Boilers, who are rebuilding through the quarterback spot with
Danny Etling
and early enrollee
David Blough
, who officially arrived this week. Purdue must improve along both lines and replace veteran defenders such as cornerback
Ricardo Allen
and tackle
Bruce Gaston Jr.
December, 13, 2013
12/13/13
4:00
PM ET
Sadly, there's no Big Ten football this weekend for the first time since August. I'll be counting the minutes until bowl season.
Don't forget to follow us
on Twitter
.
To the inbox ...
Matthew from Minneapolis writes:
Hey Adam, I can't help but feeling you've been dodging my question about "national brand teams" in Michigan/Penn State. What qualitative or quantitative data do you have to substantiate these claims? You recently wrote "...what they're used to seeing, and that's Michigan/Penn State [being good]..." really? When was the last time either of these teams were even remotely decent?
Adam Rittenberg:
Matthew, I'm not sure how old you are. If you're under 30, the Michigan and PSU brands might not resonate for you as much as Wisconsin's, MSU's and Iowa's. But it's different for those who remember Michigan's national title in 1997 and five Big Ten championships between 1997-2004, not to mention the program's long-term history. The same holds true for those who remember Penn State's national titles in the 1980s or the great teams in 1994, 2005 and 2008.
You want data that validates Michigan and Penn State as big brands? Look at the money they bring in. They're always included in
Forbes' list of most valuable college football teams
. They have huge stadiums, massive alumni/fan bases and plenty of NFL alumni. I'm not arguing that Michigan and, to a lesser extent because of the circumstances, Penn State are underachieving. I'm actually underscoring that in Michigan's case. But they're still national brands because of what they've done over time.
---

Ron from Minneapolis writes:
Hi, Adam. I think the Gophers got the shaft this year for their bowl game. Gophers fans don't travel well because they end up in bad bowl games. I would bet anything that had they been selected to the Gator Bowl, the fan base would be very good. What I worry about is, even if they would go 9-3 or 10-2 next year, they will still get passed over to a good bowl because of fan travel? It's hard to recruit and become a contender when people don't even watch a lower bowl game like this. As fans, how do we get the word out to the bowl committees so this doesn't keep happening?
Adam Rittenberg:
Ron, the good news for you and your fellow Gophers fans is that the Big Ten, beginning in 2014, will
take over the bowl selection process
rather than put it solely in the hands of bowl officials. Bowls and teams will be assigned to tiers, and the league will work to avoid repeat destinations or repeat opponents for teams. "We're going to really want to have different teams in different bowls," Big Ten commissioner Jim Delany said in announcing the new bowl lineup in June. "... You'll see a real focus on getting diversity and freshness."
All that said, it's important for Minnesota fans to show up at this year's Texas Bowl, support a good team and begin to change the perception about how well they travel. Quite frankly, you're overestimating the gap between the TaxSlayer.com Gator Bowl and the Texas Bowl. The Gator Bowl has some more tradition, but I'd argue the Texas Bowl is in better location with a better time slot, away from the New Year's Day gridlock. Bowl committees don't care about head-to-head results or fans whining about being passed over. You probably won't have this problem in the future, but you still should go and support your team if possible.
---

Todd from Peoria, Ill., writes:
How did Ohio State end up playing Clemson and Alabama playing Oklahoma? Given how close both came to the title game, wouldn't that be a better match-up than either got this year? It would prove how the (true) best SEC team this year compares to the best available B1G team and whether OSU had any business thinking of playing for the crystal football. Also, what do you think of the apparent decision by Tim Beckman to keep DC Tim Banks despite two years of dismal defense by my beloved Illini?
Adam Rittenberg:
Todd, it has more to do with the current relationships between BCS bowls and certain leagues. The ACC's tie to the Discover Orange Bowl led the bowl to replace Florida State with Clemson. The same held true with the SEC and the Allstate Sugar Bowl, which replaced Auburn with Alabama. Ohio State-Alabama would have been great, though I was hoping the Sugar would pick Oregon to face Bama, a matchup we've wanted for years. But because of the game's upcoming Big 12 tie-in (Champions Bowl), it went with Oklahoma, and Alabama-Oklahoma looks like a mismatch.
As for Illinois, I'm a little surprised Beckman will
keep his entire defensive staff intact
. He's entering a make-or-break season, and he wants to sink or swim with the coaches he hired. He probably doesn't want another year of significant staff turnover. But the defense must get a lot better.
---

Tony from Austin, Texas, writes:
Hey Adam, what are the chances of
Taylor Martinez
playing in the NFL? Is it likely he has a future as an NFL quarterback or is he best changing positions (see Denard Robinson)?
Adam Rittenberg:
Tony, Nebraska coach Bo Pelini told me before the season that he thinks Martinez can play quarterback in the NFL. Pelini knows the NFL, but I'd be surprised if Martinez is taking snaps in the pros next year. His mechanics are improved from his sophomore year but remain far from textbook, which is the standard in the NFL. I don't see enough arm strength, either. Martinez certainly has skills that translate to the next level, namely his speed, so I see him moving to another position.
---

Todd from Louisville writes:
Adam, your comments in two different posts appear to be almost directly opposed to me. Should Iowa fans demand and expect more than an 8-4 record or be realistic/objective about being ambitious and excited for the future? Do you intend to appear combative with these fans no matter what position they espouse?
Adam Rittenberg:
Todd, I think my Iowa comment was misinterpreted, and that's my fault. Iowa fans obviously should be excited about their team's four-win improvement this season. My comment was that in general, an 8-4 record seems to please more fan bases in the Big Ten then it would in the SEC. I don't think enough Big Ten fan bases demand excellence from their programs. That's not a shot at Iowa fans, who were understandably disappointed in 2012. But now the bar must be raised for 2014. Iowa has a real chance to win the West division, and anything less should be considered a disappointment. Kirk Ferentz makes big money and should be held to a higher standard than 8-4. That's more than fair.
There are many reasons why the Big Ten has slipped a bit nationally in football. But I wonder if enough teams in this league take a championship-or-bust approach to seasons, and whether that's contributing to the mediocrity.
---

Sam from Detroit writes:
Adam, if things go how they usually go with Nick Saban and he decides to leave for Texas, do you think Mark Dantonio would be a candidate for the Alabama job? He has to be one of the more desirable coaches out there right now, and Alabama is obviously one of the better jobs. I seem to remember Dantonio being in the middle of the pack as far as compensation for B1G coaches and while I'm sure he'll get a bump this year, it won't be an SEC-esque bump. Do you think he'd leave for a job like Alabama?
Adam Rittenberg:
I don't think so, but Michigan State needs to step up and provide Dantonio and his assistants substantial raises. Dantonio knows he's in a great situation at MSU. He has a great boss in Mark Hollis, and his family is happy there. His only tie to the SEC is the fact he played at South Carolina. Dantonio definitely has some leverage if other schools begin courting him, but I'd be a bit surprised if he leaves. He's not a guy completely driven by money, and he knows he can compete for the College Football Playoff at MSU.
December, 12, 2013
12/12/13
2:30
PM ET
USA Today has released its annual
database of assistant coach salaries
throughout college football so let's see how the Big Ten aides stack up. Ten of the 12 Big Ten schools report coaches' salaries (Northwestern and Penn State do not).

Once again, Michigan defensive coordinator Greg Mattison leads Big Ten assistants in pay at $851,400, which ranks fourth nationally behind million-dollar coordinators Chad Morris of Clemson, Kirby Smart of Alabama and John Chavis of LSU.
Michigan offensive coordinator Al Borges is the only other Big Ten assistant in the top 10 nationally in total pay ($709,300). Nebraska offensive coordinator Tim Beck ($700,000) is next, followed by Ohio State defensive coordinators Luke Fickell ($610,000) and Everett Withers ($585,000), Michigan State defensive coordinator Pat Narduzzi ($558,908) and Ohio State offensive coordinator Tom Herman ($555,000).
On the whole, the Big Ten has fewer assistants making top-20 salaries than the SEC. There's also a decent drop-off in salary after Herman, as no others make more than $500,000 (Wisconsin coordinators Dave Aranda and Andy Ludwig both make $480,000).
Here are the highest-paid assistants for the 10 Big Ten squads reporting salary:
Michigan:
Defensive coordinator Greg Mattison ($851,400)
Nebraska:
Offensive coordinator Tim Beck ($700,000)
Ohio State:
Defensive coordinator Luke Fickell ($610,000)
Michigan State:
Defensive coordinator Pat Narduzzi ($558,908)
Wisconsin:
Defensive coordinator Dave Aranda and offensive coordinator Andy Ludwig ($480,000)
Purdue:
Offensive coordinator John Shoop ($400,000)
Illinois:
Offensive coordinator Bill Cubit and defensive coordinator Tim Banks ($400,000)
Indiana:
Offensive coordinator Seth Littrell ($356,500)
Minnesota:
Defensive coordinator Tracy Claeys ($346,800)
Iowa:
Defensive coordinator Phil Parker ($325,500)
Claeys clearly is the best value in the league, as he served as Minnesota's acting head coach during Jerry Kill's health-related absence and remained as the main sideline coach even after Kill returned to duty. Iowa's Parker, along with OC Greg Davis ($325,000) also earned their keep and then some as the Hawkeyes flipped their record from 4-8 to 8-4.
Some Michigan fans will scoff at Borges' salary after the Wolverines offense struggled for much of Big Ten play. Fickell, Shoop and Banks also directed units that had forgettable seasons.
One thing to keep in mind when some of these assistants are mentioned for head-coaching jobs is the pay cuts they'd likely take to lead teams in smaller conferences.
In terms of total staff pay, Ohio State leads the Big Ten and ranks sixth nationally at $3,474,504, trailing LSU, Alabama, Clemson, Texas and Auburn. Michigan comes in next at $3,072,000, which ranks 14th nationally.
Bret Bielema left Wisconsin for Arkansas in part because he had lost so many assistants in his final two years in Madison. Bielema's staff at Arkansas ranks 10th nationally in total staff pay ($3,233,000), while Gary Andersen's staff at Wisconsin ranks 28th ($2,495,000)
Here are the Big Ten teams sorted by total staff pay:
Ohio State:
$3,474,504
Michigan:
$3,072,000
Nebraska:
$2,648,500
Wisconsin:
$2,495,000
Michigan State:
$2,410,483
Iowa:
$2,367,500
Minnesota:
$2,152,350
Indiana:
$2,074,780
Illinois:
$2,066,400
Purdue:
$2,010,000
We can have an endless about debate whether college football coaches make too much money in general, but these numbers remain problematic for the Big Ten in my view. Only two teams are truly paying top dollar for their staffs, and some groups are undervalued.
Michigan State's staff obviously jumps out after the Spartans just won the Big Ten championship. MSU co-offensive coordinators Dave Warner ($280,800) and Jim Bollman ($262,000) are among the lowest-paid coordinators in the league, as several position coaches make more than them. Athletic director
Mark Hollis said last week that raises are coming
for head coach Mark Dantonio and his assistants.
Minnesota's staff also deserves a nice bump after handling such a tough situation this season. I also wonder whether Iowa's coordinators get a raise, especially considering what head coach Kirk Ferentz makes.
Purdue's Marcus Freeman and Jafar Williams are the Big Ten's lowest-paid assistants at $120,000. Only one SEC assistant, Kentucky's Derrick Ansley, makes less than $140,000.
December, 11, 2013
12/11/13
12:00
PM ET
Two weeks until Christmas. Guess I'd better start shopping.
December, 3, 2013
12/03/13
12:00
PM ET
The only way college football could be better is if people had stronger opinions about it.
May, 20, 2013
5/20/13
9:00
AM ET
Ohio State already had started paying more competitive salaries for assistant coaches before Urban Meyer arrived in November 2011.
But when Meyer and athletic director Gene Smith sat down to discuss staff pay, Smith soon realized he needed to do more.
"I think Michigan had stepped up with their coordinators," Smith recalled last week during Big Ten spring meetings in Chicago. "So we were already going to that before Urban Meyer came, but we bumped it up a little more. Any time there's change, you have that opportunity."
[+] Enlarge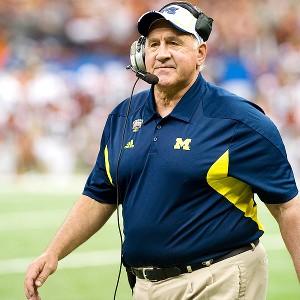 Lon Horwedel/Icon SMIMichigan DC Greg Mattison ranks as the highest-paid assistant coach in the Big Ten for the 2013 season.
"Everyone's always focused on head coaches' salaries," Smith continued. "That's always the thing. But really when you look at the changes, it's really been assistants' salaries across the country -- not just in the SEC, but the Big 12, Pac-12, all across the country."
The Big Ten is part of the change, too, as the league is allocating more money toward football assistants than ever before. The Detroit Free Press has an
excellent look at Big Ten assistants' salaries
, complete with a
database
that includes 10 of the 12 current members (Northwestern doesn't submit salaries as a private institution, and Penn State doesn't have to because of state laws).
The Free Press found that eight of the 10 schools are paying more for assistants in 2013 than they did in 2012 (only Indiana and Illinois are not). There are some significant total increases, such as Wisconsin (up $558,000), Nebraska (up $518,500), Purdue ($400,000) and Minnesota ($355,000). Staff pay had been an issue at Wisconsin, which lost six assistant coaches following the 2012 Rose Bowl, and at Purdue, which paid less for its staff during the Danny Hope era than any Big Ten school.
The total trend among the 10 schools is an increase of $1,720,852.24 for 2013.
Ohio State and Michigan remain No. 1 and No. 2 in Big Ten staff salary, as the Buckeyes allocate $3.416 million and the Wolverines allocate $2.805 million. Nebraska and Wisconsin make the biggest moves in the league for 2013, as the Huskers rise from sixth to third and the Badgers rise from seventh to fourth.
Illinois, which replaced five assistants from the 2012 team, including co-offensive coordinators Chris Beatty and Billy Gonzales, dropped from third in staff pay ($2.314 million) to eighth ($2.065 million).
The database shows that nearly every Big Ten assistant with "coordinator" in his title -- whether he's the sole coordinator or a co-coordinator -- will earn north of $300,000 for 2013. Only 18 assistants listed will make less than $200,000 in 2013 -- 15 work for Minnesota, Illinois, Purdue and Indiana.
Some notes:
Although Wisconsin paid former offensive coordinator Paul Chryst good coin, the school has increased its commitment for Gary Andersen's staff, not only with the coordinators but with some coveted position coaches like running backs coach Thomas Hammock ($300,000).

All of Nebraska's assistants are earning $200,000 or more for 2013, but there's a huge drop-off between Beck and the next highest-paid assistant (defensive coordinator John Papuchis at $310,000).

Michigan State has a similar drop off between Narduzzi and co-offensive coordinators Dave Warner ($270,000) and Jim Bollman ($260,000). Warner will be the primary offensive play-caller and has been on Mark Dantonio's staff since 2006, while Bollman is a newcomer.

Although Michigan is paying top dollar for its coordinators, the school gets its assistants for a relative bargain. Receivers coach/recruiting coordinator Jeff Hecklinski will earn $225,000 in 2013, while the others all will earn $205,000. Ohio State, meanwhile, pays all but one of its assistants $286,000 or more.

The Big Ten's three lowest-paid assistants all are in their first years: Illinois wide receivers coach Mike Bellamy ($125,000) and Purdue linebackers coach Marcus Freeman and running backs coach Jafar Williams (both at $120,000).

Although schools like Illinois, Wisconsin and Iowa ($325,000) pay their coordinators the exact same amount, others have slight differences in salary. Purdue's Shoop makes $5,000 more than defensive coordinator Greg Hudson. Minnesota defensive coordinator Tracy Claeys ($340,000) makes $5,000 more than offensive coordinator Matt Limegrover. Wonder if that leads to any underlying jealousy?

Most Big Ten schools have assistant salaries in round numbers, but there are some interesting totals from Indiana, which pays co-offensive coordinators Seth Littrell and Kevin Johns $255,500.04 and new recruiting coordinator/assistant defensive line coach James Patton $173,740.08. Never know when that change can come in handy.
The Big Ten still lacks some of the OMG totals seen in the SEC -- LSU is
paying new offensive coordinator Cam Cameron $3.4 million
in the next three years -- but the overall trend puts the league more on par with what we're seeing nationally.
Which Players Have The Most To Prove In 2015?
BIG TEN SCOREBOARD
Thursday, 9/3
Friday, 9/4
Saturday, 9/5
Sunday, 9/6
Monday, 9/7