Michigan Wolverines:

Thomas Hammock
March, 10, 2014
3/10/14
10:30
AM ET
Non-Minnesota fans might have missed Friday's official announcement that Mike Sherels has been promoted to Gophers linebackers coach after serving on the team's recruiting staff. Sherels is the first new assistant Jerry Kill has hired in his Minnesota tenure, but the move likely signified -- likely being the operative word -- something bigger for the Big Ten.
The end of the coaching carousel for 2014.
This post always includes a reminder that additional coaching changes still can happen, even though most of the Big Ten has started spring practice. It's the nature of the business.
Despite two new teams in the Big Ten, the number of overall changes in the league dropped for the second consecutive year, going from 32 in 2013 to 27 this year. There was only one complete staff overhaul, at Penn State, and four programs -- Illinois, Iowa, Michigan State and Northwestern -- kept all of their coaches from last season. After replacing more than half of his staff in the last offseason, Illinois' Tim Beckman hopes continuity pays off in what likely will be a make-or-break 2014 campaign. Iowa is back to its stable self after two years of coaching flux, while Northwestern coach Pat Fitzgerald hasn't made a staff change since after the 2010 season.
Michigan State made a major commitment
to Mark Dantonio and his assistants after the Spartans' Rose Bowl win, but it's still impressive that Dantonio retained the entire staff after such a great season.
Both Rutgers and Maryland have some new faces on staff before their inaugural season of Big Ten play. Rutgers has two new coordinators (one outside hire, one promotion), while Maryland has new assistants overseeing both lines.
[+] Enlarge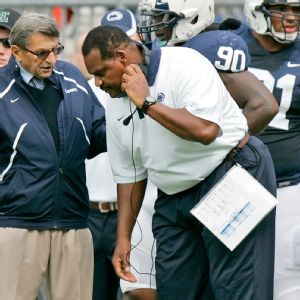 Michael R. Sisak/Icon SMILongtime Penn State defensive line coach Larry Johnson moved to Ohio State this offseason after James Franklin was hired as the Nittany Lions' head coach.
Other than Penn State, Indiana and Rutgers are the only teams featuring two new coordinators in 2014. Although IU assistant Kevin Johns previously held the co-offensive coordinator title, he'll be the main man, as he takes over for Seth Littrell.
For the most part, the coaches leaving Big Ten programs did so voluntarily and for potentially better positions. Penn State head coach Bill O'Brien took the same role with the Houston Texans, while two assistants -- Ohio State's Everett Withers and Maryland's Greg Gattuso -- left to become FCS head coaches at James Madison and Albany, respectively. The Big Ten lost several assistants to the NFL, as O'Brien brought four assistants with him from Penn State (John Butler, Stan Hixon, Charles London and Anthony Midget) and swiped another from Ohio State's staff (Mike Vrabel). Wisconsin also lost running backs coach Thomas Hammock to the Baltimore Ravens.
Arguably the most interesting move took place within the league, as longtime Penn State defensive line coach Larry Johnson replaced Vrabel at Ohio State.
OK, let's get to it already.
Here's the rundown of coaching changes (head coach and full-time assistants only; number of new coaches in parentheses):
INDIANA (3)
Who's gone?
Doug Mallory, defensive coordinator/safeties
Seth Littrell, offensive coordinator/QBs
Jon Fabris, defensive line
Who's in?
Brian Knorr, defensive coordinator/defensive ends/outside linebackers
Larry McDaniel, defensive line
Noah Joseph, safeties
Other moves
Promoted Kevin Johns to main offensive coordinator. Johns also now coaches quarterbacks in addition to wide receivers.
Moved James Patton from assistant defensive line/special teams to tight ends and fullbacks
MARYLAND (3)
Who's gone?
Tom Brattan, offensive line
Lee Hull, wide receivers
Greg Gattuso, defensive line
Who's in?
Greg Studwara, offensive line
Keenan McCardell, wide receivers
Chad Wilt, defensive line
MICHIGAN (1)
Who's gone?
Al Borges, offensive coordinator/quarterbacks
Who's in?
Doug Nussmeier, offensive coordinator/quarterbacks
Other moves
Defensive coordinator Greg Mattison is overseeing linebackers instead of defensive linemen
Mark Smith moves from linebackers to defensive line
Roy Manning moves from outside linebackers to cornerbacks

Curt Mallory will coach only safeties rather than the entire secondary
MINNESOTA (1)
Who's gone?
Bill Miller, linebackers/assistant head coach
Who's in?
Mike Sherels, linebackers (promoted from recruiting staff)
Other moves
Pat Poore moves from wide receivers to running backs
Brian Anderson moves from running backs to wide receivers
NEBRASKA (1)
Who's gone?
Terry Joseph, secondary
Who's in?
Charlton Warren, secondary
OHIO STATE (2)
Who's gone?
Everett Withers, co-defensive coordinator/safeties
Mike Vrabel, defensive line
Who's in?
Chris Ash, co-defensive coordinator/safeties
Larry Johnson, defensive line/assistant head coach
PENN STATE (10)
Who's gone?
Bill O'Brien, head coach/offensive playcaller
John Butler, defensive coordinator/cornerbacks
Charlie Fisher, quarterbacks
Stan Hixon, wide receivers/assistant head coach
Larry Johnson, defensive line
Charles London, running backs
Mac McWhorter, offensive line
Ron Vanderlinden, linebackers
John Strollo, tight ends
Anthony Midget, safeties
Who's in?
James Franklin, head coach
John Donovan, offensive coordinator/tight ends
Bob Shoop, defensive coordinator/safeties
Charles Huff, running backs/special teams
Brett Pry, co-defensive coordinator/linebackers
Josh Gattis, wide receivers/assistant special teams
Herb Hand, offensive line
Ricky Rahne, quarterbacks
Sean Spencer, defensive line
Terry Smith, cornerbacks
PURDUE (1)
Who's gone?
Jon Heacock, defensive backs
Who's in?
Taver Johnson, defensive backs
RUTGERS (4)
Who's gone?
Dave Cohen, defensive coordinator/linebackers
Ron Prince, offensive coordinator
Rob Spence, quarterbacks
Damian Wroblewski, offensive line
Who's in?
Ralph Friedgen, offensive coordinator/quarterbacks
Bob Fraser, linebackers/special teams
Mitch Browning, offensive line
Ben McDaniels, wide receivers
Other moves
Promoted special teams coordinator Joe Rossi to defensive coordinator
Anthony Campanile is coaching only tight ends after overseeing both tight ends and wide receivers
WISCONSIN (1)
Who's gone?
Thomas Hammock, running backs/assistant head coach
Who's in?
Thomas Brown, running backs
October, 18, 2013
10/18/13
4:00
PM ET
Wishing you a great weekend of football watching. Don't forget to follow us
on Twitter
, the best way to keep track on Saturdays.
To the inbox ...
Sumeet from San Francisco writes:
Adam, what else, schedule questions. I have one, parity-based scheduling doesn't appear to be working as you may think, coming from a PSU fan. From 2014-2019 (a six-season stretch), PSU plays Nebraska once and Wisconsin once, both at Beaver Stadium. Really? This after we played both teams annually the past three years with some classic games? But we play Iowa four times in a row, and the other West teams multiple times over the six years. PSU-Nebraska especially had the makings of a budding rivalry, but now we won't see them until 2017, and Wisky in 2018. What gives?
Adam Rittenberg:
Sumeet, it's unfortunate that the Lions and Huskers will meet so infrequently during that stretch, as both fan bases love that game on the schedule. It seems like the Big Ten has prioritized certain games over others with parity-based scheduling. Nebraska and Ohio State, for example, meet every year between 2016 and 2019, but Nebraska and Michigan meet just once between 2014 and 2019. Wisconsin and Michigan also meet every year between 2016-19, but the Badgers only play Penn State once during that span. The Big Ten is trying to create appealing matchups more often while also satisfying its principle to have teams meet at least once in a four-year span.
Penn State does seem to be put in the second tier when it comes to this approach, as the Lions aren't facing the marquee West division teams as often as you'd hope. I would point out, though that, Penn State-Iowa was a significant Big Ten matchup not long ago, and could be once again in the near future. It's not the same as facing Nebraska every year, but Penn State and Iowa had a nice rivalry going for a while.
---
Jackie from New York:
It's no secret that Badger running backs have great respect for each other and pride in their performance as a unit. That said, is there any cause for concern that the unbelievable depth could hurt the Badgers in recruiting? You could argue that not just two, but all three of the Badgers' current backs are FBS starting caliber, even though the third,
Corey Clement
, is a true freshman.
Melvin Gordon
, leading candidate for B1G offensive player of the year is not even first on the depth chart. Heck, they even have J.J. Watt's little brother lining up back there at fullback! So, my question is, how do you keep convincing big-time recruits to come to Madison when they might have to spend years sharing carries?
Adam Rittenberg:
I don't think you worry about it until it becomes a problem, Jackie. The beauty of Wisconsin's running back situation is that the players all buy in to the spirit of competition and don't simply look for a place where they can be The Guy without first earning it. Running backs coach Thomas Hammock fosters this atmosphere of constant competition, and he looks for guys who want to compete and not have things just handed to them. Look at Montee Ball. He was the third-stringer for most of 2010 and had to boost his game to a point where he could be a featured back. Could Wisconsin's way lead to a transfer eventually or a highly touted player going elsewhere? Sure. But Wisconsin has built such a strong reputation for producing elite running backs that the talent will continue to come to Madison. More important, the right types of players will show up -- those ready to compete.
---
Ian from Tacoma, Wash., writes:
Adam, there was a recent question from another B1G fan in one of your chats that I found pretty absurd. Someone made a comment along the lines of "Do we want Ohio State in the championship game" with the assumption that Ohio State losing somehow damages the B1G's reputation. Correct me if I'm wrong, but Ohio State is the only B1G team to PLAY in the NC game, much less win it. Ohio State also has the most BCS wins and appearances of any school, and has more BCS wins than any other B1G teams have appearances. Big Ten fans can hate Ohio State all they want, but the Buckeyes have accomplished more in the BCS era than any other league school, and it's not even close.
Adam Rittenberg:
You're absolutely right, Ian. Ohio State has been the Big Ten's only consistently elite team during the BCS era. It underscores the Big Ten's lack of depth at the top, which is a big reason it lags behind the SEC, a conference that has multiple teams that can challenge for national titles almost every year. As I said in the chat, the only way the Big Ten boosts its perception is to win a national title, and you can't win one without reaching that game. Ohio State still unfairly gets blamed for its title-game losses more than half a decade ago. But you have to wonder whether this Buckeyes team is ready to compete with an Alabama or an Oregon on Jan. 7. We could find out.
---
Bob from Iowa writes:
My Hawkeyes are going into a very hostile environment this weekend at OSU. This team has me thinking about the Hawks' 2008 team. An improving team whose previous three years were very IOWA (mediocre). They entered the 2008 season with a bit of QB controversy (2008 Christiansen vs. Stanzi the Manzi). In 2008, they had a power running game on which they leaned on for the majority of the year. Now, that same year they beat the No. 3 team in the nation, Penn State. Understandable, it was in IC but that doesn't mean it couldn't happen again, right? They finished the year with an 8-4 record and they trounced South Carolina in the Gator Bowl (I believe). The following year they went to the Orange Bowl. Do you think these same results are possible again in our present timeline? What needs to go right?
Adam Rittenberg:
Bob, I love the optimism, and I agree that this season could springboard Iowa to bigger and better things next season, much like the 2008 season did for the 2009 team. Iowa's 2014 schedule is much, much more favorable with no overly difficult road games (Pitt, Purdue, Maryland, Minnesota and Illinois) and no Michigan, Ohio State, Michigan State or Penn State on the slate. If certain things fall right, the Hawkeyes will be in the mix for the West division title. Now can Iowa beat Ohio State on Saturday? I don't see it. This Hawkeyes team isn't as strong as the 2008 version, which lost some games it shouldn't have and ended the year playing as well as anyone in the Big Ten. There was a ton of NFL talent on that team, which I don't see with the current version. Iowa will need to control the line of scrimmage on both sides of the ball, commit no turnovers and gain a few takeaways to stay in Saturday's game. The Hawkeyes also need the edge in the kicking game. It's a tall task, but not an impossible one.
---
Alden from Chicago writes:
I wish the B1G would leave the end-of-year games alone for the Spartans. I understand that the so-called rivalry with Penn State was squandered through the 90s and 00s. But now that we're going to be in the same division again, with MSU more competitive, why not reinstate it? What does MSU have to look forward to by playing Rutgers and Maryland? I feel like it's a major disadvantage in the rankings as well, would you agree? Is it Penn State that wants to end the year playing against the east coast? I say let the Knights and Terrapins play each other to end November.
Adam Rittenberg:
Alden, it very well may work out that Michigan State plays Penn State to end the regular season in most years, but I don't see the problem with rotating that game with several opponents. Penn State has more rivalry potential with Rutgers and Maryland than Michigan State does, and the Big Ten wants to see where those games go over time. I don't understand your point about the game being a "major disadvantage" in the rankings. MSU still will play PSU every season in the division, in addition to both Michigan and Ohio State. The Spartans also typically will have a good crossover game (Nebraska, Northwestern, Wisconsin, etc.). Strength of schedule shouldn't be an issue for any team in the East division.
The plus of playing Rutgers and Maryland -- whenever it falls during the season -- is being able to showcase your product in new markets. Michigan State AD Mark Hollis has talked about the school's large alumni base on the east coast. Those folks will get to see the Spartans play in their backyard in late November. So will recruits that Michigan State targets in states like New Jersey and Maryland. I just can't get excited about the MSU-PSU series enough to make it an annual end-of-season rivalry.
---
John from San Antonio writes:
After a promising start against nonconference creampuffs, it's fair to say that the Beckman rebuild has turned into a hopeless spiral of failure and depression. A five-win season would be a miracle and the next honest shot at a 6-6 season comes in 2107 with the return of Indiana, which is coincidentally when his contract runs out. But the problem is no coach could turn it around before then. So what's a fan to do? Pray for a merciful end to yet another hiring mistake and allow someone else to do no worse? Or fake joy at the "progress" of 4-8 seasons, concluded with a lethargic 2017 campaign for a 6-6 bowl appearance allowing Beckman to go out on a not-exactly-winning note?
Adam Rittenberg:
Wow, John, tell me how you really feel. I don't think you should be doing backflips about the Illini this year, but you have to acknowledge the improvement taking place there, especially on offense. This is still a young team that could take some steps late this season into next season. The remaining schedule looks daunting, and three more wins seem unlikely, but you never know. You can't say the next "honest shot" at a 6-6 season comes only in 2017, and that no coach could turn things around before then. Illinois is going to the West division, which should be the easier side to navigate. The team is already starting to mature a bit, and quarterback transfer
Wes Lunt
becomes eligible next fall. If you don't believe Tim Beckman is the guy, that's fine. But to project that the next four years will bring no bowls or tangible progress is a defeatist approach. Let's see how the rest of this season plays out.
---
Christopher from Middleton, Wis., writes:
Big Ten football's demise is a cyclical phenomenon and not a failure to recruit. Scandal and coaching turnover, not style of play, is the biggest problem. Penn State and Ohio State, possibly the two best programs in the Big Ten were hit with big penalties. Michigan mis-hired with Rich Rod, who by the way was a spread-offense guy. Michigan players left, disgusted with Rich Rod's behavior. It takes many more years than just the years they are penalized or the years the coach is active, for a program to be rebuilt. Programs that have been consistent with coaching and offensive styles have done well, Wisconsin and Northwestern are successful without ranking high in recruiting. Michigan has always been a top recruiter, but had turnover, controversy, and a change of football philosophy that disrupts a program for years. It is not the recruiting but scandal, coaching turnover and the change of football philosophy that calls for different player personnel that goes with coaching change that has hit the Big Ten. Years ago the Big Ten basketball conference was considered weak, and now it is the top conference. My question is, how is recruiting in basketball different than football other than number of players?
Adam Rittenberg:
Some good points here, Christopher, especially about coaching continuity leading to success and the lack of it in the Big Ten in recent years. It's important for programs to build their identities around the coach and the systems they run. We saw Iowa win the Rose Bowl after the 2009 season with a coaching staff and schemes that had been the same for a long time. All that said, football recruiting is quite different from basketball recruiting. The numbers are a huge factor. One or two basketball recruits can transform a program, but a football team needs much more depth.
Also, the Midwest remains a prime spot for elite basketball recruits. Look at all of the players coming out of major cities like Chicago, Detroit, Indianapolis and other Big Ten cities. It's not the same for football, as the numbers don't lie for where the players are coming from. The Big Ten's football downturn is related to all of these factors: lack of coaching continuity, scandals and recruiting all play roles.
May, 20, 2013
5/20/13
9:00
AM ET
Ohio State already had started paying more competitive salaries for assistant coaches before Urban Meyer arrived in November 2011.
But when Meyer and athletic director Gene Smith sat down to discuss staff pay, Smith soon realized he needed to do more.
"I think Michigan had stepped up with their coordinators," Smith recalled last week during Big Ten spring meetings in Chicago. "So we were already going to that before Urban Meyer came, but we bumped it up a little more. Any time there's change, you have that opportunity."
[+] Enlarge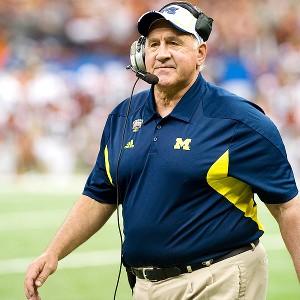 Lon Horwedel/Icon SMIMichigan DC Greg Mattison ranks as the highest-paid assistant coach in the Big Ten for the 2013 season.
"Everyone's always focused on head coaches' salaries," Smith continued. "That's always the thing. But really when you look at the changes, it's really been assistants' salaries across the country -- not just in the SEC, but the Big 12, Pac-12, all across the country."
The Big Ten is part of the change, too, as the league is allocating more money toward football assistants than ever before. The Detroit Free Press has an
excellent look at Big Ten assistants' salaries
, complete with a
database
that includes 10 of the 12 current members (Northwestern doesn't submit salaries as a private institution, and Penn State doesn't have to because of state laws).
The Free Press found that eight of the 10 schools are paying more for assistants in 2013 than they did in 2012 (only Indiana and Illinois are not). There are some significant total increases, such as Wisconsin (up $558,000), Nebraska (up $518,500), Purdue ($400,000) and Minnesota ($355,000). Staff pay had been an issue at Wisconsin, which lost six assistant coaches following the 2012 Rose Bowl, and at Purdue, which paid less for its staff during the Danny Hope era than any Big Ten school.
The total trend among the 10 schools is an increase of $1,720,852.24 for 2013.
Ohio State and Michigan remain No. 1 and No. 2 in Big Ten staff salary, as the Buckeyes allocate $3.416 million and the Wolverines allocate $2.805 million. Nebraska and Wisconsin make the biggest moves in the league for 2013, as the Huskers rise from sixth to third and the Badgers rise from seventh to fourth.
Illinois, which replaced five assistants from the 2012 team, including co-offensive coordinators Chris Beatty and Billy Gonzales, dropped from third in staff pay ($2.314 million) to eighth ($2.065 million).
The database shows that nearly every Big Ten assistant with "coordinator" in his title -- whether he's the sole coordinator or a co-coordinator -- will earn north of $300,000 for 2013. Only 18 assistants listed will make less than $200,000 in 2013 -- 15 work for Minnesota, Illinois, Purdue and Indiana.
Some notes:
Although Wisconsin paid former offensive coordinator Paul Chryst good coin, the school has increased its commitment for Gary Andersen's staff, not only with the coordinators but with some coveted position coaches like running backs coach Thomas Hammock ($300,000).

All of Nebraska's assistants are earning $200,000 or more for 2013, but there's a huge drop-off between Beck and the next highest-paid assistant (defensive coordinator John Papuchis at $310,000).

Michigan State has a similar drop off between Narduzzi and co-offensive coordinators Dave Warner ($270,000) and Jim Bollman ($260,000). Warner will be the primary offensive play-caller and has been on Mark Dantonio's staff since 2006, while Bollman is a newcomer.

Although Michigan is paying top dollar for its coordinators, the school gets its assistants for a relative bargain. Receivers coach/recruiting coordinator Jeff Hecklinski will earn $225,000 in 2013, while the others all will earn $205,000. Ohio State, meanwhile, pays all but one of its assistants $286,000 or more.

The Big Ten's three lowest-paid assistants all are in their first years: Illinois wide receivers coach Mike Bellamy ($125,000) and Purdue linebackers coach Marcus Freeman and running backs coach Jafar Williams (both at $120,000).

Although schools like Illinois, Wisconsin and Iowa ($325,000) pay their coordinators the exact same amount, others have slight differences in salary. Purdue's Shoop makes $5,000 more than defensive coordinator Greg Hudson. Minnesota defensive coordinator Tracy Claeys ($340,000) makes $5,000 more than offensive coordinator Matt Limegrover. Wonder if that leads to any underlying jealousy?

Most Big Ten schools have assistant salaries in round numbers, but there are some interesting totals from Indiana, which pays co-offensive coordinators Seth Littrell and Kevin Johns $255,500.04 and new recruiting coordinator/assistant defensive line coach James Patton $173,740.08. Never know when that change can come in handy.
The Big Ten still lacks some of the OMG totals seen in the SEC -- LSU is
paying new offensive coordinator Cam Cameron $3.4 million
in the next three years -- but the overall trend puts the league more on par with what we're seeing nationally.
Bold Predictions For Spring Recruiting
BIG TEN SCOREBOARD
Thursday, 9/3
Friday, 9/4
Saturday, 9/5
Sunday, 9/6
Monday, 9/7