Michigan Wolverines:

Take Two
March, 19, 2014
Mar 19
3:00
PM ET
Big Ten bloggers Adam Rittenberg and Brian Bennett occasionally will give their takes on a burning question facing the league. We'll both have strong opinions, but not necessarily the same view. We'll let you decide which blogger is right.
Quarterback competitions are taking place around the Big Ten this spring, and Michigan insists its starting job is open despite the return of senior
Devin Gardner
, who led the offense throughout the 2013 regular season.
Gardner said Tuesday
that he's not only competing with
Shane Morris
, last year's backup, but also with freshman
Wilton Speight
, a mid-year enrollee.
Today's Take Two topic:
Is Michigan's quarterback competition real or just a way to push Gardner?
[+] Enlarge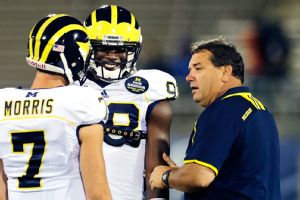 AP Photo/Charles KrupaBrady Hoke is opening up the quarterback competition at Michigan, but Devin Gardner still appears to be the best option.
Take 1: Adam Rittenberg
I don't buy this as a true competition. Coaches never want players to get too comfortable, especially after a rocky season like the one Michigan's offense had in 2013. The Wolverines bring in a new offensive coordinator in Doug Nussmeier, who deserves to evaluate all the players based on what they're doing now, not entirely on what they've done in the past. Despite all of this, I would be very surprised if Gardner isn't the one leading Michigan's offense on Aug. 30 against Appalachian State. Does Brady Hoke really want to enter a potential make-or-break season with Morris, who only has one career start, or Speight, who has zero college experience? Gardner undoubtedly had his troubles last season and, like many of his teammates, fell short of expectations. But let's not forget the huge numbers he put up against Notre Dame, Indiana, Ohio State and Penn State.
Michigan's troubles on offense had more to do with the line and the lack of a consistent power run game than with Gardner. I don't know many quarterbacks who would have had a chance in games like Michigan State or Nebraska with the way the line was performing. Does Gardner need to improve his decision-making? Without a doubt. Is he Michigan's best option at quarterback this fall, despite some potential scheme changes under Nussmeier? Yes. Gardner isn't quite 100 percent this spring because of a foot injury sustained in the Ohio State game. When he gets back to full strength, it should become fairly clear to Nussmeier and others that No. 98 is Michigan's best option.
Take 2: Brian Bennett
It's a real competition in the sense that all jobs should be a competition in the spring. Add in the fact that the Wolverines have a new coordinator with a fresh set of eyes and a different playbook, and everyone should be on their toes.
But does Hoke strike you as the kind of guy who's willing to toss veterans aside and start a true freshman quarterback? Certainly not. While it's undoubtedly good news that Speight is impressing, he seems like a perfect candidate to redshirt because Michigan has so much experience in Gardner and a guy in Morris who at least got his feet wet as a starter in the Buffalo Wild Wings Bowl.
Perhaps a scenario unfolds in which Morris plays so well this offseason that Hoke and Nussmeier ask Gardner to move out to receiver, a position that needs some reinforcement. But I doubt it, as I still believe Gardner is a special player. No Michigan quarterback had ever thrown for 400 yards in a game before last season, when Gardner did it twice. He also broke the school record for total offense in a game against Indiana. He has to cut down his turnovers -- which is why colleague Travis Haney rates Gardner No. 2 on his list of
"prove-it" players for 2014

-- but I thought he already started to do that toward the end of 2013. Bottom line: Garder has a rare sort of playmaking ability, and while Morris and Speight might be the future, Gardner should remain the starter right now.
March, 5, 2014
Mar 5
9:00
AM ET
Big Ten bloggers Adam Rittenberg and Brian Bennett occasionally will give their takes on a burning question facing the league. We'll both have strong opinions, but not necessarily the same view. We'll let you decide which blogger is right.
As the Big Ten positions itself for a new television contract that should shatter revenue records, the subject of playing more weekday games has surfaced. There's even been some buzz about the
possibility of more Friday night games
, although commissioner
Jim Delany doesn't expect them for a while
. Still, the only major conference that has resisted many regular-season weekday days could head in that direction in the not-so distant future.
Today's Take Two topic is:
Should the Big Ten schedule more weekday games?
[+] Enlarge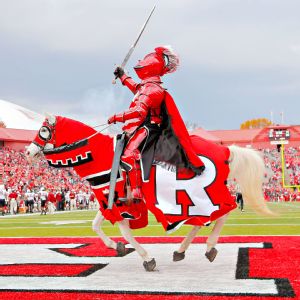 Jim O'Connor/USA TODAY SportsHaving schools such as Rutgers play Thursday or Friday night conference games wouldn't be the worst thing in the world for the Big Ten.
Take 1: Adam Rittenberg
I've been consistent on this issue since the Big Ten blog launched. More weekday games? Yes, please. I appreciate college football Saturdays as much as the next person, but the Big Ten has been missing out on certain exposure opportunities by clumping all of its games on one day, particularly in the noon ET/11 a.m. CT window. We've seen some Thursday night and Friday night games in Week 1, and Nebraska and Iowa are playing the day after Thanksgiving, but the Big Ten has largely steered clear of weekday games. The rationale: We're the Big Ten. We don't need no stinking weekday games.
That's true to an extent. Programs such as Ohio State, Michigan, Nebraska and Penn State receive exposure no matter when they play. Programs such as Michigan State, Iowa and Wisconsin also aren't starved for a separate TV window that can get more eyeballs on their product. But there's another group of Big Ten programs that could benefit greatly from these games, perhaps not in attendance but certainly in exposure. Too many games are overlooked in that Saturday morass, especially when the bigger-name teams are playing. Wouldn't matchups such as Purdue-Illinois, Minnesota-Northwestern or Maryland-Indiana get more attention on Thursday night than Saturday afternoon? I have mixed feelings about Fridays because those are big high school game nights in the Midwest, but a Friday game every once in a while isn't a bad deal.
The Big Ten has made some encouraging scheduling moves in recent months. More Saturday prime-time games are on the way, most likely in the 2014 season. More weekday games would be another good move for certain programs. Big Ten teams don't need to go overboard, but they should be open to the pluses that can come from these events.
Take 2: Brian Bennett
Saturdays are sacred. Let's just get that out of the way at the beginning. The Big Ten is right to preserve the tradition of fall afternoon kickoffs as much as possible. That's what college football is all about.
There are certain programs in the league that should never consider hosting a game on any day but Saturday, apart from opening week and Thanksgiving weekend. As part of our Flip Week series last season, I attended a Thursday night game at Clemson. Because that campus is in a small town and the stadium demands ample parking, Clemson canceled all classes on Thursday afternoon to get ready for the game. Can you imagine many Big Ten schools doing that? And there were a few thousand empty seats for that game against Georgia Tech, a rarity for the Tigers at home. Programs with large stadiums in college towns such as Penn State, Michigan and Iowa would struggle to get all the logistics in place for a weeknight, midseason game.
But it's also hard to argue against the point that college football is dictated by TV, and Thursday night games have provided great exposure. Louisville practically built itself into a power by playing any day of the week, and the ACC has benefited from Thursday games. With the Big Ten expanding to 14 teams, it's hard to squeeze all those games into a Saturday viewing period and not have some get lost in the shuffle. Programs such as Illinois, Indiana, Minnesota and Purdue could really benefit from a Thursday or Friday night spotlight, even if it's just on the Big Ten Network. Rutgers is used to playing on weeknights, and Maryland is no stranger to it from its ACC days.
So why not the occasional Thursday or Friday night game? Friday games would hurt high school football, but as a once-a-year thing, they would hardly be a death knell. Keep the games on Saturdays as often as possible. But a limited dose of weeknight games can be very helpful in the right spots. More TV slots could mean more money when the league negotiates its new broadcast rights package. And these days, TV and money drive everything in college football.
February, 4, 2014
Feb 4
5:00
PM ET
National Signing Day is just hours away. It will be a formality for some Big Ten teams, who simply must wait for written proof of the pledges they've known about for weeks or months. But there's always a bit of drama in the league, whether it's an uncommitted prospect announcing his choice publicly for the first time, a recruit flipping from one team to another at the last minute, or a player sticking with his initial choice despite increased attention.
Today's Take Two topic is:
What will be the biggest announcement/decision in the Big Ten on signing day 2014?
Take 1: Adam Rittenberg
There are several options here, but the
Malik McDowell
situation, which
I wrote about earlier on Tuesday
, will get my attention on Wednesday morning. Here you have a hulking defensive lineman from Southfield, Mich., the top uncommitted prospect in the Midwest according to ESPN Recruiting Nation, choosing among four schools, three of them rival programs in the Big Ten (Michigan State, Michigan and Ohio State). Michigan State appeared to have the edge for McDowell, but his mother doesn't want him to go there, telling the
Detroit Free Press
that she had a "bad experience" in East Lansing. She didn't specify what it was.
McDowell's parents are both concerned about the social life and potential distractions their son could face at MSU, and McDowell's father wants him to leave the state entirely to play his college ball. Parents usually want their kids to be close, but here you have parents who would be fine if their son went more than 800 miles away to play for defending national champion Florida State. Interesting.
Malik himself has said only positive things about the programs, particularly Michigan State, where he likes the coaching staff and the atmosphere both on the team and on the campus. Are we headed for another
Alex Collins
situation
? Probably not, but it will be interesting to see how much pull McDowell's parents have on where he ends up. It would be a blow for the Big Ten to lose such a decorated player to Florida State, and McDowell would be a nice addition for Michigan State, Ohio State or Michigan.
Take 2: Brian Bennett
McDowell's decision might draw better ratings than the Super Bowl in Michigan and Ohio. And
Jamarco Jones
' call between Ohio State and Michigan State, should it come down to Wednesday, also could provide high drama.
But let's face it: Ohio State, Michigan State and Michigan are still going to have plenty of talent regardless of a late commitment or two. That's why I think the biggest decision could involve
Jeff Jones
and Minnesota.
Jones, who plays at Minneapolis Washburn and is ranked the No. 12 running back and No. 137 overall in the ESPN 300, committed to the Gophers over a year ago. He has had many other suitors, including Florida and Michigan. It was a great sign for Minnesota that Jones decided against visiting Gainesville or Ann Arbor, though that doesn't rule out him flipping on signing day.
Jerry Kill and his staff need to keep as many blue-chip prospects home as possible, something that has eluded the program in the recent past. While Minnesota is in good shape at running back with 1,000-yard back
David Cobb
returning in '14, keeping Jones on board is important for keeping the momentum the team gained in last year's eight-win season. Losing Jones would be tough to swallow for the Gophers.
October, 29, 2013
10/29/13
3:30
PM ET
By
Adam Rittenberg & Brian Bennett
| ESPN.com
Big Ten bloggers Adam Rittenberg and Brian Bennett will occasionally give their takes on a burning question facing the league. We'll both have strong opinions, but not necessarily the same view. We'll let you decide which blogger is right.
November is just around the corner as the Big Ten season begins the stretch run. It's a critical time of year for players and coaches. We're focusing today on the men prowling the sideline.
Today's Take Two topic
is: Which Big Ten coach most needs a strong November to close out the regular season?
Take 1: Adam Rittenberg
There are several possibilities here, from a coach seeking another perfect season (Urban Meyer), to coaches on the hot seat (Bo Pelini, Tim Beckman), to a coach desperately seeking a turnaround after a horrendous October (Pat Fitzgerald). My answer might surprise you, but I'm going with Michigan's Brady Hoke. The 21st-ranked Wolverines enter November at 6-1, but they've had some struggles since an impressive Week 2 win against Notre Dame. They come off a four-overtime loss to Penn State, in which they largely beat themselves. Their November schedule begins with in-state rival Michigan State and also features division games against Nebraska (home), Northwestern (road) and Iowa (road), before The Game against Ohio State.
There are some big-picture questions to be answered about Michigan in November. What is the state of the program right now? Where are the Wolverines headed under Hoke? The recruiting success is undeniable, but it doesn't matter much if it doesn't translate to championships. The great thing about Hoke is he has made the expectations so clear for the Wolverines: Big Ten title or failure. By Hoke's own standards, he has failed for two seasons and the program has failed for nearly a decade. The Sugar Bowl championship in Year 1 was nice, and so was the streak-ending win against Ohio State, but Michigan benefited in both cases from extremely favorable circumstances. This is the month for the Wolverines to truly show they're taking the next step. They'll have a very hard time winning the division without beating Michigan State on Saturday. They could be challenged by Nebraska, Northwestern and Iowa before facing arguably the best Ohio State team they've seen since the 2006 season.
Hoke isn't coaching for his job, a national championship or a dramatic turnaround from a long losing streak. But he needs to show in November that Michigan is taking steps toward a championships on the field, not just on the recruiting trail.
Take 2: Brian Bennett
Hoke and his players definitely don't want to talk about another "failure" in December. But I think November is even more important for Bo Pelini.
Remember Pelini's "win out" mantra after last year's Ohio State loss? It's time to bring that back for the Huskers. If they manage to sweep the rest of their games, they'll win the Legends Division and get back to Indianapolis for the Big Ten championship tilt. But that's looking increasingly unlikely, especially after Nebraska was pushed around by Minnesota last week in as dispiriting a loss as Pelini has had during his tenure. It sure didn't help him that, as colleague Mitch Sherman noted, several high-profile boosters made the trip to Minneapolis to see that performance.
The Cornhuskers still have to go to Michigan and face Michigan State at home, and Iowa looks like it could make the Heroes Game a little feistier this year. Nebraska is no guarantee to even beat Northwestern this week, though the Wildcats are an even bigger mess right now. Two losses in the month would leave the team at 8-4 and qualify as Pelini's worst season in Lincoln -- not good timing, with a new athletic director in charge and after the release of that
alarming audio tape
in September. I'm not saying the school would or even should fire Pelini after a three- or four-loss season. But the option surely would be considered, and calls for someone else -- Scott Frost? -- to take over the program would grow louder.
Pelini can quiet all that noise by winning out in November. Anything less than that could create a very interesting December in Big Red land.
Michigan Outlook: 2014
BIG TEN SCOREBOARD
Thursday, 8/28
Saturday, 8/30