Michigan Wolverines:

Stephen Hopkins
December, 3, 2012
12/03/12
4:50
PM ET
ANN ARBOR, Mich. -- Junior fullback
Stephen Hopkins
has left the Michigan football team.
Hopkins declined comment to ESPN.com, though following the announcement to the media Hopkins did tweet, "I love the University of Michigan and everything it means to be a Michigan Man. I look forward to getting my degree."
The junior finished his career with 48 carries for 194 yards and four touchdowns. He appeared in eight games this season, starting four, but he didn't have a single carry or reception.
Coach Brady Hoke had little to say on the matter and when asked why Hopkins left, said only, "You'd have to ask him."
Senior captain
Denard Robinson
said he was "a little bit" surprised to hear of Hopkins' departure.
"We support him," Robinson said. "He's still a brother to me. I would never say anything bad about him because that's my brother."
October, 15, 2012
10/15/12
4:07
PM ET
ANN ARBOR, Mich. -- The time he'd seen before came in games long decided, when his role was to enter and finish the game without making any errors, not to have a say in the outcome of it all.
Yet when
Denard Robinson
left Saturday's game with a hand injury in the first quarter, redshirt freshman
Russell Bellomy
was inserted into a game in the first half for the first time in his career.
[+] Enlarge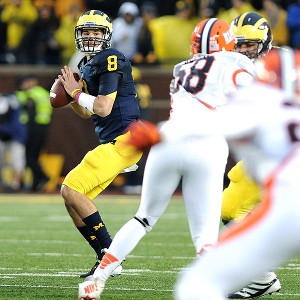 Lon Horwedel/Icon SMIRussell Bellomy played the first meaningful minutes of his career after Denard Robinson left the game briefly.
"I liked how he got himself ready. Liked how he got himself ready during the week," Michigan coach Brady Hoke said. "But Denard comes out and he's taking snaps and getting himself ready to go.
"He was composed and calm and wasn't overexcited."
Bellomy completed 1 of 3 passes against Illinois over two separate stints -- one replacing Robinson in the first half and another in the second half with the game in hand.
His numbers, though, could have been better than that. Both of his incompletions were drops, one by
Devin Funchess
and the other by
Roy Roundtree
, which hit him right in the hands.
"When Russ got him, I told him to just do him, man," Roundtree said. "It's great that he got out there and I wish he would have had some completions. I felt bad for him after I dropped a pass.
"He didn't get on me but I'm pretty sure he got upset. I told him I got him next time."
Not the worst loss:
Roundtree remembered riding home from East Lansing last season on a quiet bus. Most players had headphones on instead of the typical ride home chatter.
While the loss stung, it wasn't his most difficult at Michigan. He wasn't sure which one would be, actually.
"Nah, I probably had several of those," Roundtree said. "When I first got here, coming in as a redshirt freshman to the winningest program and having a down year that we had.
"I wouldn't want to say it was the hardest, most brutal loss because I took a lot of 'L's' back then."
His first three seasons at Michigan were not win-friendly as the Wolverines won three, six and then seven games under former coach Rich Rodriguez.
Injury update:
Michigan running back
Vincent Smith
, who missed Saturday's game against Illinois due to a hamstring injury, is expected back for Michigan State. So is fullback
Stephen Hopkins
, who has missed the past few weeks due to a hamstring injury. ... Hoke and Robinson both said the quarterback's hand is fine after missing a quarter against the Illini due to injury. ... Safety
Jordan Kovacs
, who has worn a brace on his knee the past two weeks, said he knee is "fine" and that his bright blue knee brace is "a fashion statement."
This and that:
Going along with not wearing red, Hoke said Monday he doesn't remember the last time he has worn green, either. ... Michigan offensive tackle
Taylor Lewan
, who is usually available weekly to the media, is not on the list of players for this week. Last season, Lewan and Michigan State defensive end William Gholston went at each other pretty well during the game. ... Hoke is planning on educating his team this week on Willis Ward, the second African-American to play at Michigan and the subject of a documentary about his benching due to racial issues when facing Georgia Tech on Oct. 20, 1934. The Michigan state senate deemed Saturday as Willis Ward Day.
October, 10, 2012
10/10/12
3:56
PM ET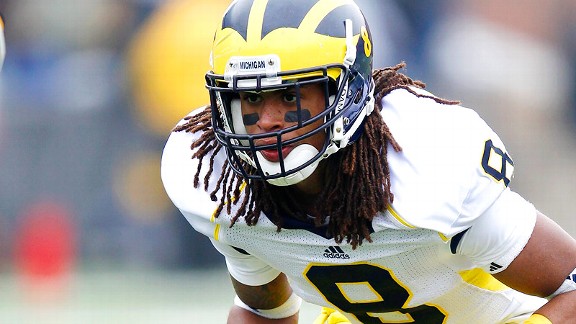 Joe Robbins/Getty ImagesJ.T. Floyd surprised teammates and family by lopping of his dreads before the Purdue game.
ANN ARBOR, Mich. -- At the end of practices during the week, Michigan coach Brady Hoke gathers the defensive line together and has them do a drill to keep them active and ready to deal with some of the most mobile quarterbacks they will face.
He calls it "chase the rabbit."
"You ever try to catch a rabbit," Hoke said. "They are hard to catch."
Not that Hoke has ever tried himself -- after asking a reporter if he had tried to catch one he said he never has, either -- but the point of the drill is to help his linemen take correct angles to the ball and also teach how to stay up to speed against guys like Michigan will face Saturday, Illinois quarterback Nathan Scheelhaase.
Michigan goes about this two ways. One is the rabbit drill. The other, which the Wolverines do each week as well, is run quarterback
Denard Robinson
against the first-team defense for multiple periods each week in practice.
It happens to keep defenders -- and, in theory, Robinson -- sharp and also prepare them for the speed of anyone they'll face.
"We build a mindset and a mentality," Hoke said. "With us going so much against each other, obviously 16 is kind of hard to corral once in a while. That helps us as a team when we're a playing against a guy like Scheelhaase."
Not dreading the cut:
For five years,
J.T. Floyd
had not cut his hair, letting his dreadlocks grow through his entire career, making him easily recognizable on the field and along with Robinson, the dreads had become somewhat of a trademark for him.
Until last week, when he decided to cut them off.
"It was just time," Floyd said. "Now I'm going for a different look. It's just a different time.
"It was something, it was an easy decision to grow them out and just as easy a decision to cut them."
One of the last people to see Floyd with the dreads was Robinson, who didn't believe him when he said he was planning on cutting them. Robinson was also one of the first people to see him after the haircut.
He didn't save any of them for posterity, either, letting the dreads be swept up by the barber. He didn't tell his family, either, allowing it to be a Saturday surprise at Purdue, when Michigan suddenly had two short-haired cornerbacks.
"It was great," Floyd said. "A great feeling the next morning to just wake up and rub your head and actually feel your scalp. Great feeling."
Will Floyd's decision rub off on Robinson, whose dreads are third only to his untied shoelaces and running ability as traits most recognizable with Michigan's senior quarterback?
"I'm trying to persuade him to cut them, but it's not going to happen," Floyd said. "Not going to happen."
This and that:
Hoke said
Jordan Kovacs
, who played through an injury last week, is "good." ... Hoke said Tuesday's practice was "comparable" to what he saw last week preparing for Purdue, which he deemed some of the best practices of the season. ... Hoke said Wednesday that tight end
Brandon Moore
is practicing again and could play this week, but wouldn't commit to it. Hoke also said "we'll see" when asked about the availability of fullback
Stephen Hopkins
. Hopkins has missed time due to injury.
October, 6, 2012
10/06/12
9:07
PM ET
WEST LAFAYETTE, Ind. --- During the bye week, Michigan coach Brady Hoke said junior wide receiver
Devin Gardner
was fine after sliding into a structure during a play at Notre Dame Stadium two weeks ago. But on Saturday night following the Wolverines' 44-13 victory at Purdue, Gardner addressed the issue himself.
"I hit the ground and my shoulder felt really weird," Gardner said. "I didn't really feel good about it. And then I was advised to probably stay down. I'm fine."
Against Purdue, Gardner caught two passes, accounting for 31 yards and one touchdown -- the only passing touchdown of the game.
"It's OK; I'm fine," Gardner said. "I played today and I felt like I played, blocked and did everything that receivers should do."
Other injuries
: Senior safety
Jordan Kovacs
wore a brace on his right knee throughout the Purdue game, though he said he was fine. …
Brandon Moore
(MCL),
Stephen Hopkins
(hamstring) and
Richard Ash
(undisclosed) didn't make the trip to Purdue. …
Brennen Beyer
(knee) and
Marvin Robinson
(undisclosed), who were recently held out of games, both made the trip and played.
September, 22, 2012
9/22/12
7:05
PM ET
Michigan's dress list is out and there are some interesting inactives for the Notre Dame game.


Fullback
Stephen Hopkins
and defensive end
Brennen Beyer
both were among those who did not make the trip, according to the dress list.
The others who did not travel, according to the list:
WR Bo Dever
S Marvin Robinson
QB Brian Cleary
DB Allen Gant
QB Alex Swieca
CB Blake Countess
S Charlie Zeller
WR Jonathan Keizer
RB Drake Johnson
S Andrew Offerdahl
DB Jeremy Clark
DB AJ Pearson
CB Al Backey
TE Nate Allspach
LB Antonio Poole
DT Kenny Wilkins
TE Dylan Esterline
DE Chris Wormley
K Seth Broekhuizen
LB Kaleb Ringer
DE Tom Strobel
OL Chris Bryant
DE Tom Strobel
LB Mark Lawson
OL Blake Bars
OL Ben Pliska
OL Kyle Kalis
DT Willie Henry
OL Erik Magnuson
OL Dan Gibbs
WR Jehu Chesson
TE Brandon Moore
K/P Kenneth Allen
TE David Mitropoulous-Rundus
TE Chris Eddins
TE Jordan Paskorz
K Anthony Capatina
TE Michael Jocz
DL Ryan Glasgow
DE Matthew Godin
September, 19, 2012
9/19/12
2:27
PM ET
Michigan football coach Brady Hoke met with the media Wednesday afternoon for the final time before the Notre Dame game Saturday. Here are a few quick notes from the press conference:
INJURIES
Out:
Brandon Moore
(MCL)
September, 17, 2012
9/17/12
2:34
PM ET
ANN ARBOR, Mich. -- Notre Dame might be moving to the ACC for almost all of its sports and its future rivalry with Michigan might be in some question, but Wolverines coach Brady Hoke played both sides when asked about it Monday.
"I don't know, they are going to the ACC and they have to do what they need to do for them," Hoke said. "If it continues, that's great. If it doesn't, then we'll move forward."


Michigan and Notre Dame have played fairly continuously over the past two decades and are slated to play yearly until 2018, when the contract calls for a two-year hiatus.
It is a rivalry, too, that has had its share of excitement. The teams usually would be the first early season barometer of where they might end up finishing the season. It is one of three main rivalries for the Wolverines, along with Michigan State and Ohio State.
Michigan is one of the few teams with a winning record against Notre Dame -- 23-15-1 -- and in South Bend, Ind., where the Wolverines are 9-8-1. The last three games of the series have all been decided by four points, with Michigan winning each one in the final minute.
"This is one of the oldest, fiercest rivalries in college football," defensive end Craig Roh said. "You don't treat this game like just another game. It's Notre Dame. This is the peak of college football right here, Notre Dame versus Michigan."
Splitting time at linebacker
While Hoke wouldn't say freshman
Joe Bolden
and fifth-year senior
Kenny Demens
were essentially splitting time at middle linebacker, evidence would show otherwise. Against Air Force, Bolden played the entire second half. Against UMass, both Bolden and Demens saw fairly similar amounts of snaps.
Hoke did say how they divvy up snaps has nothing to do with different packages Michigan uses but is all about the performance of the two players.
"They're both going to play," Hoke said.
Bolden and Demens are both tied for fifth on Michigan in tackles with 12.
Injury update
Michigan looks like it will have some of its multitude of injured players back this week for the Irish.
Hoke said tight end
Brandon Moore
(knee) would "probably not" be ready for Saturday, but linebacker
Desmond Morgan
(head) and defensive lineman
Richard Ash
(body) "should be" ready. He wasn't sure about the status of fullback
Stephen Hopkins
, who missed Saturday's game with a hamstring injury, or defensive end
Brennen Beyer
, who has a knee injury.
September, 15, 2012
9/15/12
9:34
PM ET
ANN ARBOR, Mich. -- As Michigan walked off the field Saturday after a dominant 63-13 win over UMass, the Wolverines had another victory, one they hadn't seen this season.
They emerged from a game healthy for the first time this season. Kind of.
Michigan had no major injuries during the game, unlike the previous two weeks, when the Wolverines lost cornerback
Blake Countess
(ACL) for the season, tight end
Brandon Moore
(knee) for several weeks and defensive end
Brennen Beyer
(knee) for an unknown period of time.
"I don't know if we had any boo-boos today," Hoke said. "But we've had one of those years where we have had a lot of guys dinged up."
However, the week itself wasn't as kind.
September, 15, 2012
9/15/12
2:52
PM ET
ANN ARBOR, Mich. -- Michigan sophomore linebacker
Desmond Morgan
will not play Saturday against UMass due to what Wolverines coach Brady Hoke called Friday a "little bit of a head problem."
Morgan had started the first two games of the season for Michigan and is fourth on the Wolverines in tackles with 15. He also has 1.5 tackles for loss.
Replacing Morgan will likely be freshman
James Ross III
, who played extensively against Air Force last Saturday. Ross III has six tackles this season, including a half-sack.
Also out for Michigan on Saturday is fullback
Stephen Hopkins
, who has a hamstring injury, and starting defensive end
Brennen Beyer
, who has a knee injury.
July, 23, 2012
7/23/12
3:09
PM ET
Michigan's challenge against defending national champion Alabama may have just gotten even more difficult.
[+] Enlarge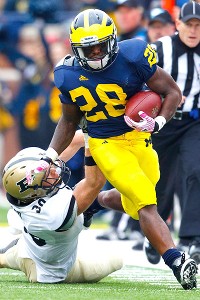 Rick Osentoski/US PresswireRB Fitzgerald Toussaint has been suspended indefinitely.
Star running back
Fitz Toussaint
has been suspended indefinitely following a weekend arrest for drunk driving. According to reports, the junior was stopped for a traffic violation in downtown Ann Arbor just a little before midnight Saturday and failed a breathalyzer test. Head coach Brady Hoke announced Monday afternoon that Toussaint is suspended indefinitely.
By definition, we don't know how long that indefinite suspension will last. It is reasonable, however, to conclude that Toussaint may not be available for the opener against the Crimson Tide at Cowboys Stadium. And if so, that's a tough blow.
Toussaint ran for 1,041 yards last season, doing much of his best work late in the season. He spoke confidently this spring about surpassing 1,600 rushing yards this season. His emergence in the middle of last year lightened the offensive load on star quarterback
Denard Robinson
and made the Wolverines' offense that much more versatile and dangerous. Michigan will need all the weapons it has to try and move the ball effectively against what is expected to be another fierce Alabama defense.
If Toussaint is out for the opener, or even longer, the Wolverines would most likely turn to sophomore
Thomas Rawls
as their main tailback. A physical, 219-pounder, Rawls earned praise from Hoke for his play this spring and was described by offensive coordinator Al Borges as "a battering ram." He doesn't have the explosiveness of Toussaint, but a guy who can run through tackles might not be bad to have against 'Bama, anyway.
Other options at tailback include veterans
Vincent Smith
and
Stephen Hopkins
and sophomore
Justice Hayes
. Still, there's a big dropoff from Toussaint to anyone else in terms of experience and production.
Again, we don't know for sure how long this suspension will last. Hoke dismissed receiver Darryl Stonum this winter after traffic violations landed Stonum in jail, but the troubled player had previous run-ins with the law. This is, as far as we know, Toussaint's first misstep.
It hasn't been a great offseason for Michigan players. Starting defensive tackle
Will Campbell
pleaded guilty earlier Monday to a civil infraction for blocking a sidewalk; he'll be sentenced later this week for a misdemeanor destruction of property charge. He had originally been charged with felony destruction of property and possession of alcohol by a minor. Receiver
Jerald Robinson
had a warrant out for his arrest for allegedly damaging a parking gate; his case is scheduled to be heard later this summer.
But Toussaint is the biggest name of the bunch and his suspension could be costly. Without him, the Michigan offense could be back to a familiar place in the 2012 opener: relying on Denard Robinson to make some magic.
July, 11, 2012
7/11/12
8:00
AM ET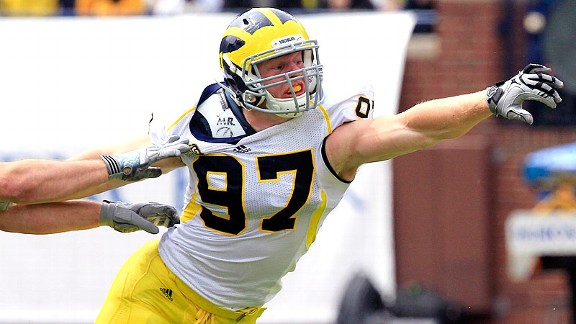 AP Photo/Carlos OsorioBrennen Beyer will put his hand down this season and could be a surprise as a defensive end.
It has been quite the summer for sports. Between the Euro Cup and the Olympic trials, LeBron James finally getting his first ring and Roger Federer picking up his seventh Wimbledon title, there has been no lack of athletic entertainment.
And even without football Saturdays, the questions still swirl about what Brady Hoke and Co. have in store for 2012. So, I'm here to answer a few of those questions.
Kevin Ujvary via Twitter
: Who is the dark horse player to watch for in Michigan football this year, anyone similar to
Fitzgerald Toussaint
last season?
To continue reading this article you must be an Insider
March, 1, 2012
3/01/12
10:07
AM ET
Michigan's youth movement from a couple of seasons ago continues to pay off now, as the Wolverines lose just one running back from last season, Michael Shaw, but return 1,000-yard rusher
Fitzgerald Toussaint
, third-down back
Vincent Smith
and almost all of their depth from a season ago.
This should be a position of strength for the Wolverines next season, aided by the extremely fast legs of senior quarterback Denard Robinson.
Spring practice could be a good chance for Michigan to build depth here for the future.
To continue reading this article you must be an Insider
November, 9, 2011
11/09/11
2:28
PM ET
Brady Hoke finished addressing the media for the final time before Michigan faces Illinois on Saturday.
Here's some of the head coach's thoughts and newsier items in convenient bullet form:
On Ricky Barnum, who had been out with ankle injury: "He did some things (Tuesday), a lot of the individual stuff, a little of the team stuff. We'll see. He'll play, but we'll see how healthy he is."
On halfback-turned fullback Stephen Hopkins: "His role has become bigger and really on the kickoff return team he's done a really good job blocking there and become more of a factor offensively and I think Hop, if he keeps moving in a positive fashion, he's going to be really good in this system for what we need."
To continue reading this article you must be an Insider
Which Players Have The Most To Prove In 2015?
BIG TEN SCOREBOARD
Thursday, 9/3
Friday, 9/4
Saturday, 9/5
Sunday, 9/6
Monday, 9/7